everything else we made for our wedding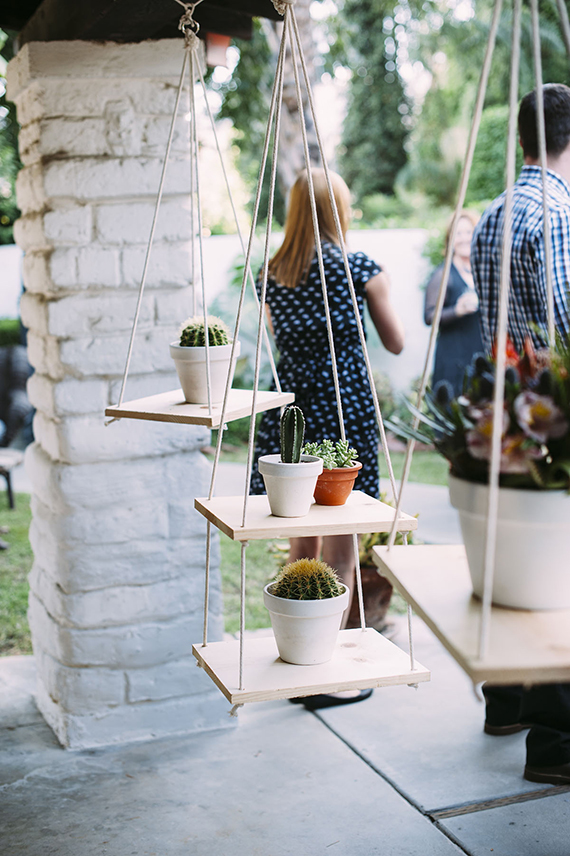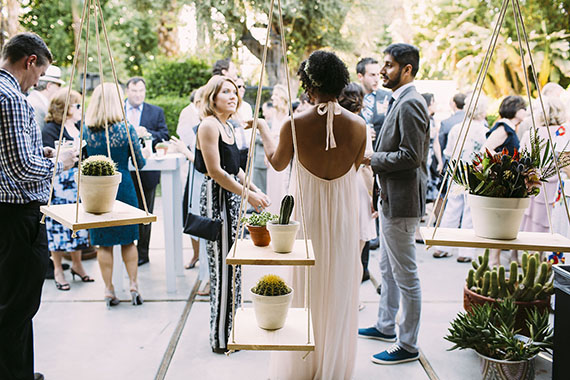 because i didn't have process shots for the remaining things i made, i decided to round everything up in one post (with as much detail as i can tell you)! we were at my moms house working on all of the projects, because no cats and waaay more space to make + store things. (we actually had an entire closet full of all the wedding stuff, which we still haven't cleared out — sorry mom.)
wood plant hangers
i had wood cut in various sizes : square and rectangle and got some simple woven rope. using my stepdads drill press (you can also just use a regular drill), we just cut four holes in each piece of wood and tied big enough knots on the underside to hold in place. we mixed it up in terms of sizes and layers, and added a large metal ring to the top of each hanger. we made these last minute just to hang at the bar during cocktail hour, because we are cray. and thank you to my brother who helped hold while i tied.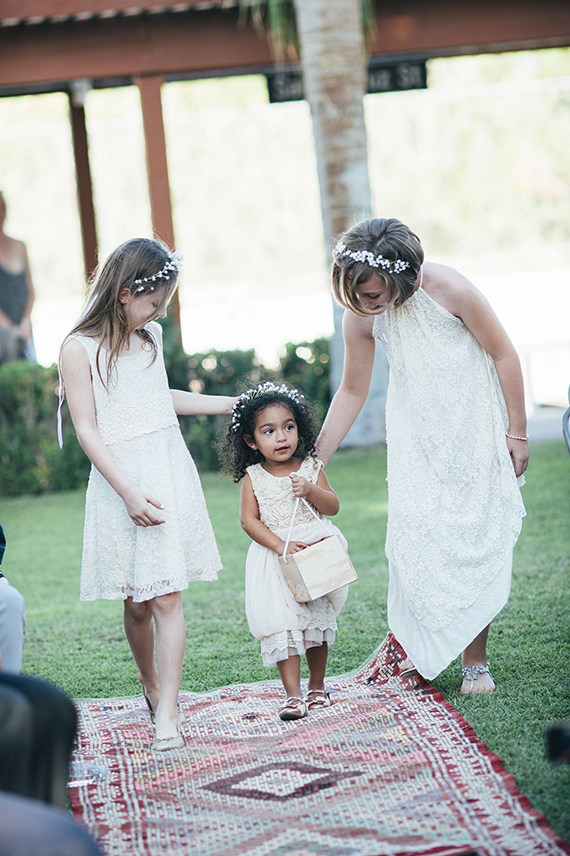 plywood flower girl box
also using my stepdads drill press, i put two holes into a wooden planter box i bought for $4 at the flower mart. using the same rope i used for the plant hangings, i simply tied a strap onto the box. we just foraged some bougainvillea on friday and filled it for the most adorable flower girl ever. (my cousins kid)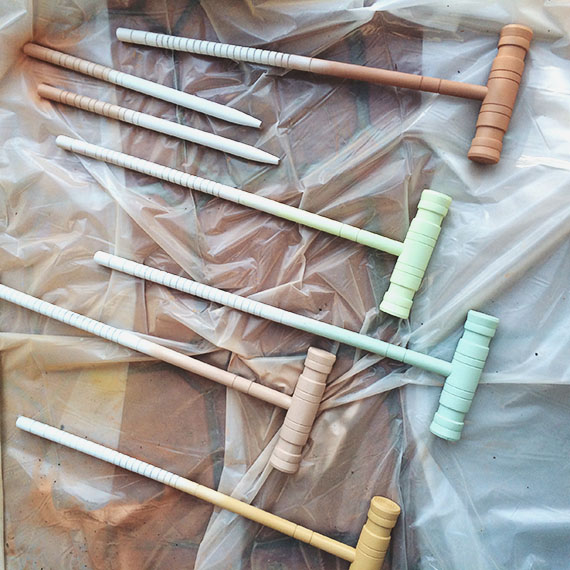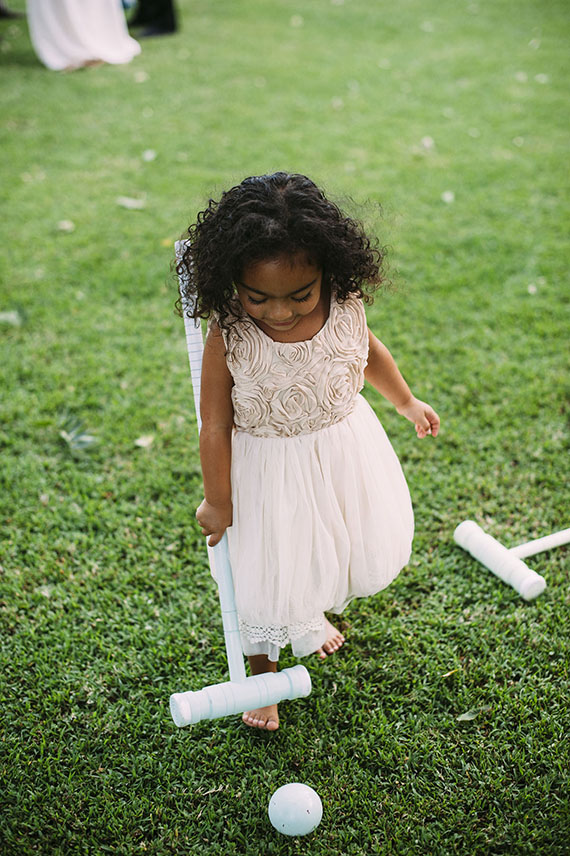 ombre croquet set
we wanted to have lawn games to fill up some empty grass during the reception + cocktail hour, so i bought the cheapest croquet set i could find online, and i spray painted it all white. i then lightly sprayed each mallet and ball with a different pale wedding color. i sprayed with fixative about 800 times, but i could never get the paint to not chip (as you can see in the photo… omg who is that adorable flower girl?!)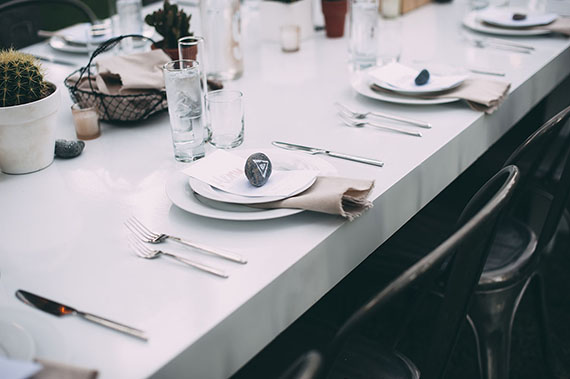 raw linen napkins
we bought a lot of yards (ugh. i forget how many) of natural linen from the fabric mart downtown (we haggled on the price) and my mom and i had a sex and the city marathon while we ripped 130 napkin sized pieces off. all you do is cut a small slit where you want to rip, then rip with your hands. the linen tears beautifully and this was probably the easiest DIY we did. plus my mom and i split the leftovers so we have linen napkins for days.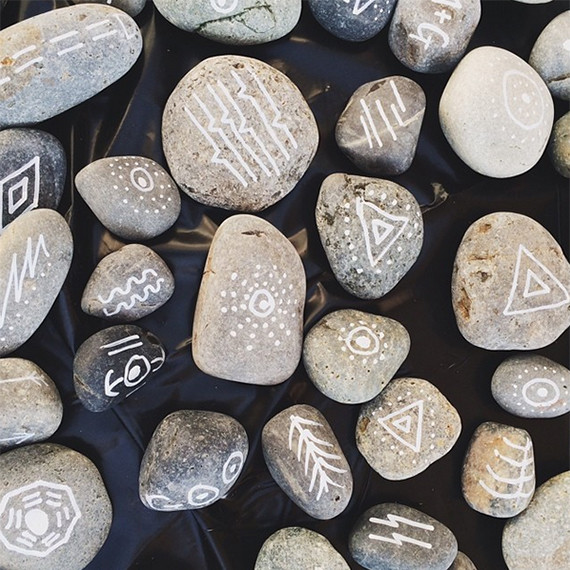 painted rocks
the most fun DIY we did by far was painting 300 rocks. my mom, my cousin and i sat outside on a warm day with bags of rocks we bought for a few bucks at home depot and a couple white paint pens. i let them paint whatever they wanted for the most part, but kept them pretty similar-ish. we then spread these everywhere. on the cocktail + guestbook tables, on the bar, over the programs on the chairs, on the tables and menus. so glad we did this because it was such an easy and fun element to sprinkle around. (also we did some dorky ones like the dharma initiative from lost (bottom right))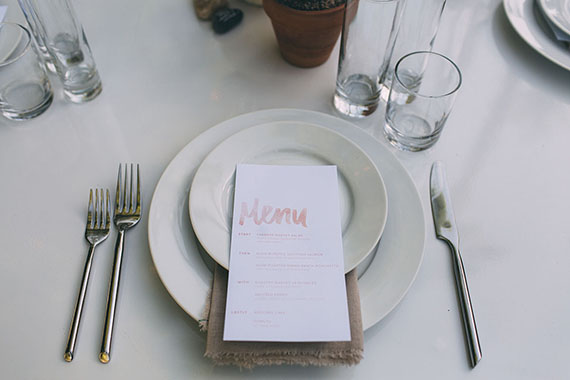 the menus
using the same style that we did for our programs and our invites, i hand wrote "menu" and added a watercolor effect to the text. to try to save money, i made them half the size of paper so i could print two on a page, but they didn't end up fitting and we ended up spending waaay too much on these at kinkos.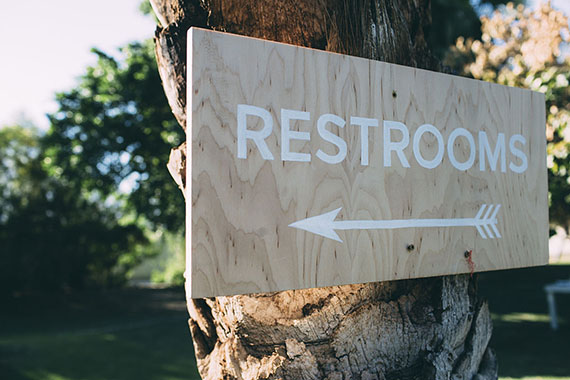 restroom signs
same technique as our painted signs, but on smaller pieces of leftover wood. we nailed them into the trees and left them there because our venue is very cool – and they let you leave whatever you want for the next couple having a wedding so theres a crazy eclectic mix of leftovers around. someone also left all their globe lights leading the pathway to the bathrooms, so we were stoked.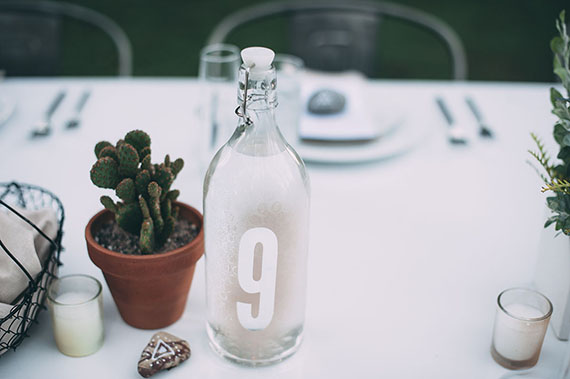 half painted votives
using the same spray paint colors i used for the bottles and croquet set, i lightly spray painted 300 votive candles we found online to add a little color to our very white tables. we just made a spray paint station out of cardboard and did them super fast.
watercolor table number bottles
in case you forgot, i posted the DIY here. but we ended up going with a much more muted color scheme for these.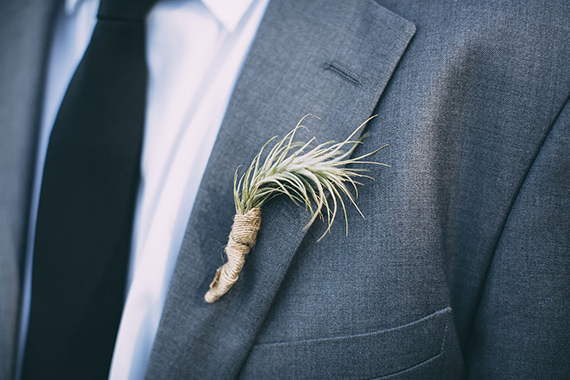 airplant boutineers
we inquired about having boutineers done by the florist, but we just could not spend $15-$20 on something so tiny. so gideon actually made these for himself and his groomsmen. we bought four airplants from the flower mart (WAY cheaper than retail) and got some burlap ribbon that he picked out (he wanted to pick it himself. boys.) he then super glued the ribbon around the airplant and just stuck a pin in the back. very good work, gid!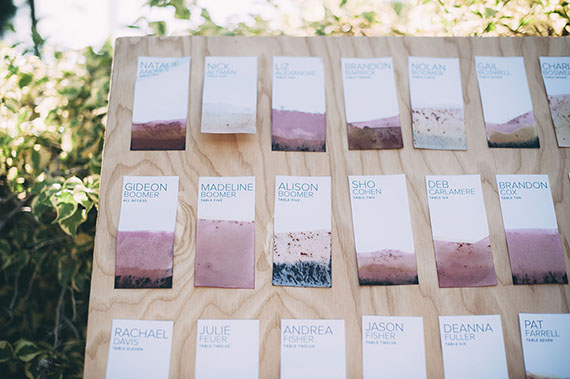 dip dyed escort cards
i posted a DIY for this project months ago, so in case you forgot, here's the full post!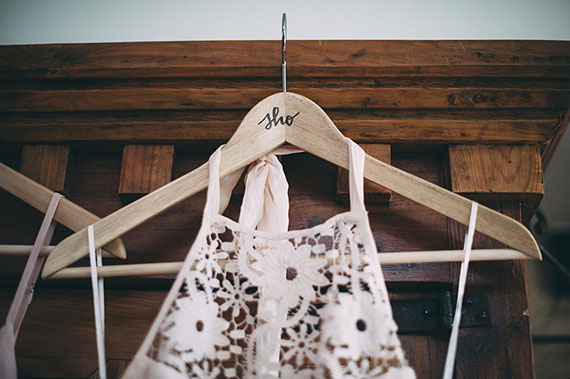 bridesmaids hangers
it was nothing special, but i got a 6 pack of wood hangers at ikea and i tried my best at calligraphy on each hanger. i then presented the bridesmaid gifts on the hangers (come back tomorrow to see what they were!)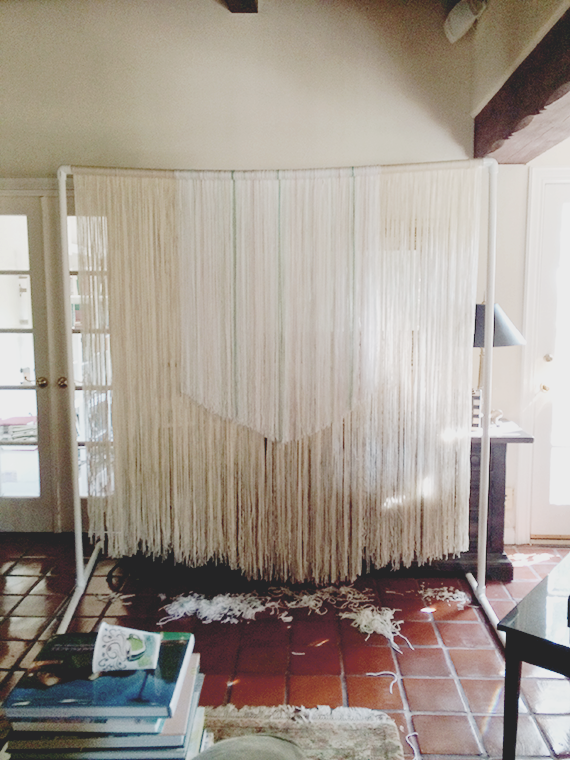 and lastly… the photo booth background
i am so sad that we didn't get a photograph of the photo booth. when you make 4000 things for your wedding, make sure you have a list ready for your photographer in case you want pictures of all of it, because i didn't and i should have. but this is what i had made. i used PVC piping for the frame and about 4 large packs of yarn. it took me an entire day from 10am – 10pm with help from my sister in law. we also ended up putting metal braces on the feet to keep it sturdy, and a pipe inside the pipe to stop the warping happening on the top. i don't have any pretty photos of the background, but i do have photo booth photos!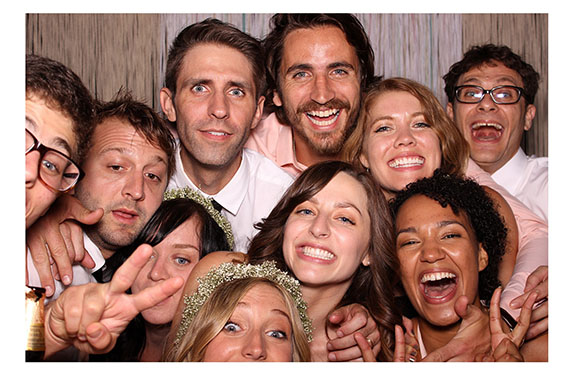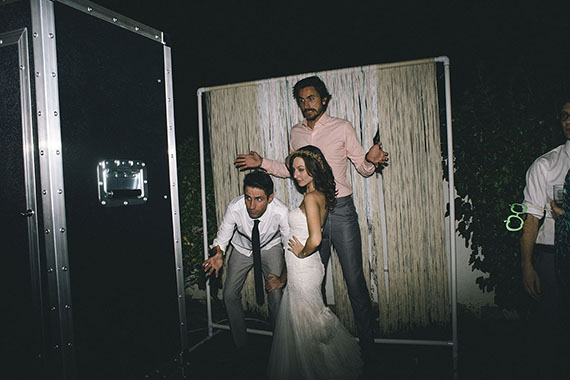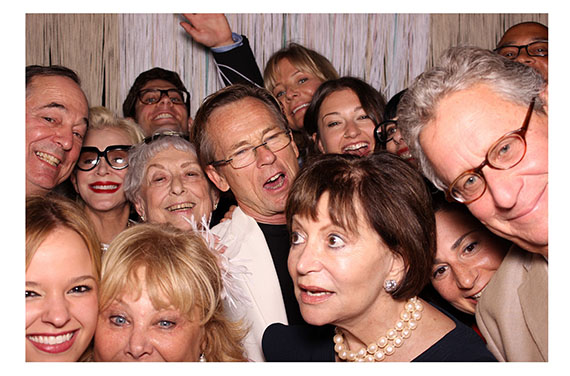 as you can see, my family and friends like to pile into photo booths. but wait… you can kinda see it here.
PHEW. so that was a lot right? i honestly don't know how we made it through. and i can honestly say i will never ever do that shit again. NEVER. but … it was fun.