well i'm having trouble trying to get back into the swing of things! but how can i get the blog back to normal without doing a payday wishlist today?! i must say – taking a couple weeks away was a very nice break! i normally spend most days worrying about the blog, worrying about what my next post will be, worrying about going to the craft store… i think my 2014 resolution should be to TRY to stop worrying so damn much. which is great timing if i'm planning a wedding this year. totally realistic!
hope you have fun weekend plans! i'm going to actually get some DIYs going and we are going to vegas for the night on monday for gideon's xmas present – i got us front row seats for penn and teller!
and now — things i didn't receive for christmas!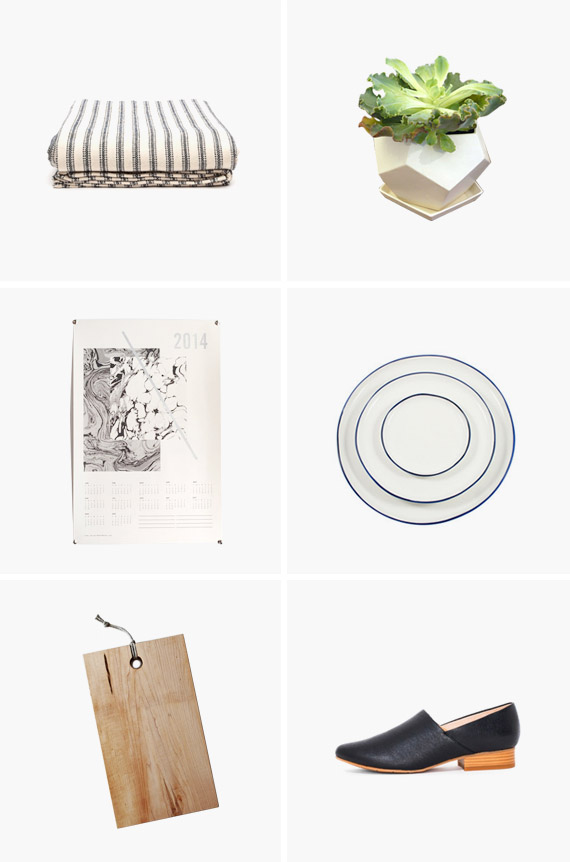 01. love this ticking stripe blanket, this plus some crisp white sheets? perfect bed i'd never want to leave.
02. i have no idea why i haven't plugged the trigger and just bought this planter for myself yet – it's perfect.
03. love anything julia kostreva designs, how about this marbled calendar in limited edition of 100?!
04. i love any dish that looks handmade, but a whole set?! all i can see is registry registry registry now.
05. someday my kitchen will consist of nothing but wood & marble. this cutting board is a good start.
06. i usually can't wear any sort of heel, but i think i could walk like a total human in these tiny ones!