how to create an entryway in a small space

this post is in partnership with allmodern
it's been forever since i've touched this corner, but i thought it could use a little updating — it's always in total shambles because of lack of storage and way too many jackets/bags/hats/shoes. we raaaeally could use a coat closet in our next house!!
so i did a little update to our space and i also thought it'd be fun to share my tips of how i created this little entryway and created storage, without actually having anywhere to store our stuff. i got a couple really pretty things from AllModern and it doesn't look dramatically different, but i can't stop staring over at it blissfully lolllll.
if you're itching to do a little house updating because after all, it's january, i always search AllModern first because they have sooo many beautiful things but also fast + free shipping because i'm not into delayed gratification haha.
you can see our old coat rack below– every single jacket would fall off when we tried to hang another one so it was basically one pile of jackets (not pictured, sorry, too embarrassing).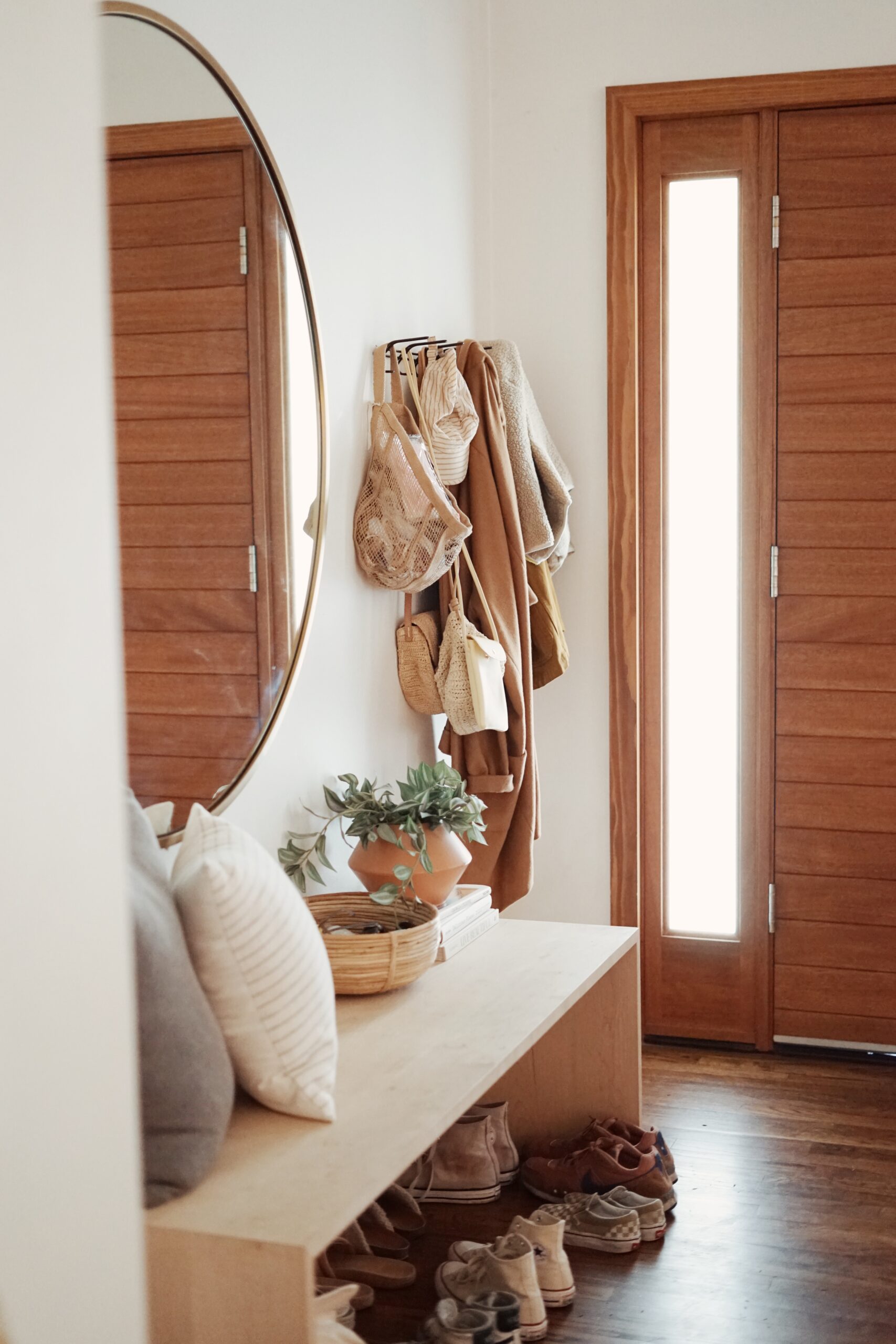 and now!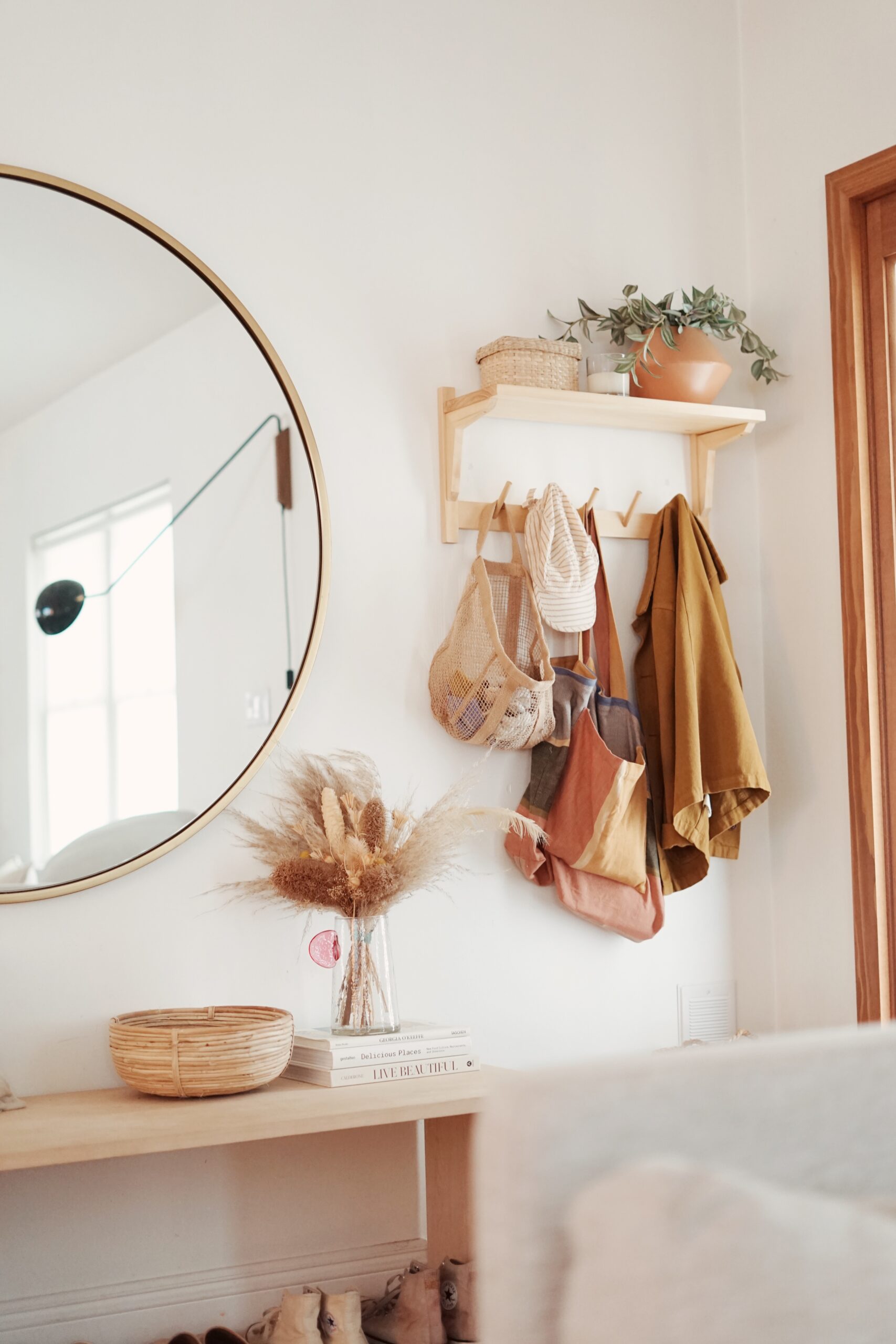 add a bench or cabinet
i do like having a waterfall bench here because it feels light and open and it's nice for us to be able to sit on to put on our shoes, but honestly a cabinet with some extra hidden storage would be p clutch. i found some really good options below along with a bench that looks like ours!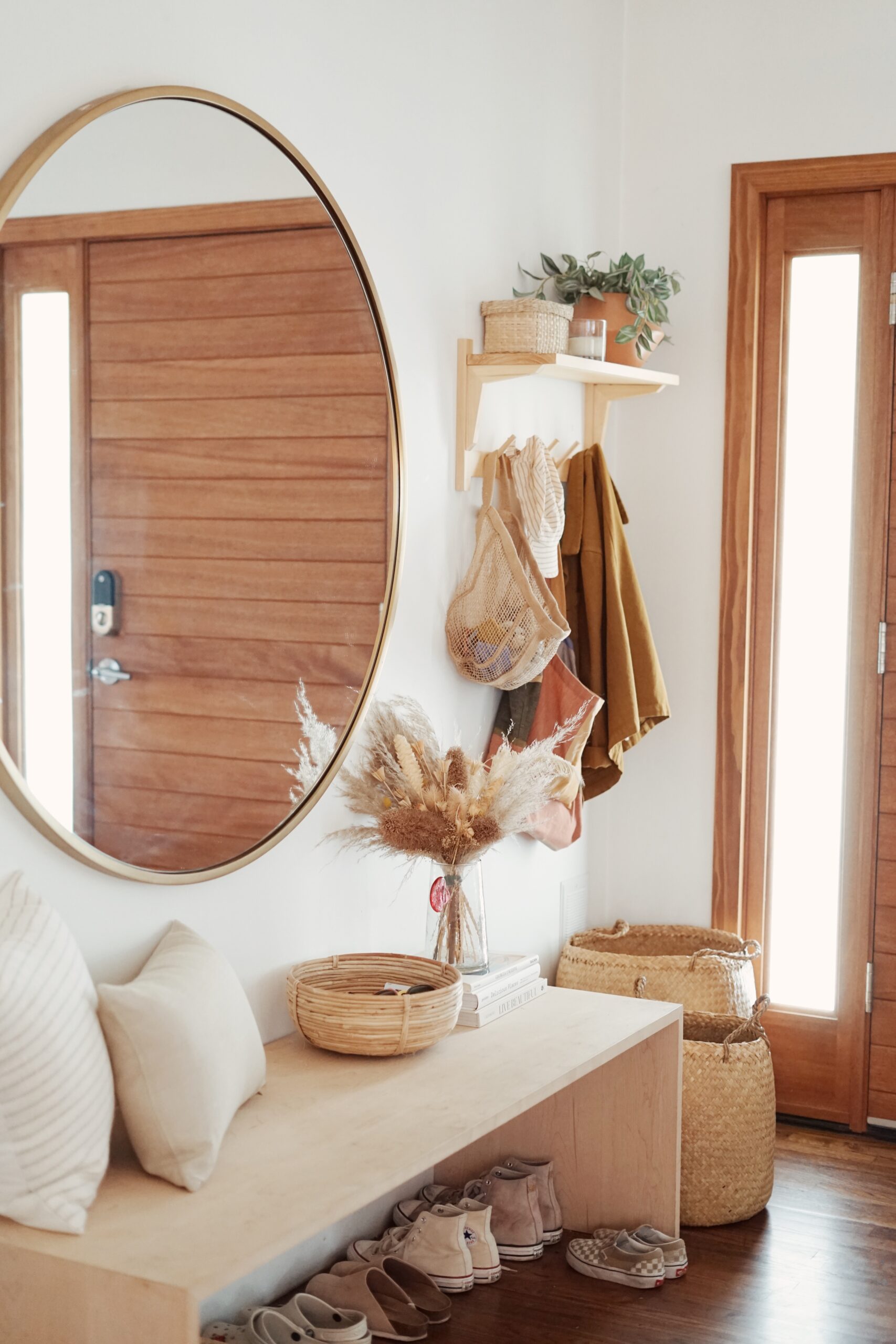 use a big mirror
since ours is a small space — adding a big mirror here has been crucial for opening up the room. i actually started with a modestly sized round mirror, and decided to size up which made the biggest difference.

---
hang your stuff
because we have no closet, we need to hang jackets and bags on a coat rack–and because we have sooo much stuff, the coat rack we had here was crazy jammed up with crap. so i swapped it out for this one that not only has deeper pegs but i love that the shelf above provides a little additional storage too!!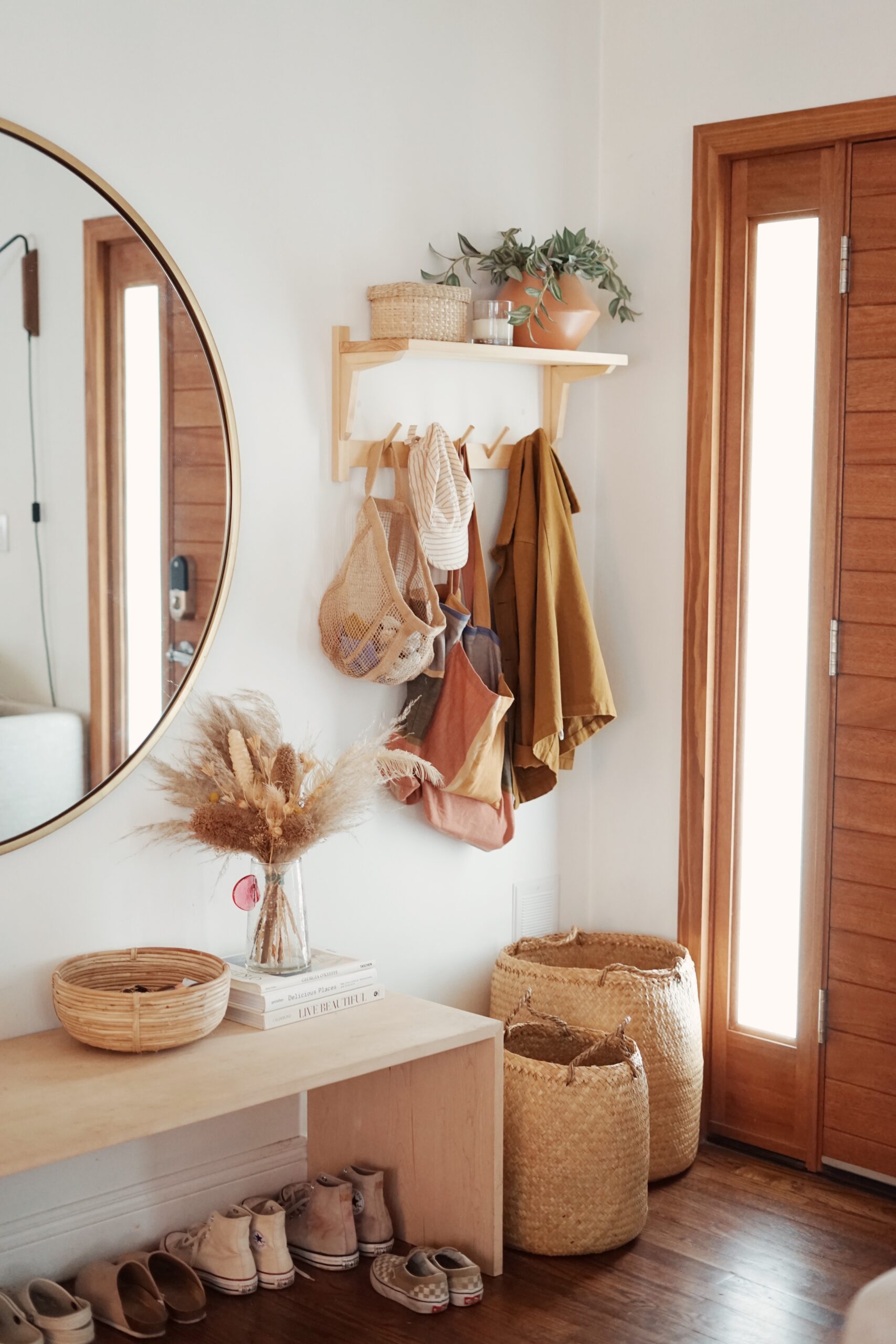 add baskets + bowls
i love to add them everywhere because they double as decor but also corral all your stuff. a basket on the bench is where we keep keys and sunglasses, and then i got these two larger baskets to hold canvas shopping bags, my baby carrier, umbrellas etc.

---
create storage wherever you can
shoe storage is where we could really improve things but i just keep them lined up on the floor as you can see and it's a little crazy — but i rounded up some pretty things that help corral shoes, keys, mail, all the crap!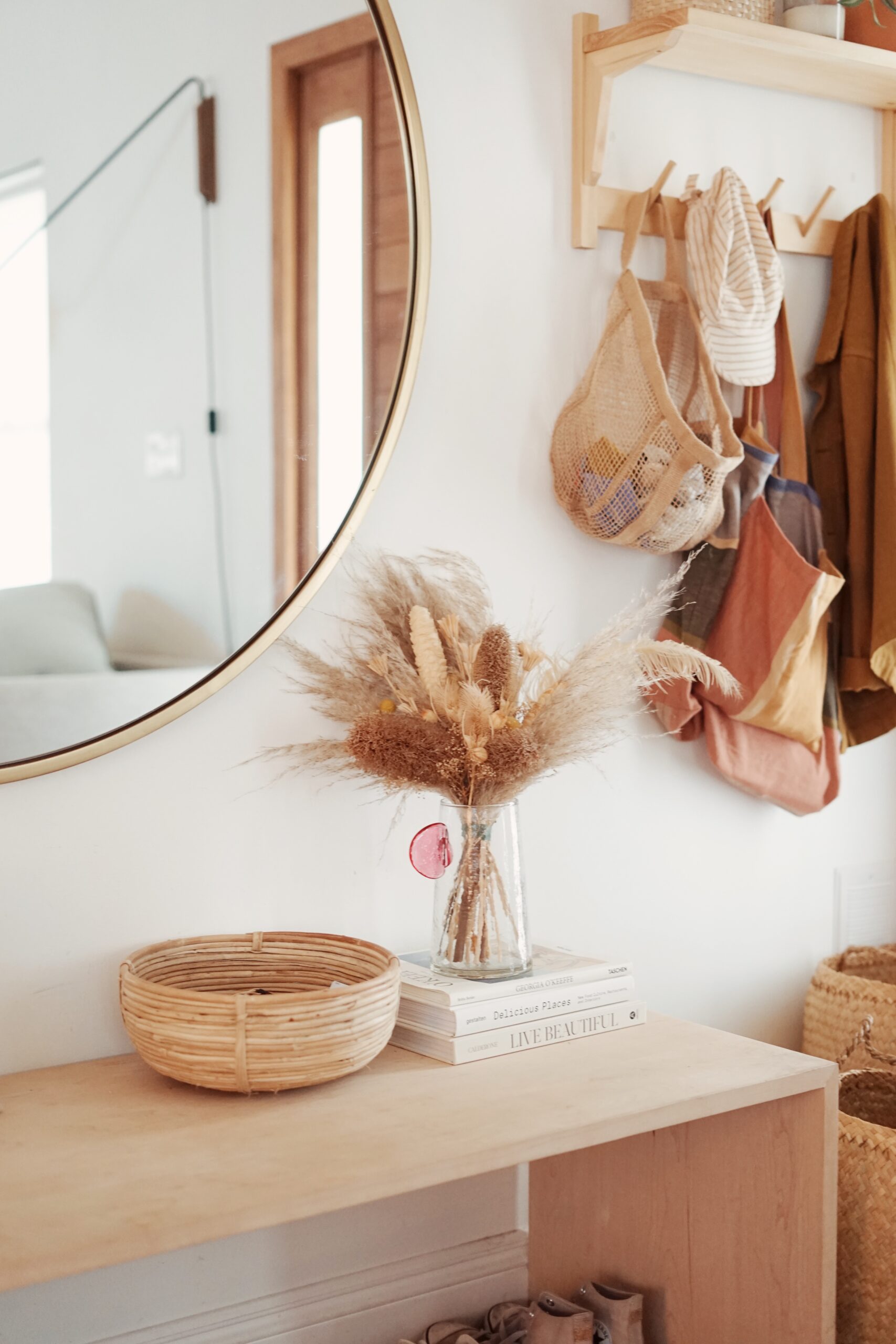 make it pretty
sooo if you're gonna have a tiny space full of stuff (especially when it's always visible), you gotta make it as pretty as you can! i like to keep some pillows, coffee table books, and a little greenery here to slightly mask the clutter as best i can.