kauai (toddler-friendly) travel guide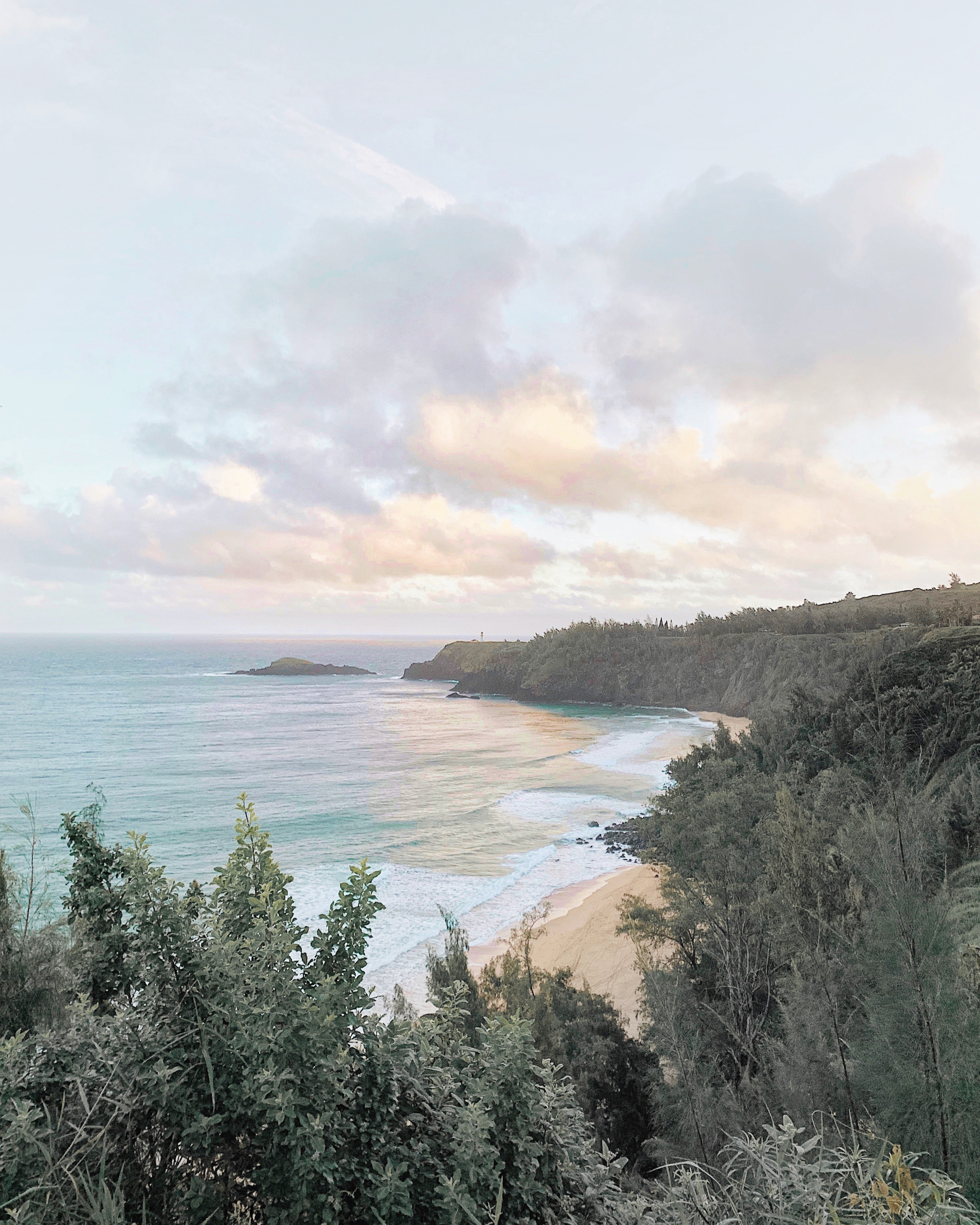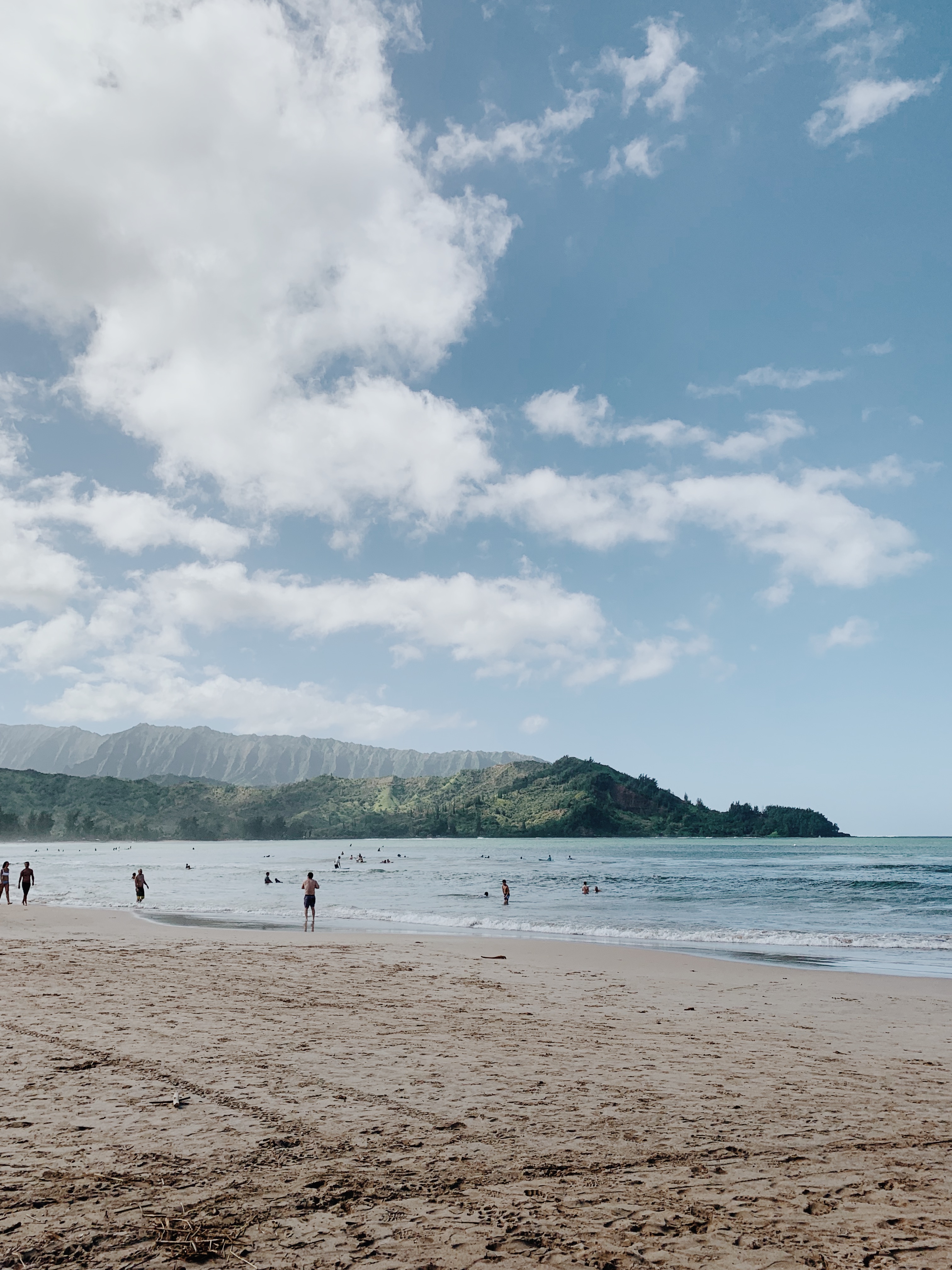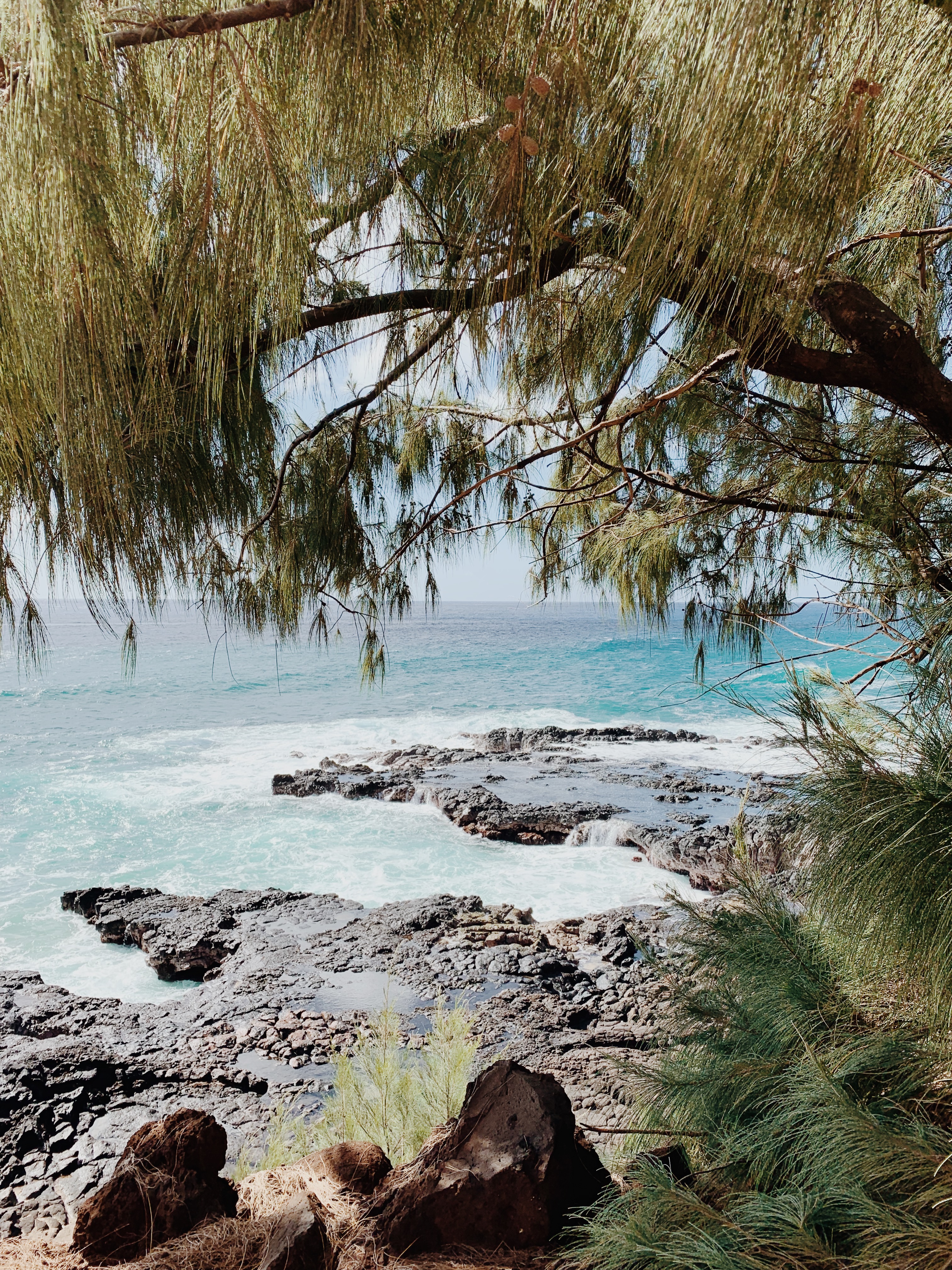 we were in love with kauai! we've been to hawaii before, but this was our first time on the island and OH MAN — it's so insanely beautiful. we stayed on the north side of the island, which is what i absolutely recommend, it's so lush and rainforest-y and amazing. we only saw the south shore briefly but it looked and felt a lot more like the big island, it definitely didn't have that same appeal for us at least. i was so happy with our location, the trip couldn't have been better!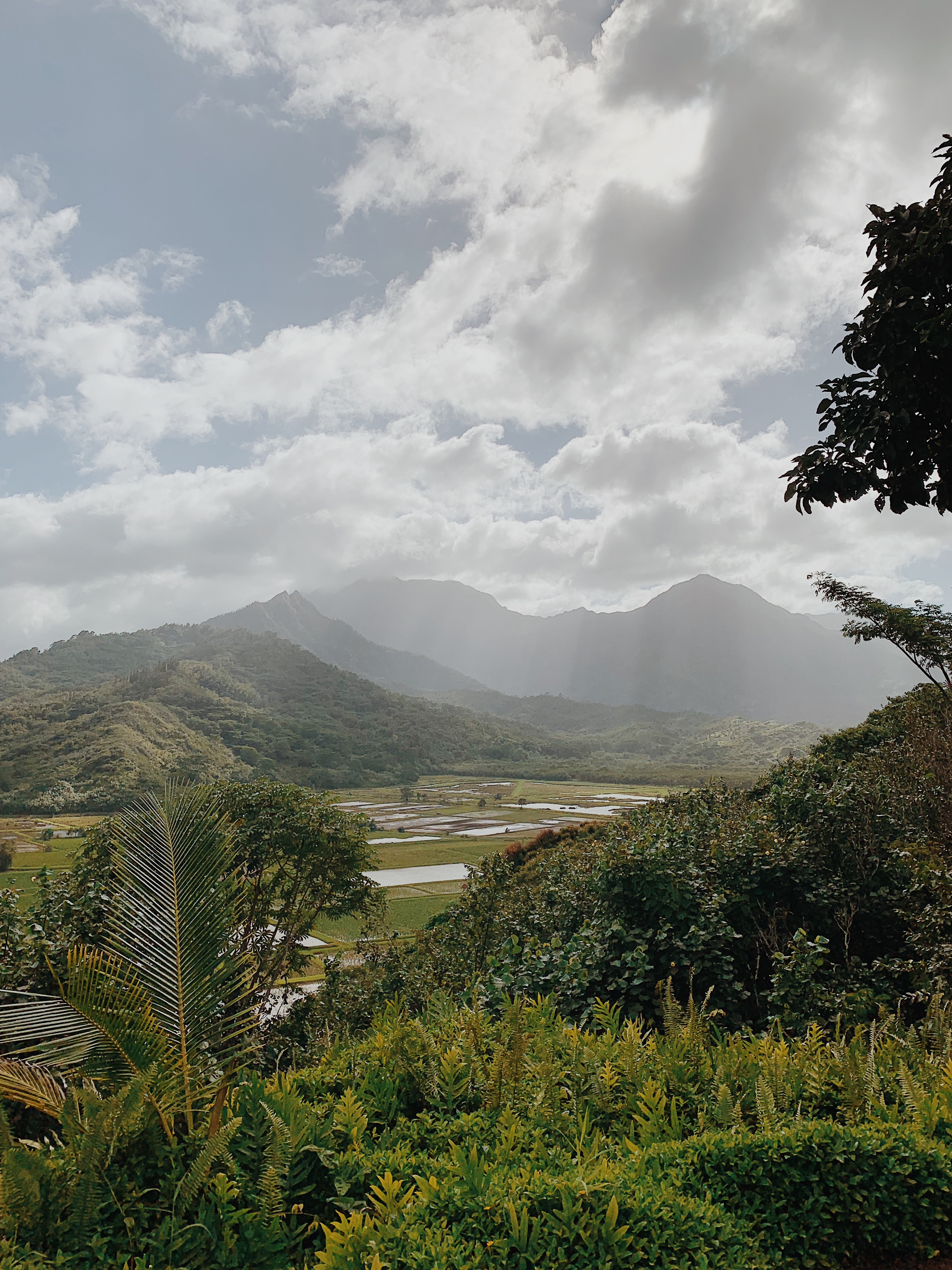 we stayed in a big house with my in-laws and for privacy reasons, i'm not going to share the link for the rental– sorry! we stayed in kilauea, which was an amazing location, but nearby in princeville, i think there were lots of resorts and rentals within the princeville resort. we also ate at home for dinner most nights, so i don't have a lot of dinner recommendations, but i'm including things that were constantly recommended even if we didn't get a chance to do them!

eat
sushi girl i loved their sushi burritos but make sure to add ponzu and get all soy paper!
kilauea fish market pretty delish ahi burrito but the wait is sort of INSANE
kalypso a cute spot in hanalei, get the pork quesadilla!
bar acuda we didn't get a chance to go but this was the dinner spot everyone recommends
ama same owners at bar acuda and the setting is so gorgeous!
lava lava we love this place from the big island, right on the beach, cocktails and live music and fun atmosphere. and the hotel attached is cute too!
banana joe's fruit stand everyone loves it for smoothies
hanalei dolphin sushi was also recommended a lot!
for shave ice (i sort of don't care about this but people do) : we had some at the fresh shave at warehouse 3540, jojos shaved ice and wishing well were most suggested.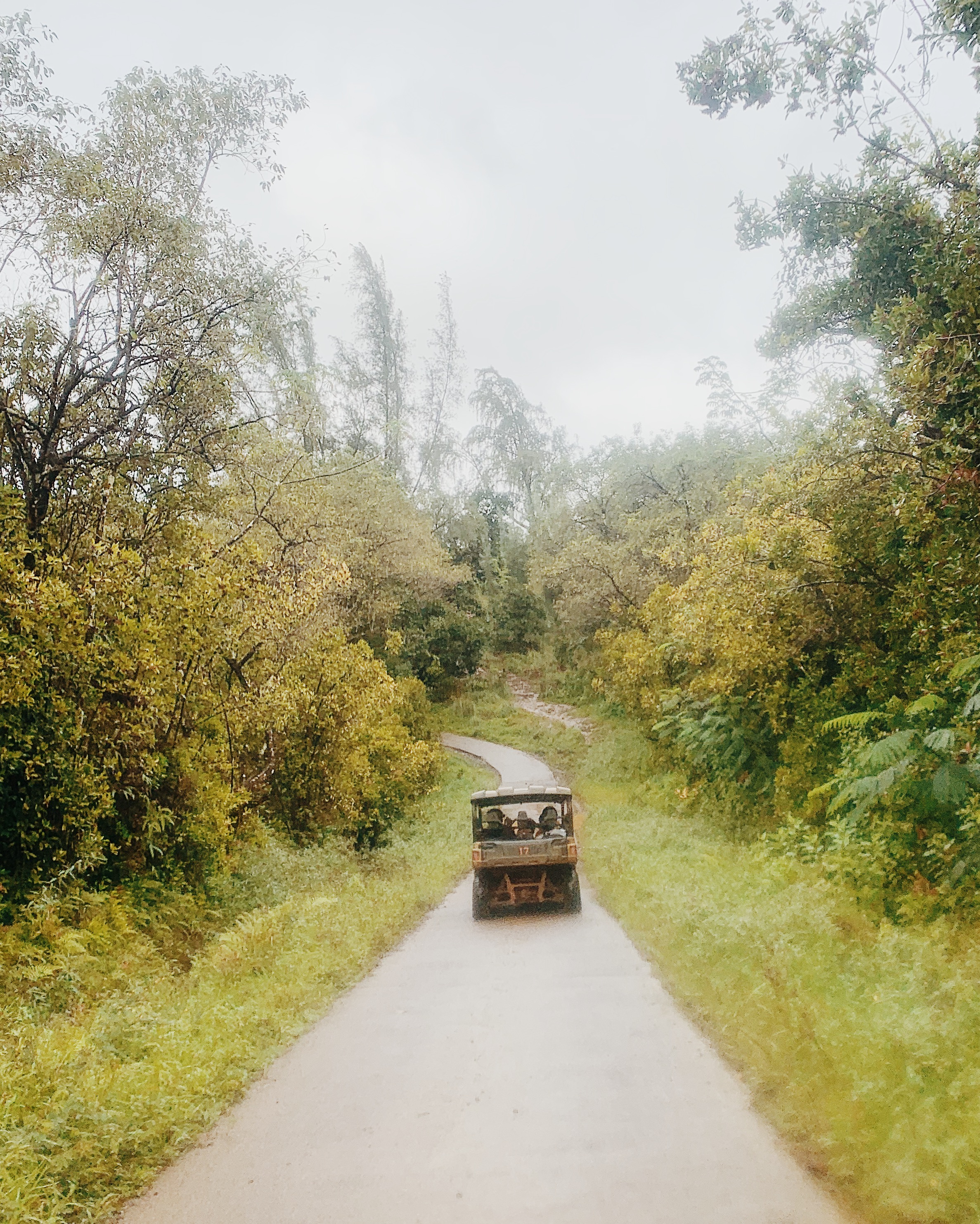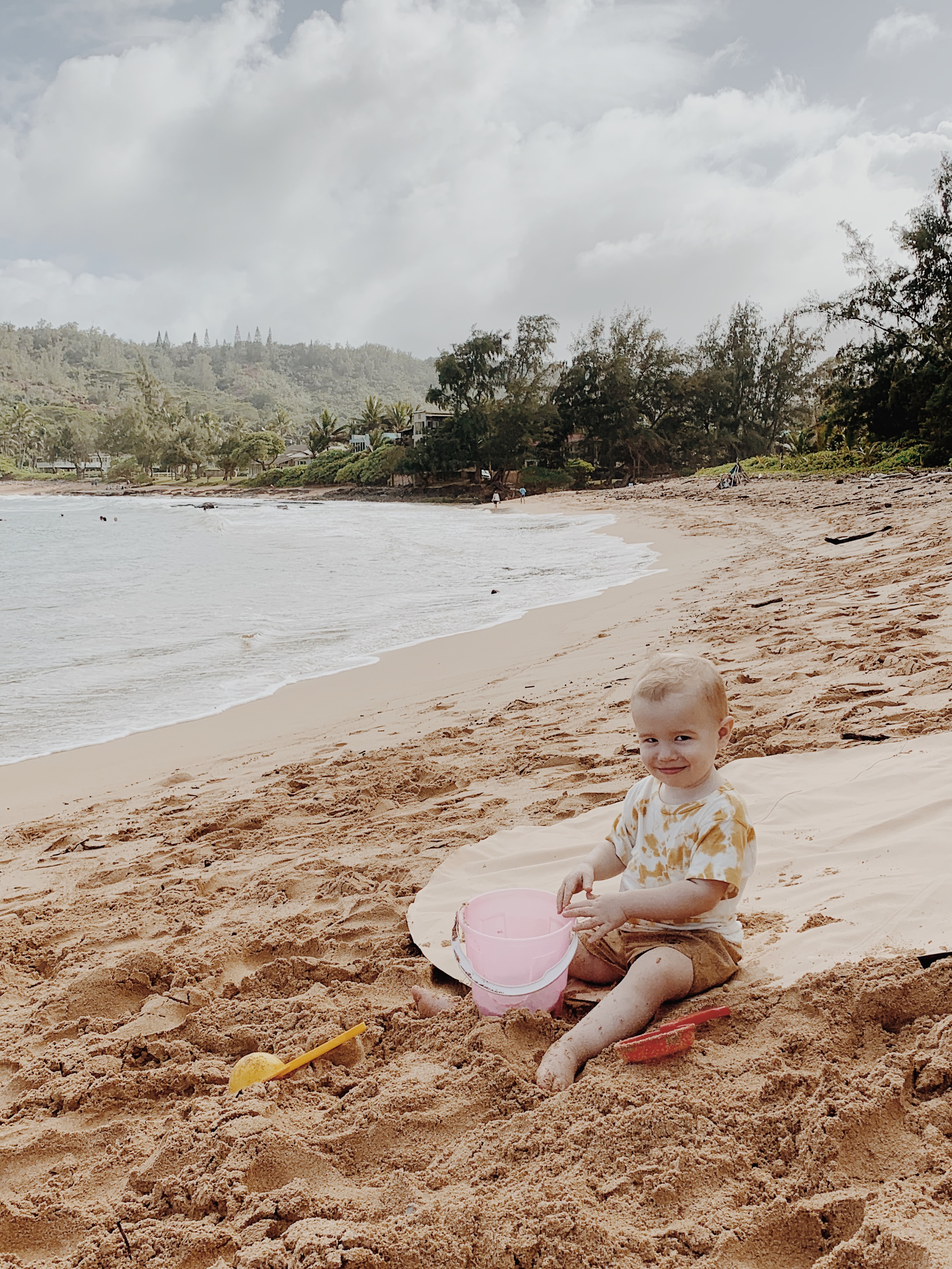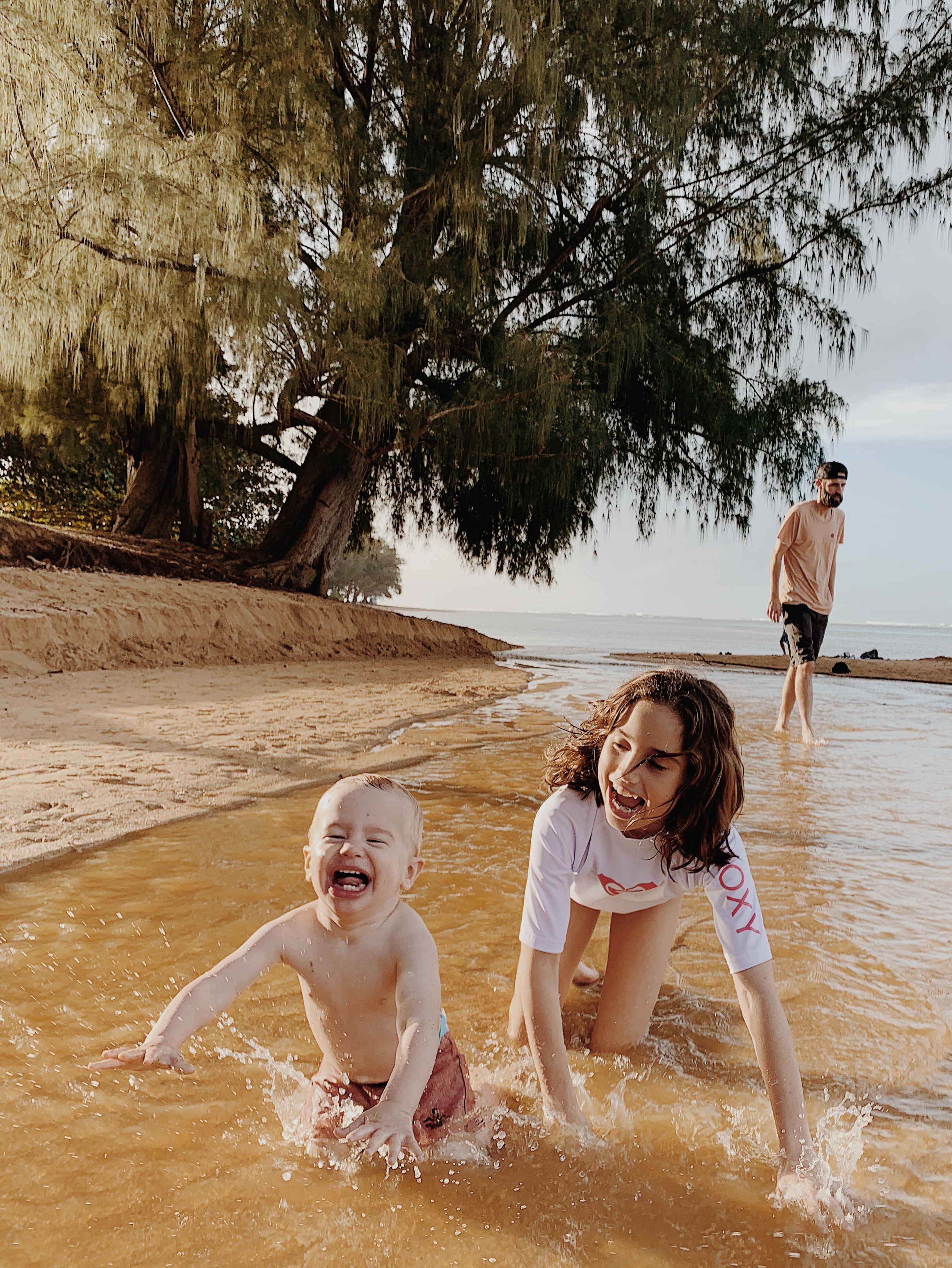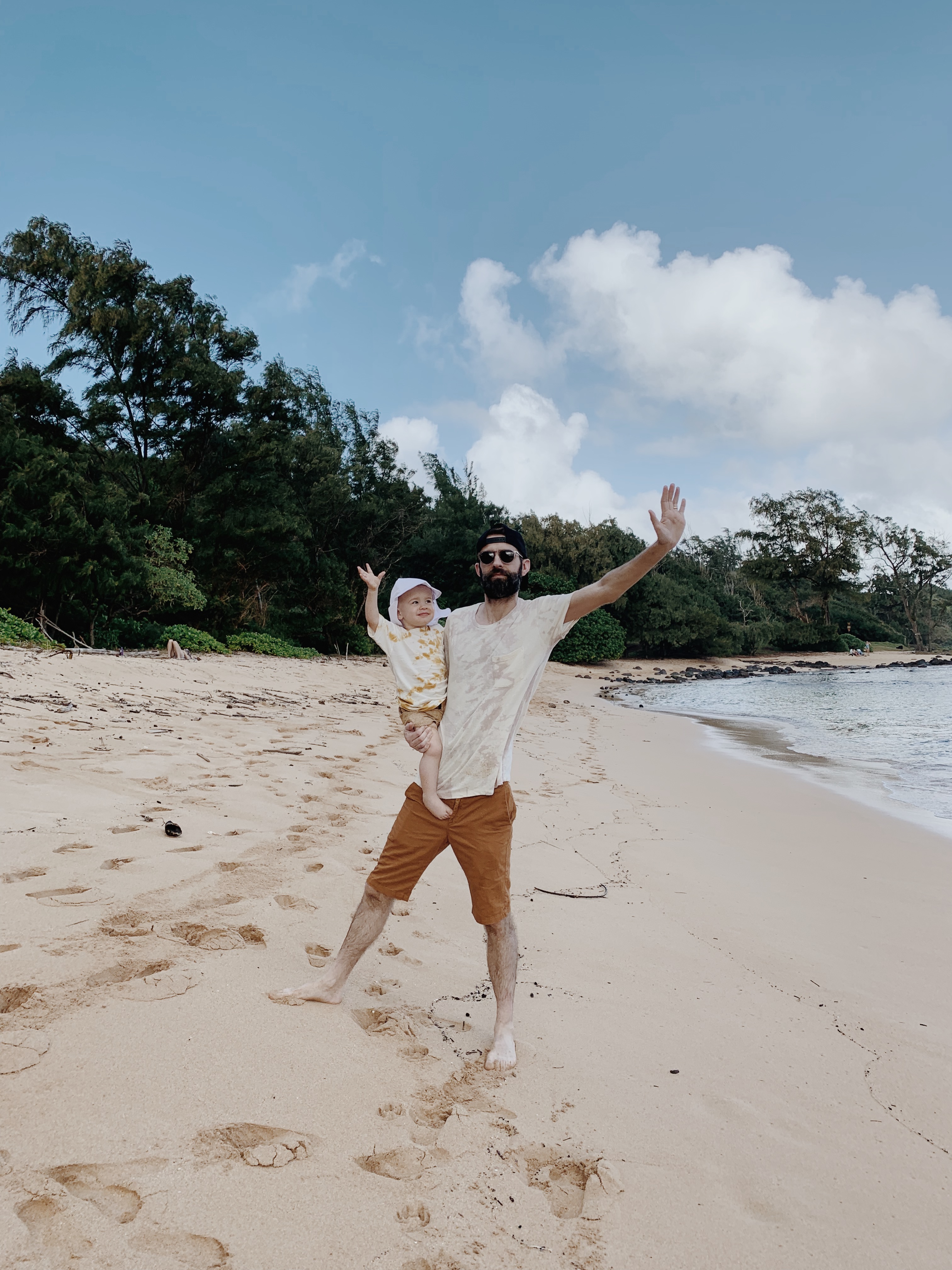 do
anini beach this was our favorite beach for arlo, very shallow water and tide pools for him to splash around in, we came multiple times!
kilauea lighthouse walk the lighthouse is so beautiful, definitely worth seeing!
hanalei bay definitely the most popular of the beaches we went to (it may be because it was so sunny that day) but it is insanely gorgeous!!
ATV/zipline excursion we did a day at princeville ranch, it was so much fun
waimea canyon we didn't get to see waimea canyon but that would be #1 on my list for next time, it's the "grand canyon" of kauai, and it's possible to just drive instead of hike if you are traveling with kids, but you literally have to drive around the entire island to get there and we never got around to it
na pali coast boat ride i would love to do this next time too!!
snorkeling at poipu beach another thing we didn't do, but we did go south to see poipu and stopped to see the spouting horn for 2 minutes. there's also a baby beach nearby but we didn't go.
mola'a bay a very private tucked away beach, i guess they shot gilligans island stock here! the water was a little choppy for arlo but it was beautiful here
walk around hanalei the town was so cute but make sure the bridge is open before you drive there
**ke'e beach this beach is not accessible since the floods, but check and see because it's supposed to be beautiful
**tunnels beach this one too!! and i heard it was baby friendly.
**queen's bath do not go if you're visiting in the winter. and maybe don't go at all because people die here a lot, not worth it for content if you ask me lol, but it does look beautiful

shop
farmers markets we went to kilauea farmers market and got to try lots of amazing fruit, AND that frozen pineapple above!! 
warehouse 3540 we drove pretty far to come see this little warehouse full of vendors, but it's a really cool place to pick up some special souvenirs
hunter gatherer this was my favorite shop on the island! filled with cute goodies, but check out the whole area and across the street for a bunch of cute shops including a store just devoted to vintage overalls
aloha exchange cute surf stuff
sand people in hanalei only browsed this store quickly but i saw a bunch of cute things!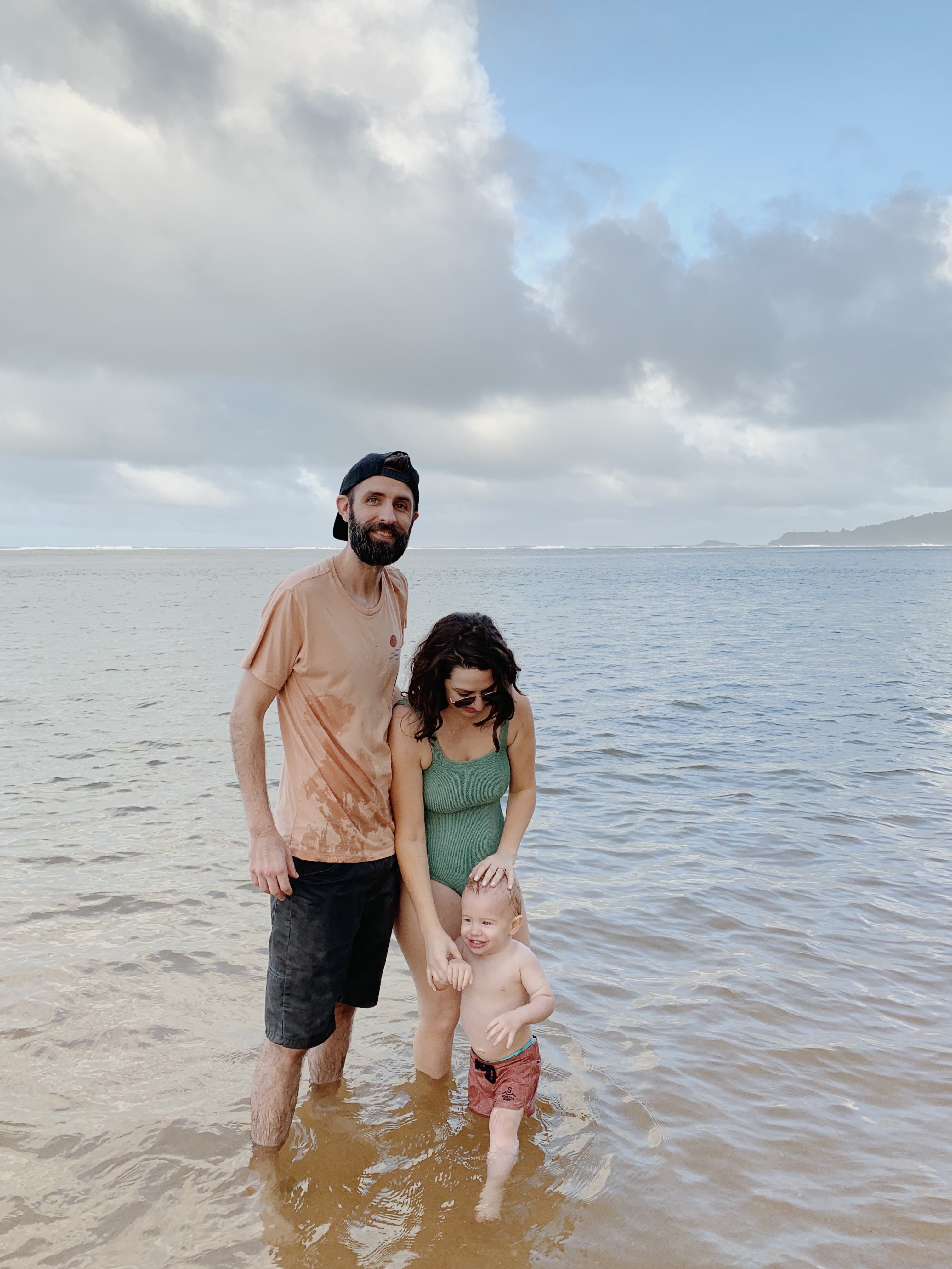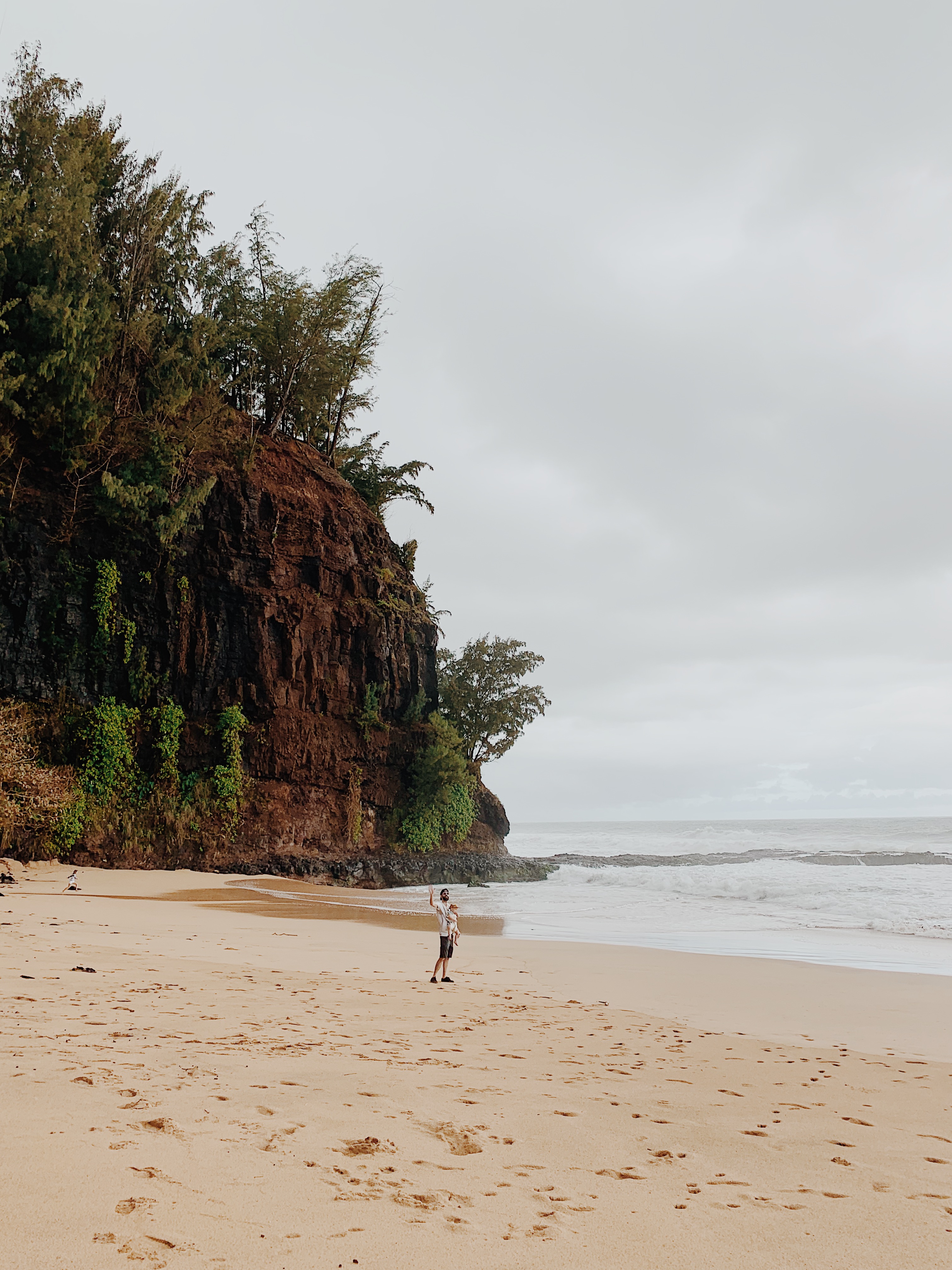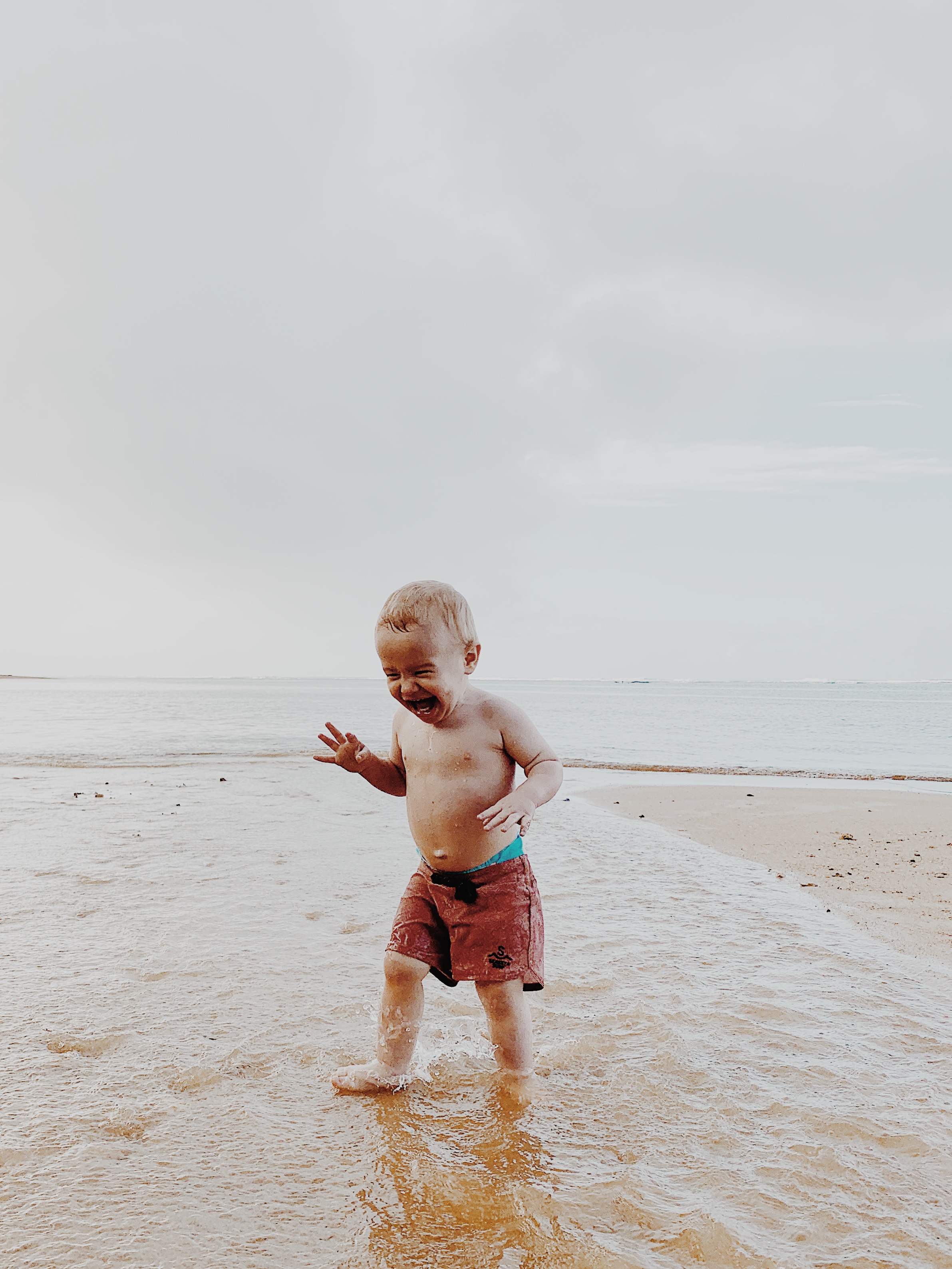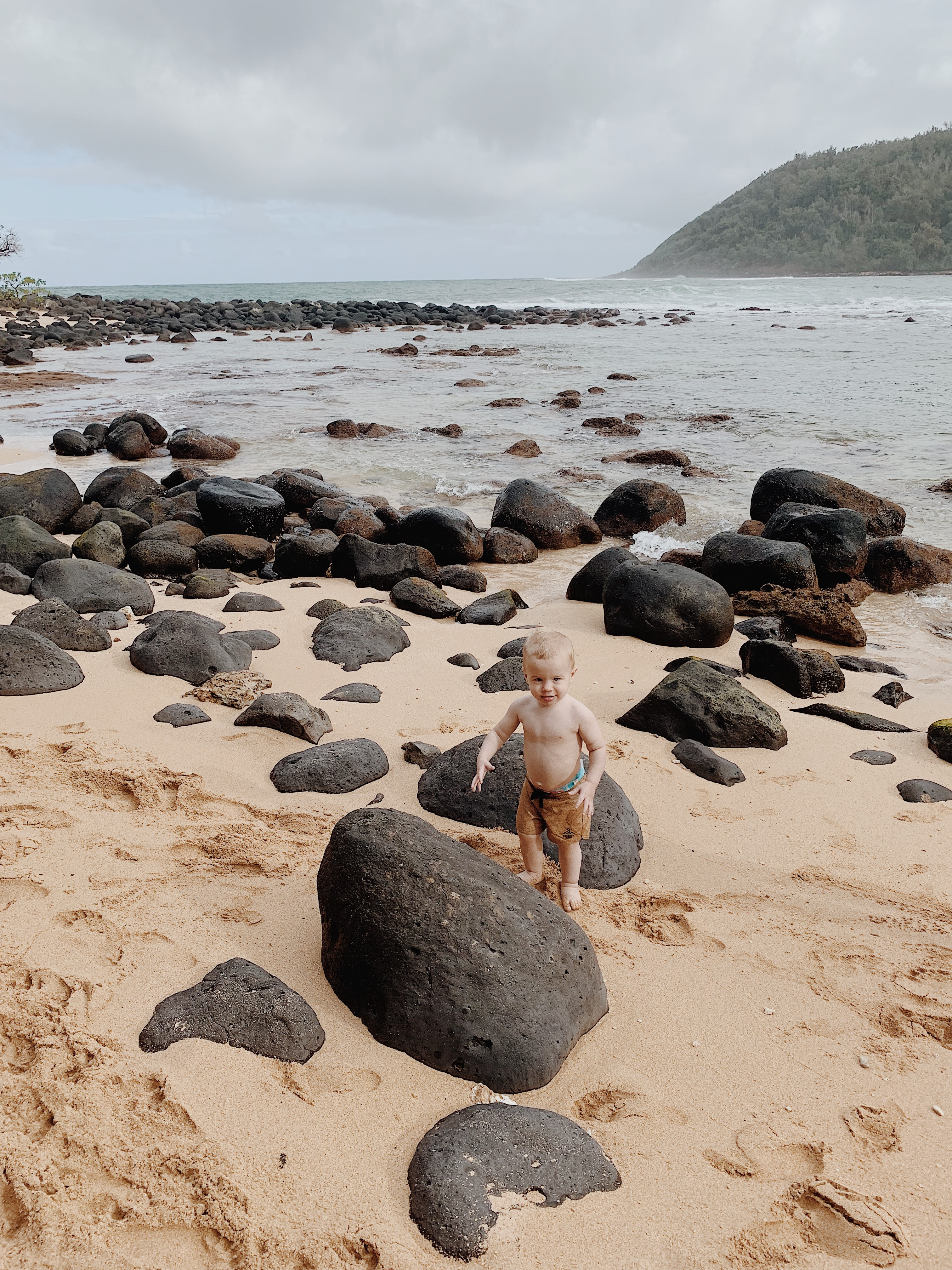 packing tips + some general advice
we packed SO SO SO wrong for this trip, so in hindsight i have a lot of advice. now like i said, we stayed on the north shore so i'm not sure this stuff applies for the south.
don't pack for kauai the way you've packed for other hawaii trips! it's a very different island. i packed a lot of my cute linen jumpsuits and pants and my fancy leather sandals and i was mistaken.
pack a pair of shitty sneakers, you will probably ruin them because the dirt in kauai is red, and clay like! and pack flip flops or pool slides, not only nice sandals. but you can wear your nice sandals to dinners.
definitely bring a rain coat, umbrella, and more heavy things than for other islands, the day we had a storm it was colder than i expected (it was also winter!) i only brought one sweatshirt for the plane and was glad i had it when it got chillier.
a lot of the things to do and see in kauai require hiking, so definitely pack a baby carrier if you plan to do anything like that. we hiked down to a secret beach with arlo in tow, but besides that we mostly avoided doing anything too active since we had him. (btw the day we did the ATV excursion we left it at home with a nanny)
---