tips for baking and cooking with a toddler (and enjoying it too)

this post is in partnership with oxo
i have been baking with arlo since he was only a year old and i made his first birthday cake while i wore him in a baby carrier (tears!!!!). since then, he has developed such a serious love of helping me in the kitchen and it's one of our favorite things to do together. i cherish these memories of us together making so many dishes and the idea of him being a chef someday or even just being really great at cooking for his own kids WARMS MY HEART SO MUCH!!!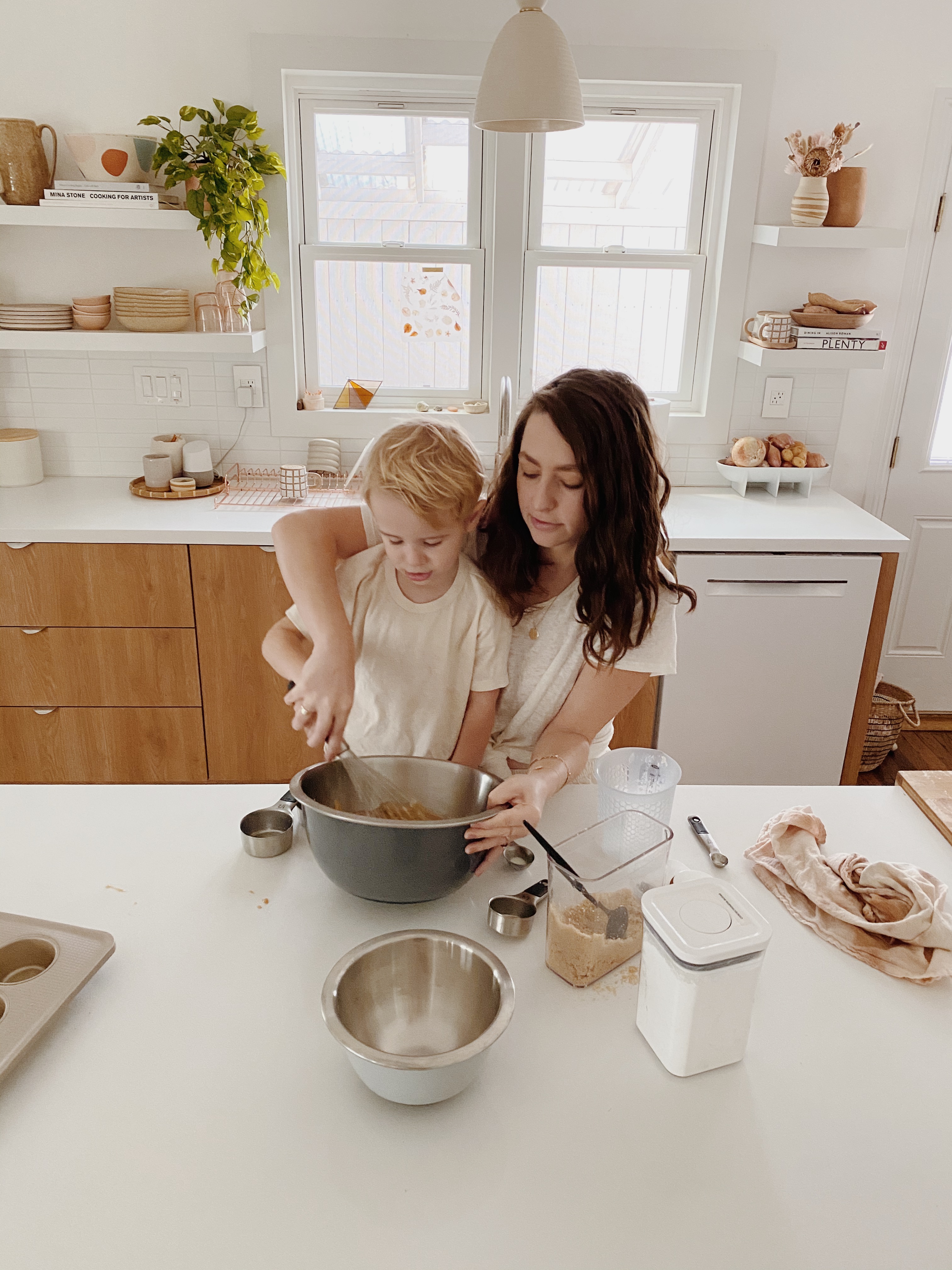 i also realize that i have a severely well mannered toddler (ok well about 70% of the time), so some of this advice might not be applicable if you have a wild child. if thats the case, i totally recommend doing their own batter (like just letting them mix up ingredients in their own bowl for the fun of it).
i've been working on this post for so long now and so happy to finally be sharing my tips with OXO. OXO makes so many kitchen essentials that we love and are actually really kid friendly too. their mixing bowls have rubber bottoms so they won't topple over when your kid is frantically whisking. and the measuring spoons are magnetic so they stick together in the drawer, but i can take them apart for when arlo is CAREFULLY pouring the vanilla extract in and its much safer than the sets that are stuck together. (he also loves to stick them together in between steps for fun)
---
have patience!!!
ok this is the number one rule. if you aren't patient, don't even bother trying to include your kid in the kitchen. everything will take longer, be way waaaay messier, and probably even taste worse– but doing it together is the fun part. and if your child is anything like arlo, the pride he feels when eat something we've made together is unlike anything else!
if they get bored and want to leave while you're in the middle of things, don't get annoyed! arlo usually comes back when he realizes i'm continuing on without him 30 seconds later.
get them their own supplies
a stool is number one. as soon as arlo had his own big stool, he was hooked on helping me. and he's been running to grab his stool before anything else ever since. if your kid loves to have their own stuff, get them an apron, their own little spoons/spatulas/knives — anything to encourage getting more into it.
get them inspired
besides arlo having a play kitchen with lots of his own tools to play with, he also has books about cooking (we love these ones) and loves to watch the cookie monster and gonger cooking segments on sesame street. i feel like all of that keeps him passionate too!!
setup beforehand
mise en place can be super helpful when it comes to making sure your kid stays interested. when we're cooking dinner i'll usually start chopping certain things or just put all the ingredients out on the counter because he likes knowing what's to be expected!
we use these OXO pop containers for all our baking supplies and it makes it really easy to keep everything organized and tidy.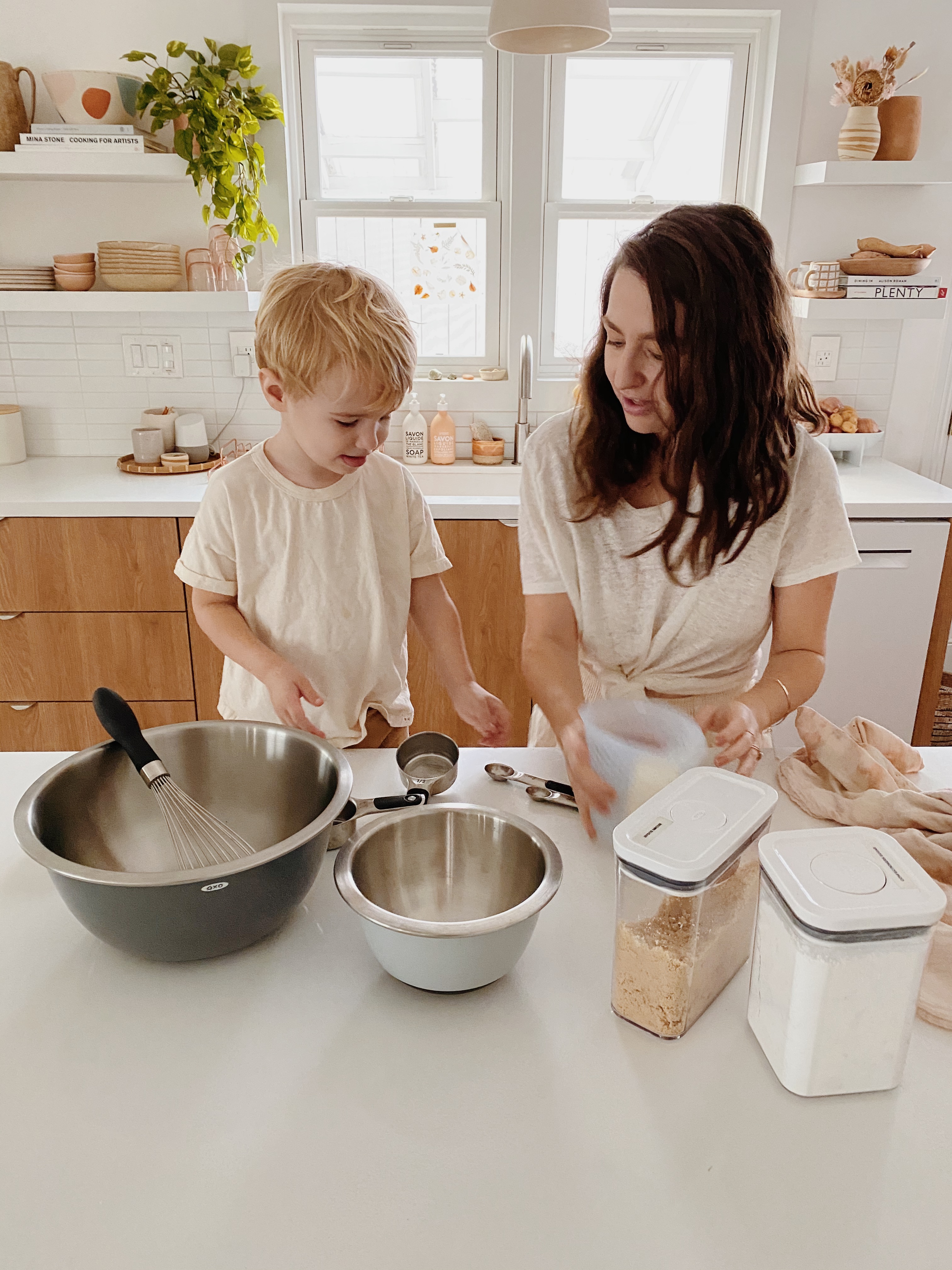 encourage them to choose what you'll be making
just like with crafting, i know that he'll be super excited about making certain things. he loves cupcakes and blueberry muffins, and fruit in general, so fruit themed baking is always most exciting for him. when we're deciding what to bake, i'll usually give him choices and then he feels like he got to decide. for dinner it's different, he is into whatever– although he definitely gets more pumped about using the food processor or the slow cooker than most other things.
another tip is to not get overly ambitious! i'm all for store bought pie crust or box cake mix always, but especially when it comes to baking with a toddler. little shortcuts that can save time and keep them interested are worth it. (and ps i shared before that a galette with store bought pie crust might be the easiest and most toddler friendly thing to bake EVER)
learn their strengths and weaknesses
after A LOT of time spent in the kitchen with arlo, i know a lot about what he's great at, what tools and jobs he loves and what i will trust him with when he's older. for example he loves the mixer, he loves using a salad spinner– and i don't let him near the cocoa powder unsupervised after too many mishaps and an almost ruined hand vacuum (don't ever try to vacuum up cocoa powder ever!!)
but i can always count on him with certain jobs– he loves to whisk and stir and "misk", he loves to pour the ingredients into the mixing bowl, and he loves to fill measuring cups with ingredients. so i do certain preliminary steps to accommodate, like i'll crack the eggs into a small bowl so he gets to pour himself and i don't have to worry about the eggshells getting everywhere. he loves to fill a cupcake tin with cupcake liners one by one so i always make that a big to-do! we got this squeeze and pour measuring cup that is microwave safe and is perfect for toddler hands because it's durable and squishy. he basically loves pouring anything from it so i've been filling it with all the liquids.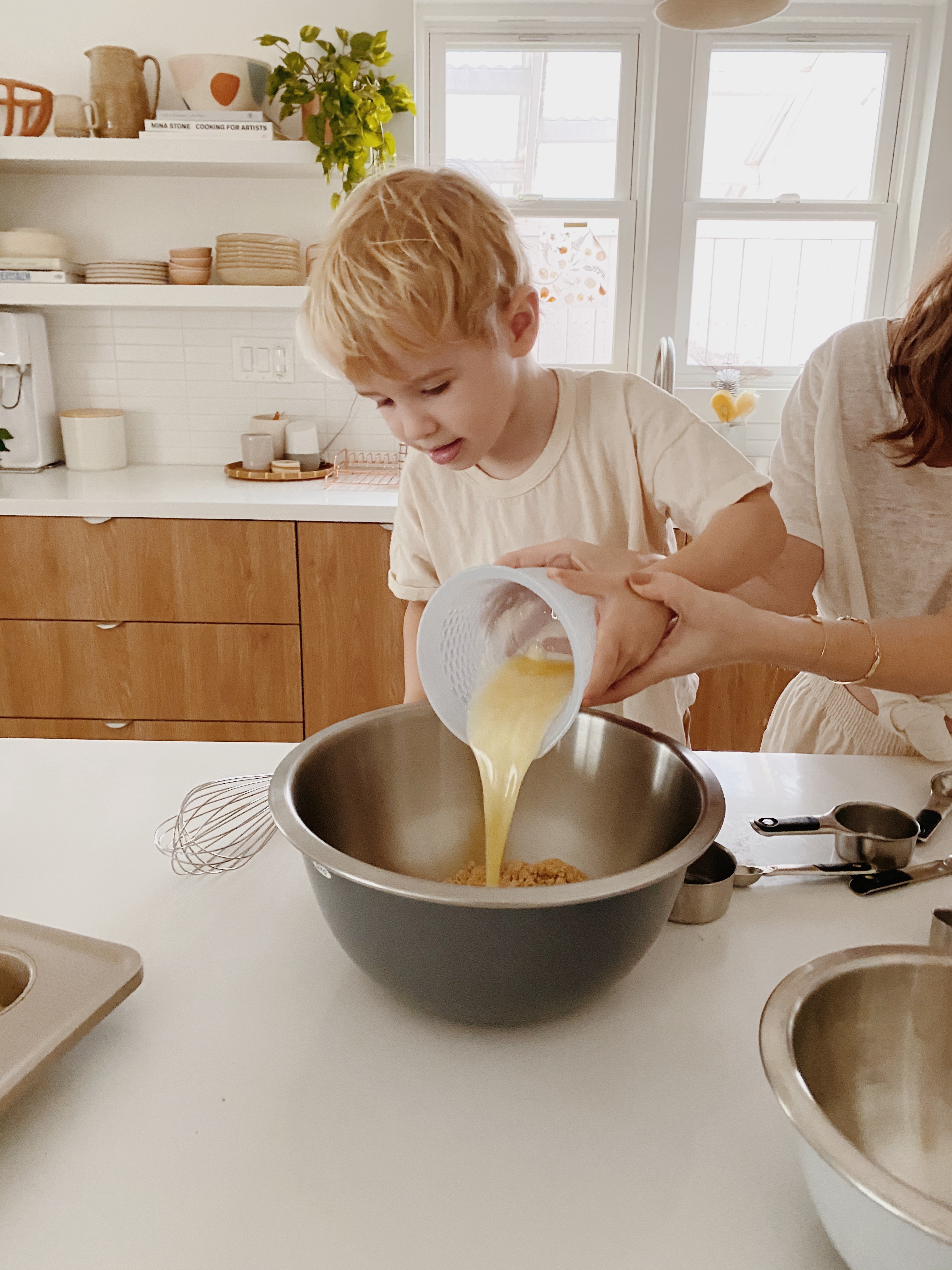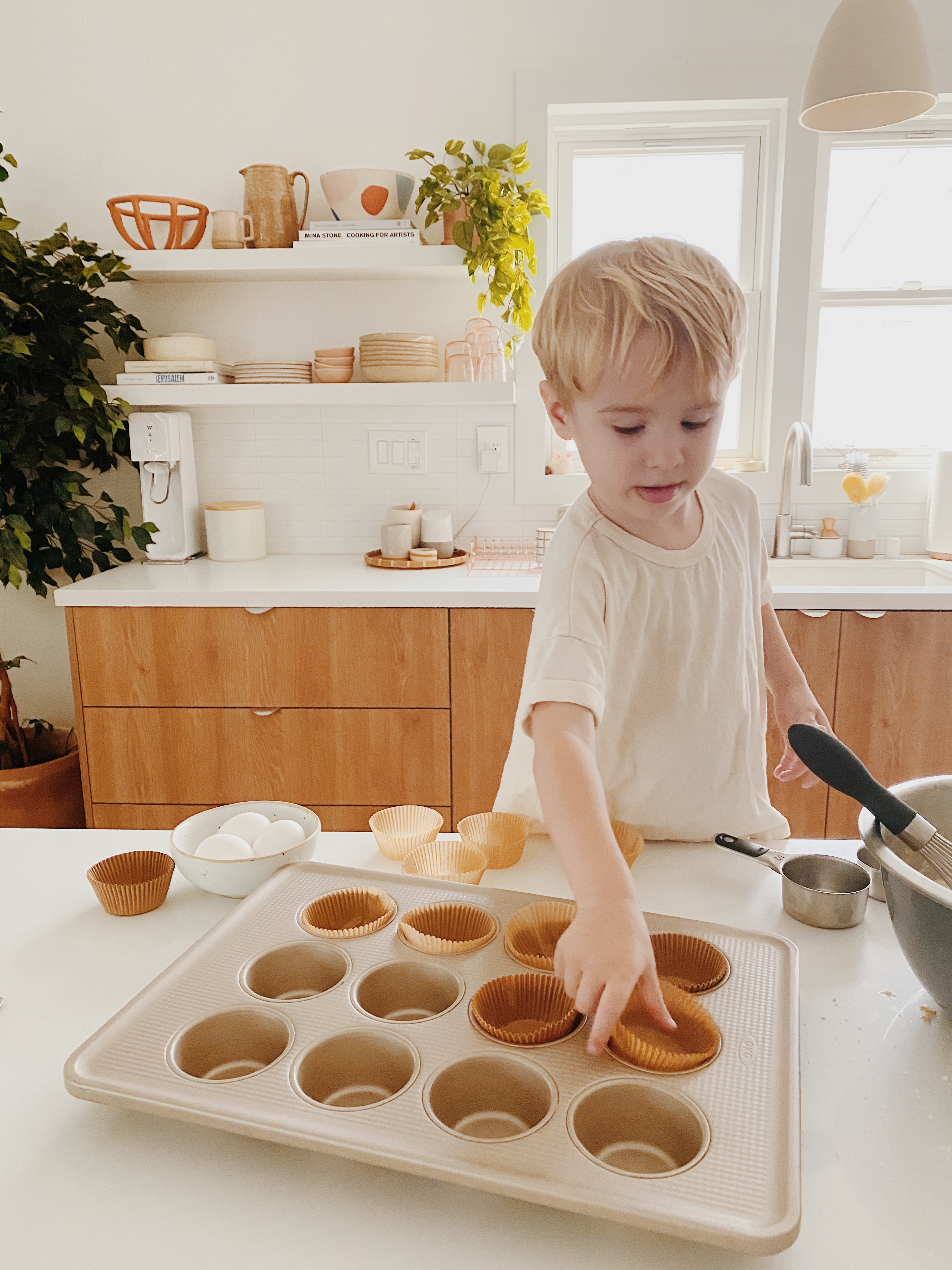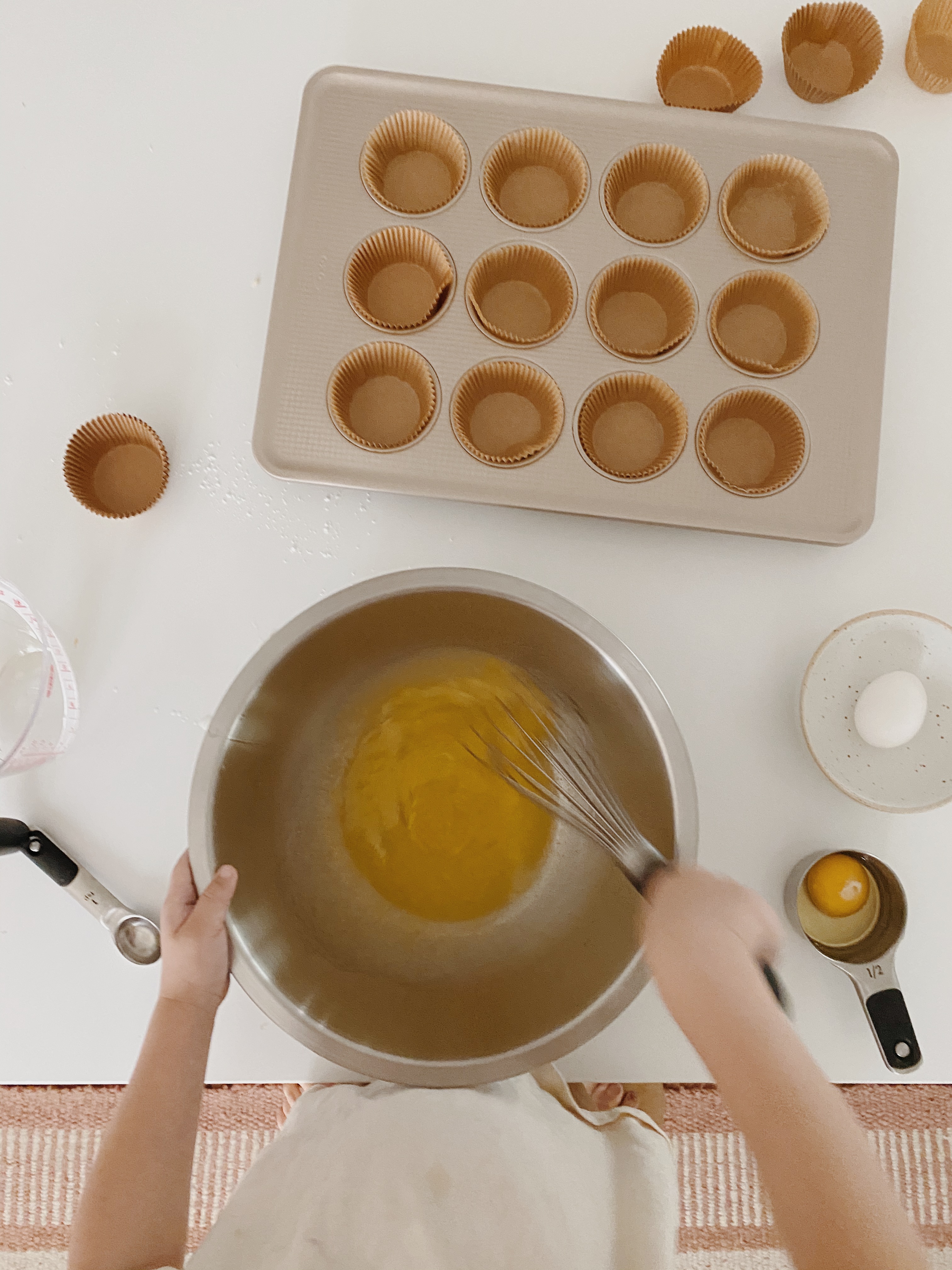 welcome mess ups and messes
baking helps hand eye coordination and motor skills and i strongly believe they've helped arlos so much. but he is still very prone to spilling. he's three. while i always make it a point to not make a big deal if things go array or a big mess happens, i also encourage arlo not to pour ingredients in or move onto the next step unless i'm supervising. and he mostly listens lol.
tools help too– oxo makes this batter dispenser that is so helpful, i never thought i would see him successfully filling cupcake liners on his own!!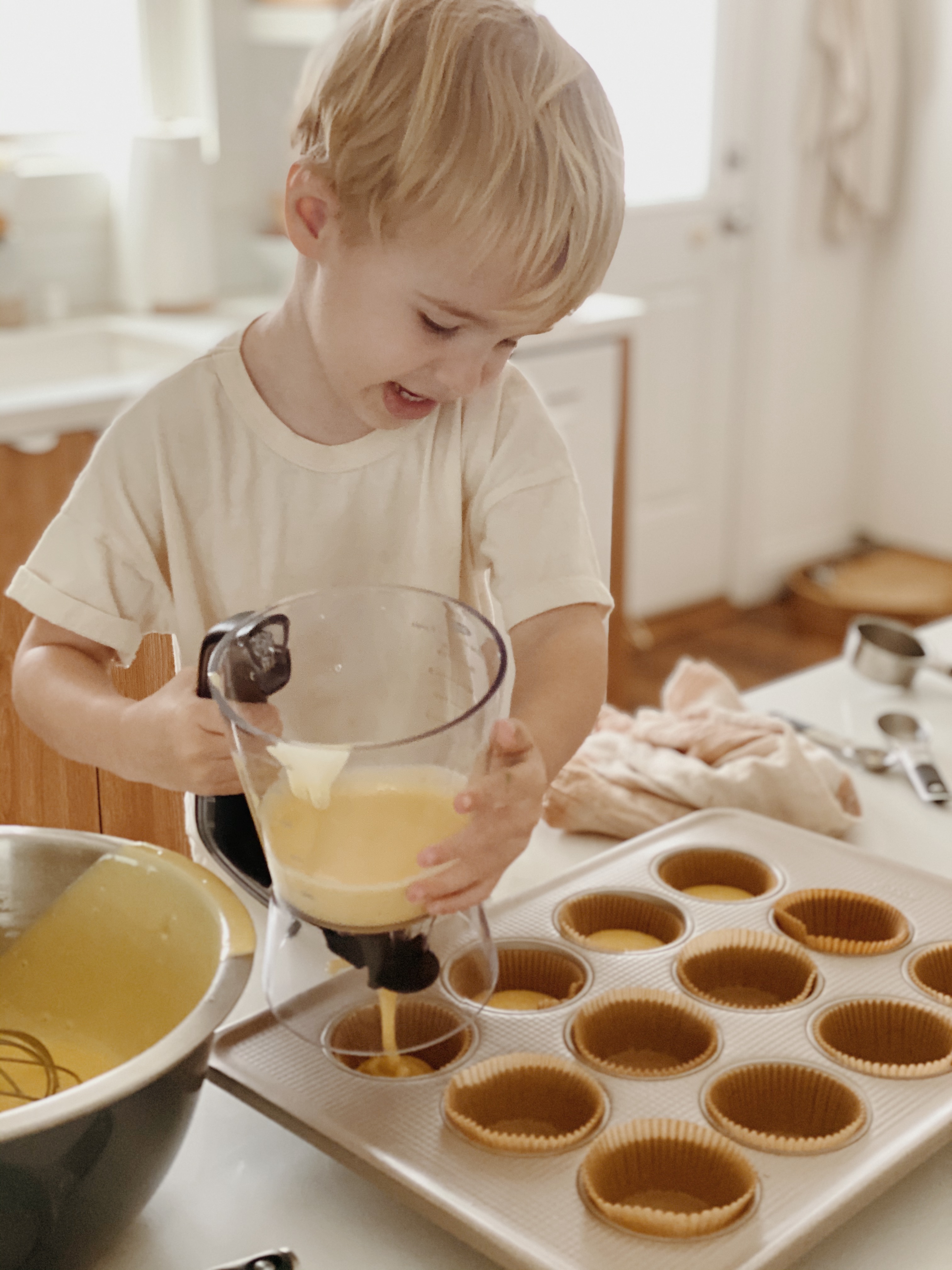 keep it light, keep it fun
no matter how big the mess gets or how over-floured the cookies become, make sure you always keep the vibe fun for them. i would never want arlo to associate helping me in the kitchen with pressure or negativity, so even when i'm running very low on patience, i stop and change the energy. whether that means playing music or facetiming a grandparent to show them what we're doing. both of those help a lot! other things that go a long way: sprinkles, food coloring, fun cupcake liners, letting them decorate a cake themselves.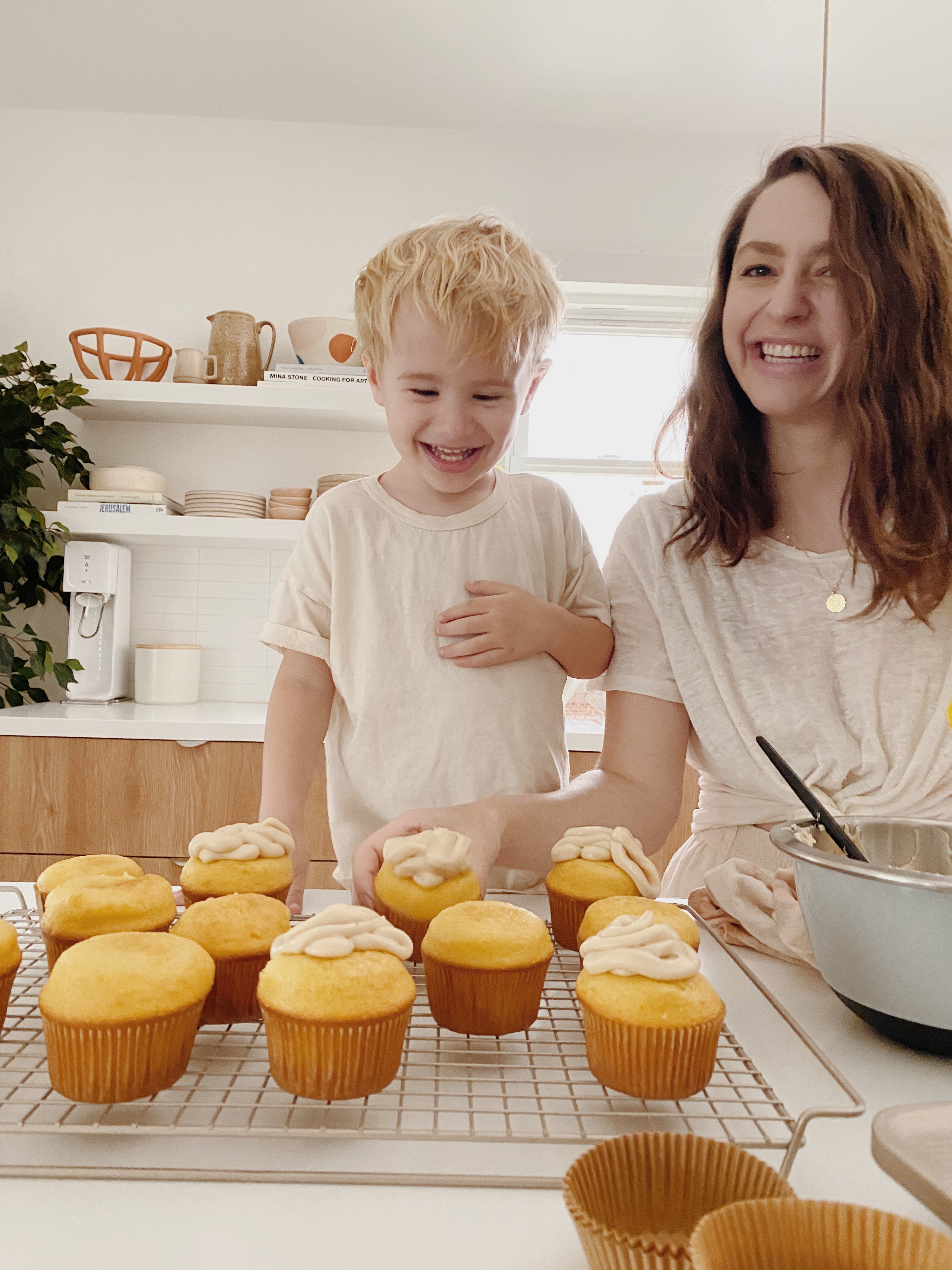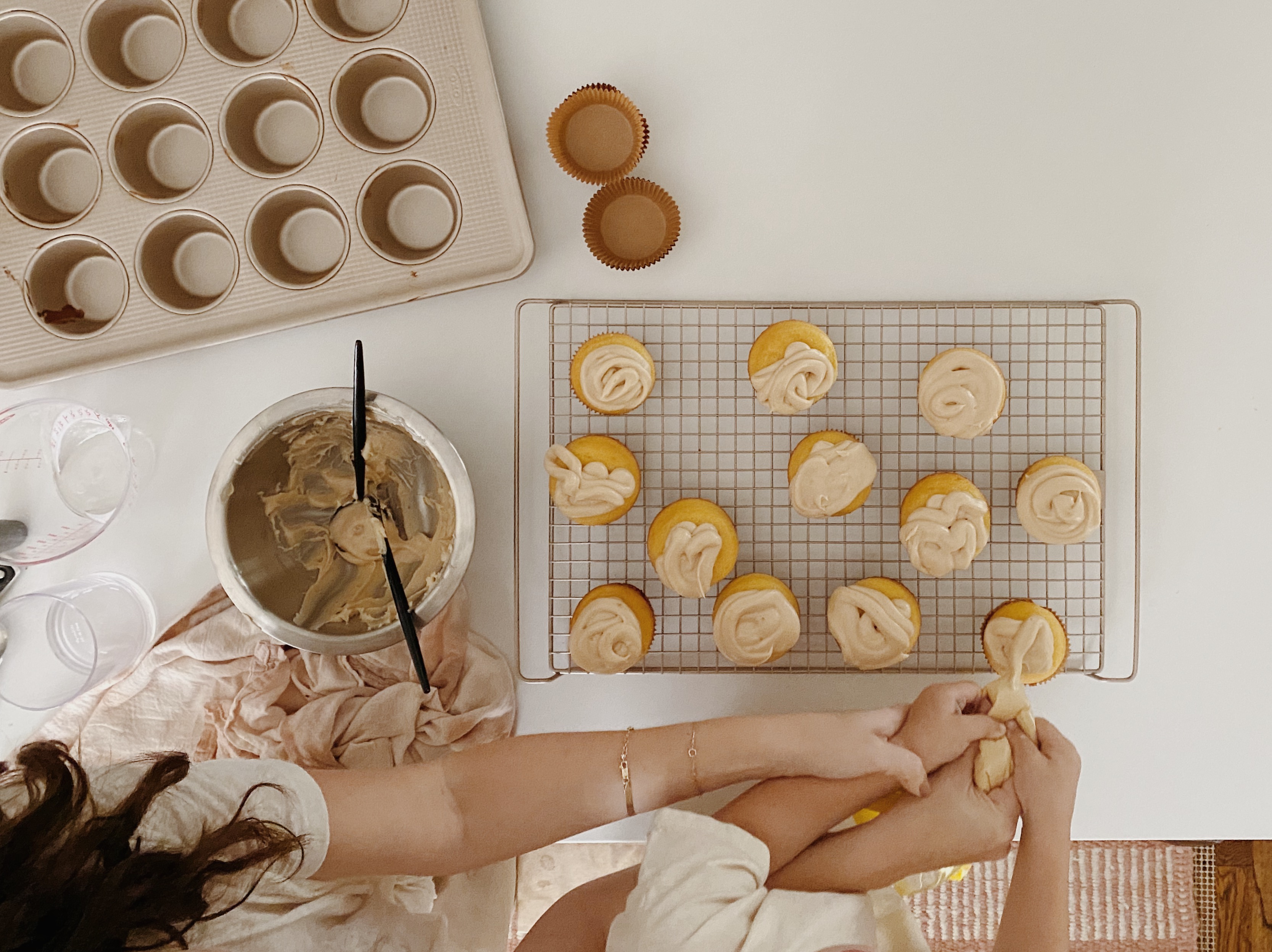 always include them
although arlo isn't interested in helping me cook dinner every single night, he knows that when i'm in the kitchen he is always welcome to help me. it's rare that i don't invite him to join me when i'm making dinner, which i believe has made him feel more paramount in the entire operation haha. so much so that sometimes i'll announce i'm making something and he'll drop his activity and run over to see whats up. if your child is messy or too high maintenance to help every time, we've also designated one day a week to be baking day. this is certainly enough to keep them into it!
let them eat
for the first few years, i wasn't actually allowing arlo to eat the sweets we'd bake very often at all, but the older he got, but i noticed him starting to lose interest a few months ago so i knew that would reel him back in! now that he's old enough to have treats now and then, i do think its a special part of the baking process to actually get to try what he's made!! and he's always so proud. and now its so funny in retrospect how many times he baked something with me and never saw it again. it still sort of happens, if we make cookies, i'll usually let him have half one of one and then he seems to forget about them the next day… so more for us!! another thing we sometimes do is bake treats to bring to family, so you can relax about their sugar intake and encourage them to say goodbye to something as cool as cookies hahah.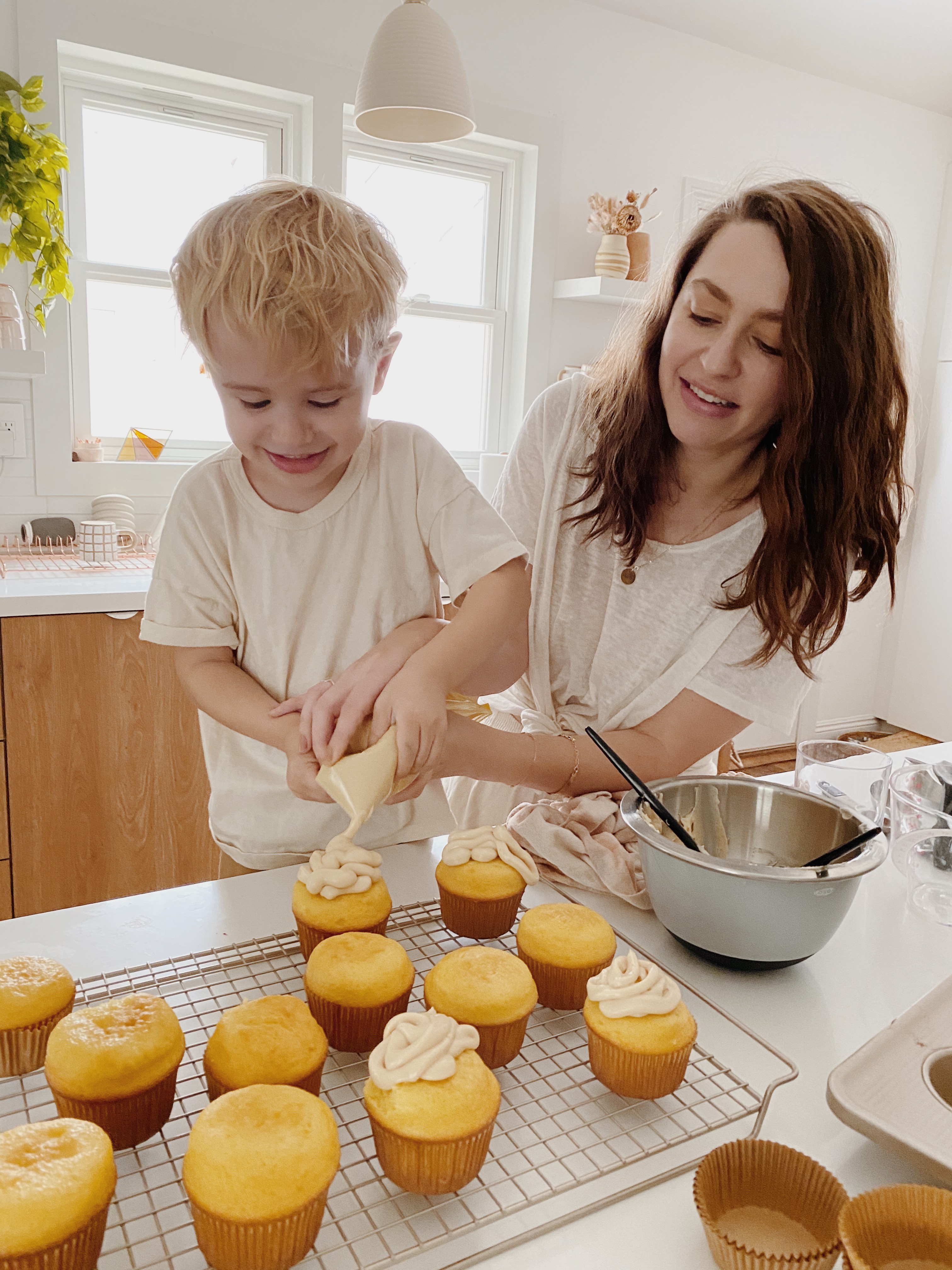 ---
i hope this encouraged you to try out letting your kids help more in the kitchen, i've always loved baking– but to do it with arlo has really evolved my love of it. and now more than ever, it's such a fun activity for us that takes up a whole day. i just hope he never wants to stop baking with me!!