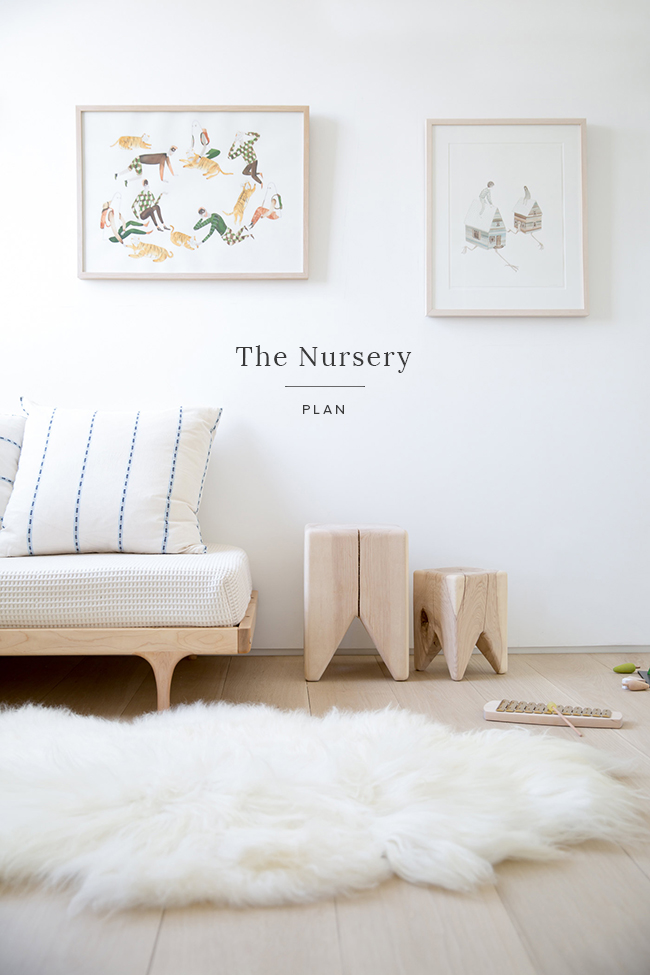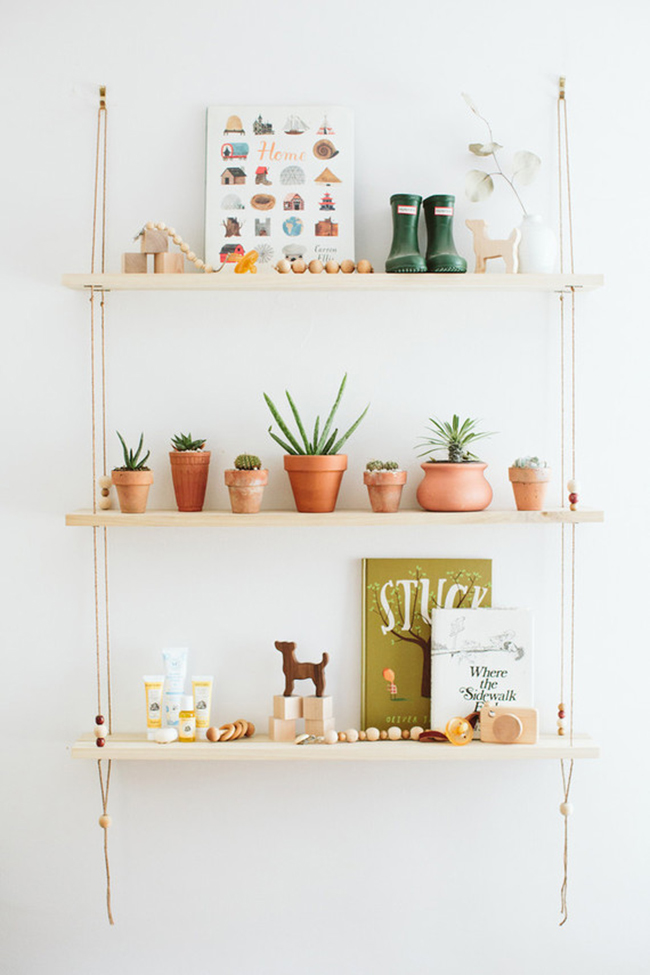 you guys seemed to be excited about designing the nursery, so i thought i'd share right away!
his room is pretty much cleaned out now — but it's been the junk room since we moved in, we always had the intention of making it the nursery someday but let it fill waaay up when we just had the movers put everything miscellaneous in there. we've spent the last few weeks slowly taking everything out (and trying to sell a bunch on craigslist) and it's finally starting to feel more like his room. 
i want the nursery to be as uncluttered as possible, but it does seem like you need an endless supply of things for a baby so i'm really going to have to focus on keeping it as minimal as possible, and making sure everything has a place (i struggle with that, which is why almost every drawer in the house is cluttered with endless crap). i haven't really started purchasing yet, instead i'm slowly creating this plan and researching, so that i know everything works together.
here is some of my favorite very neutral and yet still totally cozy inspiration…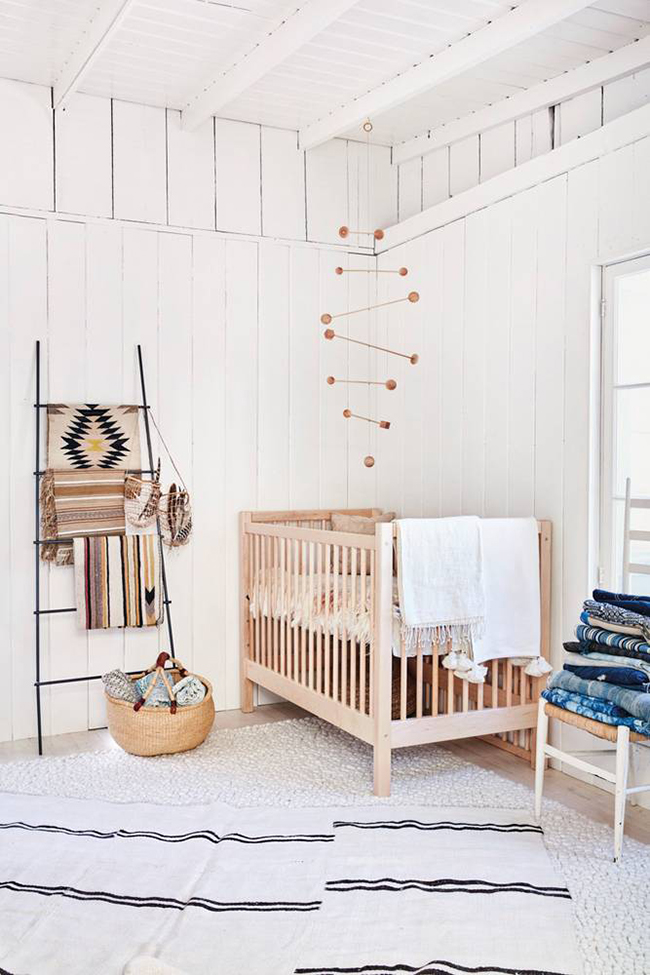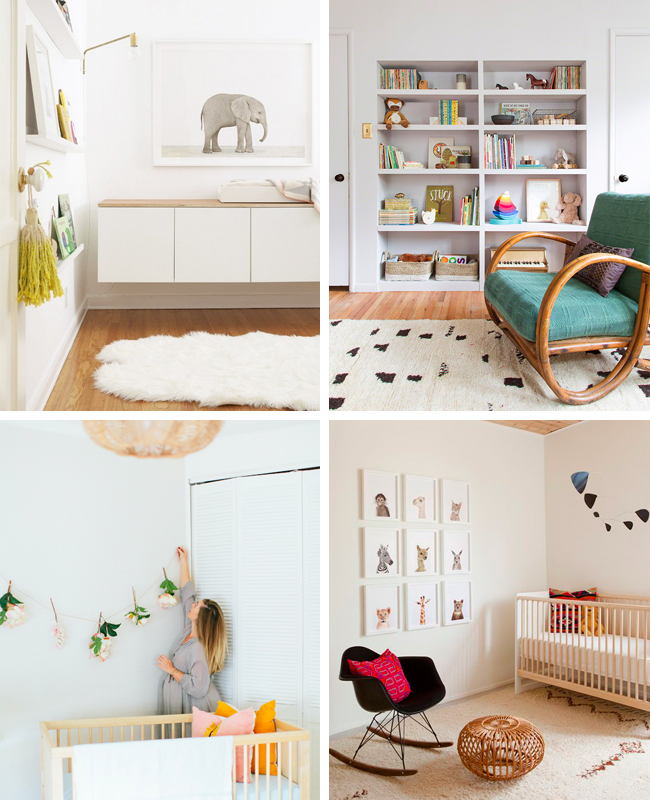 photo sources : 1 / 2 / 3 / 4 / 5 / 6 / 7
the room isn't huge, but it isn't tiny — so we have some flexibility but i really don't want to "fill" it up. besides the crib, rocker chair, ottoman and a dresser, i'm still considering a small shelf for toys and books — and that's it hopefully. pretty sure that's standard right? am i missing anything?
now, i desperately tried to get the cats to not be in every before photo, but they just wouldn't allow that. such punks. so here's his room in all it's pink glory :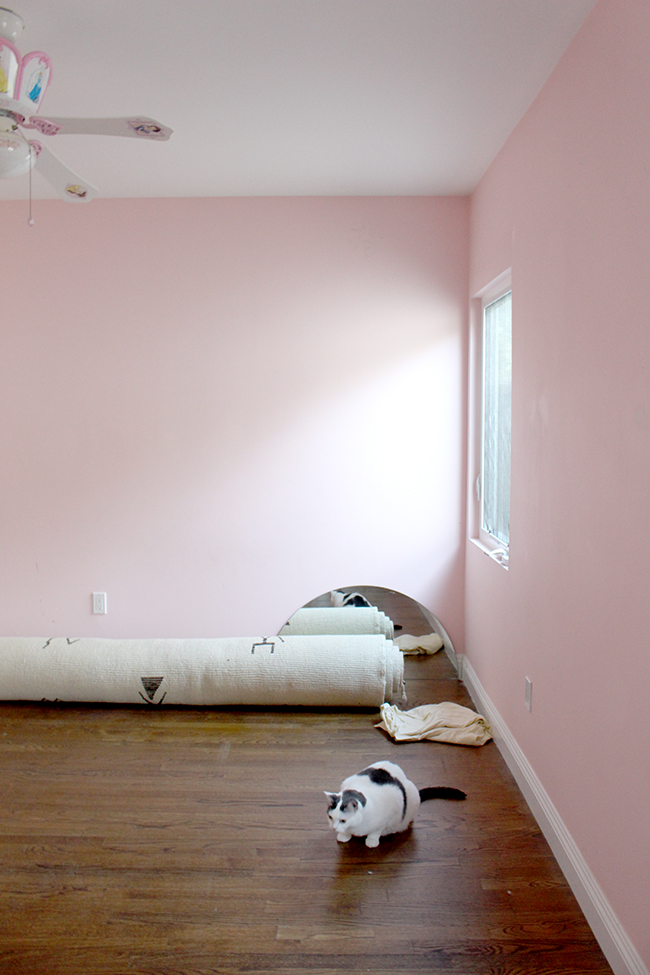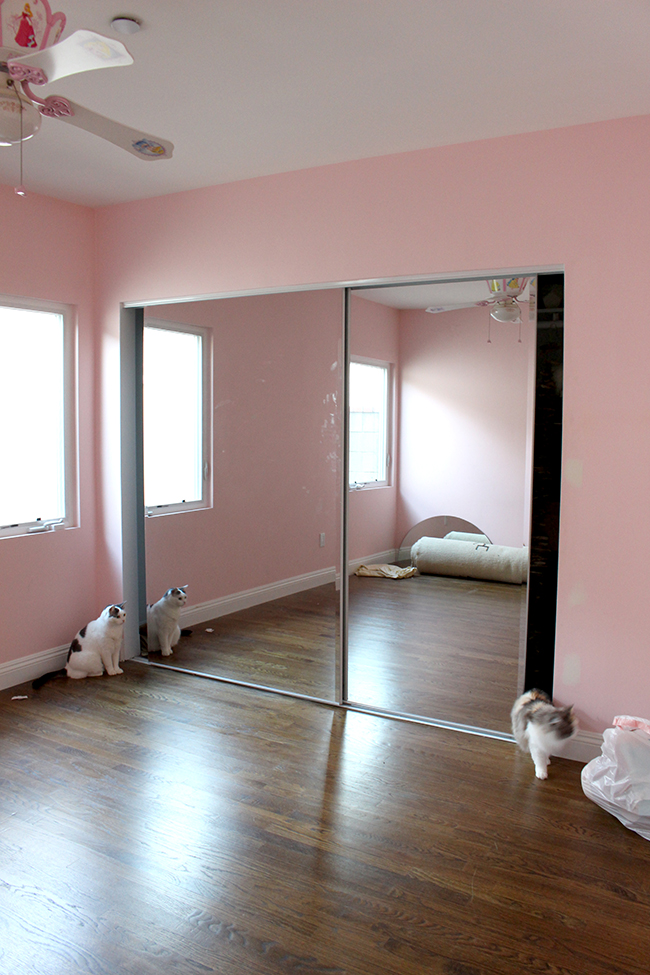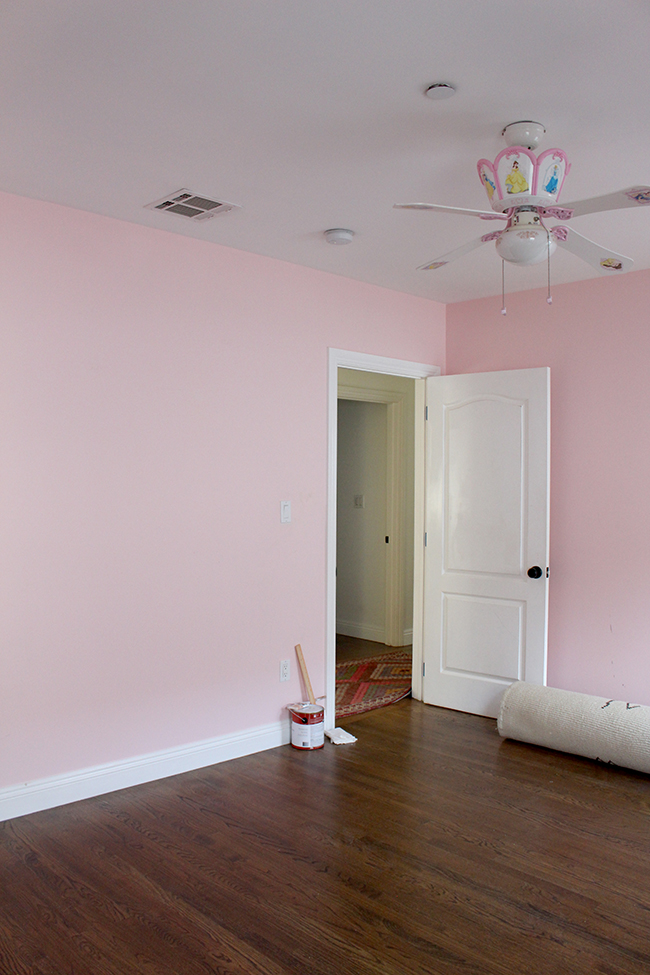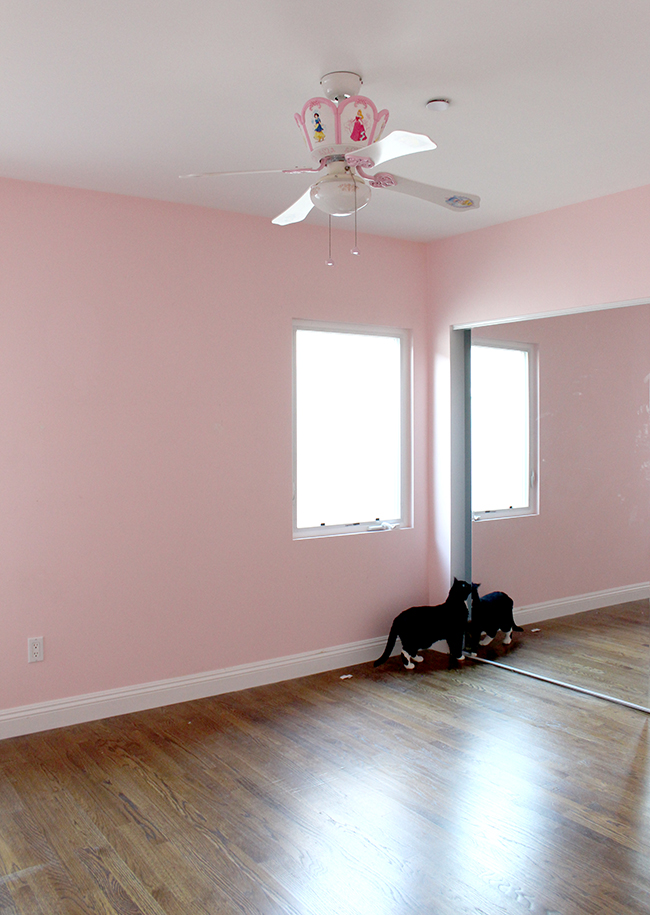 furnishings
i really want to keep everything feeling very light and white and bright (yes i know, this look will be hard to maintain when i have a little messy boy running around but i'm gonna take my chances) — so i'm going to keep everything really neutral and add in some color in accessories and toys and books, etc. the only two things i've purchased so far are a vintage beni rug from ebay and a jonathan adler nightlight (its on sale!).
paint / updates
we've taken down the disney fan and replaced it with a simple globe light, and we're painting the room the same color as the rest of the house (behr ultra pure white). my parents joked and joked and joked about the fact that i'd be painting it white, but jokes on them because gid started painting and it looks dope and they're gonna be eating crow when they see it. the room is by far the brightest in the house so it's looking so pretty all white and clean. we also got the same blackout window shades we have in our bedroom, they work so well, are so safe and easy, and are cheap!
the closet
i just hate sliding mirrored closet doors, so we're deciding what to do about the doors now. we are going to either replace the mirrored panels with plywood and paint white, and add some nice hardware — but the closet is actually really big so i would love to take better advantage of it with bi-folding doors, but i'm having trouble finding those for the size. if you guys have opinions on this, please chime in! in terms of the interior of the closet, it's designed for an 8 foot person, which neither the baby nor i will be, so i considered getting a custom closet, but decided it's too expensive and started researching alternatives. i found this closet kit, so we'll be installing it soon!
accessories / storage
with the rug and the woven ottoman below… and 8,000 pieces of muslin fabric like every website suggests you need, i'm hoping the room will feel nice and textured. besides the closet, we have the space for a large dresser, which i'll convert to the changing table as well. i'm also eyeing lots of baskets such as the one below for corralling toys, and i love this woven hamper. can all the moms out there tell me just how many baskets i'll need? i have a feeling that i'm going to end up with them all over the house.
in terms of bedding, i'm thinking of mostly white for crib sheets with a cute quilt. the blanket below is more inspirational than something i'm planning to buy, but i'm keeping my eyes peeled for the perfect quilt (these ones are so nice). not really sure about this yet. i'm also having a custom brass mobile made like below, so excited about it. (i considered DIYing but then decided i totally didn't feel like it).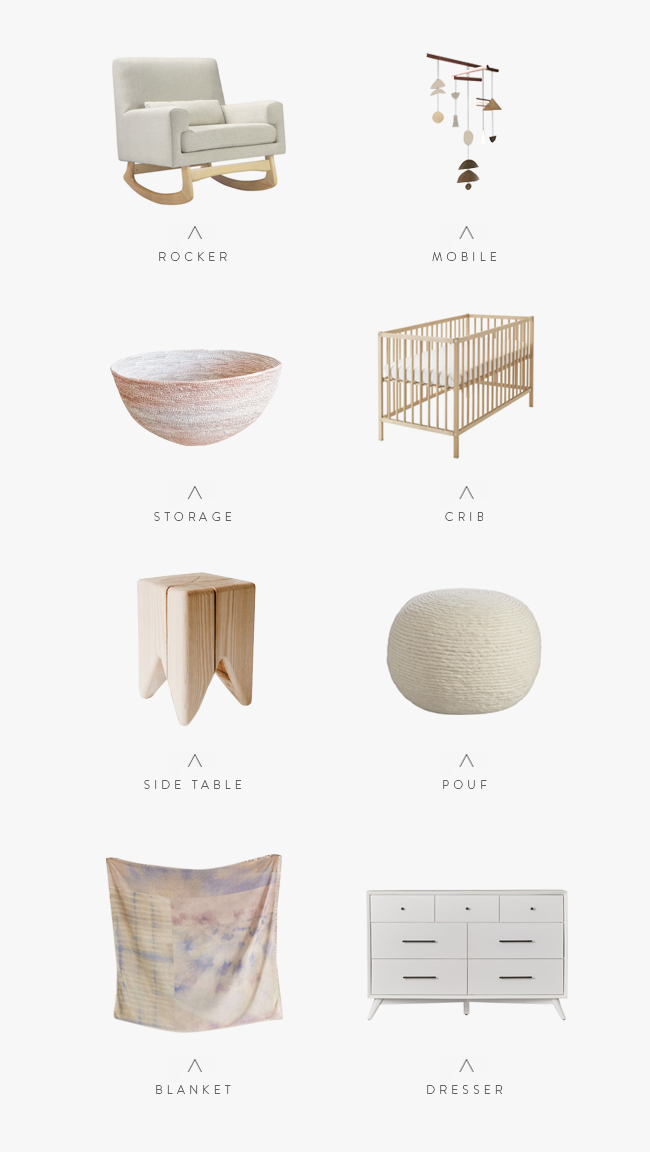 SOURCES
---
that's really all the updates i have so far, excited to get it started and share it with you guys! for anyone who has done this before — would love any advice for what i'm missing, what is crucial, what i don't need that everyone says i do, etc.