the craft supplies we're using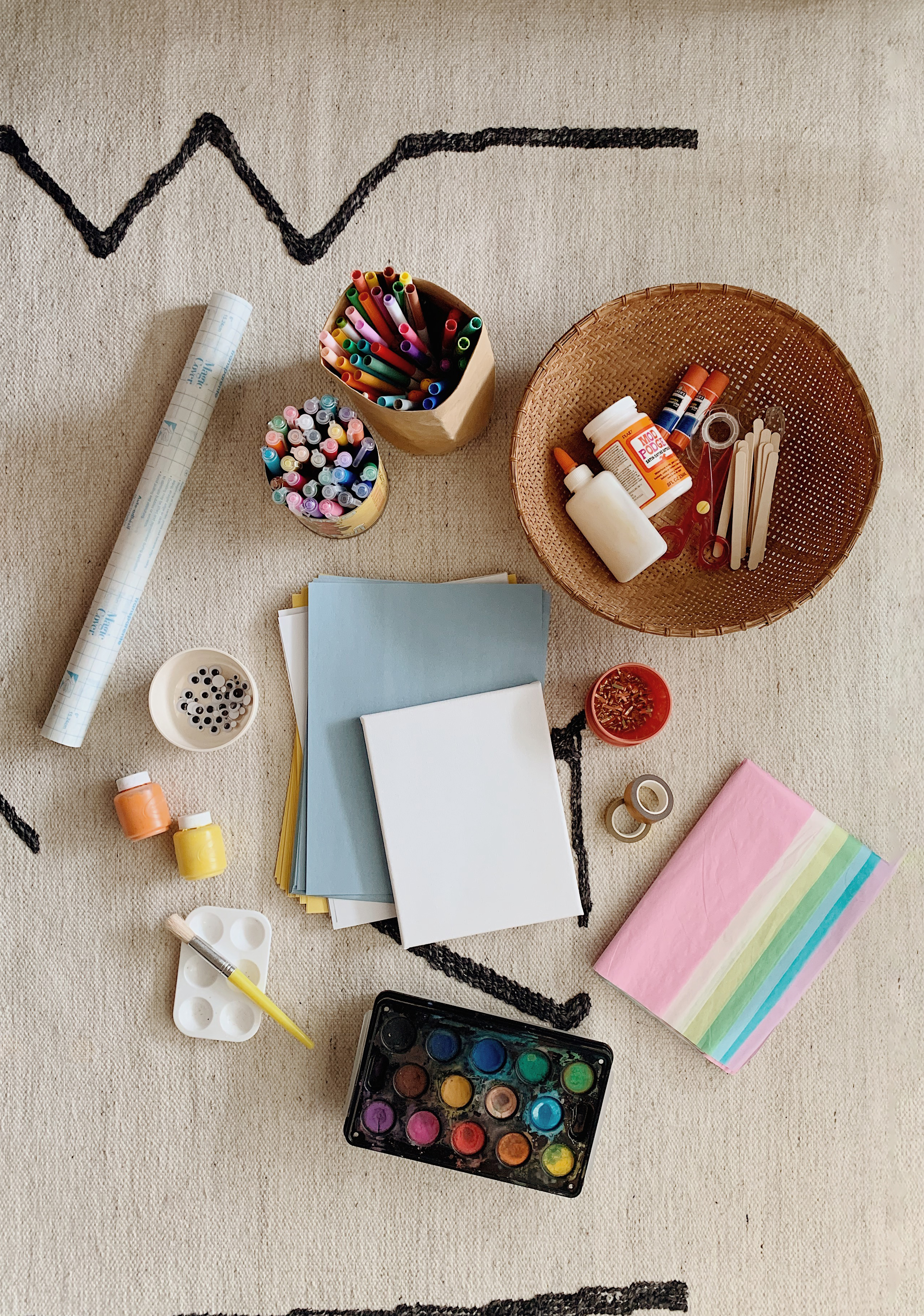 omg i've been getting so many messages everyday about our craft supplies so i thought i should list them all in one place for reference! i've always had art supplies for arlo (paints, brushes, palettes, canvases, paper and markers) but that was it. when this self-quarantining thing happened i panicked and bought a bunch of crafting supplies online right away because i figured that having one daily project would help both of us get through the days. so far so good.
every night when i get in bed, i look on pinterest and find a project for us to try the following day, it's been v low pressure to just focus on doing one easy craft and not stressing me out at all, which is the point. i hope you guys are all going easy on yourselves and not trying to be the perfect homeschool teachers of all a sudden. just do what you can, and if it's not fun, don't do it. (oh and the way i find crafts to do is just google things he loves like under the sea craft, robot craft, etc)
but having a supply has really helped– so i'm going to list all the things we have (and a couple items that haven't arrived yet) but i can continue to add to it. i mean, who knows how long we'll all be here. also going to try to do blog posts of some of the projects i've been sharing on IG stories, since i know it's easier to reference that way.
another thing i've been doing is keeping a big stash of household things to reuse for crafts: the caps to arlos yogurt smoothies, toilet paper and paper towel rolls, cardboard (but especially love the thin cardboard that they use for packaging our cat food and baby pouches).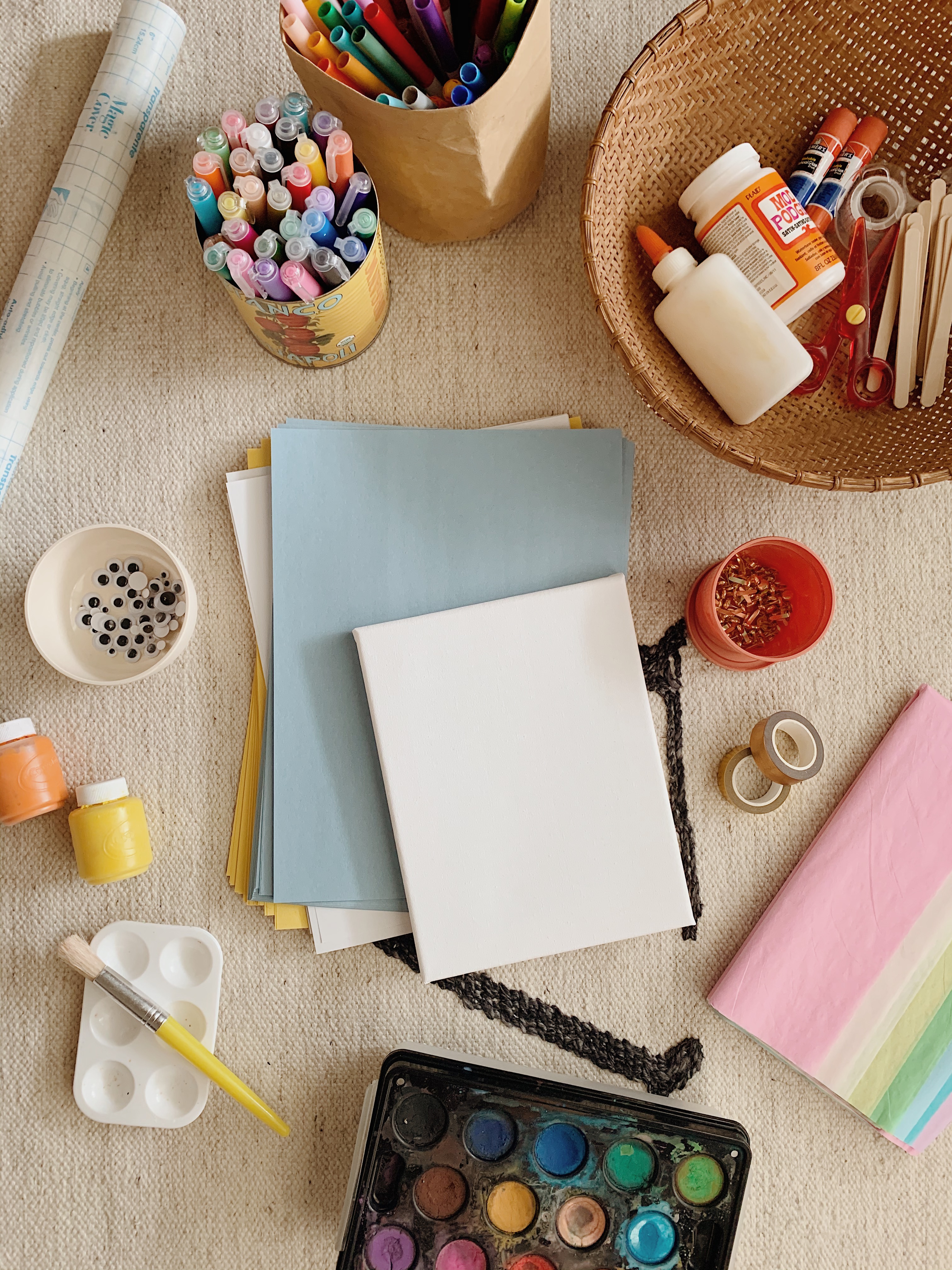 craft supplies we're using
watercolor palette — you've prob seen arlo using this ikea for a long time, but linking to a similar one (actually this one looks better because it has way more colors!) the trick to arlos watercolor art looking so good is we dont use the dinky little brushes the sets come with, i always give him the big fat brushes (and he's really gotten how the process works too)
washable paint — i just bought this set but it hasn't arrived yet. i plan for us to use it a lot, BUT i will be doing all the mixing and then handing off to arlo. to ensure it isnt a giant mess, AND then i can mix pretty colors MUAHAHA
craft paints in cups — also we got these and i love that they are separated into three, so arlo can use one set at a time (he always hands me the pink ones and says here you go mommy you paint with these)
paint cakes — we don't actually have these but i've heard these tempera paint cakes are great and way less messy than the tubs of paint.
paint palettes — these are the perfect tiny size for them, i have a few of them.
paint brushes — we have this ikea set that we love the most so i was excited to see it on amazon, but i forgot to include it in these photos!
construction paper — i got a pack that seems to be out of stock but this looks similar. a heavier stock would have been nice in retrospect but this will work fine for us. ps omg i would have gotten THIS ONE if it were up to me, but arlo is very bossy about his love of blue.
tissue paper — i really like the pastel colors of this tissue paper pack i got, so far we've only done one project where i cut it up into small pieces for him to glue onto a fish and he said it was "too hard", but we'll try again soon lol
little canvases — i've had a habit of collecting these from target because they're super inexpensive and i love the petite size. arlo seems more passionate about painting on canvas than paper in general (smart boy)
easel — we don't use this easel that often but arlo always gets into it when we do. i've seen a lot of cardboard easels though, which is a solid option if you are trying to get your kid more into painting.
paper — for everyday art we have him use thinner less expensive paper. but i've been asked about the paper i've had him use for art i know i'm going to hang which is this one!
googly eyes — literally every craft is made better with googly eyes. i bought a variety pack of them that had way too many small ones so i got this pack of giant ones instead. because we all know the big googly eyes are obv the best ones.
paint markers — this the marker set i used on our rocks! i chose fine tip so i could do more detail but it's a little more challenging when you're trying to fill up a big space
clear contact paper — this is what i used for our floral collages. i got just for that project but i think i'll be using a lot for other stuff too.
markers — these are the markers we've been using for months now, i really like them. lots of pretty colors and the tips stay in really good shape for how often we're using them.
washi tape — i've been buying these 3 pack of washi tape for a while now because i use it all the time for hanging arlos art, packaging magnets and now been using here and there on projects. but i love this pretty colorful pack too!
brass fasteners — i got these because i saw them used in a couple of different projects, to basically "hinge" anything like robot limbs, etc.
pipe cleaners — i didn't want to get a 300 pack or whatever of fuzzy sticks, so i got this smaller pack (probably a worse deal but i was trying to spend less than $5 on these)
popsicle sticks — i mean what craft station doesn't have popsicle sticks? we haven't used these much yet but the other day when i made arlo a little forky, he genuinely showed 40% more interest once it was on a stick.
glue sticks — i think glue sticks are the best option for toddlers since they are the least messy, and i got this giant pack because it was such an insanely low price. i couldn't resist!!!
kid scissors — ok this three pack actually doesn't work well at all, but if you have a kid who likes to do everything themself this is perfect. arlo gets a little frustrated with them.
mod podge — i think it might be a little messy for arlos age but i do love mod podge. you can use as a glue or a sealer/finish. as a kid i was obsessed with making collages and going over with it!
blank cards and envelopes — i love having arlo create special snail mail for family, but especially now more than ever. i've been trying to include a little photo of arlo taped on since we have an instax camera which makes the mail extra special.
---
ok i hope this lists help you! i will continue to share our crafts and add to the list if we get more stuff, but i feel pretty good about the fact that we can make most of the things now. hope you're feeling inspired!!