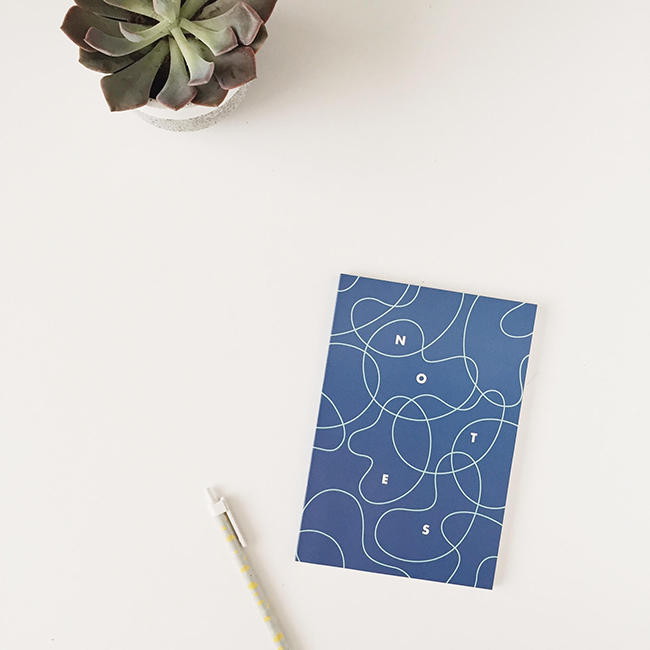 yay! it's results time people. and i promise they won't be as disappointing as americas got talent just was… yes, i watched that. gid made me because howard stern was on it, and then we got way into it and we are EFFING PISSED that the regurgitator didn't win because we would spend serious money to see that guy in vegas. i would have done this follow-up sooner, but people kept filling out the survey so i held off.
anyway, i'll end my rant so we can move on to the results! i want to thank you all from the bottom of my heart for taking the time to fill it out — obviously i had no idea if people would actually do it, but i was overwhelmed and stoked and honored on the amount of results that piled in. so that's my THANK YOU. i learned a lot actually, there were some non-surprises, and then there were some whoa surprises too.
you guys had a lot of questions, so this is gonna be a loooooong post. there were some overlap with the questions, so i might get repetitive but i tried to thoughtfully answer all of them.
the overwhelmingly bad news though… 85% of you guys don't watch bachelor in paradise. i was appalled, and i just have to say – that that show rules and you should totally watch it. it's way better than the bachelor. it's kind actually a perfect reality show. so please take my advice, will ya?
---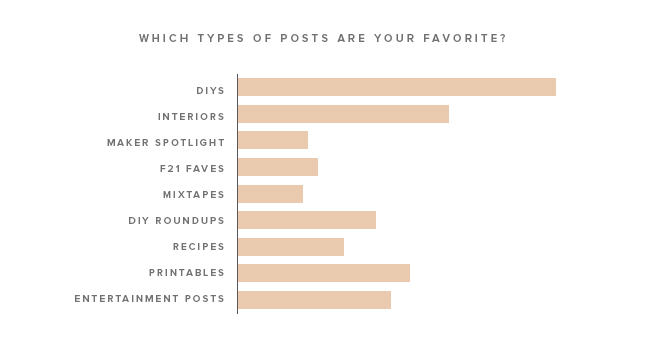 so i basically knew these would be the results on this question — DIYs are the most popular. what i didn't expect is that some people didn't choose DIYs and some of you guys actually would prefer less DIY! you guys like the interiors for the most part, some of you mentioned you'd be happy without the dream house posts, but a much higher percentage said they like them, so i think they're gonna stay for now.
when the results were initially coming in, it seemed like the mixtapes were more popular than i thought they were — but in the end, it seems like they're not a huge hit. i think i'm gonna keep 'em around though because i like making them and i like listening to them.
as for maker spotlights and F21 faves — those don't seem to be too popular with you guys. so you might see less of them, if that's what you want! how about in the place of F21 faves, prettier versions of items we all use? i've been on a hunt to start only buying good looking items i won't want to toss later on, so that could be fun?!
---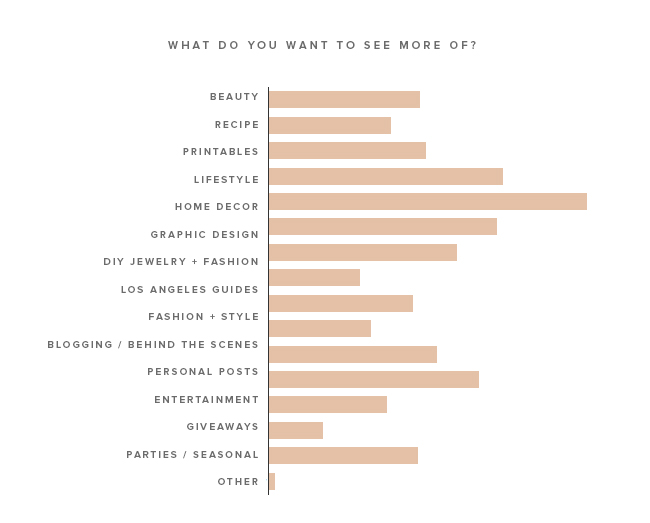 ok so you guys clearly like home decor and room makeovers. the good news is, we got a house! i'd totally share our current apartment with you, but we are living in shambles. it's like, not shareable. it sucks in this apartment and i'm ashamed and i'm as ready to start working on our house as you guys are to see it! as soon as we move in in just a few weeks, i'll be sharing way more of those kinds of posts!
i used to share printables pretty frequently, but i've definitely slowed down. you all inspired me to start them back up again.
you also expressed an interest in behind the scenes and blogging / graphic design advice posts. i'm totally happy to start these up, you're going to see a lot of cat paws.
now — what i really didn't expect, was that you guys want more personal posts. i do realize now i'm pretty vague when it comes to details about our lives. i honestly do this because i didn't think anyone was interested in me. i assumed you guys just wanted pretty pictures and projects, but when i read your answers, i was feeling super happy that you want to know me more – and i'm going to share more! how about a Q&A with my ob-gyn?! haha. no but really.
---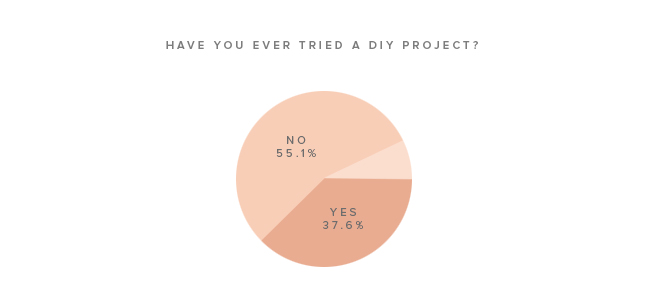 this one i kind of expected, 55% of you guys haven't tried a project! i get it. because i look at other blogs all the time and even when i go crazy over one, i never end up making it. but i'm stoked that almost 40% of you have and happy that you like the posts either way! i'm going to do my best to keep the easy and practical ideas coming.
---
QUESTIONS
MY DAY JOB
i couldn't believe the amount of questions there were about my job. apparently i'm very vague once again and had no idea. i mean look at all these:
what is your other job?
is blogging your full time job?
how do you juggle having two jobs and a blog?
what's your part-time gig when you're not blogging and doing the design thing?
you've mentioned you work in tv part time. what show? can you tell us?
other than this blog, what is your job?
what show do you work on? or could you share about styling for TV …
what is your day job? you've hinted that it's something to do with tv shows?? i'm so curious!
ok so i'm going to totally answer this finally. right now, i work two days a week editing the tavis smiley show on PBS. i'm not a set designer, i'm just a lonely editor who sits alone in a small dark edit bay cutting a talk show. i know it's totally unrelated to what i do here on the blog, and probably less glamorous than you were hoping for. i've been working in TV since i graduated college. before this job, i edited for GSN (the game show network). before that, i did graphics for TMZ (…yep.) i'd been doing freelance graphic design for the past few years too, but have kind of stopped because of blogzilla and the blog being more time consuming.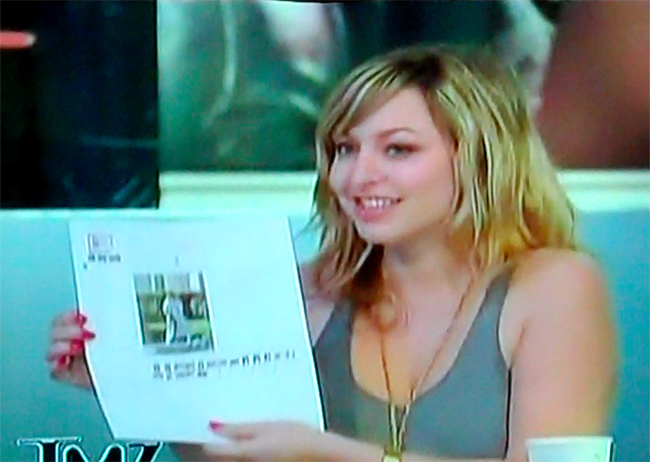 i hope to be doing this blog full time soon, i'm obviously anxious about taking that leap, but as of right now – the very chill schedule allows me to spend the majority of the week working on the blog while i can still have a steady paycheck.
as for the balance, i used be stressed 7 days a week, and i've been trying to avoid that. i find myself so much happier when i've finished the upcoming weeks blog posts and I'm not worried all weekend about what to post. because i used to do that basically every weekend. gid and i fight a lot less now that i try to maintain a normal monday-friday schedule — even if that means sometimes skipping a monday post because i didn't finish in time, until this is my full time job, i'm trying to give myself breaks in order to stay sane.
MY EDUCATION / BACKGROUND

where are you from? what did you study in school?
was your background in design? if so, what kind?
where'd you go to school? what did you study?
what kind of degree do you have? (do you have a degree in fine arts?)
i went to otis college of art and design in LA, where i got a BFA in digital media, specifically i studied motion graphics and editing. i always wanted to do graphic design but went with motion instead — which is what i was doing the first few years out of college. i was doing broadcast design for TV — until i got a job where i'd be editing as well.
i'm originally from newton, massachusetts, when i was a teenager my mom moved to LA to be with her soon to be husband. i wasn't doing well in school or life at the time so my parents sent me to try living in LA with my mom at 16. i was getting into trouble pretty frequently, but always did well in art class. when i was about to graduate, we went on our senior retreat to ojai where we did sweat lodges, sage rituals, nightly campfires – all that good hippie stuff. somehow, it sparked something in me – and i realized i wanted to whip myself into shape. i graduated and found my focus, basically cut out the shit. i then stayed in LA for college and did pretty well.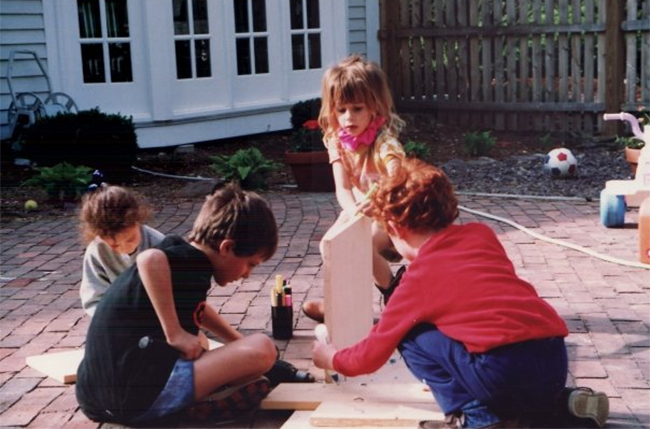 (was trying to find a photo of me doing art, but all i could find was me art directing)
i did art since i was a little kid, i was super into drawing dollhouses and i went to an art class/camp where we made LOTS of things with polymer clay (must be where i developed my love for it). i went to an art school in massachusetts for two years where i got a lot of training in fine art – but i really stopped doing fine art after i chose my major sophomore year at college.
INSPIRATION
when you're stuck in a creative rut (as i am now), what do you do/read/look at to help you move past it and find inspiration?
i feel like i'm in a creative rut every other week. when i'm feeling like that, it really helps for me to step away and stop pressuring myself. scouring pinterest, going to boutiques to see cool products, just walking around with your eyes open helps. i'm always worrying i've officially run out of ideas, but for me its best to just not criticize myself for it and turn off the mind for a while.
how do you manage to work from home and stay motivated? (i can't!)

sometimes i can't either. i recently bought myself a laptop which has helped tremendously because i can sit in bed when i'm writing posts and not have to drag myself to the office where we don't have an AC unit, doesn't help that my 17 pound furry cat wants to sit in my lap while i work.
in our new house, there's a big shed in the backyard that i'm going to turn into my studio. i'm hoping to make it a place i want to be all day long with a comfortable chair and maybe a TV so i won't have an excuse to go back into the house to watch TV… can you tell i like watching TV? i'll put a work table, all my supplies and my computer back there so that it's all finally in one place (i currently do most projects on my dining table, shoot photos on my coffee table and then write posts in bed)
i'm trying to adapt to keeping on a stricter schedule than now. that involves planning posts way ahead of time by actually using a planner and designating days and times to planned tasks. i want to devote the morning to emails, and would love to be able to knock out making multiple projects in one day, and then shooting everything the following day and writing the day after that. easier than it sounds when you're a total procrastinator but it's good to have a goal!
where is the most inspirational place you have ever travelled to / experienced ?
tulum! we loved it so much and are hoping to go back asap. the food, the color of the ocean, the designs of the hotels and the murals everywhere were totally amazing and inspiring and i highly recommend everyone go!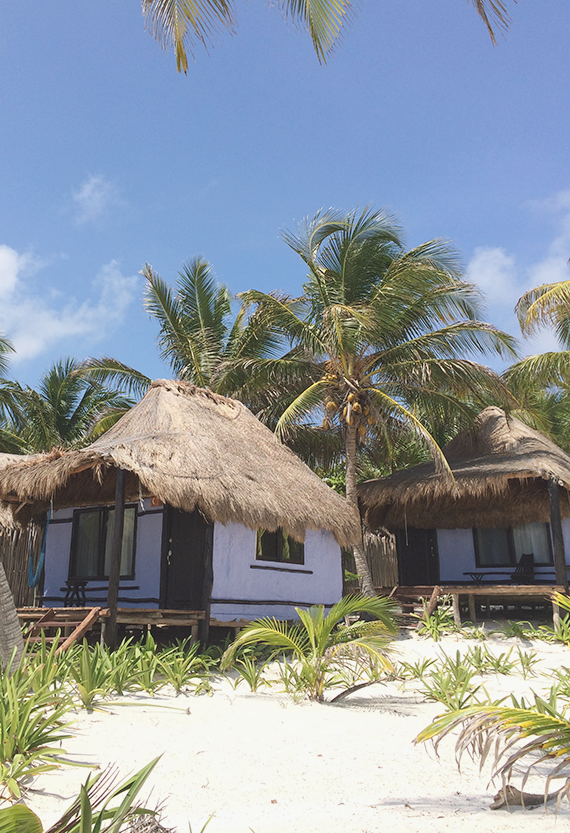 where do you turn to for inspiration? what are your favorite blogs or websites?
i'm a broken record now but #1 is definitely pinterest. it played such a crucial role in designing our wedding, i probably had about 10 secret boards for flowers, DIYs, etc. now that i'm house-obsessed, i'm using it daily for collecting hardware i like, seeing bathroom lighting, backyard ideas… i don't know what i would do without it now. when i'm looking for a pretty item, i used to use svpply religiously (RIP) but now i check remodelista usually. i always love seeing house tours on design*sponge and getting inspiration for our own future house.
i'm a bit curious and I'd love to know what sort of activities you recommend doing to get inspired or simply to have a nice time and what's a meal that you really really love?
get out of the house! go to some cute shops and browse around. it's obvious, but museums. botanical gardens really do it for me too.
the perfect meal for me is all seafood. oyster and lobster rolls when we're out. mussels and bread when we're home.

how do you find inspiration for new DIYs? how do you come up with all of your DIY ideas?

there are definitely times when i'm full of ideas, and times i'm empty. i keep notepads and iphone notes full of ideas or when i see a cute product i can't afford – i brainstorm how to make it. looking at other DIY blogs always sparks ideas that you can play off of whether it's supplies they used or methods or general concepts – but i always do my best to reinterpret versus recycle.
AND THE REST OF THE QUESTIONS…
if you could talk with your past self, right before or just after starting this blog, what would you say?
probably to find your focus quicker. the first year or two i really didn't have a direction and i definitely came into my own style and approach and voice later on. i think it's a balance of patience and inspiration that help you hone your craft. when i started the blog, pinterest and instagram weren't really things yet — and i think they help people find their visions and define their style so much.
what's your advice for people looking to get their blog noticed by more than just friends and family? (though not necessarily looking to make a living off of it)
honestly just having good content. again, the first few years i was doing this blog i didn't do much to promote it, i would submit posts to craftgawker and that was about it — eventually pinterest really helped to get more people to the blog, but i think again that goes back to good quality content – if you build it they will come.
when you first started blogging, did you reach out to companies or other blogs to guest post or run a sponsored post? i was always curious how that jump was made when a blog gets bigger.
i'm actually just in the process of learning how to reach out to companies myself, because it's scary. luckily, the worst that can happen is no one responds or worse, they respond with a bitchy email, but that's probably not going to happen. for the most part, companies or agencies contact me directly right now. i definitely feel more comfortable reaching out now that companies have shown interest in the blog.
are you able to make money doing this blog?
i make money off the blog, but i'm not at the place to be able to take the leap to full time yet. although i do sometimes think that if i just took that leap i'd have more of a push to earn more.
your blog is beautiful and it seems like it takes up a good portion of time. do you schedule posts or topics in advance?
thank you! it takes up so much time. i'm really making an effort to not let it be a 24/7 job though, so it can be a struggle to turn it off on the weekends. the way to avoid that for me has been planning ahead — if i can create content and posts during normal office hours i feel a lot better about shutting it down when gid gets home from work.
did you design your logo/blog or was it someone else?
i designed the logo myself, as well as the blog theme. there have been many, many iterations of themes and logos. what you see now is the result of three years of tinkering and changes in aesthetic that evolve along with my own style. don't be afraid to change it up. everyone says how important it is to stick with your branding, but i think there's room to change and grow with blogs, before you let the concrete set. things can improve and change, even once you have an audience.
how do you manage your time and keep your content on track? how do you balance work and life when they are so closely mixed? 
like i said, i'm currently pretty bad at time management. but having a day planner and writing out what i need to do is super helpful for me. (this one has been amazing) i keep daily to-do lists everywhere. there's something so satisfying about checking off everything on a list, so it keeps me on track to get all the things done.
the second question is a good one, and i know it'll be that much more of a struggle when we have kids and i have to create a divide between what i share and what i don't. based on the survey, you guys want to know more about my life and for this blog to feel a little more personal — i'm happy to share a lot more than i do now.
in terms of private and public, it's mostly been about balancing my own shyness, my husbands shyness and again, not knowing if anyone cared to know more about my personal life. but i'll be sharing more and i've checked with him on that too. (even though i always ask him if its ok to post a photo of him on here)
there's also an element of intertwining your real tactile life with the life you put out on the internet and instagram. it is important to get that perfect shot of the oysters at dinner, but i have to be conscious of missing out on real memories because i was busy taking a photo.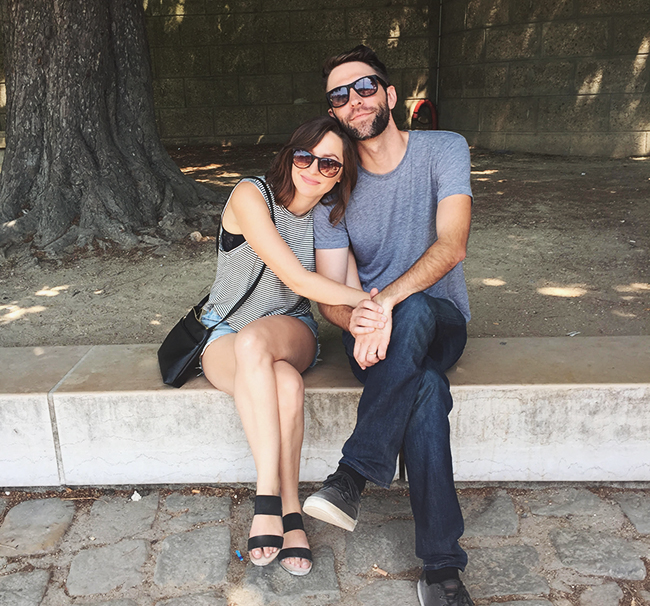 (a real photo of us, something i don't post often)
should i get a rose gold iphone or just go classic gold? ridiculous i know, but i can't decide!
i'm getting rose gold for sure! you should too i mean it's ROSE GOLD – ITS LIKE COPPER AND GOLD HAD A CLASSY BABY.
favorite DIY? favorite blog to follow? secretly obsessed with…?
my favorite DIYs are the ones that i use the most day to day. they would definitely be the copper paper towel holder, simple wood coat rack and the pet bowl stand. these are three simple projects that i like seeing in our place, being able to know we made them and use them and love them more than things we could have purchased.
i can't choose one favorite blog… but some of my favorites are homey oh my, fall for diy, the merrythought (for simple beautiful DIYs), blackbird for her impeccable style, the artful desperado for food, and amber interiors for dope home before and afters.
i'm secretly obsessed with brace from gigolos. he's a star.
i don't know her, but i think emmadime is insanely cool.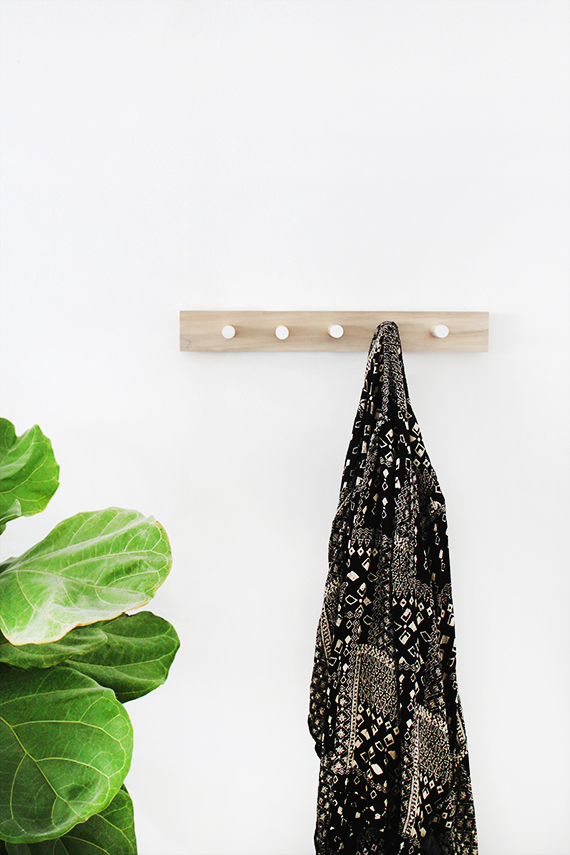 if you had to read one book / watch one movie / listen to one album and only those ones for the rest of forever, what would they be?
book : breakfast of champions by kurt vonnegut. it's weird and funny and my favorite.
movie : this is tough, but i'm going to go with superbad or cabin in the woods or in a world or something's gotta give or don't tell mom the babysitters dead or what about bob. is that more than one? i'm a movie dork and i just can't narrow it more than that! this is impossible for me.
album : another toss up, tapestry by carole king because i've been listening since i was a kid or pet sounds by the beach boys.
what do you say to critics who accuse you of having a "fluffy" job as a blogger?
luckily people don't say that to my face too often. it took a long while to get some of my relatives and in-laws to get that i wasn't just writing some vapid journal for myself and calling it a job of mine, but that i was doing it for an audience and it was like, a real thing.
someone i know did actually say something to that effect when i was first starting out, and as much as it stung at the time – i think it helped me focus on why i was doing this blog and what i was hoping to achieve from it. i think as long as i explain it to naysayers that while there are serious problems and bad things happening in the world, big picture i'm trying to create a happy place for people to access their creativity and that i'm hopefully doing something beneficial and helpful.
how do you get your instagram photos to correspond so beautifully with each other?
i decided i'm going to answer this one with a full post coming soon!
babies? but also, please make make some cute baby DIYs.
gideon is ready to have babies stat, but i want to wait until we're settled in the new house first. now that i'm 30, i feel like i'm definitely not too young to start trying… and when i have a baby you know i'll make baby DIYs!
is there any project you scrapped that you wish you figured out?
there are dozens. sometimes i'll try making something and i just can't seem to execute the idea i have in my head. sometimes i've made things and they just look ugly, so i scrap them. my standards are fairly high for the projects i put out, and if i feel at all nervous that they're ugly or lame or not doable, then i'll toss them away and even sacrifice new content for that week. because i feel strongly about quality over quantity.
how's house hunting going?!
this was asked prior to us BUYING A HOUSE! we got a little 3 bedroom house in burbank that's 10 minutes from my brothers new house so that we can be close and have our kids go to the same school. gid always says i talk like a valley girl, and now i will officially be one. i can't wait to show you guys and i'm going to do a ton of posts while i try to turn it into our dream house. there's a lot we want to do to it (the front and backyard are both currently dirt) but it's move in ready so we can not feel insane pressure to fix things asap.
would you rather have a giant lobster claw for an arm or a really long white beard that you could never cut?
first off, i love all you guys. this question sums up that my readers are rad. so i really thought about this one for a long time — and i decided i'd like to have the claw because i can scare people with it versus gross them out and what's better than scaring people? they'd probably give me all the things because they'd be scared or they'd feel sorry for me and my claw. plus i would never have to give massages, only receive. i'm a dick.
---
ok so that's it! if you have any additional questions, you can leave 'em in the comments. and for those of you who noted how hard it is to read the text on here, you'll notice it's now big and legible! see i don't just blather on — i listen too!