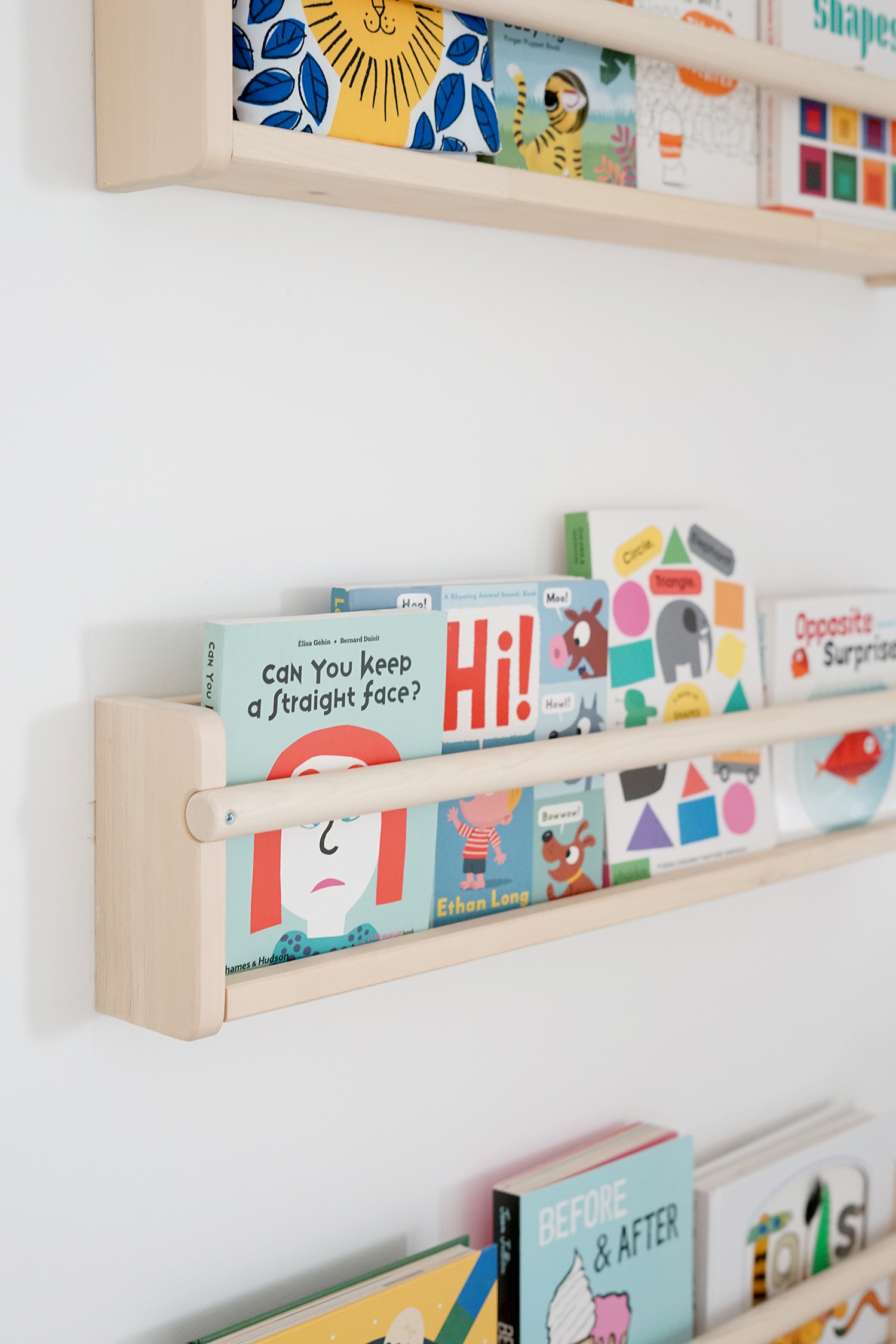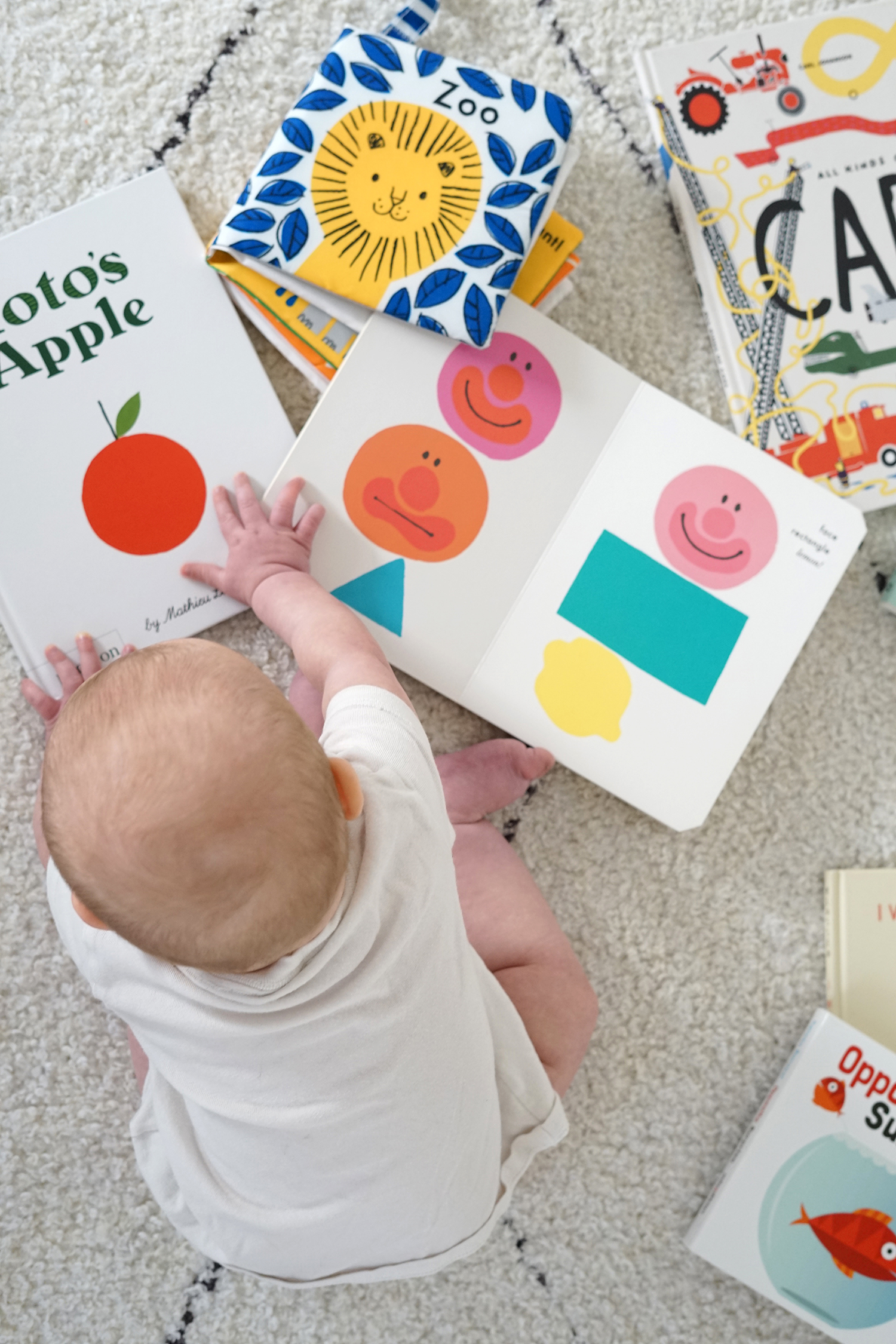 i don't think i've ever gotten more requests for any post than this one! if you follow my instagram stories, then you're well aware of our nightly ritual where arlo chooses between two books before bedtime. he definitely has favorite books that he's loved for basically his whole life, and usually he either immediately takes to a new book or doesn't, but we read to him so often i am always trying to introduce new ones (i get sick of them real fast when i have to read them 4 times a day).
a lot of people have also asked about how we got him into reading, and basically we have no strategy. we just started doing it regularly when he was about 3 months old, and around 4 months he started paying attention and now that we're at 8 months — he really loves books!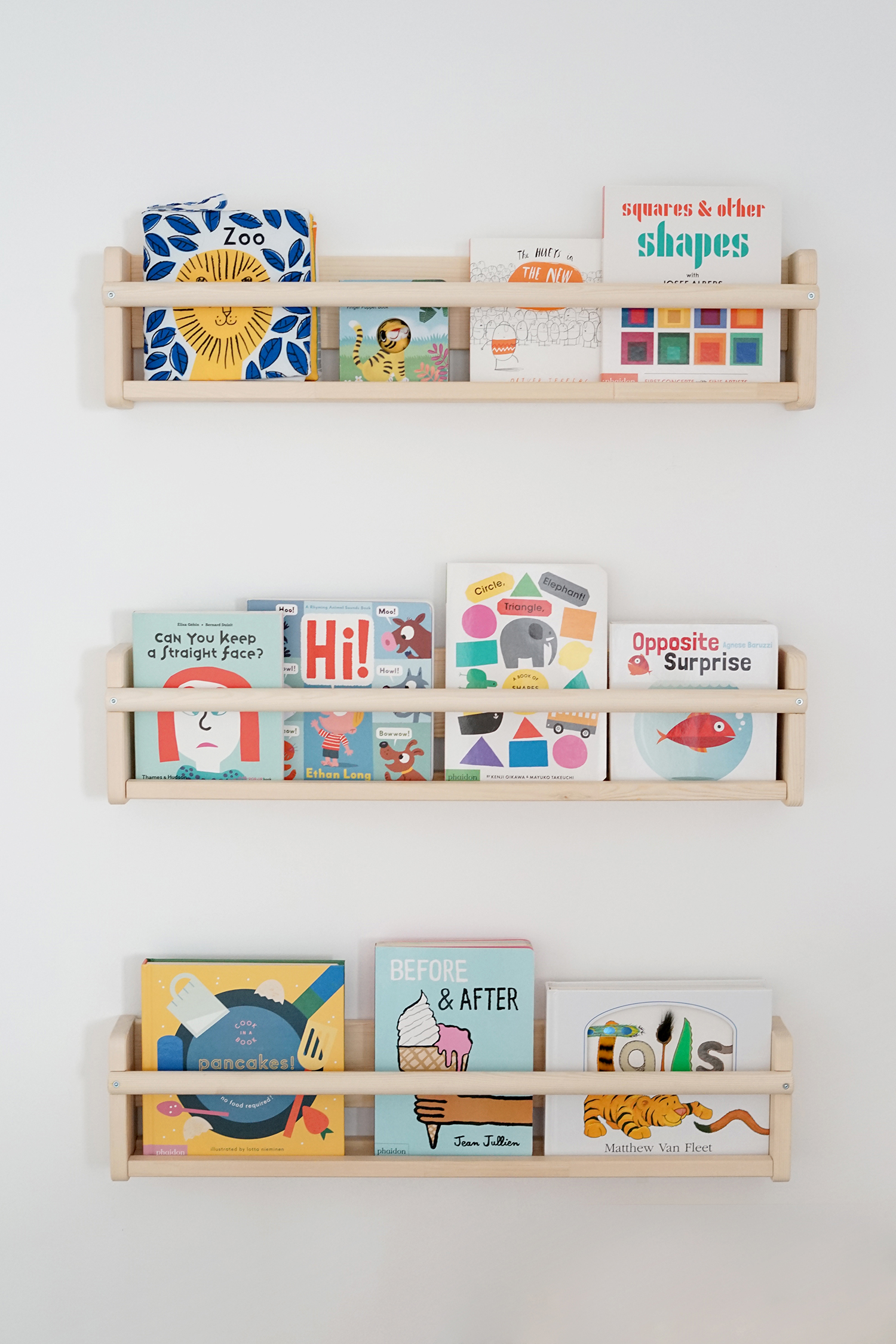 board books and flap books
as you can assume, he is definitely most into the interactive books, i pretty much only buy him "pretty" books, but he has a few that he loves dearly that are not my favorites to look at and display. so i didn't include them in the photo, but they are :
arlo needs glasses this is probably his all time favorite. we read this one daily, and sometimes when he's in the worst mood possible, i can pull it out and he stops crying. he absolutely LOVES it. we just think the illustrations aren't the best, at all.
baby animal flap book easy and quick to read and arlo really thinks it's fun. we must have gotten this one as a gift but it's definitely top 5 faves.
(and now the rest, left to right, row by row)
a tiny little story : zoo i'm always on the hunt for cute soft books but there really aren't that many. i like this one!
baby tiger finger puppet book a v quick and easy read, i like to do this one as a last quick little read after a couple others, arlo enjoys it so much i got another one from the series too
the hueys in a new sweater a cute story with cute illustrations, it's not arlos absolute favorite, but he likes it!
squares & other shapes with josef albers a pretty art board book, not the best story but it's a cute read
can you keep a straight face? i love this one — it's so fun and i want to get more like it.
hi! (animal sounds) a quick read with simple rhymes, arlo is a big fan of this one.
circle, triangle, elephant a v pretty beautiful book that's simple and nice to read
opposite surprise arlo's top five for sure, i really love the design of this flap book
pancakes (cook in a book) i thought arlo would really love this one but he's only mildly into it right now — hoping he will soon because i enjoy it.
before & after a fun little board book
tails we got this one for christmas and arlo immediately was into it, he enjoys it a lot and even though the writing is corny, i have fun reading this one in dumb voices.
you may notice there are no eric carle books, we own a bunch of them, but arlo really isn't huge into them and tbh neither are we. i think they're cute to look at but the writing… leaves a lot to be desired lol. we also have a ton of random little touch and feel books about kittens and animals and what not, but arlo prefers these ones for sure.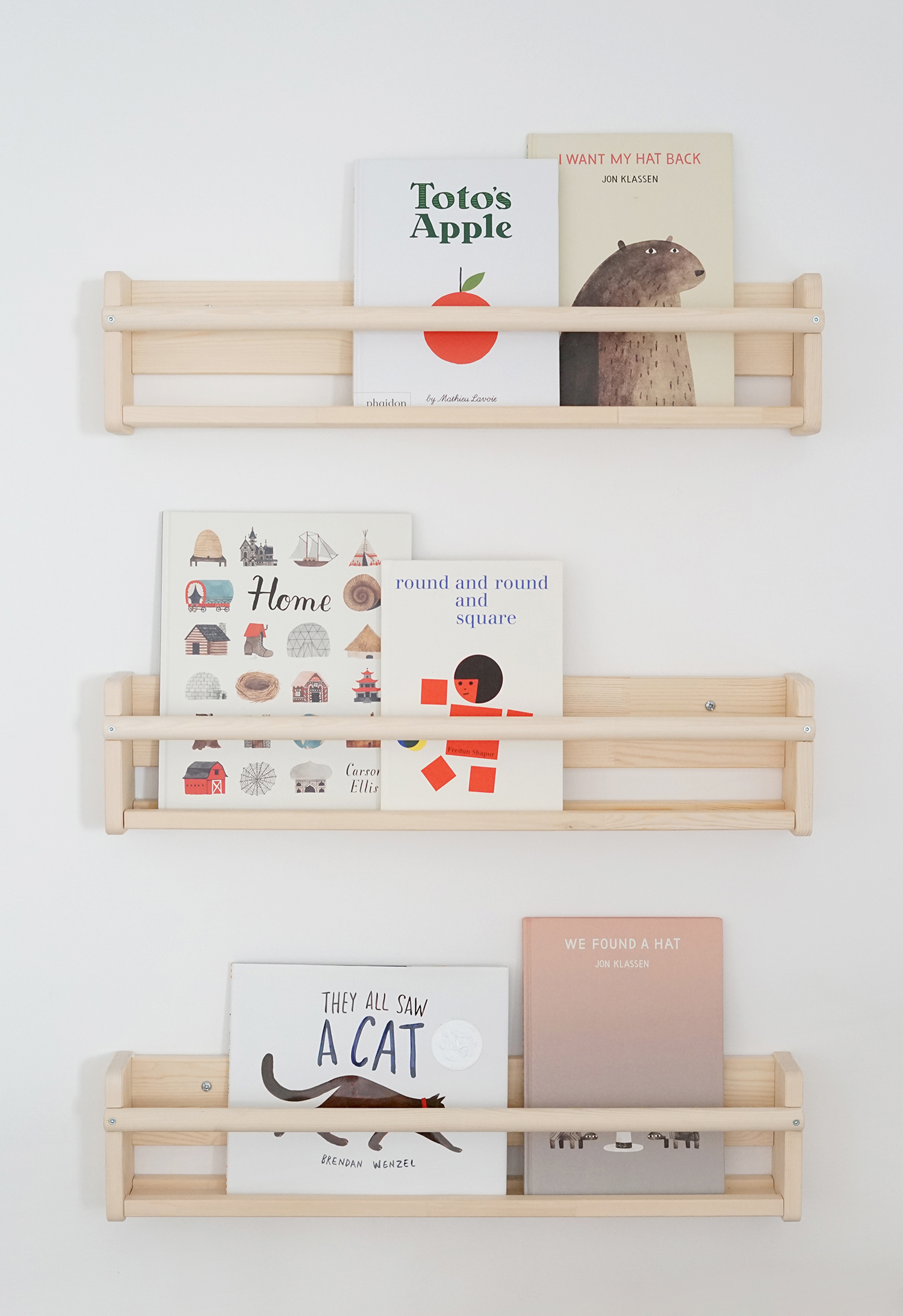 bigger kid books he actually likes
it's weird when he enjoys story books because sometimes he has no patience or interest in them, and then randomly sometimes he loves them. so we just try to show him all his books and see what he likes and what he doesn't.
toto's apple honestly don't know why he likes this one so much because it's actually pretty minimal compared to what he normally is drawn to — but he likes this one a lot! (and i do too, it's so pretty)
i want my hat back this one is definitely his other favorite besides arlo needs glasses (and also this is his favorite for gid to read and arlo is his favorite for me to read). another one where i don't know why he likes it so much — but he LOVES IT. he is so cute when they read this
home cute, sometimes not his favorite if he's fussy but he enjoys it here and there
round and round and square pretty, not the most interesting to read but i like it
they all saw a cat i love this one, it's really actually interesting to read and fun
we found a hat he definitely likes "i want my hat back" better, but he's ok with this!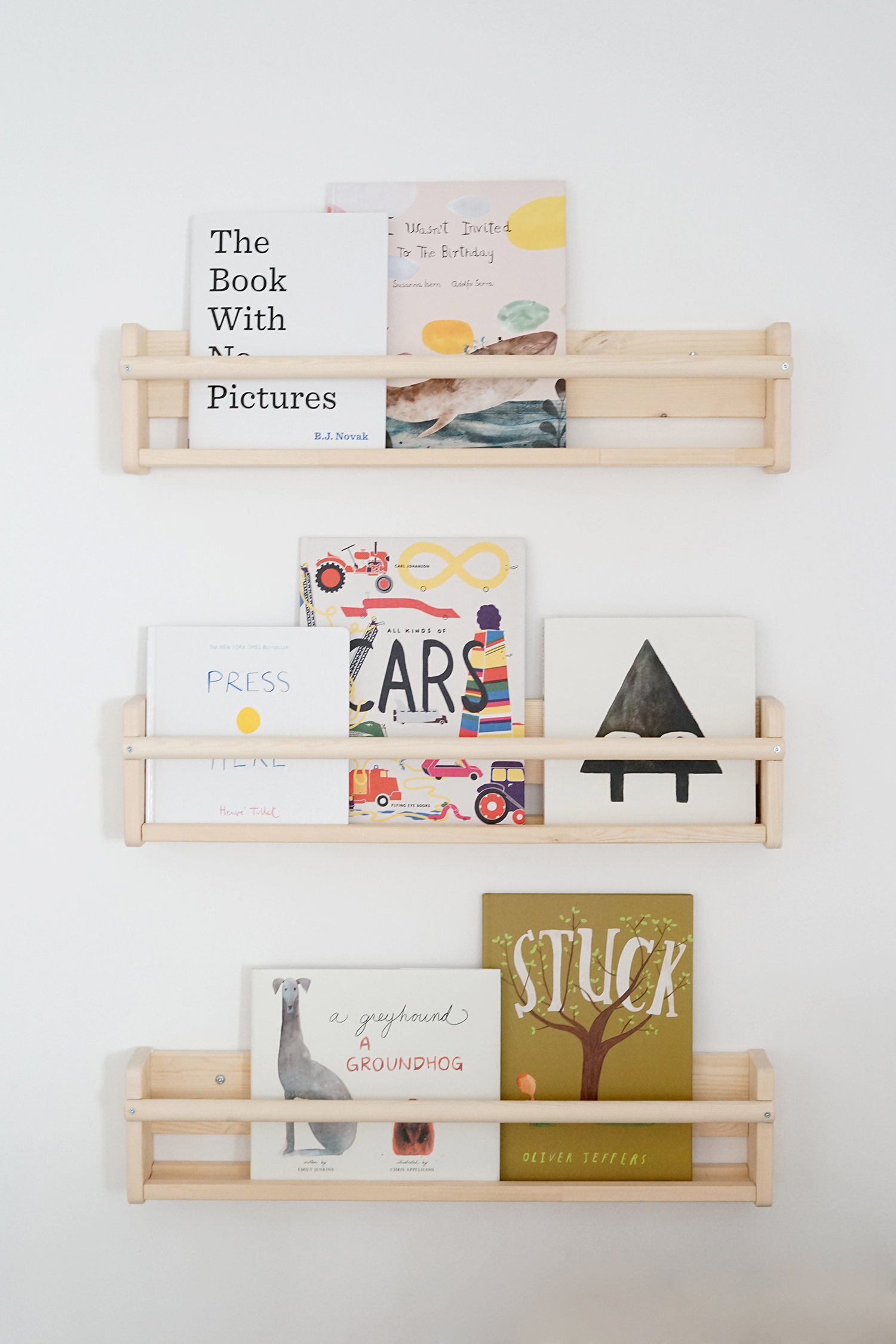 big kid books he's not into yet
and then we have some other story books that he's not at all interested in. i keep these ones in the closet and once he gets older i'll pull them out — but i can't resist buying books for him as you can see.
the book with no pictures excited to read this with him when he's older! it seems so fun
i wasn't invited to the birthday party this book is so pretty, but it's reaaally long so it might be a while
press here again, excited about this one when he's older — it seems fun
all kinds of cars he loves cars, so we got this for him thinking he'd enjoy it but he doesn't seem to like the list types of books yet.
triangle one of the prettiest baby books for sure, but he's really not into it yet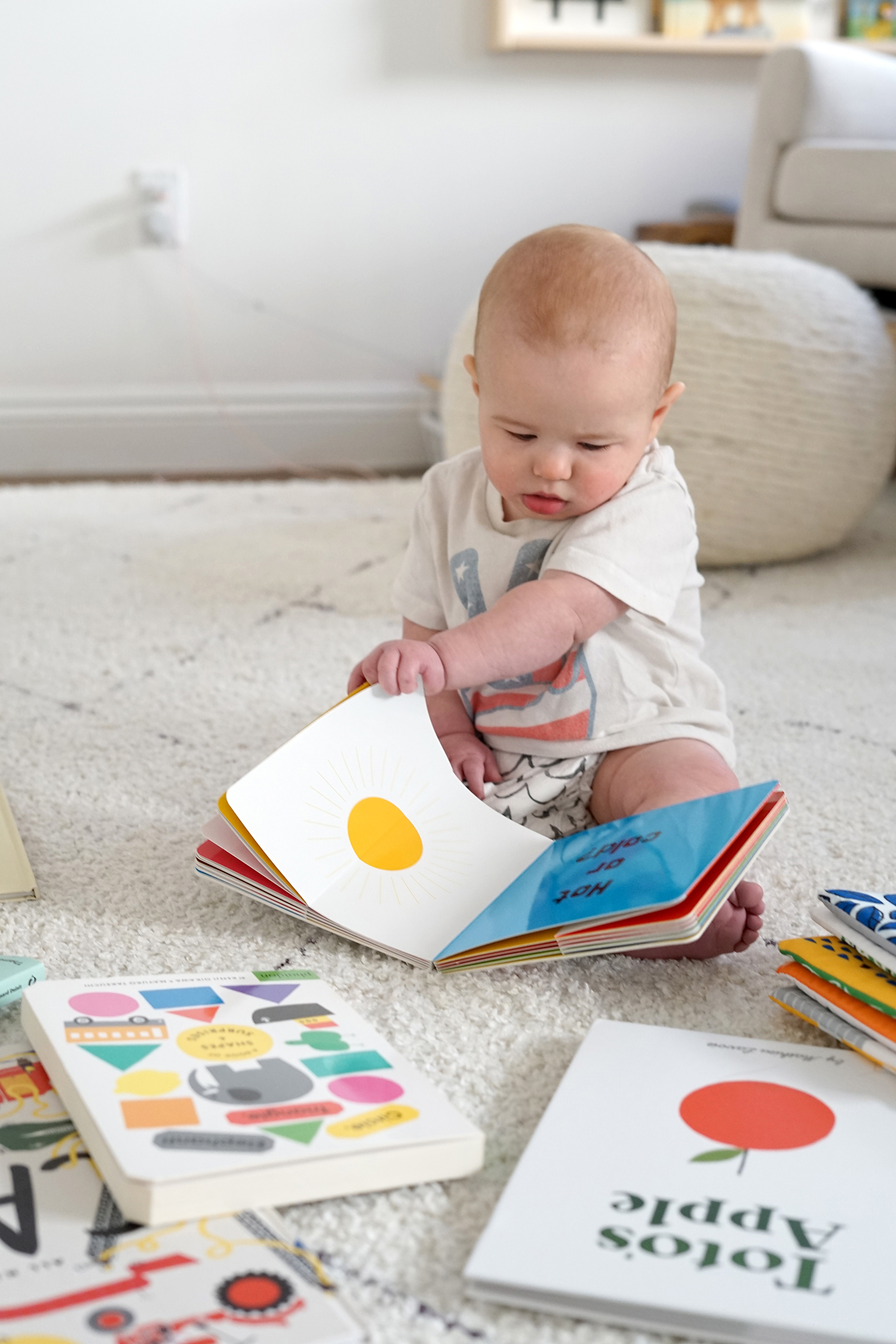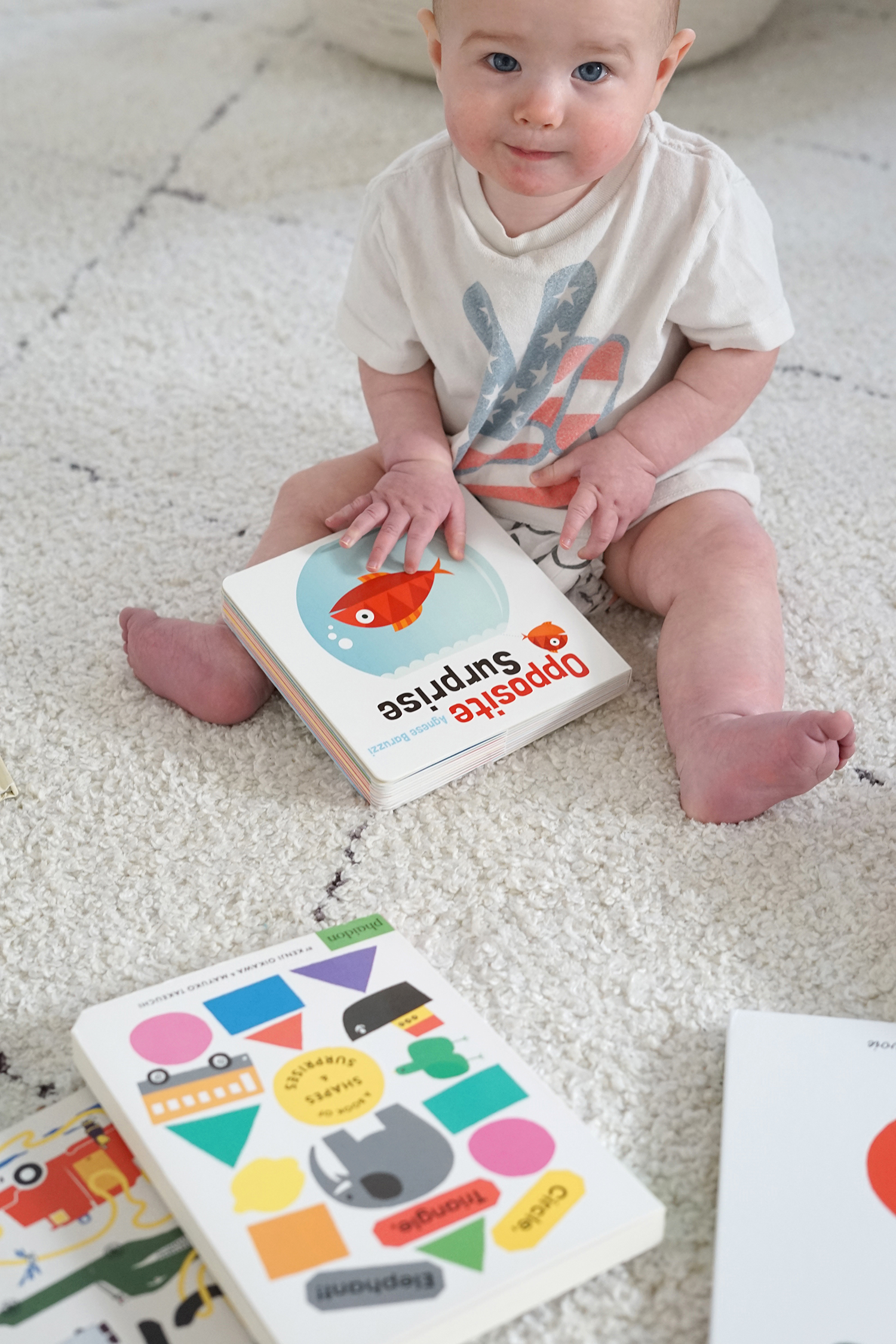 hope your baby loves some of these too! please let me know if they do, and let me know if there's a great one i missed.
i will come back and add more books later or do a follow up post when he's a little older.