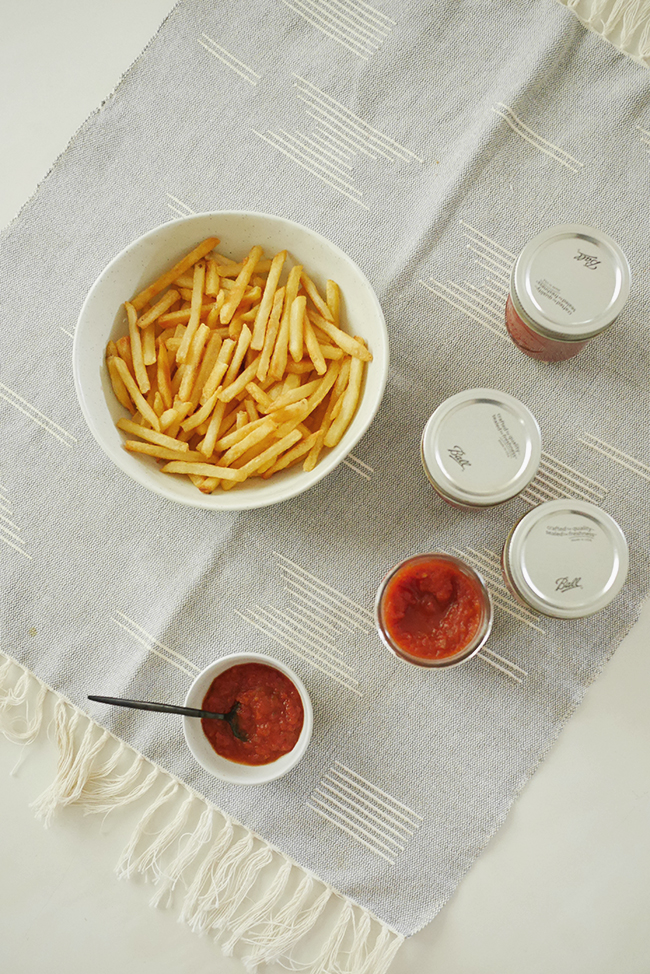 while i am usually more of a mayonnaise person (i dip my fries in mayo because i am very european and chic), i do love a good flavored ketchup here and there. i'm excited to have teamed up with with Newell Brands, makers of Ball® Fresh Preserving Products to create a couple of fun posts for the rest of the year and show you how easy canning is, and i thought it would be really fun for gid and me to make ketchup together. any excuse to eat more fries and lose less baby weight tbh.
i've never really done canning besides for our charcuterie party, but the idea of it makes me feel very grown up living a very quaint life (my mom and i used to watch "baby boom" constantly when i was a kid), so i'm into it. it was fun having a little artisan operation going. and i mean, what friends would come over and not be impressed when you serve homemade ketchup? no friends i'd want.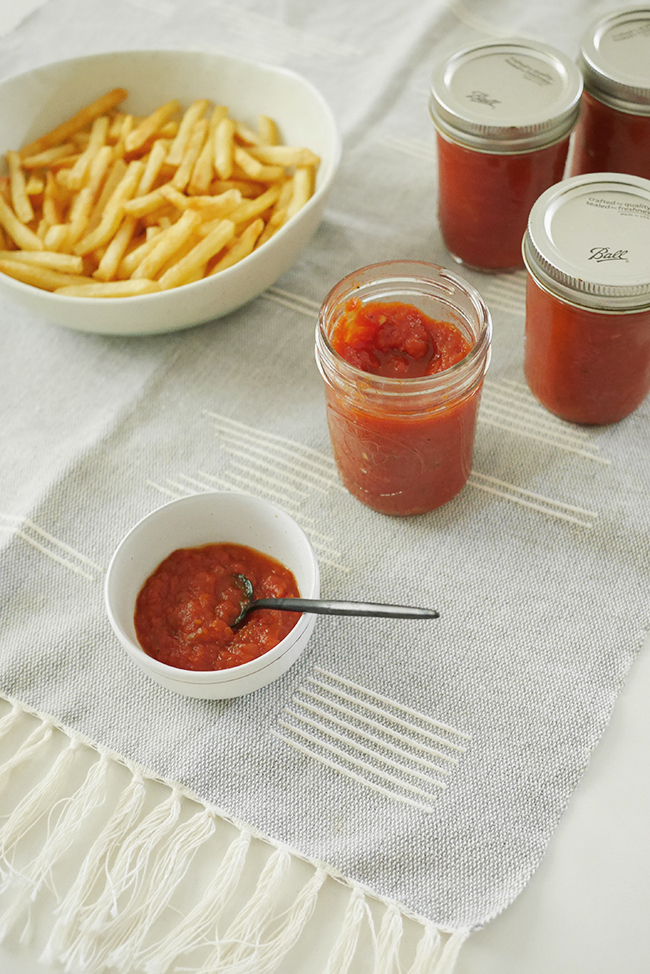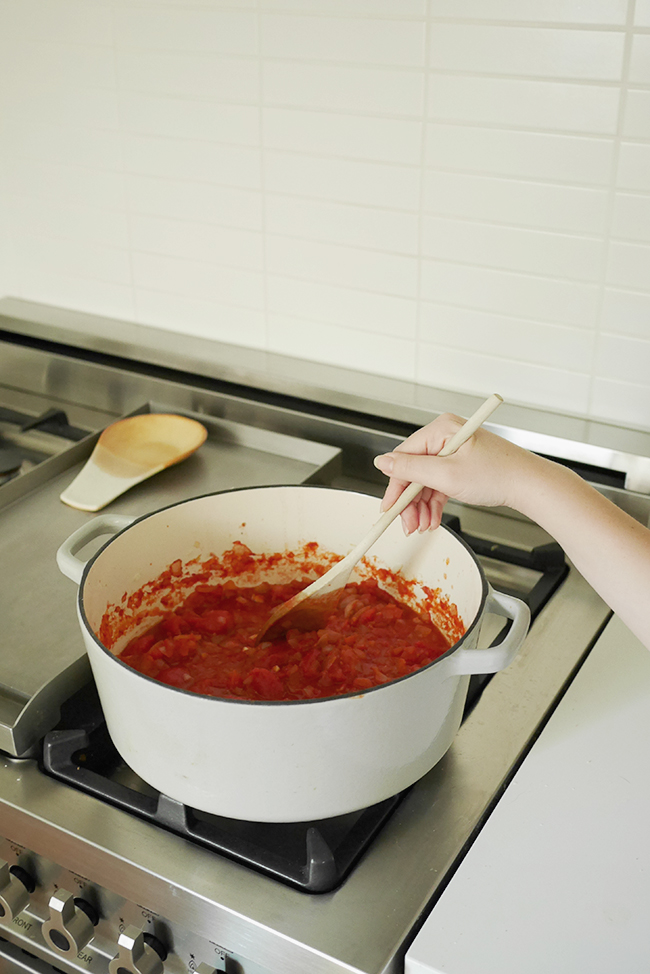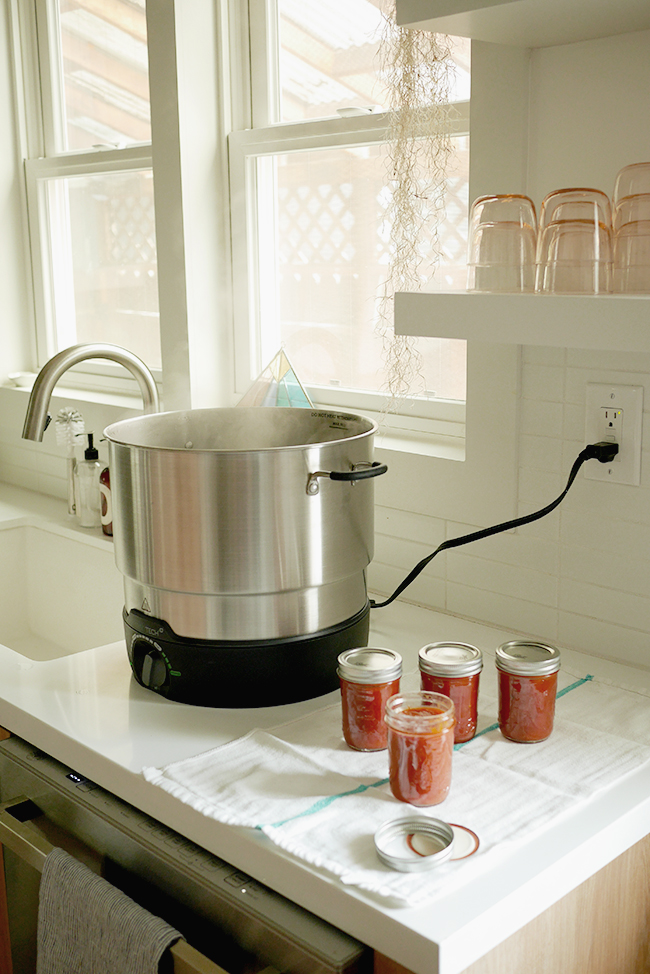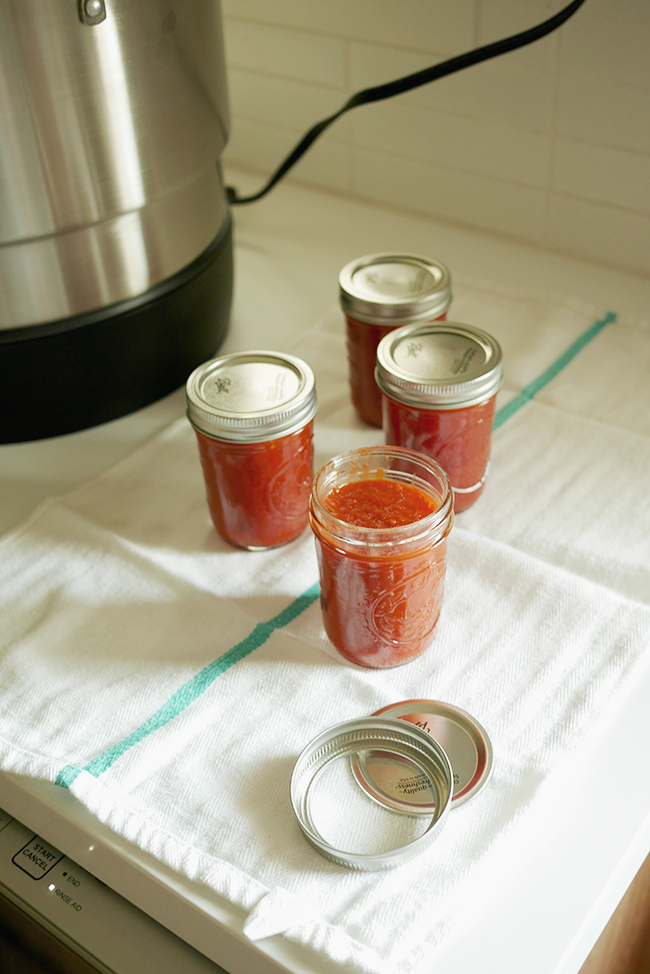 ---
sriracha ketchup
makes about 4 (8 oz.) half-pint jars
1 tbsp. olive oil
2 medium sized yellow onions, chopped
6 cloves garlic, thinly sliced
6 lbs. roma tomatoes
¼ cup brown sugar or honey
¼ cup rice vinegar
½ cup lime juice
1/3 cup sriracha
½ cup chopped fresh cilantro
4 (8 oz) half-pint glass preserving jars with lids and bands
1. heat olive oil in large dutch oven or saucepot. cook onion and garlic over medium heat, stirring occasionally, until softened and golden brown. stir in tomatoes, salt and pepper and cook for about 20 minutes or until tomatoes are completely softened and have released most of their liquid.  remove from heat and allow to cool slightly.
2. puree tomato mixture through an electric food strainer or food mill. cook puree over medium-high heat for about an hour or until reduced by half, stirring occasionally. stir more frequently as mixture gets thicker and lower the heat as needed to prevent scorching.  stir in remaining ingredients.
3. meanwhile, prepare boiling water canner. heat jars in simmering water until ready for use. do not boil. wash lids in warm soapy water and set aside with bands.
5. ladle hot ketchup into a hot jar leaving ½-inch headspace. remove air bubbles and wipe rims and center lids on jars. apply band and adjust to fingertip tight. place jar in boiling-water canner. repeat until all jars are filled.
6. process jars for 15 minutes, adjusting for altitude. turn off heat; remove lid, and let jars stand 5 minutes. remove jars and cool.
---
canning may seem like a daunting task, but was actually really easy and rewarding — it's also nice to know we will actually finish something before it spoils! (kind of a big feat in our house sadly.) we gave out the rest of our jars to friends and they were SO impressed — just like i told you they would be.