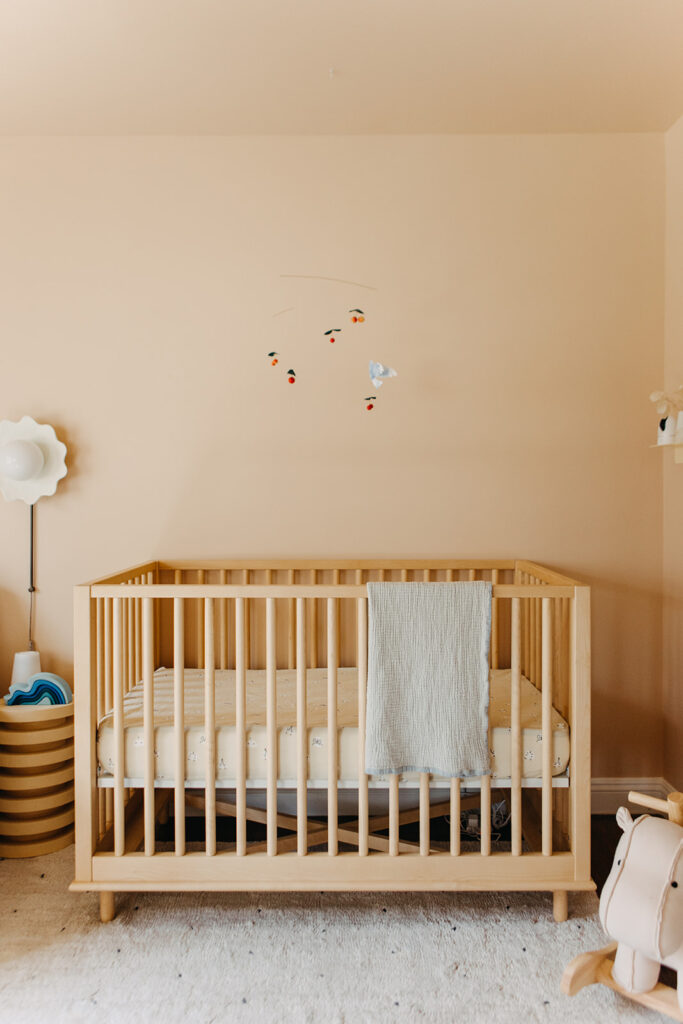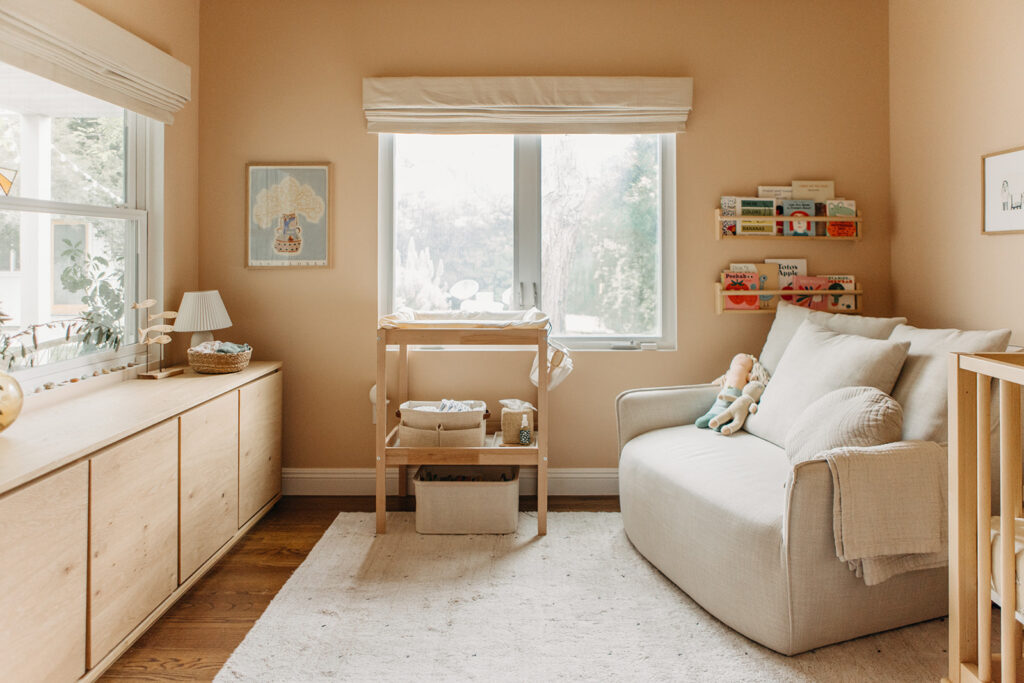 this post is in partnership with west elm
finally! izzy is 7 months and it's finally time to share her nursery lol. i worked on the room for a long time, obviously, and really made sure i loved everything that came in– and i am so happy with how it turned out. it's very monotone yes, and i find it sooo soothing in here. it's absolutely my favorite room in the whole house. i believe it's izzy's as well! (it better be.)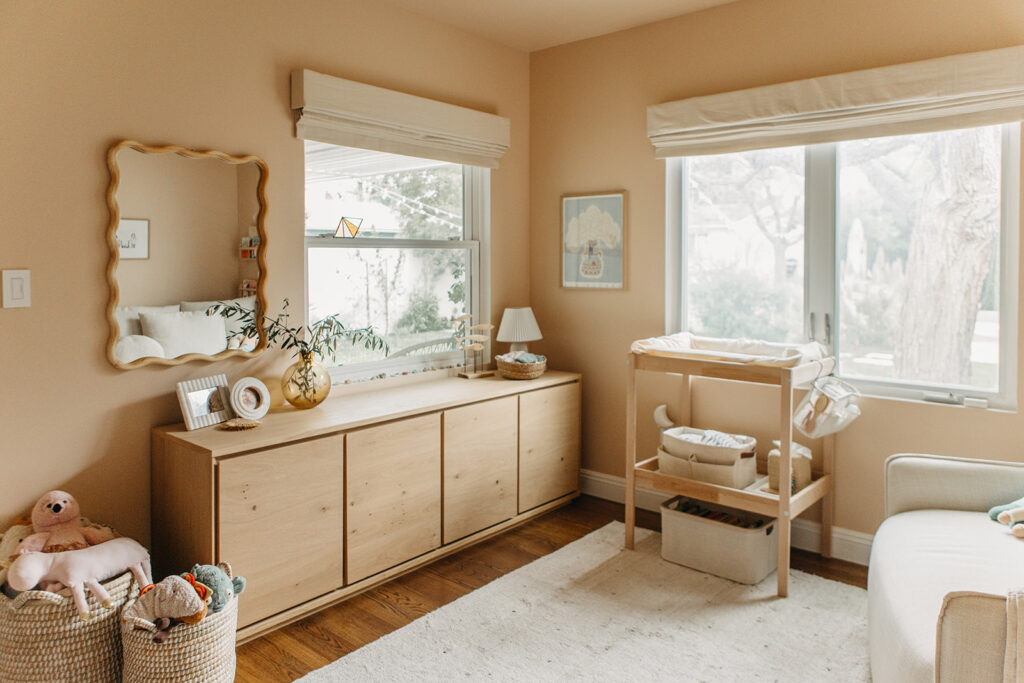 as soon as we knew we were having a girl, i knew i wanted to paint it a beigey cantaloupe sort of color. it took me a while to pick the perfect color, but i am so happy with this one. the color changes so much throughout the day but it always feels so warm.
i didn't plan on everything kind of going in that direction but i'm glad it did. the tone on tone really brings me joy!
the first piece of furniture i chose was the crib. i didn't end up saving arlo's crib and i love the lines of this one. the feet make it feel so modern.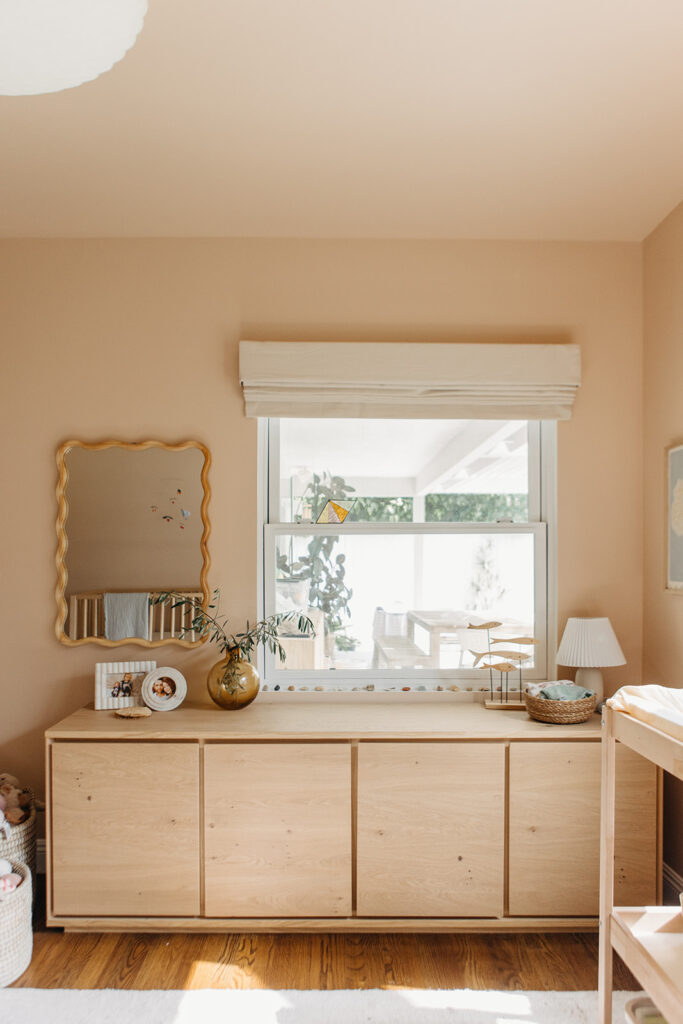 i also knew right away that i wanted a cabinet instead of a dresser. with arlo we used a dresser for many years, but once i moved his dresser into his closet and we freed up so much space for other kinds of storage i was convinced dressers take up way too much damn space in a nursery.
the windows in this room are awkwardly large and low and off center, so i searched for something that would fit under the window and most didn't. when i saw this cabinet, i knew i needed it! the wood grain is so gorgeous and i love how much storage we have! right now i'm storing crib sheets, swaddles (that i'm no longer using) and hand-me-down toys from arlo that she isn't old enough for yet. once she's bigger and playing with more stuff, we can keep that all in here too.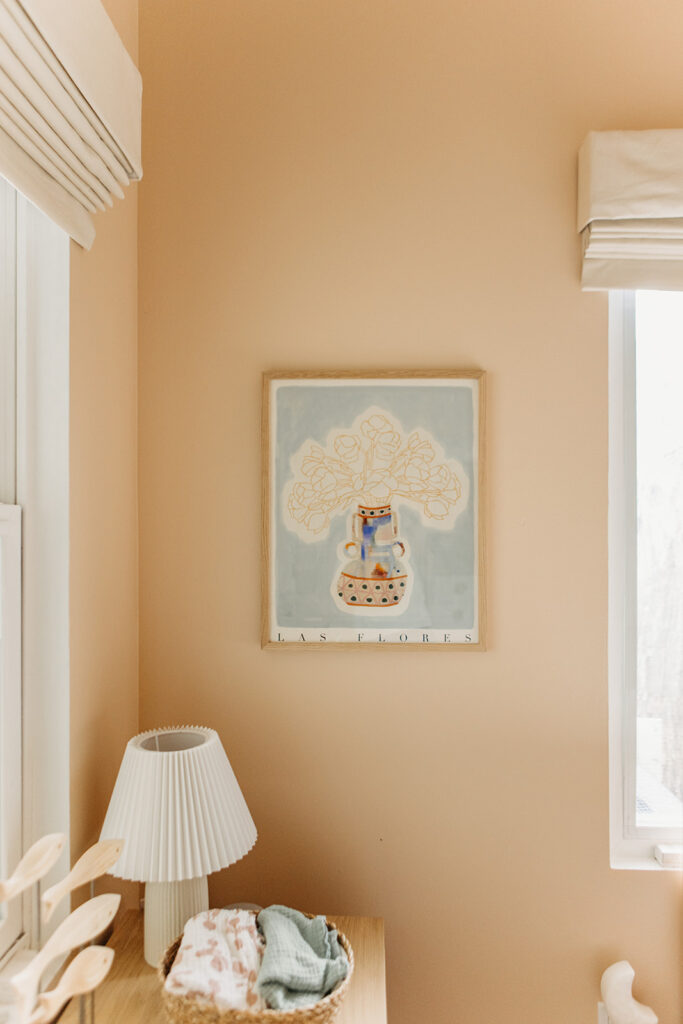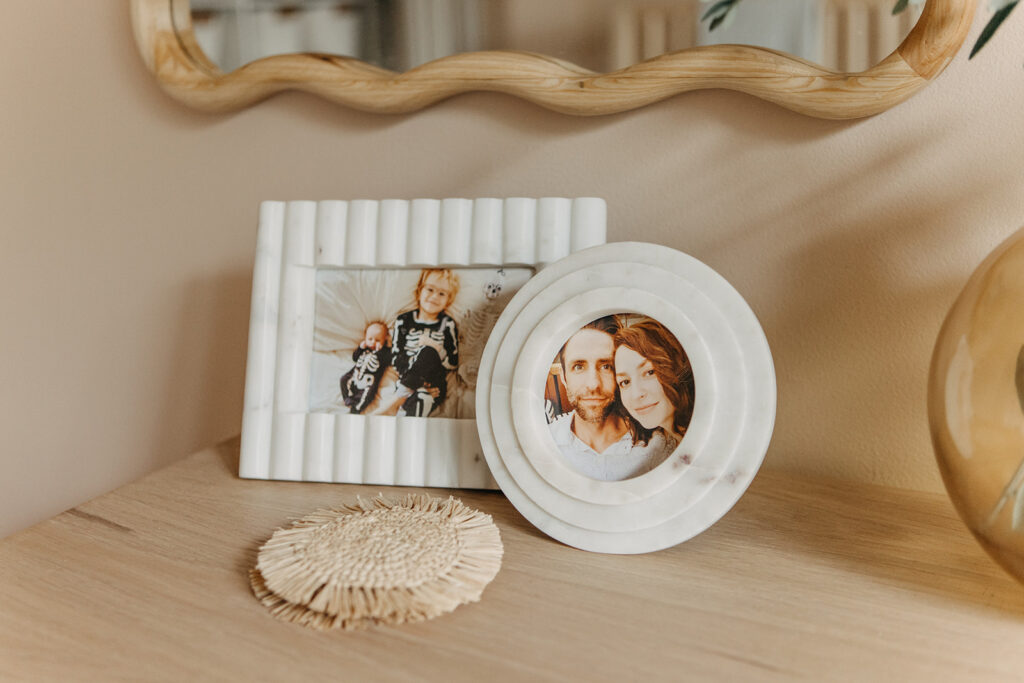 i originally planned on doing a changing pad on top of the cabinet here, but my best friend was getting rid of the changing table so i ended up taking hers. it's been super convenient and easy to move from our room into izzys, but we'll probably stop using it pretty soon and just change her on the floor because she prefers that.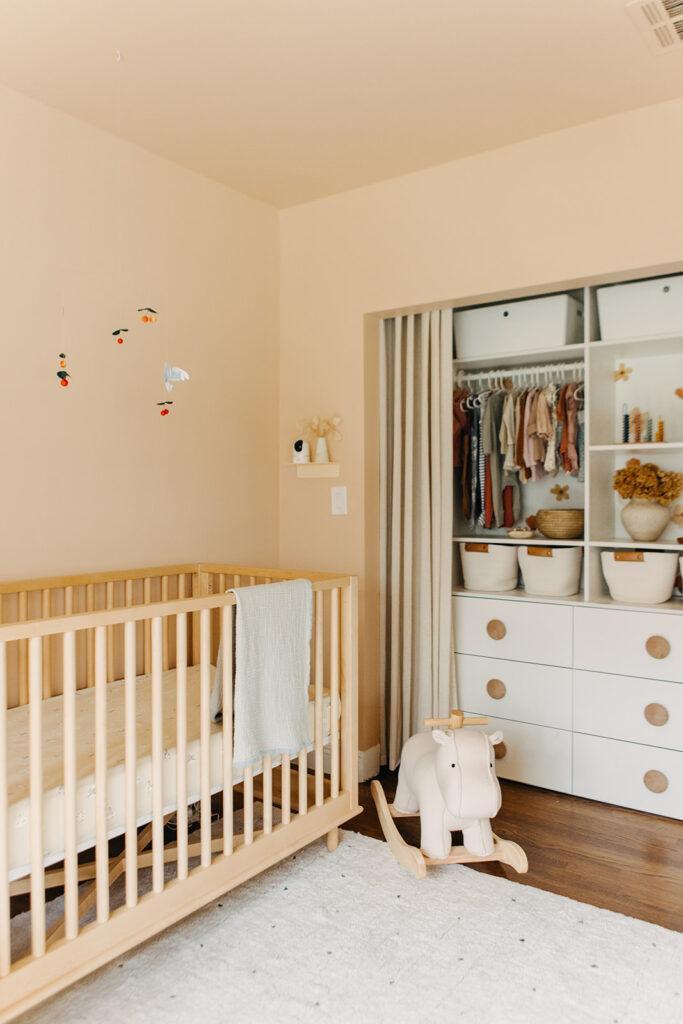 side note, izzy literally smiled for every picture. i can't take it.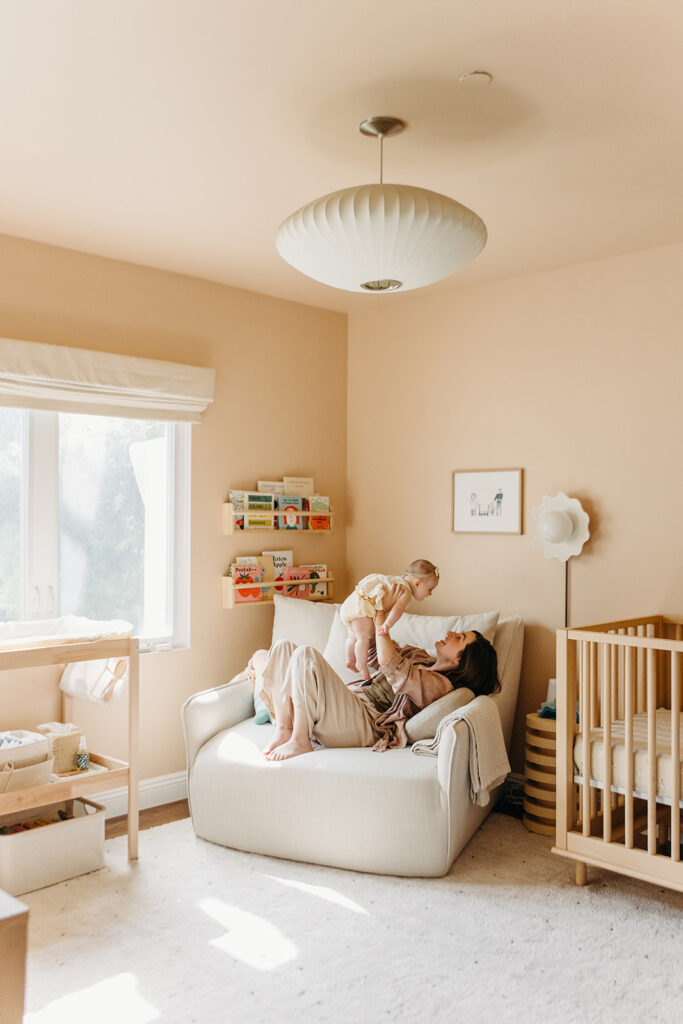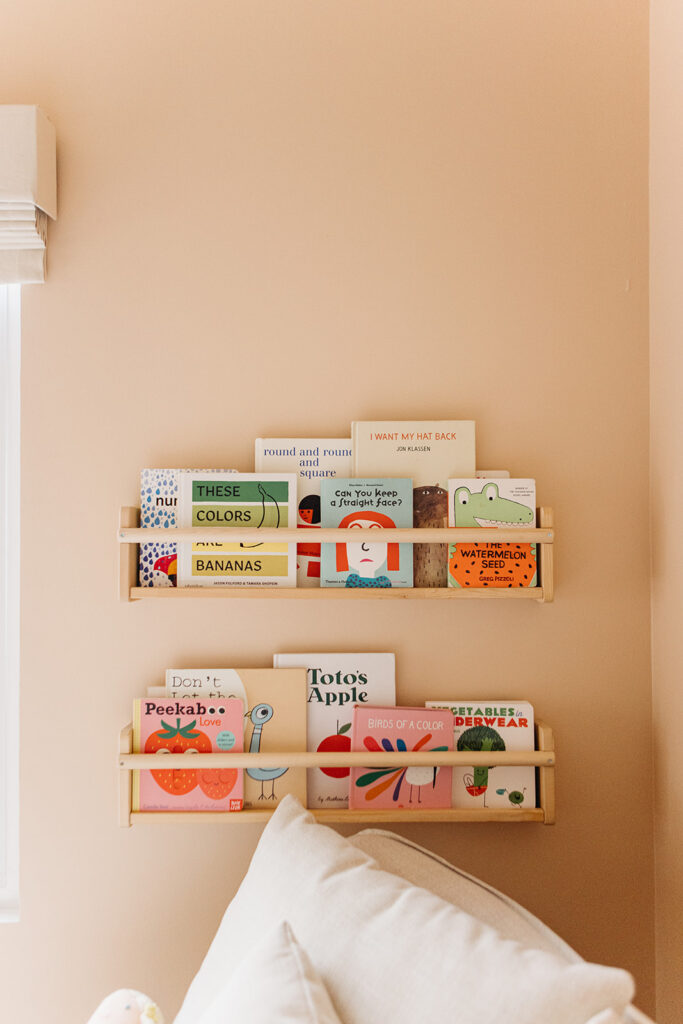 it was VERY quick that we realized izzy had zero interest in being rocked, so having a glider chair didn't make sense for us. instead we decided a giant comfy chair our whole family could fit on would be the best for this room. you know i can't resist giant deep seating, and now izzys room is no different lol.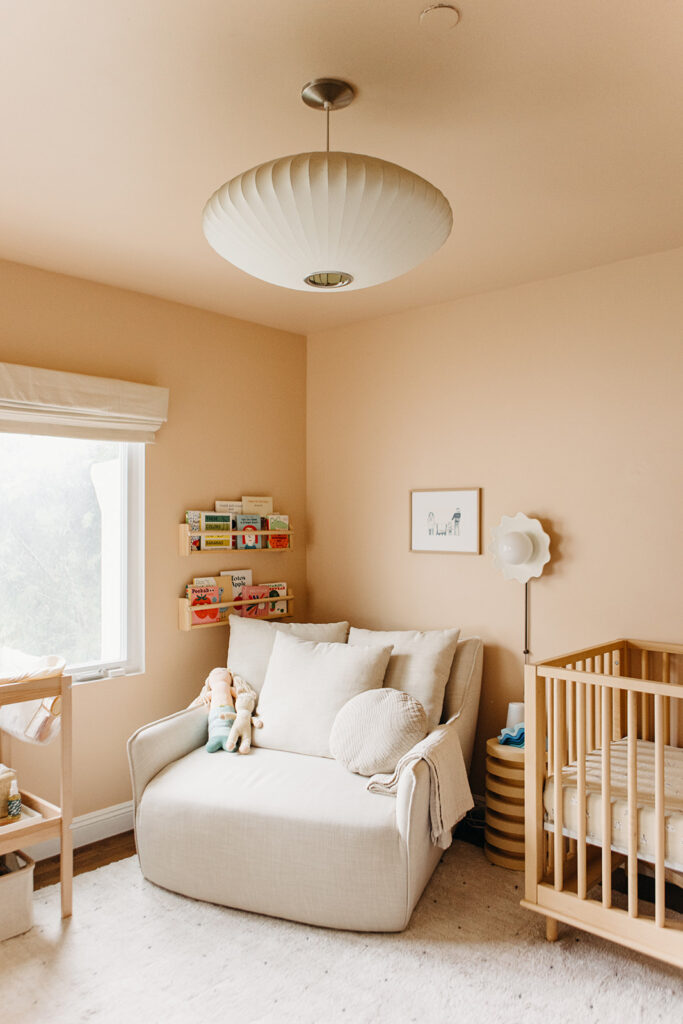 next to the chair we keep her sound machine, her books and the sweetest wall sconce ever for reading.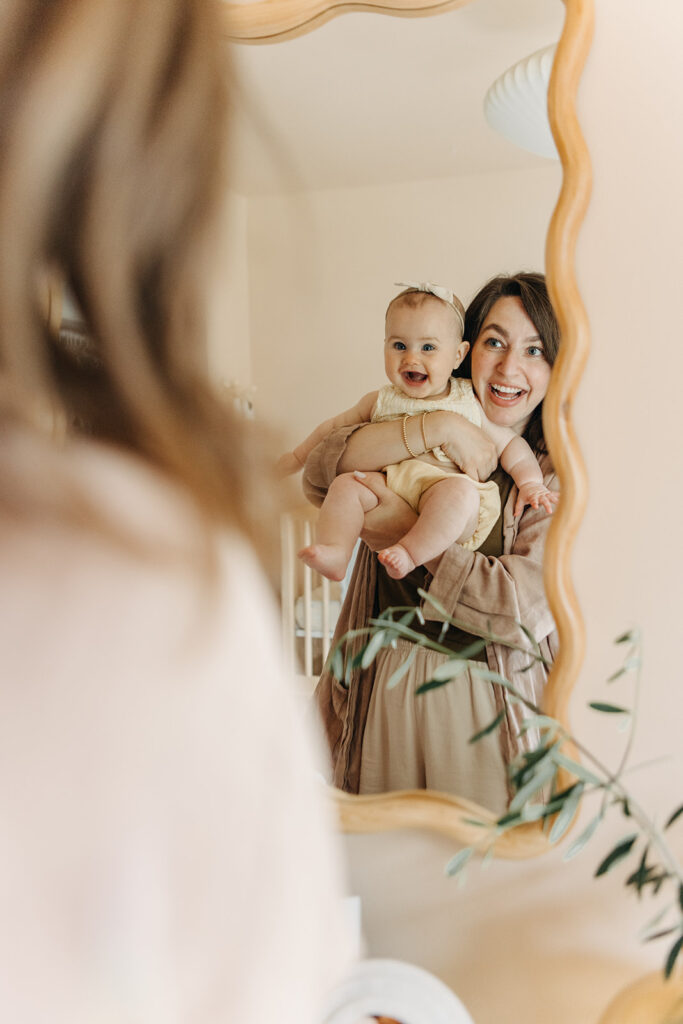 she loooves a mirror, so i knew we needed one in here too. it's true they really make a room feel bigger! once it was hung it felt like a whole new room.
and speaking of a whole new room, the closet was the same thing! i did not realize how much bigger and better the room would feel by removing the closet doors and adding curtains.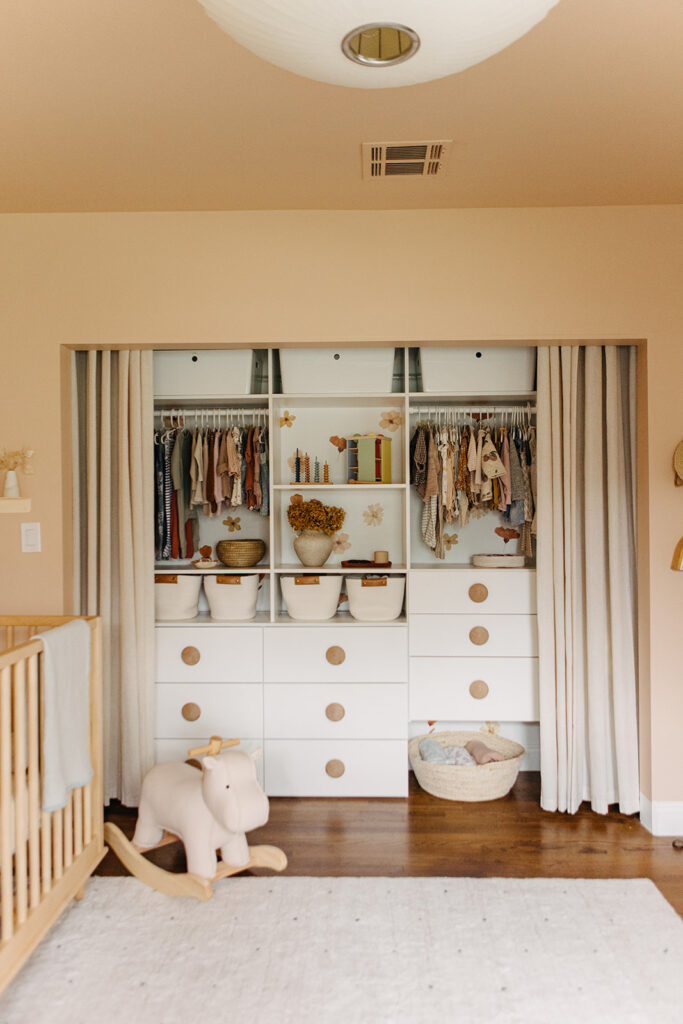 i've said this before but a cozy rug is a MUST for a nursery. in arlos nursery i used a beautiful vintage moroccan rug that i quickly swapped into another room because we spent so much time on the floor together and i didn't like the feel or scent.
so choosing a cozy rug was one of the first things i did for izzy's, and i am in love with this one. the sweet subtle pattern is great, so is the plushy soft feel, but EVEN MORE EXCITING? it's an easy care rug, which means that it's super easy to clean.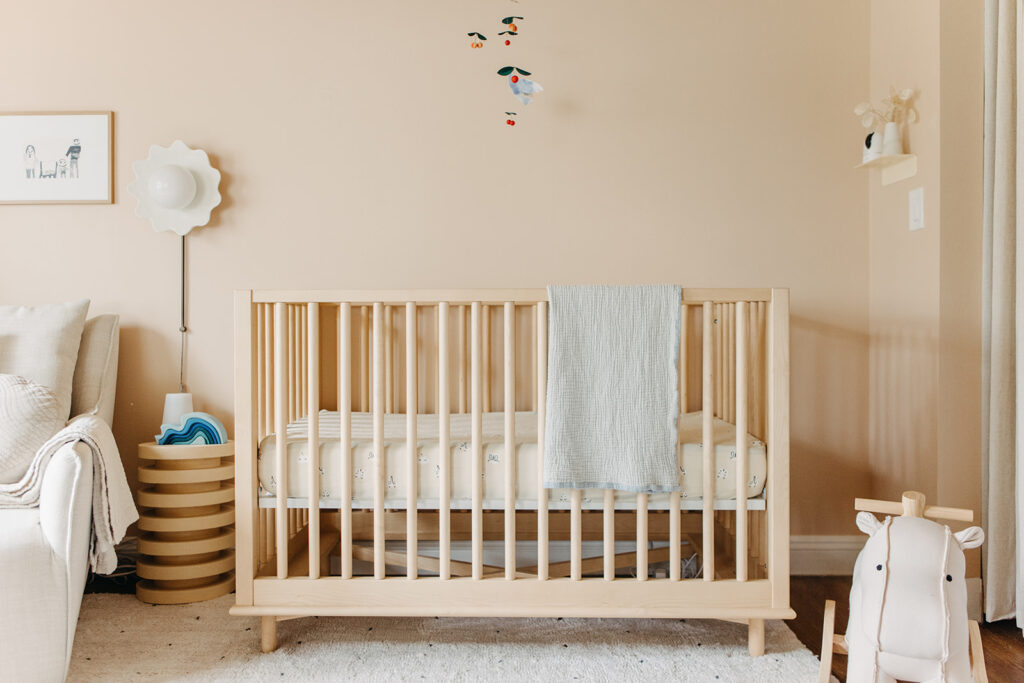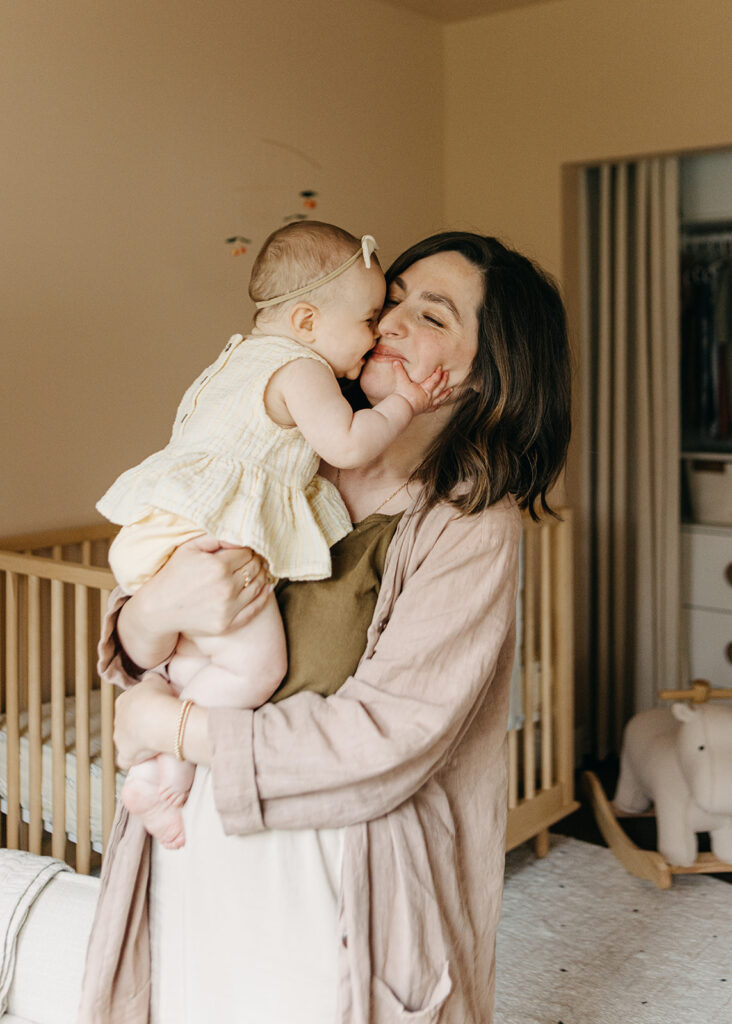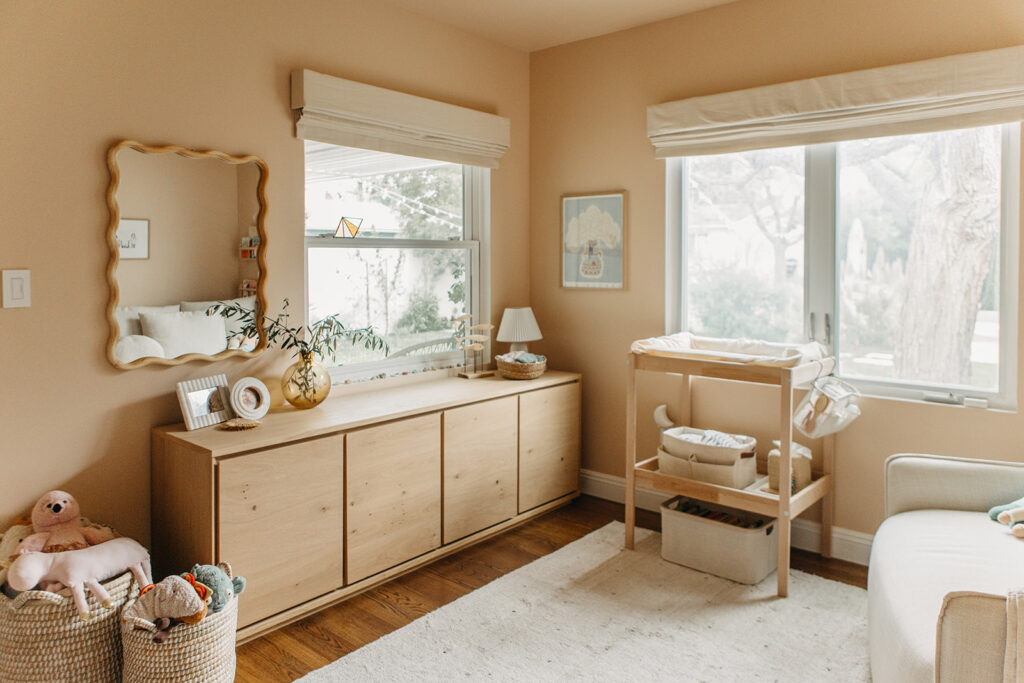 and some more photos because there were just too many i loved i couldn't choose!
i attempted to link everything but please let me know if there's something i missed.
photos by marie buck
room sources
furniture :
accessories :
on the walls :


roman shades – fabric is Gent Vanilla with Blackout Liner –

Motorized lift (rechargeable) – Classic fold – With Valance

and Smart hub