our dining nook, the new plan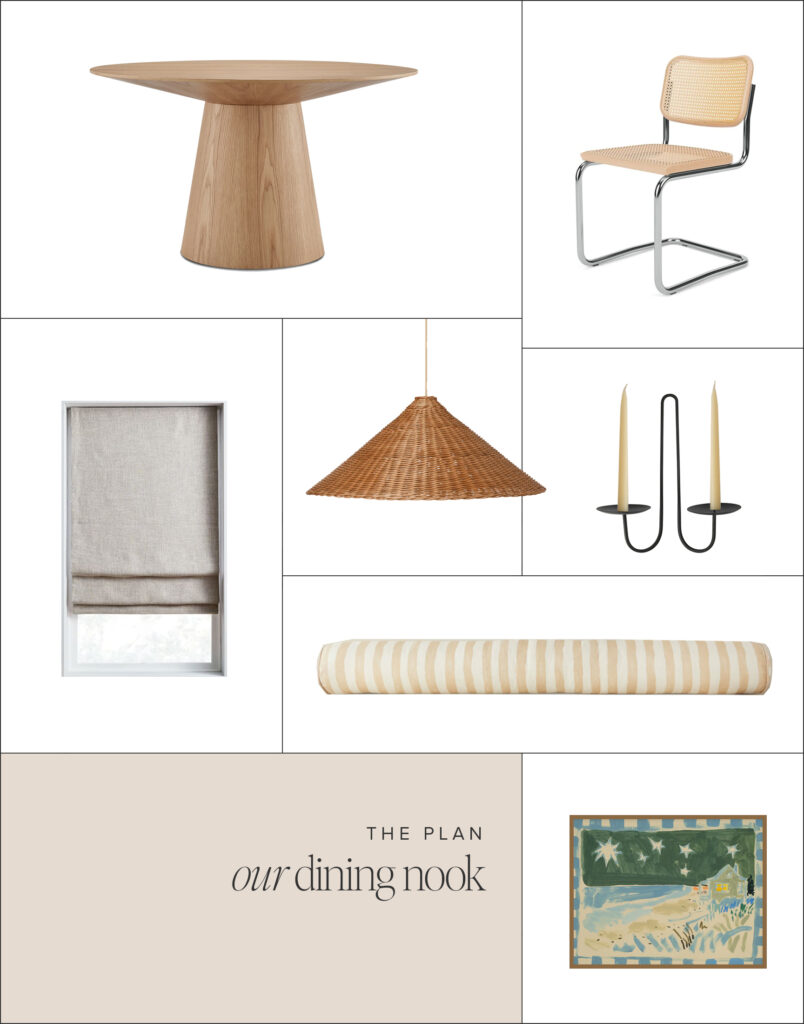 so as i said yesterday, i'm going to be making some changes to my house in an effort to love where i live NOW and finally update it to reflect my current taste more.
first up is the dining nook, i know i only just recently fixed up this corner — but i decided it would be an easy space to start with, and an easy space to transform with just a few new elements.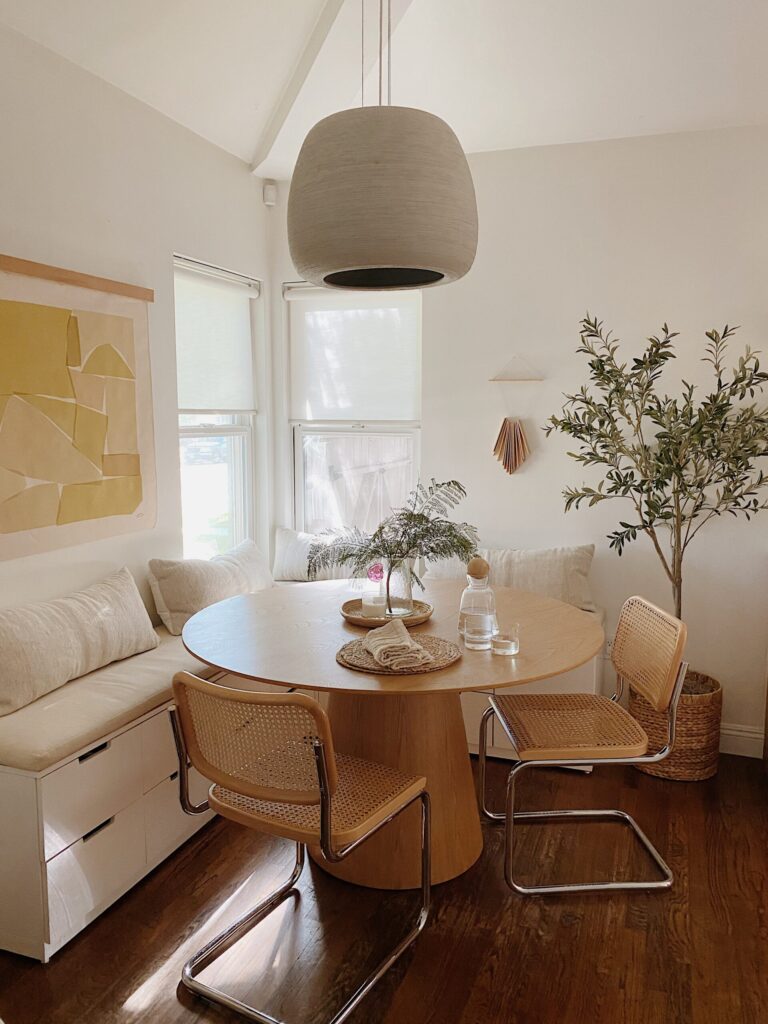 in the last phase, i changed up the table, got cushions made and brought in some new accessories — but i think it could be CUTER.
i'm keeping the table, chairs, cushions (although they are FILTTTTHY already, but i guess i should probably just attempt to wash them) but i've decided to change up the rest of the accessories as well. i just think change might feel really exciting right now! i didn't even realize that the wood wall hanging has been there for like, 6 years? more? yes it's time for a change.
a lot of people warned me about switching to a round table, and while it does make table-clothing more challenging and we do have less surface space overall, i could not be happier with it. it just fits the corner so much better. (although i can't wait to have a big table again someday!)
we've had our chairs for years now and they're very in need of cane repair, but i'm keeping them for now. they're classic and never go out of style and they were the same chairs we had during my childhood so they're nostalgic for me!
ps — here's a less expensive 2 pack
these were sort of the inspiration for everything, something that would make our existing built-ins look a little more special, but not having a bunch of throw pillows that has never felt right to me here. these bolster pillows are so long and perfect for my nook!

the light we have there right now is still beautiful to me, but it feels heavy and like it doesn't really fit the vibe i'm going for.
i haven't gotten these ordered yet, but after putting linen roman shades in izzys room, i realized that the whole house is missing them. they add so much softness and make a room feel so much more put together.
i've been obsessed with this print for so long now, and i had it pinned for my future dream house. it reminds me so much of martha's vineyard! but i'm not going to live in the future and now maybe having this will make it feel slightly like i'm in my happy place.
this already arrived and it looks soooo good. they're very trendy right now and i'm very into it.
that's it for this room! i'm soooo excited about this makeover, i hope you like it too! i'll share real life progress when it happens.