our bedroom video tour (with links to everything)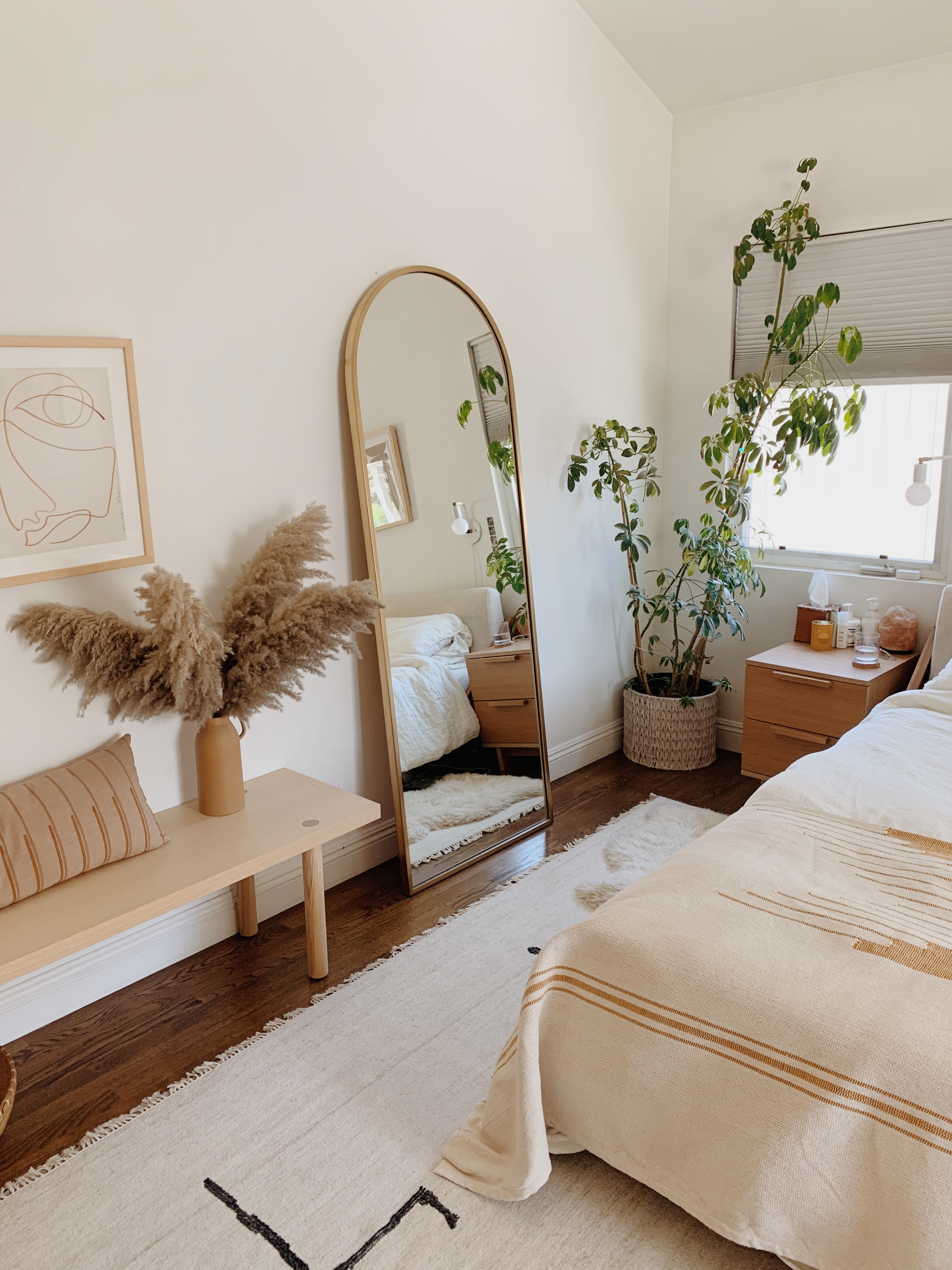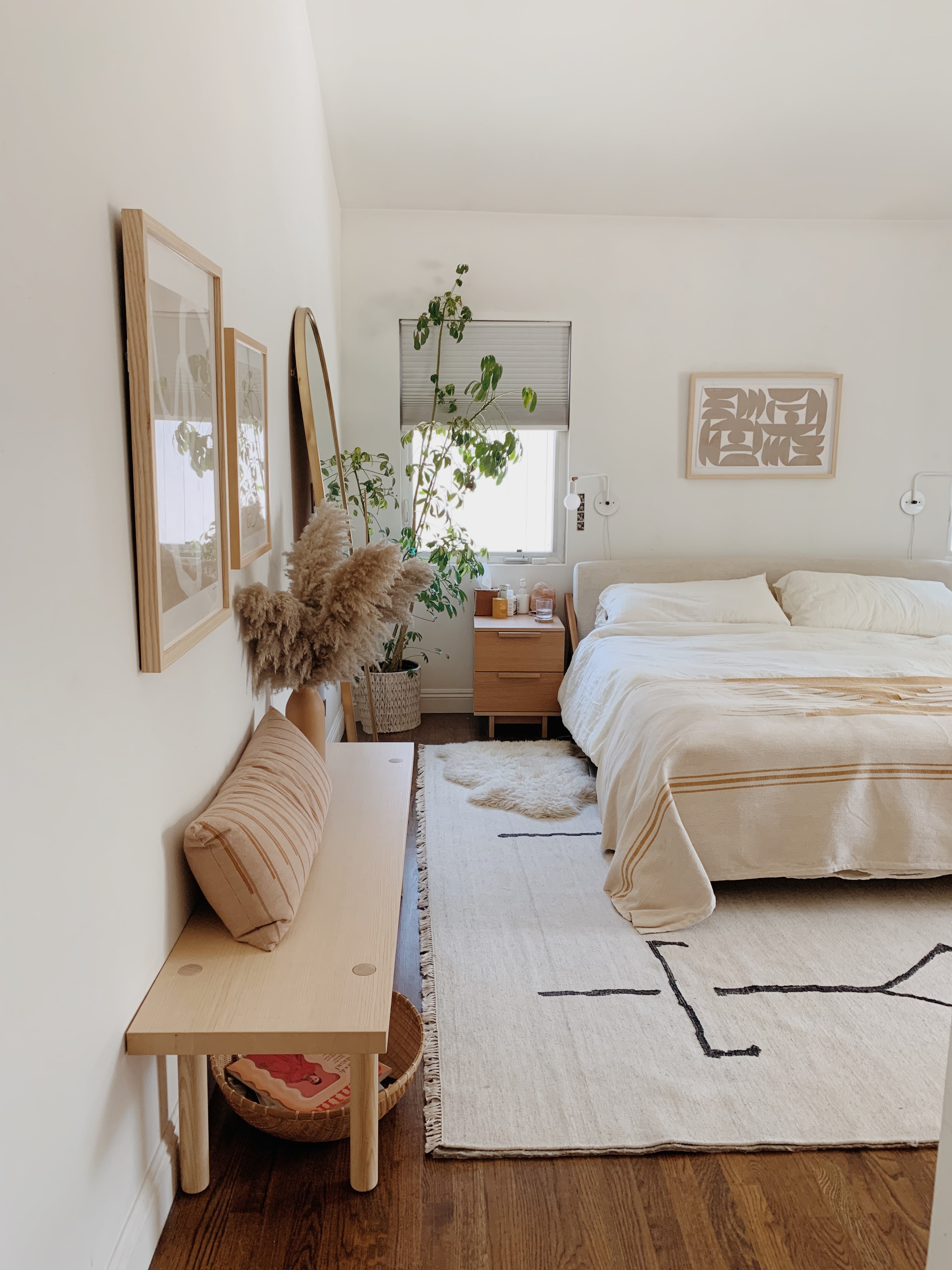 haven't done an updated bedroom tour for so long, and it's changed a bunch over the years so there's a lot to talk about! lol. going to try to answer every question i get regularly, so please read carefully or watch the video tour if you're looking for something specific! the links for everything will be at the end of the post. 
View this post on Instagram
our bed frame is a king size and if the wood looks lighter here than on the website, it's only because of the nightstands lightening it up i think! it's the same one. and our rug is 9×12.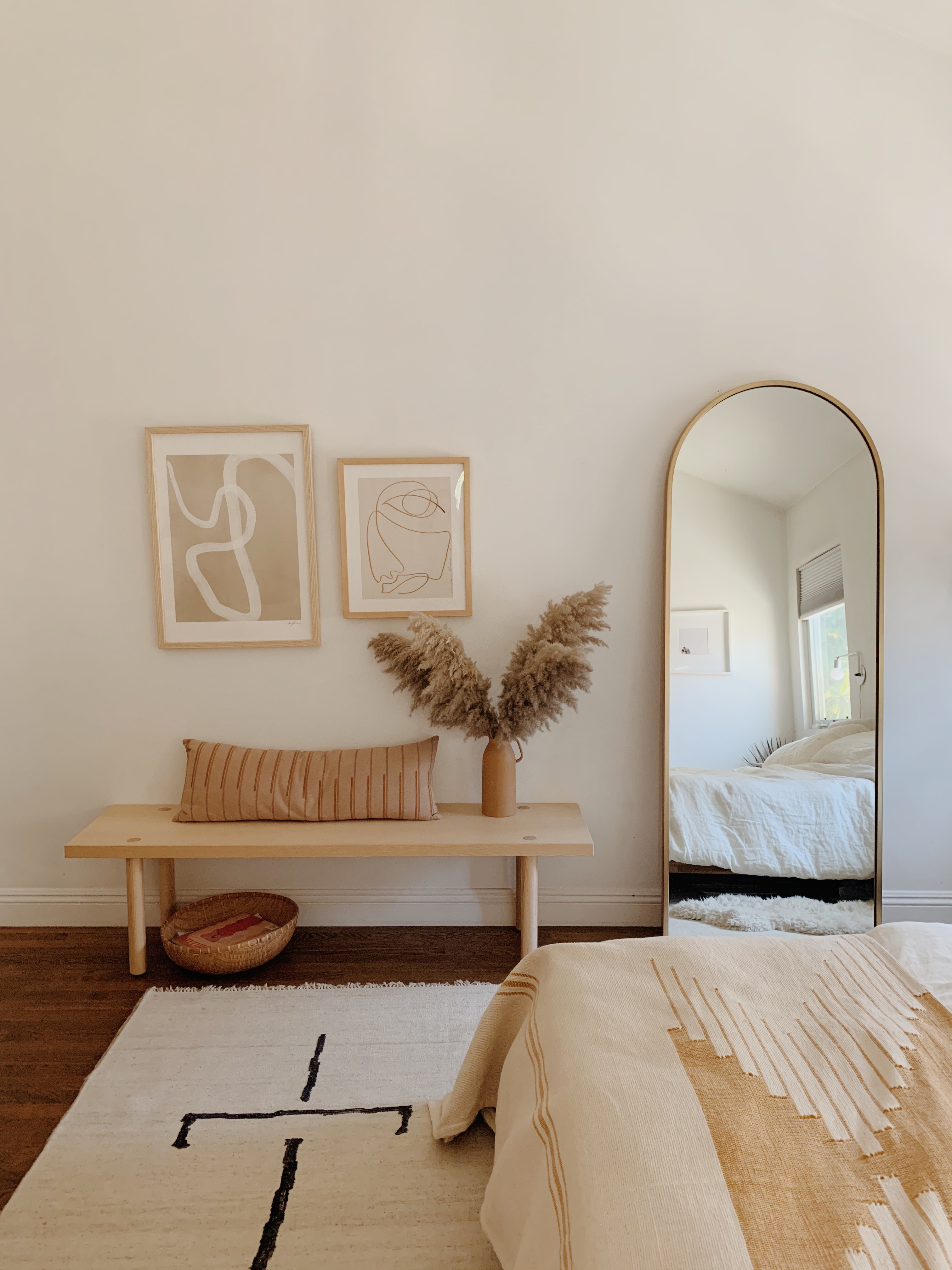 the mirror is leaning against the wall, but it's mounted. you can read more about that here in how we babyproofed.
the big plant is called a schleffera. while the shape has become increasingly quirky over the years, we've somehow kept it alive for longer than almost any other plant in our house! i usually just water it with my leftover water cup in the morning… and that's why it looks like that lol.
the bench was from ikea, but it's discontinued sadly (they always get rid of all their best stuff!!) the pampas grass plumes are from our backyard, but you can buy some! i linked below as well. the basket below the bench is called a winnowing basket. you can find a ton on etsy, that's where i've gotten all of mine. i didn't realize this one was going to be SO large, i thought it was fruit bowl size, oops. but now i am so happy to have it, i keep magazines in it and it looks very cute under the bench here (would also be great for toy storage)
we have a couple sets of linen sheets,  the set in these photos is from brooklinen (in cream color) and we also love these ones (they are insanely soft)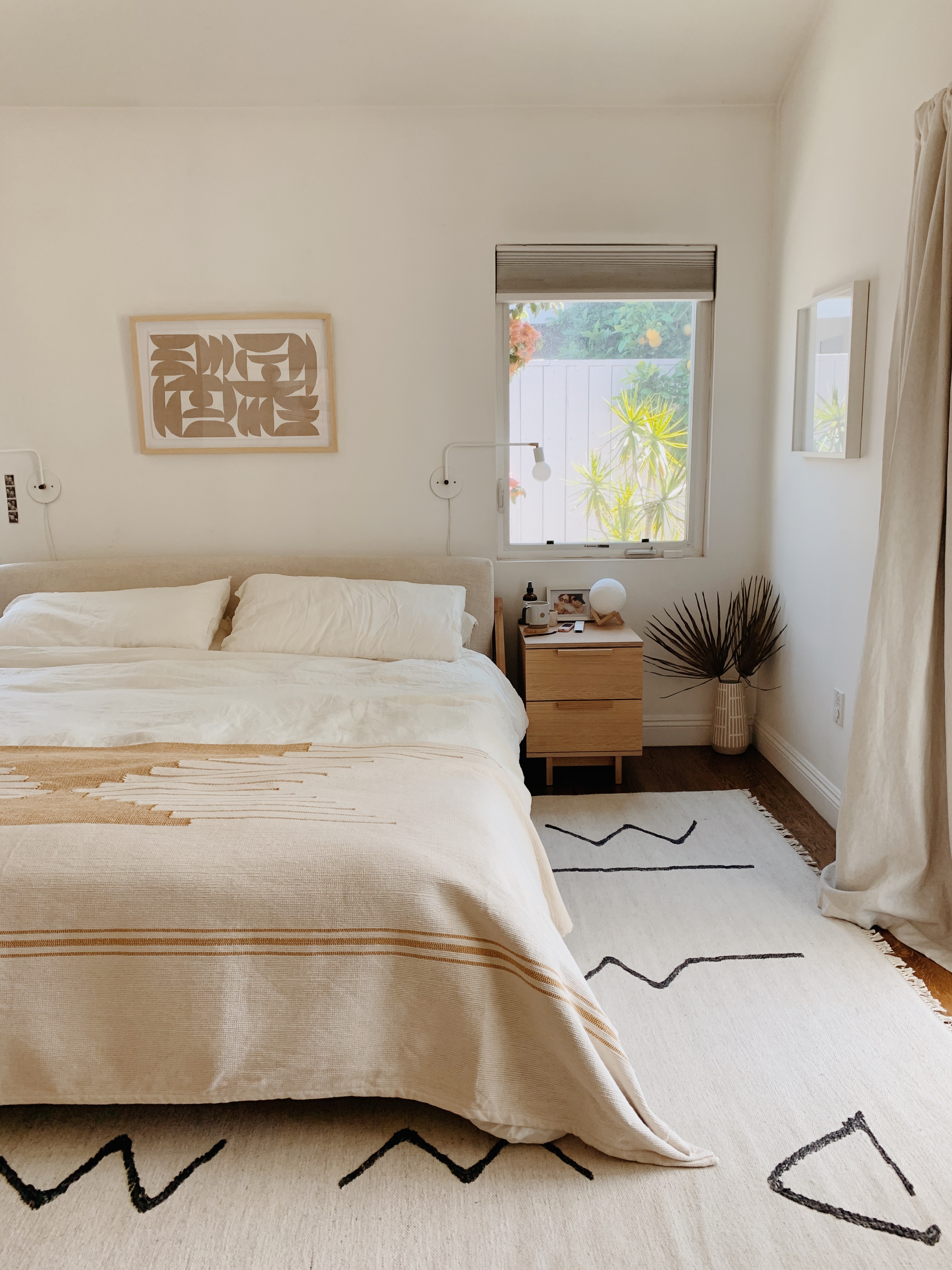 our nightstands seem to be discontinued sadly, but i linked to similar ones below. the leather tissue box holder was a DIY from years ago that i thought came out too janky to post, so i was planning to make a second one and never got around to it. it was a giant pain of a project so i never felt up for it haha, but i linked to a cute one at the end of the post!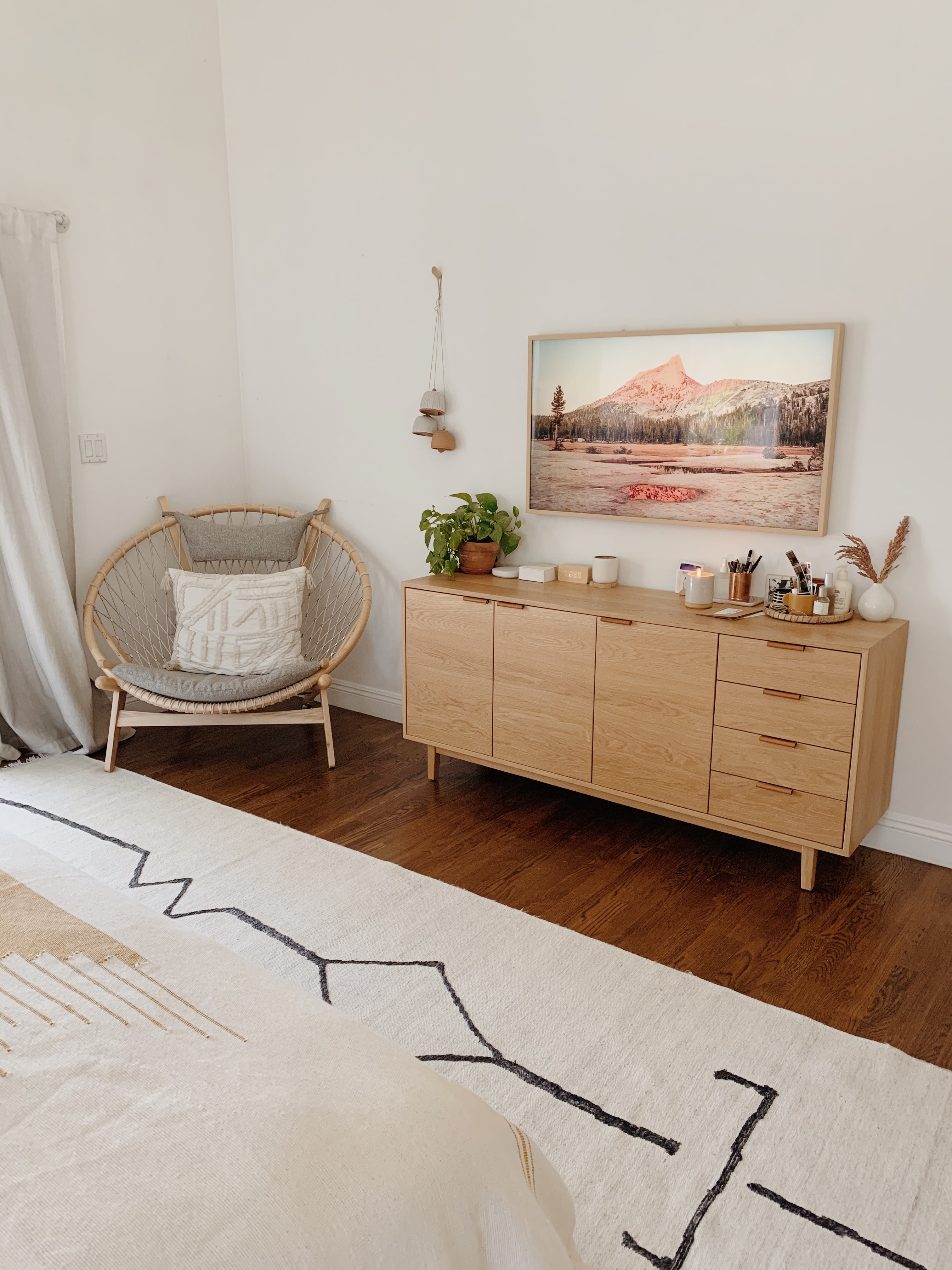 we don't have a dresser, instead we have a credenza (we have a walk in closet so we have drawer space for clothes in there). the credenza was made custom by hedgehouse furniture, thats why you won't see this exact one on their site but i'm sure you can ask them to recreate it! i'm linking to a similar prefab one below also. i keep our spare sheets etc in the cabinets. and the drawers i use for my pens, magnet shipping supplies, etc.
our tv is called the frame. it's the 49″ size. we have a beige bezel on it, which you have to buy as an add-on. i get asked if i find it's worth it and YES I DO. if you're a tv person but also a design enthusiast, it's crucial. we had a frame tv in our living room and i spent years obsessing about getting one for the bedroom too. once you get used to not staring at a giant black rectangle on your wall, you can't imagine life without it. the reason we don't have cords hanging is because we had the tv installer put them through a hole in the wall which then continues down and leads into the back of the cabinet where we have our media stored. the samsung frame comes with a box that connects everything to it, it's so convenient. the art i have pictured here is free in the samsung art store, it's by cody cobb. as you can see, the art really looks legit! actually way more so than the first model we have in the living room from only a couple years ago, this one looks strikingly real. the technology has improved so much already.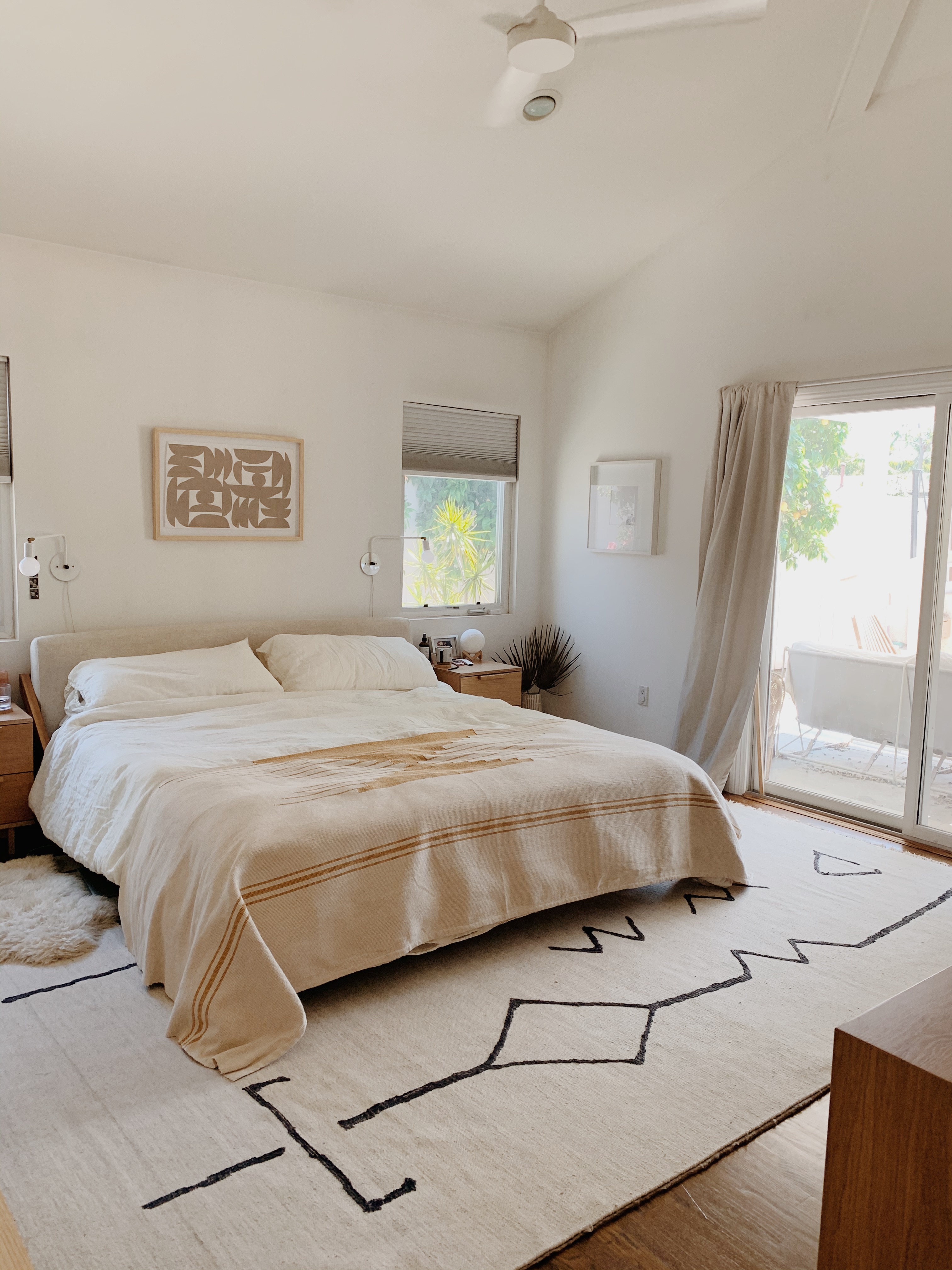 our wall paint is behr ultra pure white.
and our floors were this stain when we moved in!
---
links for everything
bed / nightstands (similar) / sconces / rug / throw blanket / art over bed 
mirror / bench (similar) (2nd similar) / lumbar pillow / vase (similar) / pampas grass (similar)
salt lamp / tissue box was a DIY (similar) / candle / coasters (similar) / plant basket (similar) 
art on left / art on right / basket underneath (similar) / sheepskin next to bed
credenza (similar) / pillow / hoop chair / clock (similar) / frame TV / bells /
wood wall hook / blackout window shades / blackout curtains / ceiling fan
our cream linen sheets / our blush linen sheets