eating this: mussels à la marinière
This batch of mussels was particularly beardy. Not cool, the process of de-bearding is pretty foul. I think. While we debearded and scrubbed like crazy, we were a little uneasy about how gross the batch was, chucking them at the littlest sign of too gross. But our meal turned out perfect.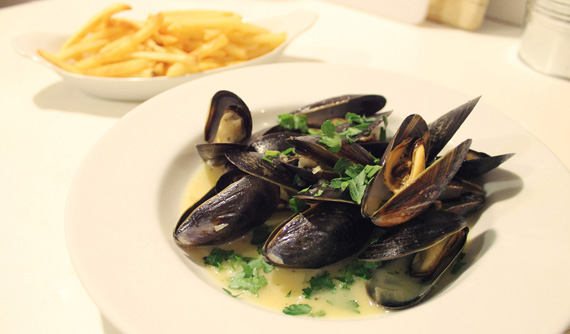 Moules à la Marinière
Adapted from Smitten Kitchen, adapted from Julia Child's Mastering the Art of French Cooking
Served 2
1 cup dry white vermouth
½ cup minced shallots or green onions
8 italian parsley sprigs (I only use Italian!)
½ bay leaf (oops. I used a full one)
¼ teaspoon thyme
1/8 teaspoon pepper
6 tablespoons of butter
2 pounds scrubbed, soaked, and de-bearded; if necessary (!!!!); mussels
½ cup roughly chopped parsley
*optional – a pinch of saffron
Bring all of the ingredients but the last two to a boil in a kettle (I just used a large stock pot). I added a pinch of saffron to the broth to please my boyfriends tastes. Boil for 2 to 3 minutes to evaporate the alcohol and to reduce its volume a tiny bit.
Add the mussels to the pot. Cover and boil over high heat. Frequently grasp the kettle with both hands with your thumbs clamped to the cover, and toss the mussels in the kettle and an up and down jerky motion so the mussels will change levels and cook evenly. In about 5 minutes, the shells will swing open and the mussels are ready.
With a slotted spoon, pour the mussels into bowls. Allow the cooking liquid to settle for a moment so any sand will sink to the bottom. Then ladle the liquid over the mussels, sprinkle with the parsley and serve immediately.
Pommes Frites 
Because I am usually lazy, especially on a weeknight, I skipped making my own fries and went with this frozen bag of Ore Ida Extra Crispy. Came perfectly crispy out of the oven and I sprinkled with a bunch of kosher salt. A little too easy peasy.