the items we ALWAYS have in stock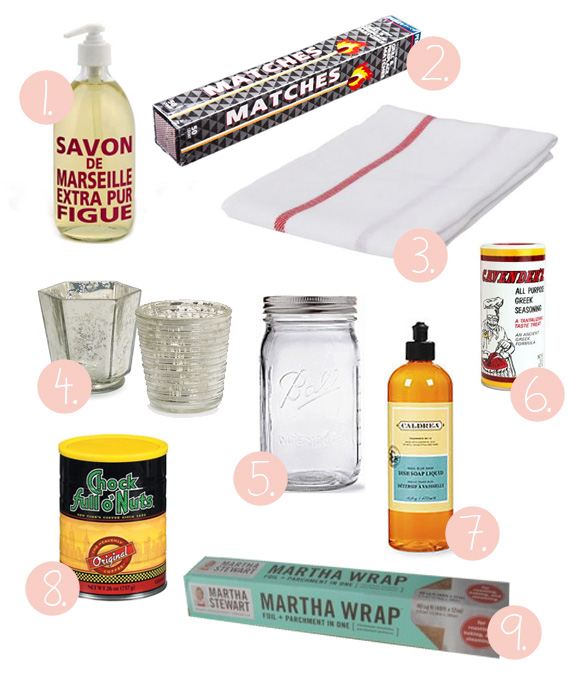 1. Savon de Marseille Handsoap – Instant bathroom makeover.
2. Extra Long Matches – Nothing looks nicer displayed next to a fireplace that is never used.
3. Ikea's Tekla Dish Towels – $0.49. Come on. Every time we're at Ikea, I impulsively buy at least 20. I use them as dishtowels (they're not the most absorbent or soft when washed), but they're basically disposable! I also keep a ton of new ones on hand to use as cloth napkins for dinner parties.
4. West Elm's Mercury Glass Votive Holders – In love with these. They look good scattered everywhere or in a bundle on the table. Target also had $0.99 versions around the holidays, which they don't seem to anymore. I got 6 and went back for more the same week.
5. Widemouth Ball Jars – I drink water all day long out of them. And you can buy at the grocery store. Easy.
6. Cavender's Greek Seasoning –  My boyfriend turned me onto it, it adds the perfect hint of flavor to pastas, meats, and brussel sprouts.
7. Caldrea Dish Soap – For some reason, they seem to have stopped making my favorite fragrance, Olive Oil! They're all nice, but the Olive Oil smells insanely good and makes you actually enjoy doing dishes. For a minute or so.
8. Chock Full O Nuts Coffee – Not only is it my go-store brand for coffee, but it totally indulges me in my hoarding. I keep the empty canisters and spray paint them white for makeshift vases. You can never have enough coffee canister vases. Right? Right.
9. Martha Wrap – Parchment paper and tin foil in one?! So genius.