hiwhile i'm not deeming myself an expert since i have zero babies so far, i have done a lot of research on things i'd need and wouldn't need, and while this list might not be the most minimal, i did try to keep our registry concise, and also as attractive as possible. i know in the long run, we won't be able to keep everything baby related aesthetically pleasing, but at this point i can try.
starting your registry from scratch seems so overwhelming, because i too had no idea where to start — so looking at other peoples essentials and talking to moms made it a lot easier. if you're in the same boat and having trouble even trying to begin working on your registry, hopefully this cohesive list will help.
** now updated 7 months postpartum! **

OUR MOST LOVED ESSENTIALS (THAT I DIDN'T INCLUDE INITIALLY)
---
babybjorn bouncer in hindsight i can't believe i didn't think i needed one of these — and i am so glad i got 2 weeks before arlo arrived. if you follow me on instagram you know arlo spent a LOT of his newborn days in this thing, especially because he hated everything else. it's expensive and more expensive than other brands, but it was money well spent for us.
baggu canvas backpack we love this thing, a friend of mine had it and i copied her immediately. it's machine washable, lightweight, doesn't have a zipper, has two pockets on the sides (where i keep my phone and burp cloths) — basically i just really like it a lot.
cheap bandanas who knew arlo would start teething basically from birth (without any actual teeth), so he's been covered in drool his whole life — in the first few months i kept losing his expensive burp cloths when we'd leave the house, so i got a 12 pack of these and i love them. i don't care if they get lost or stained and they are kind of cool, right?
angelcare bath support we originally bought a different one (see below) but ended up with this one and i love it (and now i see all the babies using it because arlo is a total trendsetter). he's comfy on it and sadly growing out of it now but we've been super happy with it and used in both the sink and the tub (our sink is extraordinarily big fyi)
boon drying rack another one where i had no idea i needed this till arlo was here and i was placing bottles on a paper towel and realized why everyone owns one of these.
skip hop activity center we call this arlo's "office", he has spent the most hours here of anywhere. we've tricked ours out with some additional toys, but he can spend so much time in here playing by himself and i can't even imagine surviving the last few months without it. arlo was never a baby who liked sitting or lying down, hence why he hated all the chairs and dockatot, so as soon as he could go in this i knew he'd love it and i was so right.
linen seat belt covers a reader recommended these and we are obsessed. they're so inexpensive and soft and a million times better than the nylon straps that come on strollers and carseats. we have a set for both his strollers and his carseat and i'd buy a million more.
hands free pumping bra ok new moms — you might also not realize you need one of these if you're planning on pumping, i didn't, and after one pumping sesh holding the suctions up to my boobs i was like UH HOW WOULD SOMEONE DO THIS WITHOUT A BRA? i like this one, it fits well and is easy to use.
dreft stain remover spray i cannot imagine life without this. i know that sounds dramatic, but i had a blowout baby (sometimes on every. single. poop.) and we LITERALLY OWN NO STAINED CLOTHING. so you do the math why don't you!
bamboo nursing pads when i first starting using these, i didn't really like them and i wished i'd just gotten the disposable ones — but after getting used to them, i really prefer them. when my supply was out of control, i would get them super soaked and would have to double up, but i still wear them and they work really well.

GEAR
---
snoo smart sleeper while it's an investment, we are so excited for the snoo — it's a bassinet that gently rocks and swaddles your baby, and can sense his level of fussiness and you can control it with your phone! and it's pretty. ( babybjorn bassinet was my second choice if we didn't get the snoo. ) update : the snoo lives up the hype. not sure if all babies would respond as well, but there were countless newborn nights we got extra sleep because of it, and gid would joke that he'd be sleeping in it until college. sadly he grew out of it but we are definitely saving it for our next kid.
gathre mat these leather mats come in a variety of sizes and colors and are perfect for changing, playing, outdoor time, they're super versatile and wipe clean and i really want one. update : we ended up getting two and they're really nice to have, but i find the midi size is more useful day to day than the maxi (which is enormous and we keep it in our trunk now for outdoor activities)
ergobaby swaddler while i guess we learned how to swaddle in our newborn classes, i really like the idea of using these idiot proof ones — and how cute is the elephant pattern? update : we ended up just using regular swaddle blankets only
4moms mamaroo this baby swing has 5 different movements and again can be controlled with your phone, seems crucial for entertaining baby while i'm trying to be productive so i'm stoked to have one of these. update : arlo never took to his unfortunately, but i'm definitely saving in case the second kid does! 
joovy walker he doesn't need this right away, but i registered for this walker after seeing how cute it was (especially in comparison to the ones with the colors and lights), i can always add some fun things for him to play with on the tabletop right? update : we only have started using this recently (since about 6 months old) and he likes it a lot, but we use it in our bedroom and have something else in the living room.
dockatot i love this baby lounger so much, i've seen people use them for travel, tummy time, and just lounging around the house. update : arlo never really took to this either, we got him to sleep in it a few times but for the most part, he wasn't a fan of being put down in it.

DIAPERING
---
munchkin step diaper pail i chose this pail based on good reviews and a simple design — it looks really good in his room! update : we like it
disposable changing pads i debated for a long what we wanted to do for changing outside of the house, whether i wanted a washable changing pad or disposable and ultimately we chose disposable (sorry if you hate that choice!). these are actually pet training pads but they're way cheaper than the baby ones! (here's a cute washable version i debated getting instead) update : one of my favorite ideas ever
mesh pouches are another thing i'm gonna keep a couple of in my diaper bag always, i can use them for wipes, dirty clothes, my belongings, etc. update : these have been lifesavers
keekaroo peanut changer we decided on this changer versus a traditional one because it seemed way easier to clean and we don't have to wash a bunch of changing pad covers all the time. update : we love this too, not dealing with fabric has been so nice (we keep a cloth at the top for his torso/head to keep him warm). after 7 months it's developed some stains i can't seem to remove.
water wipes i'm assuming baby is going to inherit my sensitive skin, and everyone says these wipes are awesome and super gentle. update : we loved these when he was a newborn. now we use these instead
ubbi baby wipes dispenser the cutest option i found for wipe dispenser and i actually like all the different colors it comes in too. update : love 
pampers diapers it was really tricky trying to figure out what size and how many diapers to register for, so after a lot of reading about it, i decided one 1 box of 128 newborn size, and 1 box of 141 size 1 diapers. update : the sizes didn't work out for us because arlo was only in a newborn size for about a week, every baby is different!

FEEDING
---
micuna ovo high chair is like the prettiest high chair ever, and proof that baby stuff can be just as nice as all the other things in your house. update : this is still the prettiest, but we ended up getting this cheaper one.
beaba silicone spoons these little spoons are super cute for introducing babies to solids, and i love the different colors (yes you heard me right!) update : we're obsessed with these, he loves to chew on them too. i would love a dozen more.
biobu bambino plates we chose these plates because they really look like something i would buy for us to use — i love them! update : they're so cute but fyi they're not microwave safe
burt's bees 5 pack burp cloths i read many times this is the last item to spend money on, because they're going to be so disgusting — i love the color of these and chose it because we didn't have any other fabrics in the dark grey so i figured that would make them more distinguishable. update : i like these but we also got a bunch of these ones because it turns out you need a million.
philips newborn bottle starter set again, you might be like um which bottles do i buy? they come in different sizes? yeah i was like that too, so this set seemed like the right choice. update : we still like these bottles, we've tried some other brands but because he mostly breastfeeds we aren't really bottle experts.
oxo tot silicone bib love the idea of less clean up because these bibs have pockets to catch what baby drops. (but i also registered for some cute cloth bibs like this one and this one) update : i kind of find these to be a pain at the moment (maybe i'll feel differently when he's older and messier)  but i prefer the cloth ones that i can fold up and fit in the diaper bag and his drawer easier.
ergobaby nursing pillow there are tons of options for nursing pillows, but i liked the shape and fabric of this one. update : i really tried to make this work, but in the end it was really hard to use this with my c-section and a giant baby. i ended up getting this one instead and loved it.
bottle brush + sterilizer bags update : loved the bottle brush, we actually use target sterilizer bags instead and i am a fan. 
** ADDED ** bottle drying rack for some reason, i didn't even realize we needed a bottle rack. so for the first week everything was on the sink and i realized it was crucial.
breast pump i got mine free from my insurance like days after i filled out a form, so do that for sure if you can! update : it works really well. i also got this portable one for trips which is nice to have but definitely doesn't feel like it does as good a job.

TRAVEL
---
babybjorn travel crib i wasn't sure if we really needed this or not, but ultimately decided it would be super useful to have for visiting the grandparents. update : we got this but have yet to use it. all the grandparents made sure to stock their houses with chairs for arlo to sleep in, etc so we haven't needed to use it.
fawn design diaper bag i'm going to do a roundup post of all my favorite diaper bags, but we decided on this one because it's big and roomy, it has comfortable straps and it's unisex enough that gid doesn't mind carrying it. update : while i think it's so pretty, i retired this kind of quickly. i found the leather to be too heavy, so once it was full of everything i needed — it just weighed too much. i ended up going with a simple canvas backpack instead. i can machine wash it, and it has side pockets for my phone and burp cloths, it doesn't need to be zipped if i'm in a rush, and i am so happy with it. going to do a full post on what's in my diaper bag soon!
nuna mixx (jett) stroller system i've learned quickly that being a petite mom is tough, we went and tried out a TON of strollers to see what was best for my height and chose the nuna because it was on sale and we loved the all black. someday we might also get a jogger which will probably be easier for my tiny size but haven't picked one out (but i guarantee we'll go with an inexpensive one since we sprang for a fancy stroller) update : i find the stroller to be a lot to carry, especially after the c-section. i ended up getting a lightweight car seat stroller which was really helpful for the first few months doing anything solo. we also got a travel stroller because we were worried about bringing the nuna to hawaii, and even though it def doesn't have a smooth ride like the nuna, it's easy and lightweight and perfect for me to use day to day when it's just me and the baby. also we literally used the bassinet for the stroller once, if it doesn't come with your stroller, i'd say don't bother but you might have a sleepy baby, we did not.
ergobaby carrier with infant insert again this was the carrier that was the best for my torso size, it's handsome and fits both gid at 6'2″ and me at 5'1″ comfortably. update : the ergo was a lifesaver for the first few months for me to get anything done around witching hour. now that he's bigger and he can be put in his activity center, i don't need to use it as much (which is nice for me because he's too damn heavy) and also, we never had to use the infant insert. if you know your baby is on the big side you probably won't either.
solly baby wrap once we figure out how to actually tie these things, i think we're gonna want to wear the baby all the time because i like having my hands free and i like cuddling 24/7. update : i love the solly wraps, but only used them at the beginning when he was a little tiny guy and gid was home on paternity leave. i'd love to try again, but i found them complicated to do on my own and ARLO IS TOO DAMN BIG.
nuna pipa car seat we went with the coordinating car seat for our stroller, it looks nice and it works on the stroller without an adapter. update : apparently the car seat is the lightest on the market, which is so crucial with my huge baby, but it's still so heavy! we were carrying the carseat in and out of the house every time so now that we're not bringing it in, it's def more manageable. 
sakura bloom wrap we are also excited for this wrap, these slings have a ring on them which might make them easier to tie on when you're alone? i am clearly not an expert. update : i actually struggled with this one too, despite watching 20 videos. but when this one came out, i was ecstatic! i find it much easier to put on and it's so pretty too. i definitely didn't do as much baby wearing as i see other moms do, hoping next kid will be a little lighter weight!
binxy baby shopping cart hammock i was trying to wrap my head around how to go do solo errands and shops with the baby in tow, and was excited when i found this — seems way chiller than trying to fit the car seat in the shopping cart (but you can put the car seat on top of it too). this seems like another v useful product for petite (+ weak) moms. update : loved the idea of it, but never used it. i know things like this will be so useful when there's a second kid and i have to actually lead a normal life with a newborn.

NURSERY DECOR
---
cotton muslin quilt it seems like all babies need a blanket or two right? update : love this blanket but we actually don't have a lot of uses for all the baby blankets we have yet.
connected goods woven laundry basket also i've heard that babies barf and poop all the time so you need to do a TON of laundry. this hamper is a pretty big size for baby clothes and looks real cute in his room. update : love
nightlight this one was on sale when we bought it update : never used it yet but it's cute!
crib sheets this doesn't seem like the place to splurge, so we're just getting a few sets of plain white sheets. update : now that he's finally sleeping in his crib, i got some patterned ones too.
cute mobile we went with brass, but i looove this calder inspired mobile. update : here's the mobile we did get.
so many baskets just since the baby shower, i already have tons of things that need corralling, so i'm assuming once he's got way more toys and things i will need baskets in every room. (and here's another cute one) update : get ALLLLL of the baskets.
crib mattress apparently you can go nuts trying to choose a crib mattress, we just made sure it was waterproof and free of chemicals. update : we like it.

BATHING
---
stokke foldable baby bath tub love the modern shape of this tub. update : this one didn't end up working out for us size wise. we got this one instead and are still using it and so happy with it. it worked perfectly in our sink and now in our tub (although i think we'll be retiring soon now that he's sitting up)
baby brush + baby comb love the look of this set and the goat hair is so soft. update : even though he's still a little baldie, i find brushing his hair post bath soooo cute and fun. he's not as convinced.
bath sponges how freaking cute are these fruit ones? i love them so much. (but we also got this simple one)
hooded baby bath towels we got a few of these cute muslin ones. update : arlo gets very mad about how cold it is post bath, so we ended up getting thicker ones instead.
baby washcloths i read many times you need these, because if you're having a baby you need lots of cloth things. update : these are actually necessary! who knew!
baby shampoo another thing i learned is that you really don't need a whole bunch of bath products for your baby, that's all marketing mumbo jumbo (like a newborn doesn't even need lotion) — our pediatrician even said skip the baby detergent and products all together, but i thought since these products were shampoo, wash and bubble bath in one, they'd be useful. update : ended up not liking this brand, we're now using burts bees.
bath kneelers i have been hunting for a cute bath kneeler for weeks, and sadly they kinda don't exist. maybe i should DIY… update : we got this one!

HEALTH + SAFETY
---
instatemp non-touch digital thermometer we chose this one even though it has some mixed reviews, i like the idea of not having the touch the baby! that came out wrong. update : we ended up getting this one instead because we wanted the option for ear readings.
nosefrida nasal aspirator and then the complete opposite, gid was pretty against the idea of sucking snot out of babys nose, but people swear by this and apparently it's less gross than it sounds. update : arlo HATES it, but it works.
summer baby monitor we did a lot of research on baby monitors — i wanted one that worked well, had a screen (versus using my phone), and was pretty. turns out no baby monitor is that great according to reviews, but this one seemed pretty decent! update : the picture isn't so clear on this one, so we're now using this with an ipad. still trying to find that perfect monitor.
self closing outlet plates we won't need these for a little bit, but i love that these automatically close on their own but are easy enough to still plug into. update : haven't baby proofed yet but will do a post on that by itself when we do!
zoli buzz b electric nail trimmer i was so afraid of clipping the cats claws for years, so an electric file seems a lot less scary than trying to clip babys nails. and people love this. update : while i liked this a lot in the very early days, arlos nails grew too quickly and the trimmer worked too slowly. we ended up getting nail clippers which have been fine.
humidifier / aroma diffuser i didn't really know if we needed one of these since people say different things, but i like that it's compact, pretty and inexpensive. and the rug in the nursery smells kinda funky so i'm gonna spend the next few weeks making it smell nicer with the aromas. update : we got this humidifier! (and we switched out his rug lol)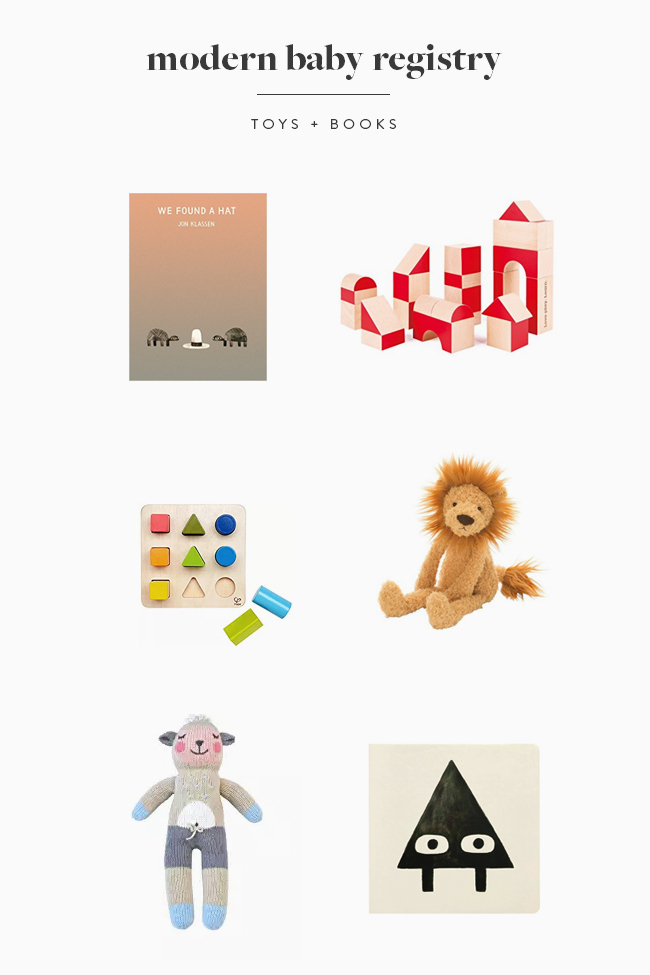 books + TOYS
---
*i was also thinking of doing a roundup post of all the prettiest baby books, in case you'd be into that — i know i won't be able to filter everything realistically, but right now i can make sure i only display the pretty books and pretty toys and pretty clothes!

EXTRAS
---
teething necklace i love how this actually looks like a cute necklace i'd wear update : with a baby who started teething at 2 months, we've needed a lot more than one teething necklace. here are his favorite teethers, and he looooves chewing on this guy so much that we have one for home and one for the diaper bag. (no, not sophie!)
activity mat can you believe i'd want something so colorful?! i didn't either — but i love the design of this and am v excited for tummy time. update : we use this all the time.
mushy books to this day, i cherish the baby book my mom kept for me and felt i needed to do the same for baby. i love the modern design of this one! update : i ended up liking artifact uprisings baby book the best, but it might be personal preference.
milksnob cover a versatile item, you can wrap it around the car seat for some shade, or over you for some nursing privacy update : honestly i tried using nursing covers in the early days, and it was more of a pain than anything. we'd both be sweaty and hot and covered in milk, and i ended up ditching them right away. crazy how quickly you lose your modesty when you're breastfeeding, i never thought i'd be fine with so many strangers probably seeing my boobs. i also never used a car seat cover either, again — we didn't have a sleepy newborn so we possibly just had a different experience than most.
aden + anais swaddles apparently you ALWAYS need lots of these. update : because we only used regular swaddle blankets, and because we barely put arlo in actual clothes the first two months, we needed tons.
skip hop stroller organizer even though a stroller organizer for my things seems like something i might not need, feels like something i'll end up being v thankful i have. update : crucial. 
---
PHEW. i know everyone warns you how much stuff you need for a baby, but it's pretty insane — and i feel like i kept my list somewhat minimal!
i'm also going to do a follow up post in a couple of months to update the things i maybe didn't need and what i definitely did. did i miss anything crucial? did i help you with your list? hope so. update : i kept my promise. i hope you love me!