printable holiday gift tags

yay! it's november and the holidays are officially here! … and that also means — holiday gift tags are here! i find such joy in sitting in front of the tv watching christmas movies and wrapping all our gifts. like, soooo much joy that the whole time i'm doing it, i am saying to gid "isn't this the best ever?" can't even imagine how sappy i'll be this year for arlo's first christmas. and i always find it very exciting to top my gifts off with the cute tags i make. and it doesn't hurt that my very supportive mom announces her delight at every gift that has one of my tags on it (proud mom).
anyway, you guys know i love doing lettering, so i was so stoked to team up with HP to try the new spectre x360 + pen. it's a laptop and a tablet in one (and also a tent and a stand), and therefore it's perfect for doing calligraphy directly on the screen. gone are the days i'll sit and do messy watercolor lettering and then have to go back and scan everything like a total chump. ok well i might still do it sporadically, but this was way easier and cleaner. and way more 2017.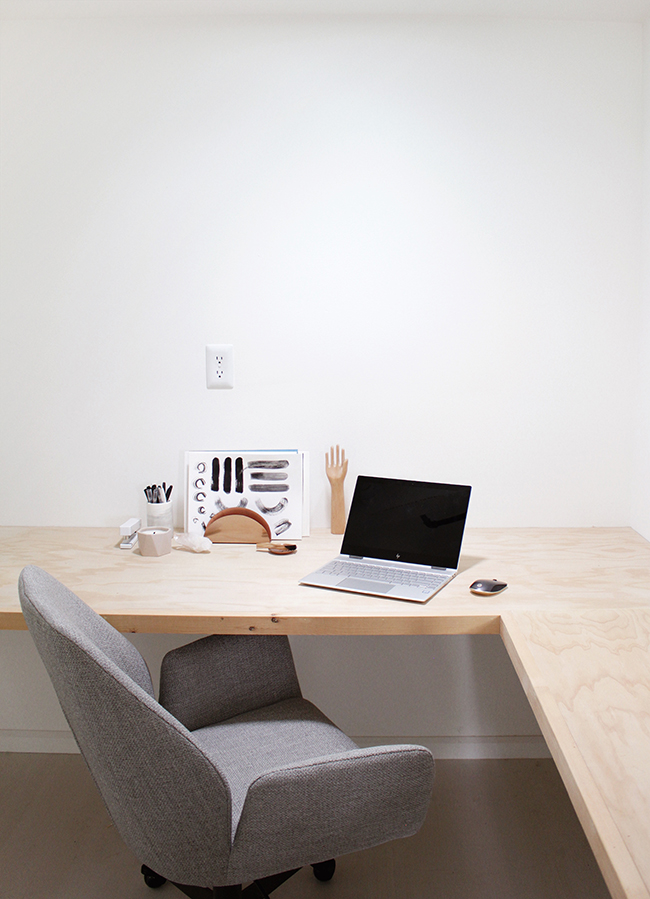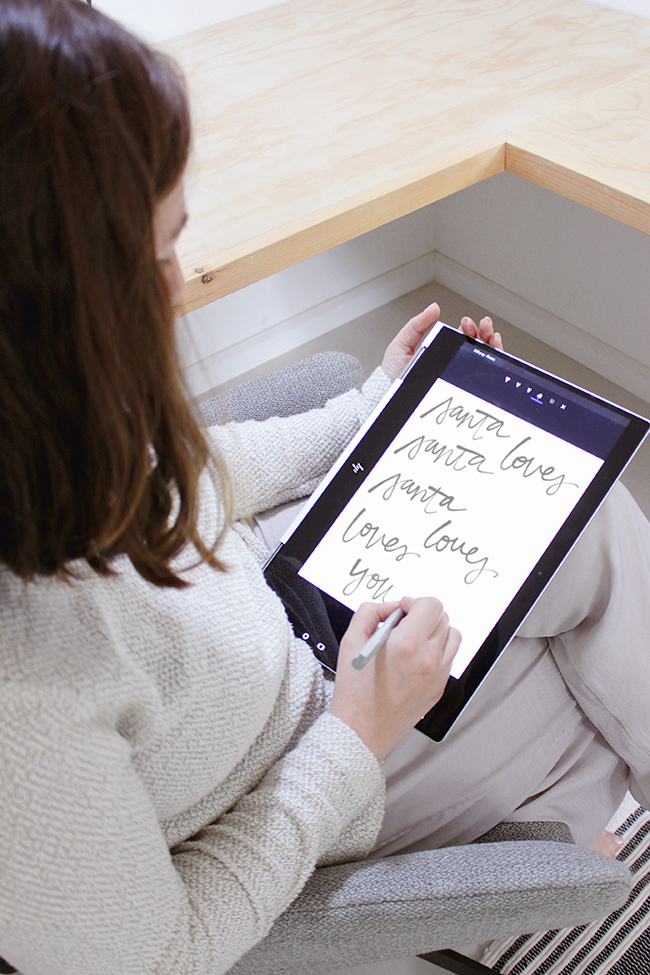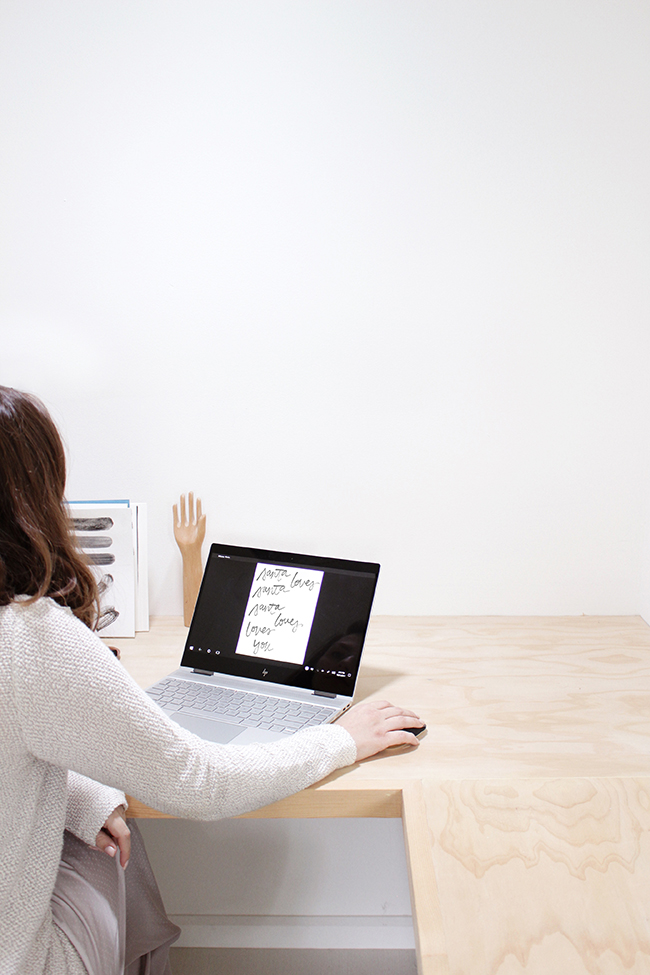 the spectre x360 is super lightweight (it weighs under 3 pounds!), and the battery lasts 16 hours which is lifesaving for people who are too lazy to stand up and get their charger until the very last second of it's life (me). and creating the tags was so simple, i just did all the inking using the tablet, and then in photoshop i chose which words i liked best, paired them them all up and formatted them into gift tag size.
at first, drawing directly on the screen felt a little awkward, but i got used to it really fast — i really love how the calligraphy pen i used was pressure sensitive so there's a lot of varying thick and thin line widths. where i used to waste 20 sheets of paper on one expression because i can go a little crazy doing way too many versions of the word "the" until i make the absolute perfect one, i'm super into being able to just erase and start again, no paper wasted. (no, like, i have drawers and drawers of pages i've scanned that have the same three words on them.)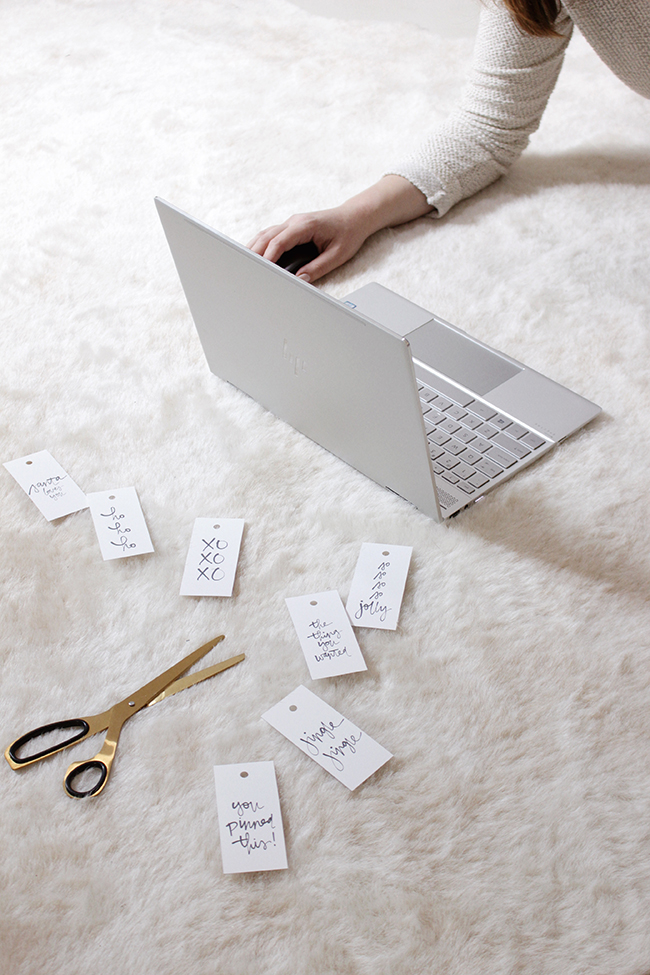 once you've printed the tags, cut each one out and use a hole puncher to punch a hole for ribbon, or you can just cut a slit on the top if you don't own a hole puncher. i recommend printing them on thick 8.5 x 11″ card stock for the best quality tags that won't bend.
download the holiday gift tags here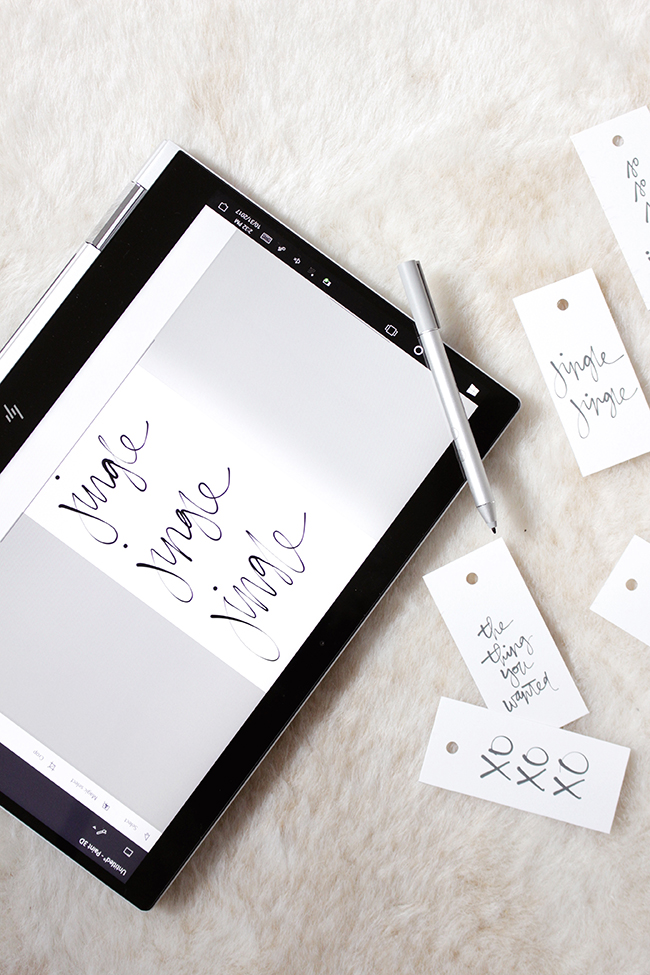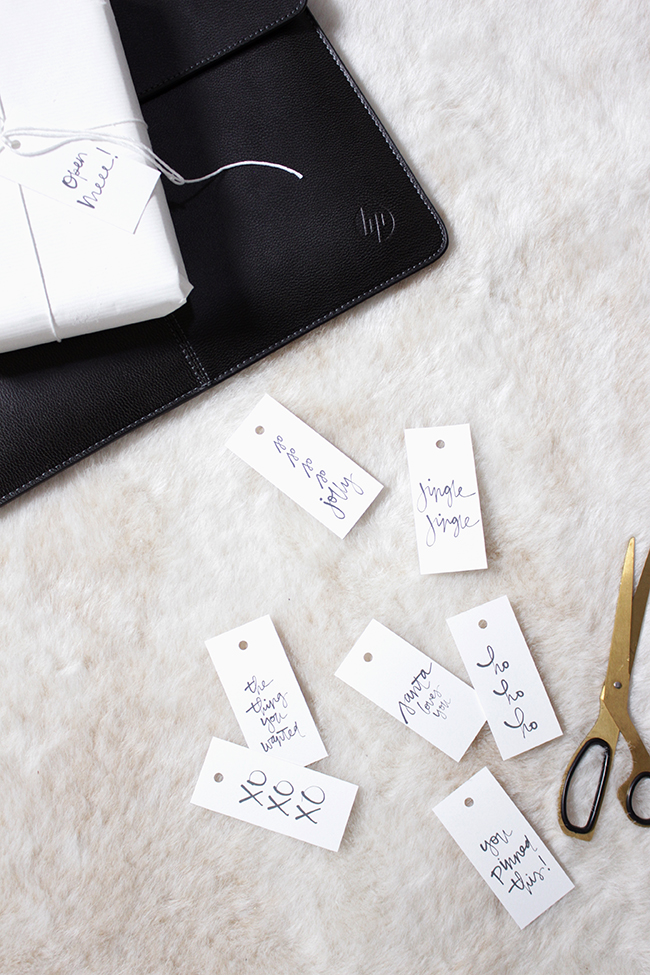 i feel like lettering on the spectre x360 changes everything for me, it just got soooo much easier to do, so maybe it even means more printables for all of us… who knows!?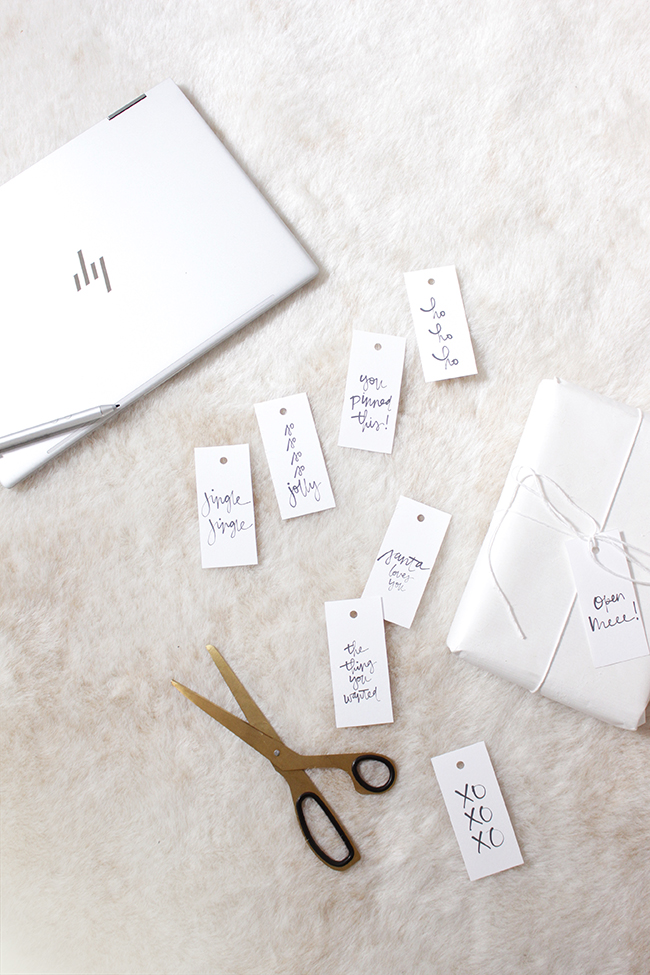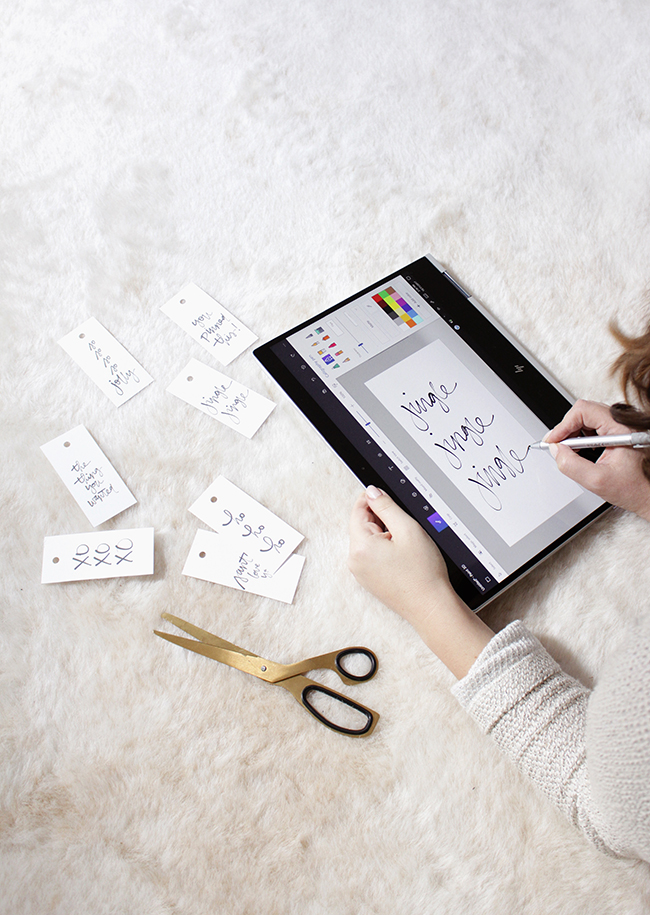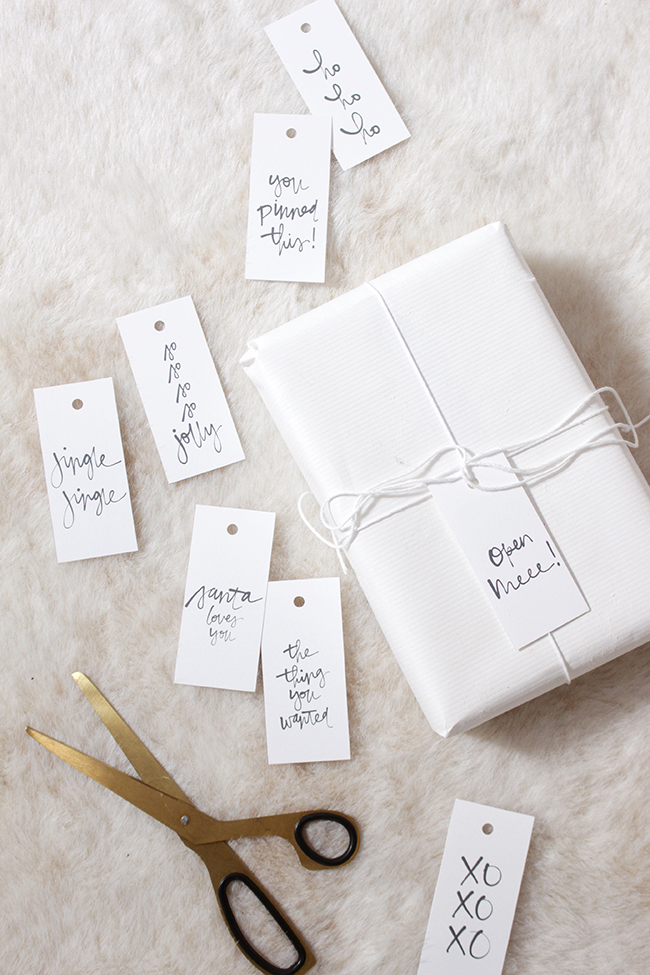 i'm also partnering with HP to #ReinventGiving this holiday season, to emphasize the material less, and focus on impactful gifts of kindness. i'll be sharing more on that soon!
now who's excited for christmas?! as always, would love to see if you use the tags on your gifts this year.
this post is in partnership with HP. all opinions are 100% my own.