izzy's 1st smiley themed birthday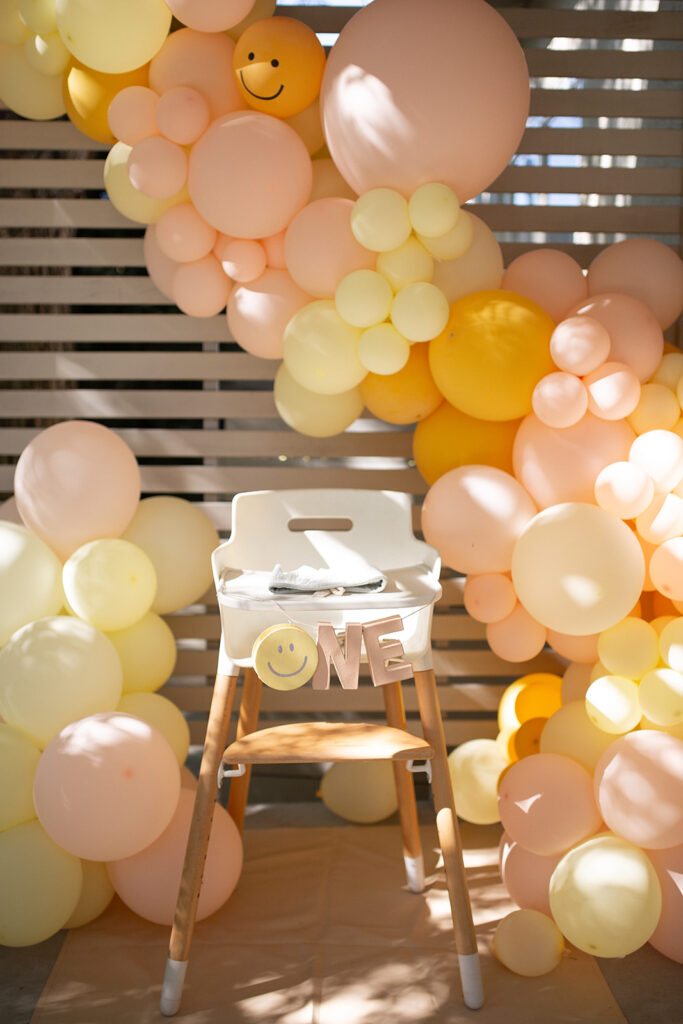 well this has gotta be the happiest party i've ever thrown! i had so much fun with this theme. once i decided on it, i saw it done a lot of pinterest but i put my own simple, pastel spin on it.
it proved to be very challenging when i decided i didn't want to use any smiley faces with the notched mouth, but i just think they remind me more of izzy when they're the simple mouth shape! i am who i am, i can't help it! must. make. everything. harder!
i learned a lot from throwing arlo's 1st birthday, mostly that i threw too large of a party and he was just a baby who was overstimulated by everything. oops! so this time, i kept the guest list much smaller, basically small children/babies only, and i was more conscious of making it fun for her versus for the adults.
i hired a musician to come perform because she loves music so much (so happy i did!), and set out a few fun things for the babies to do — a play tent with balls and our water table.
now, onto the details…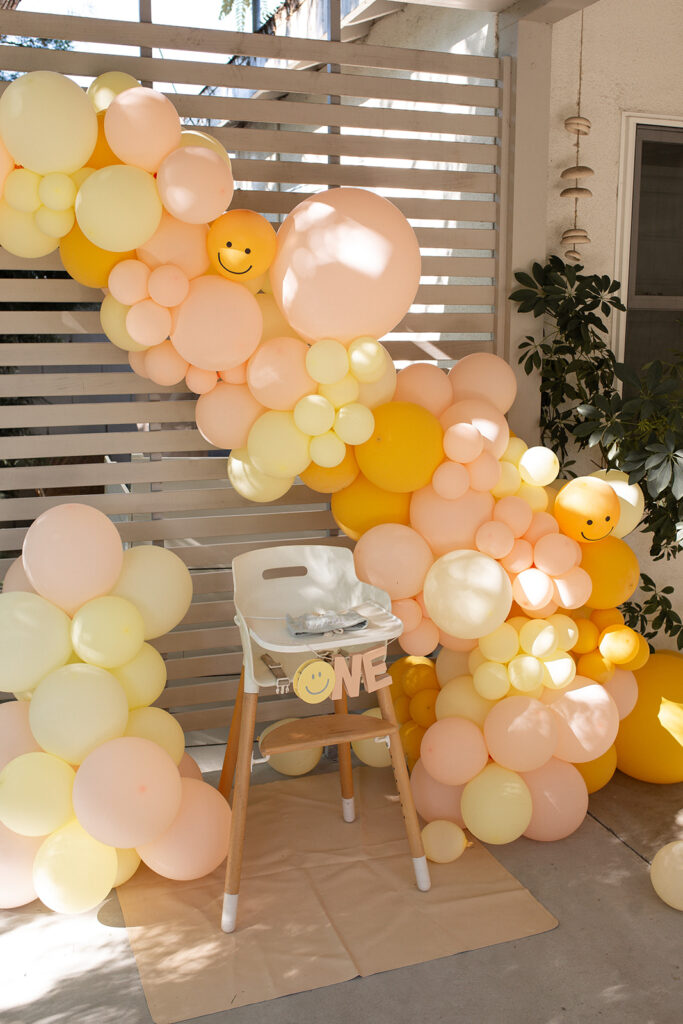 the high chair moment! i have never splurged on balloons before and never once used a balloon arch but oh man they just really set the vibe. i originally planned on getting a kit and trying to do it myself because a friend said she did and it wasn't too bad — but in the end i'm glad i found someone to do it instead. (i'll do it myself when it's an indoor party and i can set it up prior!)
i found a local mom on a facebook mom group to do it for a very reasonable price and she came and set it all up day of. we added just a few smiley face balloons to the arch to tie into the theme.
i made the little ONE sign from a pair of coasters and two cardboard letters from the craft store. i put the coasters together with a rolled up piece of cereal board in the center, but a ribbon spool would have been easier and cleaner looking!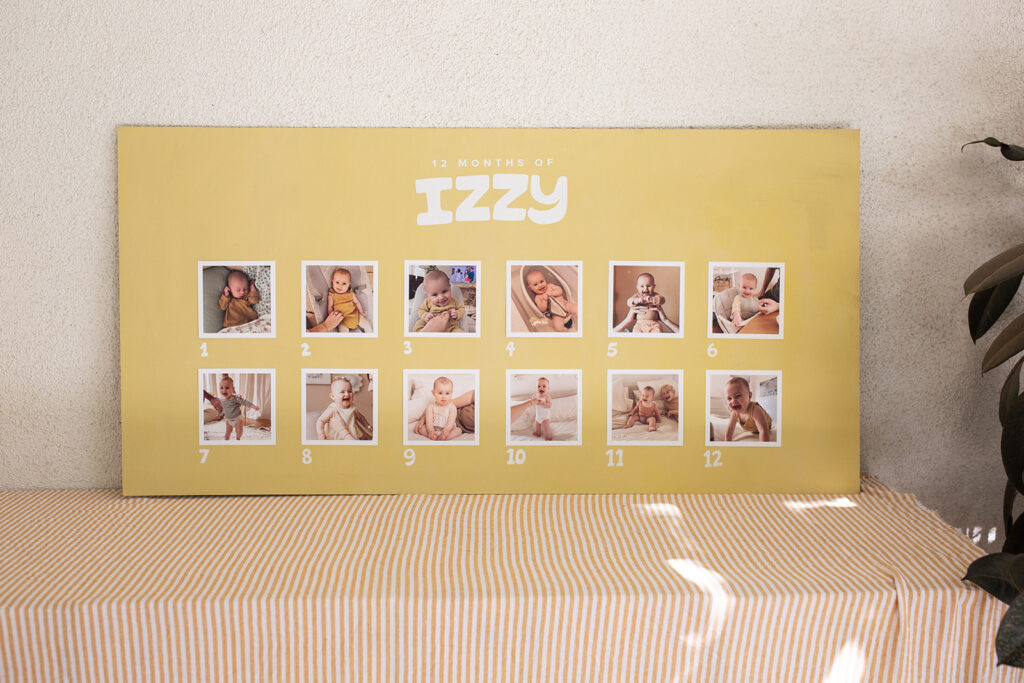 i made her a little 12 months of izzy sign with a piece of chipboard i got at the hardware store painted yellow, then i printed 12 5×5″ photos of her from each month of her life and used my cricut to print out the logo onto vinyl. i debated doing the same process for the numbers but decided to just hand write them instead with a paint marker.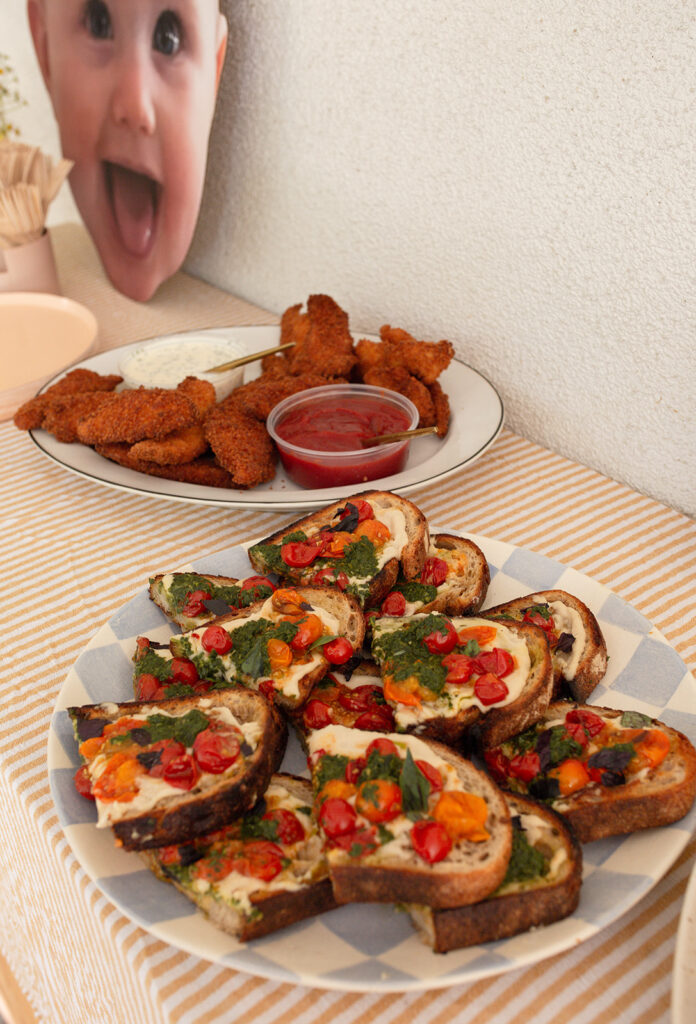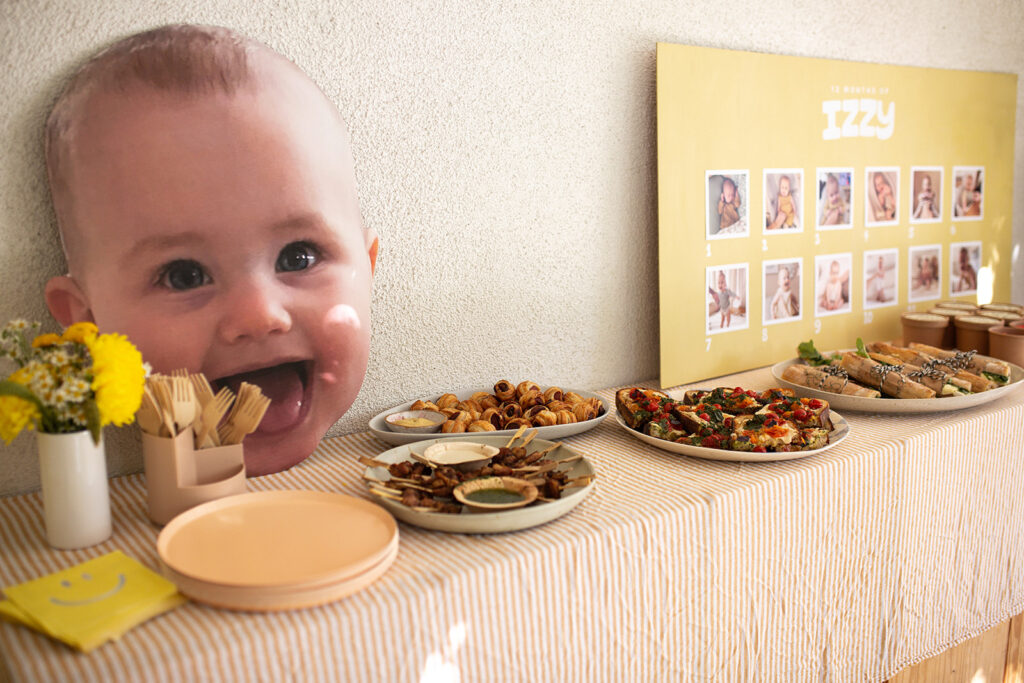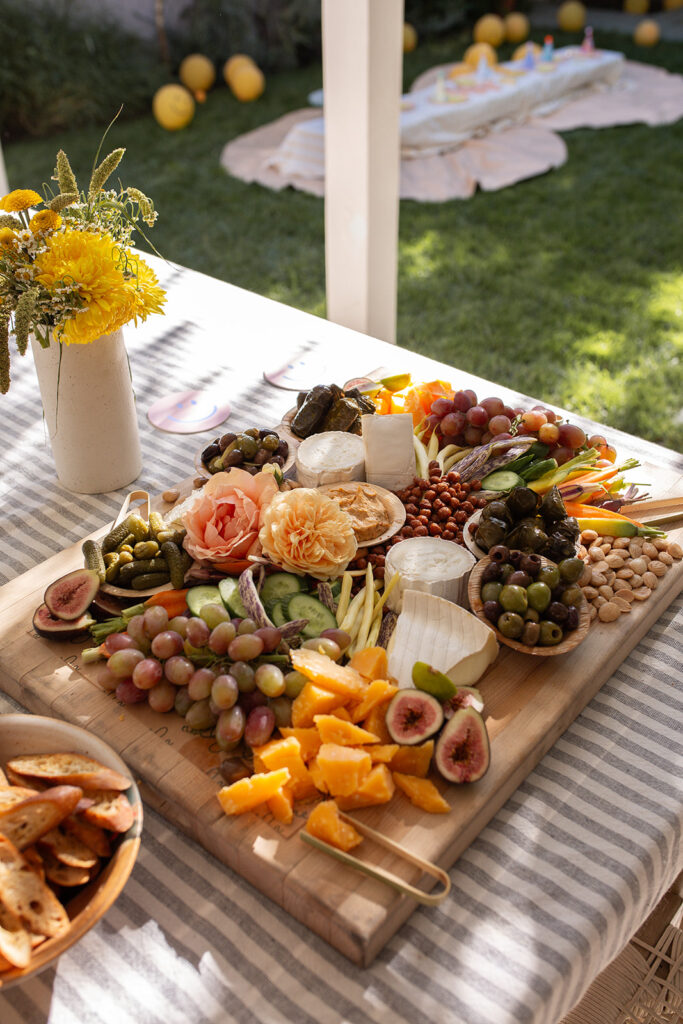 i also never really get parties formally catered, but i'm the oldest i've ever been and all the help i could get seemed worth it. i had the food made by little nelly, who also catered our wedding! the biggest hits were the pigs and blankets and chicken tenders because everyone loves kid food.
you'll notice izzy was eating a chicken tender pretty much the whole party, even stealing them from other guests lol.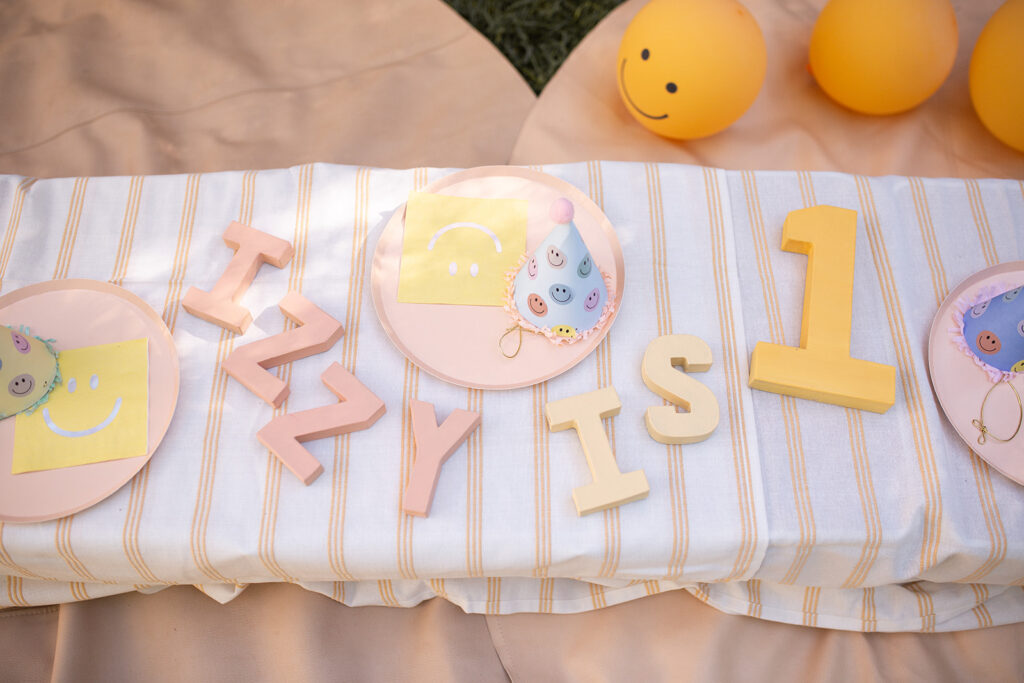 i pictured a long kids table from the start of my party planning and i'm so glad the execution turned out cute (it's always a little nerve wracking for me day of when i'm finally getting to see all this stuff put together i've only seen in my head!)
i got three tiny folding camping tables that i put together and covered them with two regular length tablecloths, just tucking the sides underneath.
i truly wasn't expecting the tables to be used, but they were! all the kids flocked to it right away and it was the cutest little last supper in the world.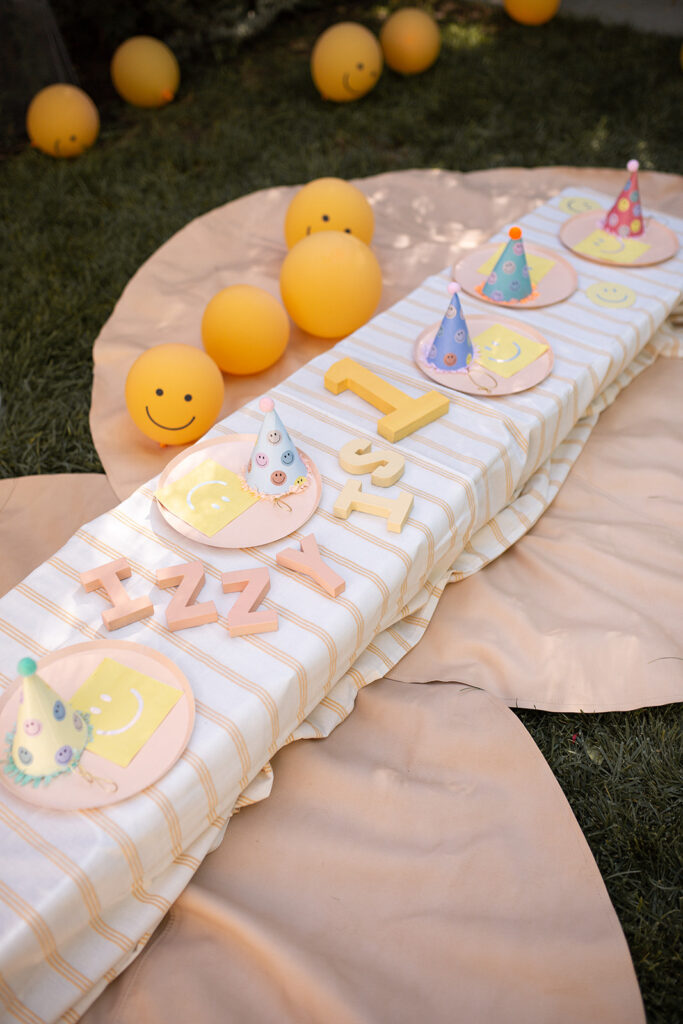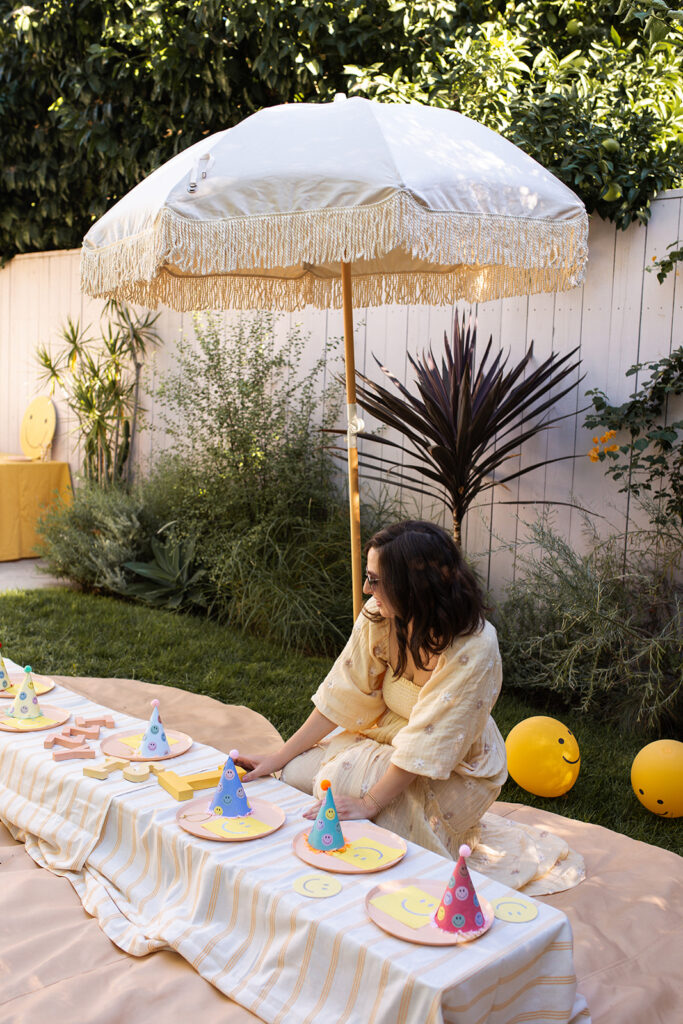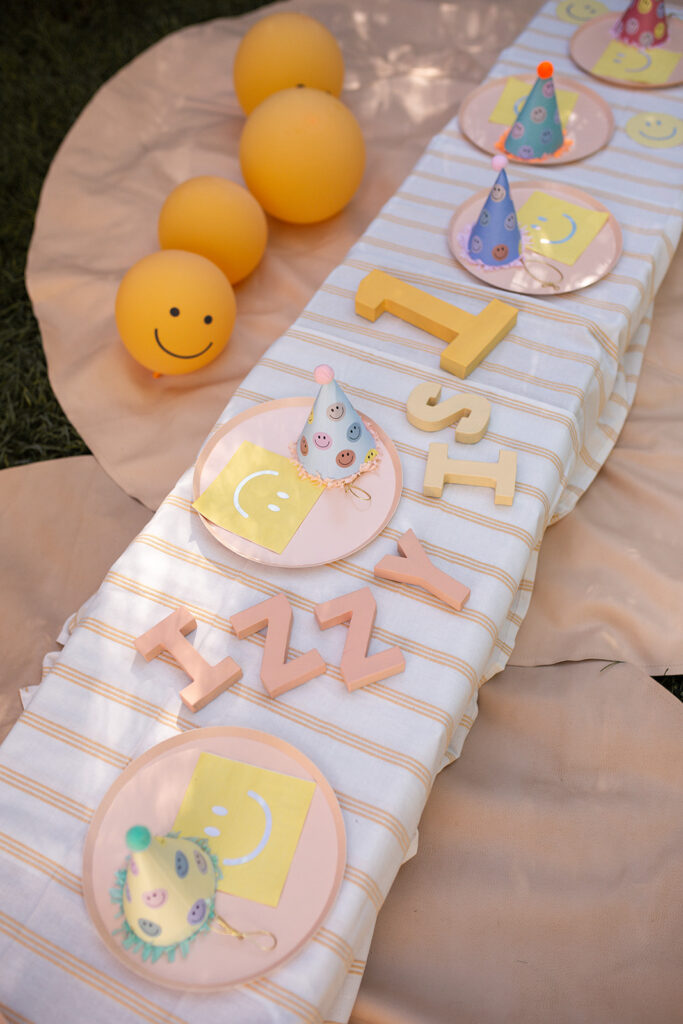 i laid out some blankets for the musical performance and it was definitely a highlight of the party for me! he brought instruments and silks for the babies and izzy loved it and danced the whole time. definitely getting a performer again.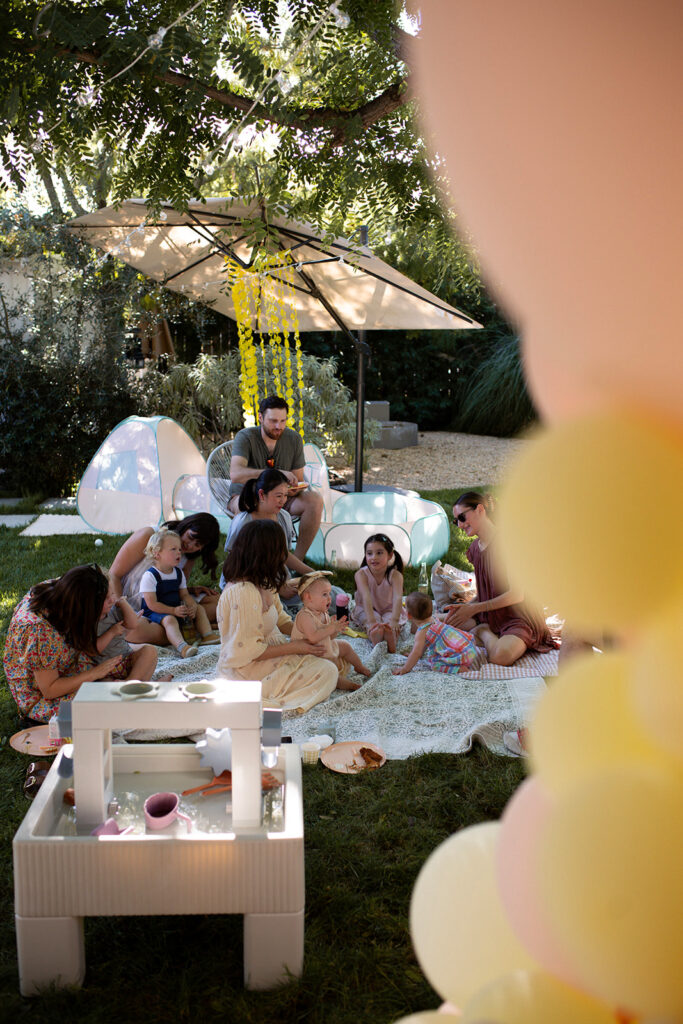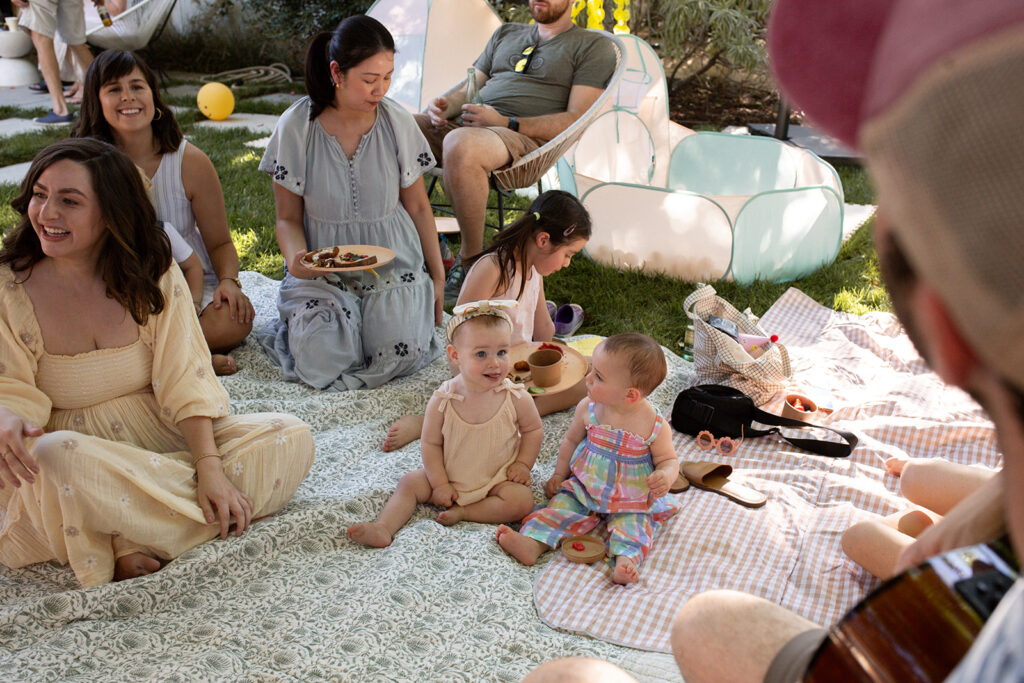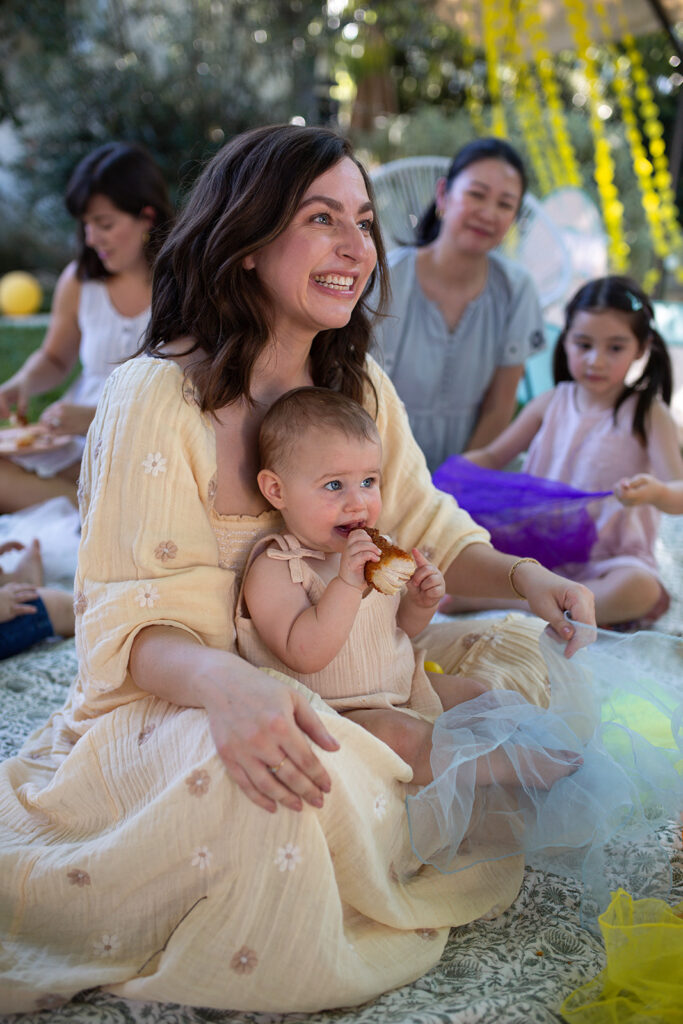 izzy with her nug ♡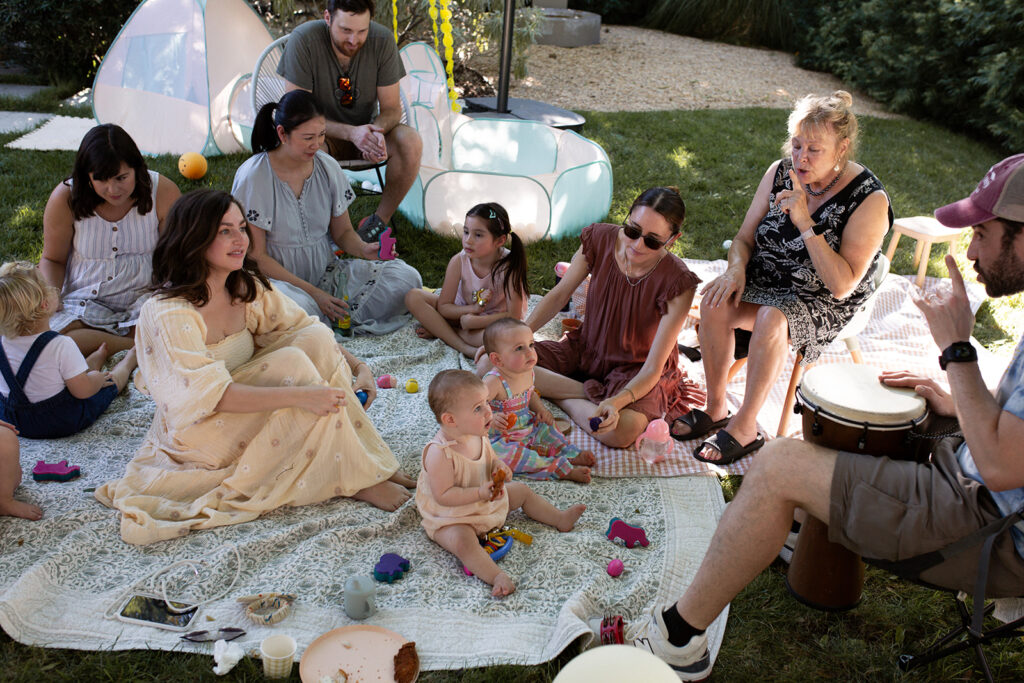 onto the dessert table!
i ordered a cake from a bakery and thought it was a normal size for our party, turns out it was MASSIVE haha. decided from now on i'm gonna do a small cake and get more of a variety of desserts because we had so much leftover. but it was very cool looking!! i had them do fondant smiley faces all over and i loved it.
i made izzy's tiny smash cake and it was a fail — not sure why it didn't rise but it was basically little banana pancakes stacked up high so she couldn't even really smash into it or break it apart hahah. but it looked cute at least! i just did a simple smiley face with black gel on top.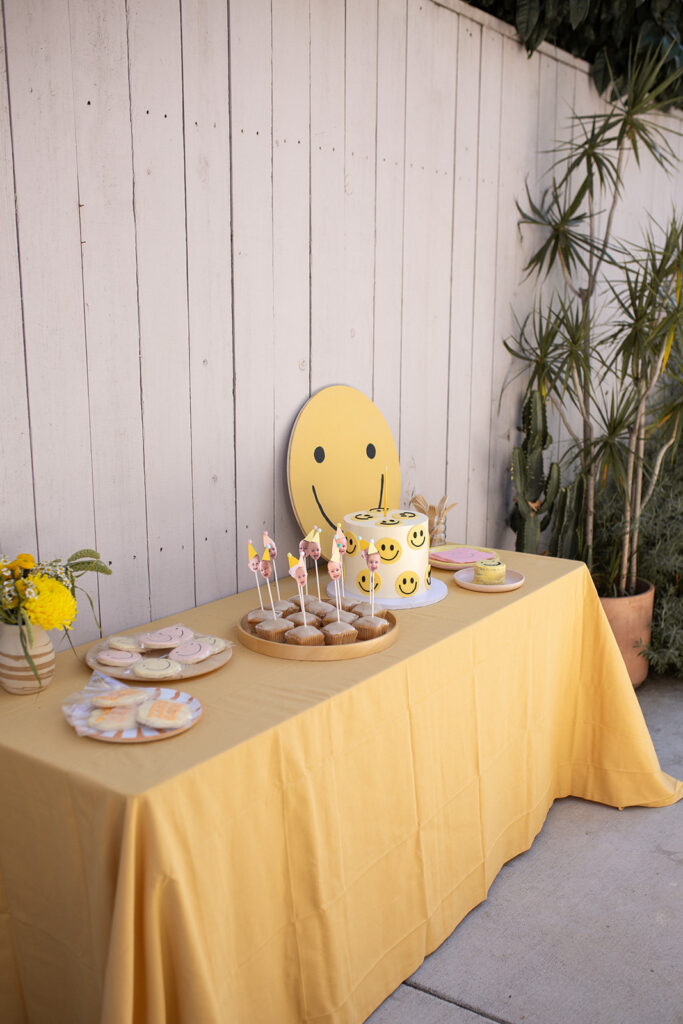 we also ordered tea cakes from a bakery nearby and i made these izzy toppers to stick into them. i cut out cute smiley faces of izzys, and then made tiny party hats out of pretty colored construction paper and and mini pom poms. then taped them onto cake pop sticks!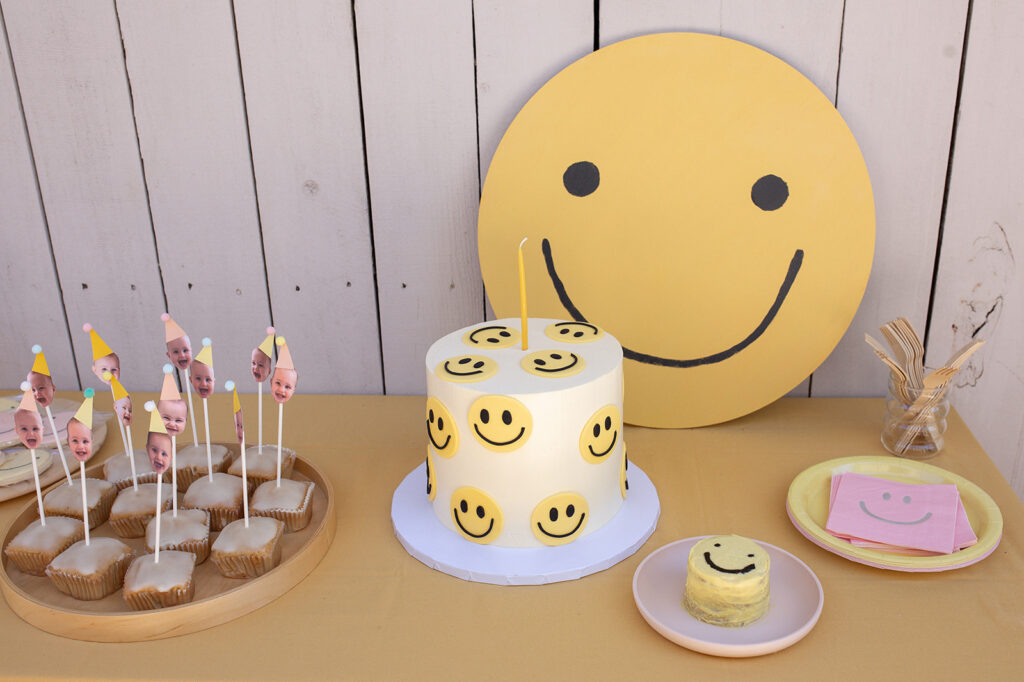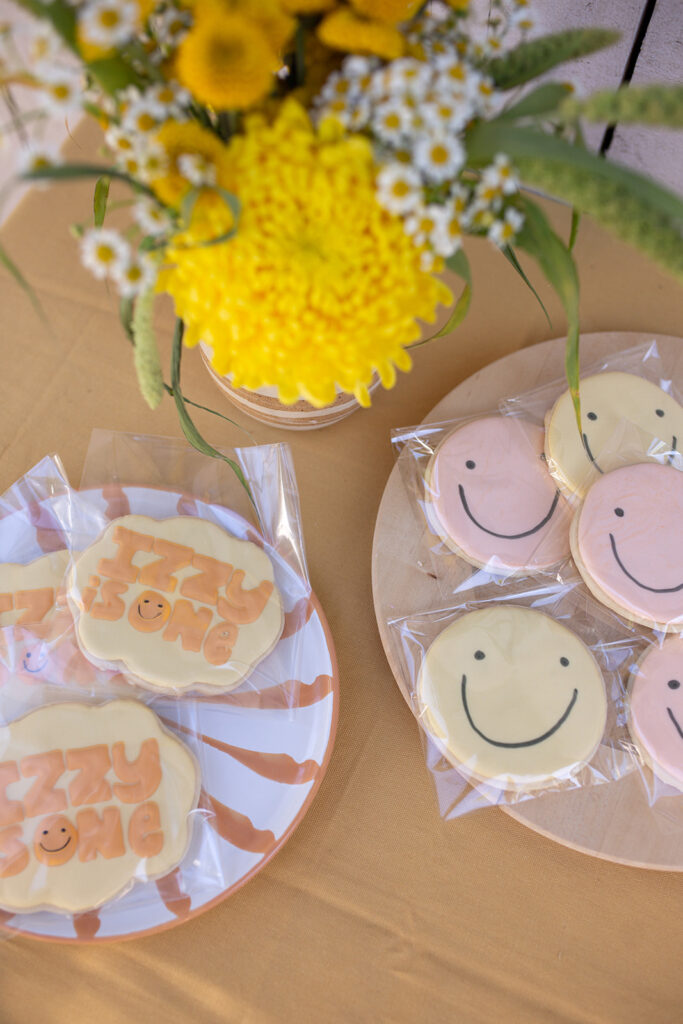 i also got some custom cookies made by another mom from the facebook group (those facebook groups are incredibly useful! join one if you have one to join!!)
the big smiley face was just a large wooden circle i saw at the craft store on sale — i painted it yellow and did a simple smiley face on it just assuming i'd throw it on some table as decor. i'm keeping it to maybe use as decor for her room or our playroom!
for all the florals, i just grabbed a ton of yellow flowers from trader joes and made as many arrangements as i could with them.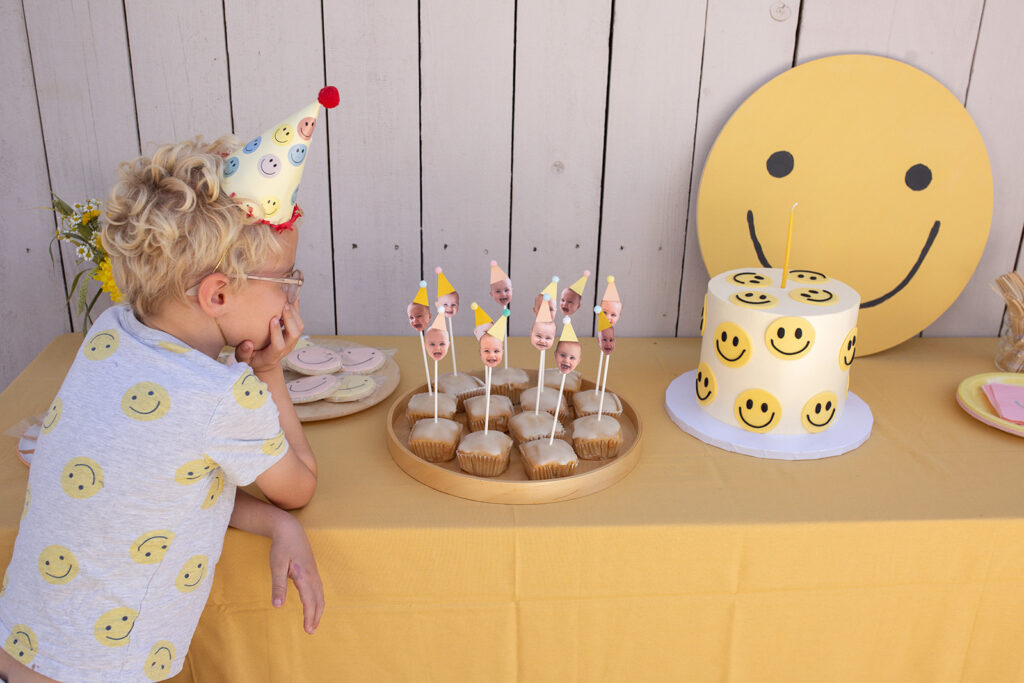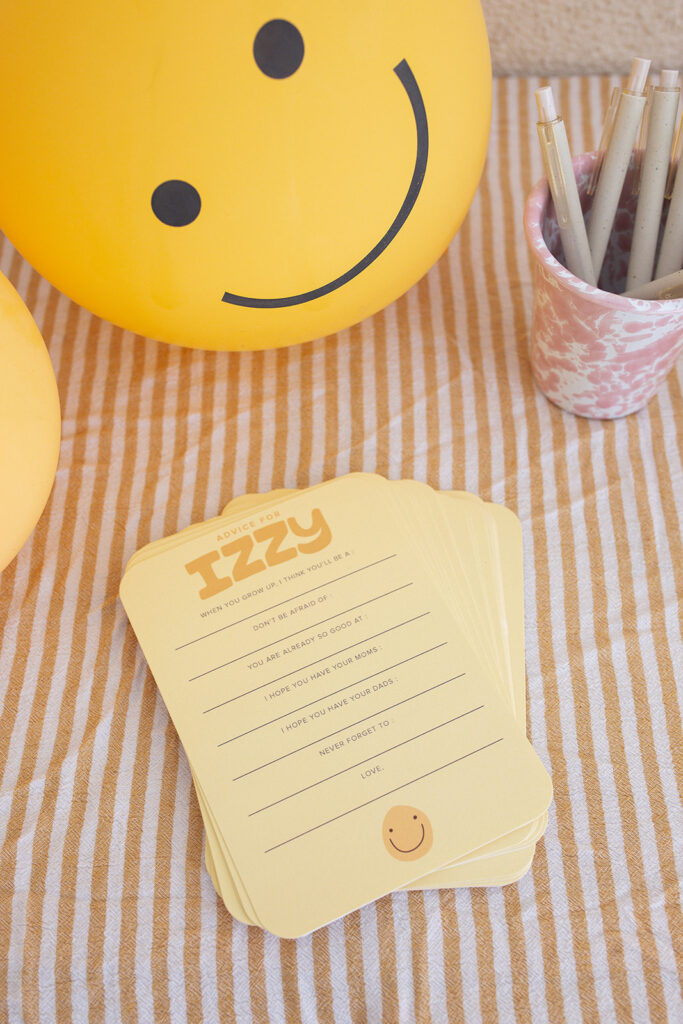 i had advice cards printed from zazzle. i did these for arlo's 1st and loved them so much, they're pretty much the same prompts i've done for every party — i collected them all and put them into a keepsake box for her. (i use the flat menu card, size: 4.5″ x 6.25″, paper: matte).
then just spread them out on the tables with some pens for guests to fill out when (if) they got a moment!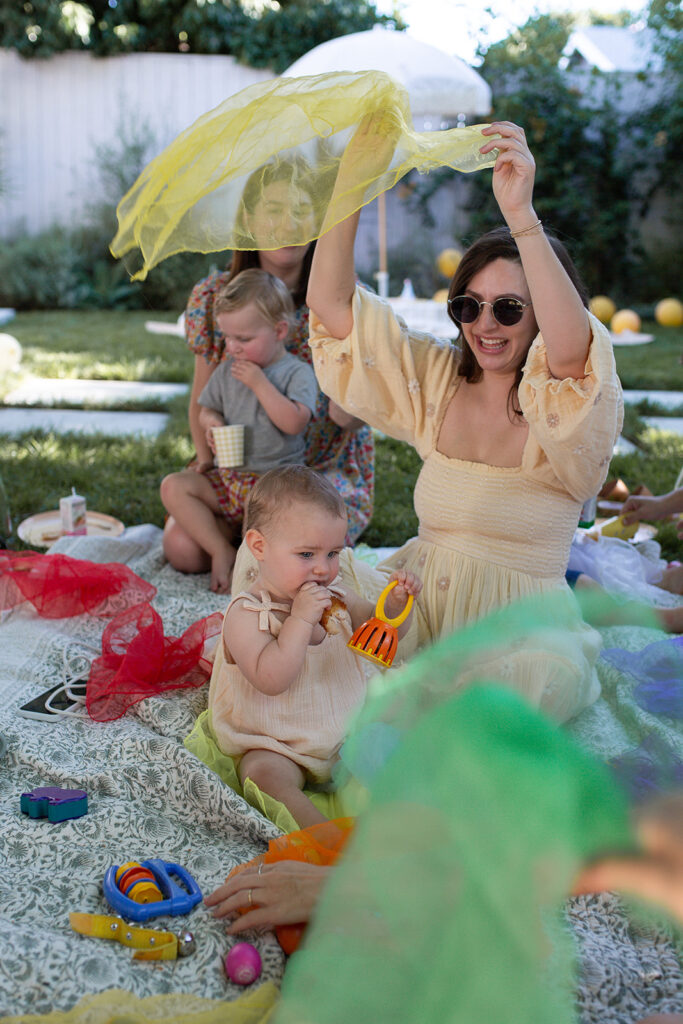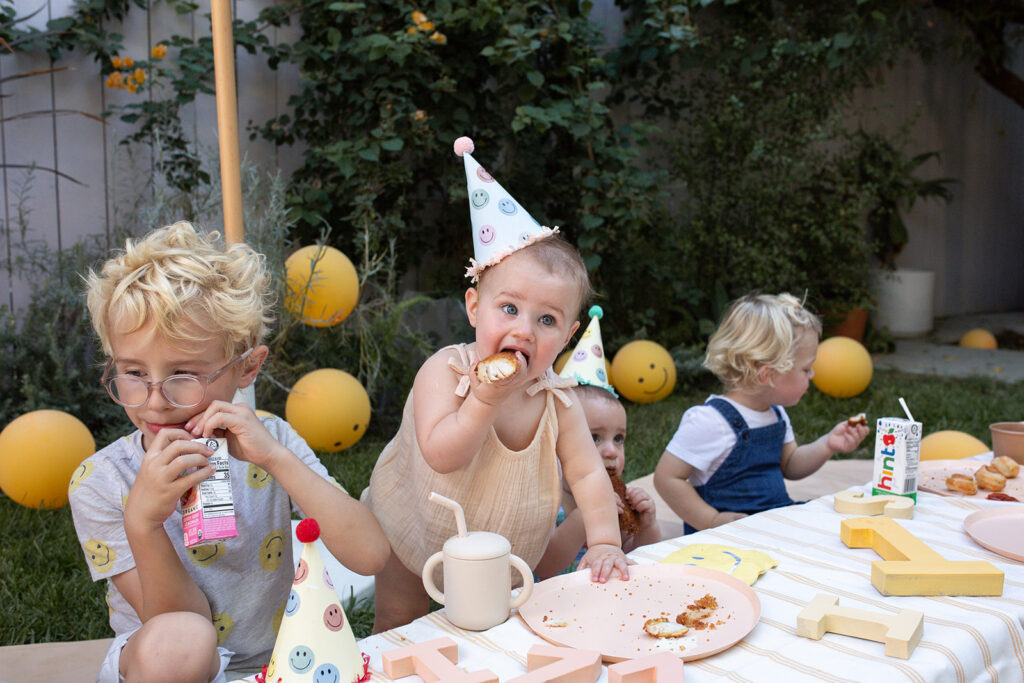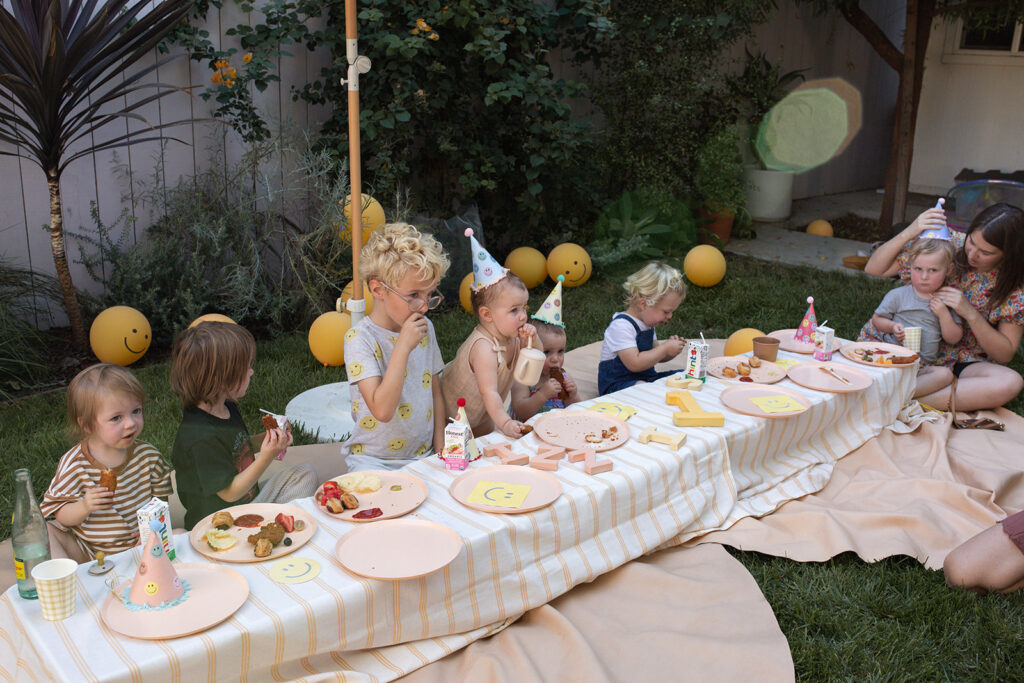 the cutest!!!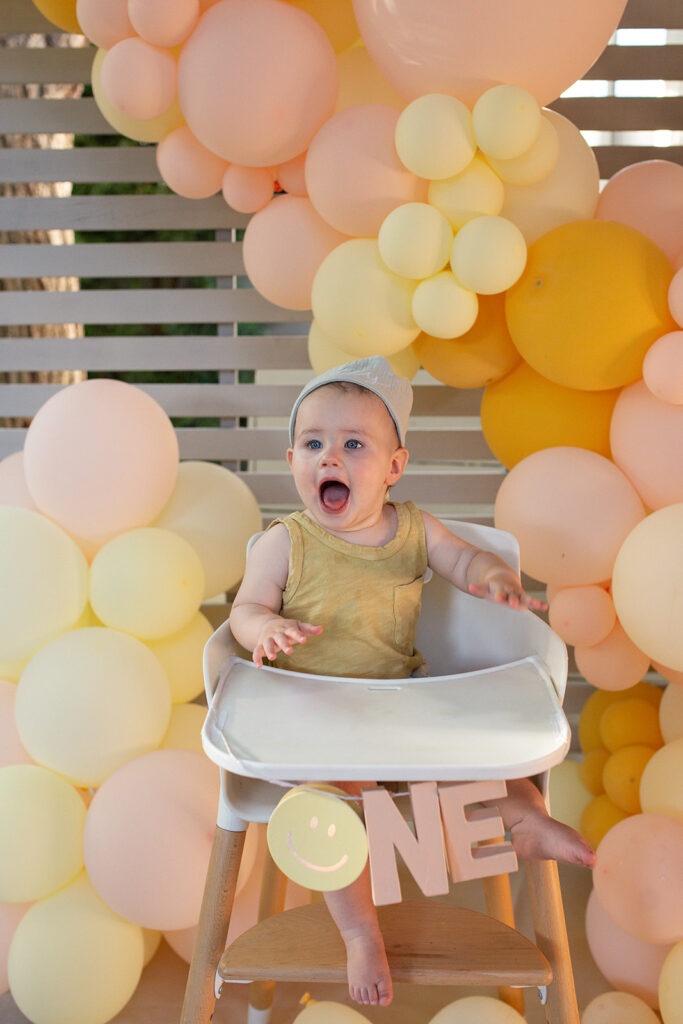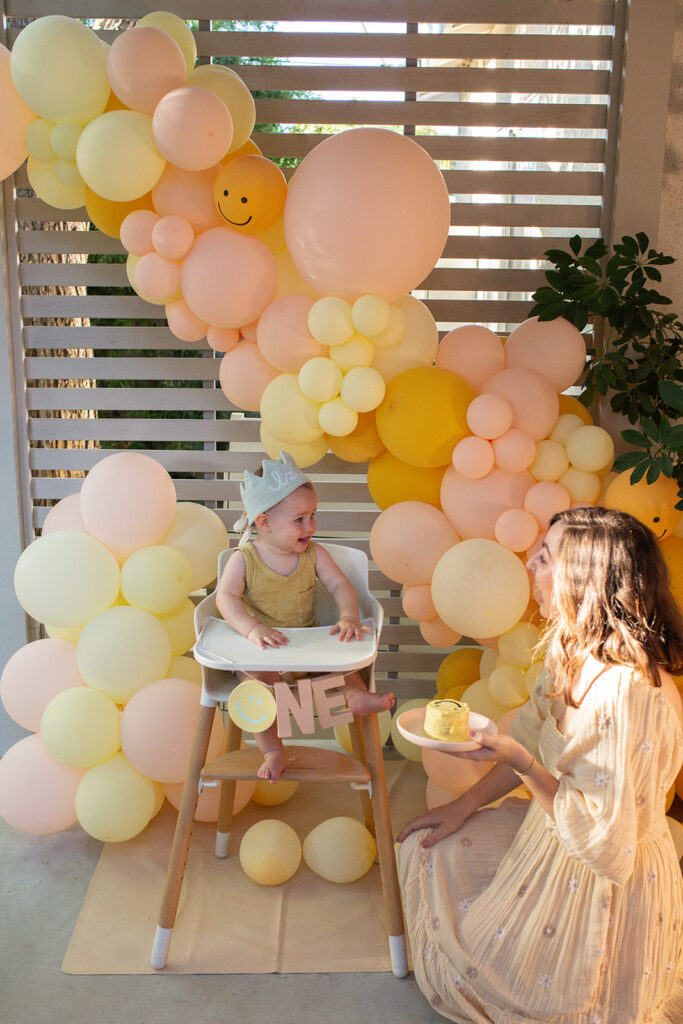 poor izzy really didn't get her smash cake all over the face moment haha — i shoulda just baked a second cake or helped her more with it lolll.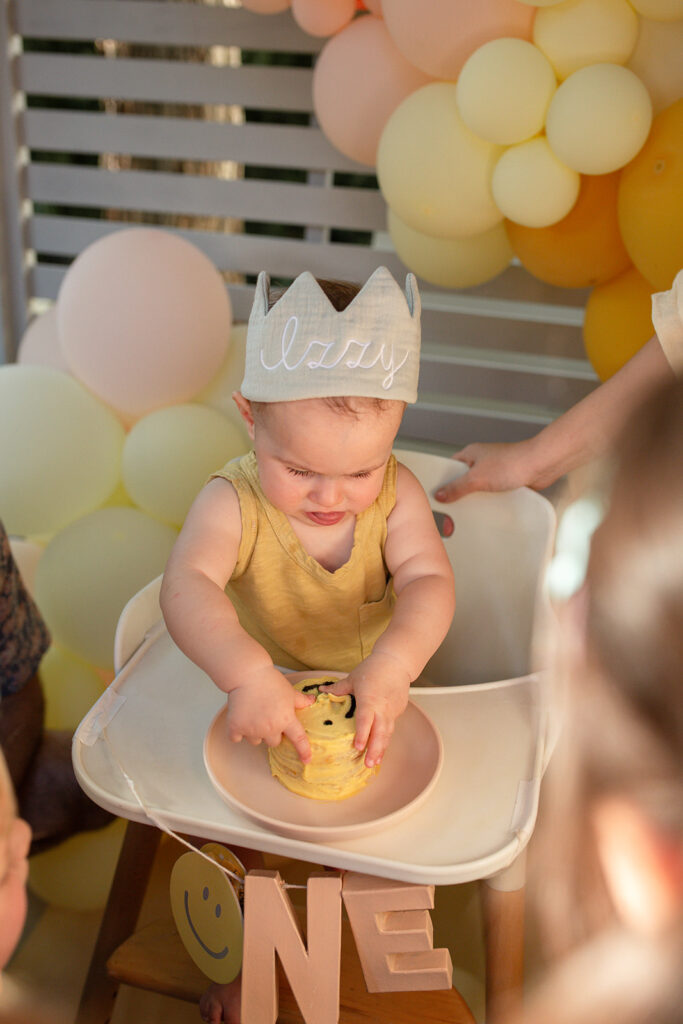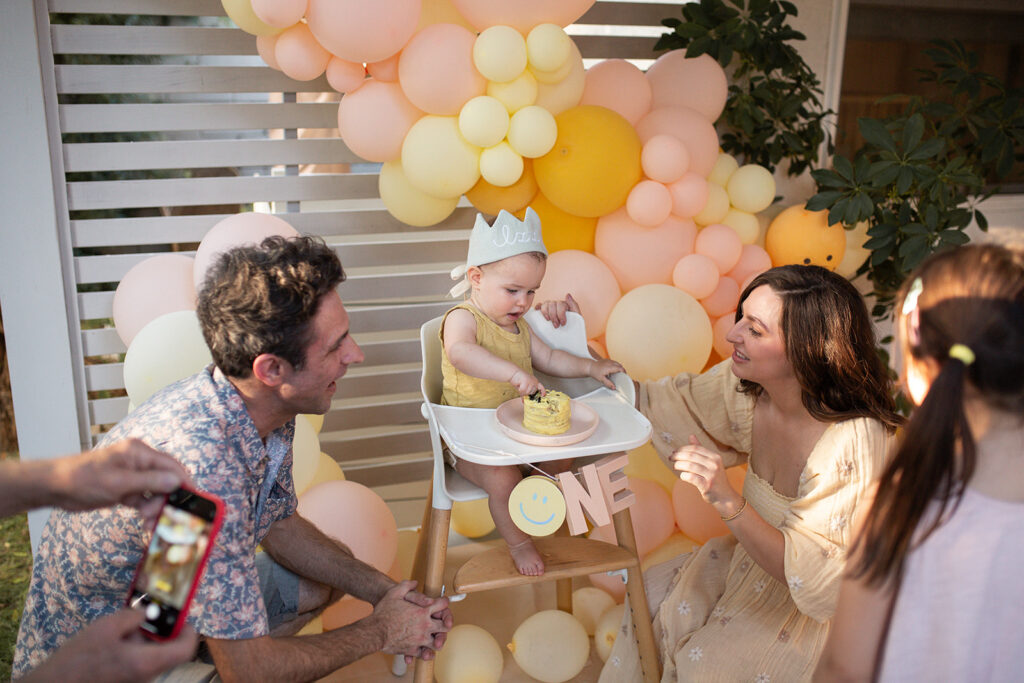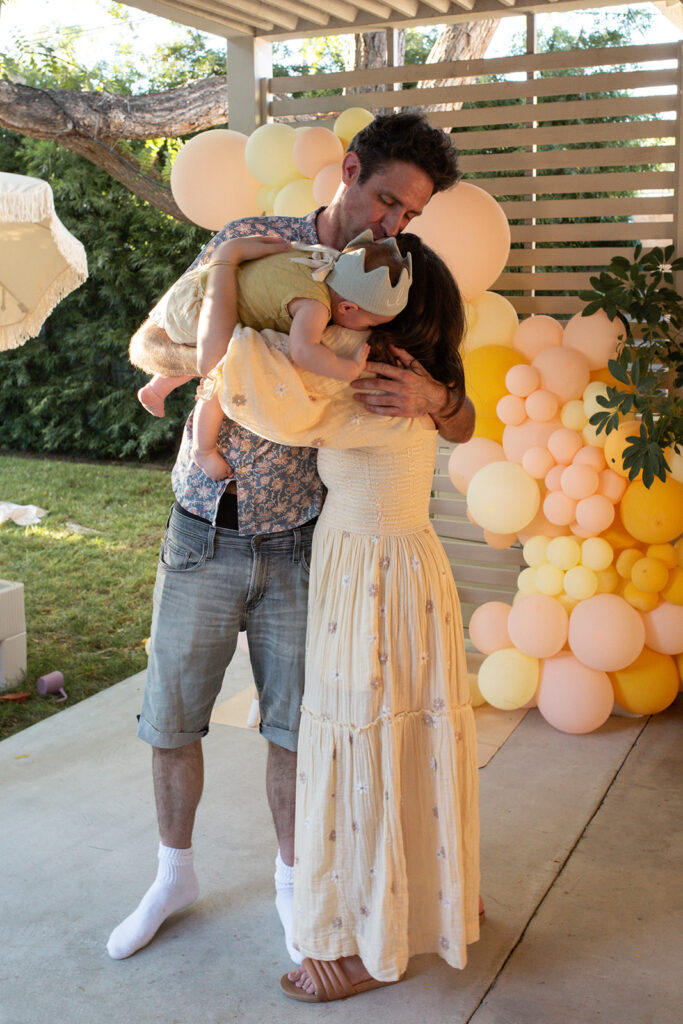 and then another cake disaster predicament — i've seen how people properly cut large cakes but here's how i cut ours hahah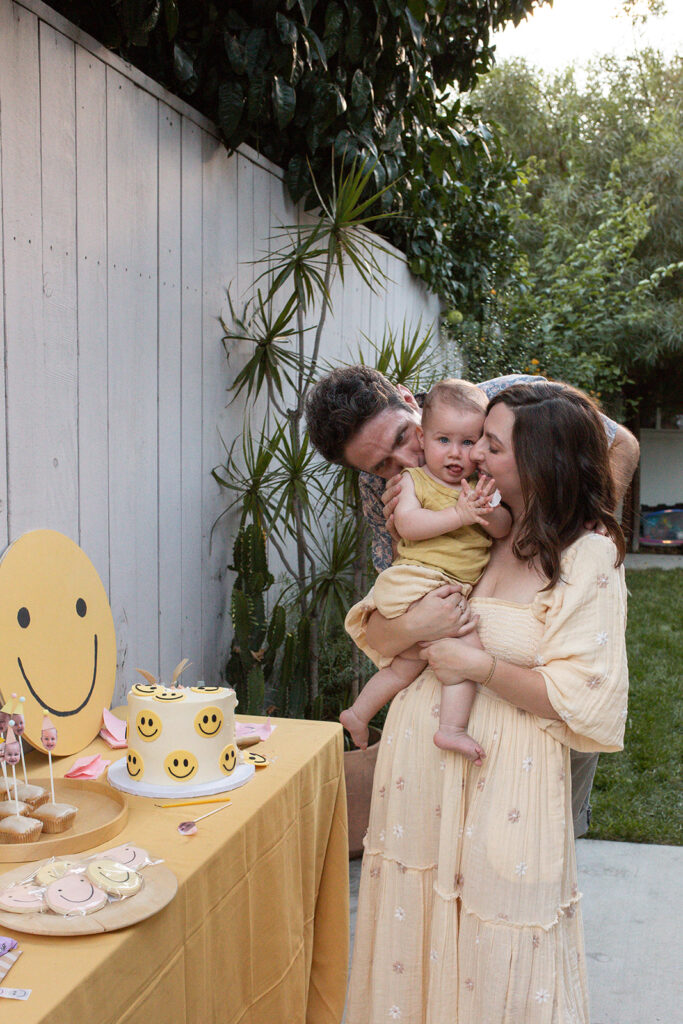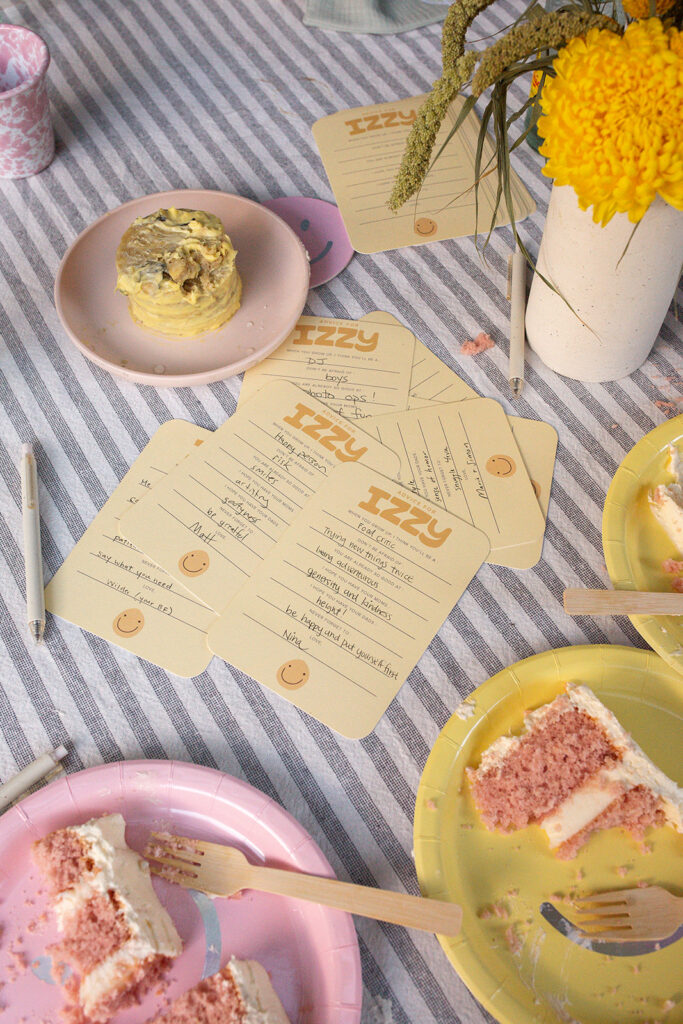 and then the goodie bags! i do feel that goodie bags can be super wasteful, but i still usually love them. so i just put a few strips of happy face stickers along with a birthday cake flavored granola bar!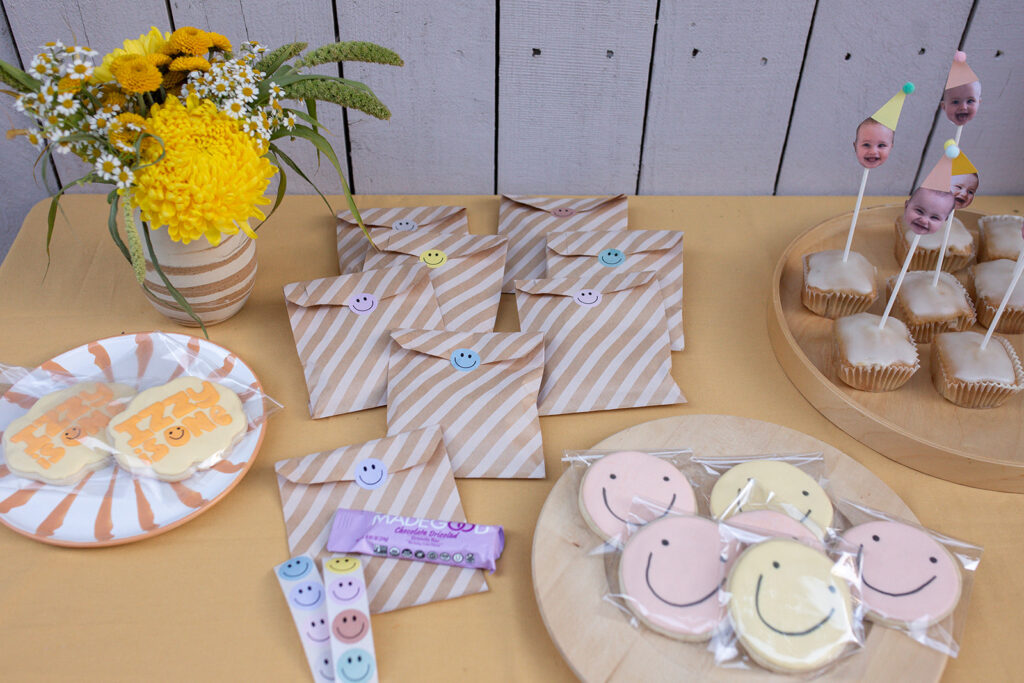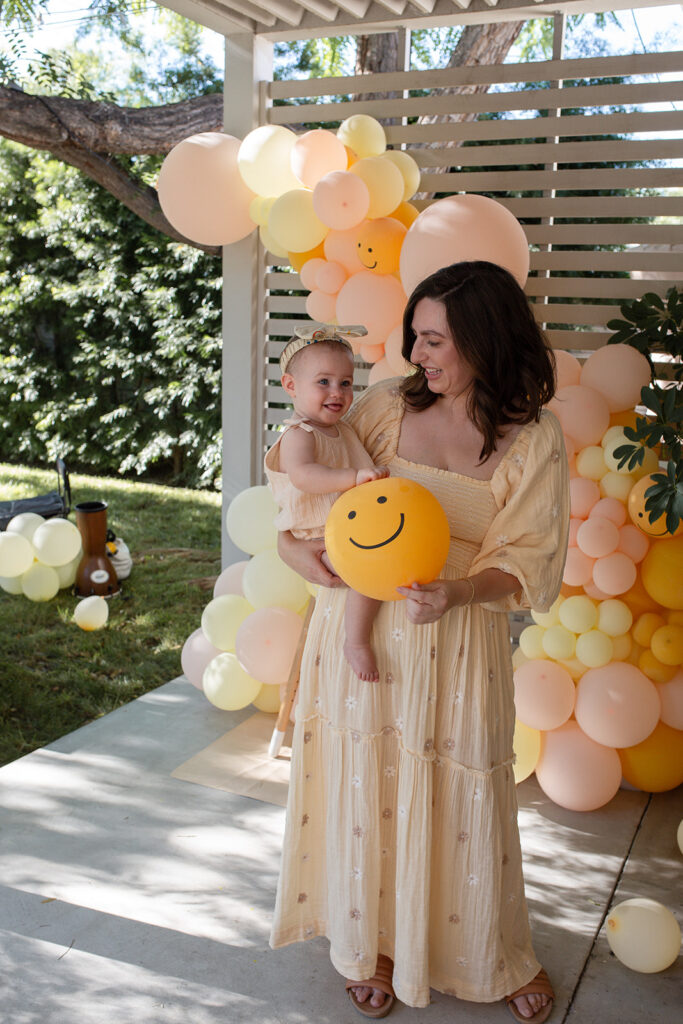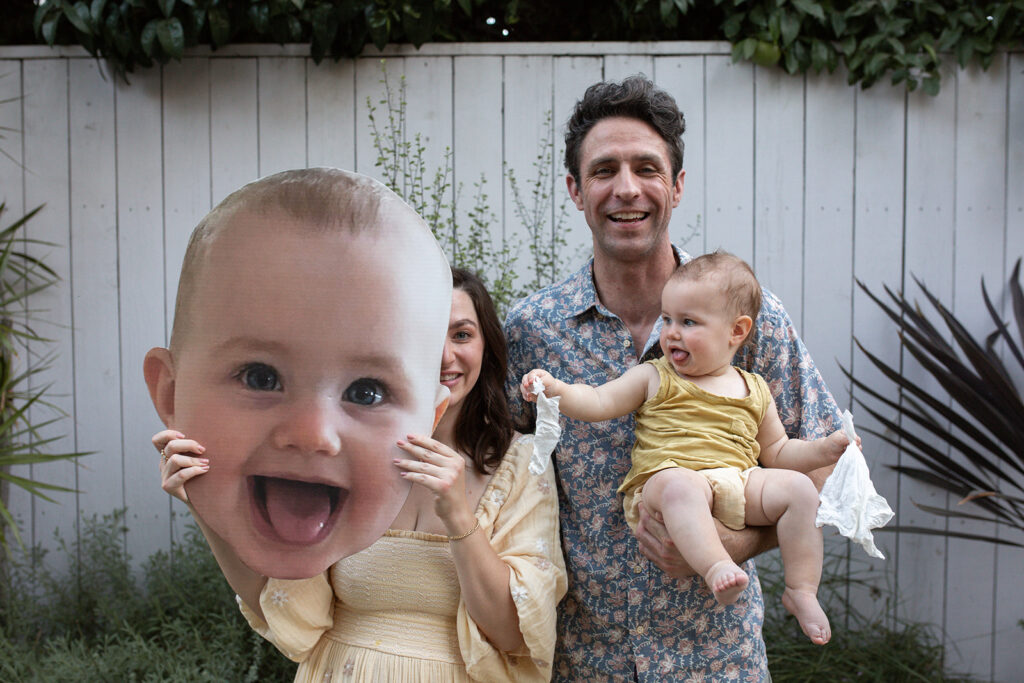 sources :