arlo's sky themed 1st birthday party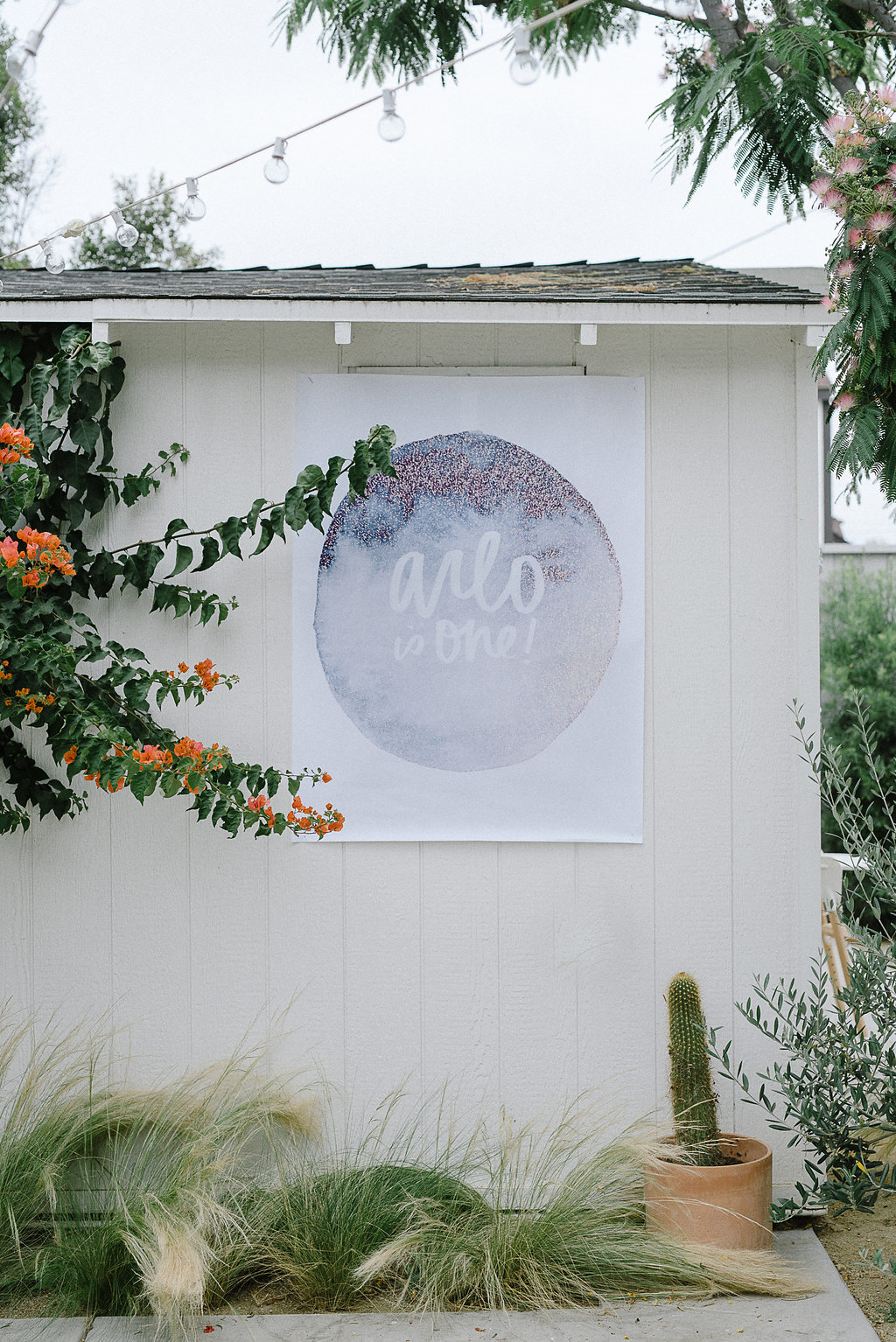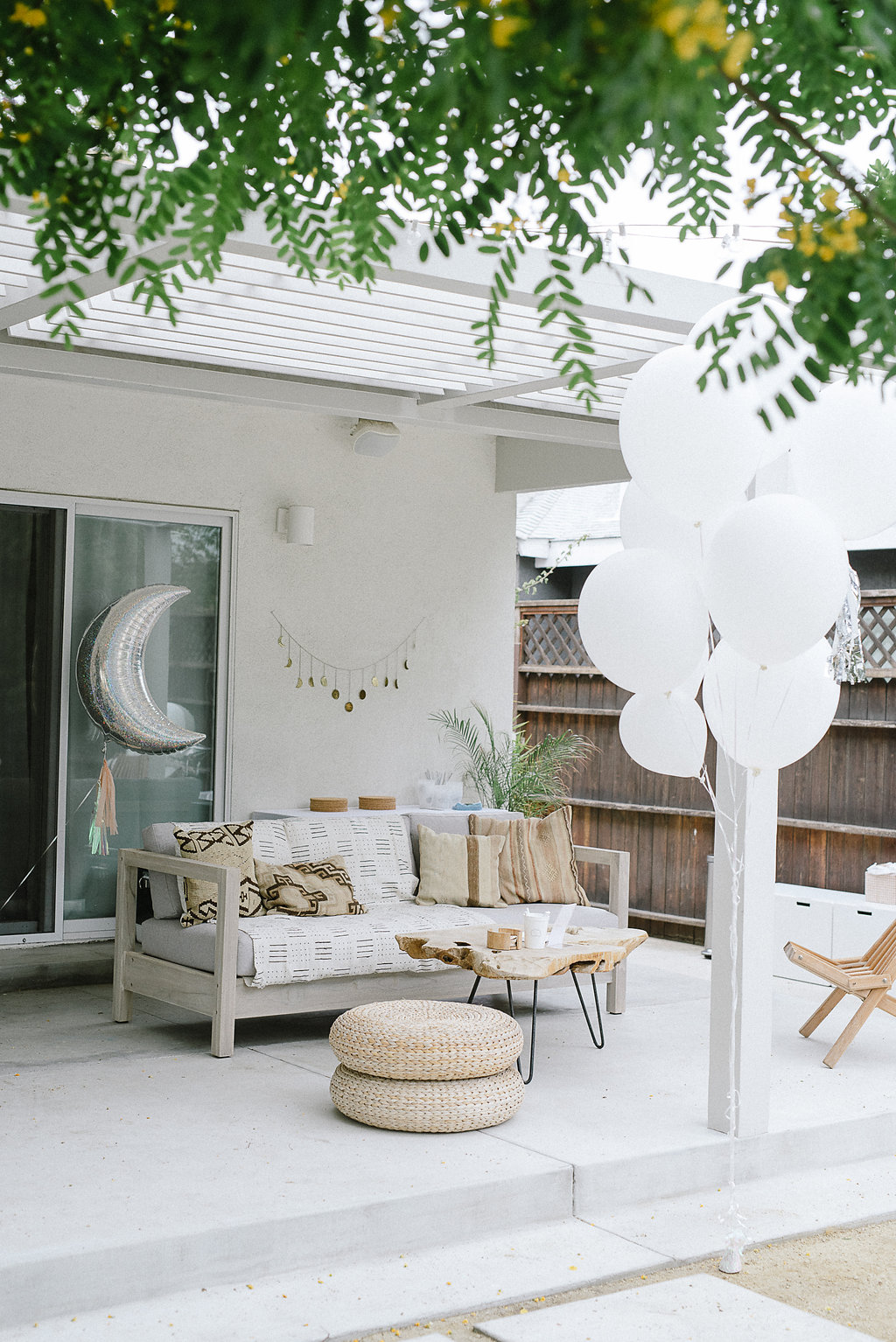 i've basically been planning his party since arlo was born, because what else would i do with my time? i have no problem admitting that i went a little overboard on his party, a friend walked in and said it looked like a small wedding lol — but i think a first birthday is the perfect excuse to go overboard if you want to. i love going overboard! who knows how many more chances i'll get!?
when arlo was teeny tiny, he was always weirdly obsessed with everything cloud related. on his stroller arch, on his exersaucer, if there was a cloud element that was the thing he was most drawn to, always. if you've been following on instagram stories for a year, you might remember how he used to stare at that cloud in his bouncer. so i thought a cloud party would be perfect — but then i found that sort of limiting, so i just changed it to sky everything instead haha.
the party was also featured on 100 layer cakelet today!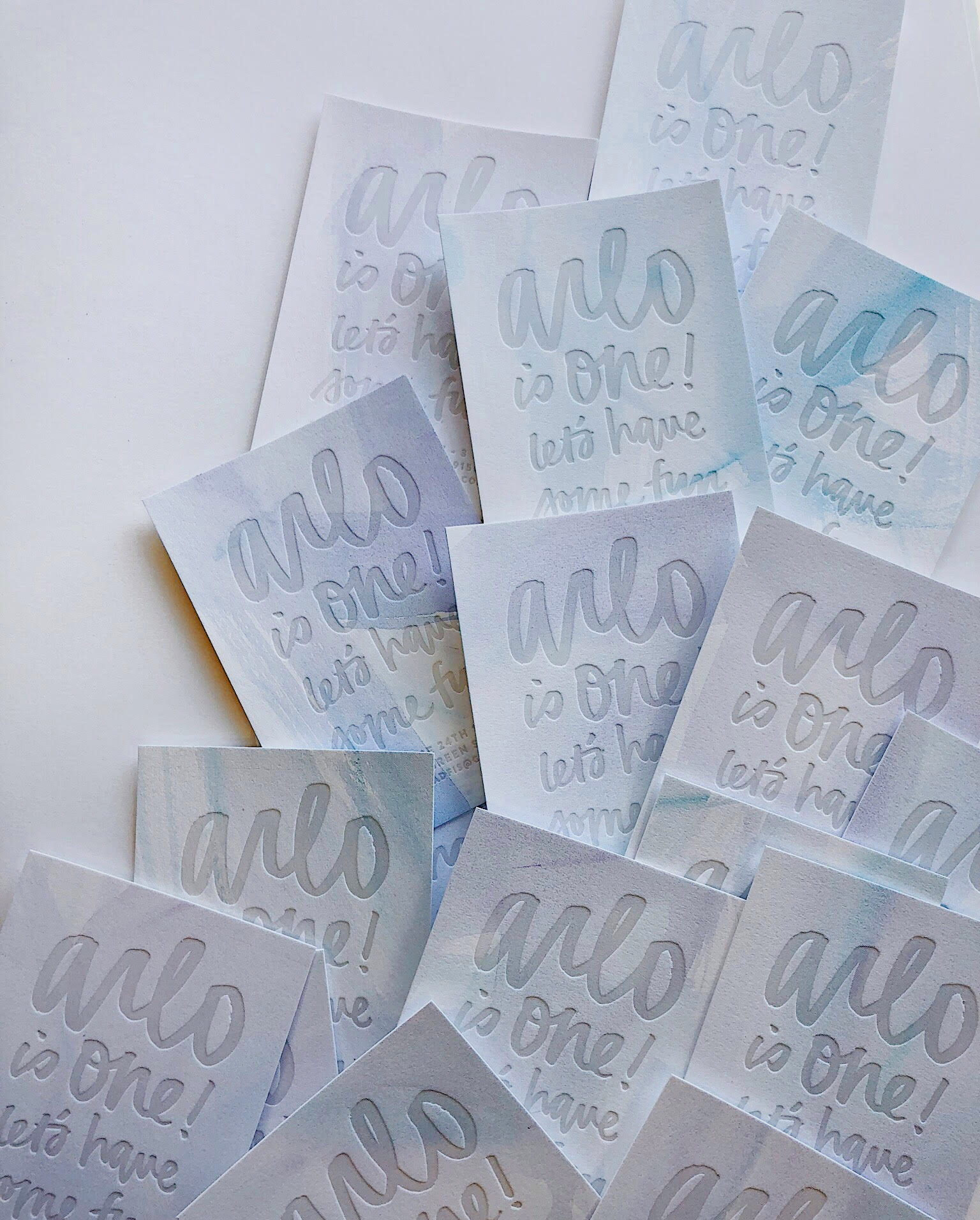 the invitations were by swell press paper, britt did such a great job bringing my vision to life! each invite was hand painted and unique. after i did the lettering, i decided to use the "arlo is one" as a logo for the rest of the party.
i got a lot of custom items printed, i used for your party for custom cups, napkins and menus that i designed to be advice cards for arlo. i did the logo on one side and a little smiley cloud on the back. the foil finish looks so cool in person.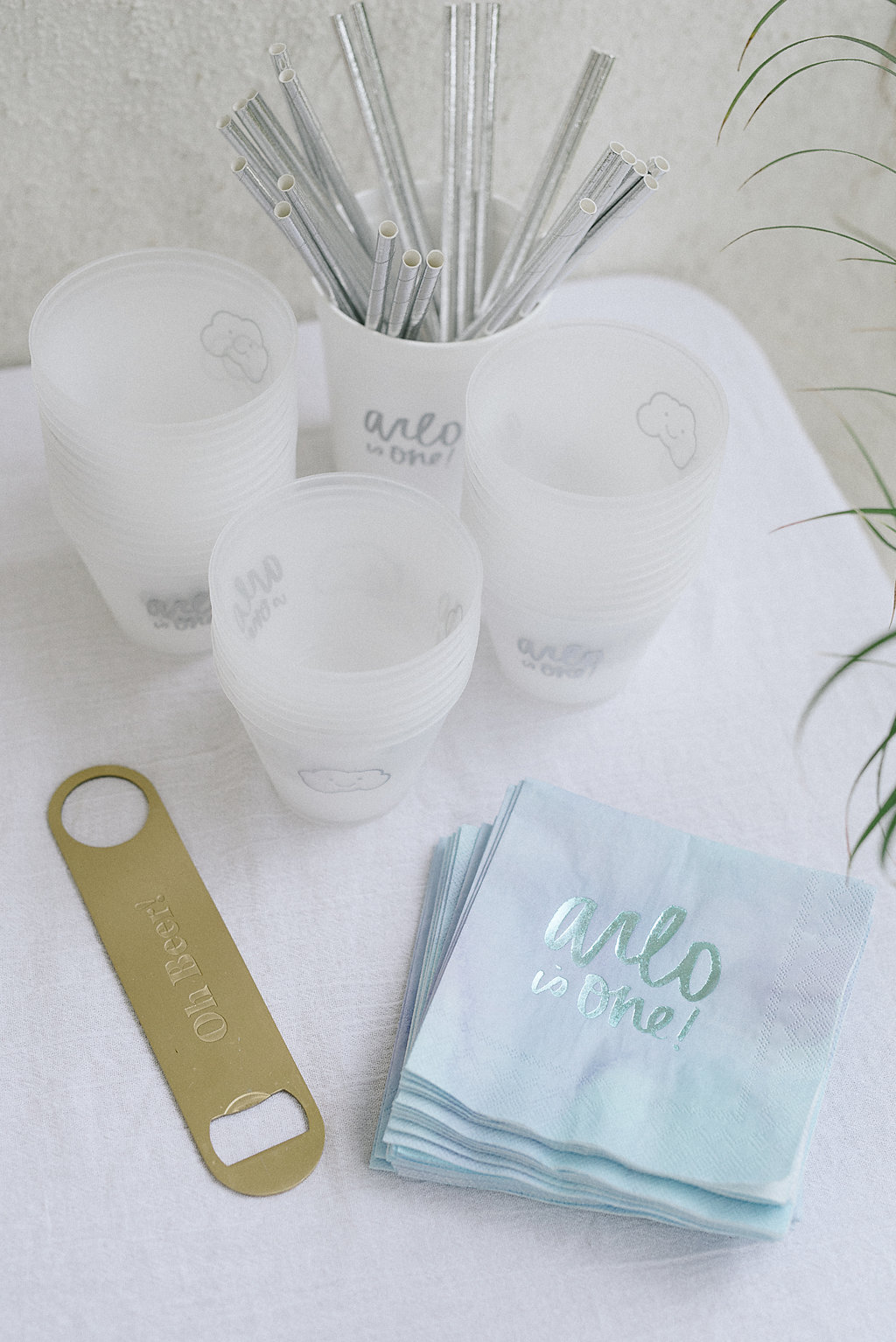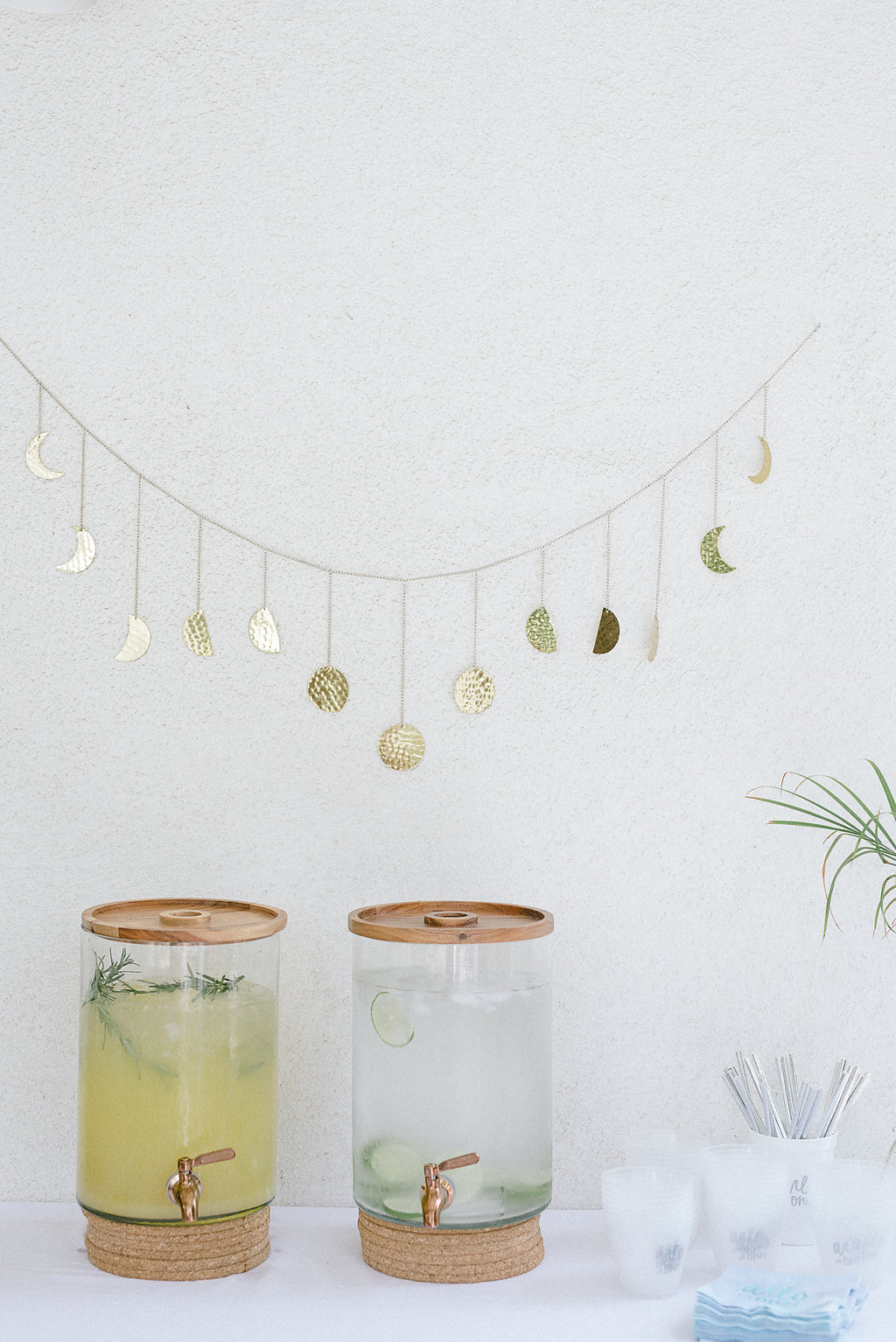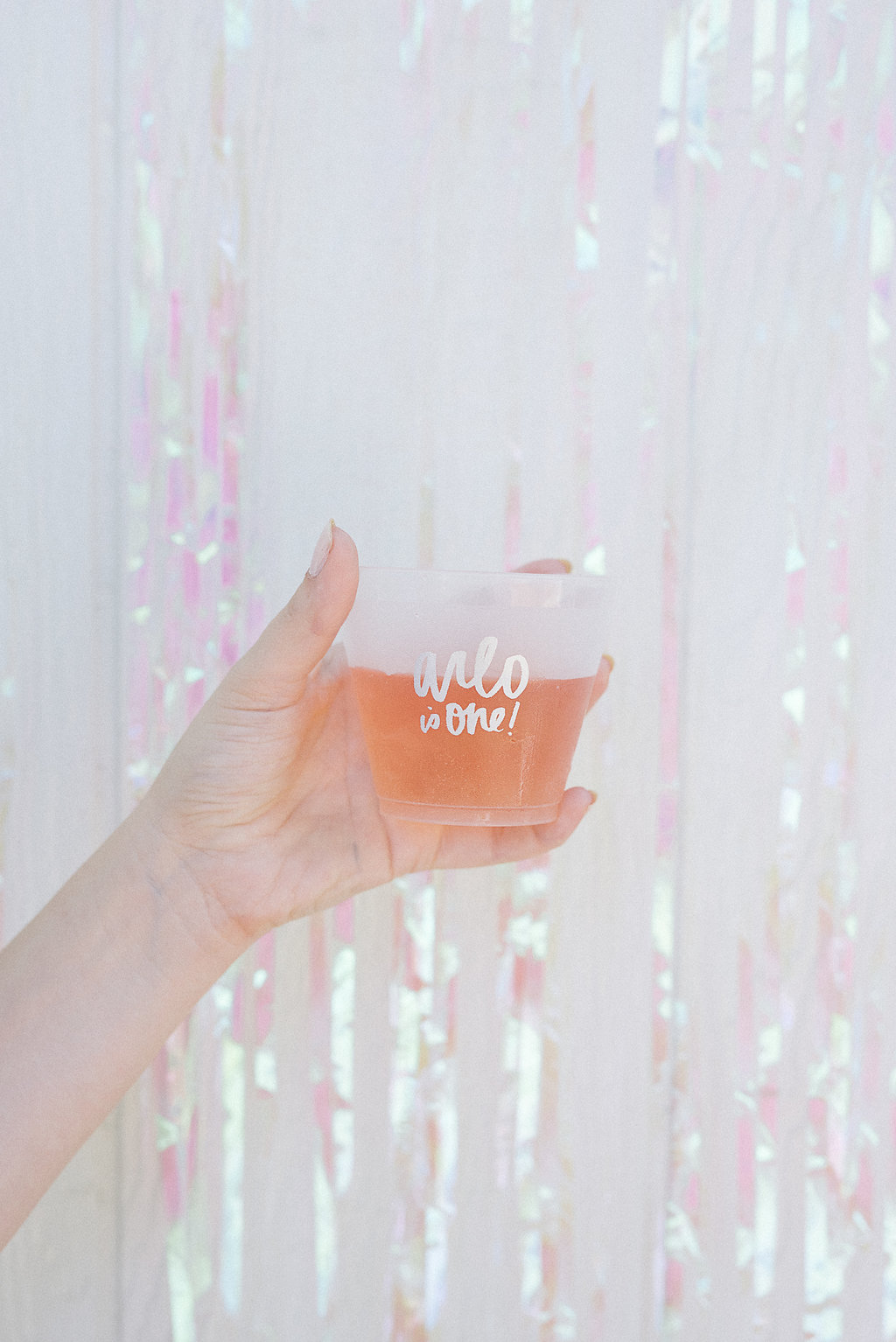 we got the stunning charcuterie board from my fave, sorella collective — their boards are honestly breathtaking!! we kept the rest of the food pretty simple and inexpensive, pasta salad, caprese skewers, guacamole, chicken skewers and a big ass platter of roasted veggies.
i've been taking photos of arlo in the bath his whole life, so i made a little chronological garland of bath photos, i just got string and little clips and it took me 5 minutes.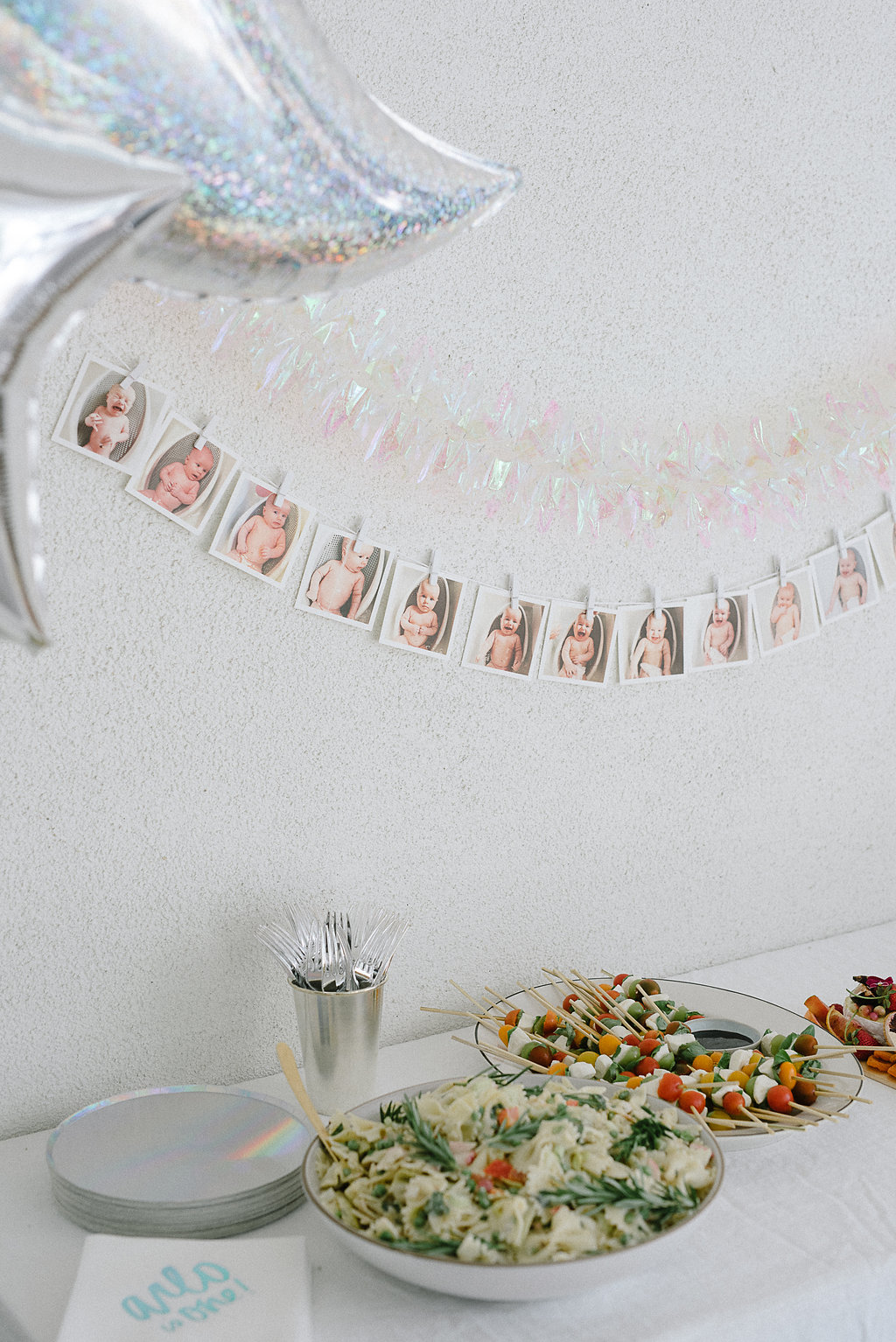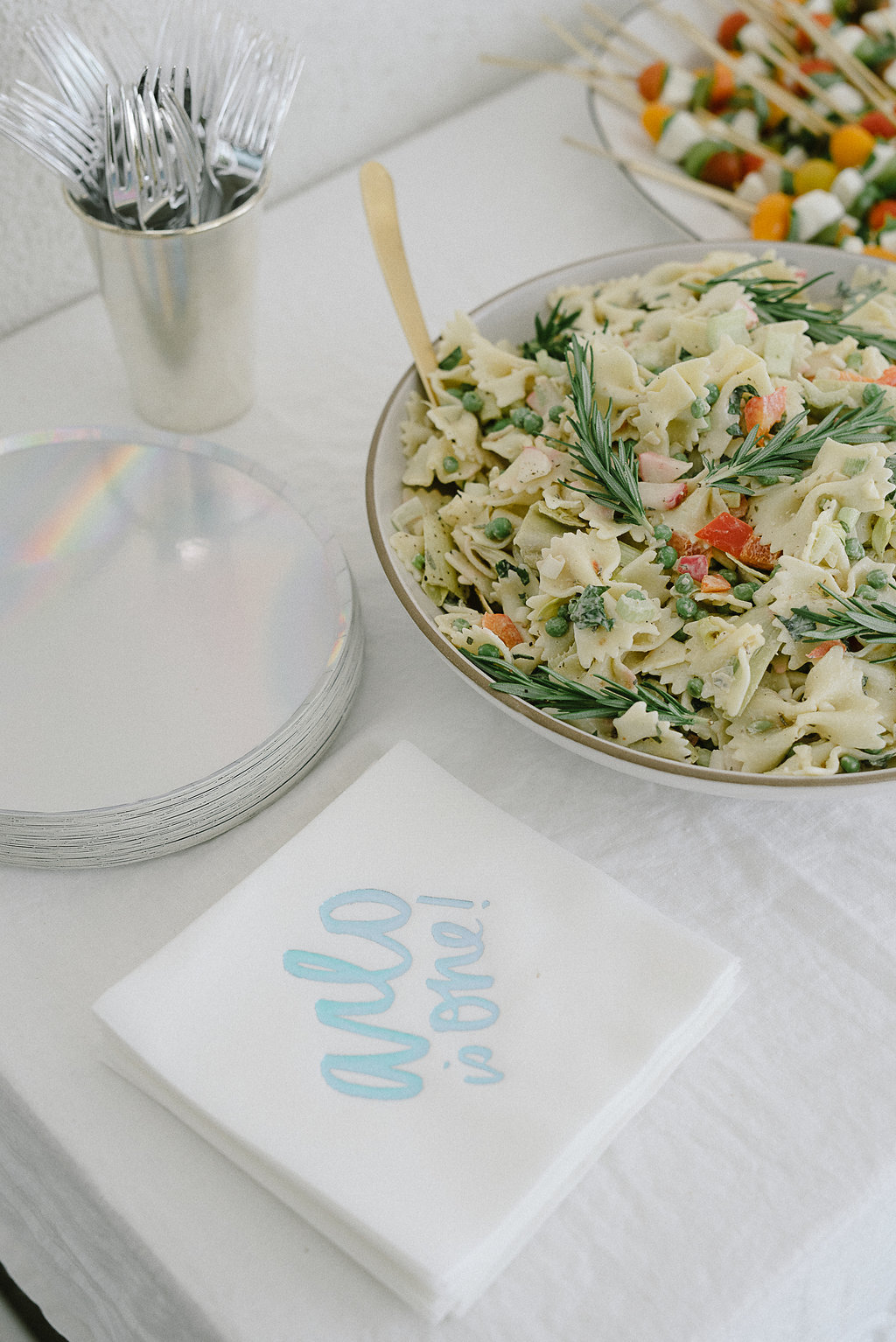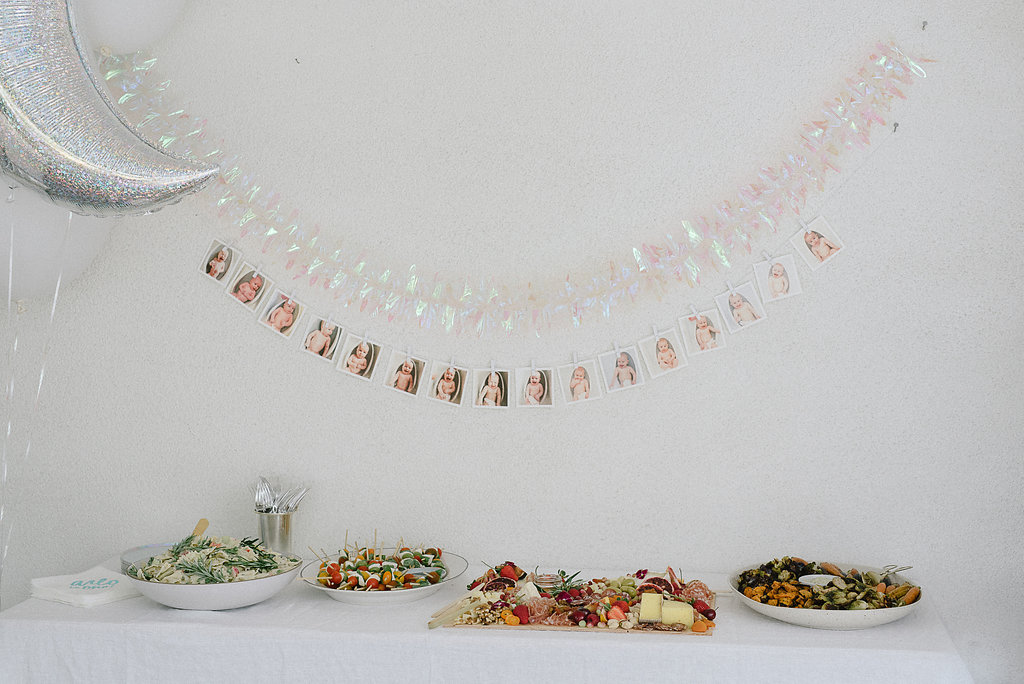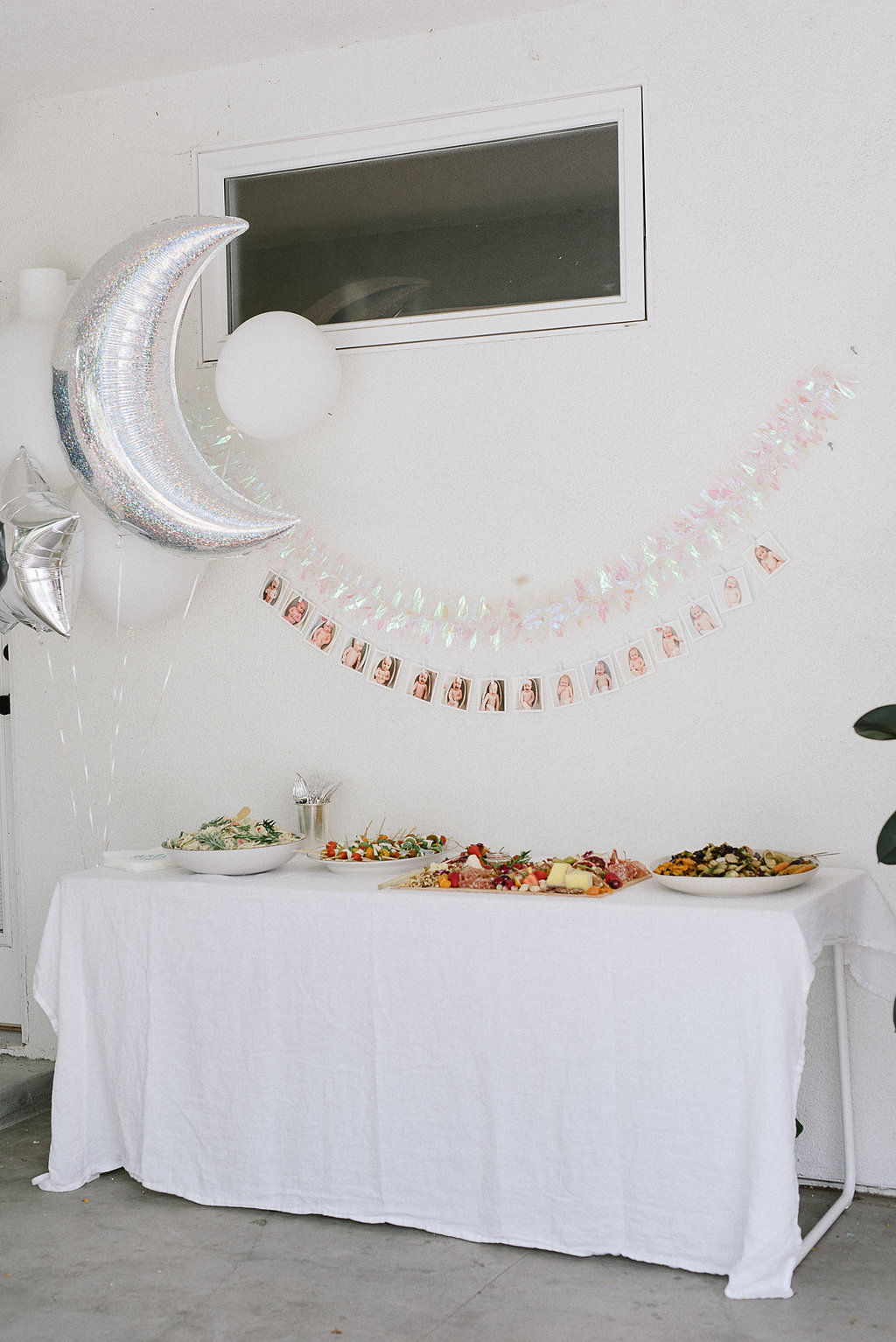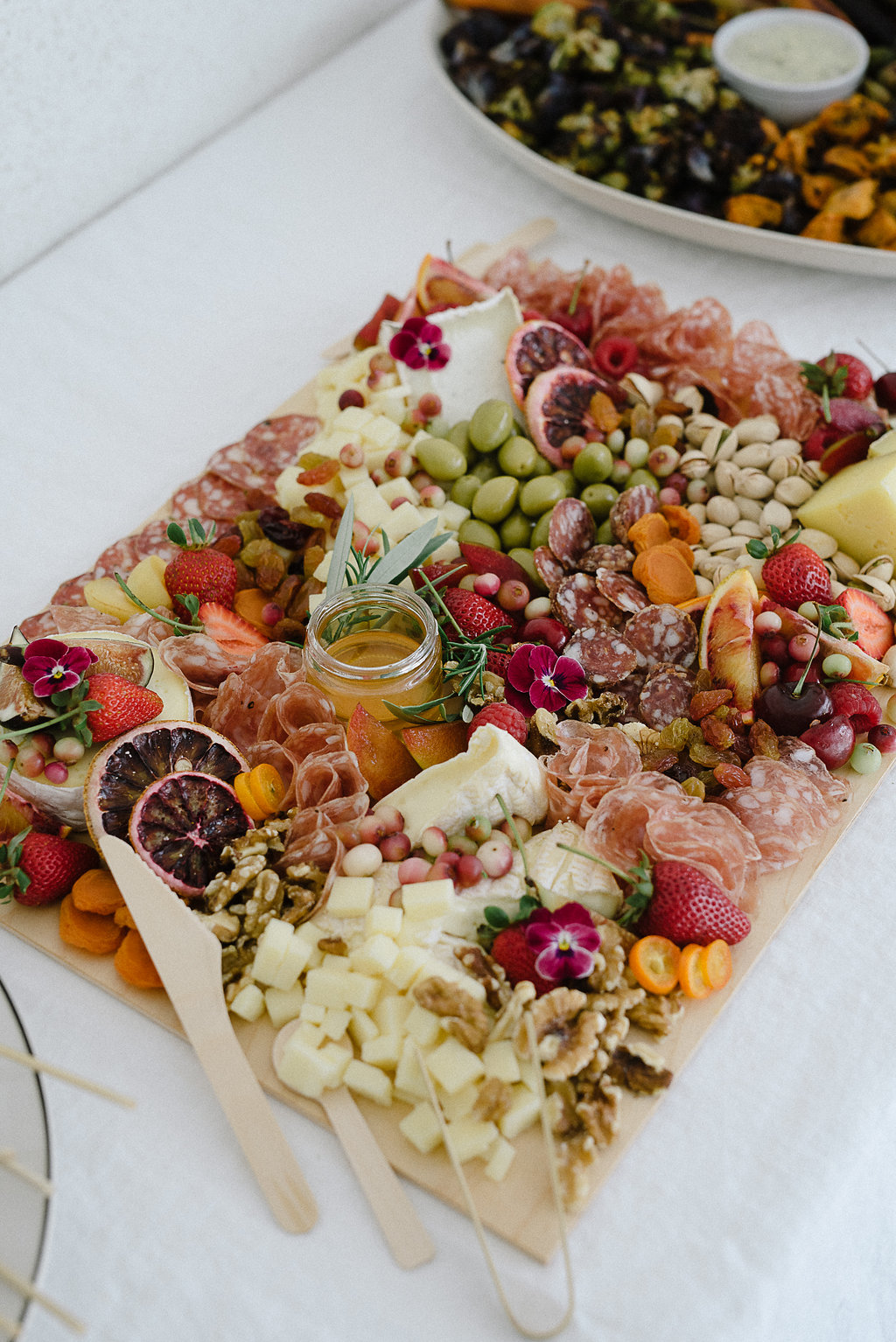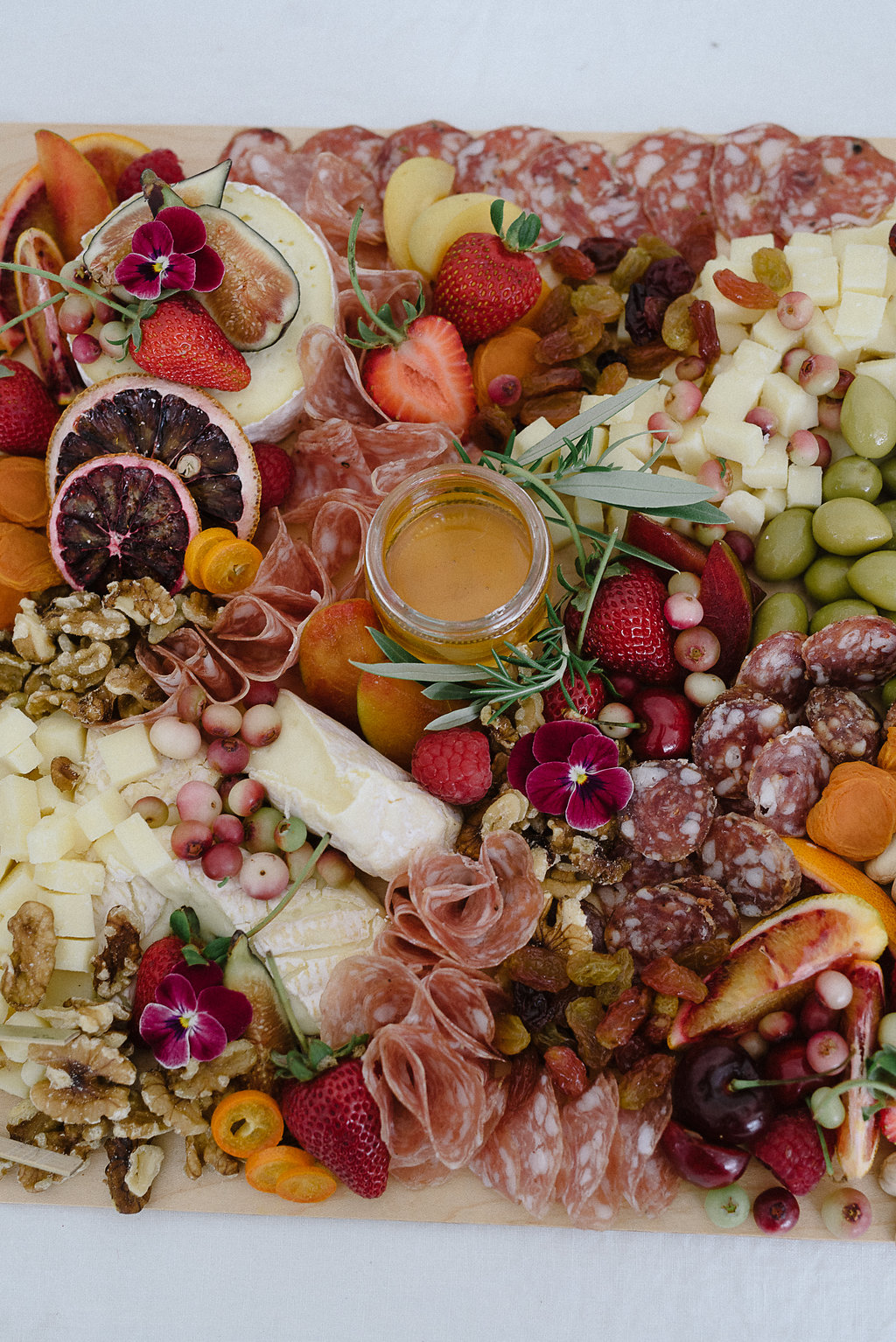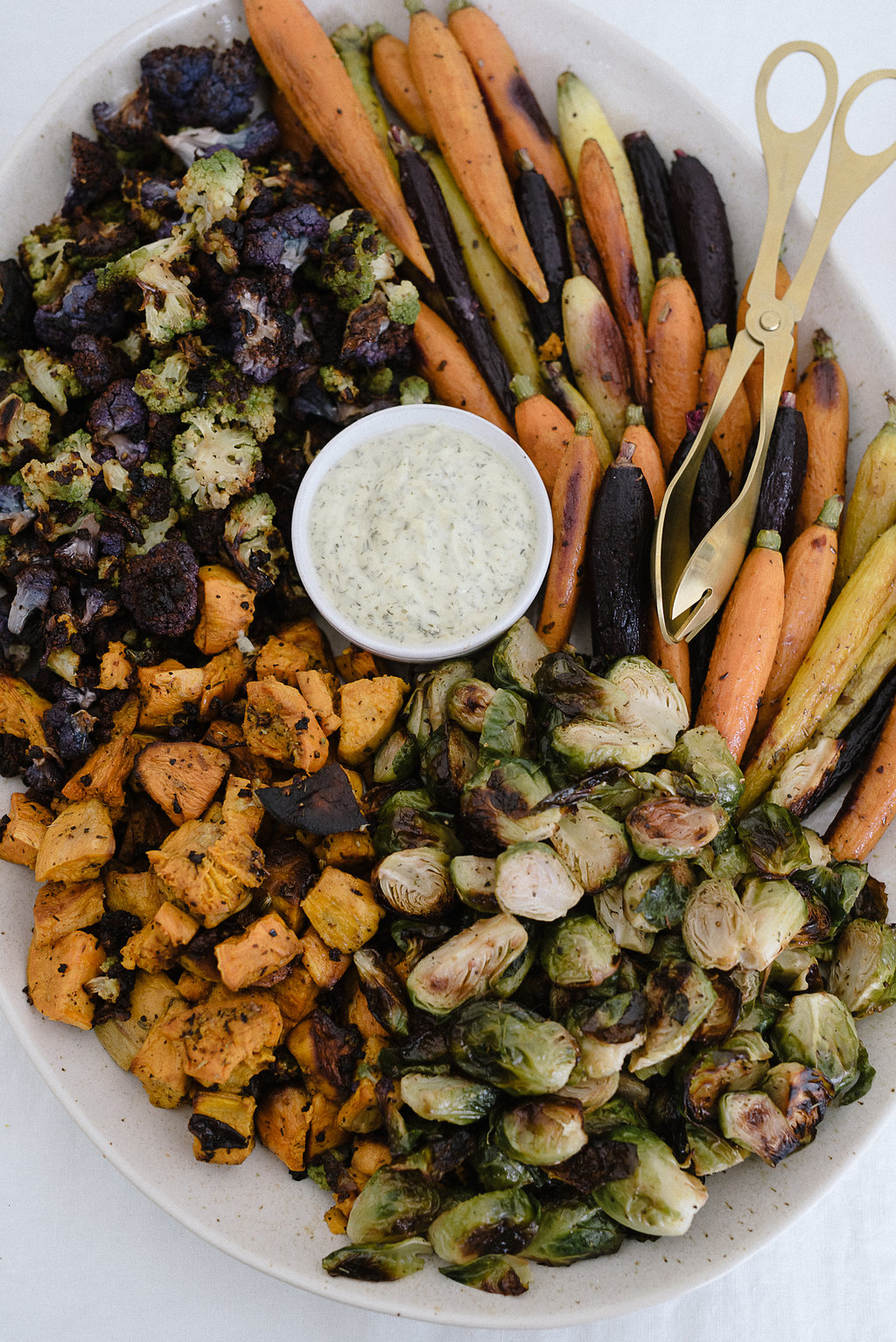 the advice cards were probably my favorite detail. they were so fun to read afterwards and i'm going to save them for arlo to have them. i love that sentimental shit!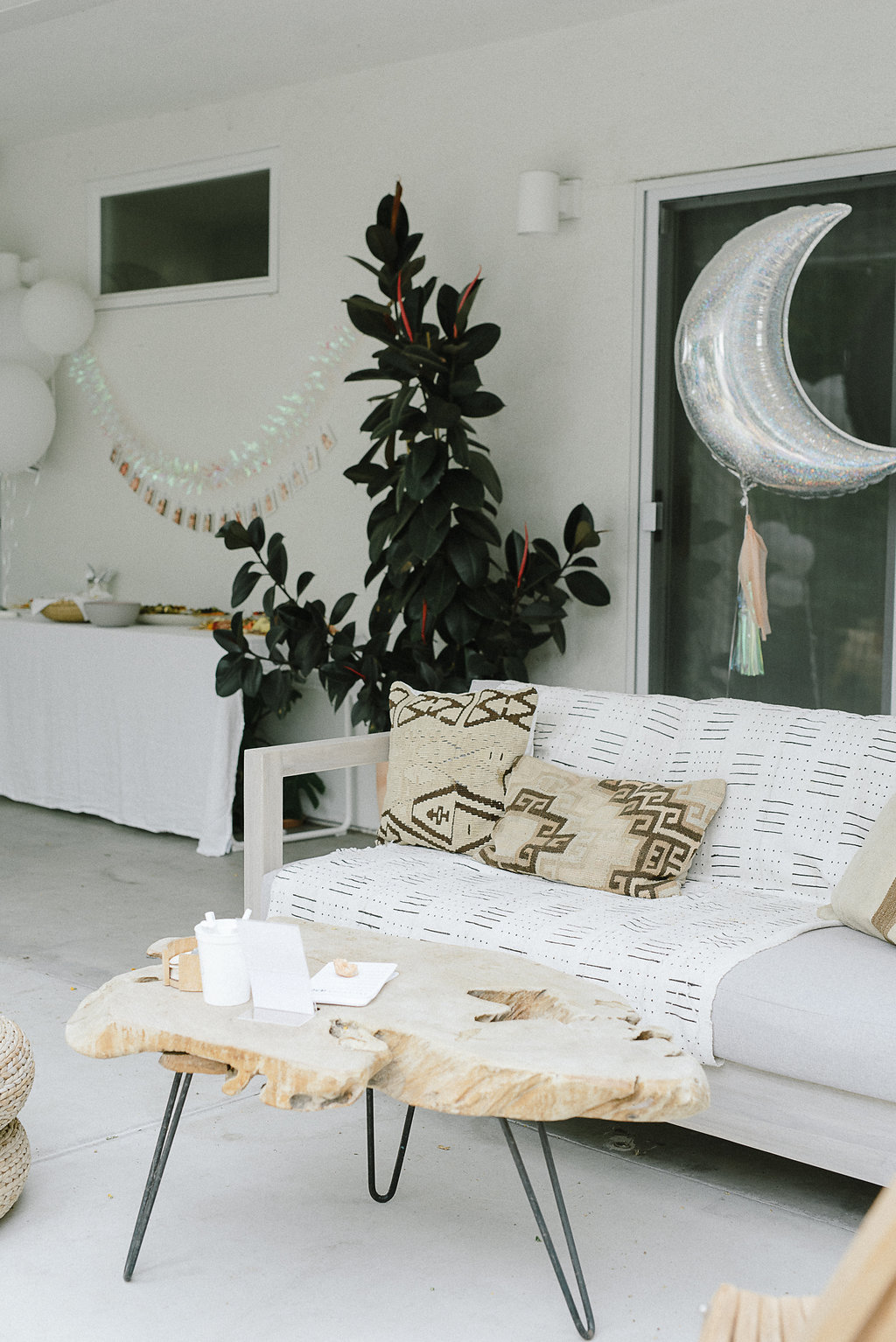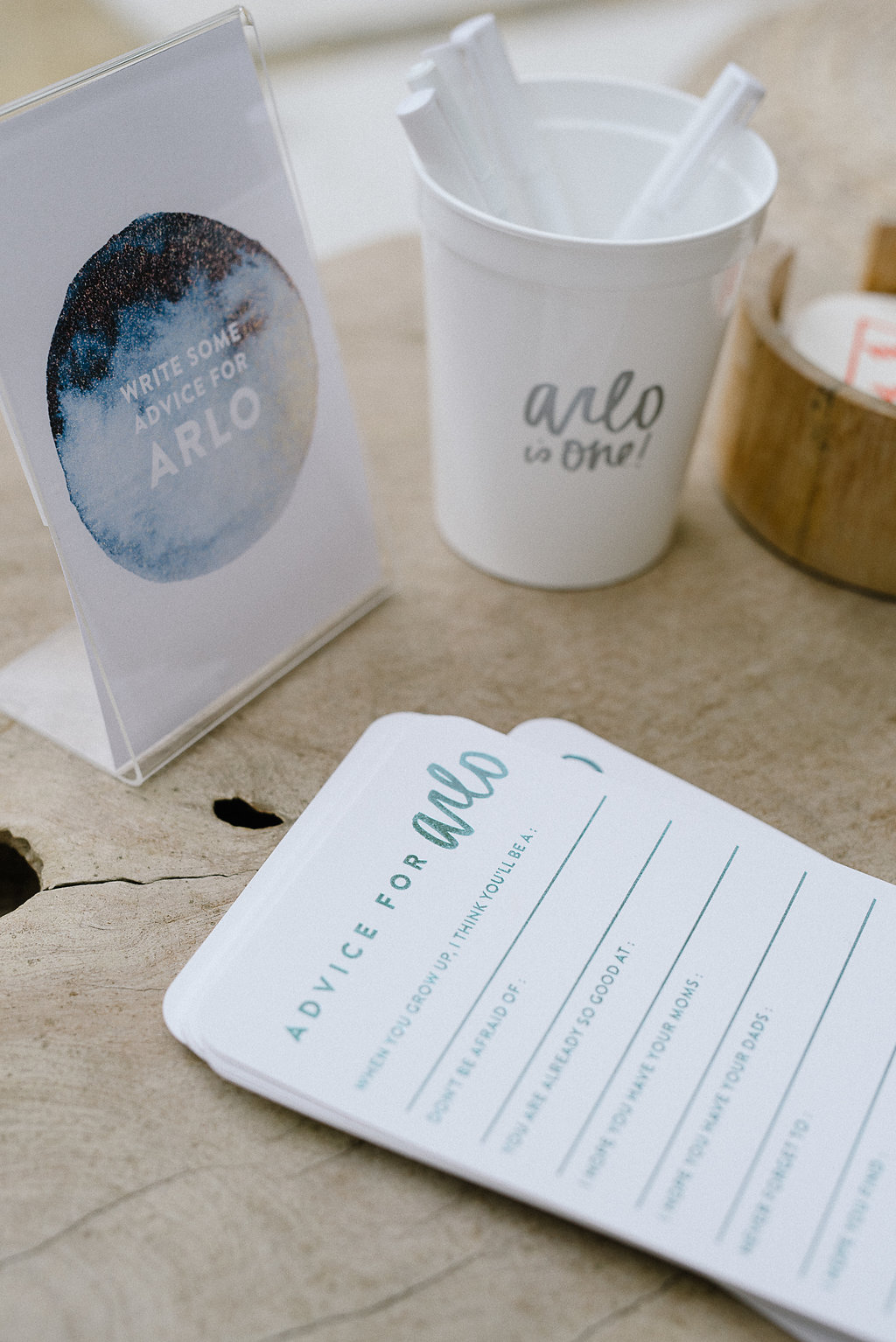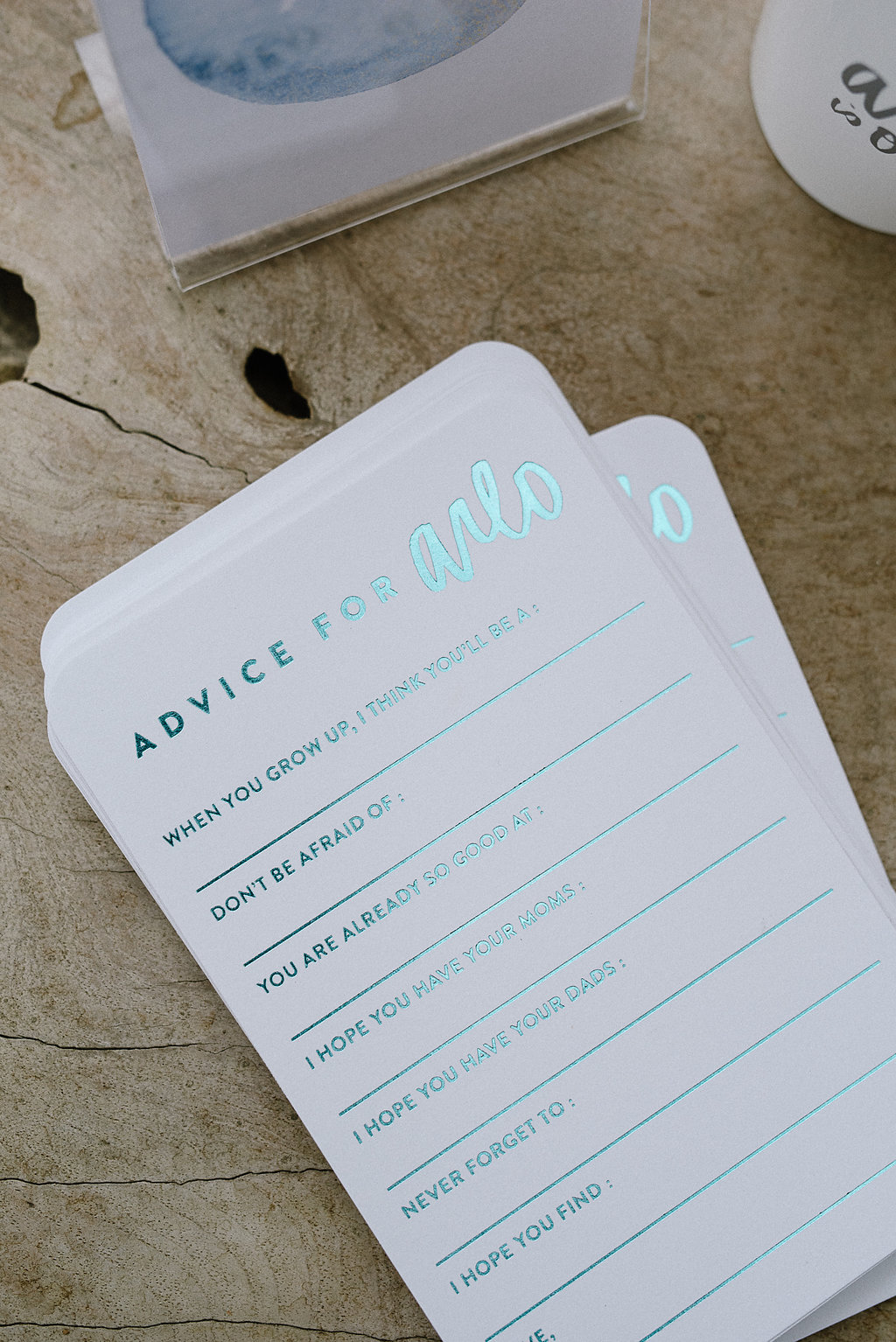 for the dessert table, i printed a panorama poster of all of arlo's monthly photos we'd taken (i had it printed from parabo press). i also found some cardboard letters at the craft store and spray painted with a foil spray.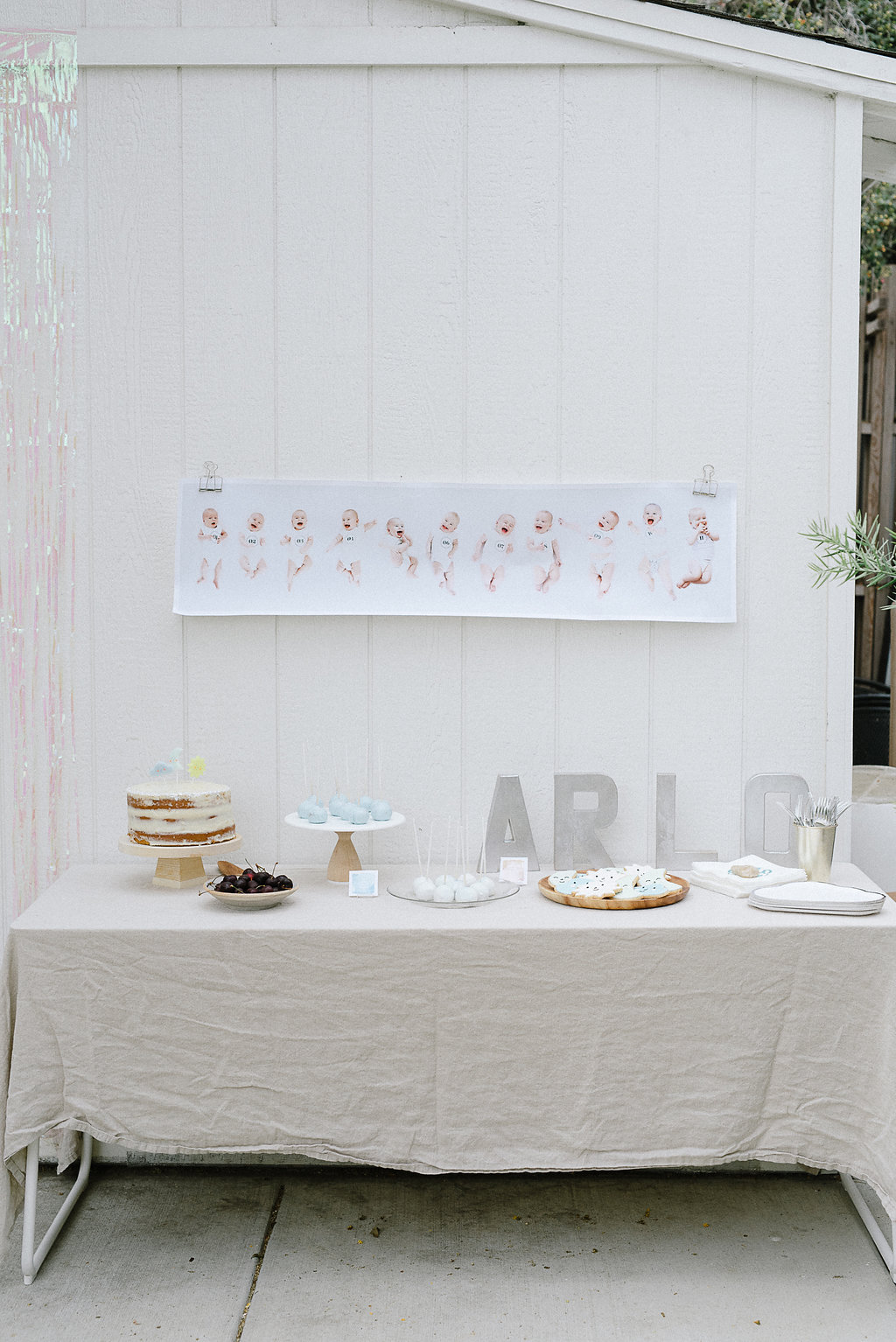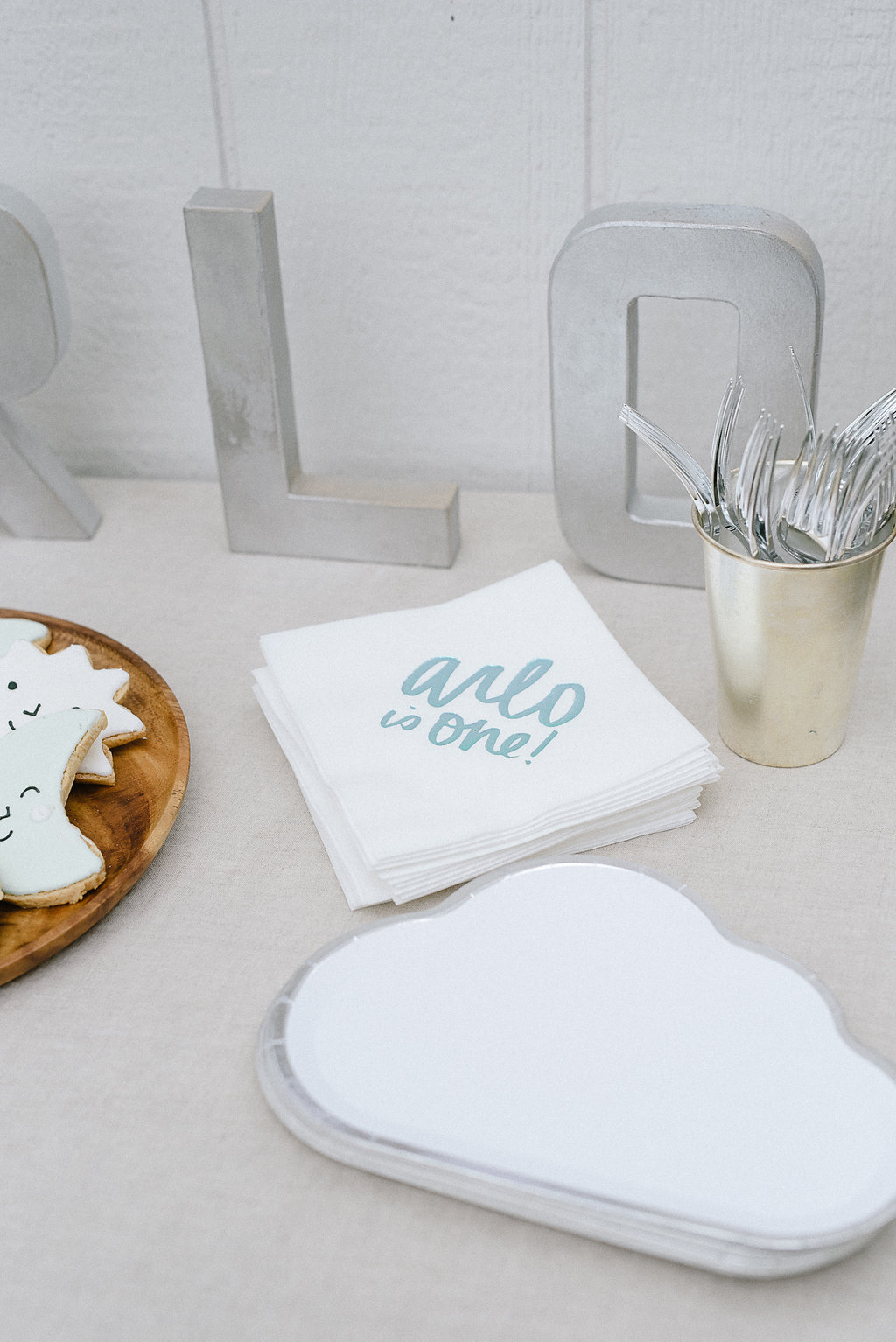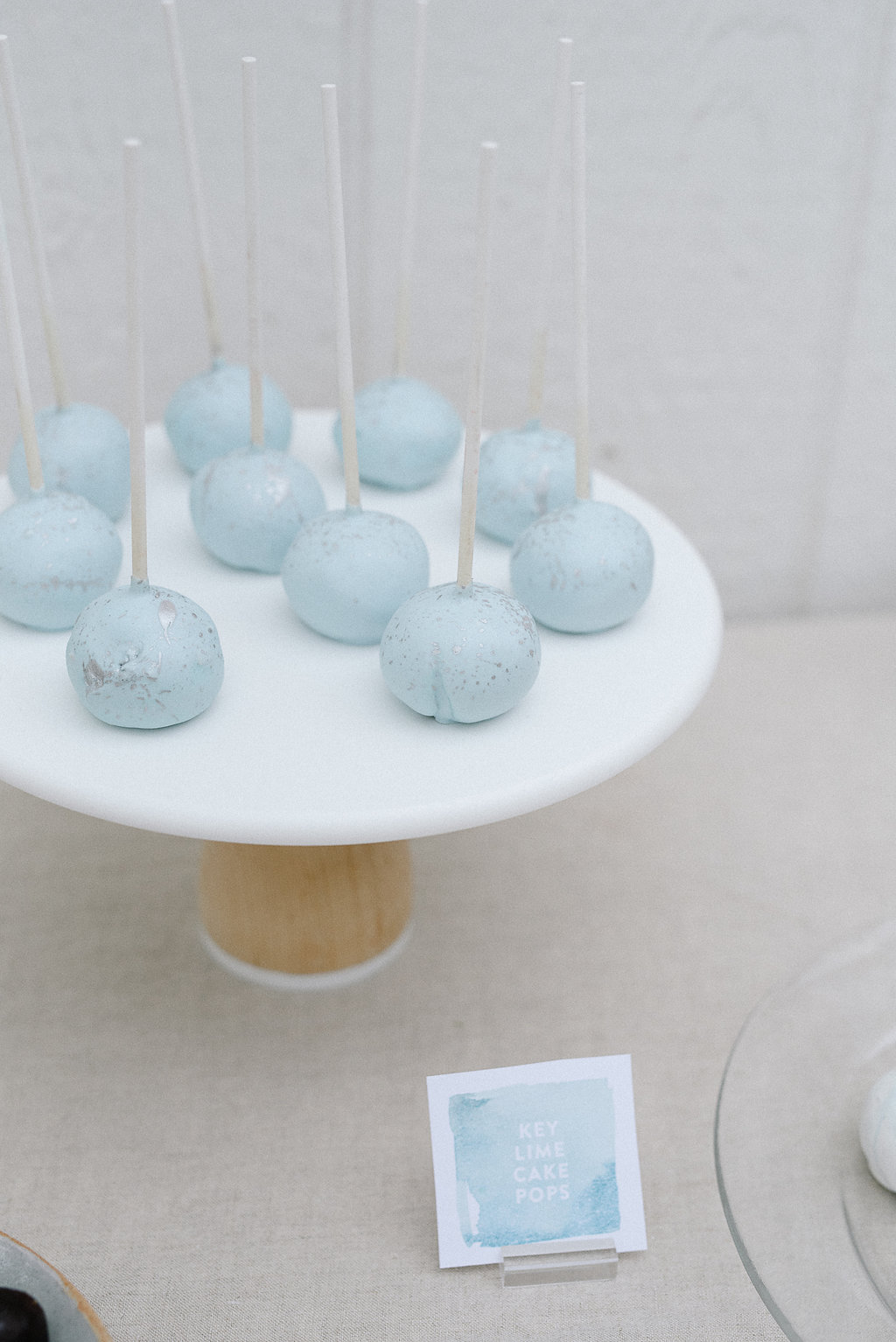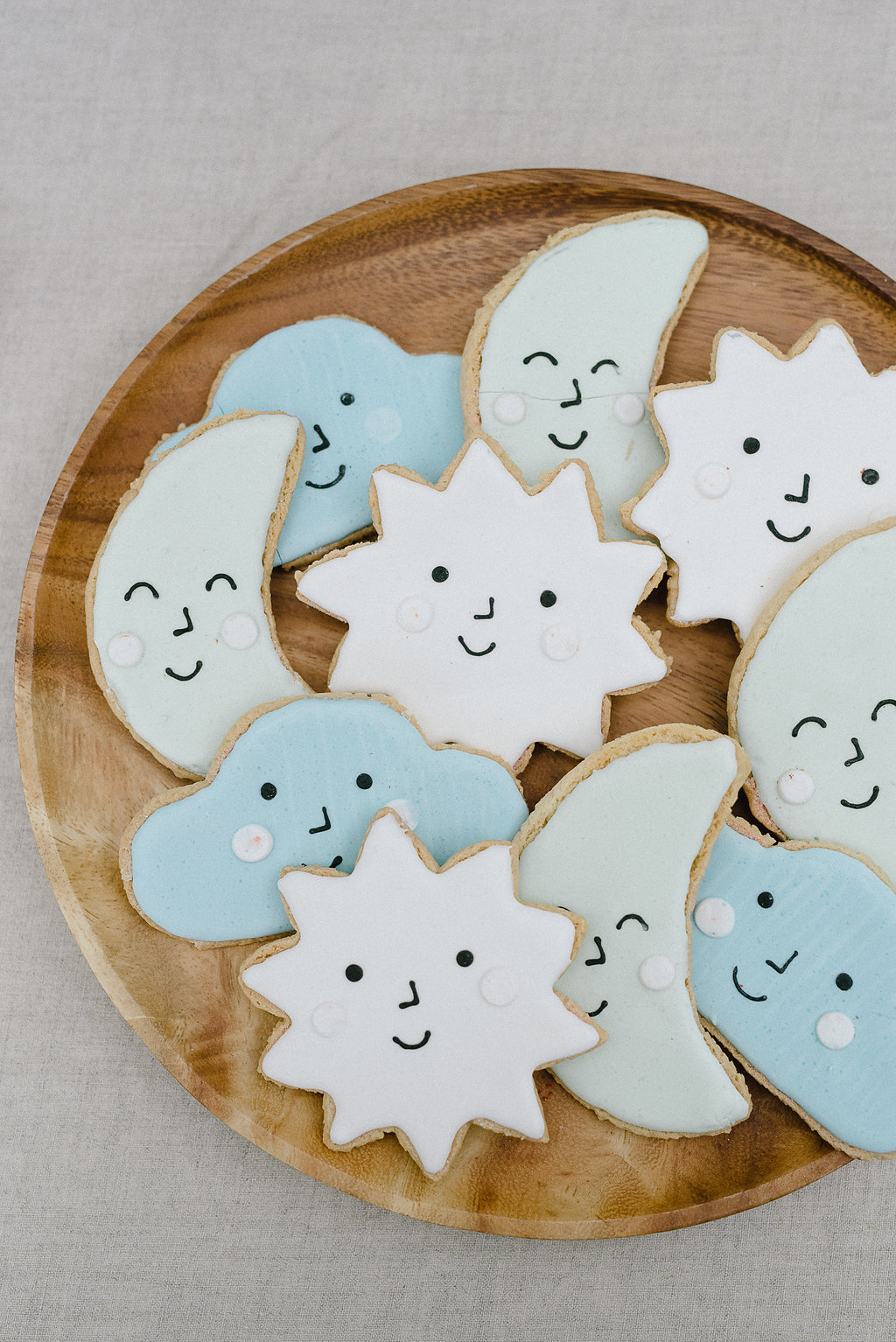 we got the cake pops and cute sky cookies custom made from half baked co. with the faces meant to mimic the candles we used in the adult cake. i debating buying the cakes as well, but ultimately decided to make them myself because it's waaay cheaper and i always make cakes so why wouldn't i make arlos too? i totally teared up while baking it because he's watched me make a bunch over the past year and i couldn't believe we were actually baking his.
i just did box funfetti with cream cheese buttercream frosting, and topped it off with edible silver leaf around the edge. it was scary at first and pretty tedious but it wasn't that hard to apply whatsoever. we did a smash cake for arlo in the same flavor and style, i just made an additional sheet cake and then we cut out rounds from that and layered. (that's the reason it doesn't have that visible brown in the naked-ness as much) we did three layers but it was a bit high, i think 2 would have been fine and way less wobbly!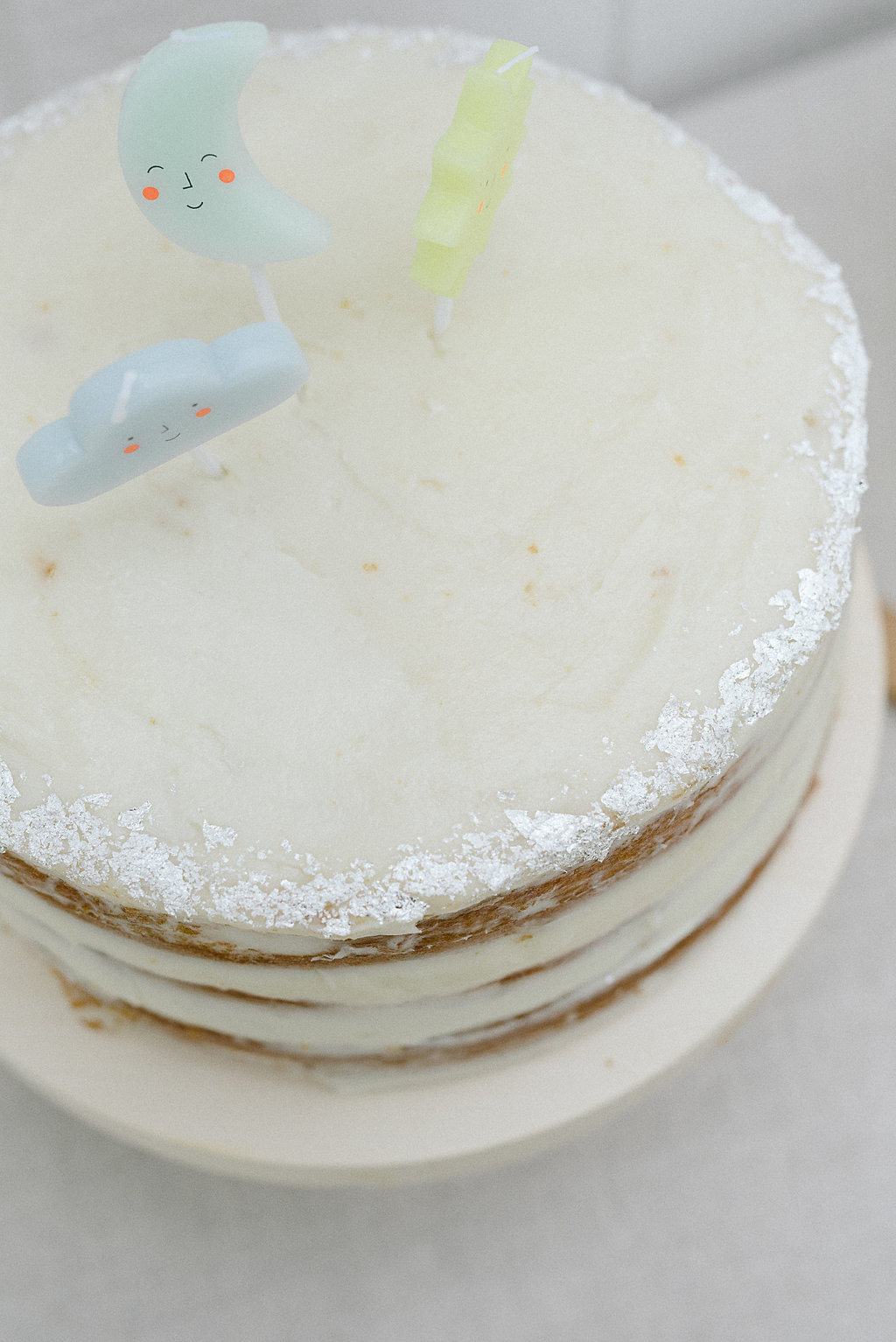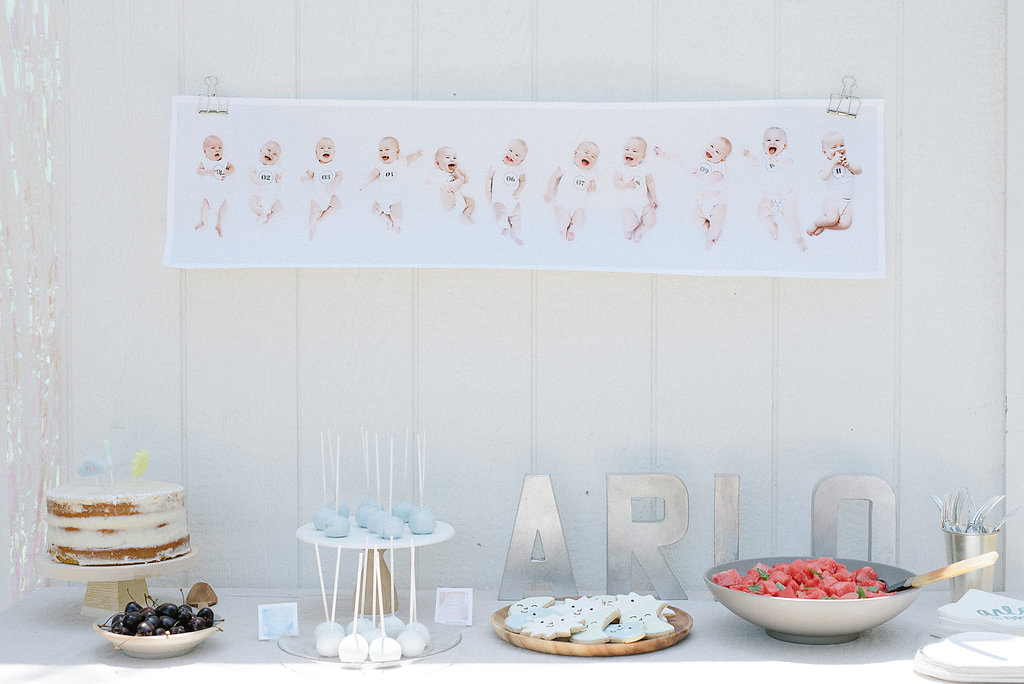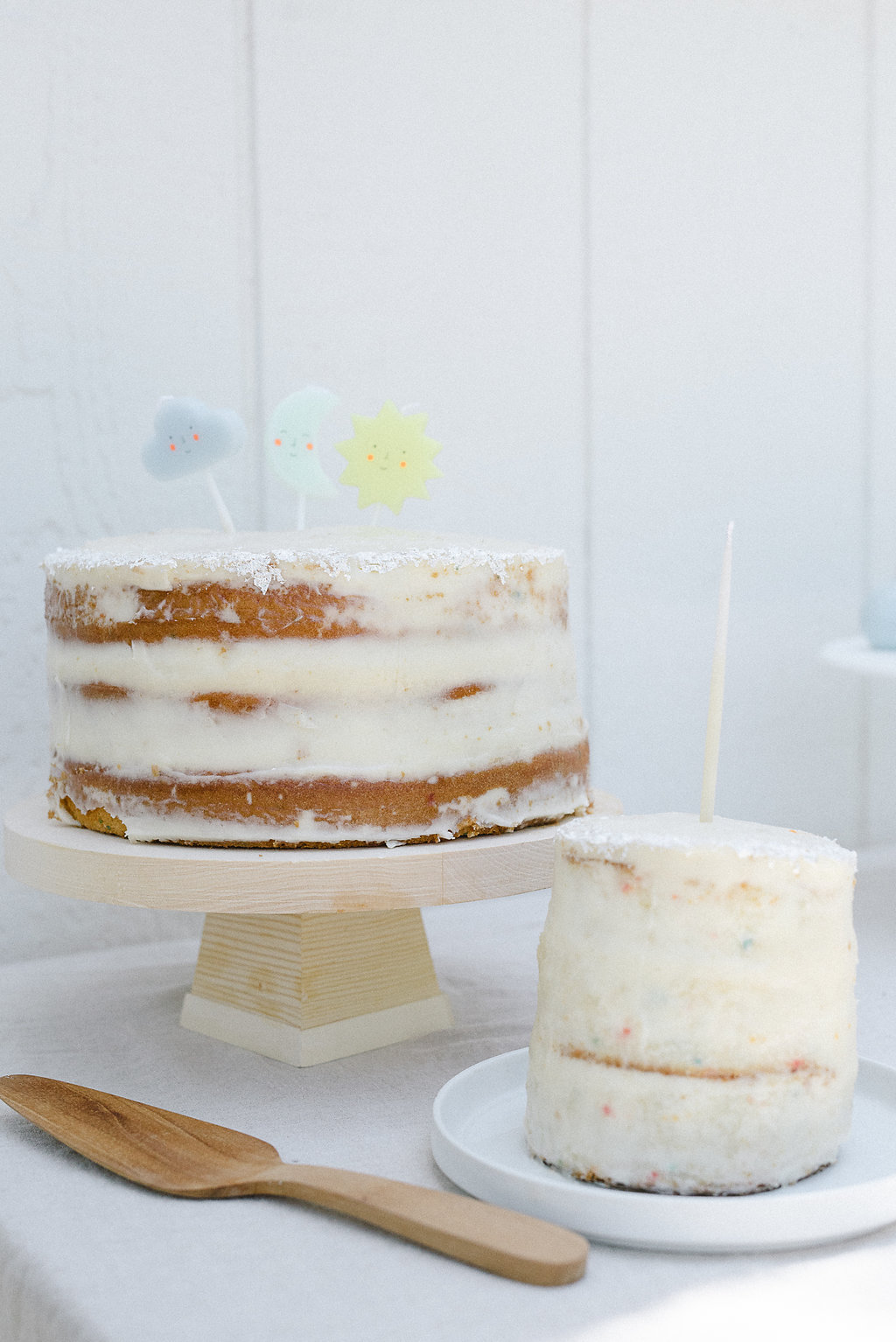 the ball pit was something we'd been planning for months but we purchased balls from china and completely underestimated how many we needed so a few weeks prior, we inflated the pool and realized we needed to get like 300 more. so they're different sizes, but it made it even more like a cloud — did you get that??
i was planning to use a clear inflatable pool until mylle reached out and it was perfect timing — the pool is sooo cute!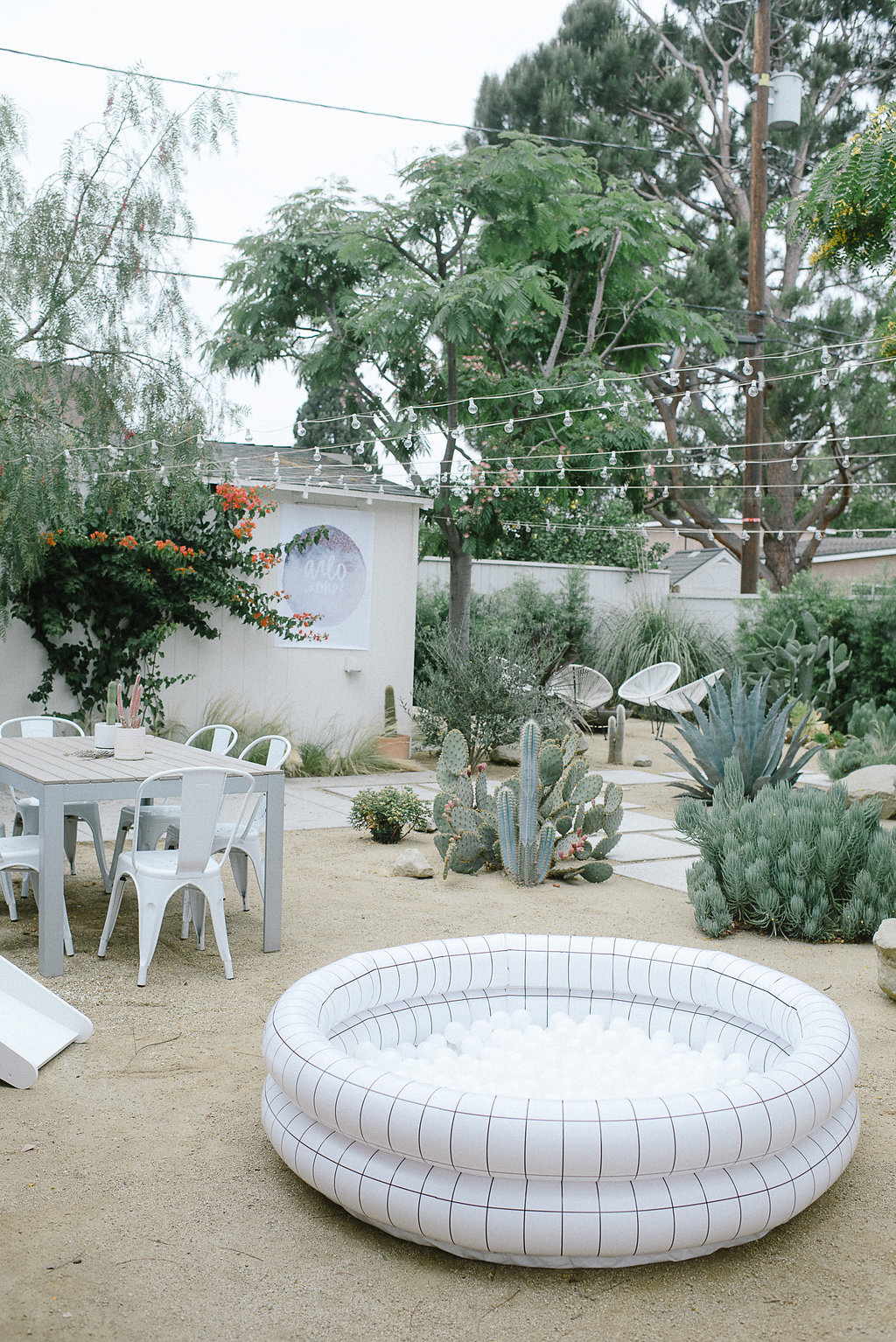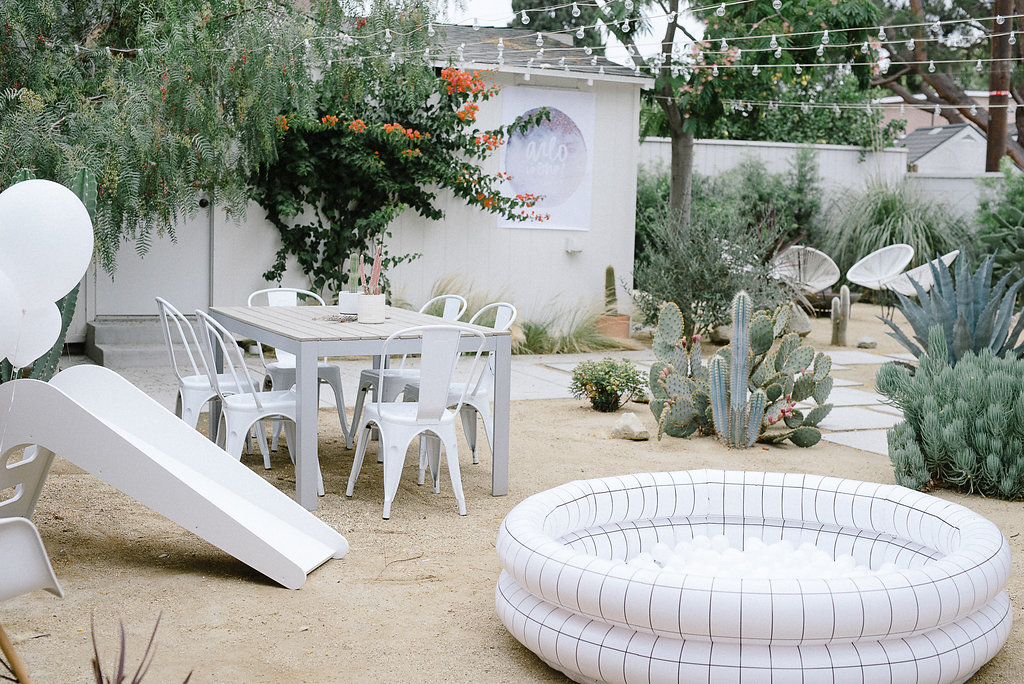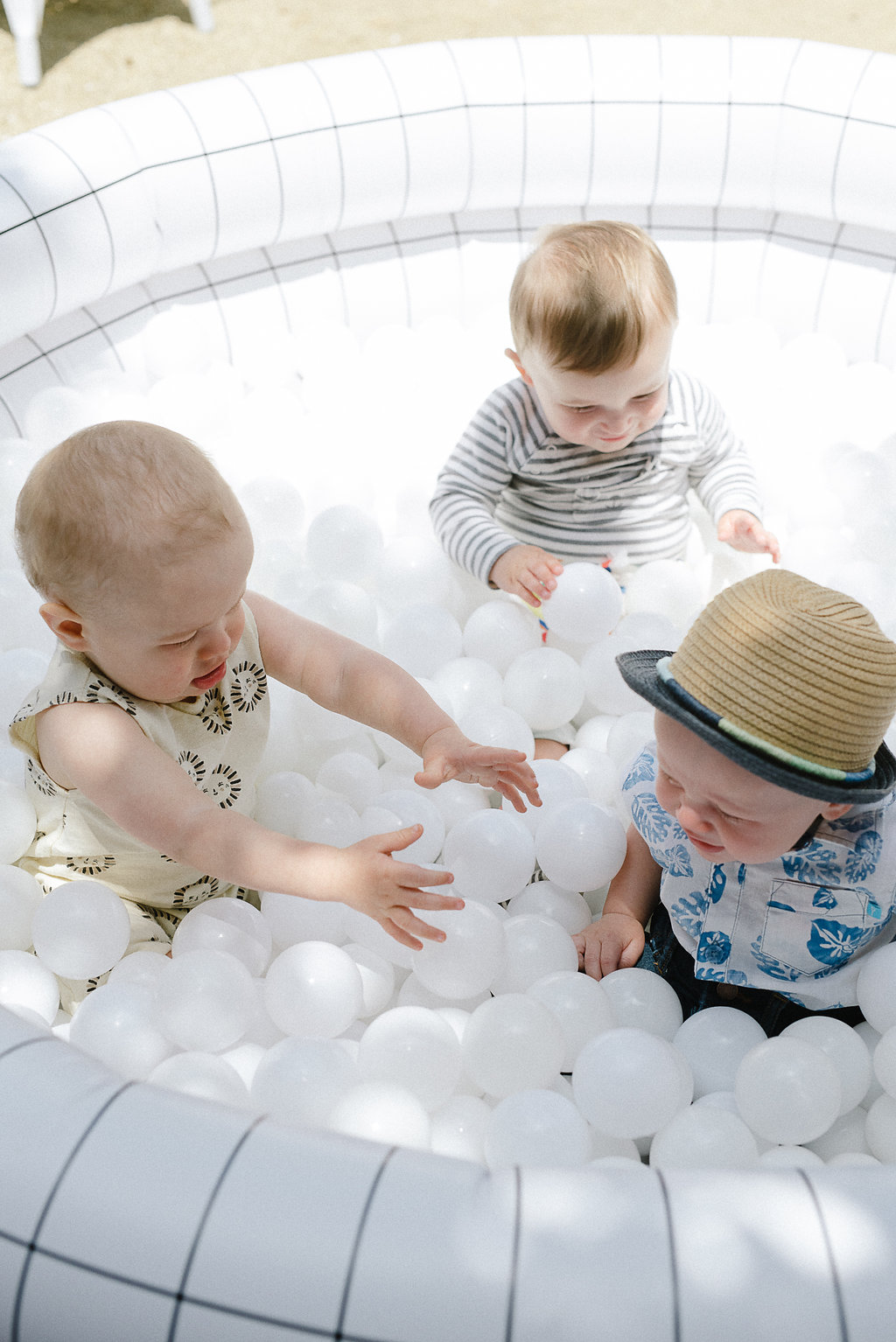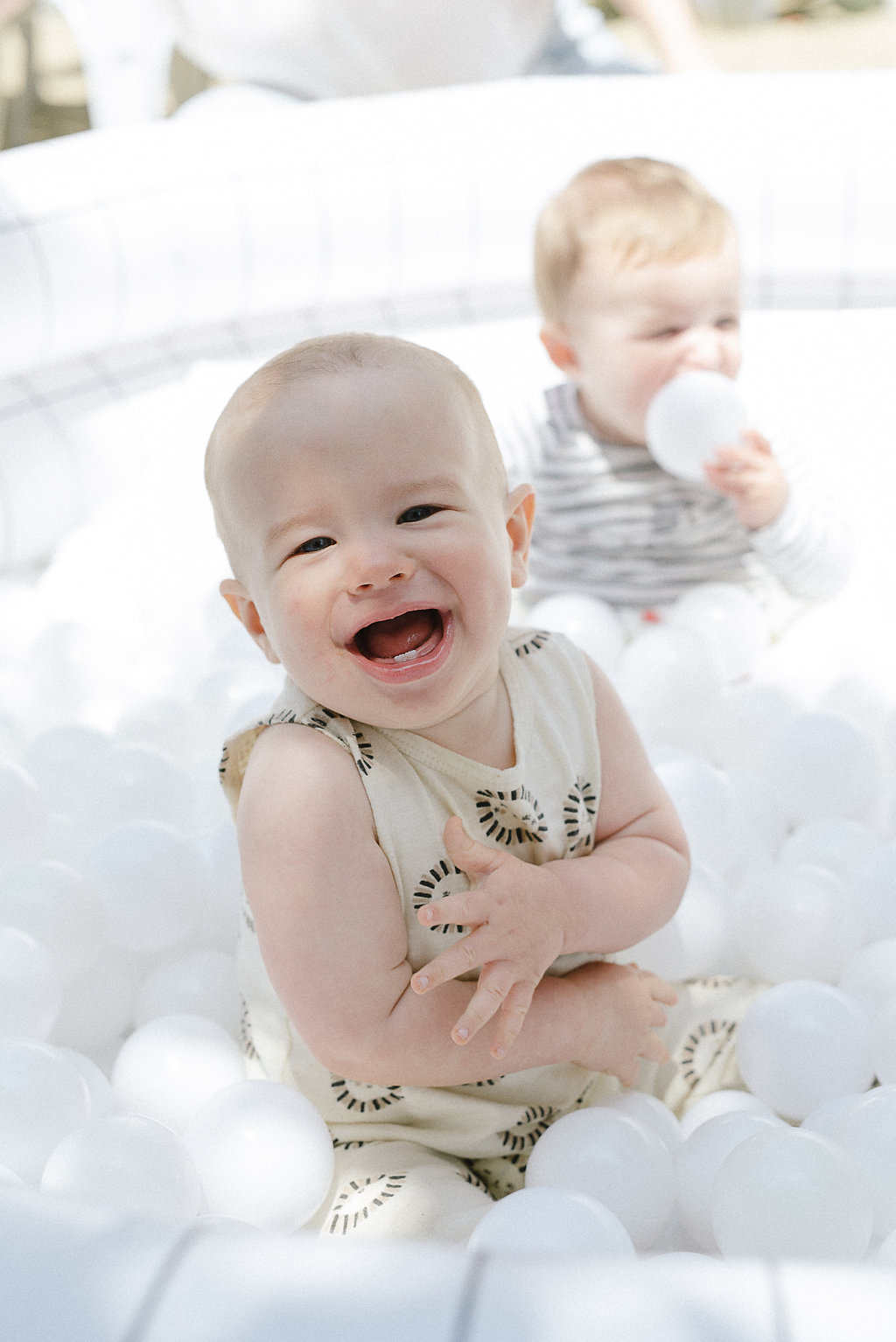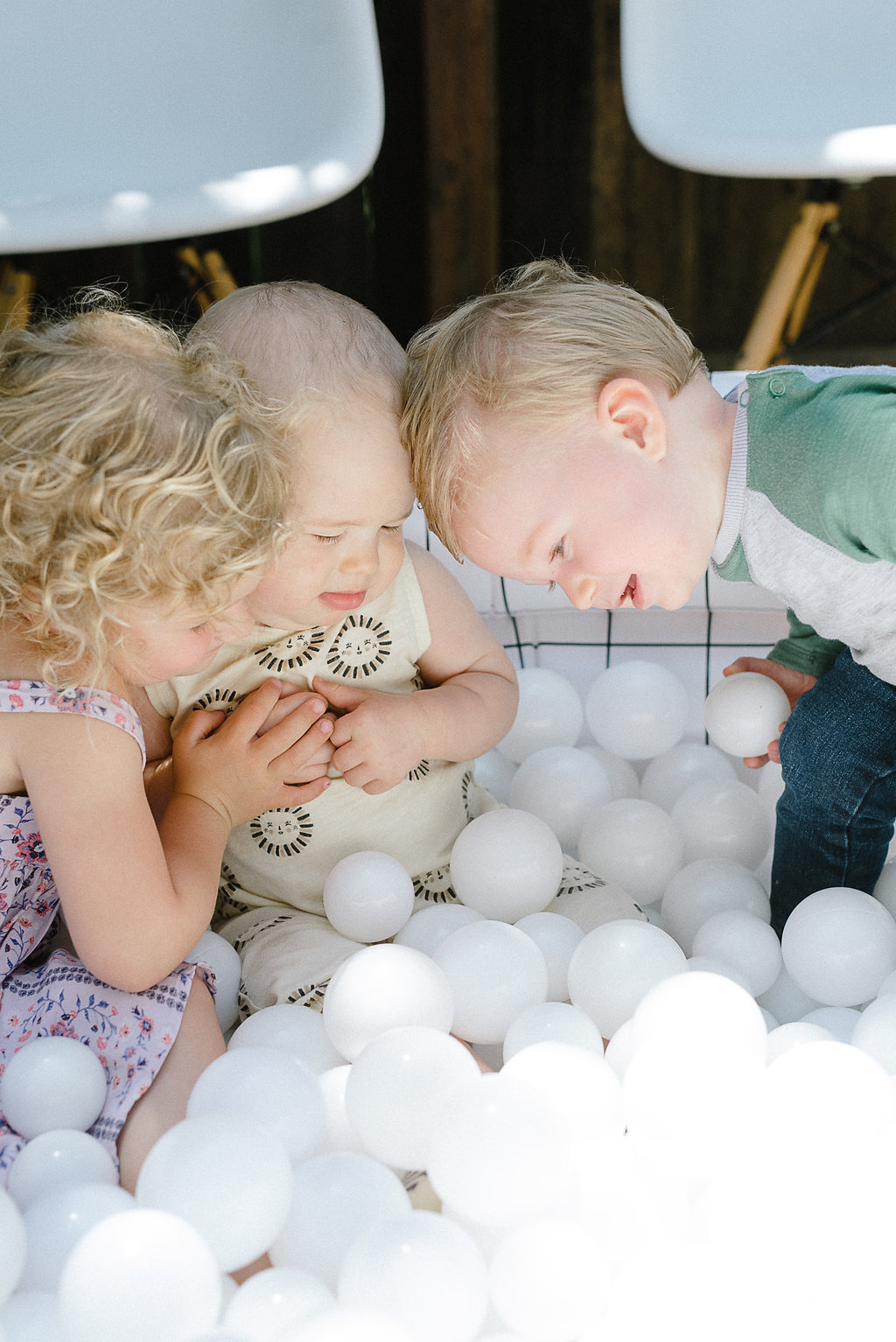 can you tell it was a hit!?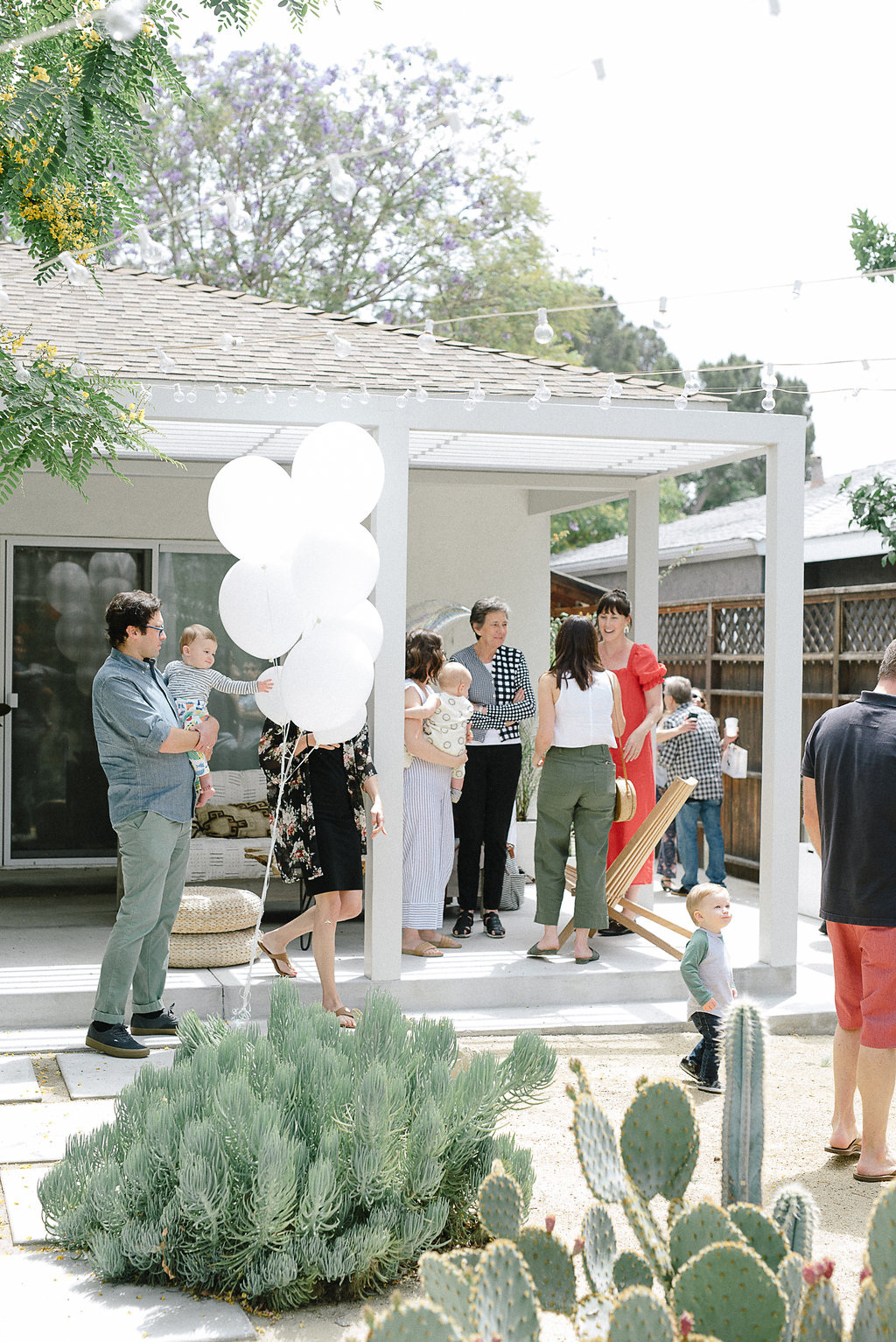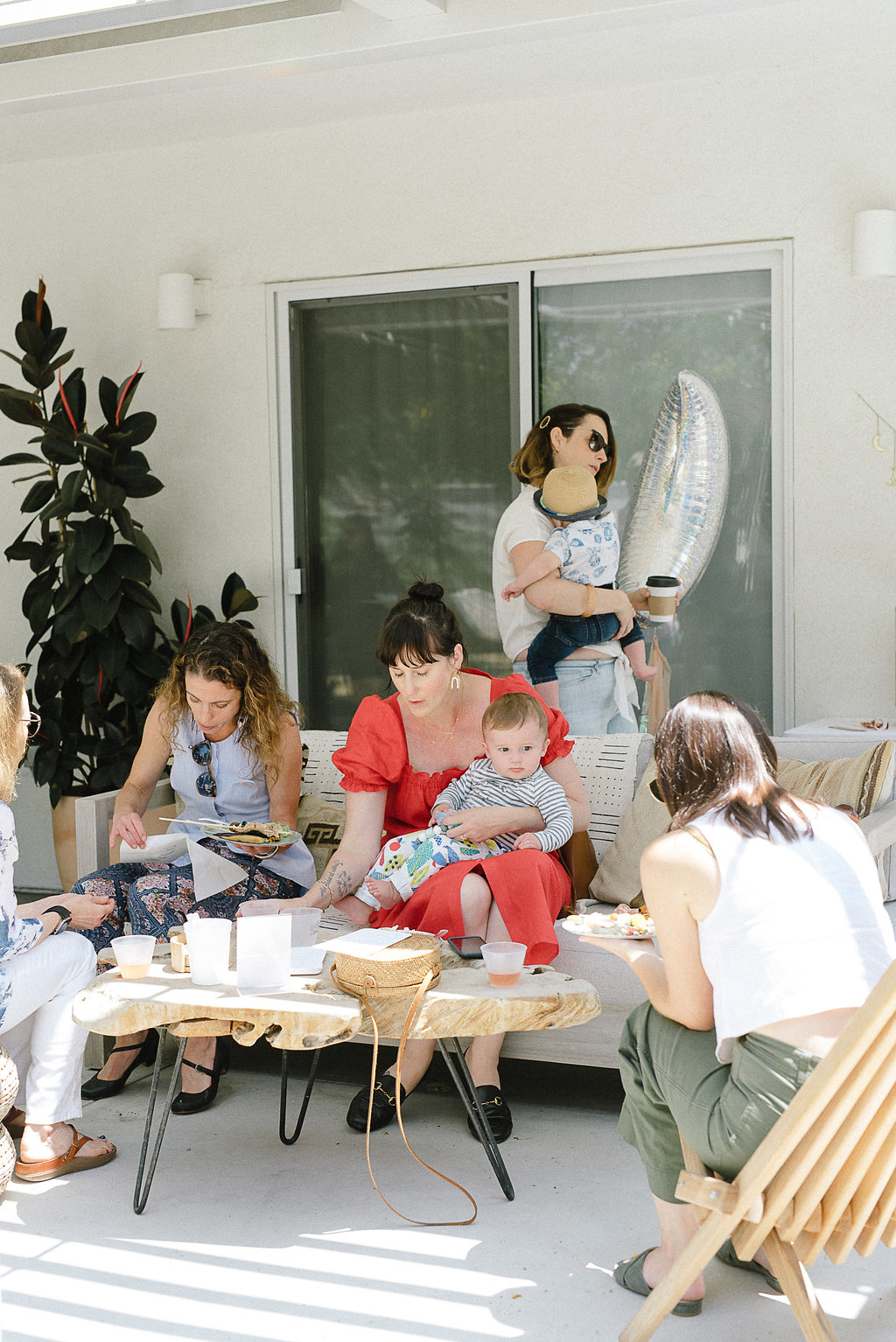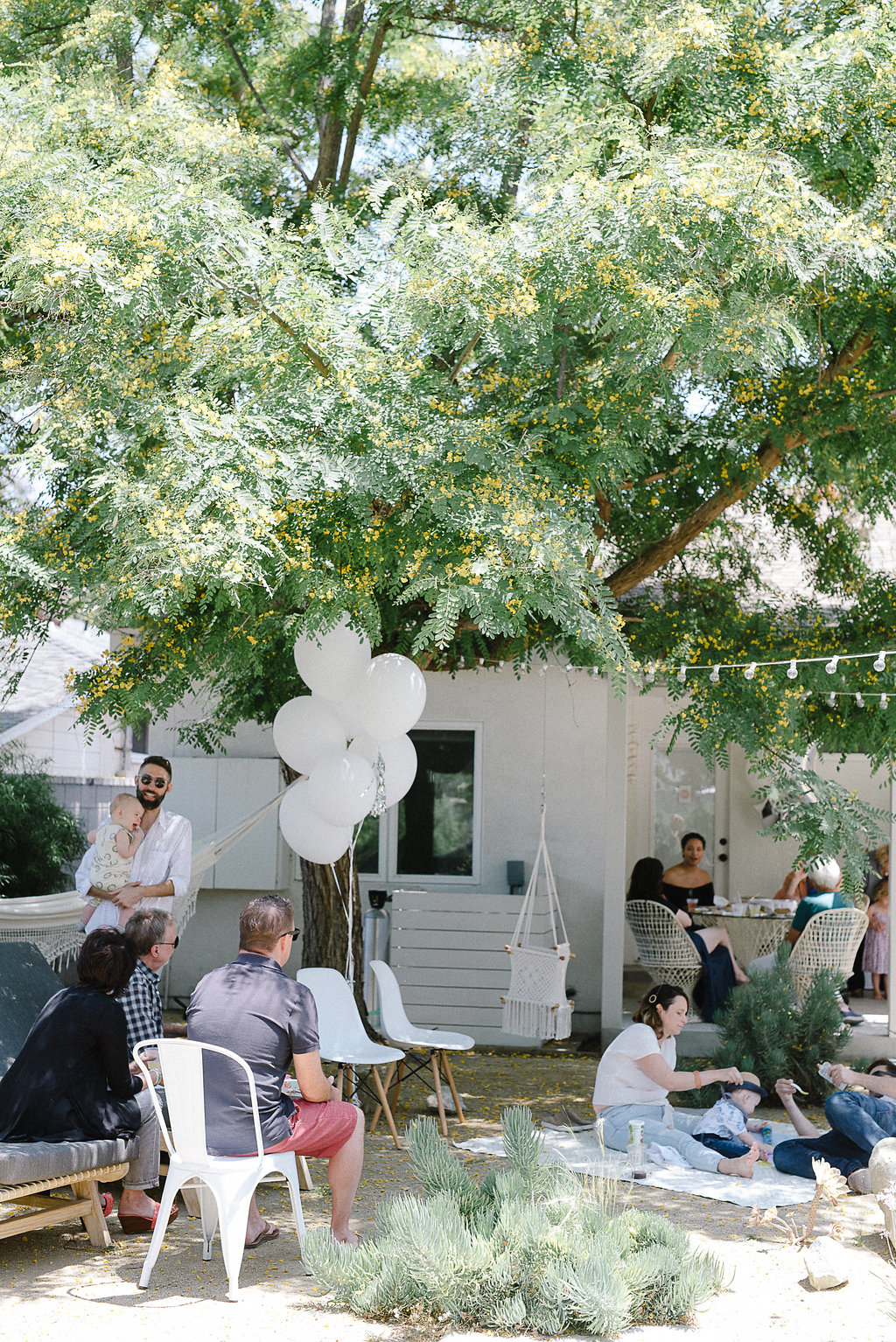 we got a giant cutout of arlo's head from crowd signs, originally planning to do a photo booth area — but we scraped that idea at the last minute so it just basically became arlo's best friend. we are both obsessed with it!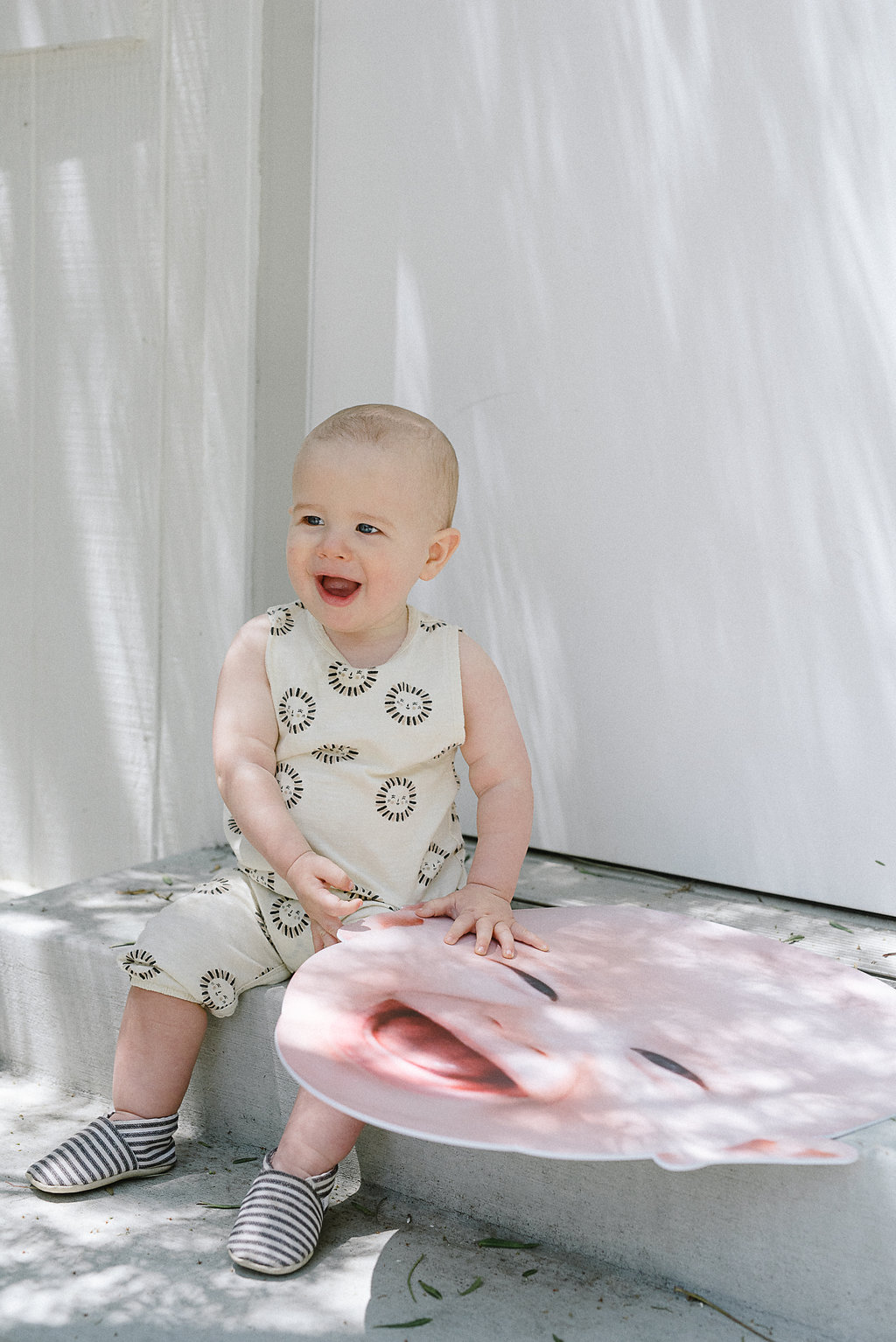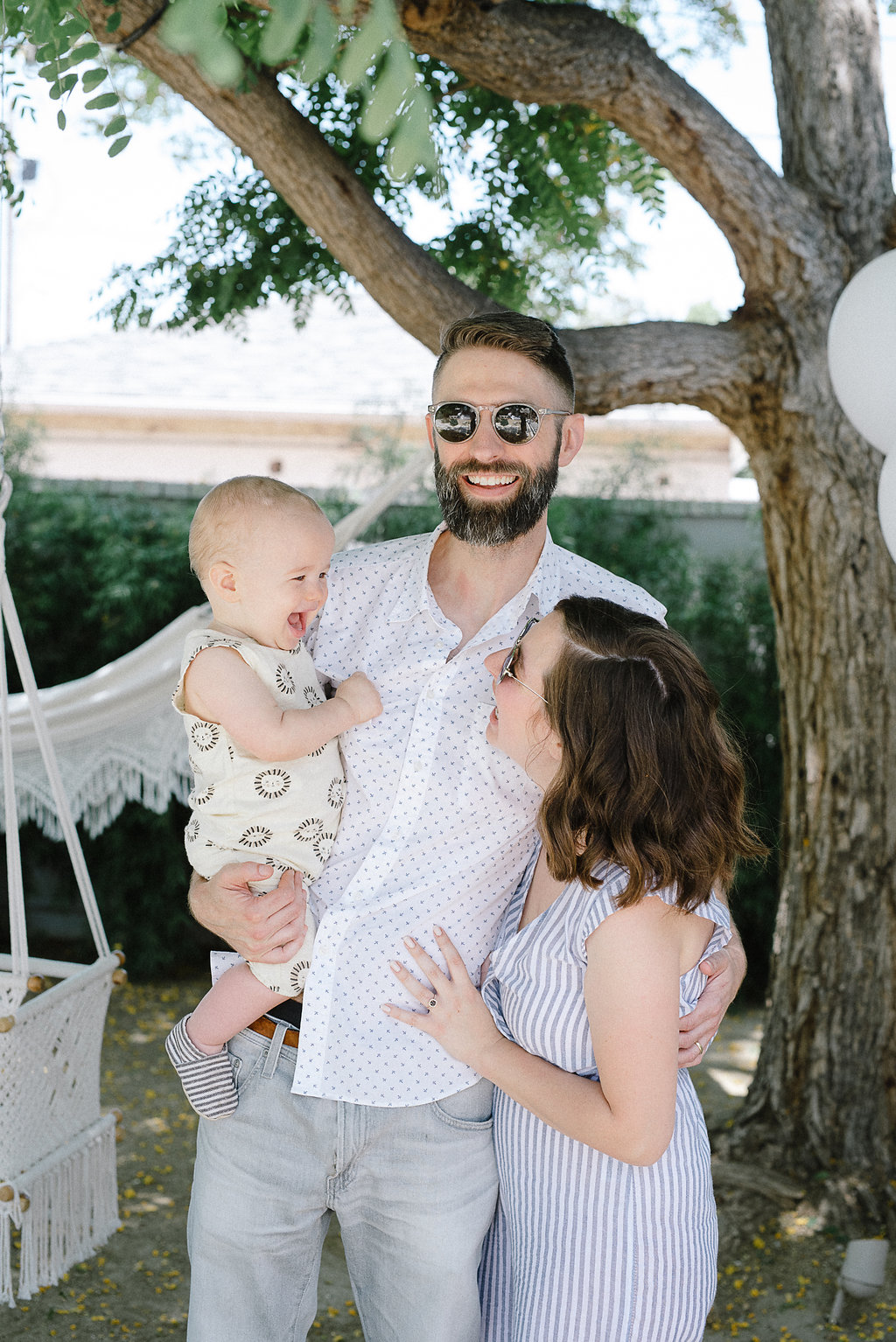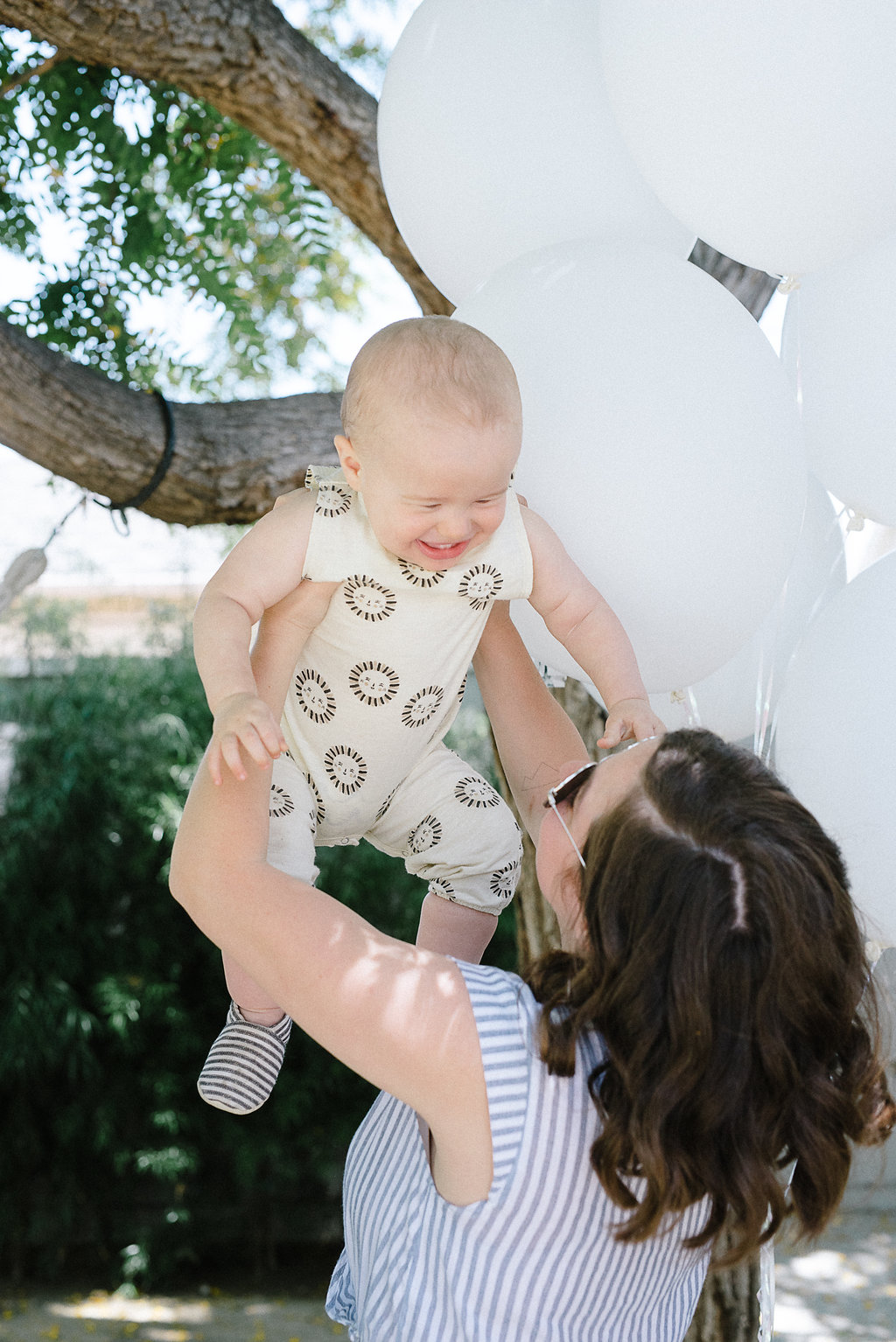 i also had no plan of where to put the iridescent curtain and i am so glad i put it here! we decided not to mess up arlos cute outfit so we got him in his diaper and crown for his cake moment! seeing as how he can eat more than most adults and likes almost every food he has tried, i was shocked that he wasn't that interested in the cake. i think it was all overstimulating because afterwards he ate it and enjoyed, but i haven't given him any since because i'm scared he'll never sleep again… when can he eat desserts and it's chill? now?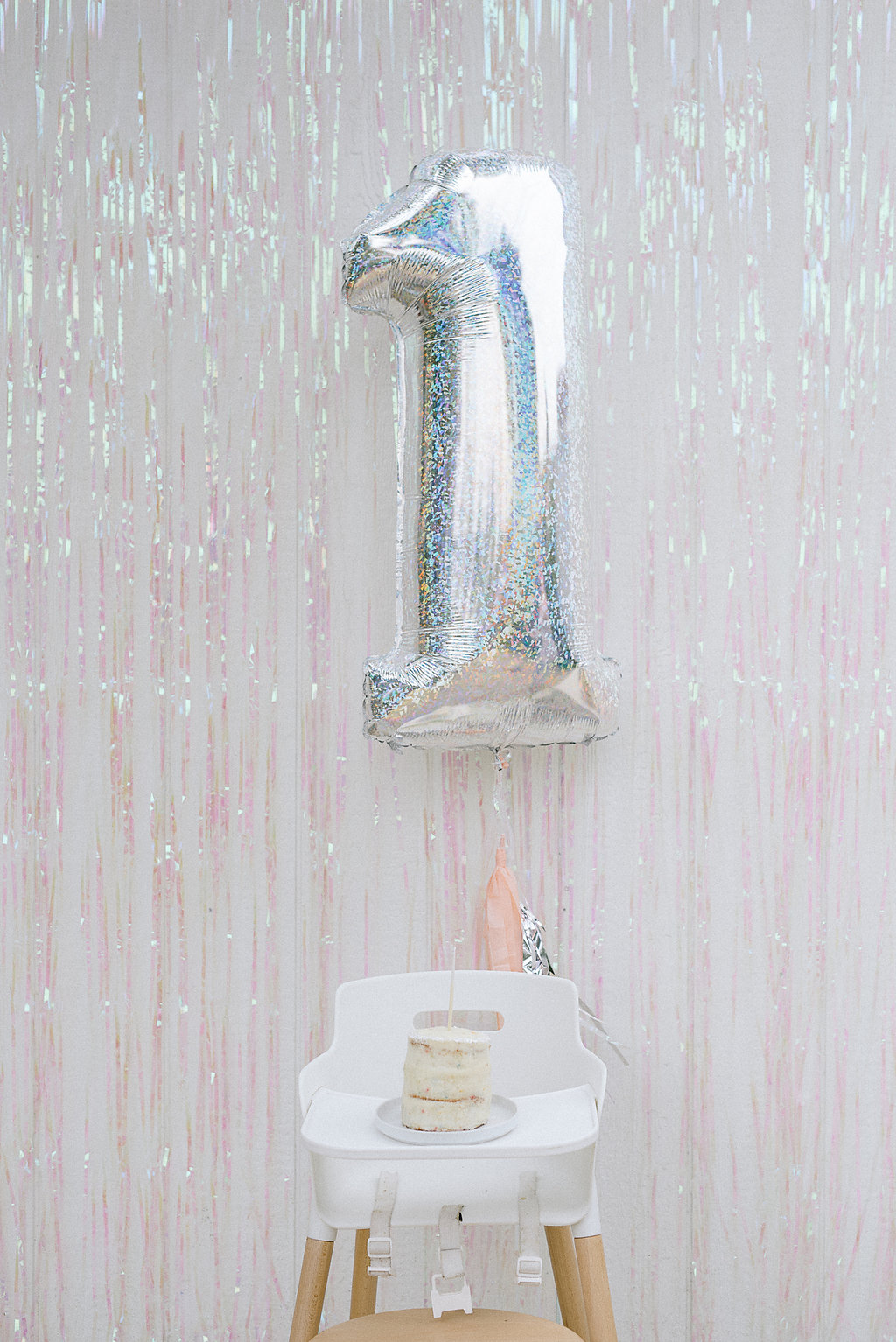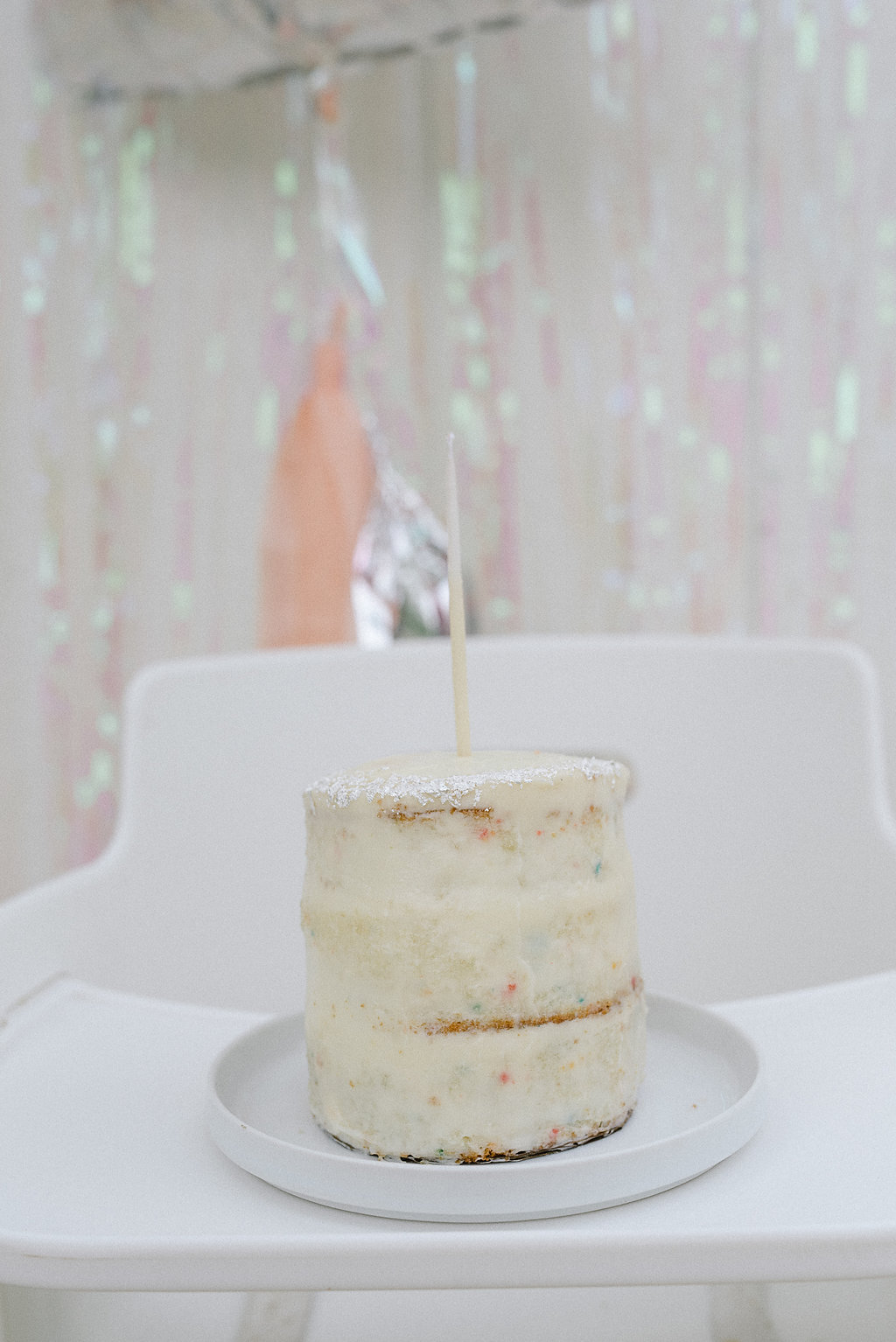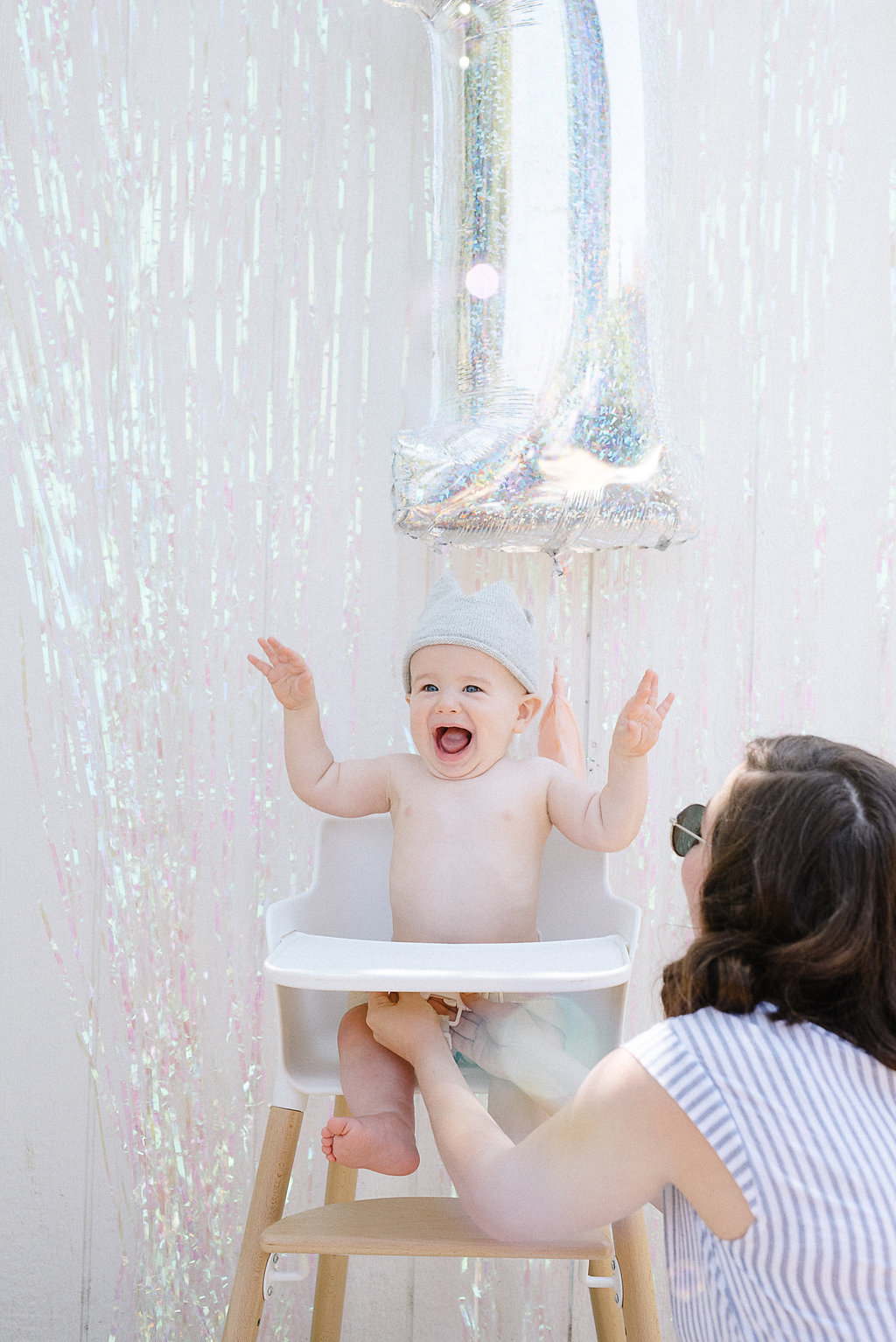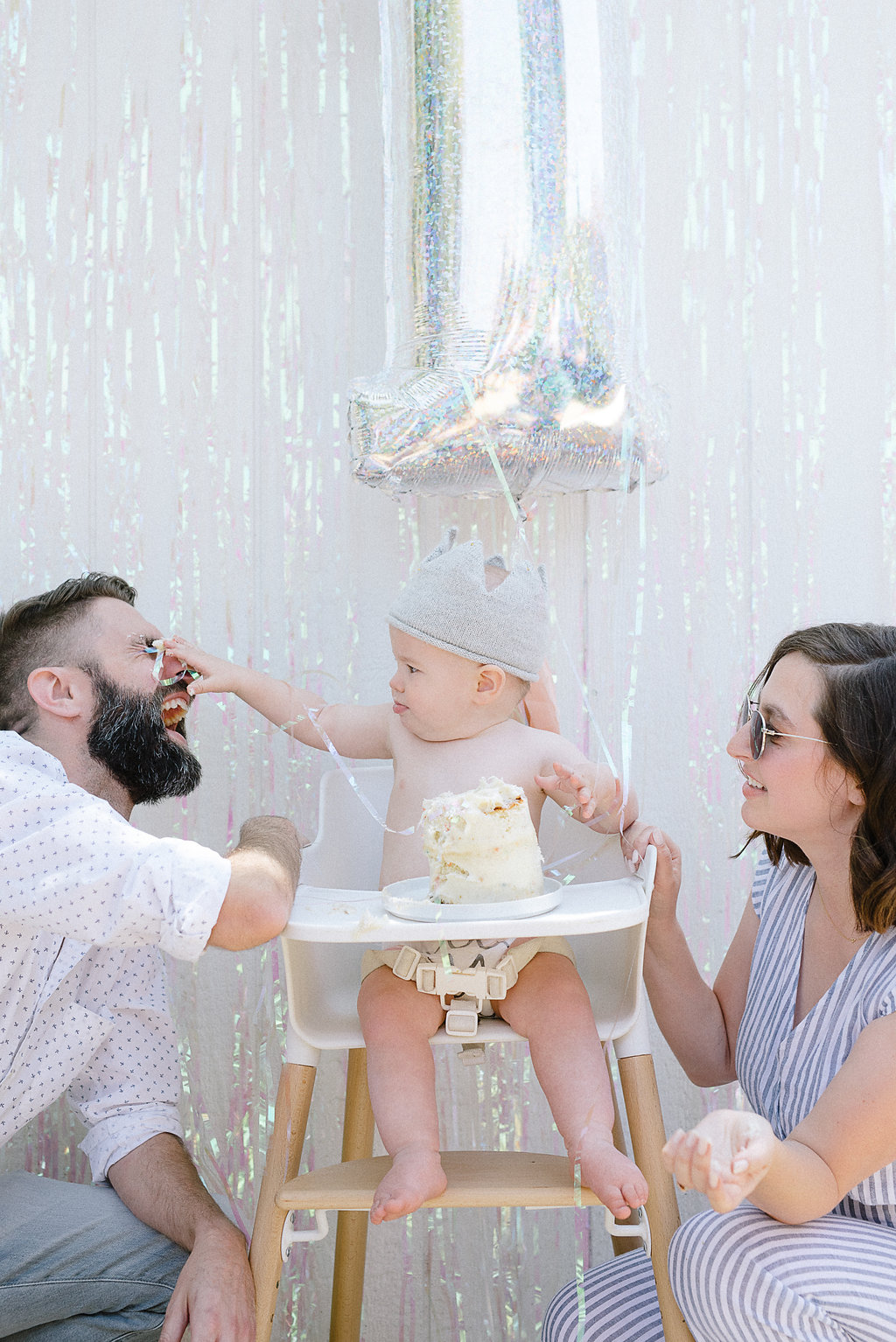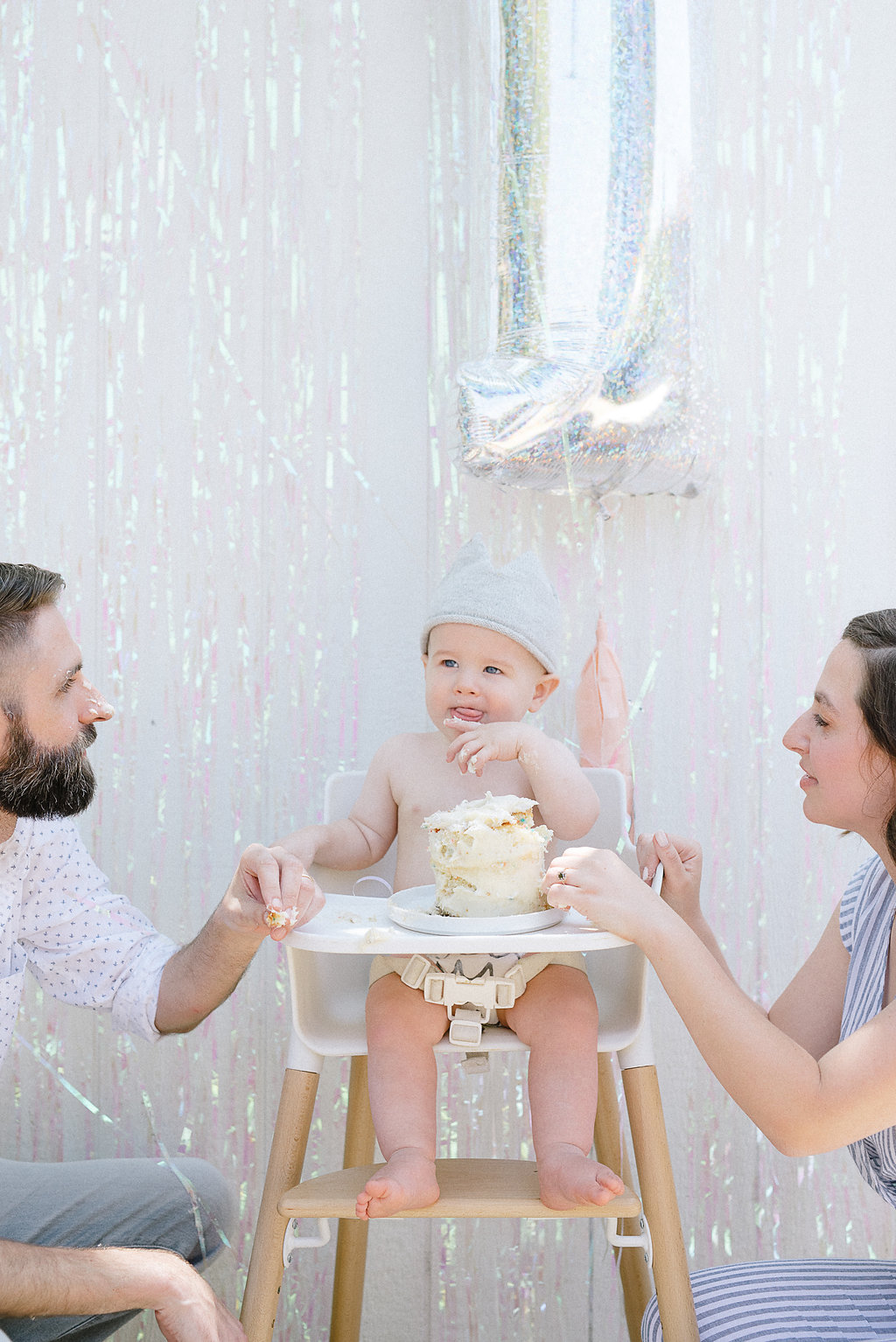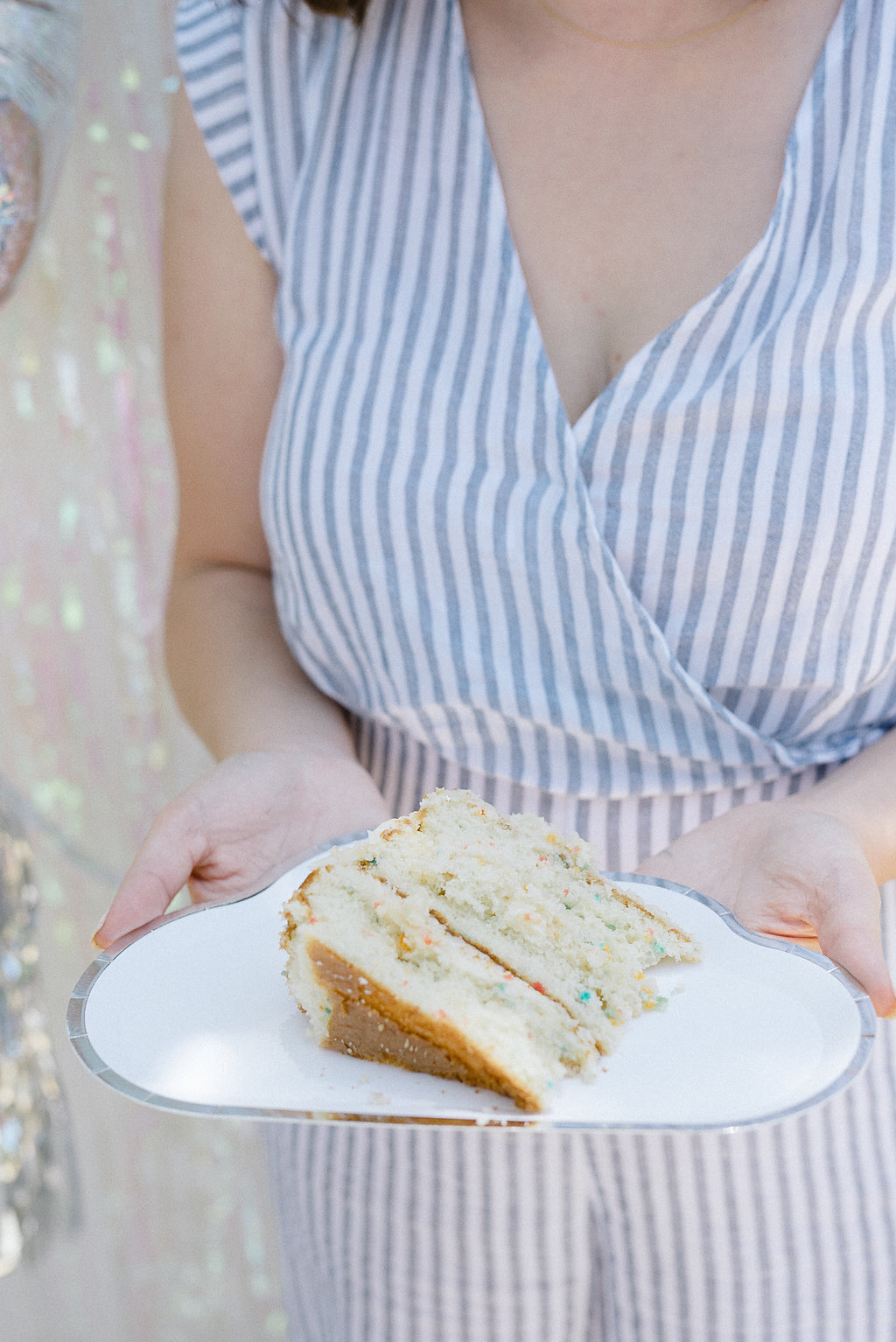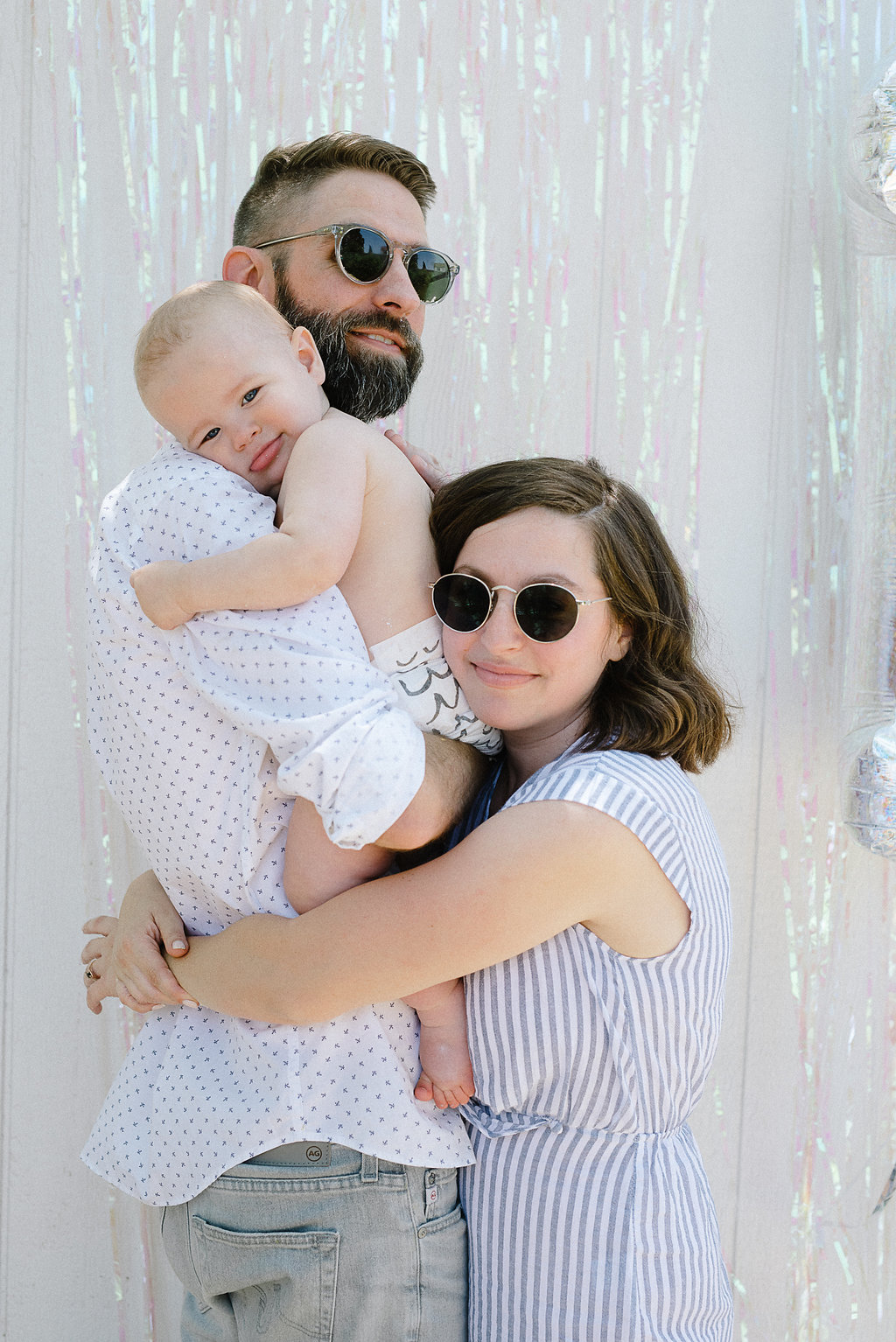 after cake, i made everyone go inside to watch the video i made for arlo. oh i also made a shrine to arlo in the hallway with engineer posters from parabo press of some of my favorite photos. i'm not obsessed you're obsessed.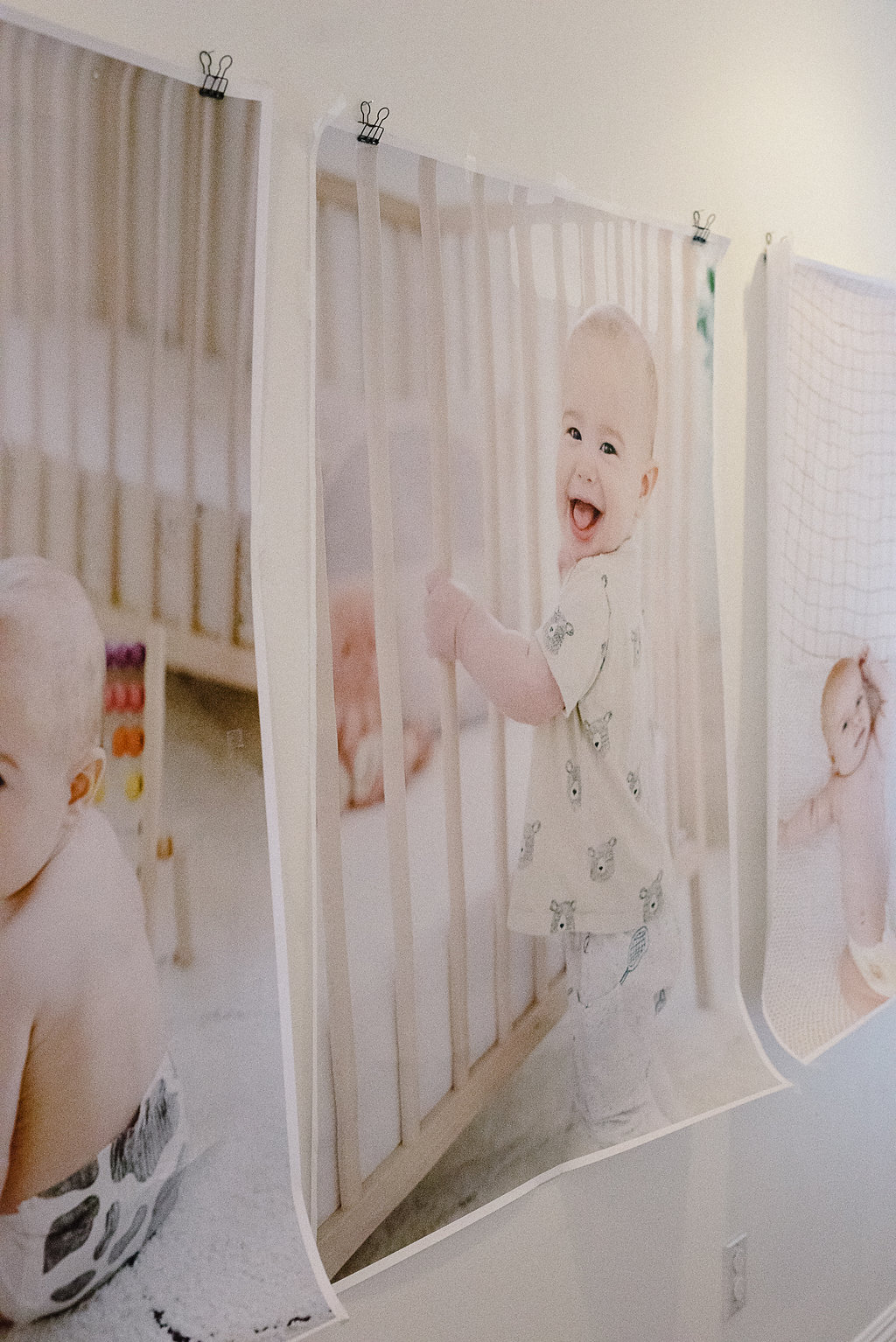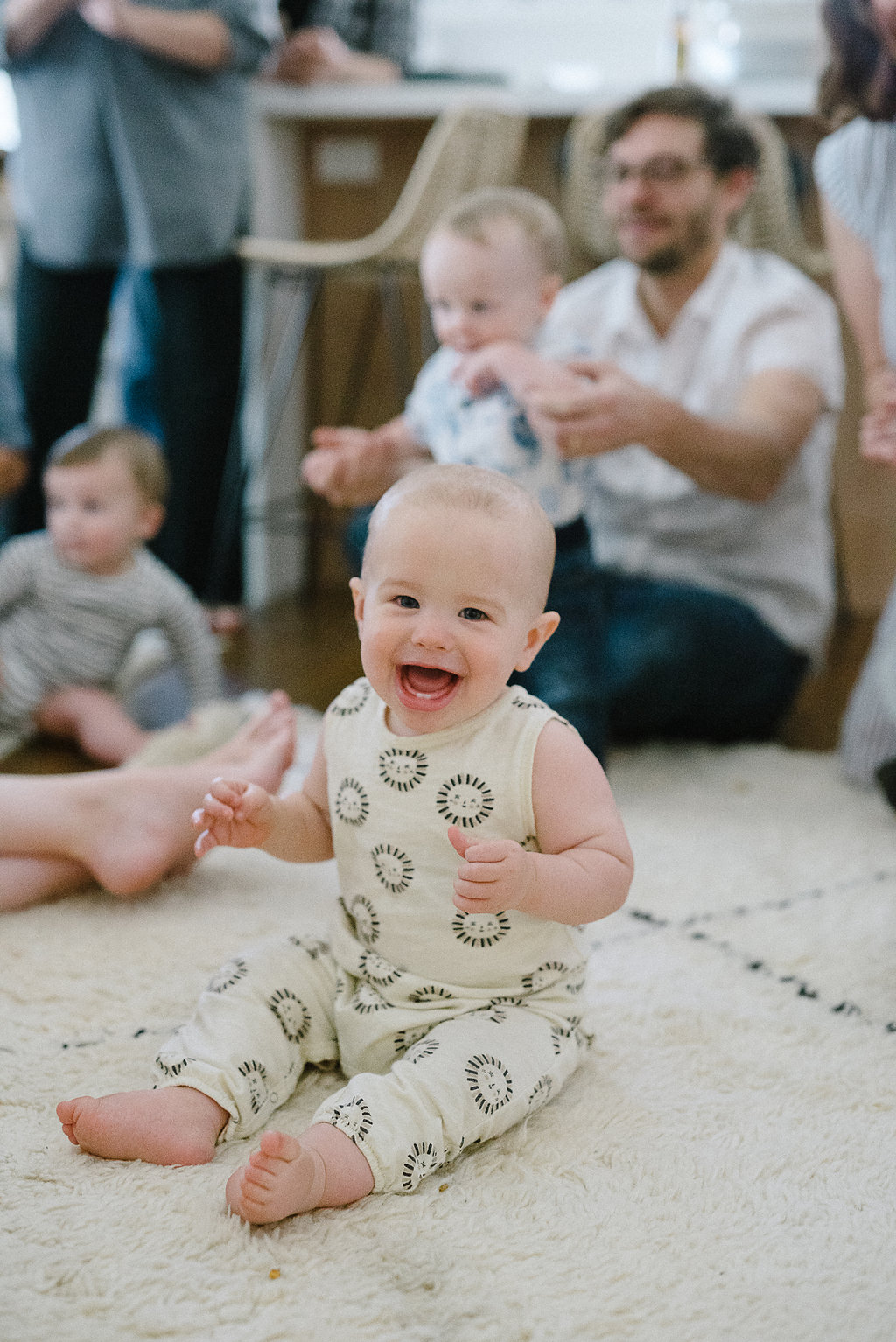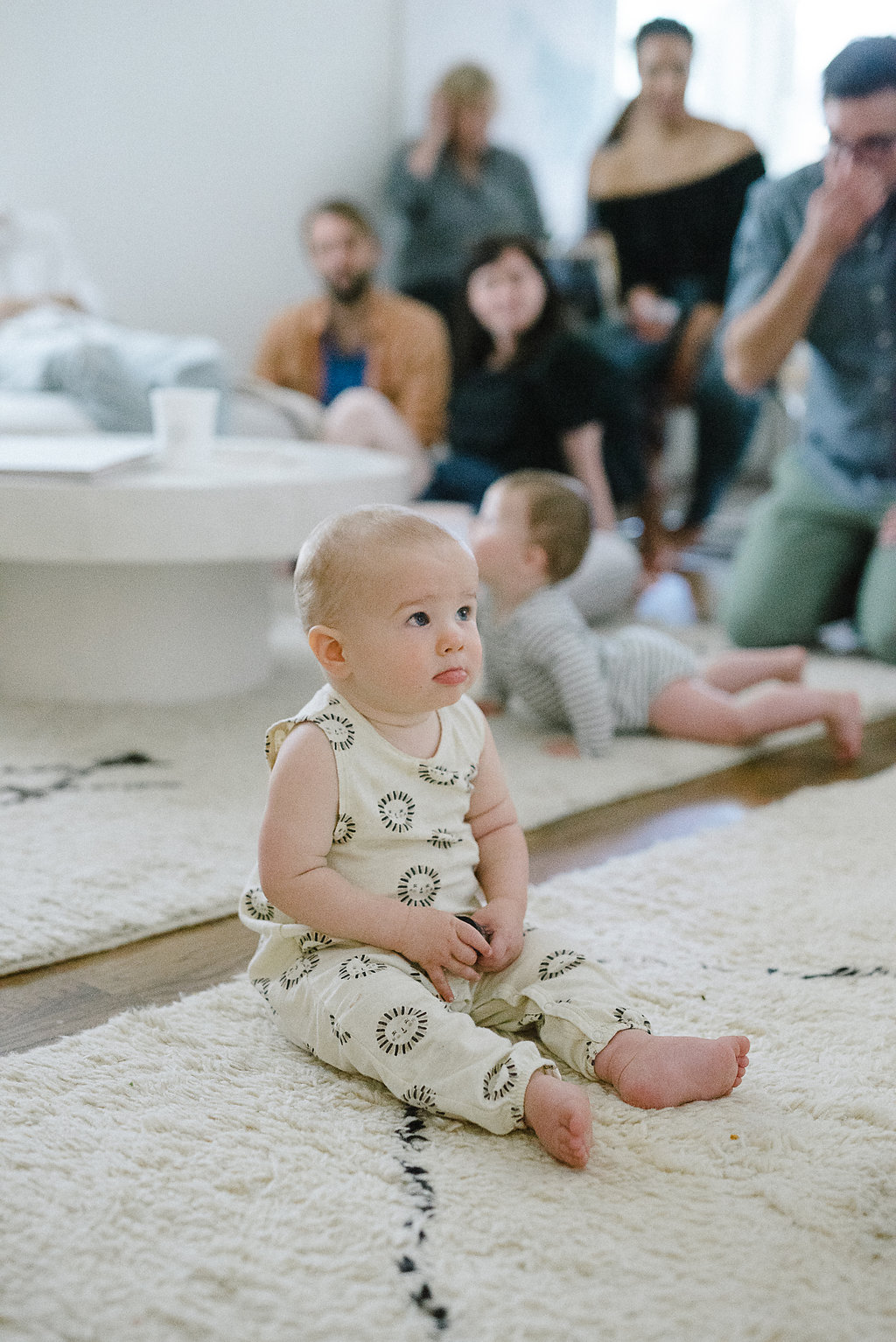 he truly loves that video and has watched it so many times. such a little narcissist!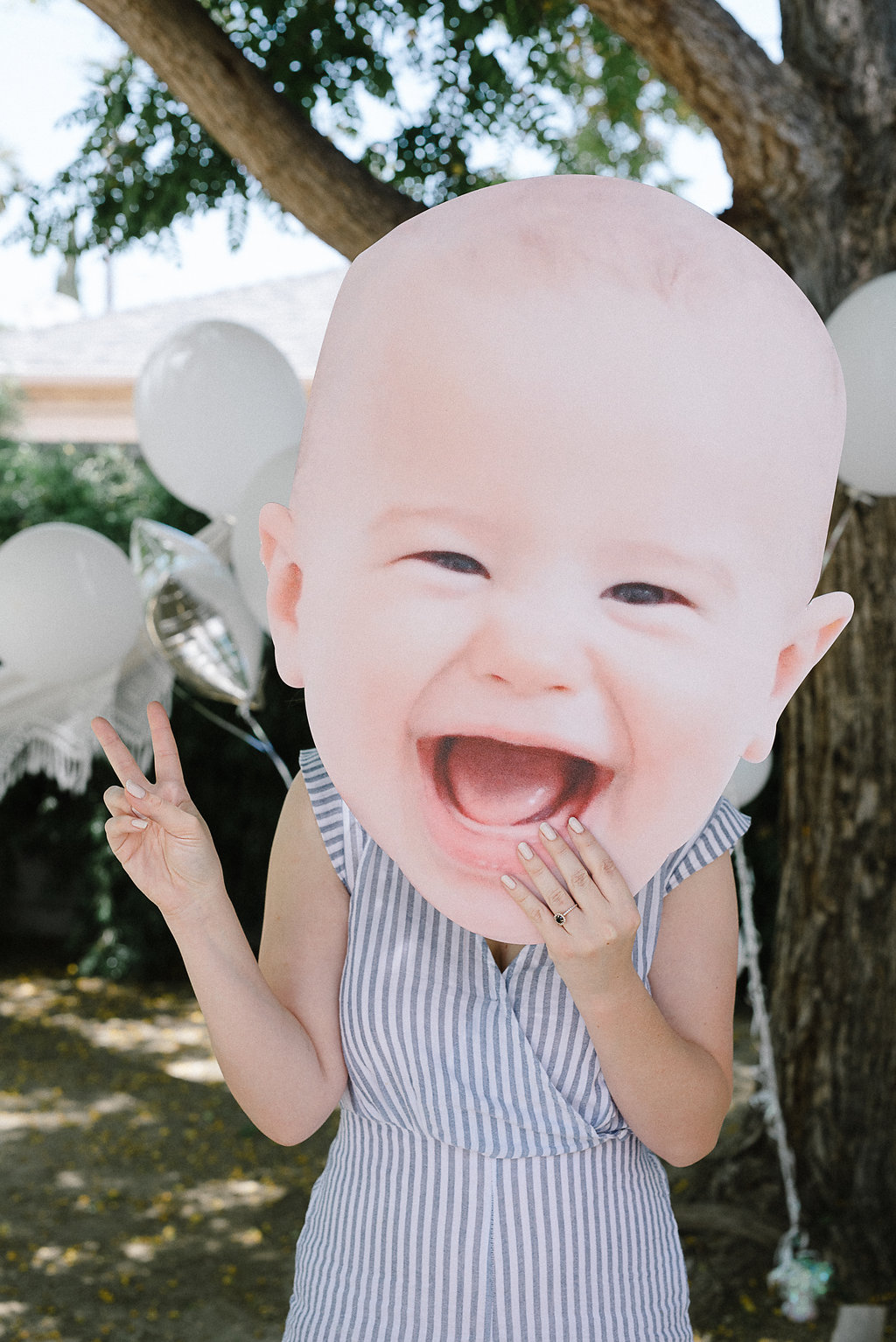 and as party favors, we made more cups with the same logo (this reminds me of 90s bar mitzvahs!) and then of course, the zillion buttons i made and we hoped everyone would grab a handful and put them in a cup to take home. unfortunately, people don't want 19 buttons so we are left with a loooot of them lol.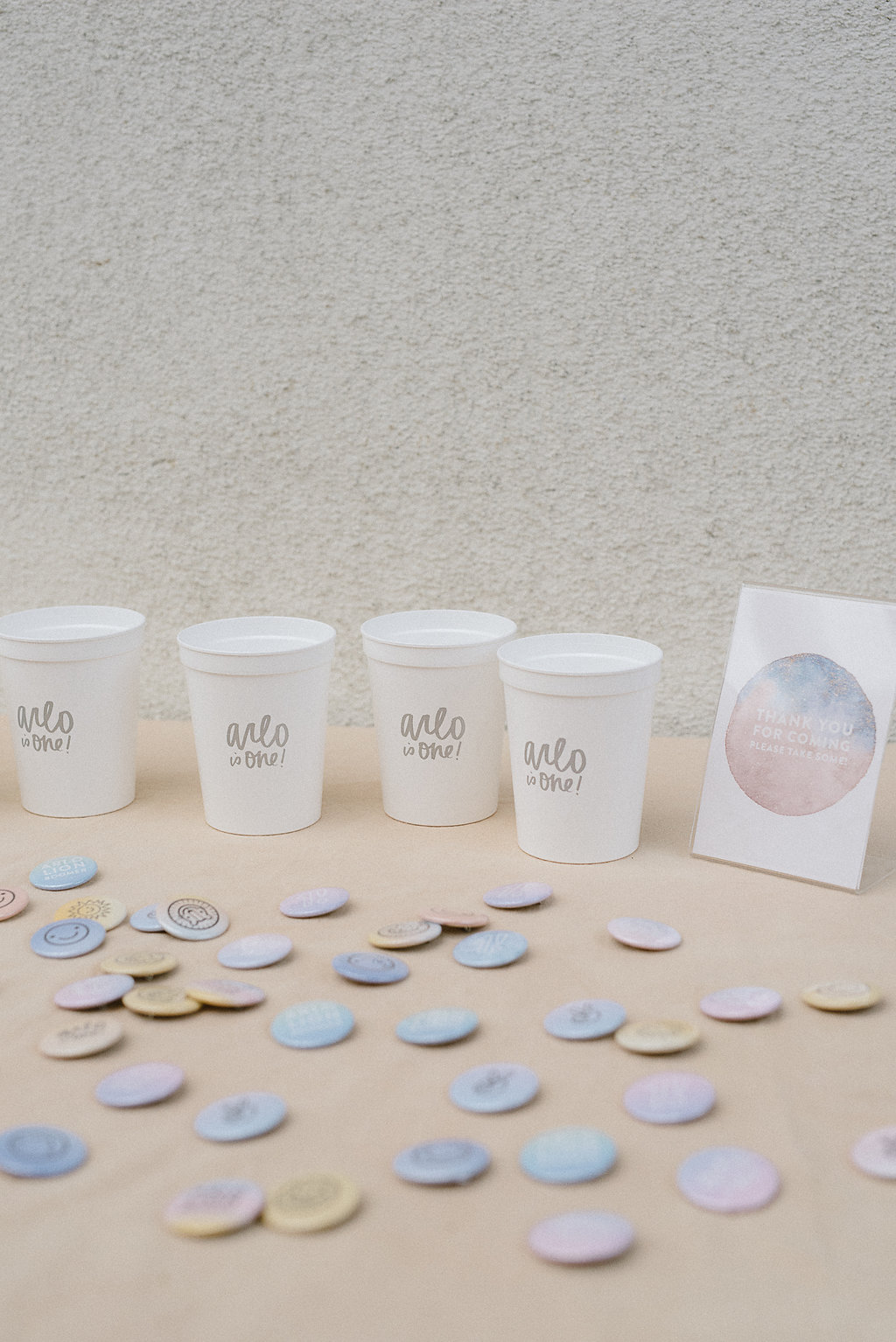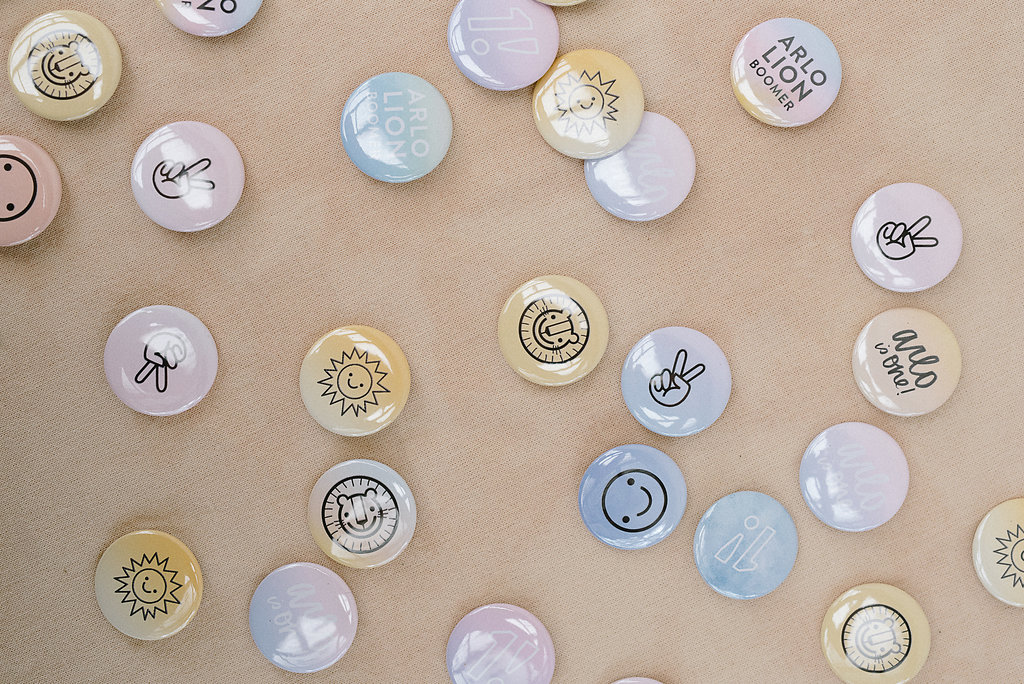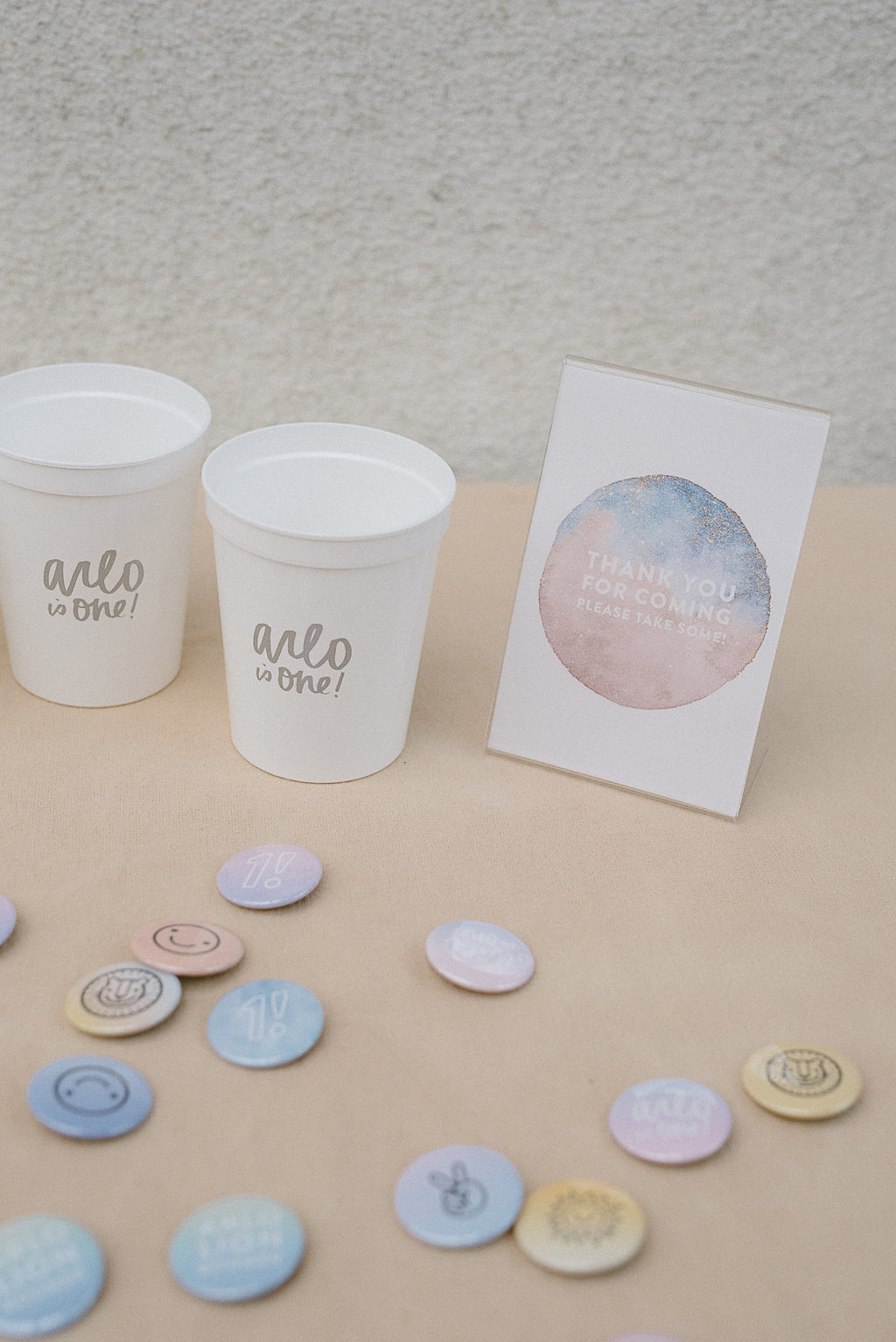 the party was so much fun. the best part is that arlo actually enjoyed himself, we were a little worried because he's clingy and not that great with lots of people but he was a little smiley angel all day.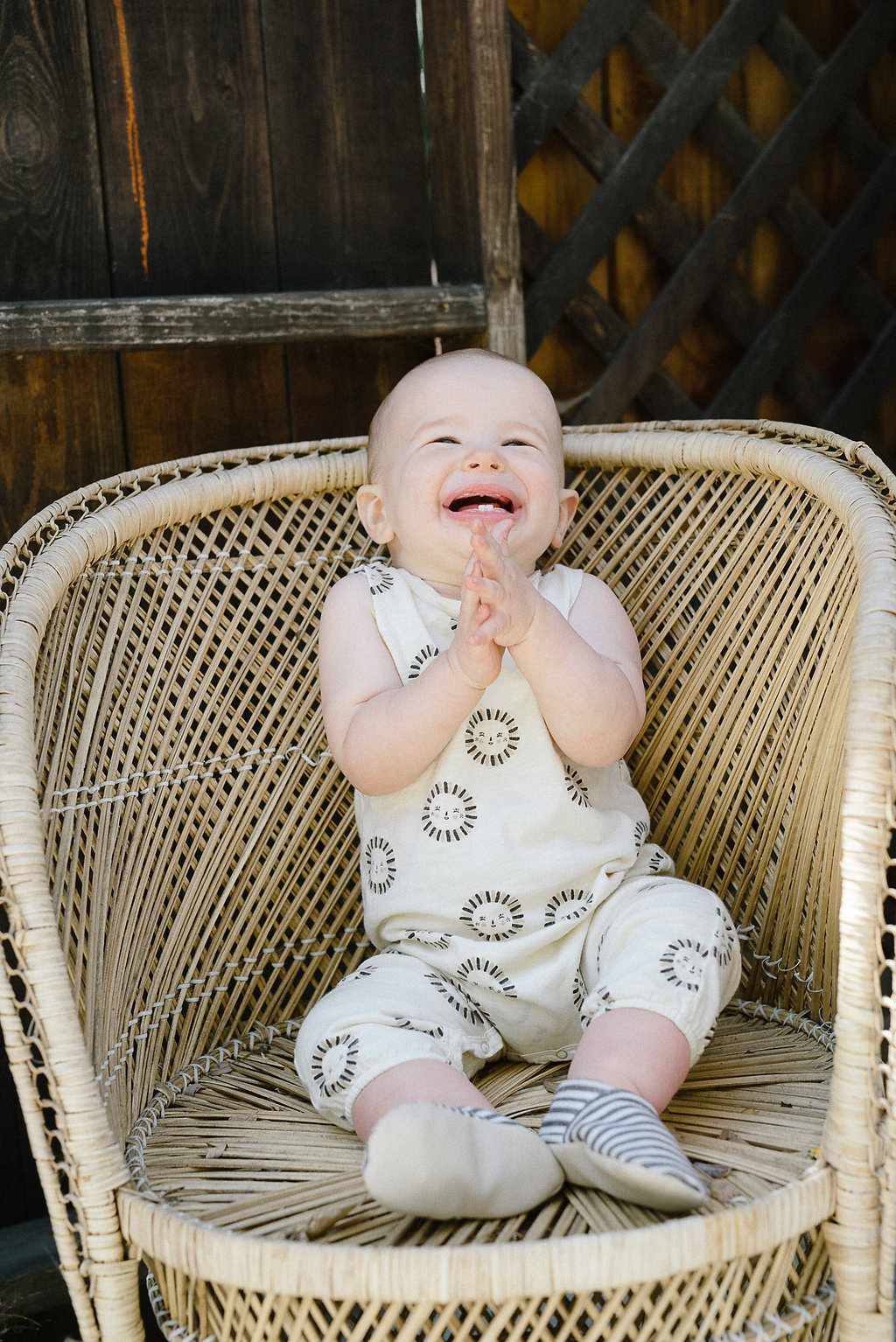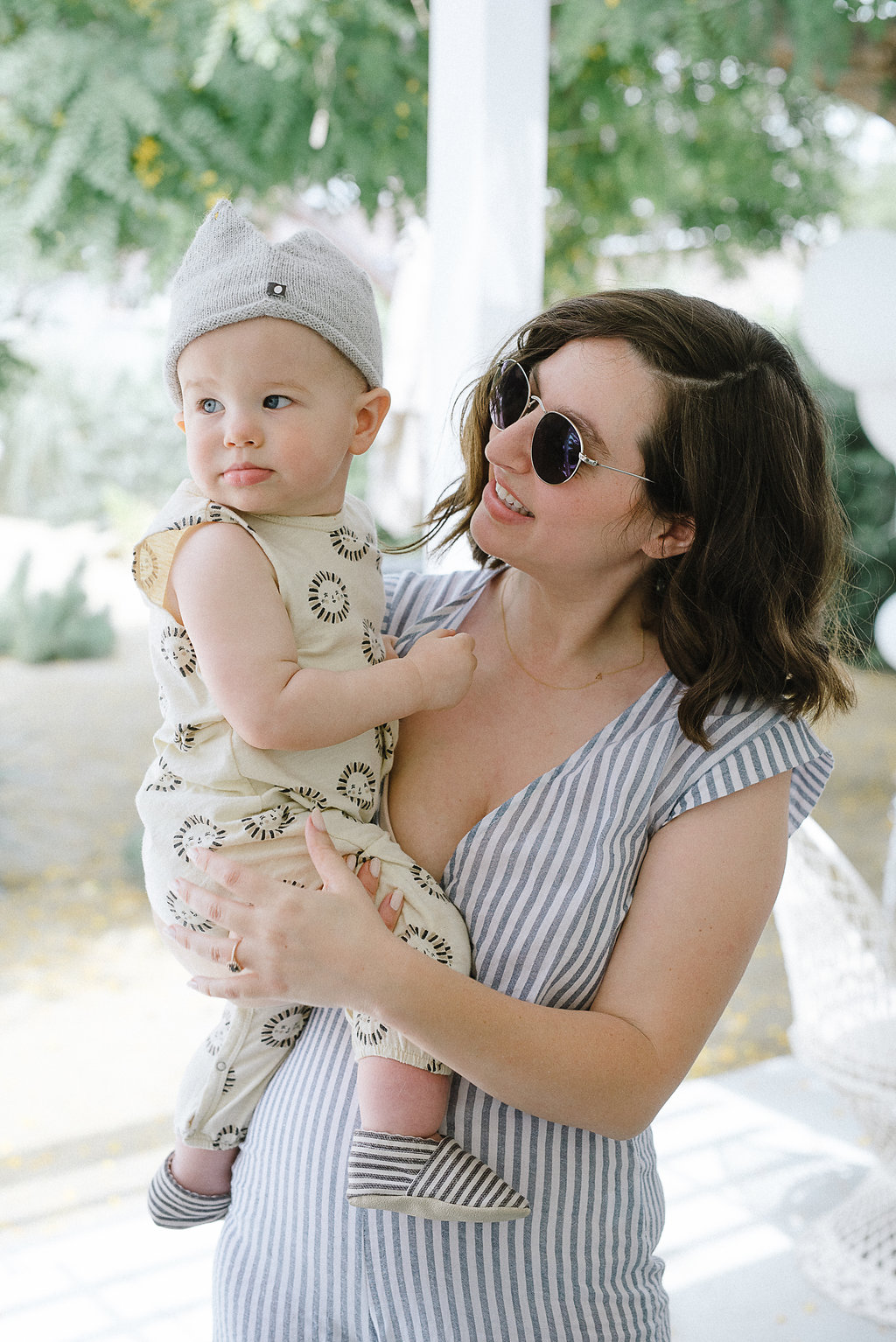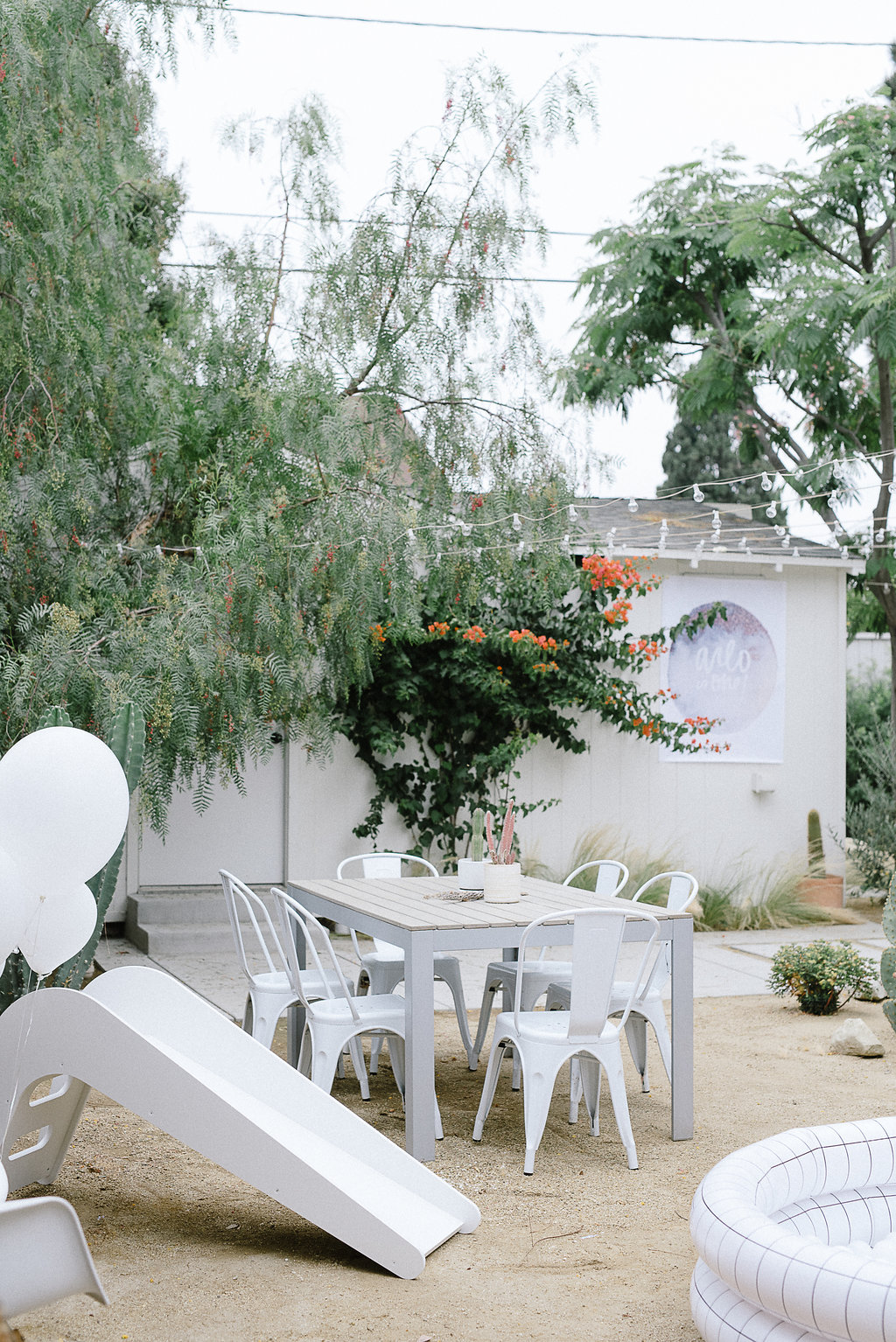 sources
outfit details