how to setup a romantic picnic (for three)
THIS POST IS IN PARTNERSHIP WITH FISHER-PRICE.
ALL OPINIONS ARE 100% MY OWN.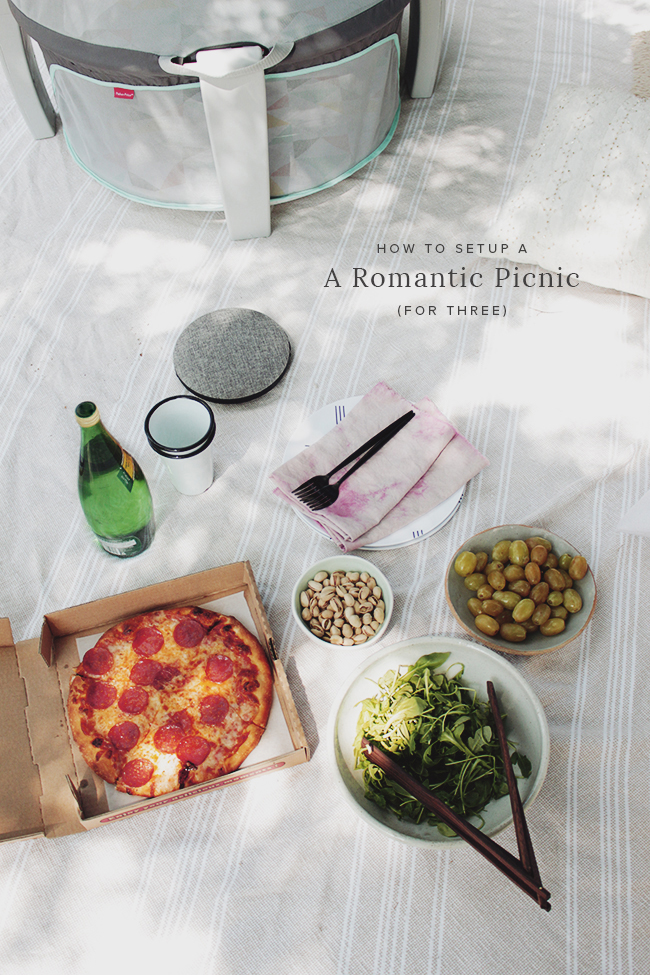 i know it'll get easier, but i've found it very hard to find any leisure time with the baby here. of course. occasionally during his naps, i'll just chill and watch TV, but usually those precious free moments are spent doing laundry, cleaning, answering emails and inhaling some food. so i look forward to weekends so much more than i ever did now — when gid is home to lighten the load of tasks, and the mood. we've been trying to spend more and more time with the baby doing things outside the house, as challenging as they are. arlo and i are cooped up so much during the week in the house that i think some fresh air is really good for both of us.
so i was so happy when fisher-price gave us their on-the-go baby dome to try, a portable play area/nap space that shields him from the sun. honestly we've totally struggled to figure out what to do with him when we're outside. we've tried wearing him and we've tried putting him in a bouncer chair under an umbrella, but it's kind of all really challenging. the dome also folds up really compact, making it super easy to just throw in your trunk. i wasn't sure if he'd actually like it because we buy him things constantly he doesn't like — but he does! so stoked.
maybe it's because we live in the valley or maybe because we're complete homebodies, but our favorite outdoor activity is to just go out to our backyard and veg. we used to sit in our kiddie pool, or have wine or coffee on the couch, sit in the hammock, eat dinner out there — all things we haven't been able to do since he got here. so i'm happy to have something to put arlo in finally while we're outside TRYING to enjoy ourselves (if he allows it).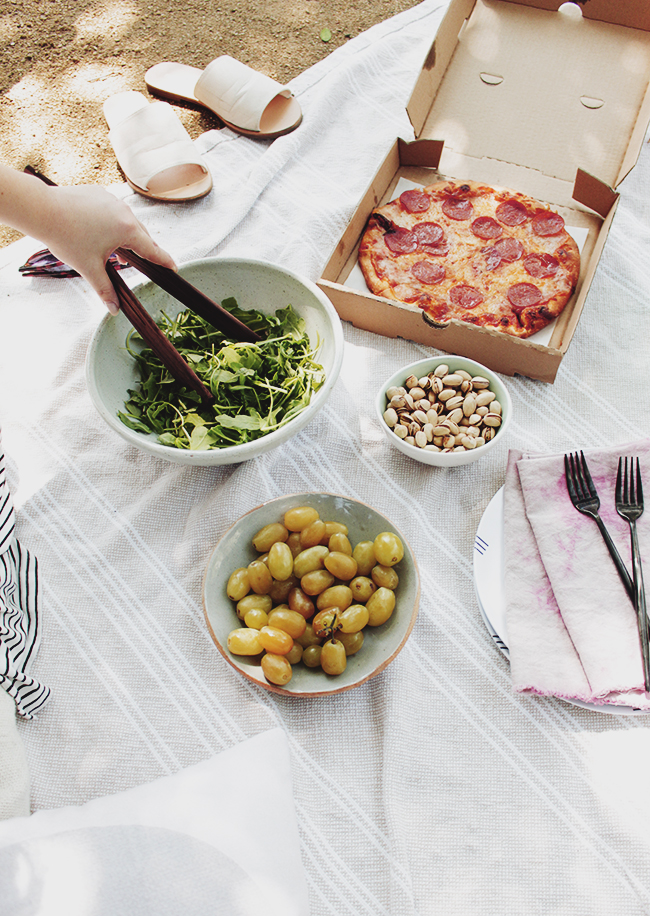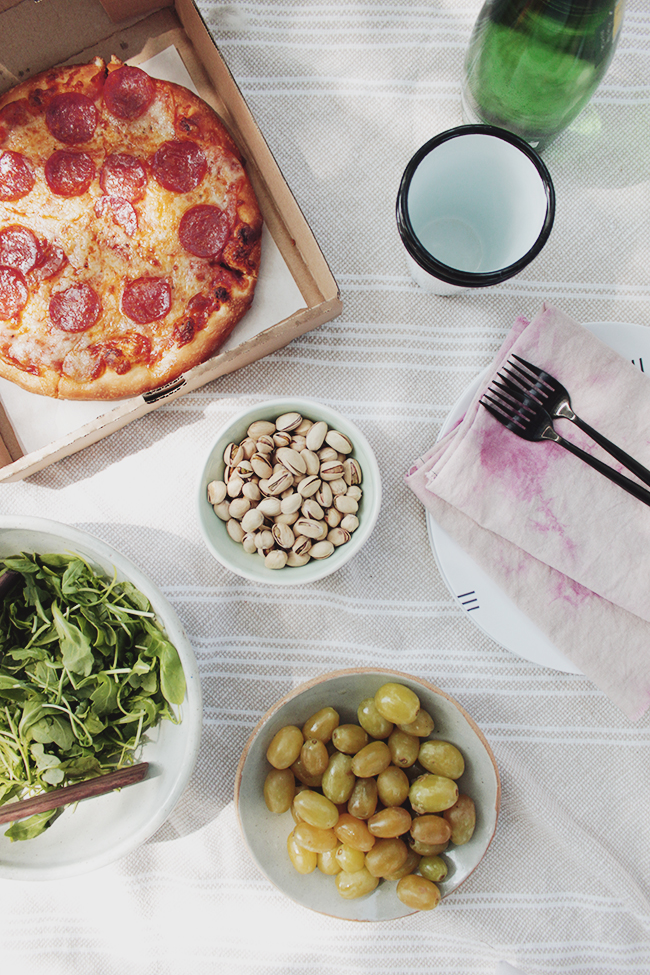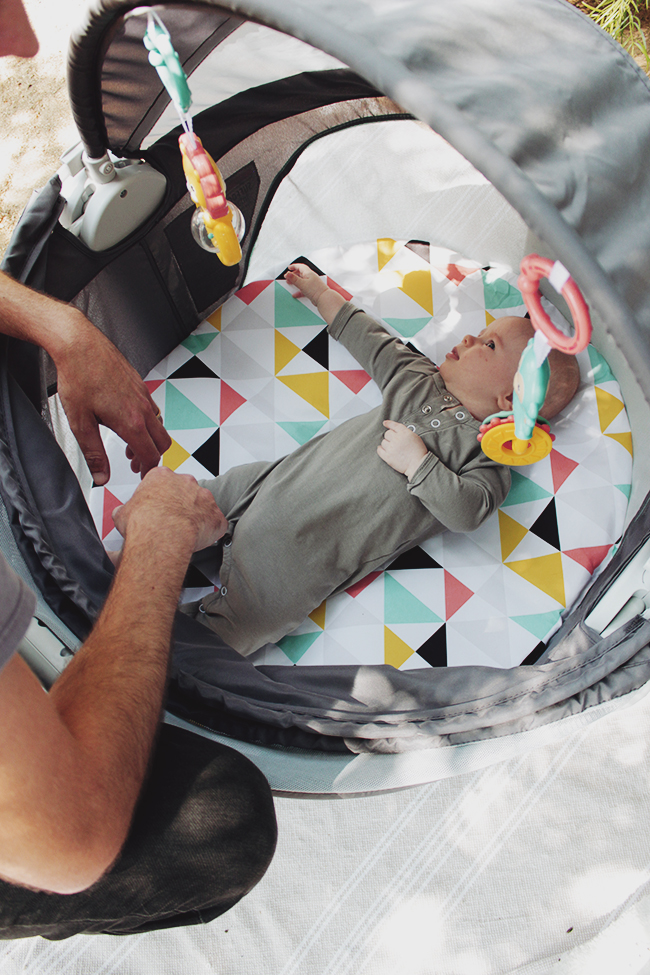 one of our favorite things to do together is just eat a smorgasbord of food, so a picnic is totally our jam, always. here are some tips for how we make it nice (as dorinda would say)…
use more than just a blanket
adding some throw pillows creates a cozier environment than just sitting on the ground, grab some throw pillows you don't mind getting dirty, and it'll make the biggest difference in the length of time your husband will last on the ground.
lighten the cooking load
my go-to method for making entertaining easier is to always, always supplement the cooking/prepping food burden with some take out or prepared foods. if you're hosting a dinner party, purchase dessert or serve some simple shrimp cocktail for an appetizer. in this case, we ordered a pizza, and then i prepared an easy salad. you can also go the standard picnic route and pick up or whip up some baguette sandwiches…

bring entertainment for you and for baby
i could not survive without bluetooth speakers, and arlo seems to like listening to music, so make a playlist from your phone and then if the baby gets extra fussy — you can use a portable speaker for playing your music if you're lucky, or all raffi all the time if you're us (what a joy to listen during your romantic picnic, but you gotta do what you gotta do). arlo was also fascinated by the bat-at-toys on the baby dome, which we also removed for him to suck on during a teething stint.
table linens fancy up paper plates
i know it's not "green", but paper plates are sooo easy during newborn life. they're also so easy during a picnic, but to make it feel a lot classier, use some cloth napkins which are much easier to toss into your picnic basket dirty and wash when you get home than plates are.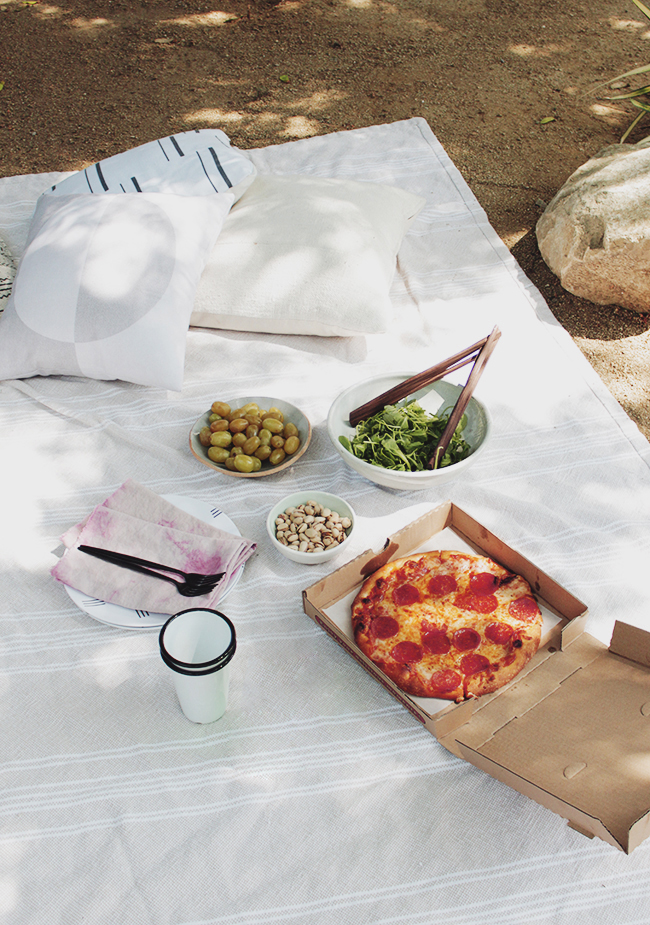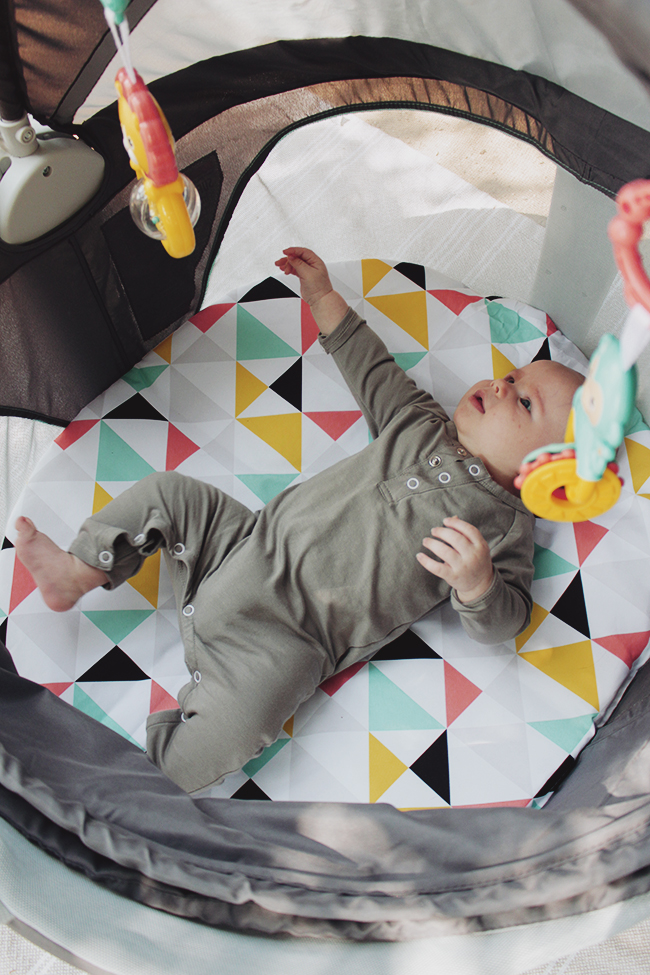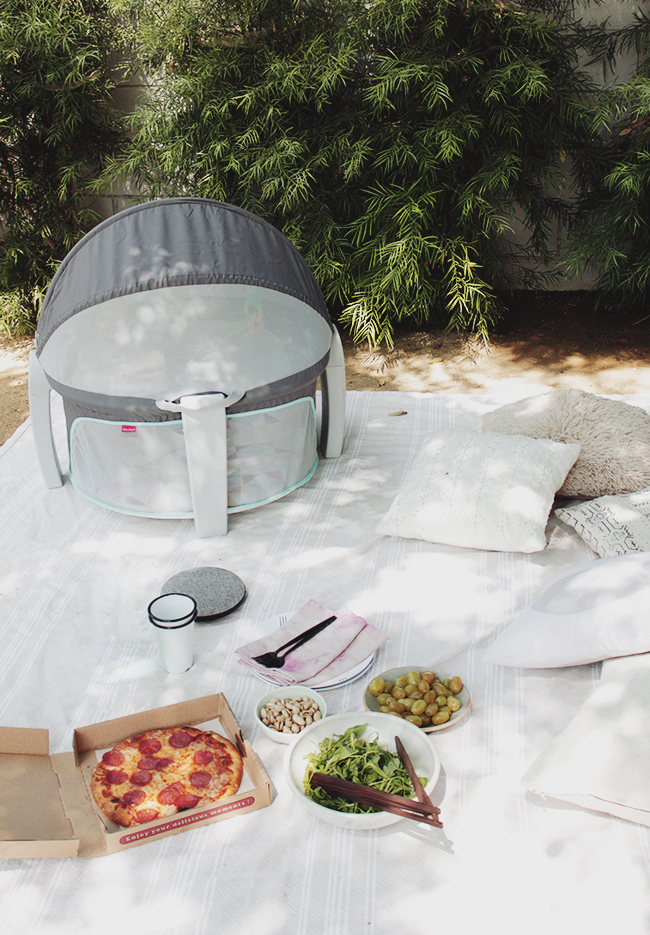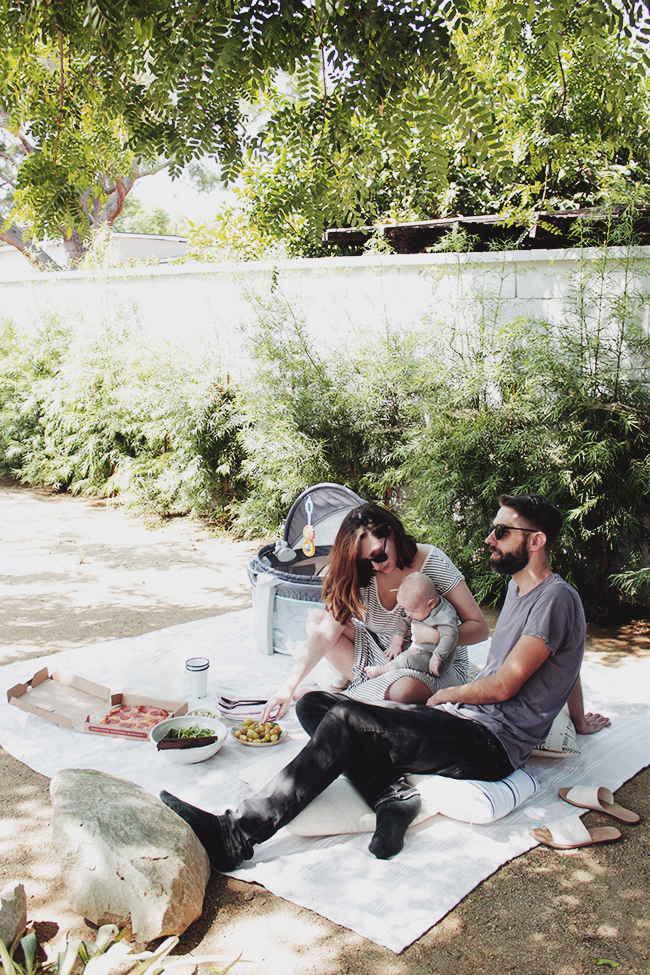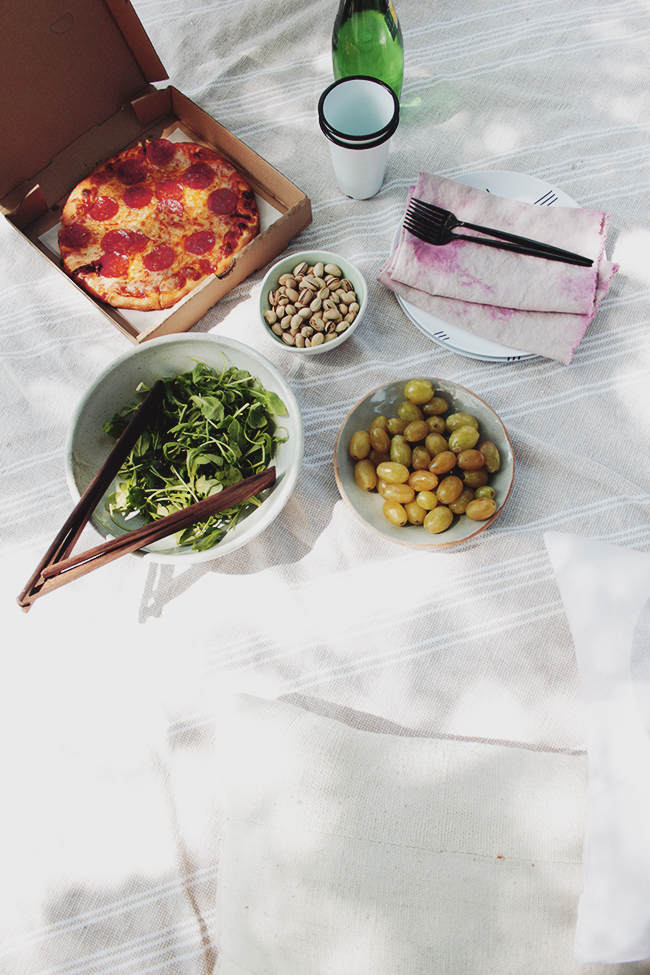 would love to know if you have any favorite tips! we're hoping to start picnic-ing way more now that arlo can be such a bummer in restaurants!