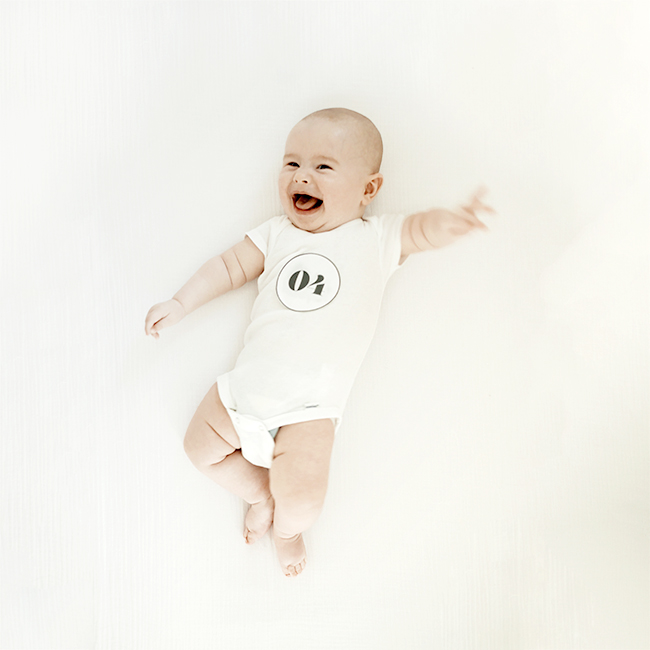 arlo has changed so much this month! he has so much personality, i mean, he always did — but now he's more like a little guy versus a little baby. no one can ever believe his age when they ask how old he is. because he's huge, but also i think because he acts older. yes i'm totally one of those moms who thinks their baby is sooo advanced. 
teething is now sadly nothing new for us, but arlo is getting way more used to it. he can chow down on both fists and way prefers it to any of his teethers (he still won't take a paci either).
he loooves standing and walking, he is definitely happiest when we're assisting him to practice taking steps and in his activity bouncer thing. makes more sense now how much he hated all the chairs, he loves being upright. he can move himself around from side to side in it, and he loves to play DJ and play music from the keyboard for me so i'll dance.
he's so big, we are gonna have to move him to the bathtub from the sink soon, and sadly out of the bassinet because his feet touch the end of both. but he LOVES bath time, he is maybe the most fun during his baths smiling and kicking and splashing, he just sucks at the part where he's wet and cold after, but i'm sure he'll get used to it someday when he's a teenager.
my wonder weeks app said that this whole month would be challenging, but he's actually been amazing. he can be very very whiny and always need attention and is basically v high maintenance always, but he's still a pretty chill baby. i think. that's what cashiers at stores say compared to other customer babies anyway.
he can sleep so well at night still, i don't think he's broken his record of 9.5 hours straight but that's way more than i can say for myself.
i hired a babysitter finally, and it's helped me sooo much (duh). and now i can clearly see that he prefers mom and dad to everyone else. the smile he gives me when she's giving him back makes my heart so full. i had to leave him for the first time this month to go back to boston for my grandmothers funeral (ps she suffered for many years with dementia so we knew it was coming), and leaving him was so heartbreaking. once i knew i couldn't take him with me though, i shortened my trip so i was gone for basically 36 hours. it was exhausting but all i could handle being away right now.
he's finally noticed the cats and thinks they're super funny. but no one is as funny as daddy, who is basically the only one who can get him to do his little squeaky giggles, which i can't wait for him to start doing more and more. the funny bits we come up with only last a day or two, shouldn't there be a daily youtube video of bit ideas for babies? i need it!
he is just the cutest thing ever. his squishy rolls and his huge gummy smile and his big blue eyes all kill me. and the way he's started to stare at me and shoot me this big flirty smile makes me feel soooo mushy inside.