honeymooning — i need help!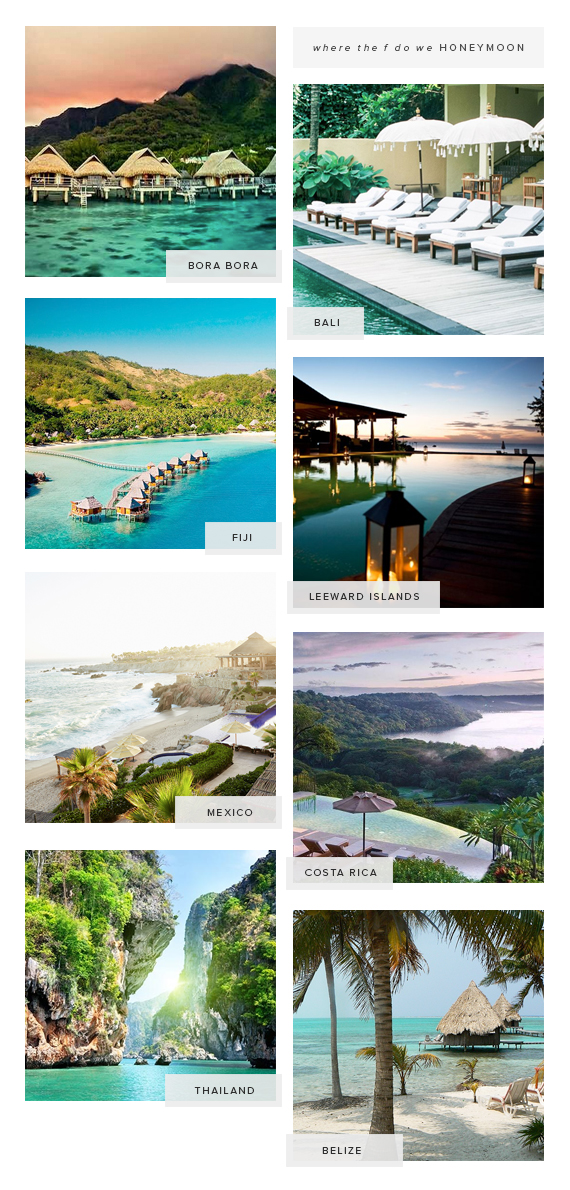 when's a better time to do a wanderlust post than a monday!? we're just starting to focus on just choosing a honeymoon destination and i seriously need advice. it's just too hard to decide.
greece and paris were my top bucket list destinations and i luckily got to check them off the list with gideon, and while if i were honeymooning by myself, i'd go somewhere obvious like spain or italy. but the boy wants to do a "barefoot luxury" trip, where we don't do a whole bunch of sightseeing and mostly focus on relaxing, swimming and eating. at first i said ugh, but then i decided i liked the idea — because we've done a lot of sightseeing, and we always spend all day out, and by nighttime i'm exhausted and we barely get… romantic. so i guess we should do a honeymoon where we have sex. right?
we'd love to find an amazing all-inclusive or a hotel with multiple restaurants, so we don't have to worry about leaving and i can pig out the whole time. but we're also pretty picky when it comes to hotels, we always prefer well designed boutique ones. finding both seems hard. we also talked about doing a week of relaxing somewhere like italy and then sightseeing for a week — but realized it'll be a little cold for us in october.
click on the location for the image source.
bora bora // we would LOVE to stay on an overwater hut. doesn't get more romantic than that — but it seems like all-inclusives don't exist and prices are pretty high in tahiti
bali // while it looks amazing, i've spoken to two people who have spent time there and we're not sure we want to deal with all the cons that come with traveling there – bugs, the water… have you heard of bali belly? is it worth dealing with all that?
fiji // dreams of going here bring up the memories of when i was a kid and i thought fiji water was the greatest thing on earth and i would tell my dad i was going to fiji someday. what a dork. it does seem like a more affordable version of bora bora, but we've had a hard time finding hotels that are actually affordable (we've been seeing prices like 2k/night!!) and also — they have sharks there i think. and i am afraid of sharks unfortunately. i don't go in the ocean for the most part because of this but i wanted to on the honeymoon.
leeward islands // i've heard these are actually the most beautiful islands, but underrated compared to tahiti and fiji. anguilla looks amazing. anyone been!?
mexico // i've been to mexico a lot, so at first was against it. but it does seem like you get a lot more for your money. and we love mexican food.
costa rica // the only active things we've talked about doing are rafting, ziplining and snorkeling. we could do those so hard in costa rica.
thailand // of all the places we've chosen, thailand (and also vietnam) seem like the ones i'd be the most into sightseeing so i feel a tiny bit adamant that it would make a better trip later on. when i can GO HARD. but it does look spectacular and super romantic. i need advice on this one.
belize // i love the caves and the idea of rafting here, but have heard a lot less about it than the islands. they do have the over the water huts i love.
so, where did you honeymoon? or where did you travel that was the best ever? or which of these places sounds the best?!
we want to make a decision so we can check it off the list (just like everything else) so please advise! i'd love all the tips i can get.
(and sorry for the super long post – it seems i have a lot to say)