eating this: chocolate chess pie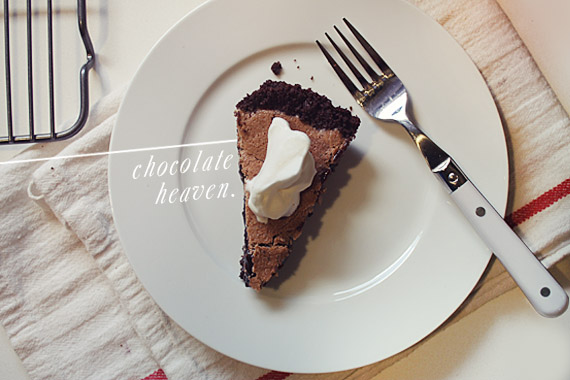 Ever since trying out this recipe, this has been my favorite chocolate indulgence. And everyones that I've ever made it for. It's like the richest, fudgiest brownie ever. And the best part – it's a no fail recipe.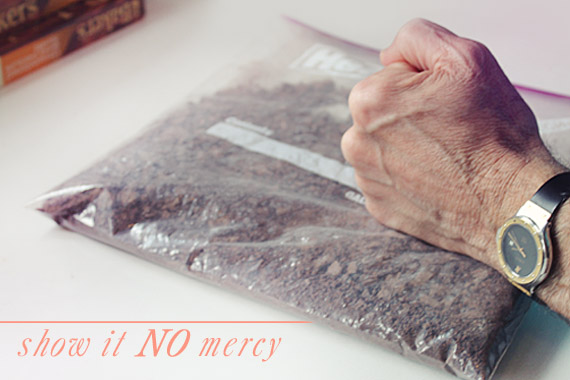 My chocolate-obsessed dad was visiting town so I wanted to make it with him. I had him do the labor intensive job of smashing up the chocolate graham crackers for the crust.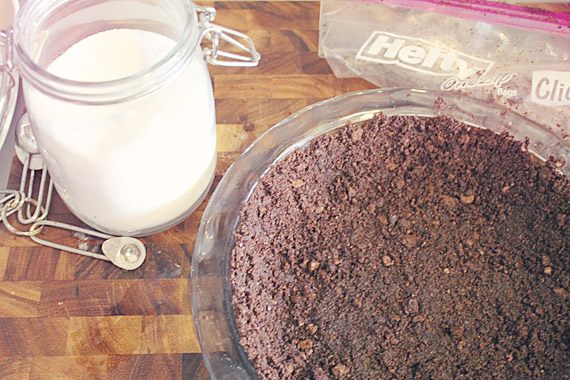 A quick warning about this recipe is that most grocery stores around me have seemed to stop carrying chocolate graham crackers. I noticed this a few months ago when I made it for a dinner party, we drove to four stores trying to find them, and were told by everyone that they were discontinued. We used chocolate teddy grahams for that version (WHICH WAS MUCH HARDER!) Weeks later, my boyfriend came home from the store with 4 boxes of chocolate graham crackers he found at Pavilions (Vons/Safeway). Safeway store brand seems to be the only one still in production.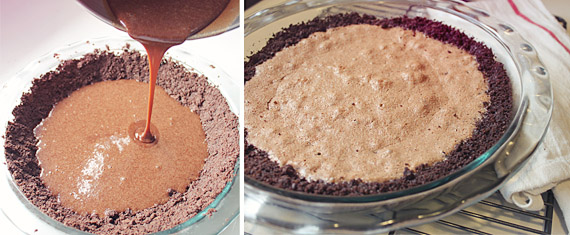 Chocolate Chess Pie
(adapted from the Kitchn)
The recipe is originally for a 9 inch pie pan, but I like to use my 9.5 version because it's the easiest for cutting out the slices. So I make extra pie crust and then we cut the top of it off when it's done cooking. (I'd rather have too much crust than too little)
for the crust
1 ½ sleeves chocolate graham crackers
1 ½ stick butter, melted
1 tablespoon sugar
for the filling
1 stick butter
1 (1 oz) square of unsweetened chocolate
1 cup sugar
2 eggs, lightly beaten
1 tsp vanilla extract
¼ teaspoon kosher salt
Preheat the oven to 350°. To make the crust, place the graham crackers into a large ziploc bag. Now smash! You can use instruments such as a rolling pin or you can just make a man smash it with his hands. Once it's powdery, add the melted butter and sugar and mix until well combined. Press into the pie pan and cook for 8 minutes. Remove from oven and chill for an hour until crunchy and firm.
Now heat the oven to 325°. To make the filling, heat the chocolate and butter in a saucepan until melted and smooth. Remove from burner and transfer to a mixer, add sugar and mix until well combined. Stir in the lightly beaten eggs, vanilla, and salt. Pour into the pie crust and cook for 40-45 minutes until the center is just set. I normally cook for about 42. I like it gooey.
Remove pie from the oven, and let cool for 20-30 minutes. Keep at room temperature and serve with freshly whipped cream (which I make while I'm waiting ANXIOUSLY for the pie to cool!)