holiday gift guide : for the homebody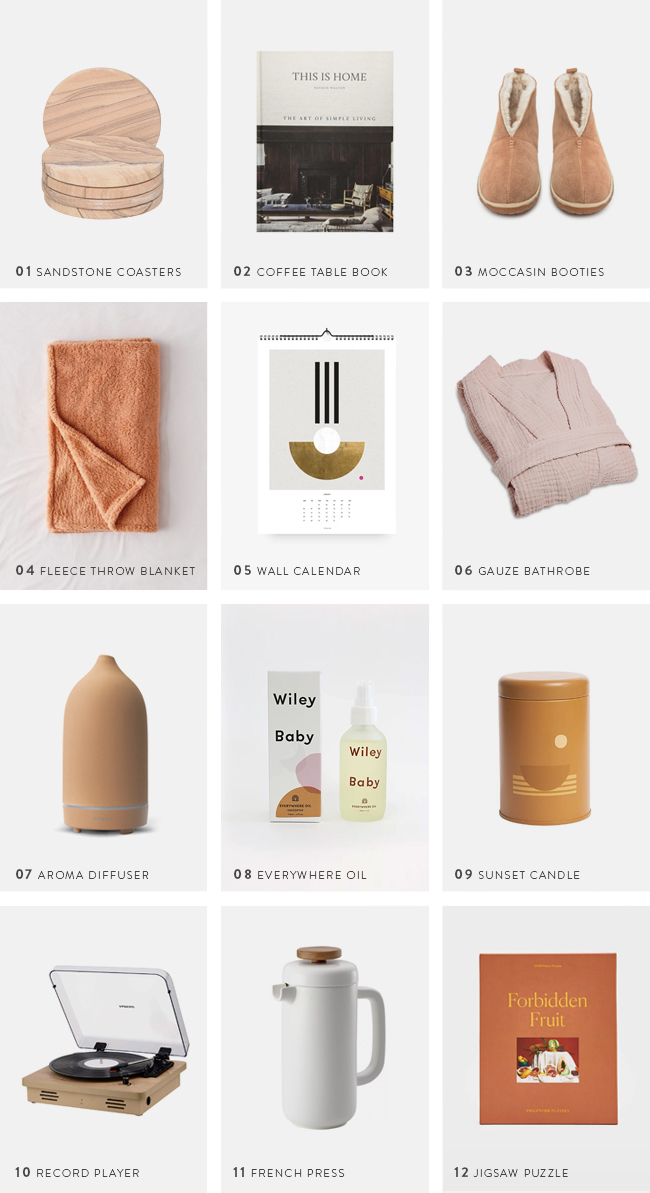 my favorite gift guide because as you know if you follow me on IG stories, we like never leave the house haha. some real cozy things for all the cozy enthusiasts in your life!01. i have so many sets of coasters in my house and yet i don't have enough ever lol
02. no fail pretty coffee table and bonus points for it being about cozy living
03. these booties looked so cozy i just bought them for myself oops.
04. this is the throw blanket we use on our sofa, we are OBSESSED. it is sooooo incredibly cozy and comes in a ton of colors
05. a really beautifully designed wall calendar that doubles as art
06. i love a gauzy fabric so what's better than a gauzy robe!?
07. because if they're gonna never leave their home they'll need it smell good with a diffuser, OBV.
08. i am not an oil person, but i've been using this wiley body oil on my hands and face every night and my skin is so much less dry and chapped than it usually is in the winter!!
09. pf candle co's new candle collection is so pretty (and you could reuse the tins for storage later)
10. i feel like record players are so 10 years ago because i haven't used one in 10 years lol– but i get asked for cute ones and this one is cute and inexpensive!
11. a handsome french press— you can never go wrong.
12. for the ultimate relaxer, a hip puzzle like this is so perfect.