eating this : valentine's day strawberry cupcakes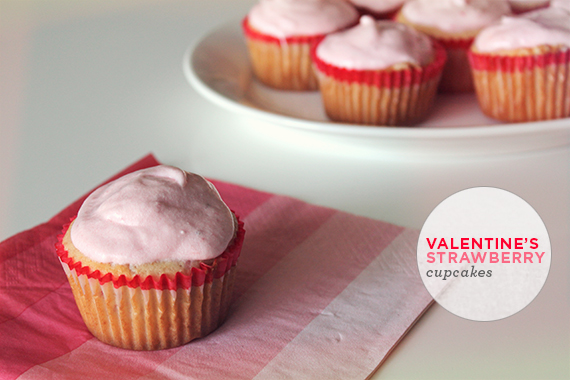 people love getting valentines. but they probably like eating even better. give someone you like a cupcake and they'll be super nice, promise.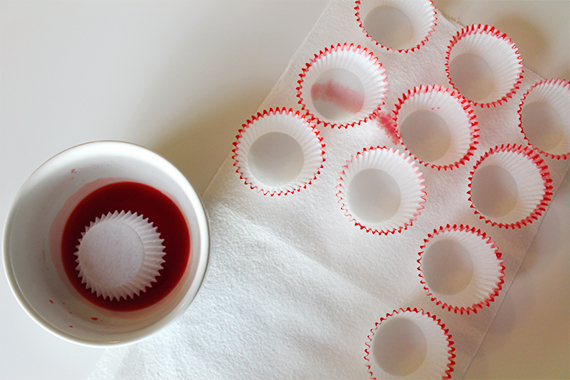 i saw this pin and was like oh man yes – trying that right now. and i did. and it worked! put some food coloring in a bowl, dip white cupcake liners into the food coloring for 10 seconds or so, let dry, you have custom cupcake liners. oh man yes.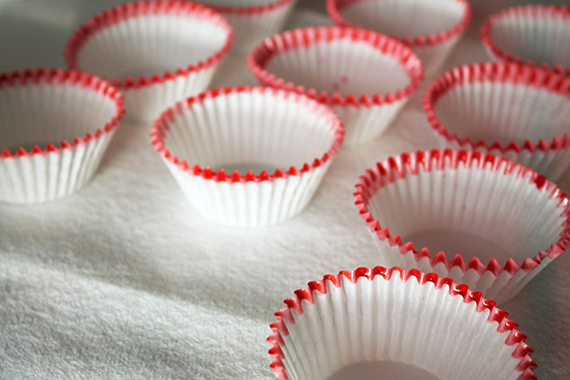 THEY'RE PINK!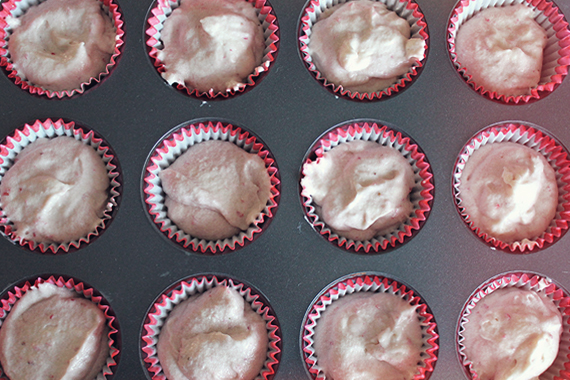 STRAWBERRY CUPCAKES
(from martha stewart)
*i halved the original recipe and pureed the strawberries. i'm not part of bake sale.
3/4 cup all-purpose flour
3/4 cup cake flour (not self-rising
3 tsp baking powder
1/2 tsp salt
1 stick unsalted butter, room temp
3/4 cup plus 2 tb sugar
2 large eggs
1 tsp pure vanilla extract
1/2 cup plus 2 tb milk
5 ounces strawberries, stems chopped and pureed
preheat oven to 350. line a cupcake pan with your beautiful paper liners. set aside.
rinse, chop, and puree your strawberries in a food processor.
in a medium bowl, sift together flours, baking powder, and salt. set aside.
in a mixer with the paddle attachment, beat the butter and sugar until light and fluffy, 3 to 4 minutes, scraping down the sides of the bowl as needed. beat in eggs, one at a time, and then beat in vanilla. with the mixer on low speed, add the flour mixture in three parts, alternating with the milk and beginning and ending with the flour; beat until combined after each addition. fold in strawberries.
divide the batter evenly among the cups to about two-thirds full. bake for about 20 minutes, until they're golden brown and a toothpick comes out clean in the center. transfer to a wire rack to cool for 5 minutes. remove cupcakes from pan and cool completely on wire rack.
STRAWBERRY CREAM CHEESE FROSTING
(from food.com)
*the frosting tastes really good, but is a tad runny. refrigerate for a few hours and it solidifies up.
5 1/3 ounces cream cheese, softened
1/4 cup butter, softened
2 – 2 1/3 cups powdered sugar
1/3 cup pureed strawberries
red food coloring
blend together the cream cheese and butter using an electric mixer on low speed until combined, about 30 seconds.
add 2 cups powdered sugar, gradually, and the strawberries; blend frosting again on low speed until the sugar is incorporated, 1 minute.
increase mixer speed to medium and blend frosting until fluffy, 30-45 seconds more, adding up to 1/2 cup more sugar and food coloring to make desired spreading consistency.