diy leather handled cutting board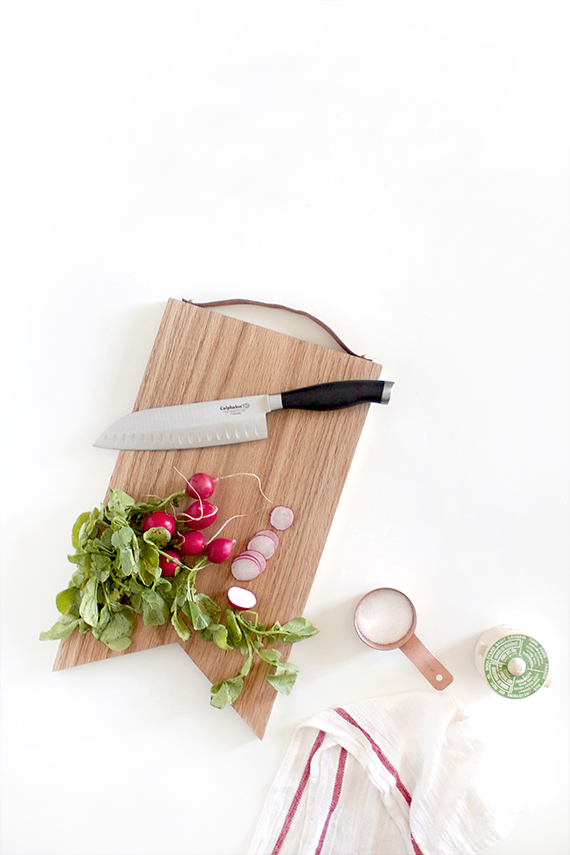 now that we've started using my stepdads tools for projects, all i want to do is wood projects. so sorry for them not being the simplest if you don't have a saw, but don't worry because next weeks project is BEYOND easy. to make your own cutting board, you essentially just need some wood and mineral oil. they say that certain types of wood are better for food, and others are more prone to bacteria — and i'm no expert, but i say just cover the thing in food safe mineral oil and you're probably fine. but i live life on the edge clearly.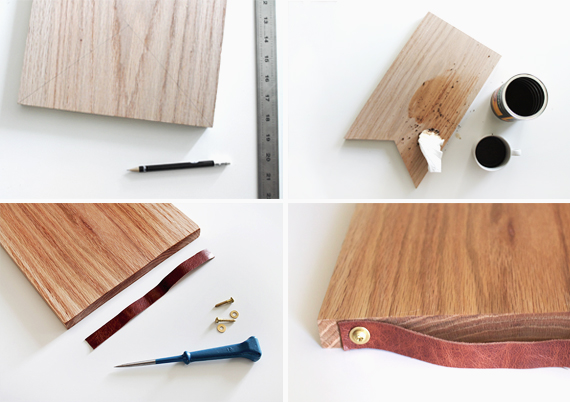 materials
a piece of wood
sand paper
* jigsaw
food safe mineral oil
coffee grounds for staining (optional)
leather
awl or leather punch
2 brass screws & 2 brass washers
drill
* if you don't have access to a saw, you can always make the board without the inwards cut and just do a rectangular board with a leather strap too!
01. measure and mark how you want to cut your board. using your saw, cut your board. duh.

02. sand like a maniac without rounding the edges. clean off all dust.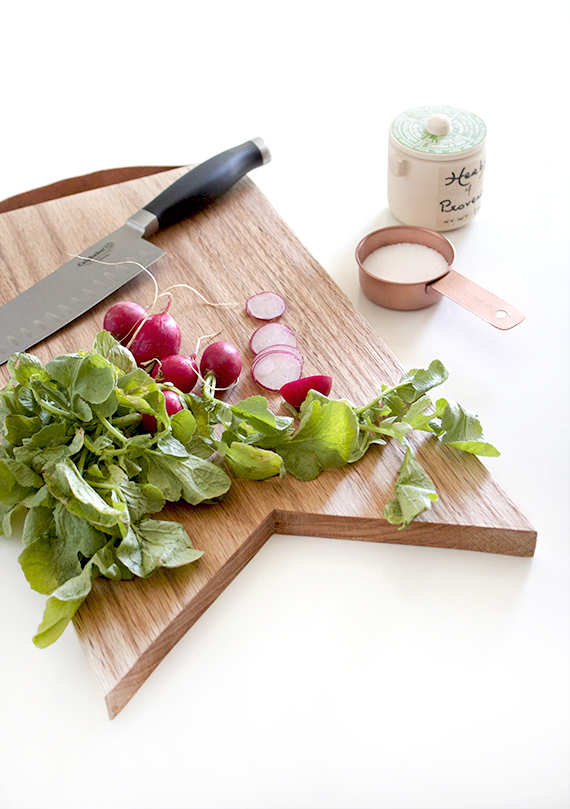 03. if you want to darken or richen the color of your wood, mix together some coffee grounds and water and apply with a cloth or paper towel. it works surprisingly well and you can do a couple of coats, but i actually wish i hadn't stained mine because i now prefer the original color. but i'm also cray.
04. apply your mineral oil liberally and let dry. i believe you're supposed to do another coat the next day to make it extra food safe.
05. to make your leather strap, cut a piece of leather to the size you'd like. once you have it centered in place, poke small holes through the leather into the wood to mark them. drill pilot holes into the wood. get your screws all the way into the holes to ensure your leather won't spin around a ton.
06. put your leather strap in place, beneath the washers and screws.