friday came fast this week WHOA. i'm trying to go to this place tonight, but i never end up going to places that don't reservations. but i'm going to attempt to! we're also trying to pretty ourselves up because we're doing our engagement photos next week! we're both really bad at having our picture taken but apparently this is great practice for the big day. and i'm going to make these fantastic and easy cookies to share with you guys. hope you have a great weekend and for those of you celebrating, happy easter!
oh also — have you watched silicon valley on hbo? it might seem too nerdy for some people, but totally my new favorite show.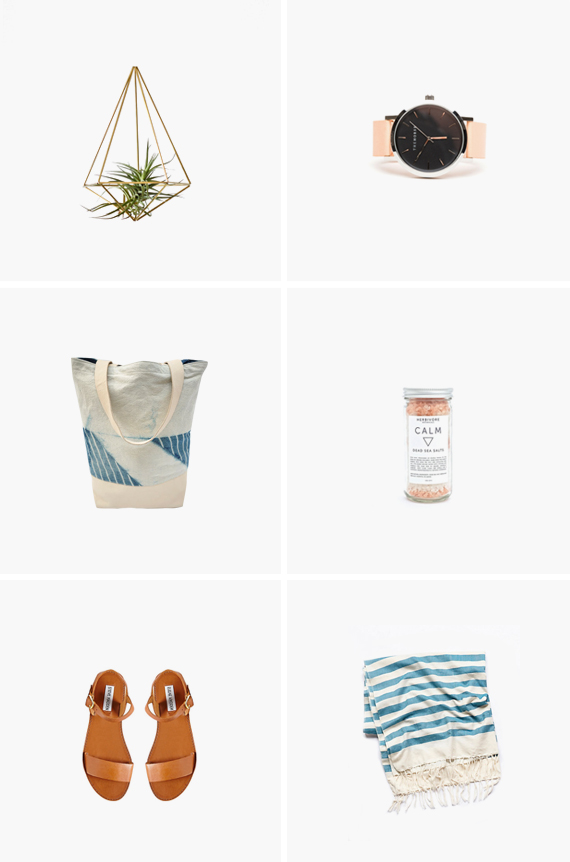 01. i really want to fill the apartment with plants. as soon as i'm actually focusing on the apartment i'm buying like 20 succulents and 20 airplants. and maybe this hanging planter.
02. sadly, i've lost my watch. maybe it's somewhere in the apartment or in a jewelry travel case somewhere? or it's been stolen. going to assume it's been stolen. very sad. i guess i need a new one.
03. i cannot get enough of indigo and nude leather combos like this amazing tote. sooo pretty.
04. i'm sure you've seen herbivore botanical products everywhere because they're designed so so well. our bathtub has been filled with stuff we want to sell for about 6 months now. after a trip to israel when i was 10 i was hooked on dead sea masks. and now i really want to take a bath with these salts.
05. the perfect simple leather sandals that you can wear at all times. i bought them last night in black, but i want them in brown too.
06. this beach towel makes me want to actually drive an hour to go the beach. it's the best.