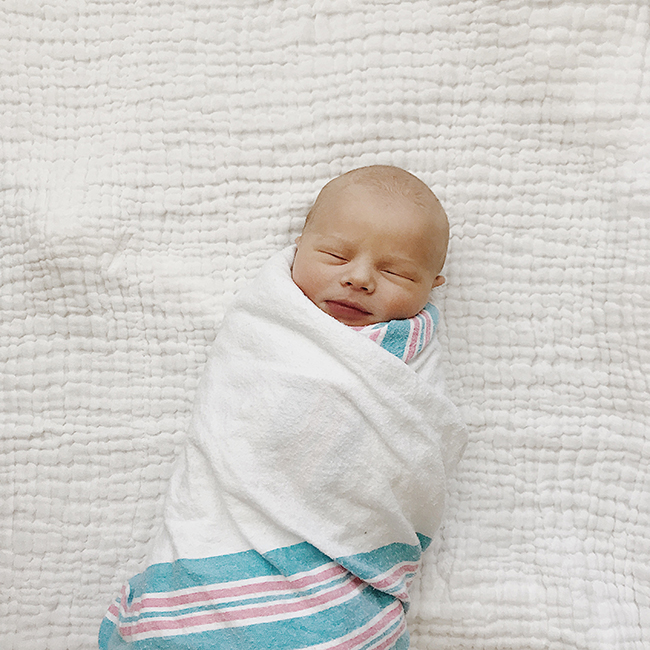 we are still completely on cloud 9 with our little boy 3 weeks in – but gid just went back to work and i'm a little nervous and overwhelmed with taking over all day care for arlo. i know it'll get easier and i'll get better and more confident but i'm still very sad that he can't stay home with us forever.
i want to start off this post by just saying that i had arlo via a scheduled c-section. i know there's some shame and guilt of not experiencing labor associated it with caesareans, but we made the decision that was best for us and i don't regret it whatsoever. 
you may have noticed through my pregnancy that i had quite a big belly (at least it felt big to me), when arlo was measured in my final trimester they told us that he was already 6.5 lbs with a head size in the 97th percentile — and that he would probably be well over 8 lbs by my due date. i'm only 5'1″ and pretty petite so i was a little nervous about how i cooked such a big baby. my aunt and grandma on my dads side both had c-sections because of their small size — and i kind of always felt like that was gonna end up being what happened to me. throughout my third trimester i cried to gid about not wanting a c, and he would repeatedly tell me to stop putting that idea in my head. i was also three weeks late to come out myself, so i figured why wouldn't my baby be lazy like me?
we took a labor class and i felt good about giving birth and i had my whole suitcase packed with aromatherapy and a labor playlist and tennis balls for massaging and a hand fan… but in my last couple of weeks, i got even more scared because i hadn't felt any contractions or signs of labor and i wasn't dilating whatsoever and i was just so big i could barely move around (and getting bigger by the day). every time i had my cervical exam, my doctor told me he felt discouraged that he would come out on his own — so he suggested we do everything we could to induce naturally because he didn't want to go more than a week past my due date without inducing at the hospital.
so we had gross pregnant sex (TMI?), gid gave me lots of foot massages (which i'd been afraid of my whole last couple of months of my pregnancy, little did i know i could have been indulging in them the entire time), i took baths, and i went to eat a labor inducing salad on my due date. nothing seemed to work, he was content where he was.
my doctor offered the option of scheduling a c-section because he was worried i would end up getting one after trying labor, but left it up to me. since we only had a few days we could go past my due date, gid and i started talking about our options and i started calling all the people i'm close to who had c-sections, asking about their experience and i started feeling like that was the way to go. i really felt like i could give vaginal labor a shot, but i'd just end up getting an emergency c, and then have that much worse of a recovery going through both. in the end, i called my doctor and scheduled it for tuesday june 27th because gid and i got married on the 27th lol.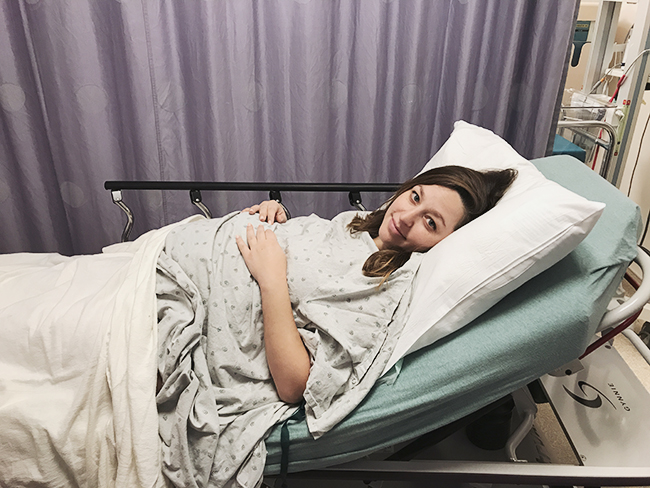 i've never stayed in a hospital or even broken a bone, so the idea of major surgery scared the shit out of me — and i was crying and anxious for the days leading up to it, even getting the IV put in was horrifying to me (i'm such a wimp i know). my surgery wasn't until 12:30 pm, so also not being able to drink or eat 8 hours prior was killing me.
it was a really strange thing to know i was having my baby the following day, but the night before, my whole family and i went to a big last dinner out, where my feet swelled so bad i literally had to walk to the car barefoot. as nervous as i was about the next day, i was soooo ready to not be pregnant.
anyway, the next day — i cried and cried and we headed to the hospital to have our baby. during pre op, i cried and cried again and was freaking the fuck out about surgery, but i did it. the hardest part was being wheeled away from gid, who waited outside while they prepped me and gave me the spinal. i will never forget seeing him coming back into the room and feeling so much more calm because of his presence. once i lost the feeling of my lower half, i felt pretty relaxed and i had gid tell me about our wedding and our honeymoon haha. i felt nothing until the moment when they pulled him out, and although i couldn't feel anything — the moment they pulled him out, it felt like this giant weight was lifted out of me.
and then i heard him crying. and then gid and i both cried so much and i never felt closer to him than in that moment. i laid there longer than we would have liked, waiting to meet him while they stitched me back up, but gid ran over to see him and came back to assure me that he was cute. and then they put him on me and i couldn't see much of him but it was so weird to feel him outside of me.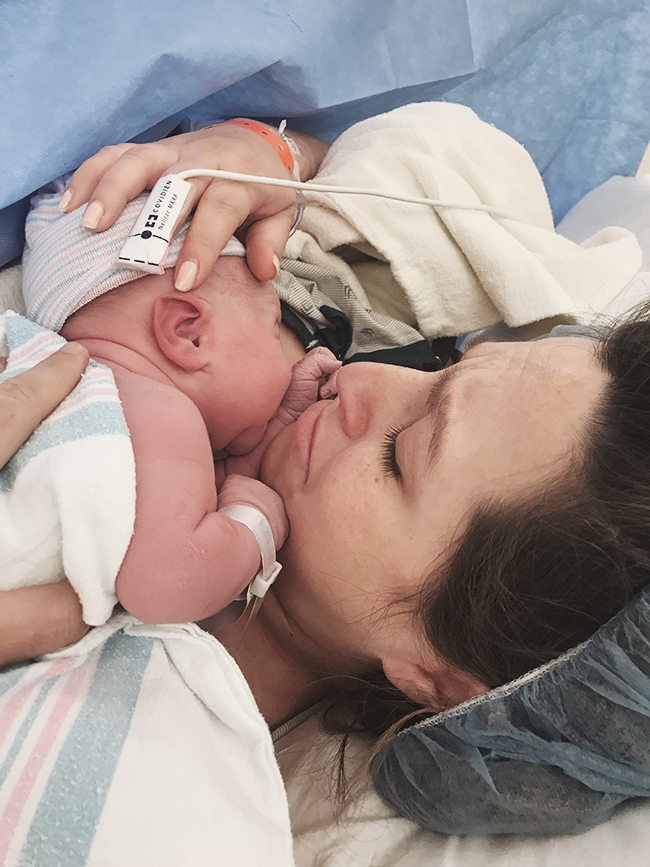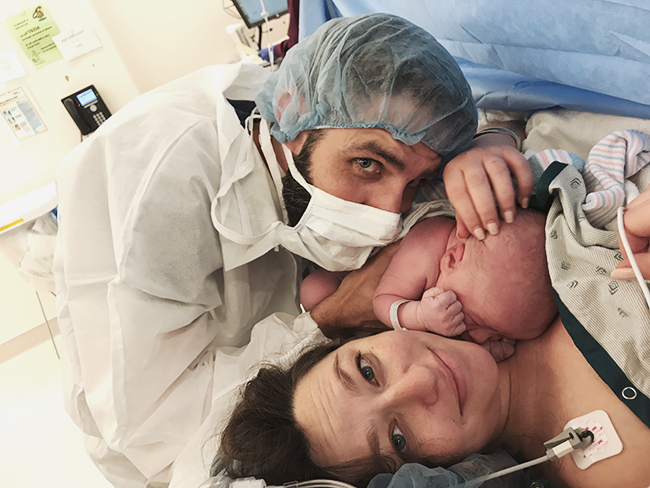 the rest was a complete blur. we went to recovery and i tried to breastfeed and then i got wheeled over to my room while they played the lullaby over the loud speaker to announce arlo was born (they do this every time a baby is born at our hospital and it made me so weepy). our parents were already in our room when we got there and it was one long stretch of constant visitors for the next few hours while i told everyone how chill a c-section is because i felt zero pain still and i had a baby in my arms. (little did i know…)
the first few days were really hard. i had a lot of pain walking around and trying to sit to pee, and the next night i got really nauseous from the medications i was taking, and throwing up all night right after abdominal surgery is something i never want to do again. gid was amazing at taking care of both arlo and me while in the hospital, and for the weeks after. day by day i got better and stronger, and three weeks later i feel pretty great and my incision looks so good i was able to look in the mirror (i went all three weeks without looking at it until now).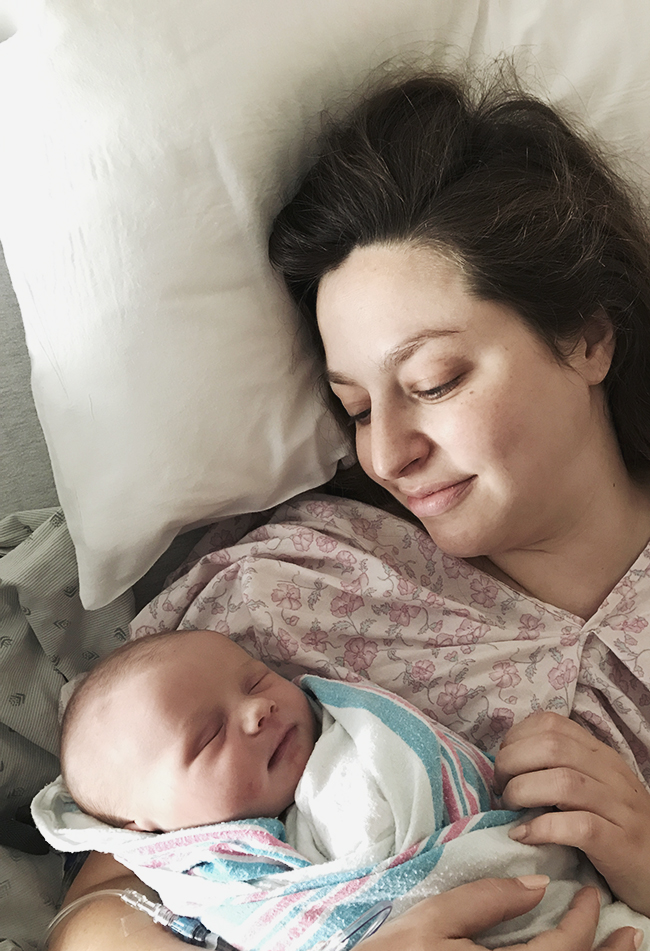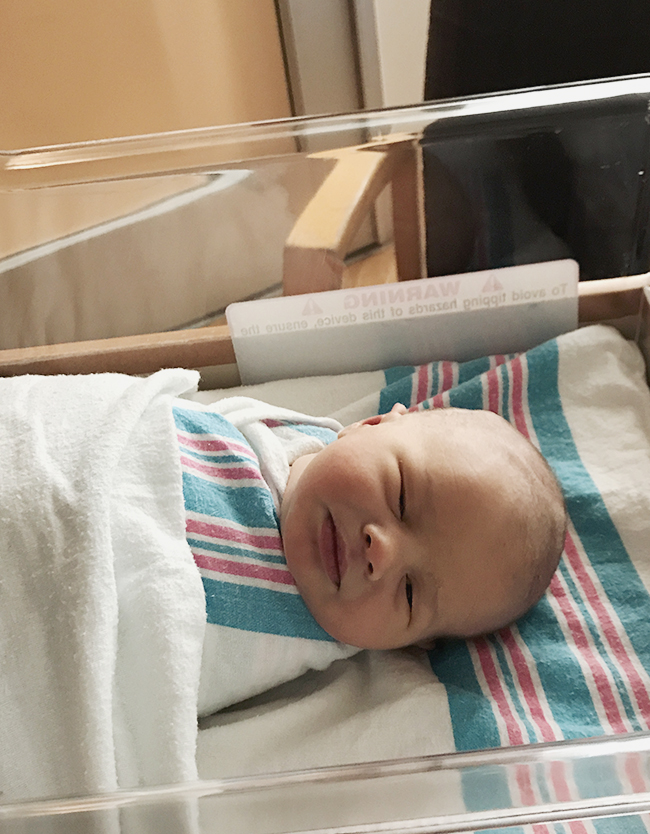 arlo was born 6/27/17 at 12:56pm, weighing 8 lb 10 ounces. he's such a big perfect boy with a big perfect head (which is the compliment we hear the most often). i'm still not super used to the idea that i have a baby, but i am madly in love with him.