arlos mario themed 5th birthday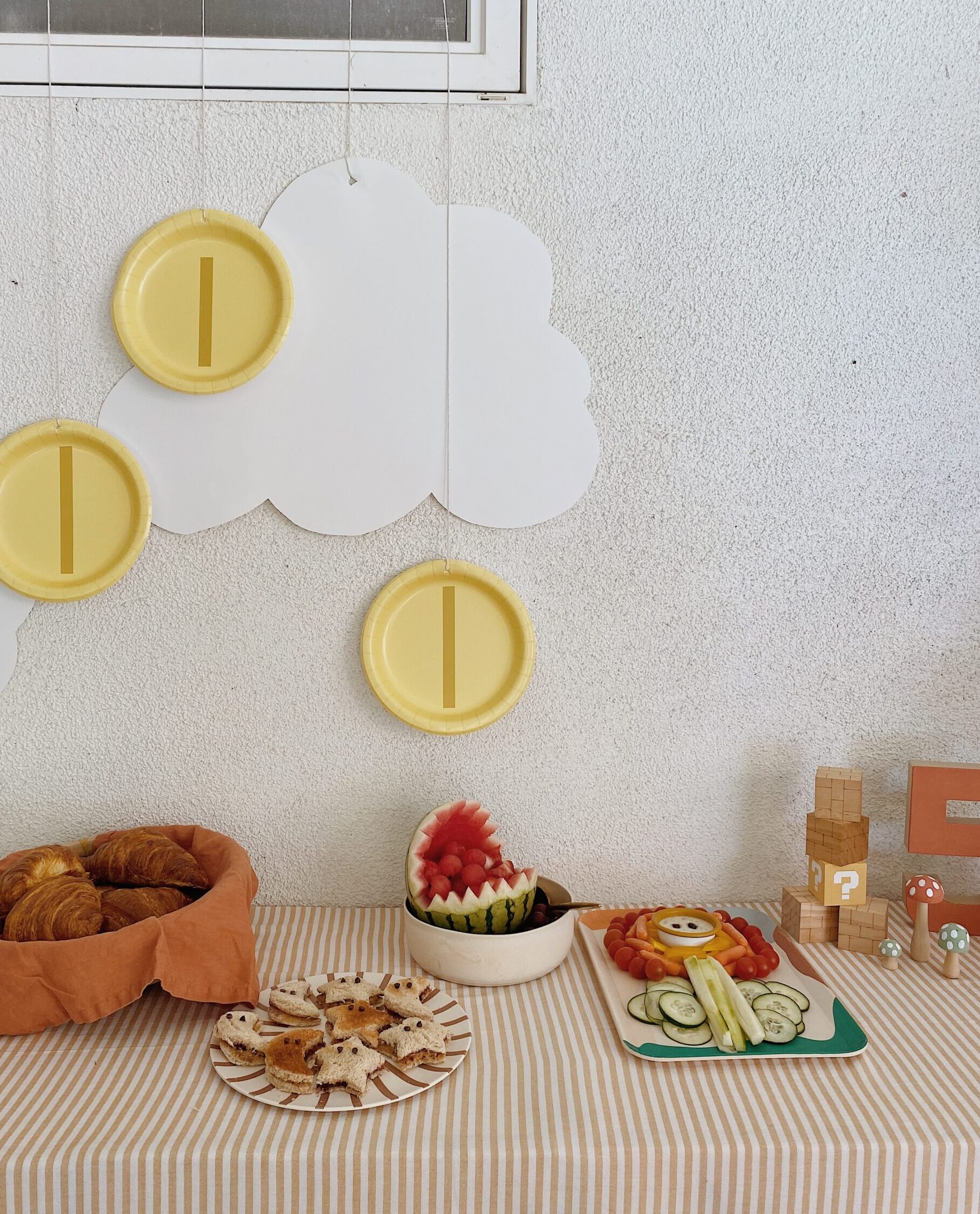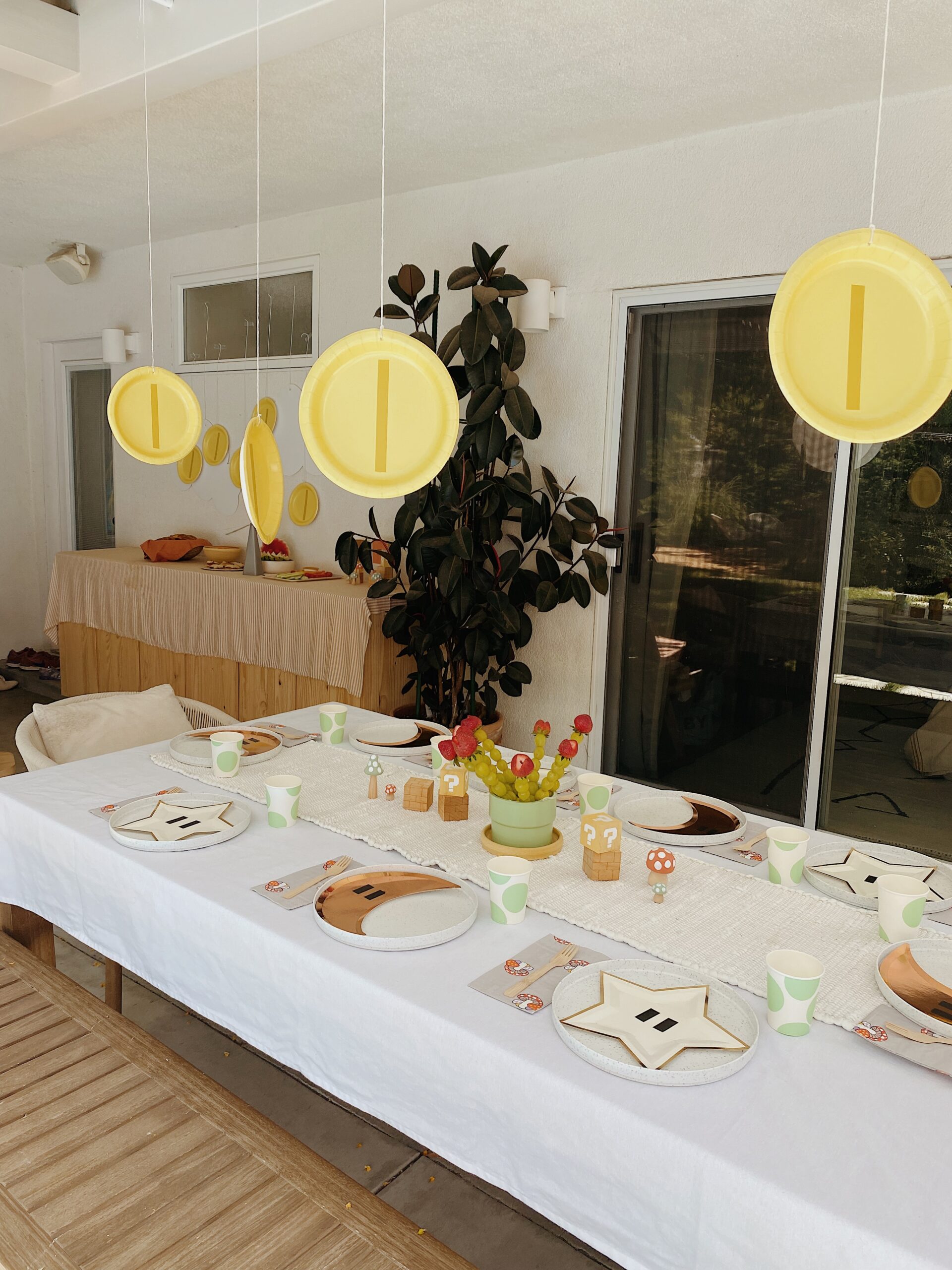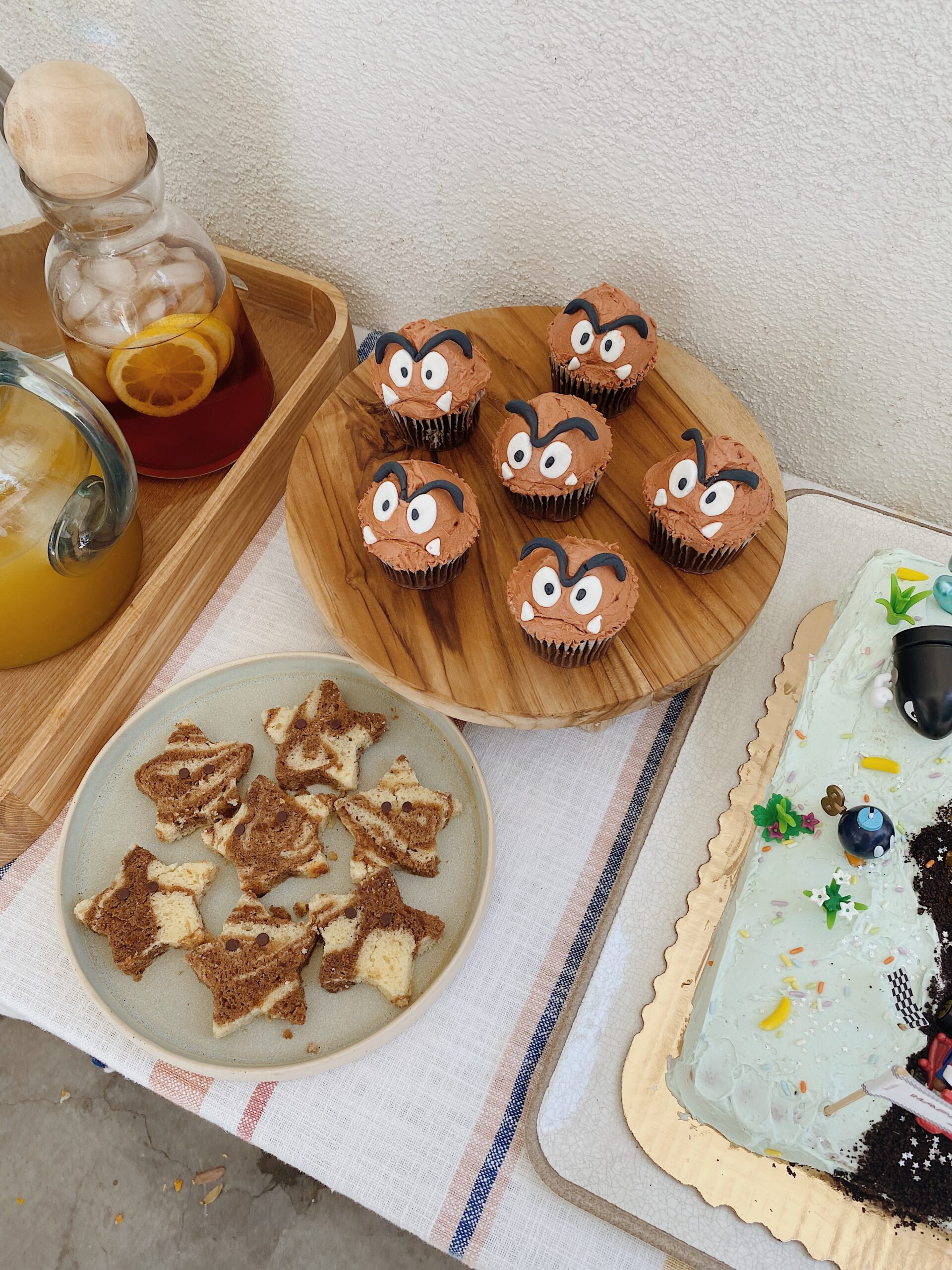 to be honest when arlo got so into mario and requested a mario theme this year, i was not super into it. we all know primary colors are not really my forte lol. but the more i pinterested, the more i realized it was my most exciting challenge so far.
figuring out how to make mario "aesthetic" took a lot of brain power for me, but i think it worked out!!
this year, arlo wanted to just invite his "girlfriend" and no other kids, i think he's developed a little bit of social anxiety because he's very particular about kids playing in his room and the idea of a lot of kids there at once seemed to stress him out. so i honored what he wanted and was able to get him to invite his cousin and it turned out to be so easy. he's been in a hard phase lately in social situations but was super nice all day and i got to relax way more than i would have had we had a bunch of guests there. so i'm all for the tiny parties now.
you might be thinking — wow thats a lot of work for 3 kids, but it's not like most kids appreciate your hard work anyway so who cares how many attend haha. the amount of excited gasps i heard from arlo throughout the week made it all worth it!
like i said, i started on pinterest and created a board to corral all my ideas — then a few weeks ago i started figuring out what i wanted to make and ordering craft supplies. i really didn't start on anything prep wise until the week of. when it comes to parties (or lately, any projects) i can't really work ahead of time– it's gotta be last minute pressure to actually get me inspired!
decorations
even though there were lots of DIY decorations, most of them were suuuper simple! (obv, because i did everything within just a few days). i had hopes to do a few more characters, but decided to give myself a break and not go even further overboard.
hanging coins
to make the coins, i just simply added a piece of washi tape onto yellow paper plates, poked a hole on the top with an awl and strung bakers string through each one. luckily we have our pergola so we hung almost everything from there and it worked out really nicely.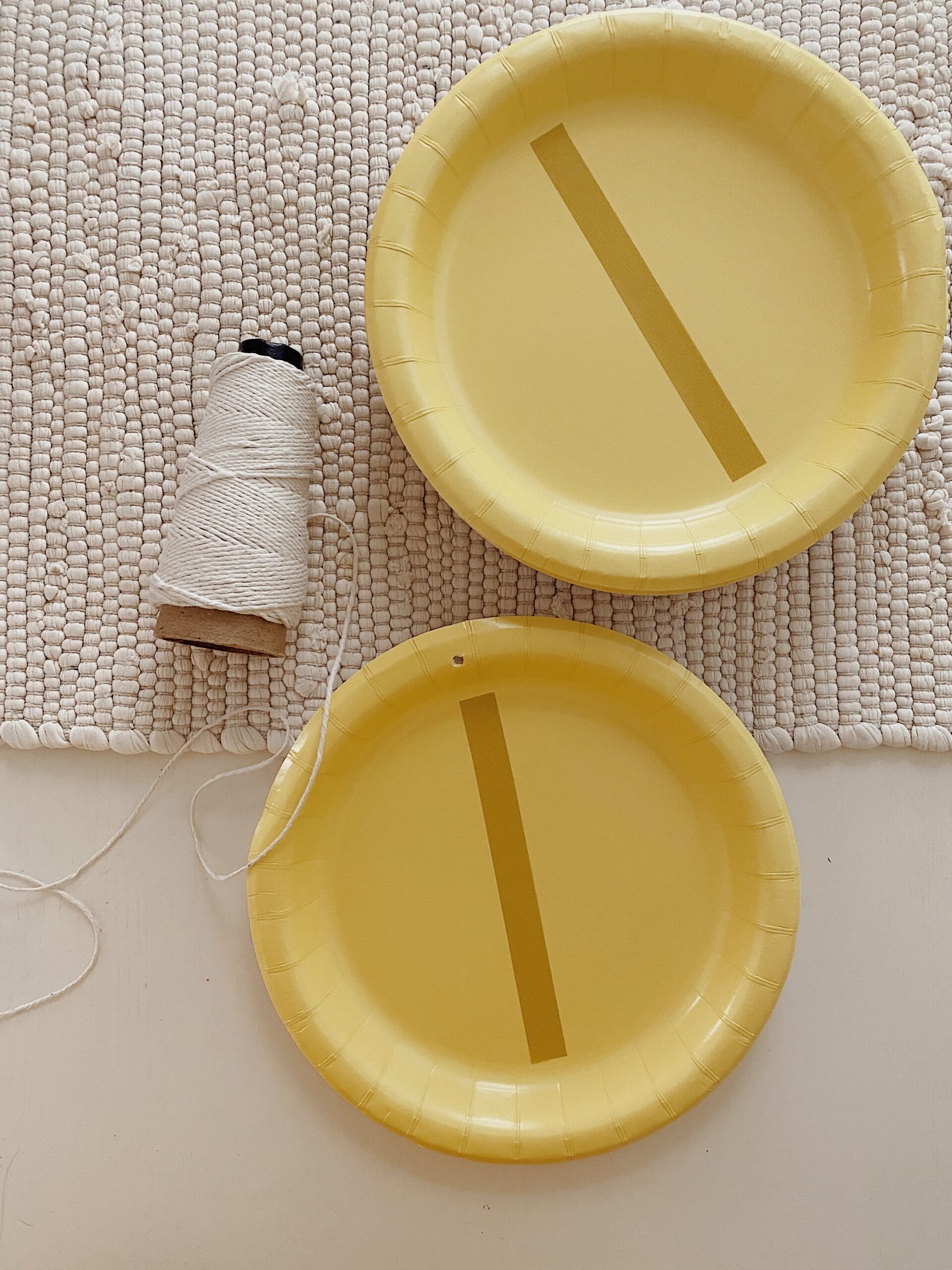 star + moon plates
same for the plates, just added some black washi tape for the eyes and we were done! also added eyes to little star balloons as well.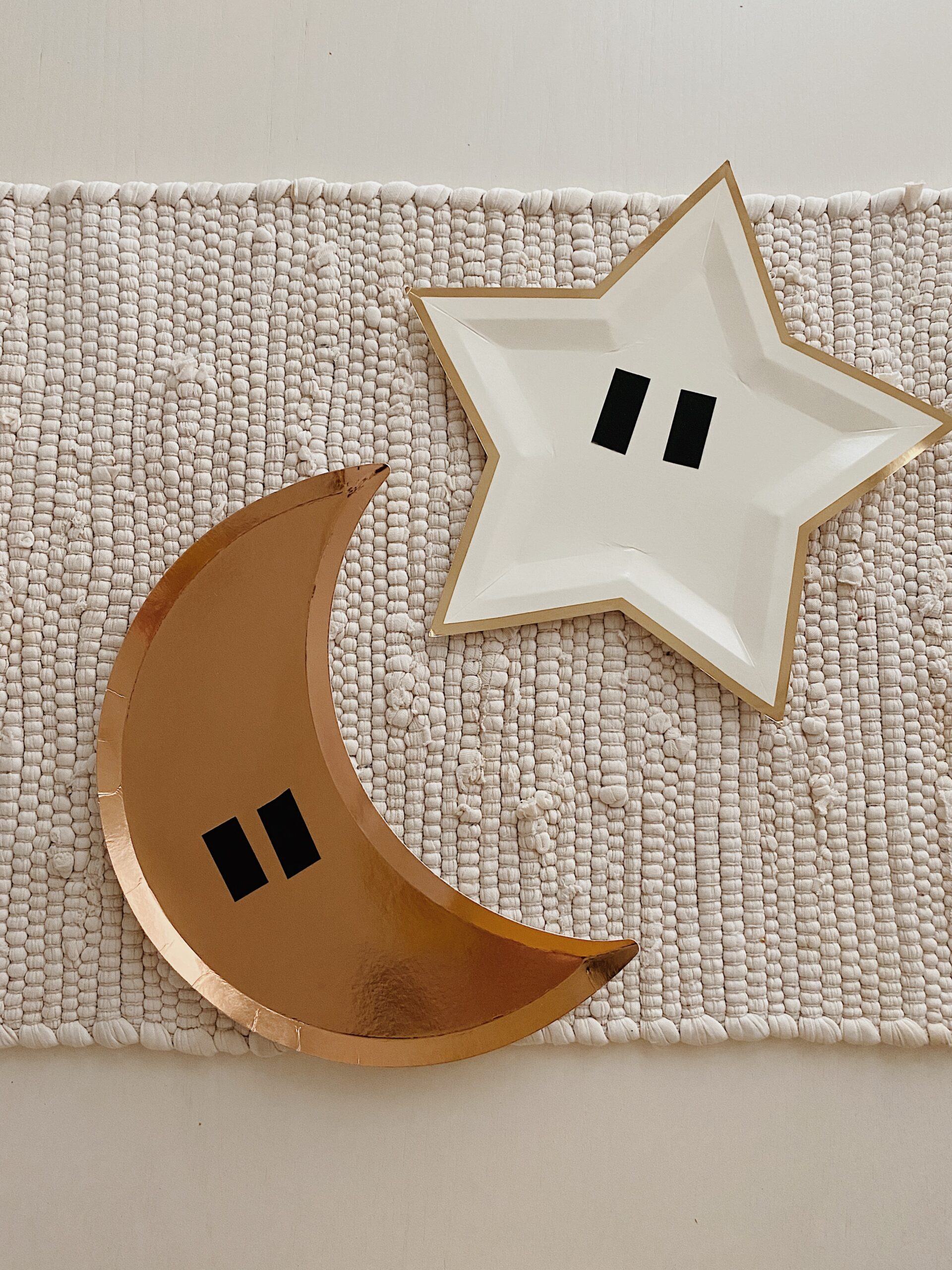 yoshi egg cups
i went back and forth on what to do for the cups, but realized yoshi eggs would be so cute and simple. i bought round green stickers and just placed 'em all over the cups. another 5 minute project!

brick blocks + question blocks + mushrooms
the project that took me the longest for sure, but it was still only a couple of hours max. and it totally set the aesthetic tone of the party!!
to make the brick blocks, i coffee stained each block to make them a little darker, then i created a little guide for myself out of a piece of cardstock and drew the brick shapes with a brown marker.
i painted the rest of the blocks yellow and i used my cricut and white vinyl to add question marks to each side.
and i simply painted the mushroom tops and then used a white paint pen to add the white circles.

boo balloons
i made three hanging boos (because two balloons popped lol) but just inflating balloons and printing out a printable face i found which is linked at the bottom of the post.
i got red craft foam with an adhesive backing and cut out tongue shapes, and then just peeled half the adhesive off to stick, but left the rest on to flop around. and to add the crown for king boo, i just painted some white foam and taped it together and then onto the top.
hanging clouds
i had this overly ambitious idea to do cloud balloon garlands and we attempted them multiple times but they kept falling apart and deflating and it was a big mess. instead we grabbed some white poster board last minute and i traced bowls. if we'd had more time i prob would have liked to do a few more clouds but they looked very cute!!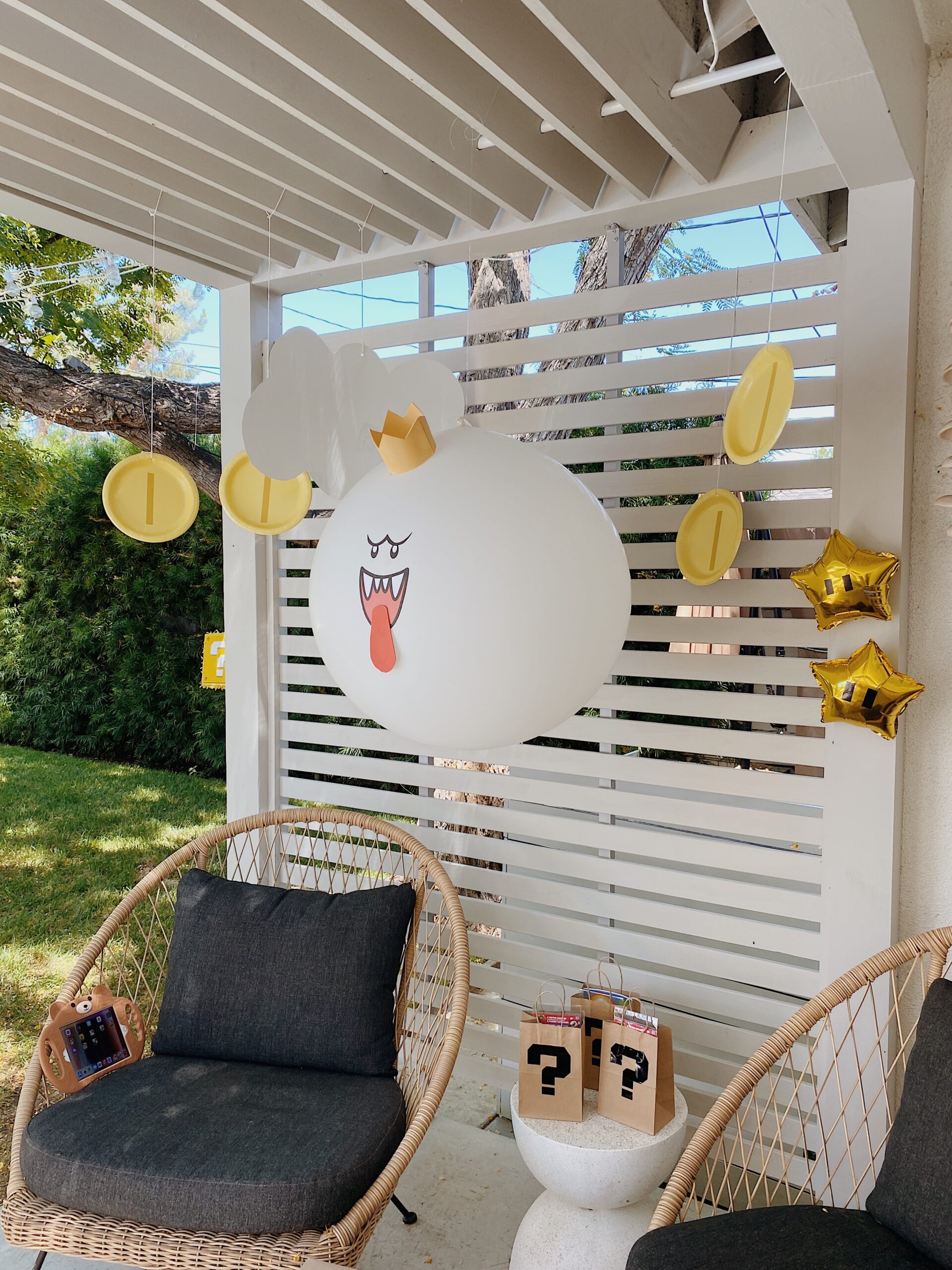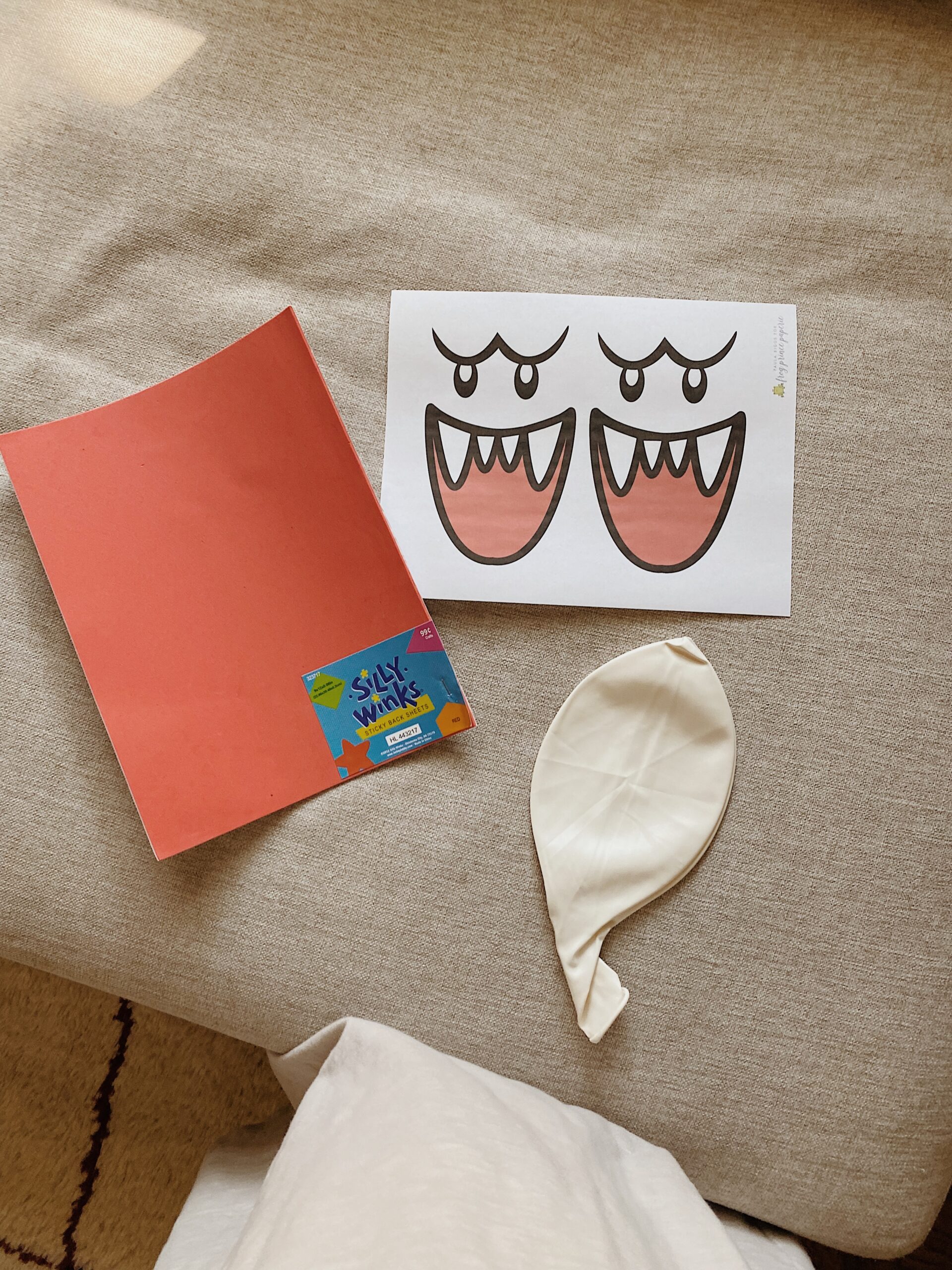 the goodie bags
wow goodie bags are super easy for only 3 kids, i threw them together the day before the party and just got mario tattoos, pop rocks, and some mario mustaches and chocolate coins. for the bags themselves, i used kraft gift bags i already had and printed some question marks from my cricut again.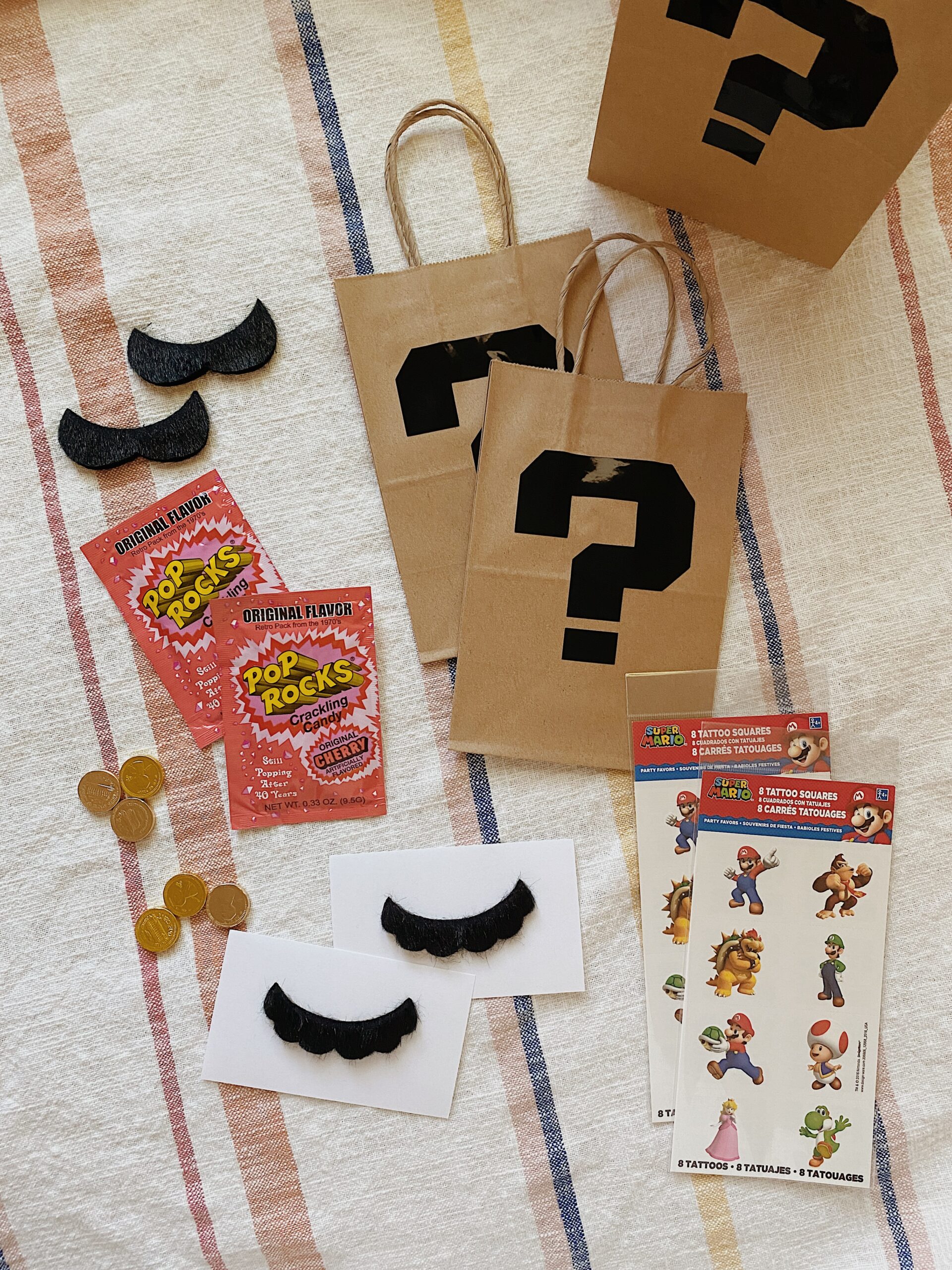 green pipes
of course we had to do some green pipes, i got some large pvc pipes at the hardware store and a pretty "molly" green spray paint– we used one as the centerpiece and another to hold spoons for the desserts. because they have big holes, i used some old floral foam i had in the garage but you could also use cardboard or whatever you have on hand.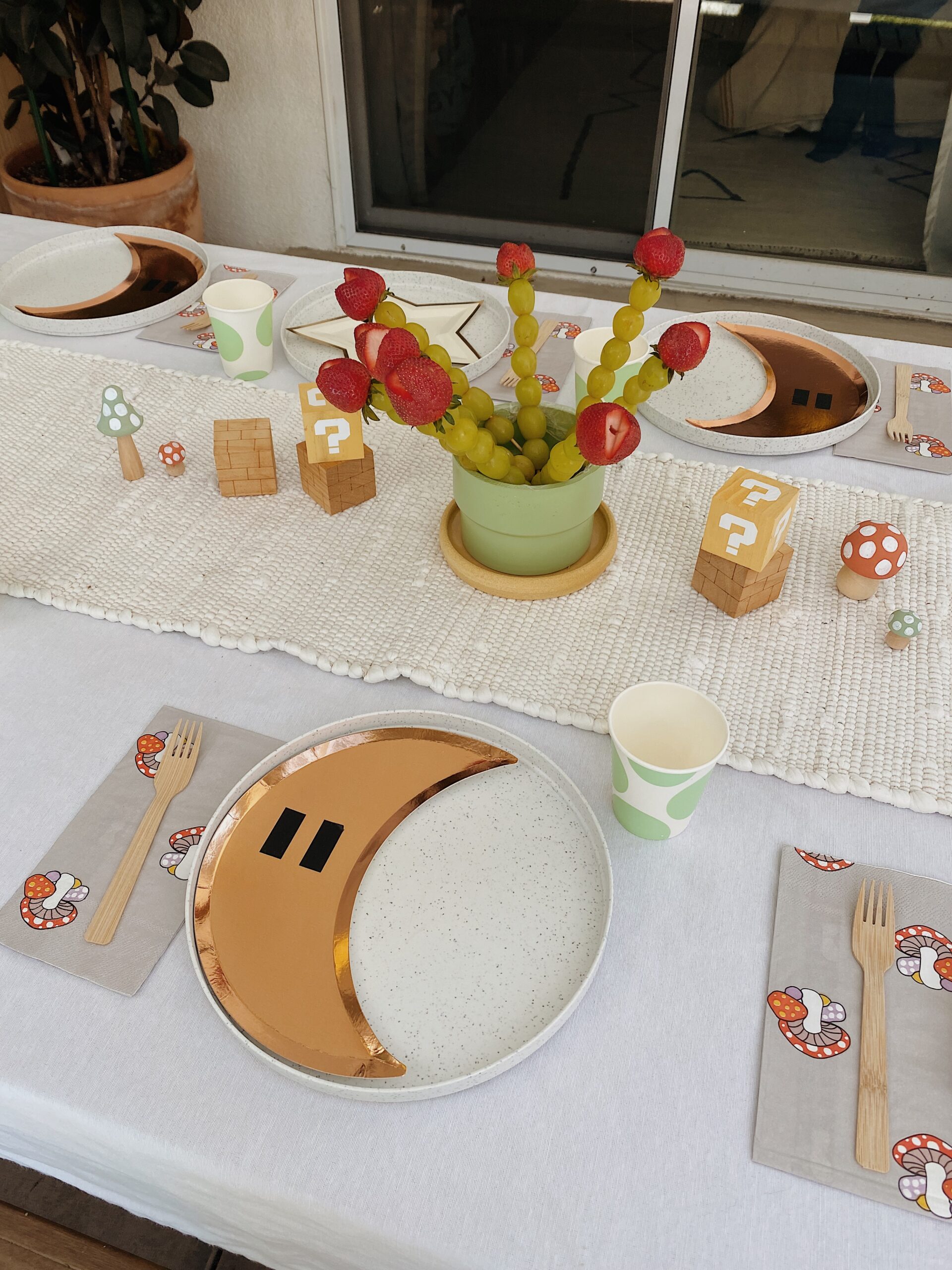 the food
since there were very few of us, food was pretty chill– for the grownups i just ordered a quiche and croissants and for the kids i made PBJ sandwiches that i cut out in star and moon shapes and added mini chocolate chips for eyes.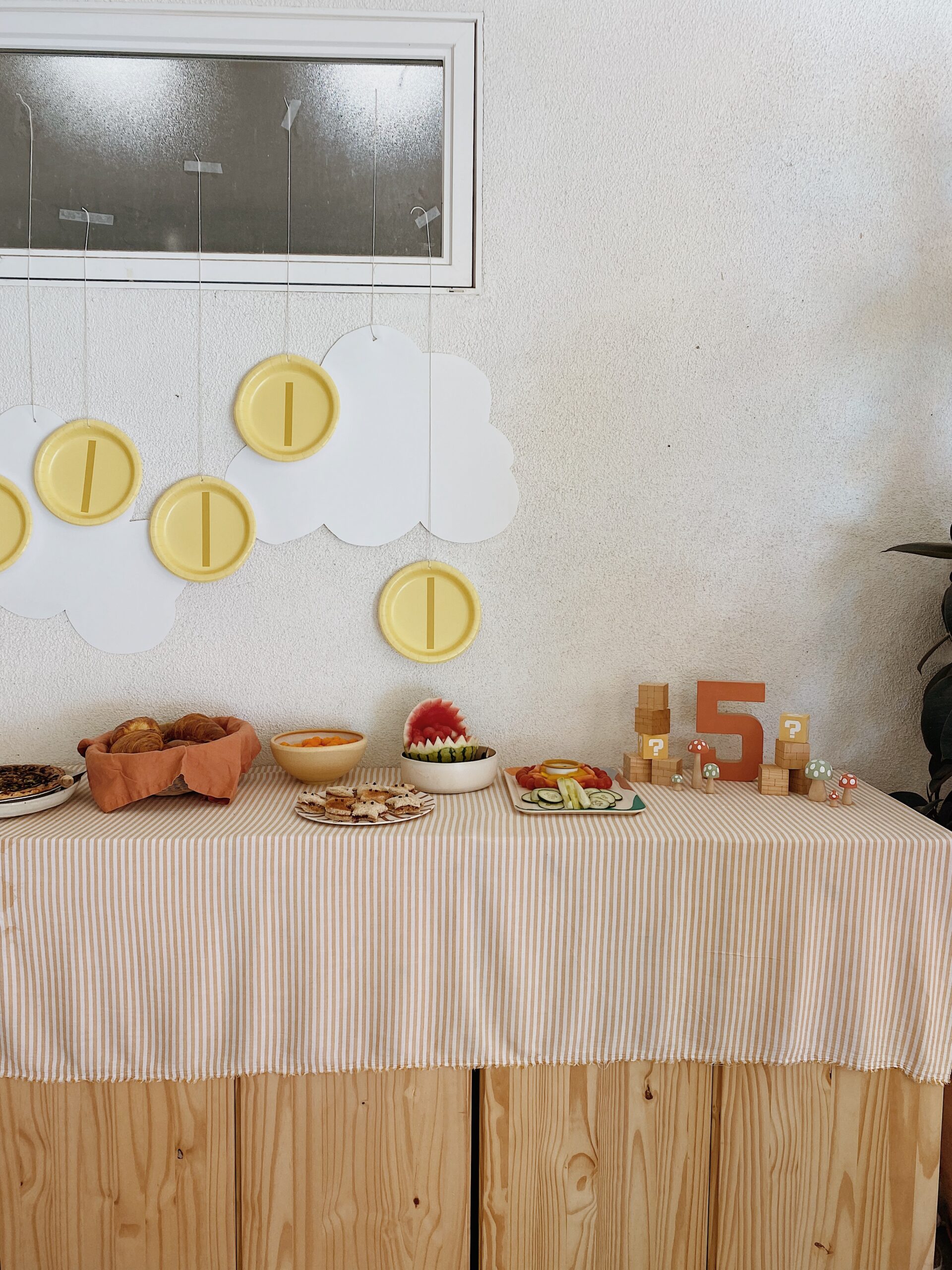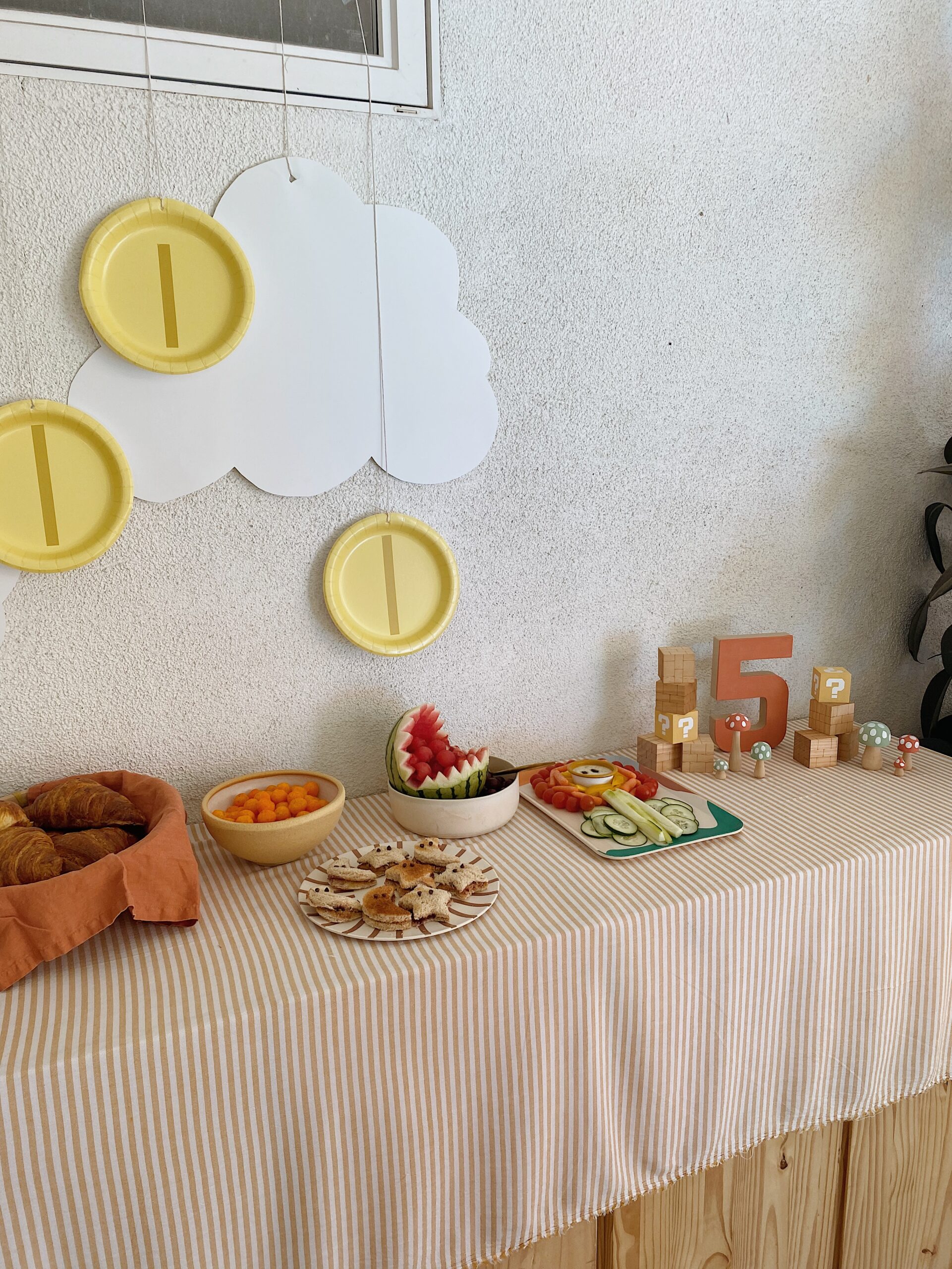 fireflower crudite
so easy and cute! i actually prepped this the night before and i'm so glad i did!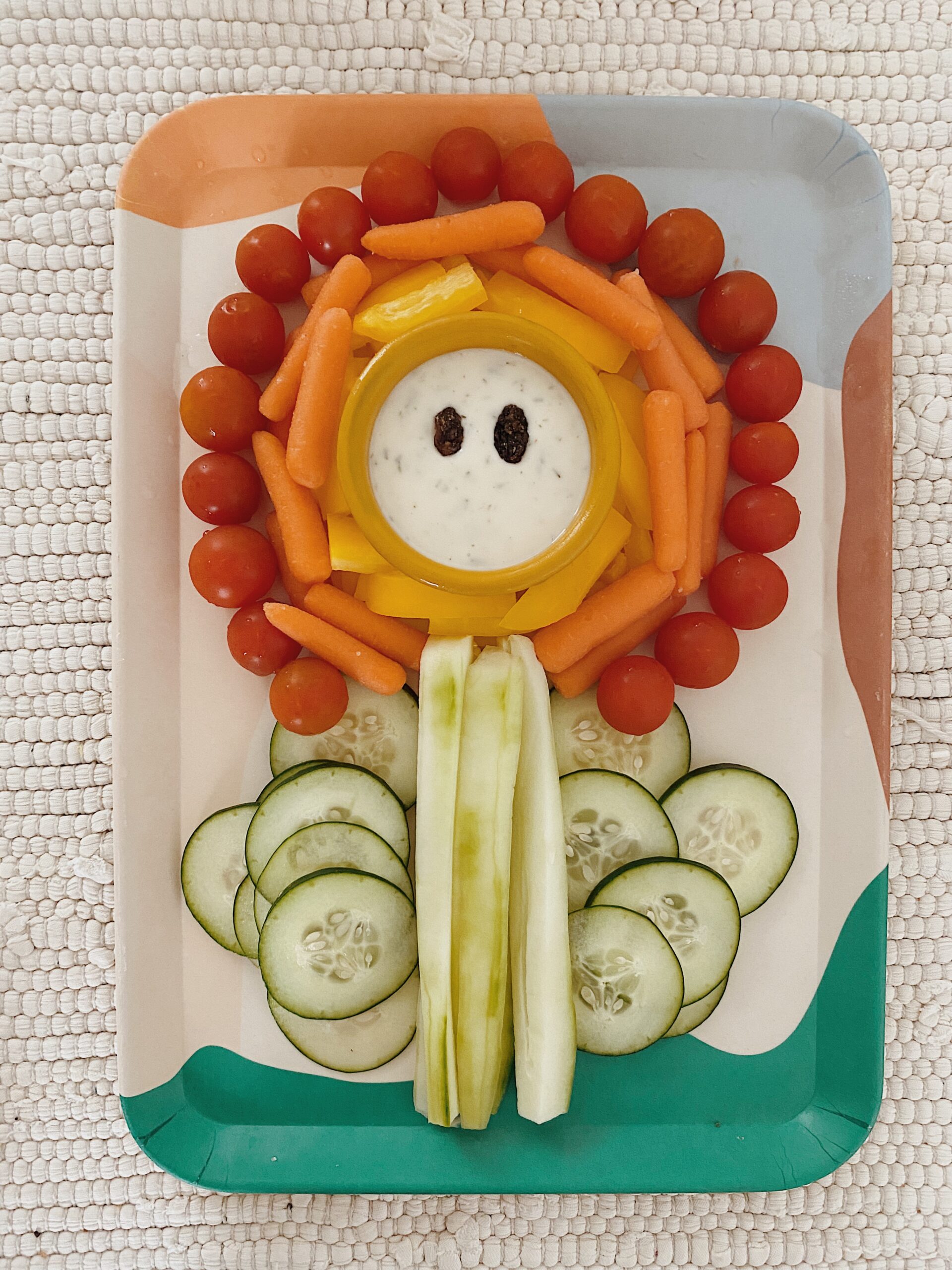 chain chomp fruit salad
i got a mini watermelon which made this much easier than a big one, and i thought this would end up being a gid job but i did it all by myself and it turned out so cute. i just sliced it, cut out the teeth and peeled around them. then i used a melon baller for the watermelon flesh and added strawberries and raspberries and filled the bowl with red grapes.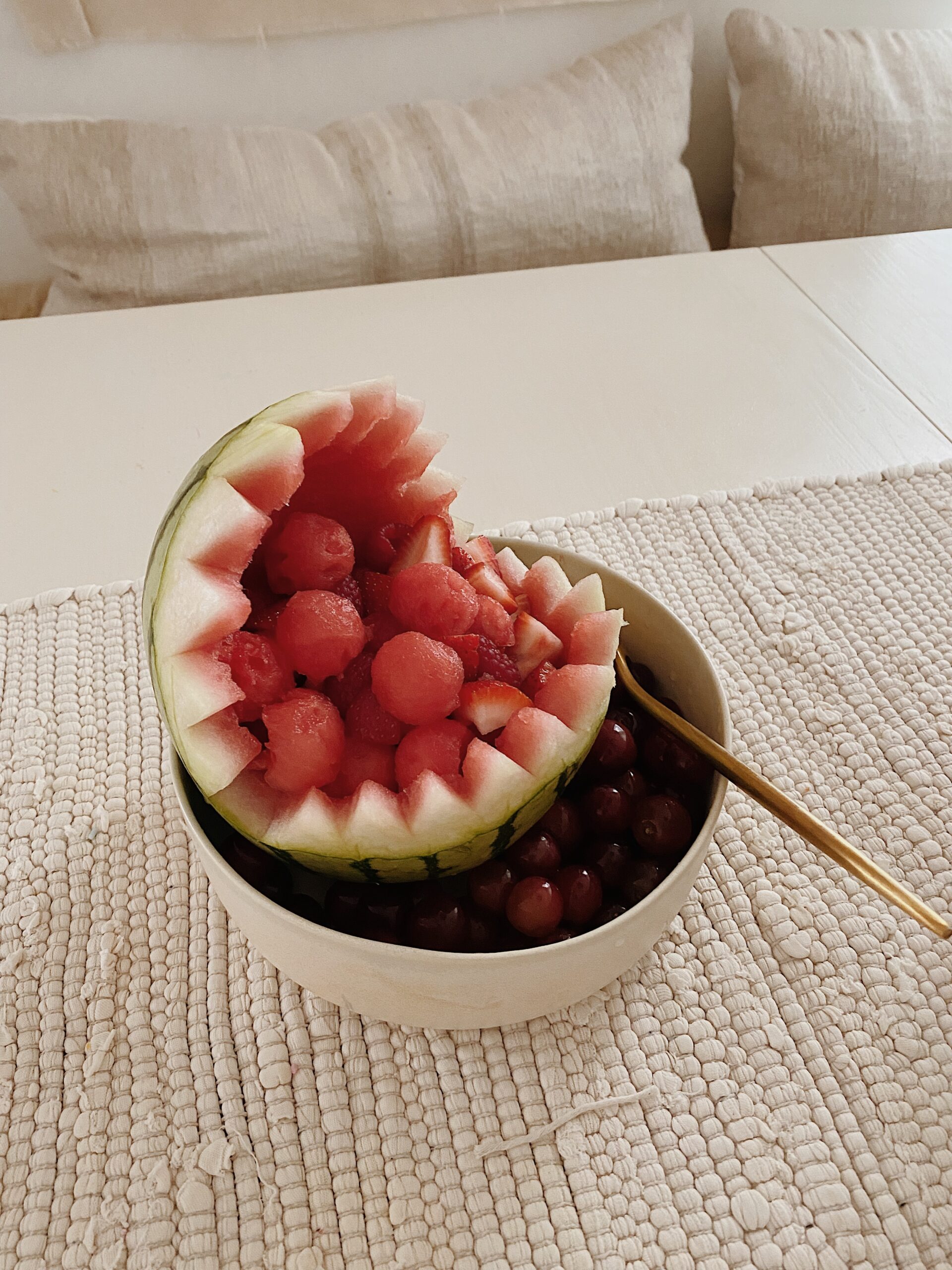 piranaha plant skewers
i prepped these the night before too. just green grapes with strawberries on sticks! i couldn't come up with a centerpiece so i thought these would be best!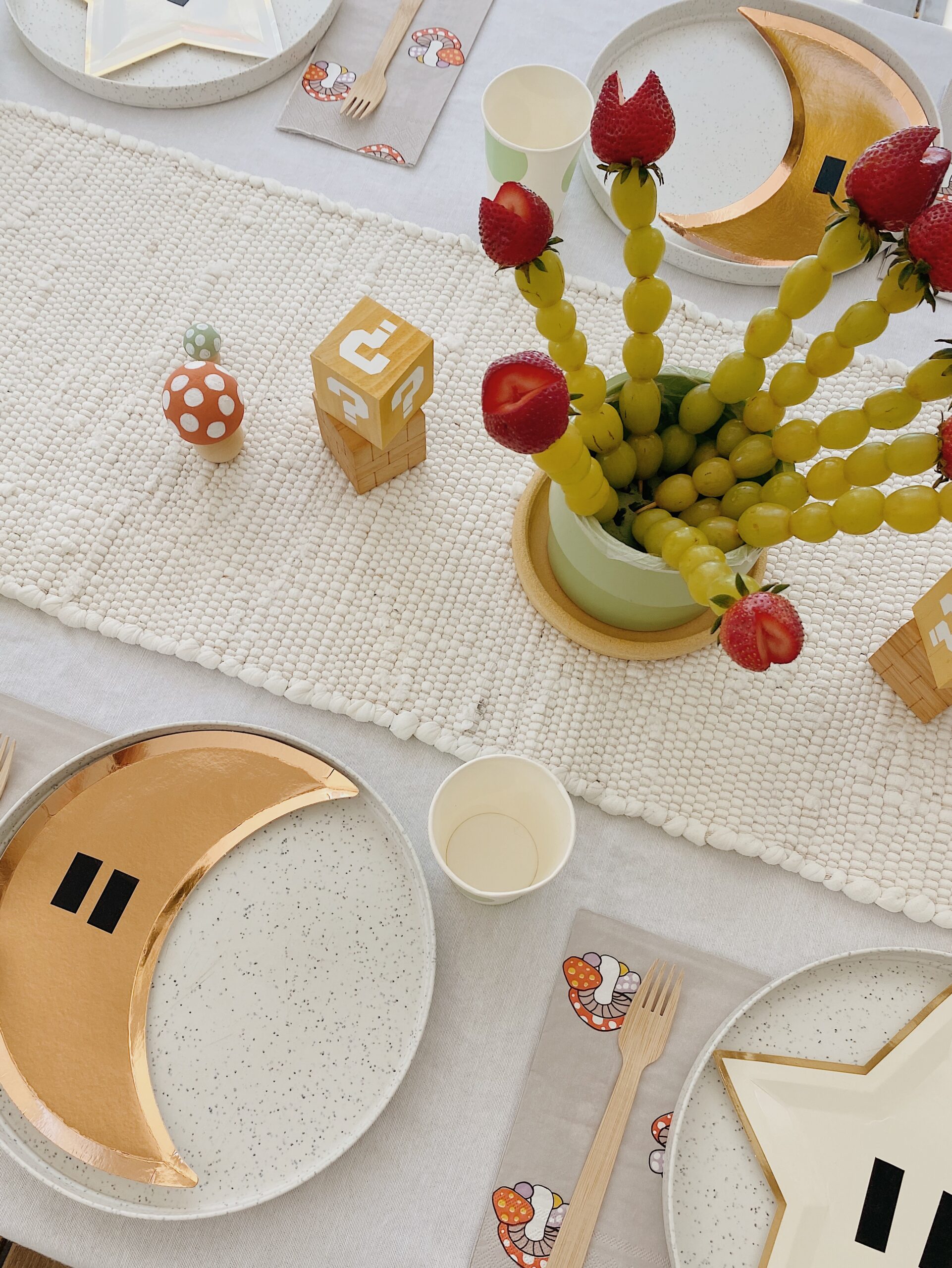 the dessert table
i used a little folding table for drinks and desserts, i mixed peach juice and lemonade for a "princess peach lemonade" and the other pipe for spoons and leftover cloud plates from arlos 1st bday!!!
the birthday cake
for his cake, i bought a half sheet cake from the grocery store and a second quarter sheet cake unfrosted. then i cut at an incline and made a hill for the cake to be a mario kart track. i made simple buttercream frosting and added blue food coloring and made a road from crushed oreos.
last minute i made some little checkered flags with toothpicks and a little banner for the finish line.
then i let him do it all! he had so much fun doing it on his own, he has so many mario guys that he used and then i gave him rainbow sprinkles, edible stars and banana candies to decorate too. we used a few of the leftover gold coins from the goodie bags too, and some flowers from a playmobil toy he has. he was so proud!! 🙂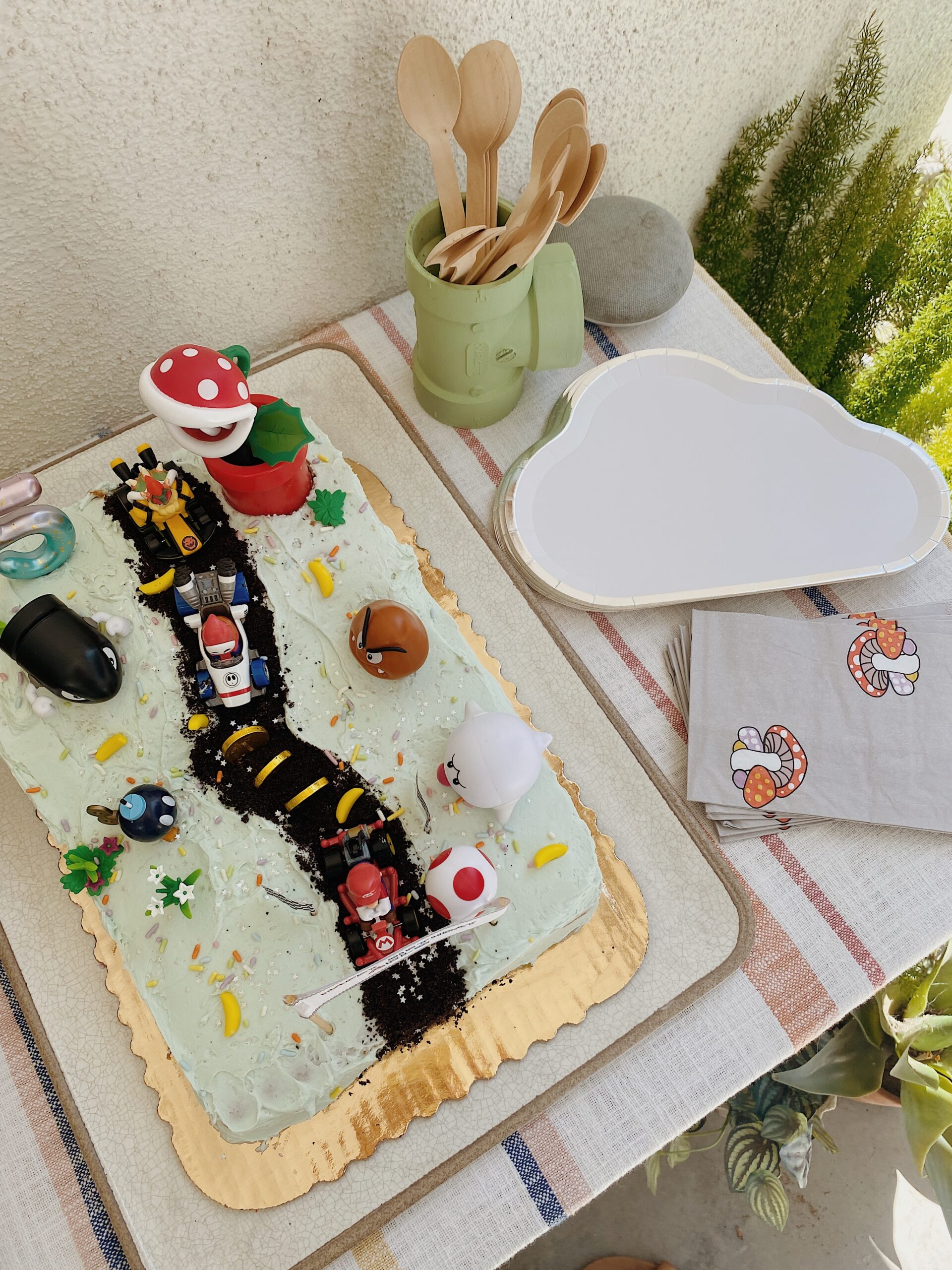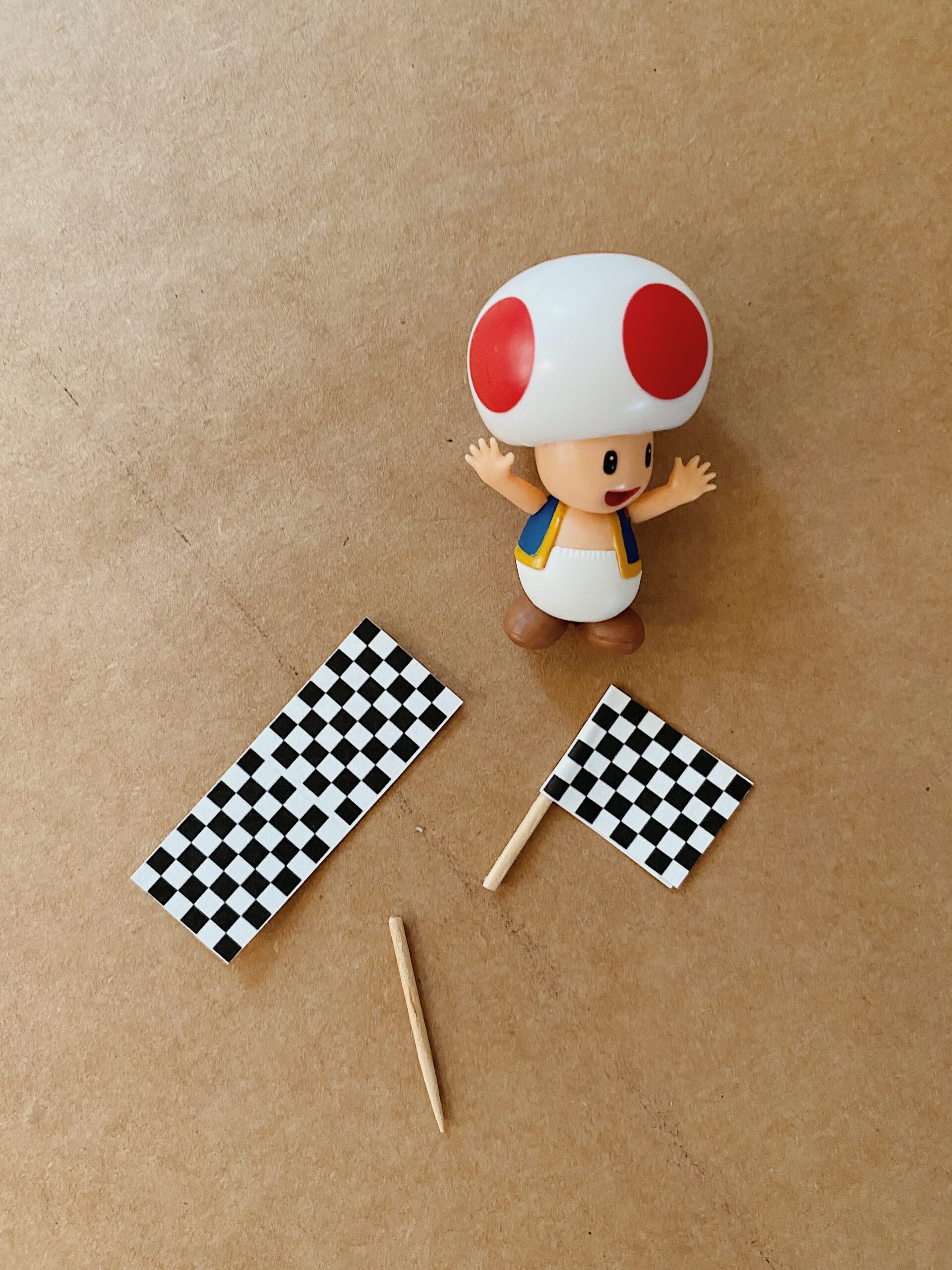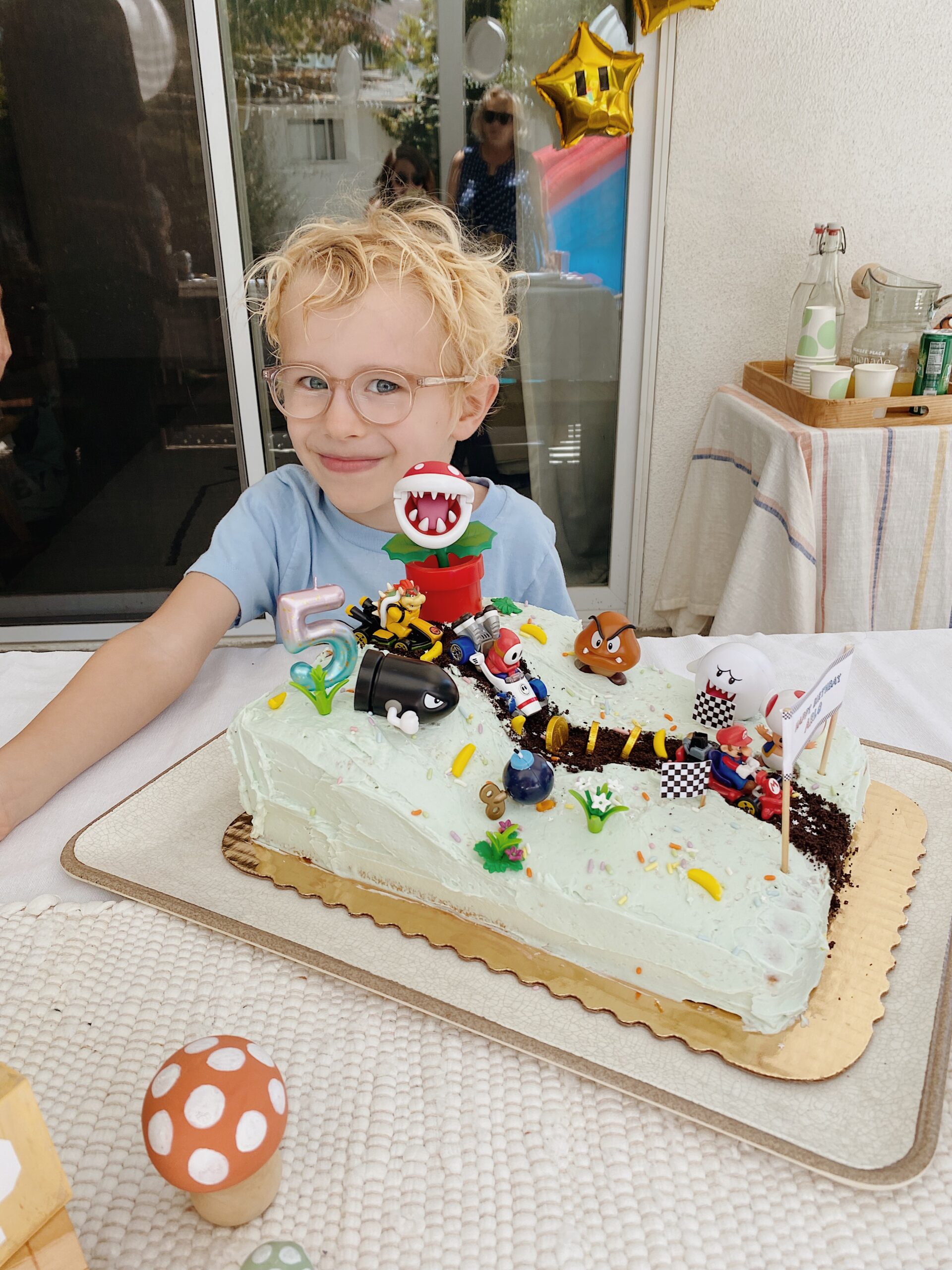 goomba cupcakes
then i asked my very talented sister in law last minute if she could do some goomba cupcakes (i had planned on doing goomba balloons but couldn't get it together so i wanted to have goombas somewhere!)
we bought cupcakes from the grocery store and she redid the frosting with the cone shape and made the faces out of fondant. cannot believe how incredible they came out!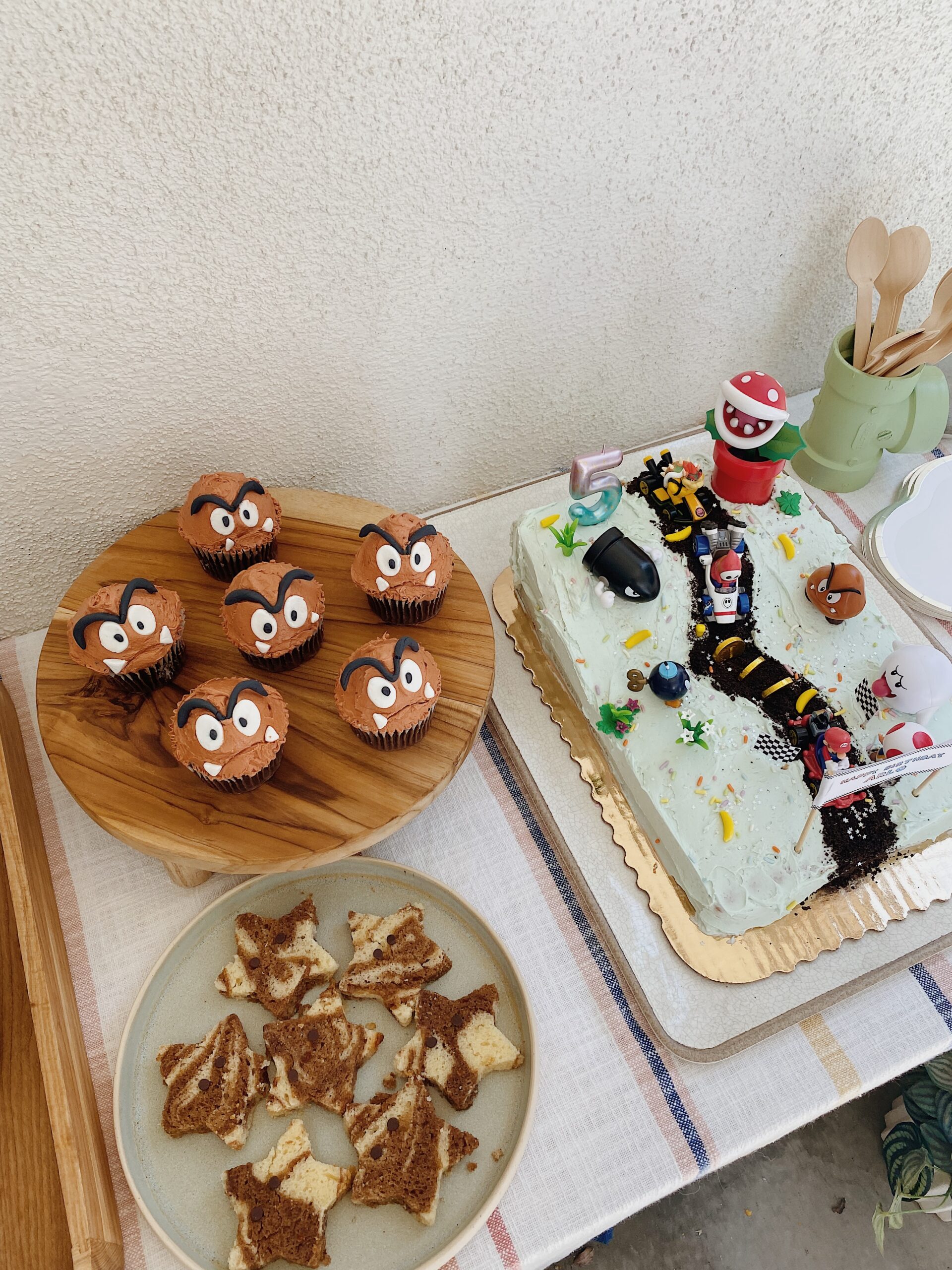 while i was at the store i also grabbed a cinnamon loaf and had arlo cut them out with the cookie cutters and add eyes.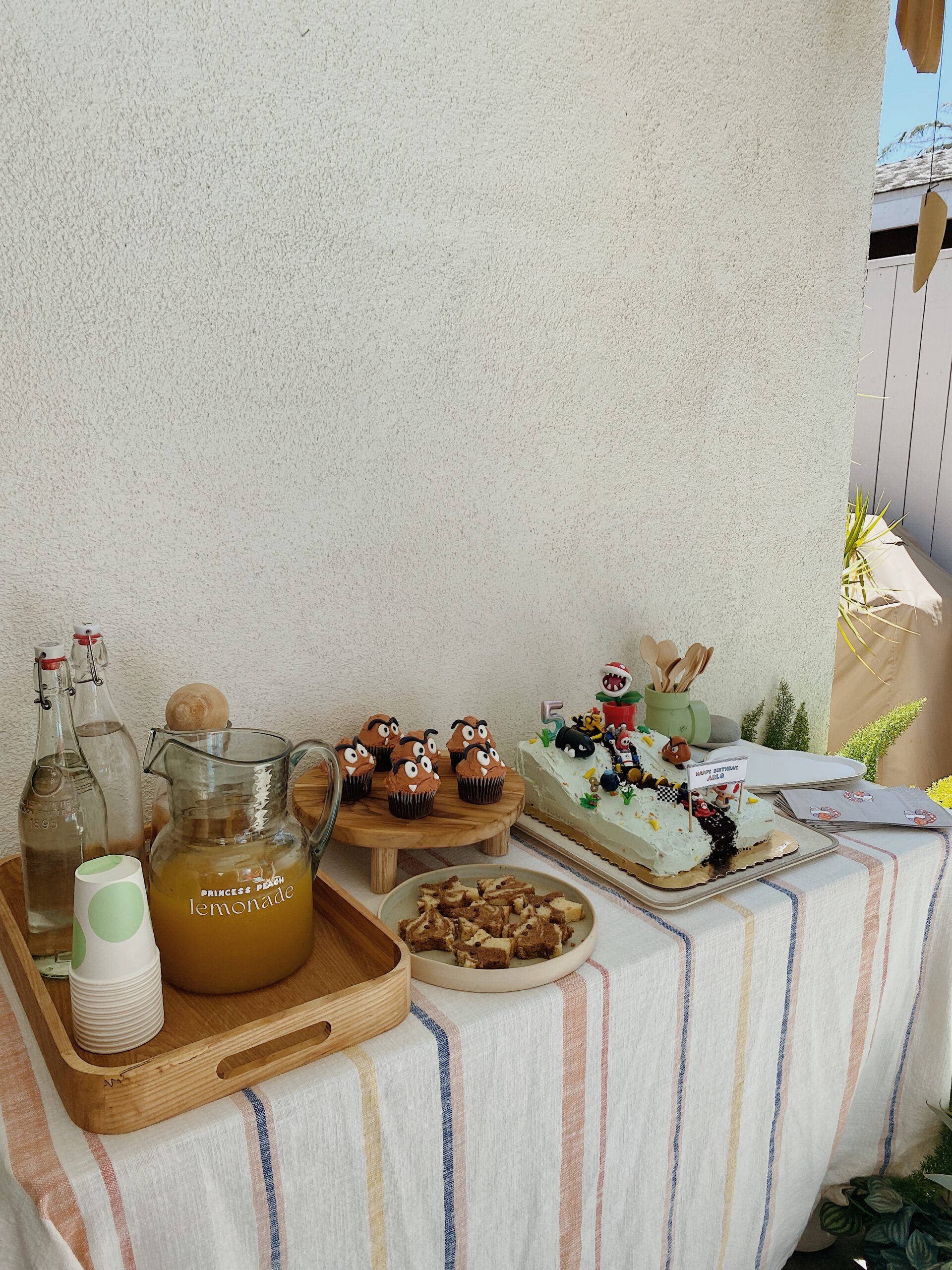 activities
since there weren't that many kids, i didn't stress too much about things to keep them busy, but i did get these mario face stickers and put them on a kids table along with some juice boxes and a bowl of "fireballs".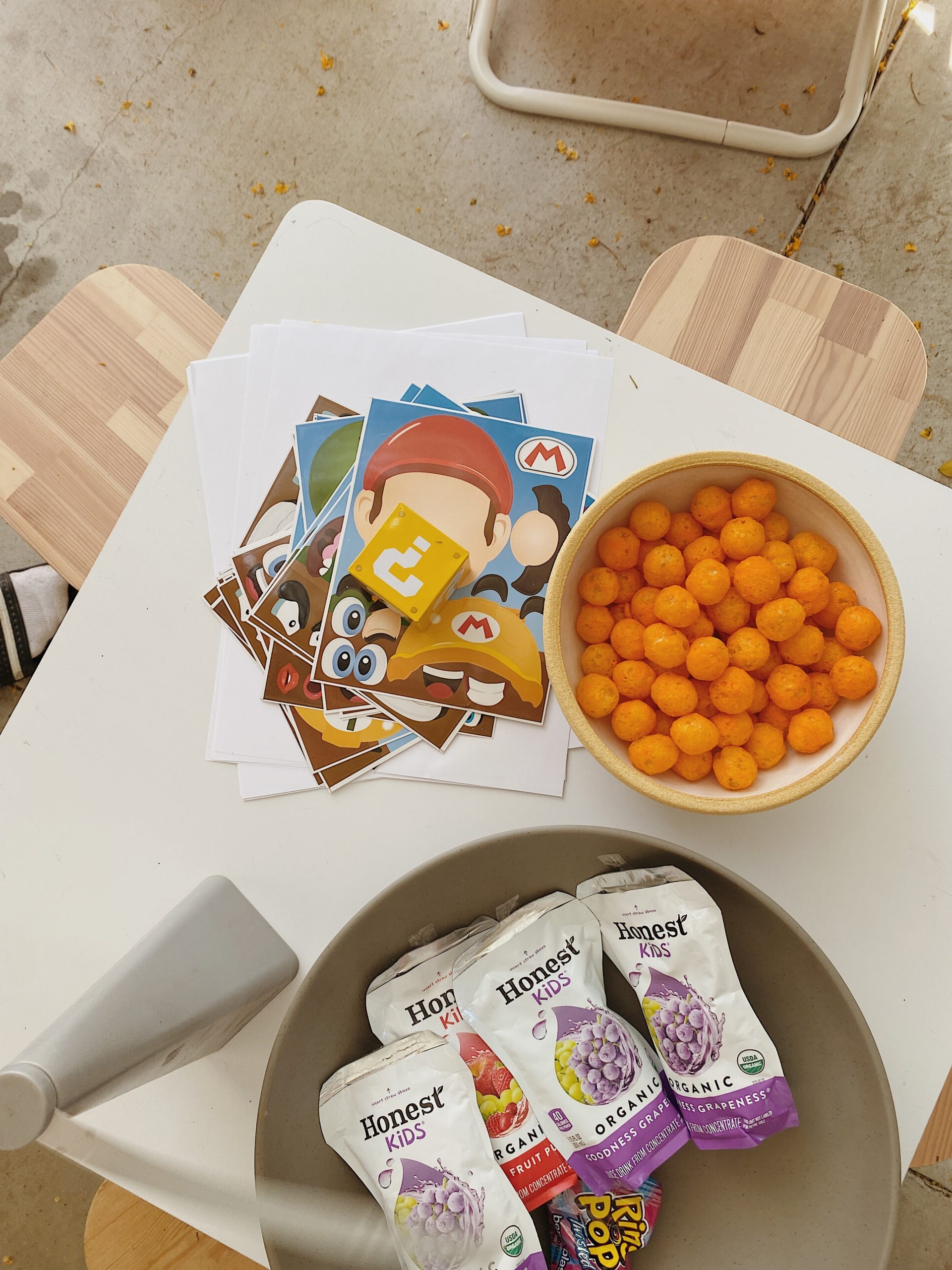 and arlo was so excited to have his first piñata, i just filled it with leftover halloween candy lol.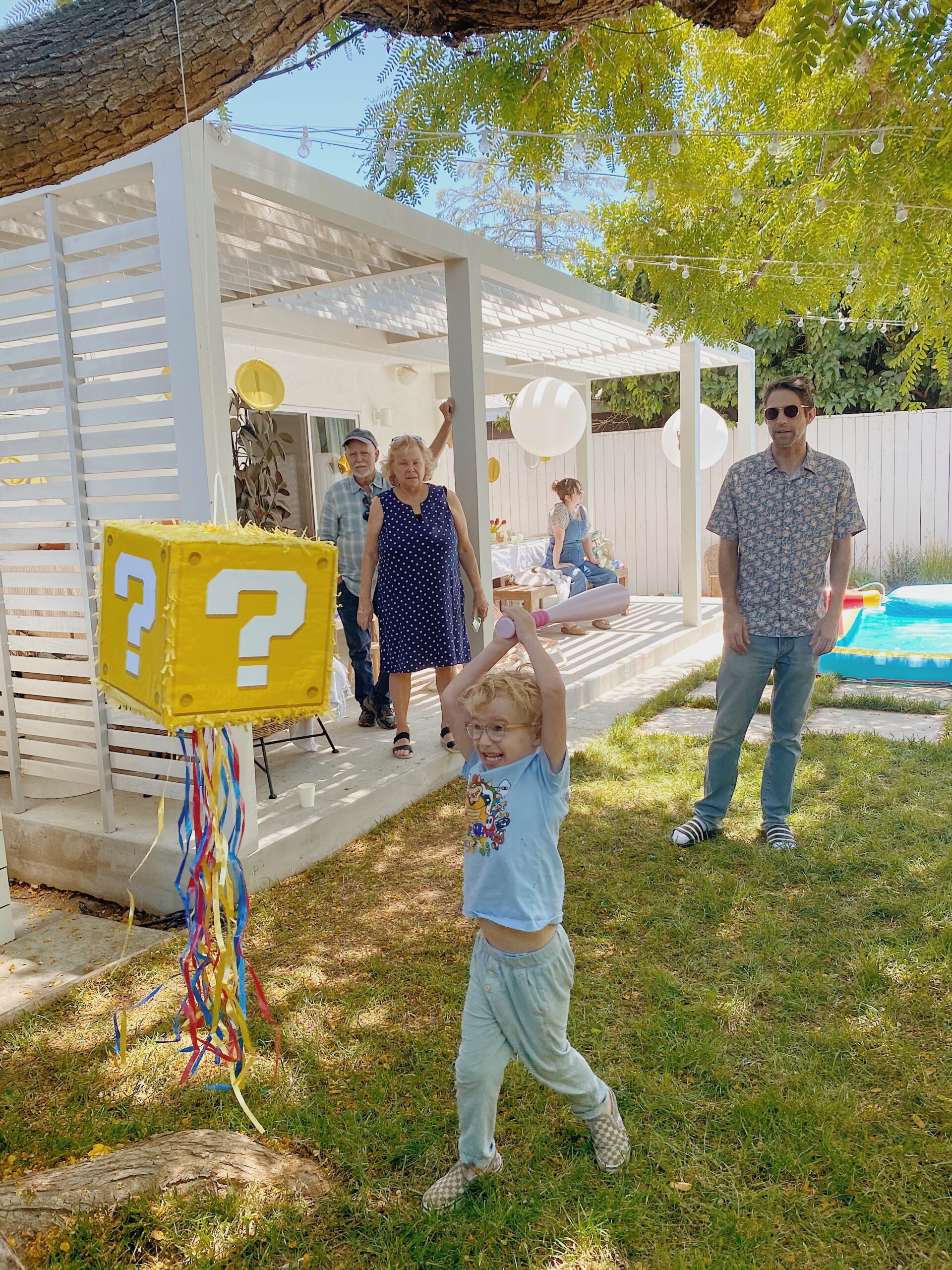 and most importantly, we setup this crab inflatable water slide arlo got for his bday from his grandparents and that kept them very entertained for a while!! if there had been a bunch of kids i probably would have rented a large moon bounce that was on theme, but this was perfect and they had so much fun.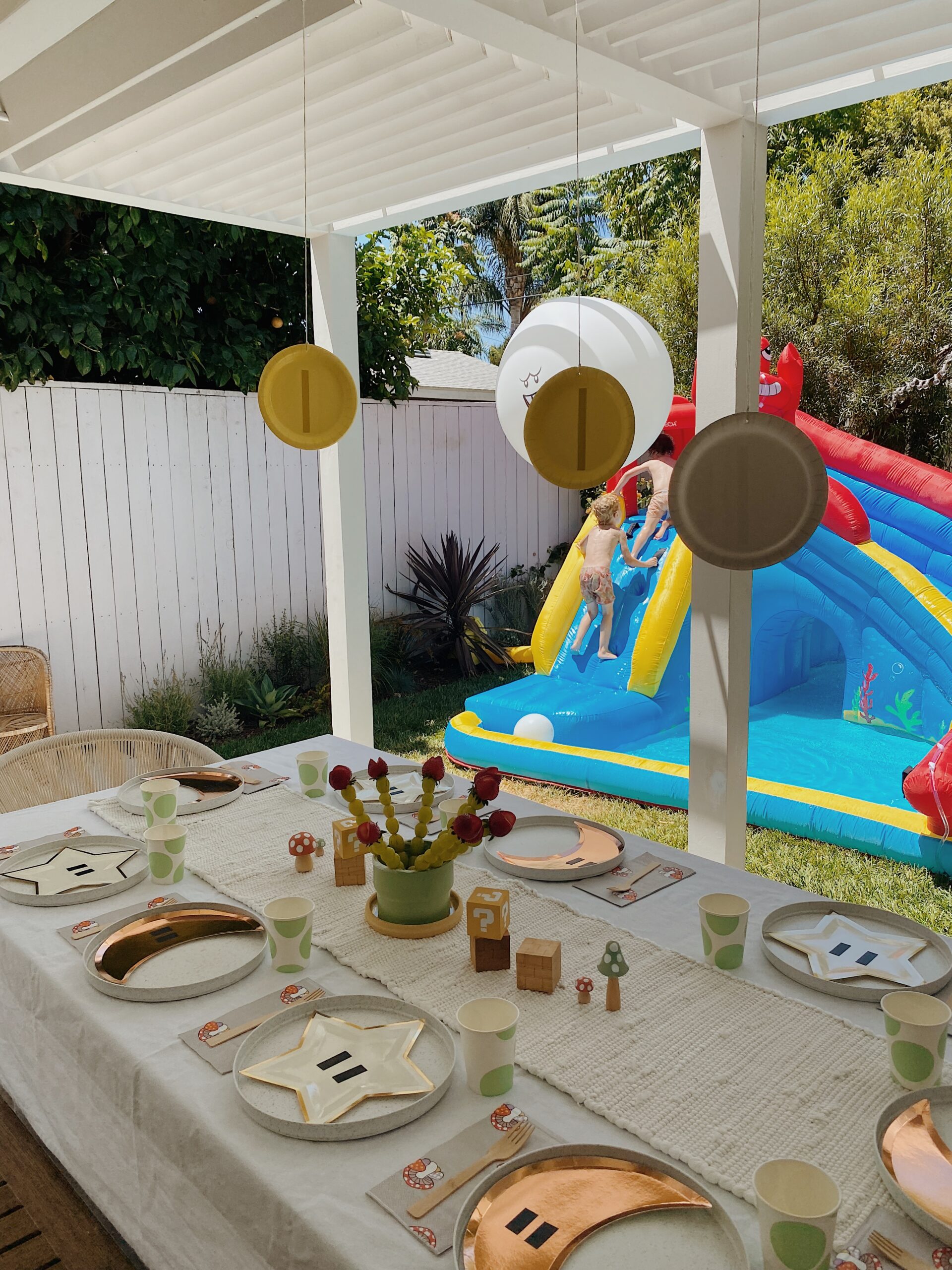 i think i covered every detail, but if i didn't let me know!!!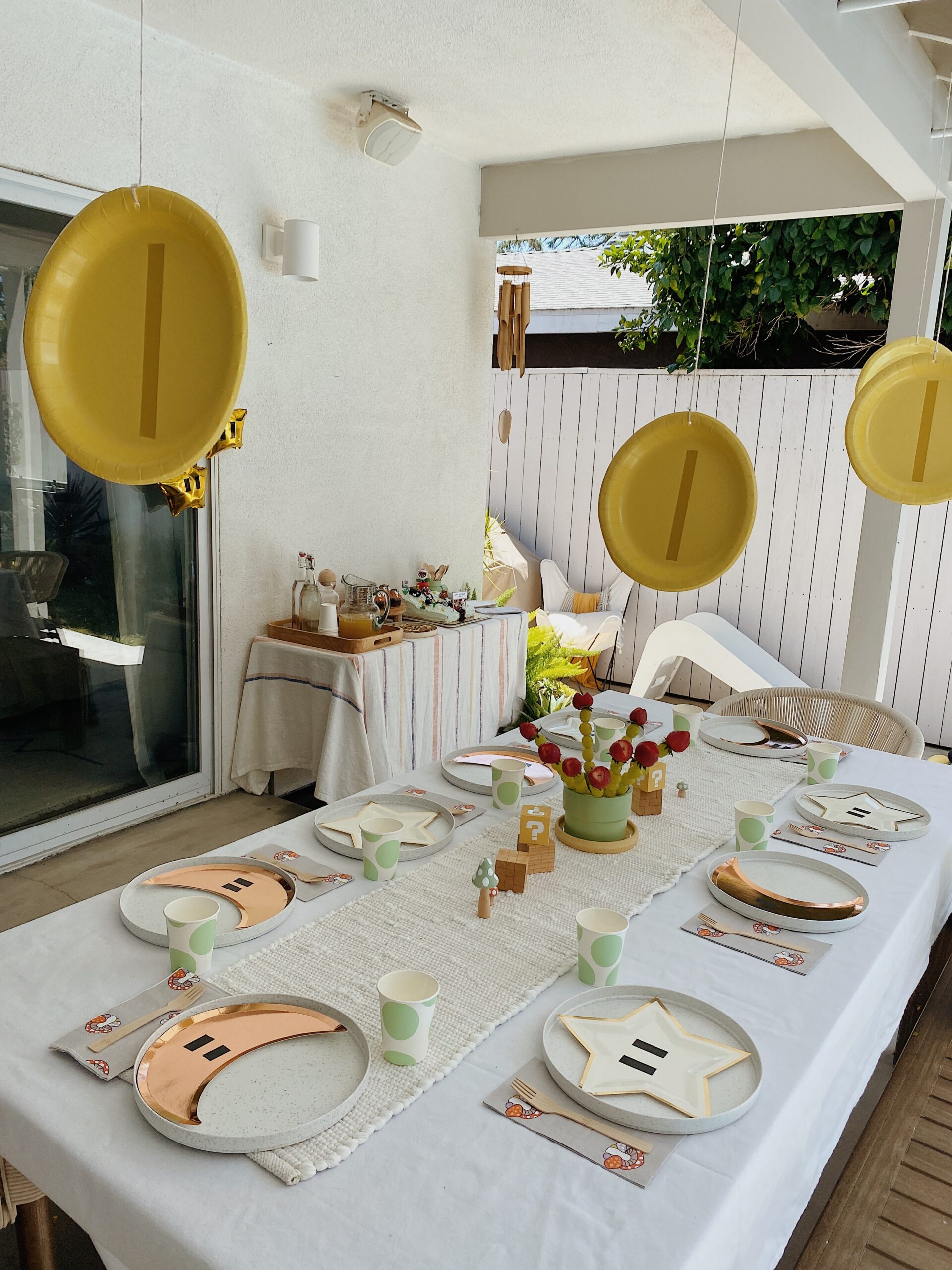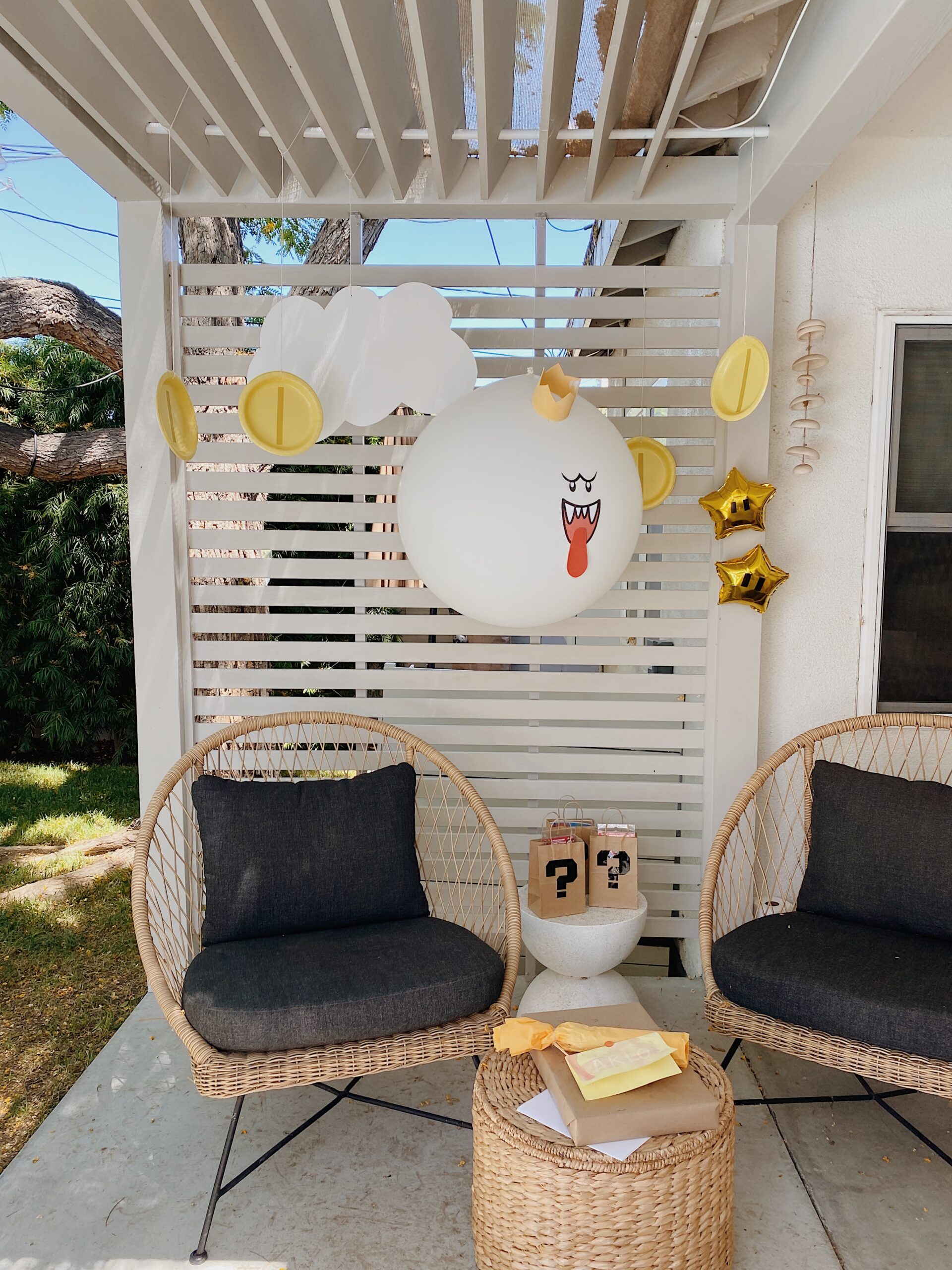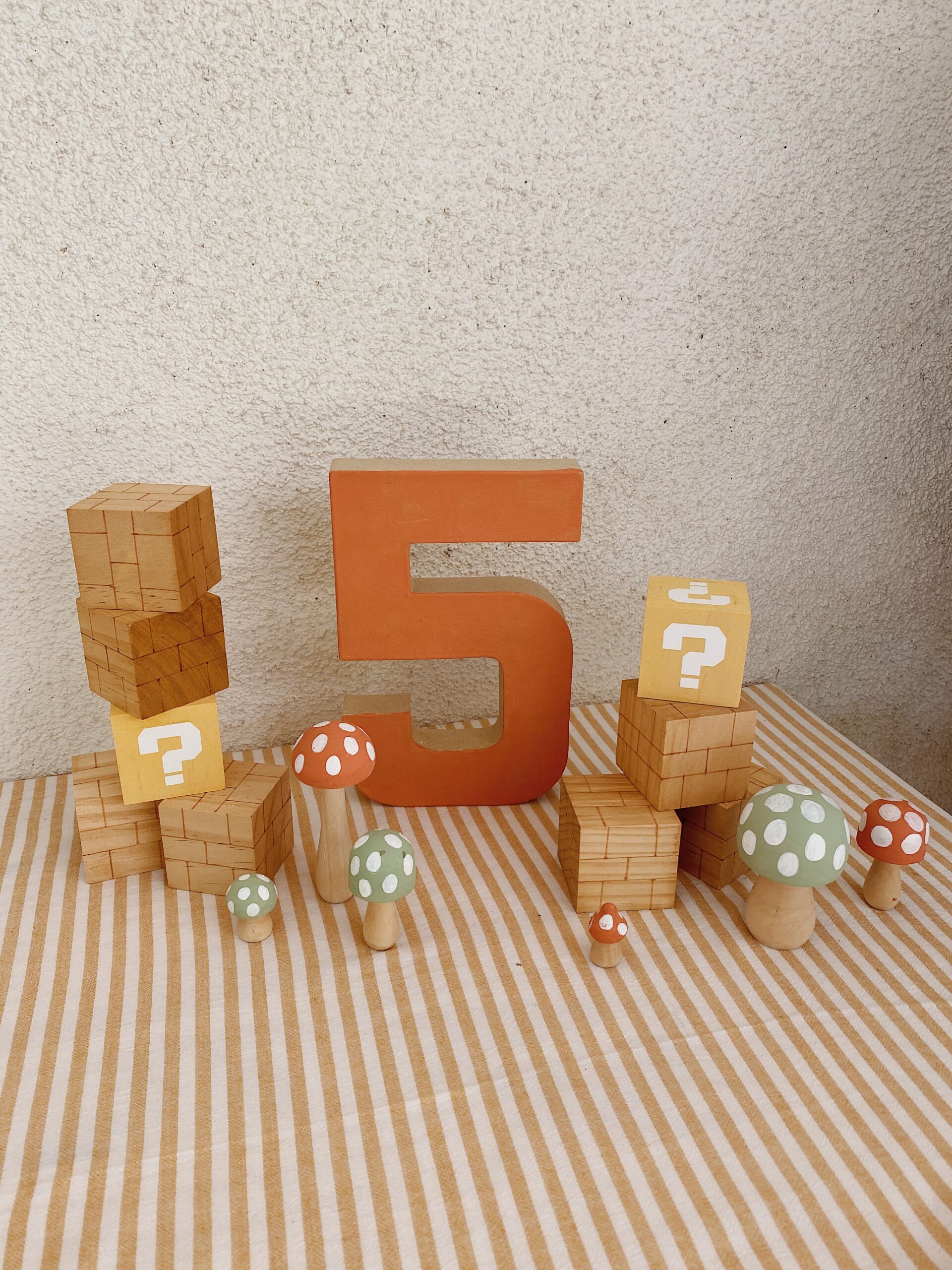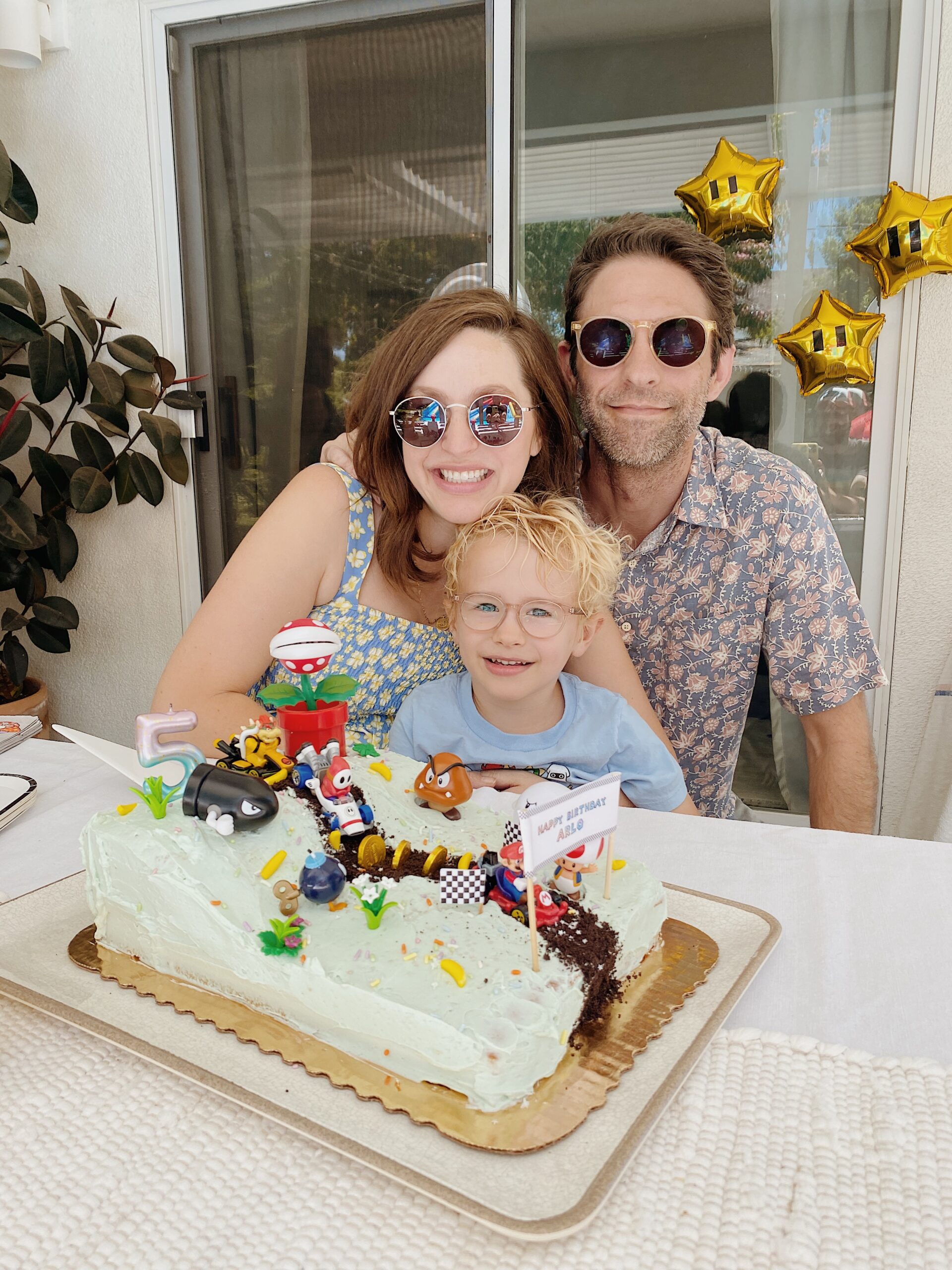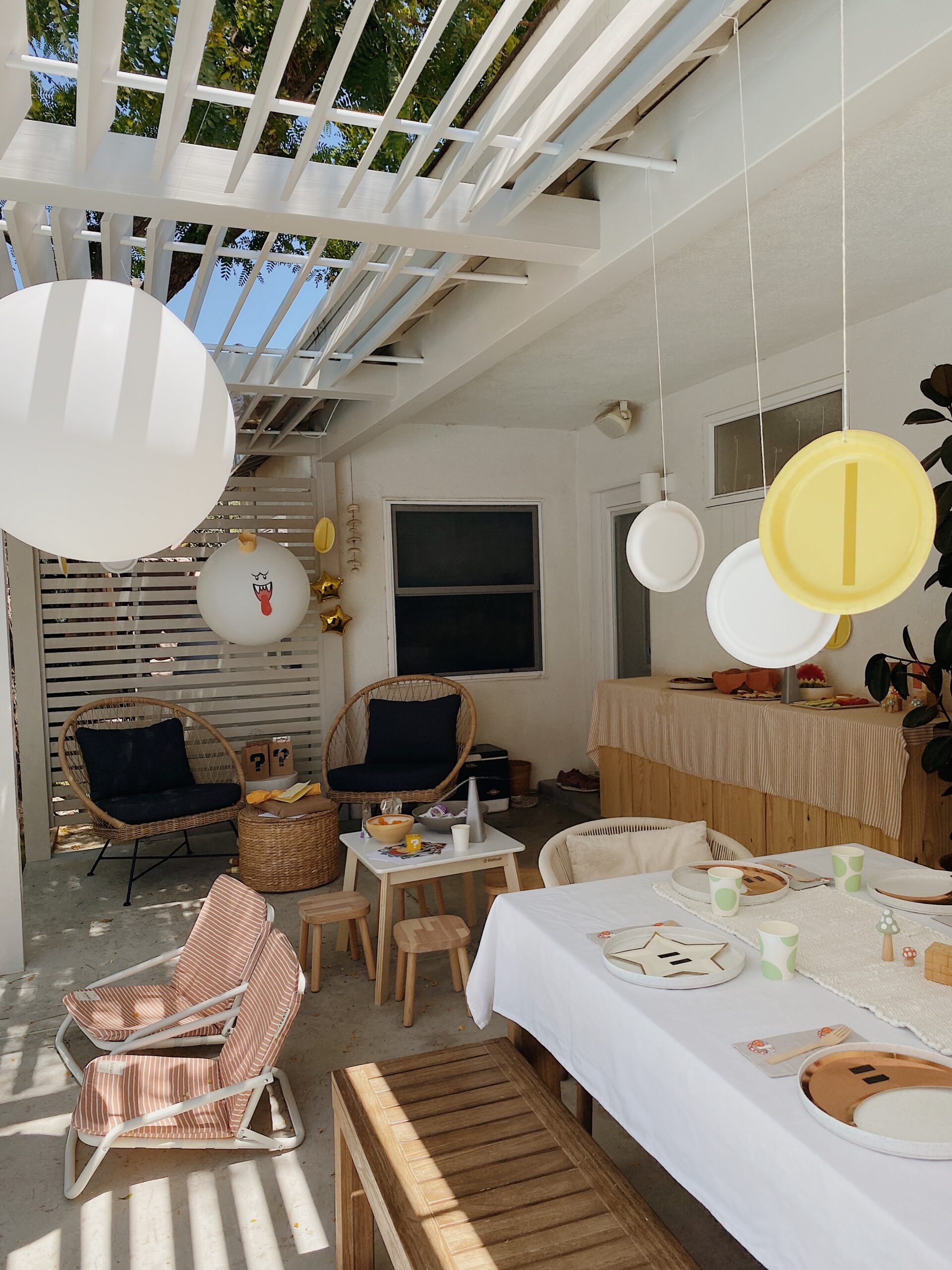 sources