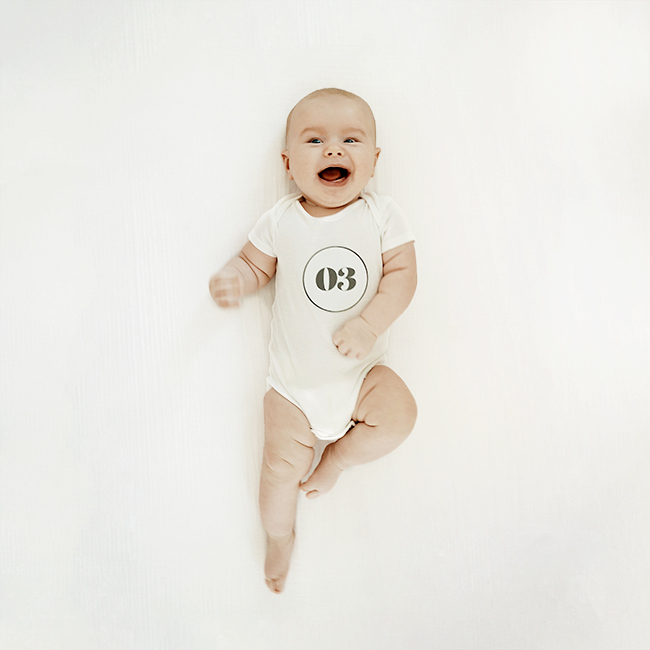 and now he's 3 months old!
he is still my big huge chubby boy, he's getting so heavy to carry around but at least it's probably good exercise (and the only exercise i'm getting). what if my arms get super toned! that'd be cool.
he has been teething for weeks now, but seems like right now we're doing ok with it — he sucks the shit out of his fists and my arm and i put an amber anklet on him everyday which honestly does seem to help maybe? who knows. tylenol works better. he's usually bad at day time naps, but he sleeps at night like a champ. like 7-9 hour stretches. it's amazing.
we've had some rough days this month, but i'm getting to know him better and how to deal with the meltdowns — a lot of them stem from excursions and the transition of being in the car and then coming home. he's not one of those babies that sleeps in the car, he usually prefers to scream the whole. entire. way.
…but we've discovered his undying love for raffi, who can make even a horrible car ride more pleasant! it's so funny to see him crying and try so hard to stay upset but the happiness comes tearing through. i listened to a ton of howard stern while i was pregnant so i thought howards voice would soothe him, but not as much as raffi — so i guess we're just gonna be one of those cars where raffi is always playing.
he also now loves sitting on my lap facing out which is so cute that he's gotten more curious and also it's chill for me because i can sit and watch tv — which he seems to also like! he is getting much better at supporting his huge head, and i'm so excited for when he can sit up.
i'm almost an old pro at wearing him, which i find myself doing almost daily at witching hour, and it's made life a lot easier. i go outside to get him to fall asleep and get fresh air for myself, and i've been able to start cooking dinners which is always so good for me to do. i feel so proud of myself when gid comes home and i've accomplished keeping arlo alive and cooking a meal!
but most of all, he is the happiest baby i've ever seen! he is so loving and sweet and joyful and fun and i am just madly in love!