diy leather cabinet pulls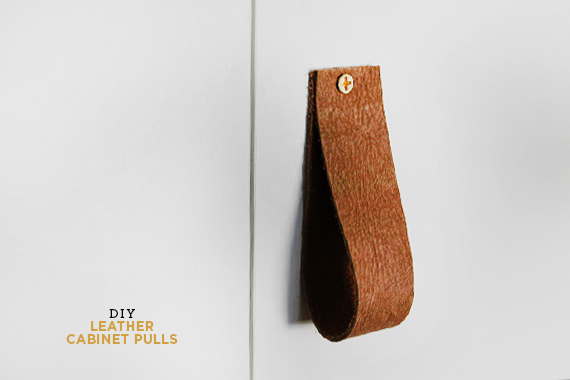 if you're on pinterest, you may have seen these things before. the original leather cabinet pull was by horton rower.
the first time i laid eyes on them, i was like oh shit where will i be putting these?
good news. i found a place.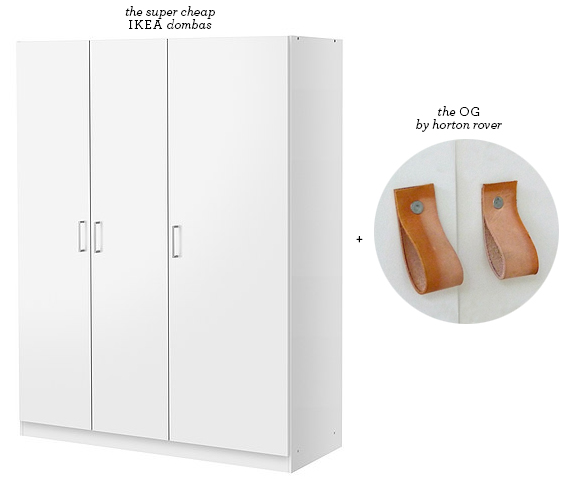 behold this behemoth piece of furniture for $129 at ikea. the ikea dombas wardrobe. why is it called that? it comes with awful, cheap plastic handles.
i have a TON of stuff i need stored, so we got this for the office. it's not as pretty as the pax wardrobe, but it's cheaper, and i thought with the right handles, it'd look just as good. hopes.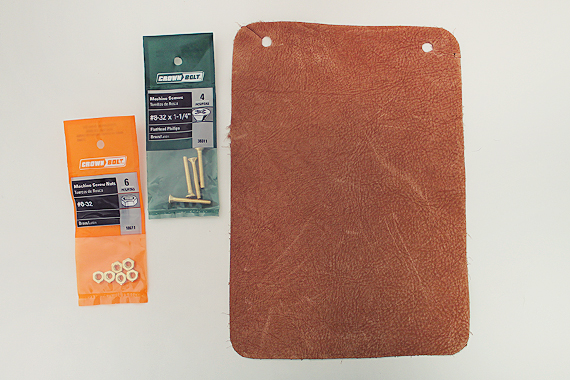 LEATHER CABINET PULLS
each pull i made was about an inch thick. the original was done with roofing nails, but i was going through existing holes and wanted it to be safe for my hands on the back, so i went with screws and nuts. teehee.
STUFF YOU NEED
a chunk of leather *
screws *
nuts *
an awl
an exacto knife
sharp scissors
ruler
____________________________
* i got a page cut out from the fun leather book at the shoe repair shop
* i used machine flat head brass screws (8-32 x 1 1/4″)
* make sure they're the matching size! (8-32)
step one – decide on the size you're going with and loosely measure them out with your leather.
start cutting with a razor and ruler or do it the easy, less exact way, with scissors. i did a combo.
step two – once you have your leather pieces uniformly cut, fold one and pick a place for the screw. punch the hole with the awl as deep as you can through both sides. this seemed easier in theory. in order to really get a large hole cut, i then went in with an exacto and cut a small square on both sides.
step two point five – drill holes if you don't have them. hopefully you already have them.
step three – make sure you can now fit your hardware through both holes of the leather. stick them into the drawer or cabinet holes, and turn the nut on the backside until it's tight and your strap is straight and perfect.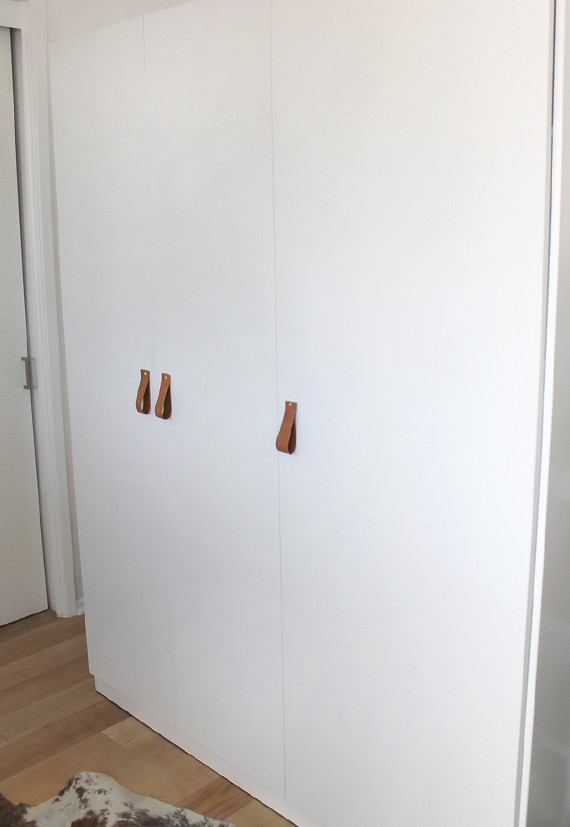 i made mine pretty long because of the ridiculous height of the wardrobe, but these would look pretty good shorter on some drawers.
also, if you're working with a piece of furniture like mine, where there are TWO hardware holes, you may be able to kinda see that i have not yet successfully filled those holes. i've tried wood putty and spackle, but they're not great yet. i will report back on how to properly do that.