the easiest crusty bread ever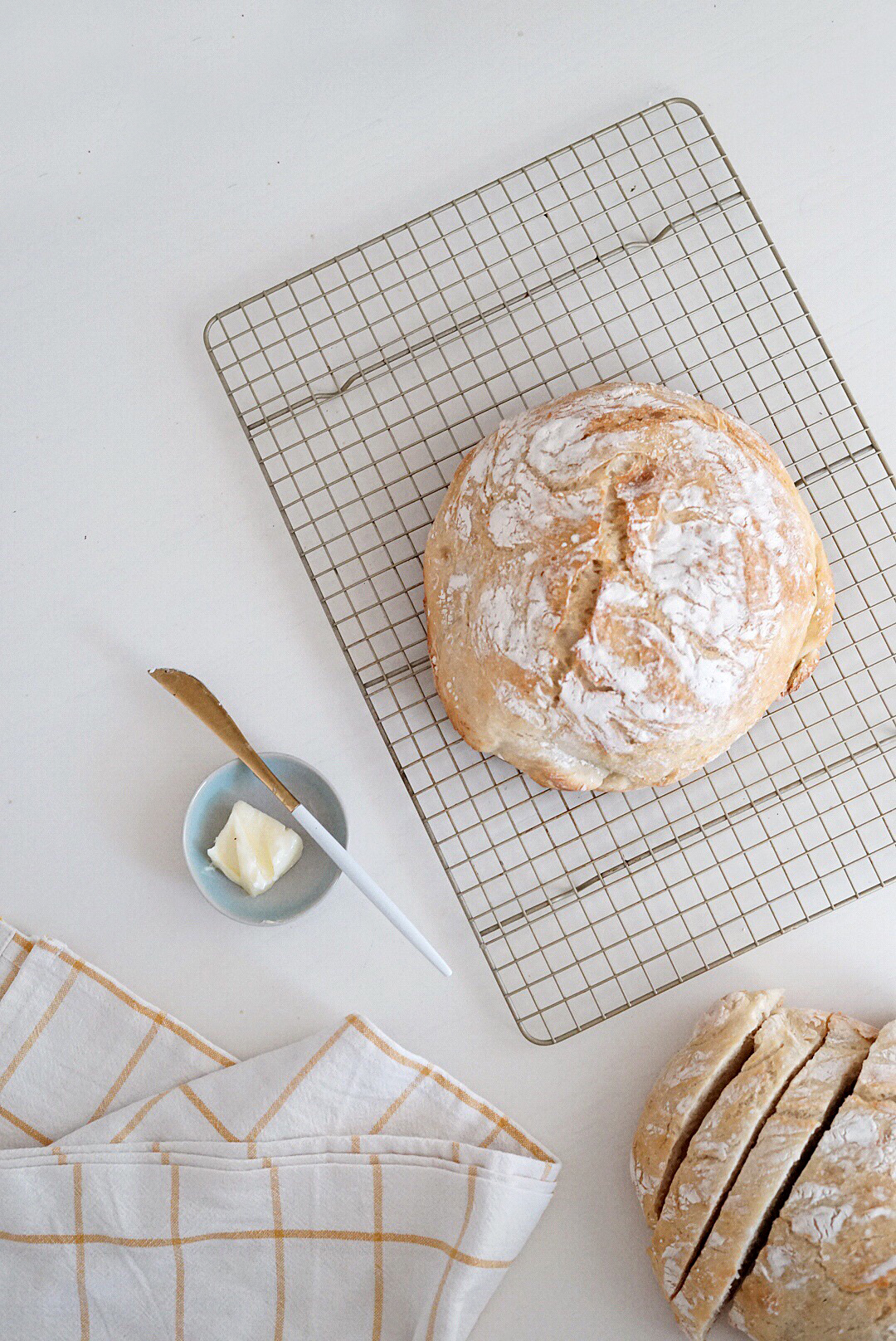 as you may have seen in my goals for the year, one of them was to try new things in the kitchen. i've been saying for months that i want to make a quiche, still haven't gotten to that yet but bread. i have never made bread even though i live for bread, so i decided to try and am soooo happy i did. because now my life will forever be different. i know that sounds dramatic, but i will now live a life full of fresh baked bread and that is a life i want.
there are two major moments in my life where i was legit pleased with myself. when arlo arrived and when i took the top off of the dutch oven the first time i saw that i made bread. i was basically twirling around the house. one week and four loaves later and i'm still v pleased. i am also so happy that i got a lot of you to make this already with my infectious enthusiasm about it. we are all living our best bread filled lives now. 
you can use fancy equipment such as a proofing basket, but i don't have one and tbh i have too many specialty kitchen items as it is (although now that i'm obsessed with bread-making i'm considering it). you don't even reaaally need a mixer. there is no kneading or overnight rising — it is totally foolproof! i swear.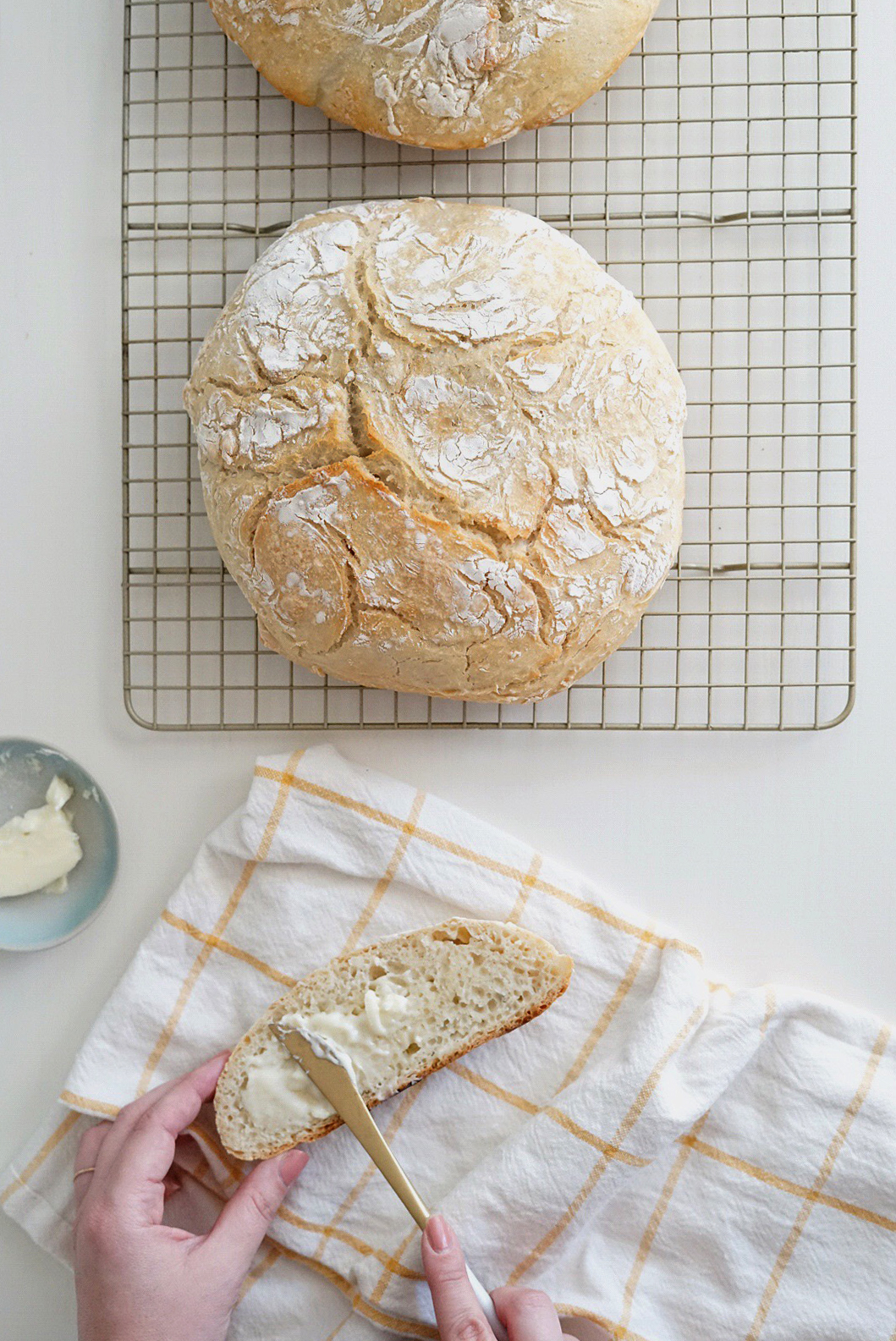 the easiest crusty bread recipe ever
(adapted from life as a strawberry)
INGREDIENTS
2.25 tsp active dry yeast (1 packet)
1 tsp sugar
1.25 cups warm water (about 100 degrees F)
1.5 tsp kosher salt
2.5 cups flour, plus more for dusting
INSTRUCTIONS
1. combine the yeast, sugar and water in the bowl of a stand mixer with a dough hook (or you can make by hand if you don't own one)
2. let it proof (fyi, proofing means resting to rise) for about 5 minutes, once it's foamy.
3. add kosher salt, and then the flour — a little bit at a time with the mixer on at a low speed until it's all incorporated and the dough looks …doughy. if it's too wet, add a little more flour. if it's pulling away from the sides before you've added all the flour, you also don't need to add it all.
4. turn off the mixer, remove dough hook. lightly flour all sides of the dough, and turn it over in the bowl to add flour to the bottom as well. cover with a tea towel and let it rise on the counter for an hour. it will double in size!
5. once it's risen, lightly flour a large cutting board. tip the dough onto the board. sprinkle some more flour across it and begin to shape it. pull each corner of the dough in towards the center like an envelope a few times — then flip it upside down and cup your hands around the sides to make it a round shape.
6. flour a small mixing bowl (or a proofing basket) and carefully place your loaf inside, seam side down. cover with a tea towel and let it rise another 30 minutes.
7. while it's proofing, place your empty dutch oven with the lid on in your oven and heat to 450° F.
8. once the half hour is up and your oven is hot, take the dutch oven out of your oven with oven mitts obviously, and lay your dough in the middle of a square piece of parchment paper, seam side up this time. remove the lid off your dutch oven and drop the parchment inside. put back into the oven and let cook for 30 minutes. (my oven has a tendency to get REALLY hot and can burn the bottoms of things, so i start checking it around 22-25 minutes)
9. remove from oven and remove lid, the parchment paper is cool enough to grab and remove the loaf as long as you're careful. place onto a cooling rack for 20 minutes.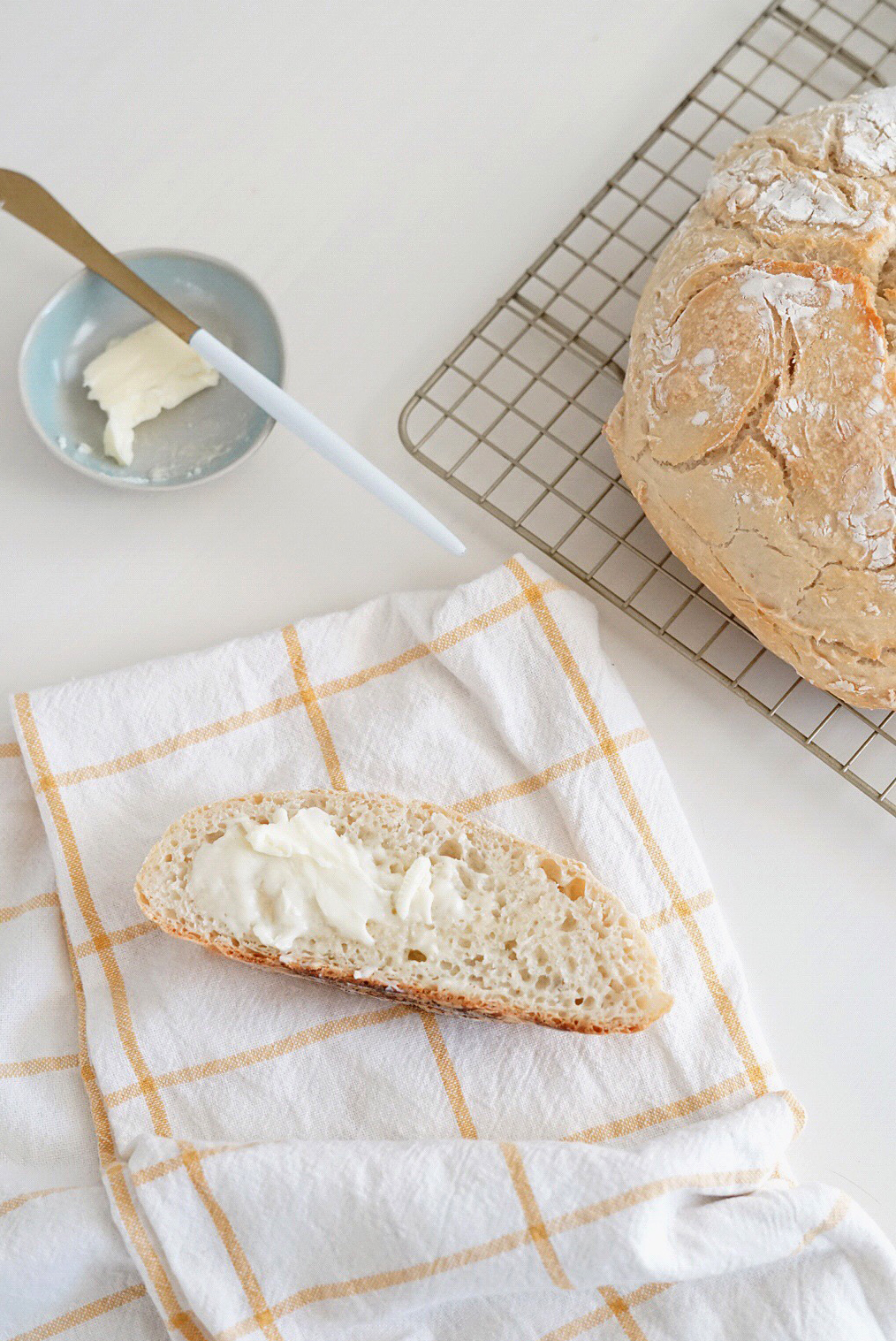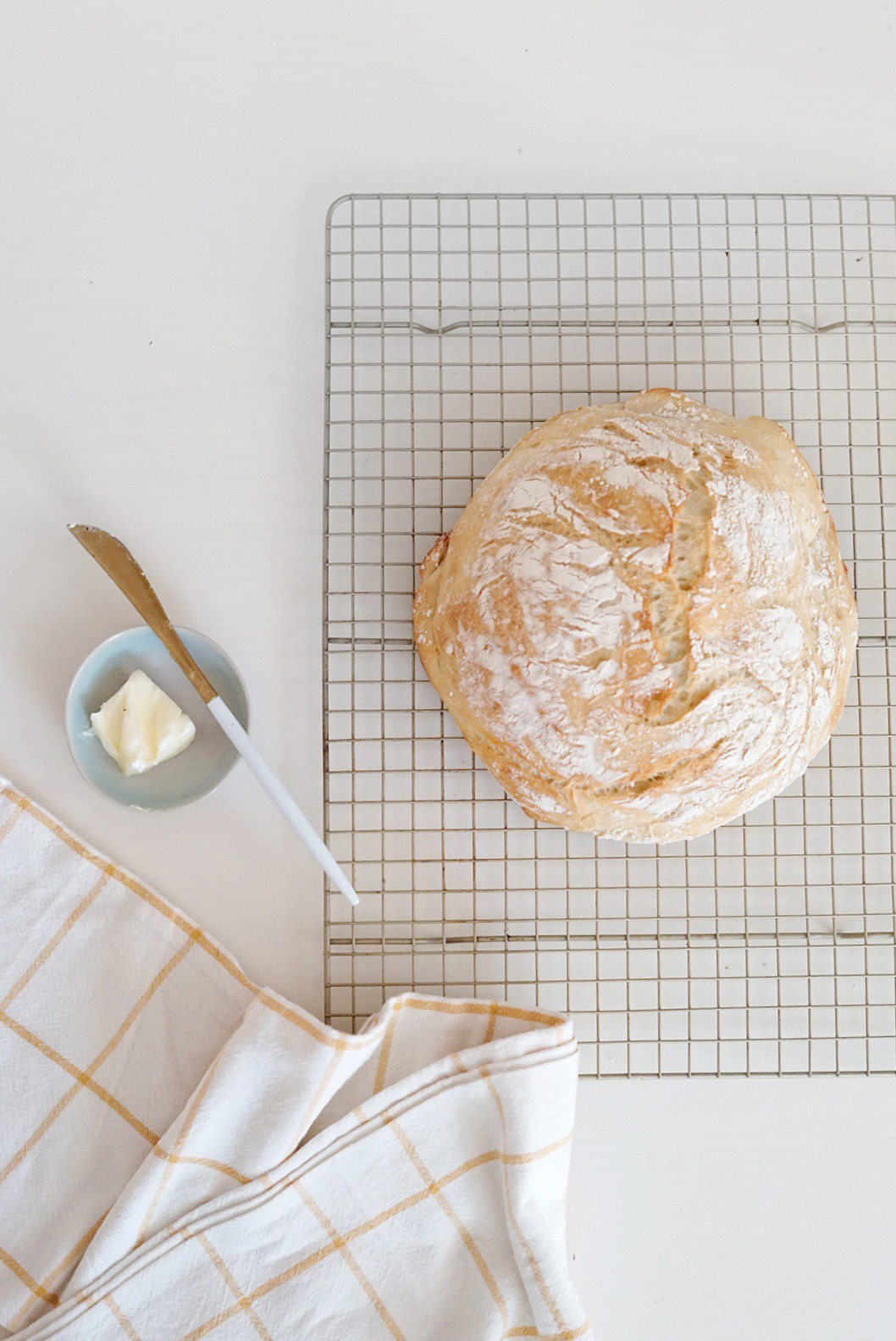 ---

---
now i hope that i've convinced even the most intimidated of you to try this out. even my mom did!would love to hear how it goes too!
also, based on the reader survey a lot of you guys said you'd like all the links for products i use and recommend, so i'm going to try to include in most posts from now on! my dutch oven seems to be out of stock but i found some similar ones.