eating this: heirloom tomato salad with burrata
I made this incredibly fresh and summery salad for a dinner at my boyfriend's parents house. So because I traveled with it, the photos show the salad undressed and uncheesed. You can use your imagination.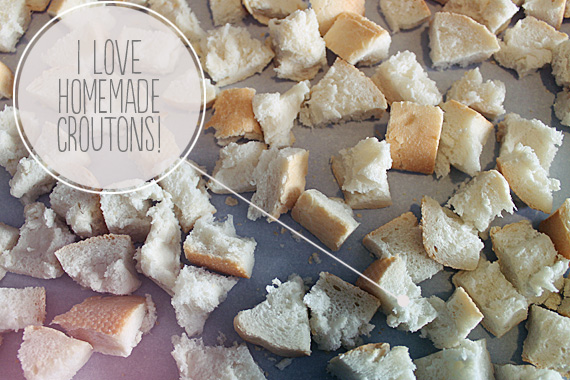 My favorite ingredient for a homemade salad is fresh croutons. Because bread is better than everything.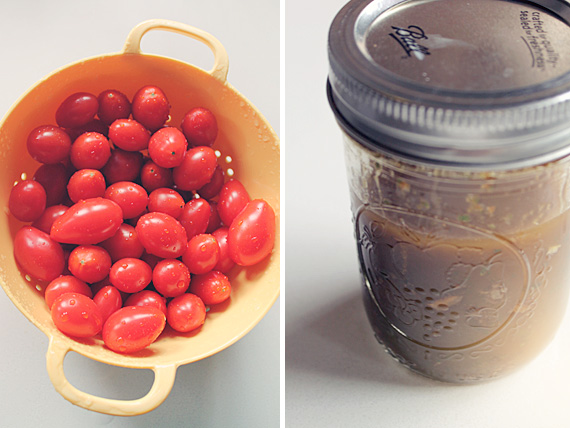 Although tomatoes seem a little iffy for an on-the-go salad, the held up well and I brought the dressing in a jar.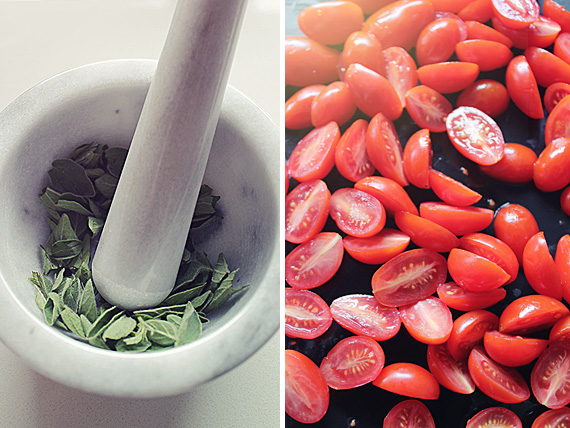 I made this for a huge group of people. And everyone went nuts for it!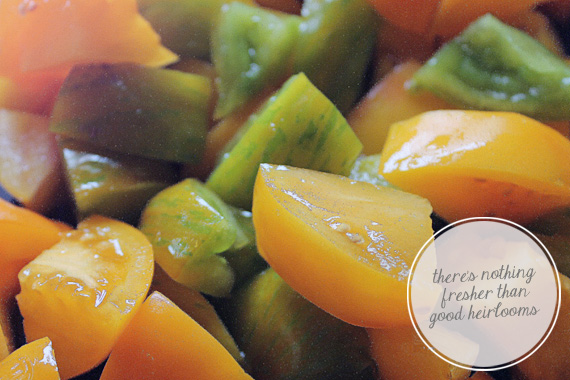 Heirloom Tomato Salad with Burrata and Torn Croutons (from Sunday Suppers at Lucques)
1/3 pond country white bread
1/2 cup extra-virgin olive oil
1 tb fresh oregano leaves
1/2 garlic clove
3/4 tsp kosher salt
1 1/2 tsp red wine vinegar
1 tb balsamic vinegar
1/2 pint cherry tomatoes
3 pound heirloom tomatoes in assorted sizes, shapes, and colors
1 tsp fleur de sel
freshly ground pepper, to taste
1 pound burrata cheese
1/2 cup thinly sliced shallots
2 – 3 tb fresh basil leaves
Preheat an oven to 375°F.
Cut the crust off the bread and tear the remaining loaf into 1-inch pieces. Using your hands, toss with 2 Tbs. of the olive oil, squeezing the bread to help absorb the oil. Toast on a baking sheet, stirring a few times, until the croutons are golden brown, 12 to 15 minutes.
Using a mortar and pestle, pound the oregano, garlic and 1/4 tsp. of the kosher salt to a paste. Transfer to a bowl and whisk in the vinegars and the remaining 6 Tbs. olive oil. (Here's where you can set it aside in a jar if you're traveling with it)
Stem the cherry tomatoes and cut in half. Core the heirloom tomatoes. Cut half into wedges and set aside; slice the rest 1/4 inch thick. Season with the fleur de sel and pepper. Cut the burrata into 12 slices. Arrange the tomato slices and burrata on a large platter. Drizzle with a little vinaigrette. But I skipped that whole part. We added the cheese at the very last minute.
Toss the heirloom wedges and cherry tomatoes gently in a large bowl with the shallots, the remaining 1/2 tsp. kosher salt, a pinch of pepper and 3 tb of the vinaigrette. Taste for seasoning, adding more vinaigrette if desired. Add the croutons and gently toss.
Pile the salad in the center of the platter. Scatter with the basil leaves.