eating this: rack of lamb with mustard soy glaze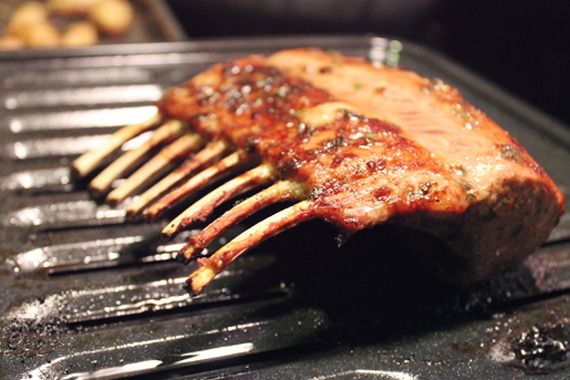 My mom has been making this recipe forever, aptly named "the love meal". It's one of the easiest, no-fail but impressive dinners I can make. One of the best parts of this recipe is that you probably have almost if not all of the ingredients for the marinade in your kitchen already. This rack that we bought at Pavilions was a little smaller than most, so I probably should have compensated by cooking for a minute less, but it still came out medium rare. Just a tiny less pink than I would have liked.
Rack of Lamb with Mustard Soy Glaze
(serves 2… or 3 if you eat less than me.)
1 8-rib frenched lamb rack
4 tb olive oil
2 tb dijon mustard
1 tb fresh parsley
2 tb soy sauce
2 grinds fresh ground pepper (or more)
1 large garlic clove
Whisk all of the ingredients together in a bowl until it forms a mayonnaise consistency. Coat the lamb rack generously on both sides. Broil for 5 minutes on each side.
Turn the oven to 400°. Bake for 10 minutes (for medium rare).
Remove from oven, let stand for 5 minutes before carving.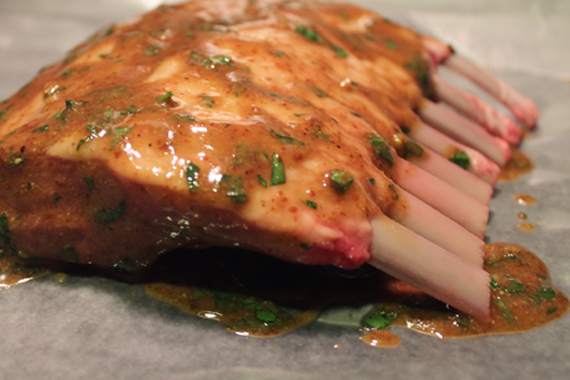 We served the lamb with roasted fingerling potatoes and a beet salad.