easy homemade strawberry pop-tarts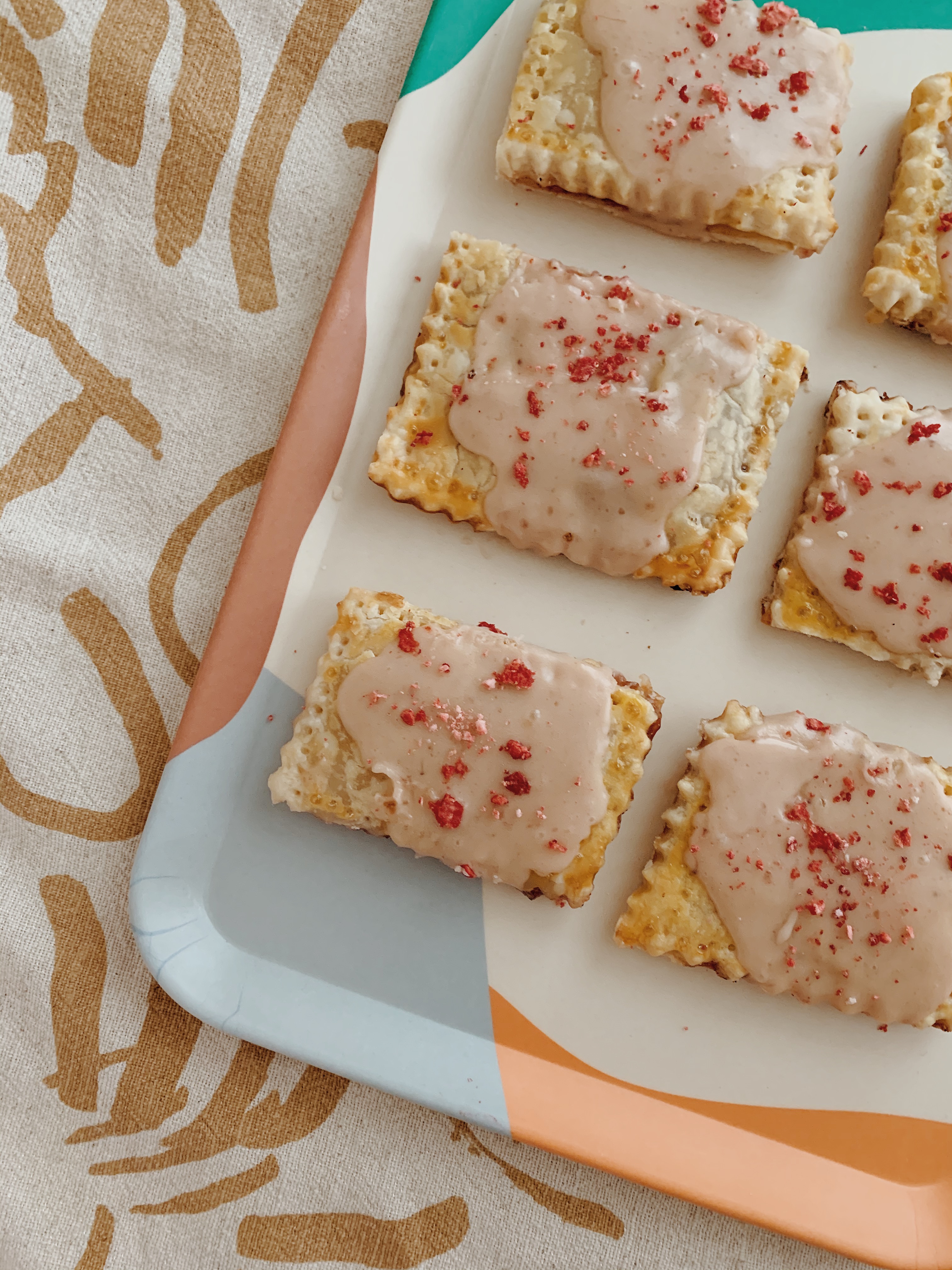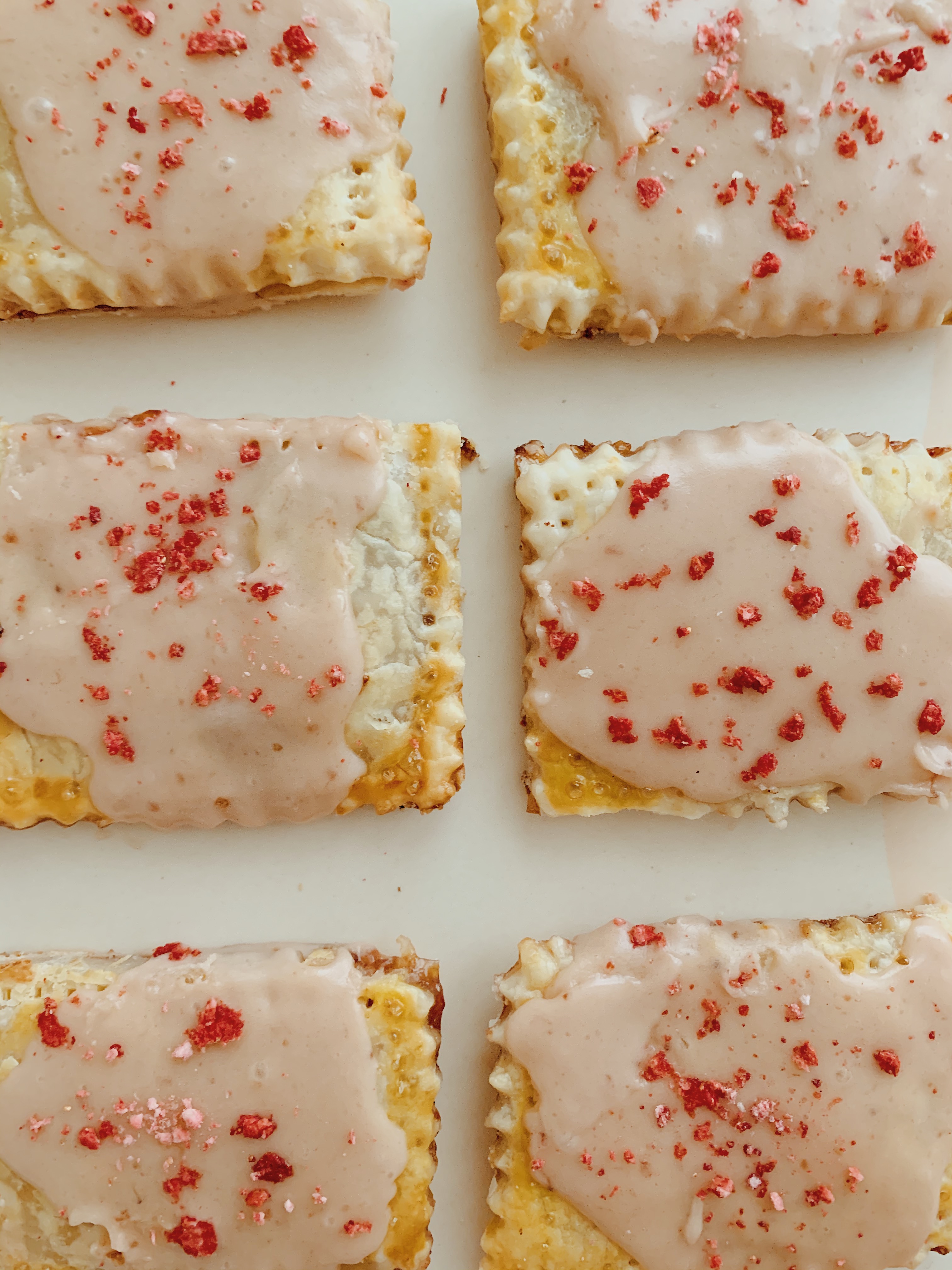 i wasn't planning on creating a blog post when i decided arlo and i would make homemade pop tarts but it was actually so easy and a super fun recipe with a toddler so you should do it too! they don't look great and i forgot to crimp the edges but WHO CARES!!!?!
you could totally make your own pie dough but if you have store bought and a toddler, i am all for the easiest methods. when i decided on pop tarts it was because we had so many blueberries and lemons so i wanted to use some of them up, but then i started researching and realized i could just use jelly instead so again, EASY!
so yeah ours came out looking like crap, we overfilled them, i forgot to crimp the edges like i said, and the jelly leaked out everywhere during baking– BUT i was able to salvage but trimming with a chefs knife prior to adding the glaze. and yes they're totally asymmetrical but as i always say, you can blame your kid for that. now is not the time to care about doing anything perfectly, it's hard enough to do anything at all lol.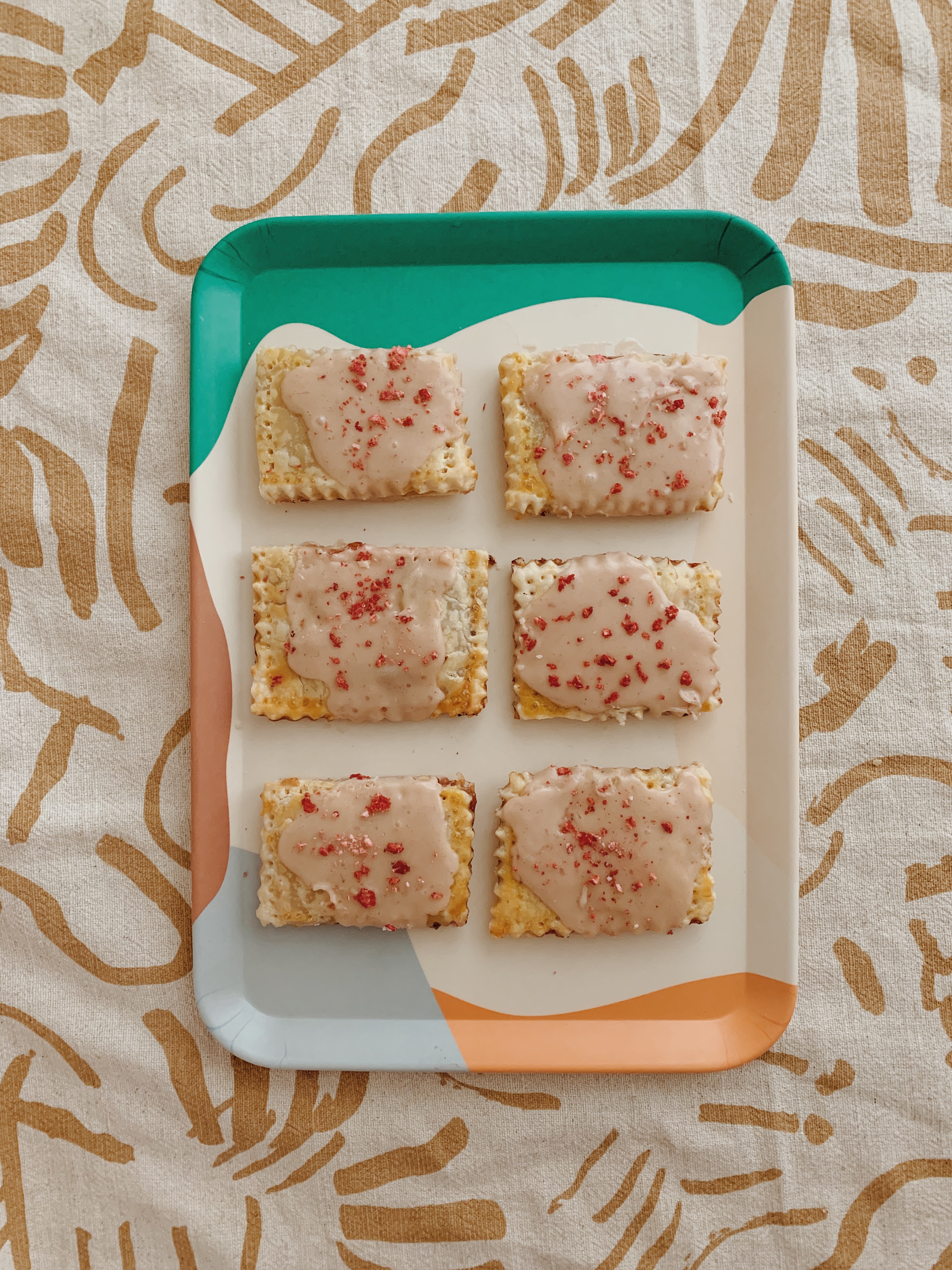 easy homemade strawberry pop-tarts
ingredients
1 package pie crust (we used pillsbury both in the 2 pack)
1 cup jam
1 large egg
for the icing:
1 cup confectioners sugar
2 tb cream or milk
2 tb jam
1/2 tsp vanilla
dehydrated strawberries
Instructions
preheat oven to 400°F
lay a sheet of parchment down on a baking sheet and unroll crust onto another sheet of parchment
cut out as many rectangular pieces as you can with a pizza cutter that are around 3×5″. with leftover crust, knead together and roll back out into another large piece to cut the remaining rectangles. it's easiest if you pair them as you go.
beat the egg for your egg wash in a small bowl.
lay out your rectangles on the parchment lined baking sheet. add the egg wash to the bottom pieces, then add a small spoonful of of jam in each one. place your second rectangle on top and gently pinch the edges to seal– then crimp the edges with a fork! OOPS. poke some holes on top and brush the entire thing with more of the egg wash.
bake for about 12-15 minutes or until golden brown.
once cooled, whisk together icing ingredients and spread over each pop tart. add freeze dried strawberries crushed (or sprinkles)
store in an air tight container for up to two days but honestly they are super good the first day and pretty soggy the following.