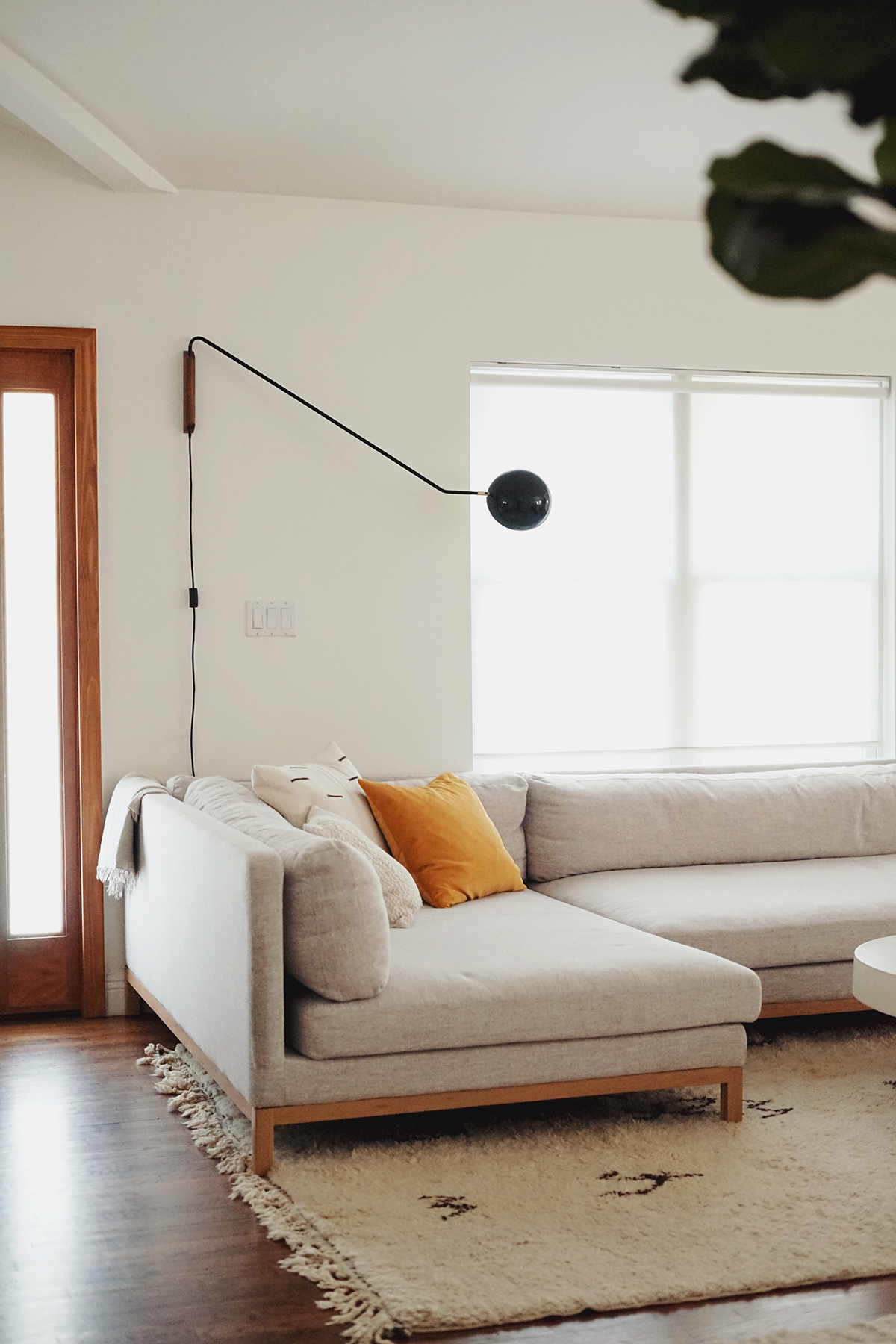 wowowow how have i never done a post on my living room this whole time!? well today is the day. i feel like the living room never felt quite finished to me, but it's not like i'm changing anything so here we are. i get so many questions about everything i thought it would be nice to put everything in one place.
our couch is called the jasper from interior define, a lot of people thought we were crazy to replace our old sectional, but i am so glad we did! our last one was comfy, but we had it custom made for the space before sort of realizing what we really wanted in a sofa — there was only one good spot on the old one, on the chaise, which only fit one person because of it's depth, and the color was sort of dark and it always looked a bit droopy because the back and the bottom cushions were down. so this time, we really knew what we wanted… a couch wide enough for all of us to comfortably lounge, a light fabric that was stain resistant, and cushions that wouldn't droop so much.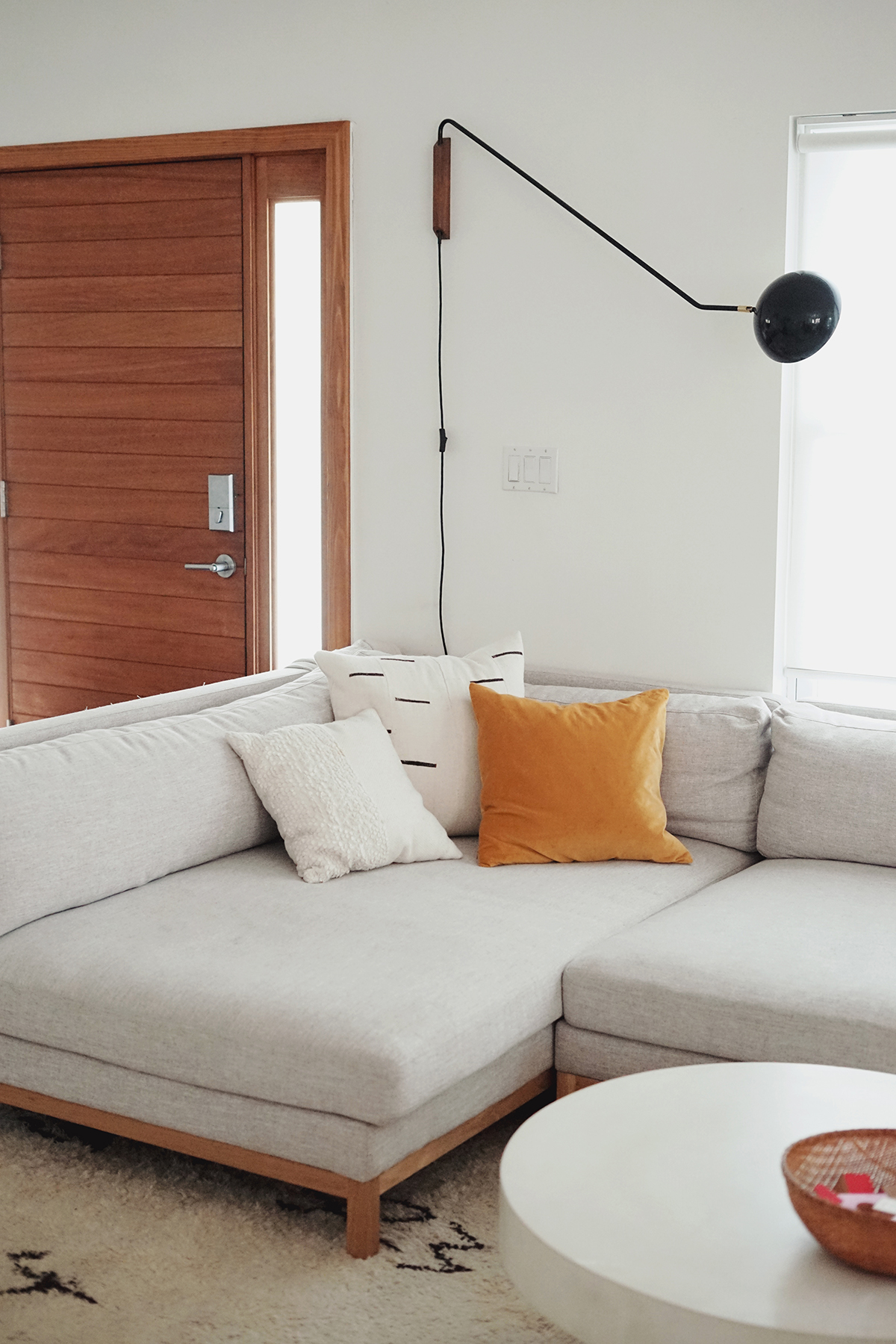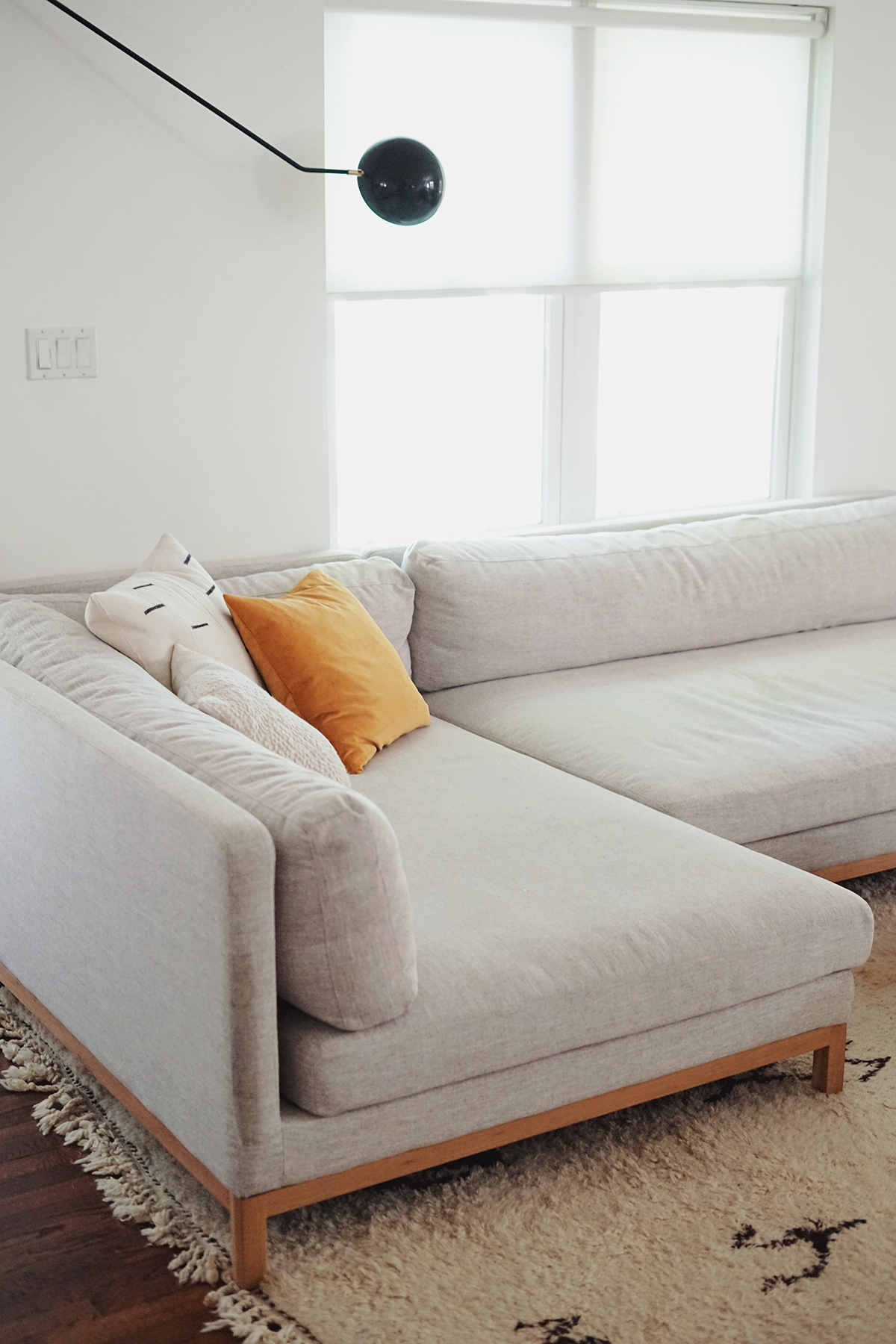 we ended up getting basically the deepest couch i've ever seen. when it first was delivered i actually had a little panic attack that it was way too deep, but now i could never go back. every seat is comfortable, it's like a giant bed. and arlo loves it so much. we chose one of their kid/pet friendly fabrics called wheat and the natural oak legs (the legs are sooo good). the fabric has been really durable, arlo has spilled on it a few times already and we've gotten them all out. the back cushions tend to get droopy because the cats and arlo all like to lay on them, but they're easy enough to reshape. two of our cats like to scratch certain areas so we've tried covering them with blankets and sticky paws, but arlo likes to peel it off of course. i actually didn't even have this sofa model on my list when we went to see them in person, and it was arlo and gid who were the most into it.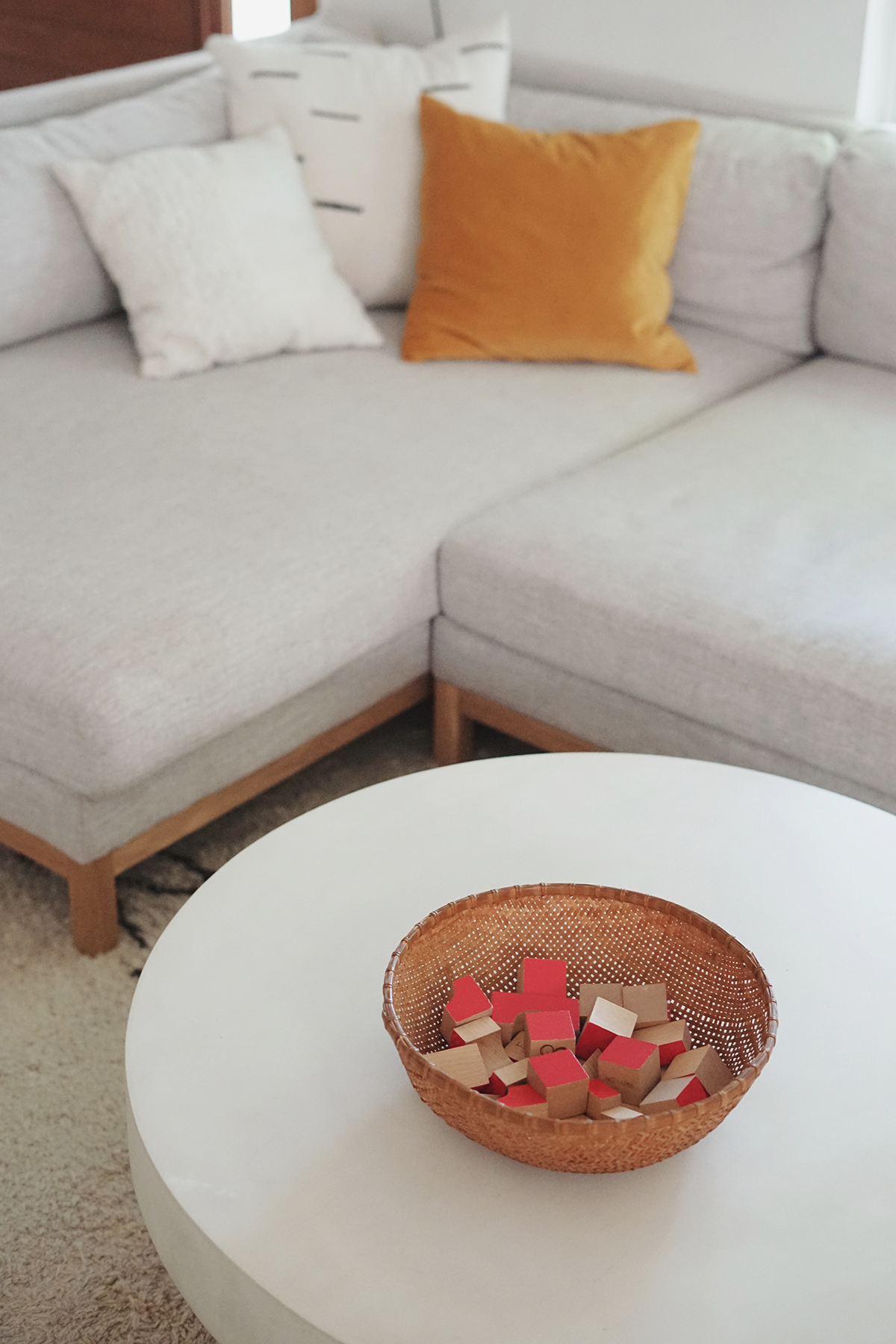 our coffee table is the shroom table from cb2, we've had for years now. i get lots of questions about this because the reviews on their site say that it stains and cracks, etc. i saw those reviews when i was buying it too, so we decided to seal it right away. we got this car wax, and applied it liberally all over the top, there are maybe a few spots if i look really closely but i honestly think that worked! it doesn't really seem to stain for us, at least not yet. i also don't eat on it, and i'm a coaster nazi, so that probably helps too. there are a few cracks here and there but again, i only notice them if i'm looking closely.
i used to keep it styled with cute little objects, but those days are gone for now. so a winnowing basket with blocks is all that keep there at the moment. (these are the blocks)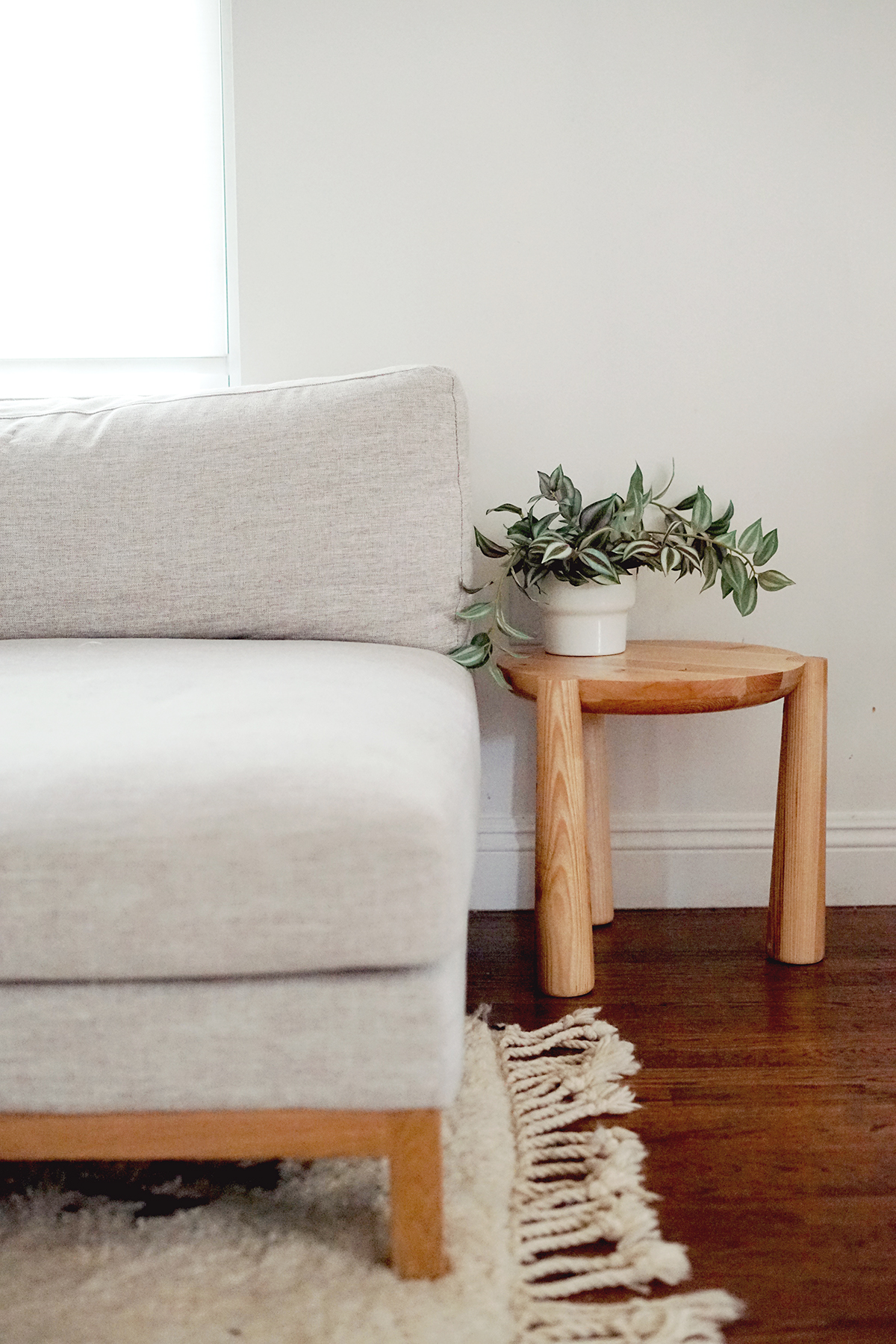 when i got our couch, i was on the longest hunt for the perfect little side table. since our living room is just sort of in the middle of our one big great room, we never have really had the space for side tables or side chairs (we did have a chair for a while but ultimately realized it just didn't fit), but since our new sofa wasn't as long, i was sooo stoked to have room for a small side table. i found this one and it's the perfect height. (it's sold out, but i also loved this one) i wanted to put a lamp on it (this is the one i planned to get), but immediately realized that shit is not happening with a toddler in the house, so i settled on a fake plant that he likes to toss around sporadically, so i'm glad it's fake. the pot is from ikea.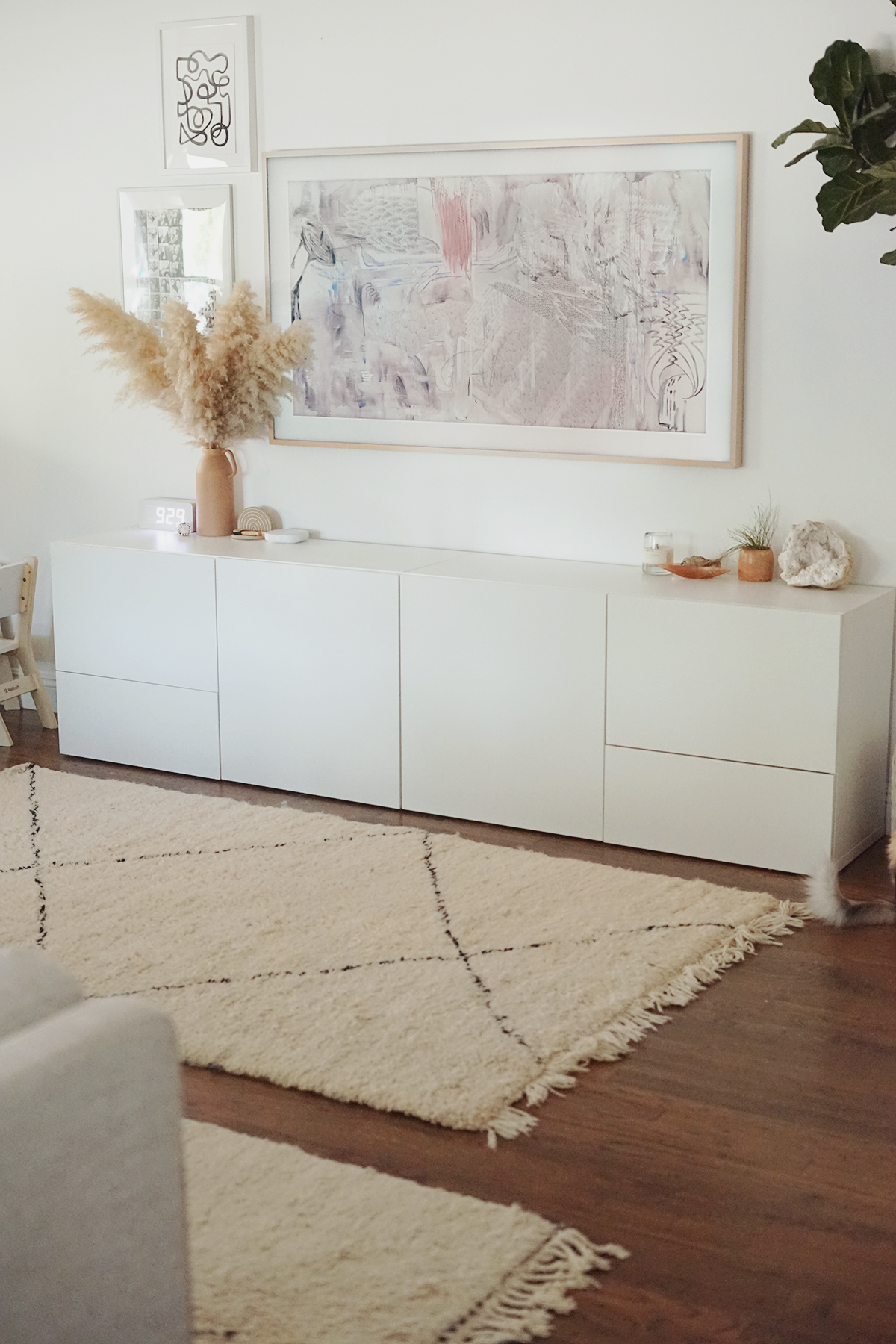 we got our rugs from ebay, you might remember the rug under the sofa was in arlo's room originally. the thing about vintage moroccan rugs that you buy online is that they will probably arrive "vintage", like every vintage rug or kilim pillow we've gotten has had a funky smell. we spent so much time in arlo's newborn days on the floor that i decided to purchase a new moroccan rug instead and put that rug here. we got the second rug when he was starting to crawl because i wanted him to have a soft play surface out here. i got another vintage one, the size was perfect for in front of the cabinet. i considered selling our rug and just getting a huge 9×12 one to fill this room, but i actually like having the gutter between the rugs in case someone doesn't take off their shoes and wants to quickly get through the room. (yep everyone here is barefoot and using coasters.) ps. can't get through one photo shoot without a mysterious cat tail showing up.
i think you can't go wrong either way, if you decide to purchase vintage or new. we have new ones in the rest of the house and i love them all just as much. i decided to round up some of my favorites in case you're looking for similar styles.
---

---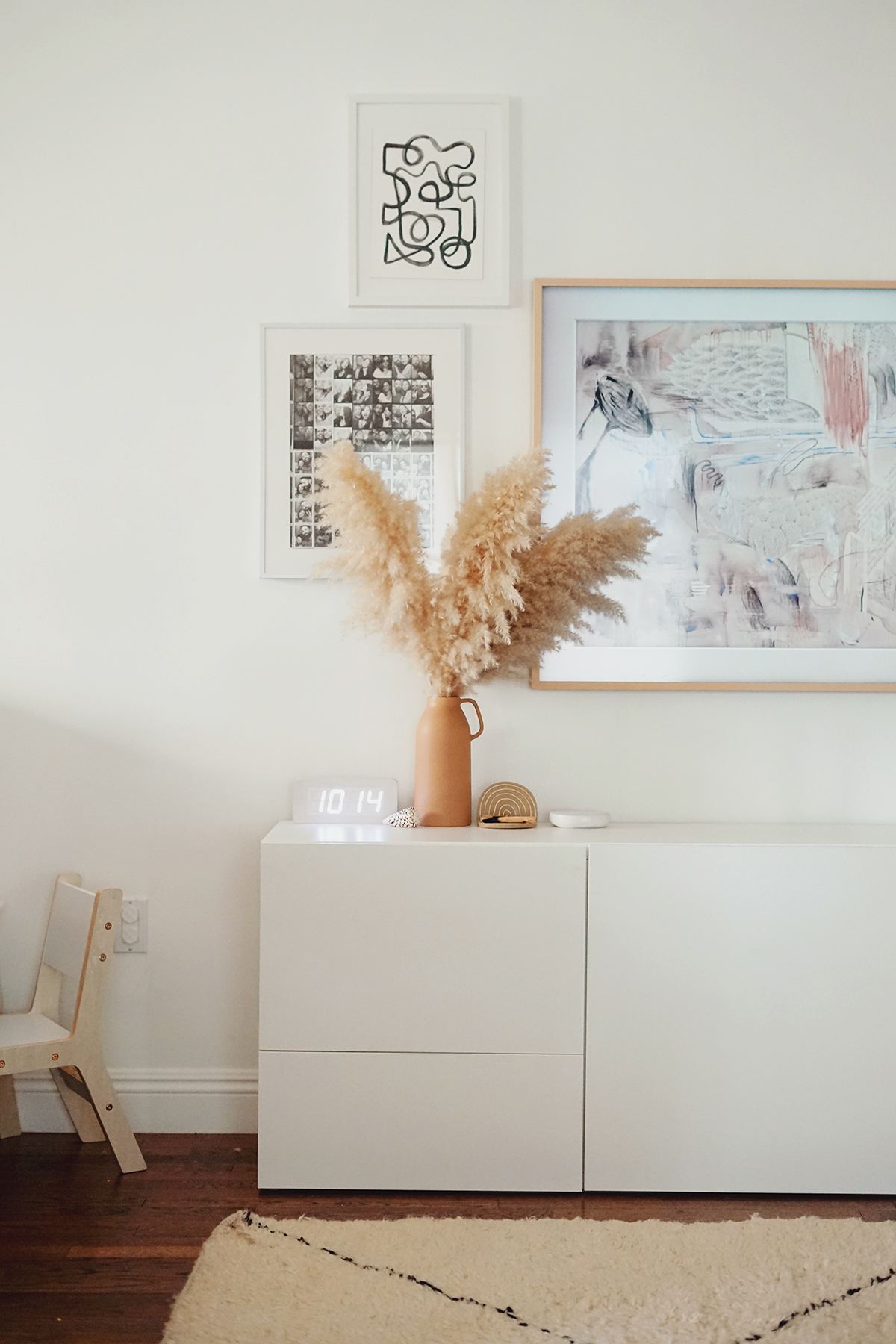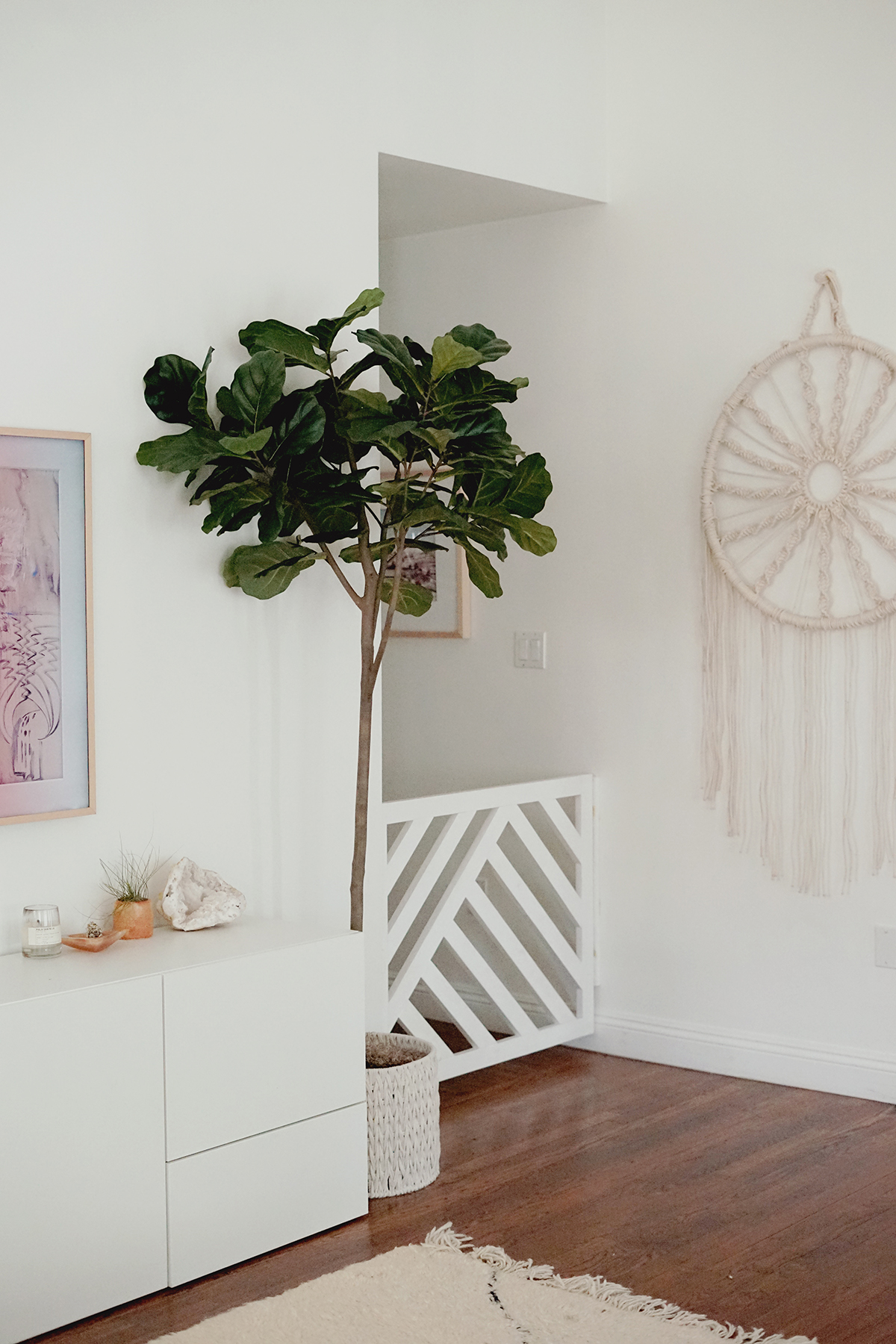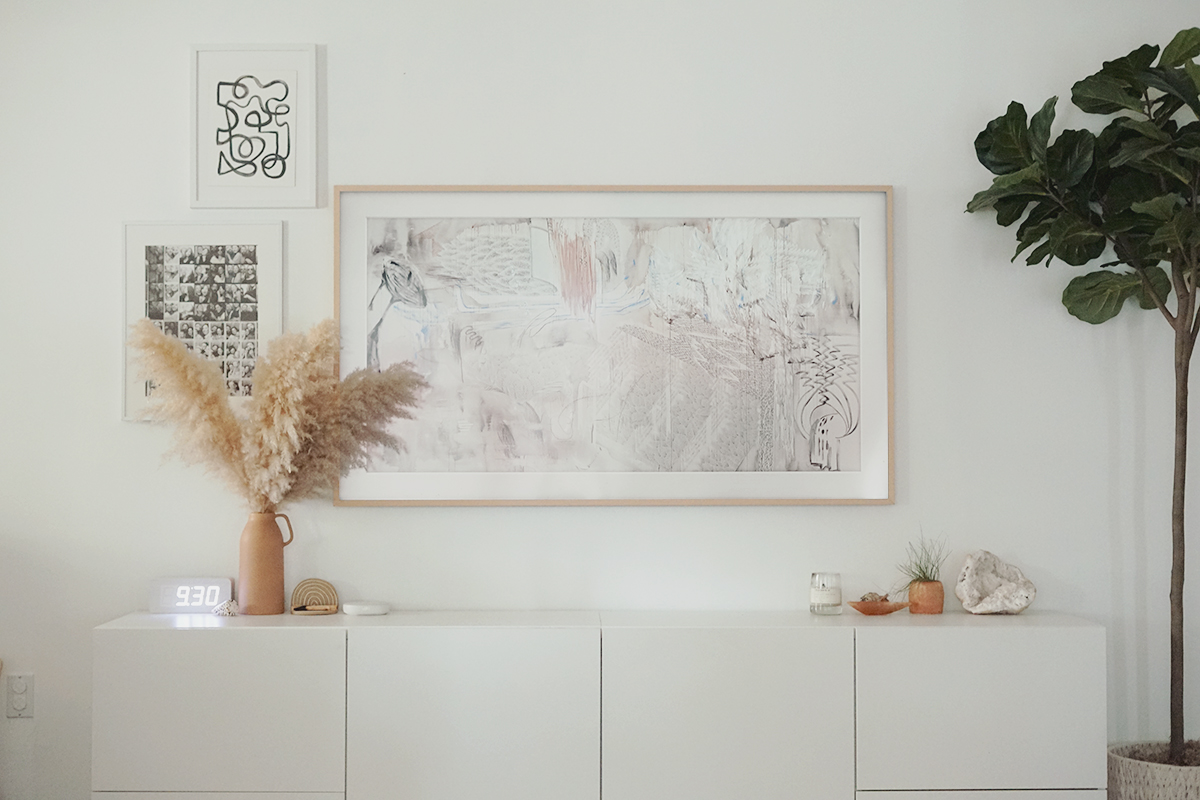 our TV cabinet is from ikea, it's the besta — you can customize for your needs however you want, so we chose to have two cabinets in the middle, with drawers on the ends, etc. it has provided a ton of storage and we baby-proofed them using these.
we have the frame TV and honestly it's the best thing ever, i posted about it back here. i want one for our bedroom too so bad. it honestly changed our entire house, because we were limited in layout options, basically the TV had to be the first thing you see when you walk into the house. so for it to no longer be an eyesore is so amazing. (we have the 65″ with the light wood bezel, which you have to buy as an add-on)
i was debating the faux fiddle for a while, and so glad i ended up getting it because we needed something in that corner but it's too dark to have a real plant (we tried. a few times). the quality is so good and the height is perfect! the basket is from target (i actually have the same one in our bedroom too) and i filled it with a bag of spanish moss (on top of some old sweaters). arlo does mess with it occasionally but for the most part, he knows he's not supposed to. we have such high ceilings that the room really needed something to bring your eye up.
the macrame dreamcatcher was made for us for our wedding by our wedding planner. we got married in front of it and i love having it hanging in our house as a constant reminder of the day!
we took two bar stools out for now and put a little table and chairs for arlo in the corner so he can have his own little area. he is loving it!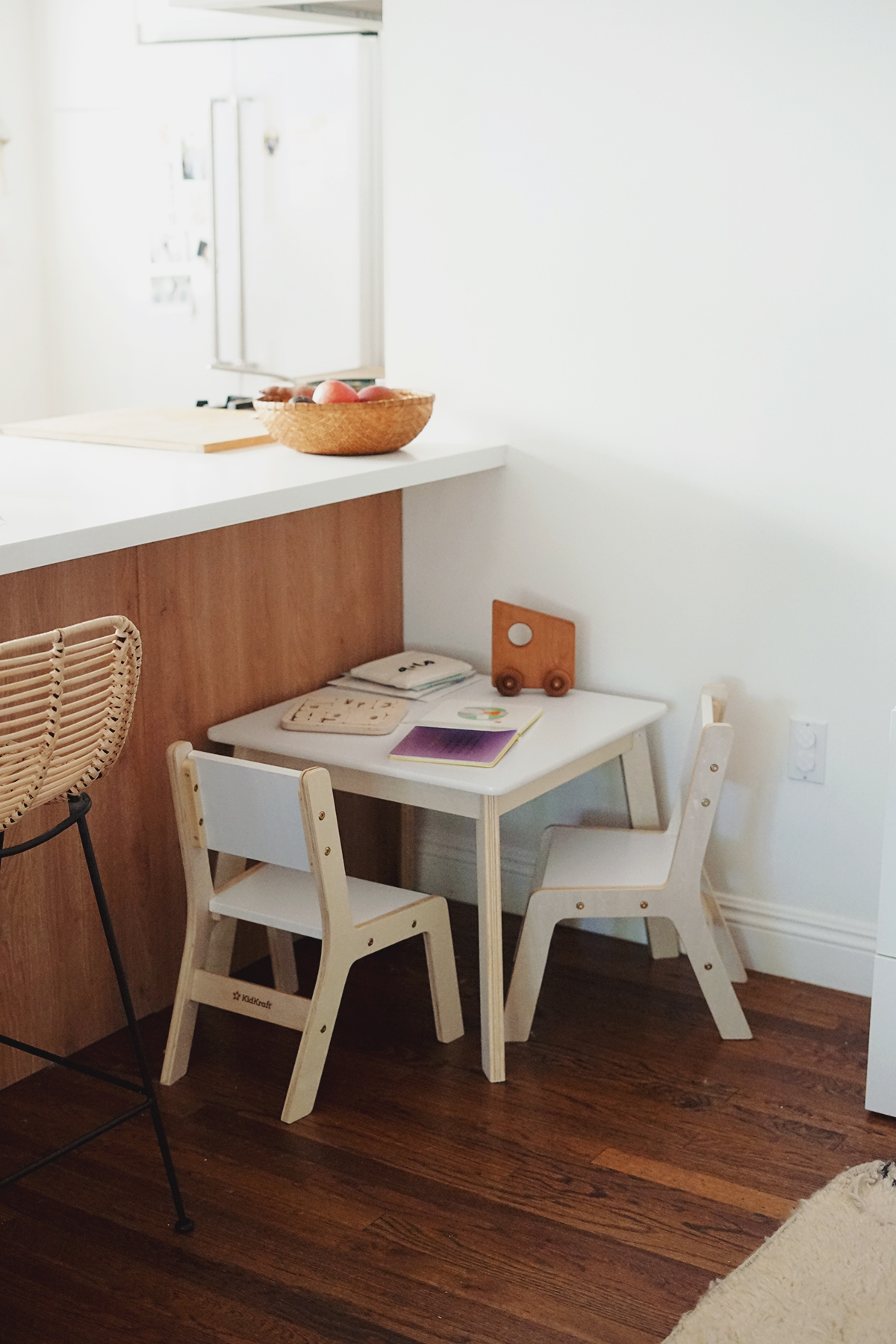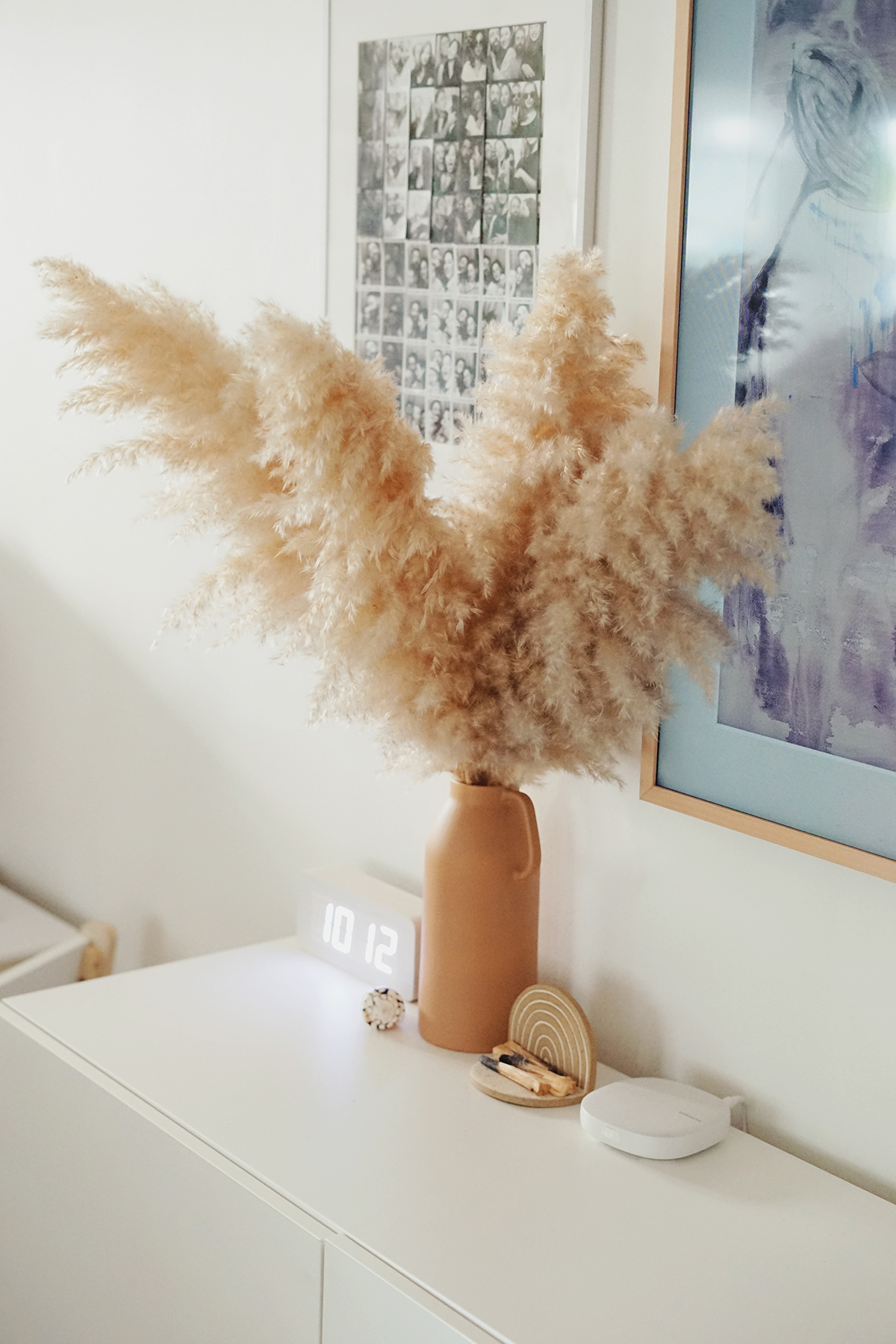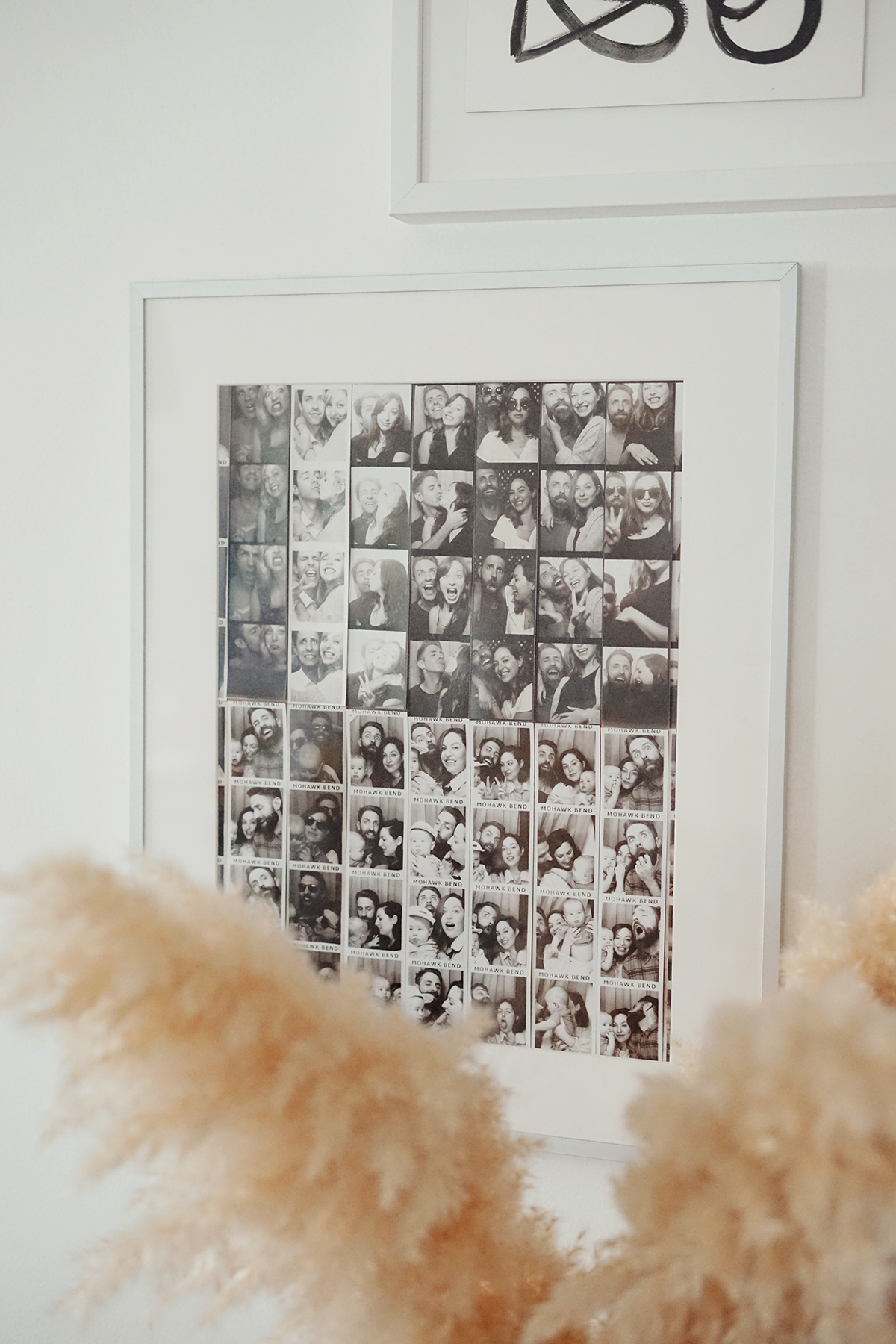 i hung two frames next to the tv for a mini gallery wall, i got the frames at ikea. the top one is a quick abstract watercolor i planned to replace eventually, and the other is a bunch of our photo booth pictures, in chronological order. the top row is us dating over the years (from back when we were blonde and beardless), then when i was pregnant, and then we've tried to do them with arlo every few months (he hates it though lol). we switch some of them out when we have new ones to add in. i love that it's family photos without feeling like family photos plastered in our living room.
i did a post on the pampas grass. the vase was from h&m a while ago, but here's an inexpensive similar one and here's an expensive really similar one. the wood clock was from amazon but the exact model i got is unavailable now. the little ceramic rainbow altar is from easy to breathe.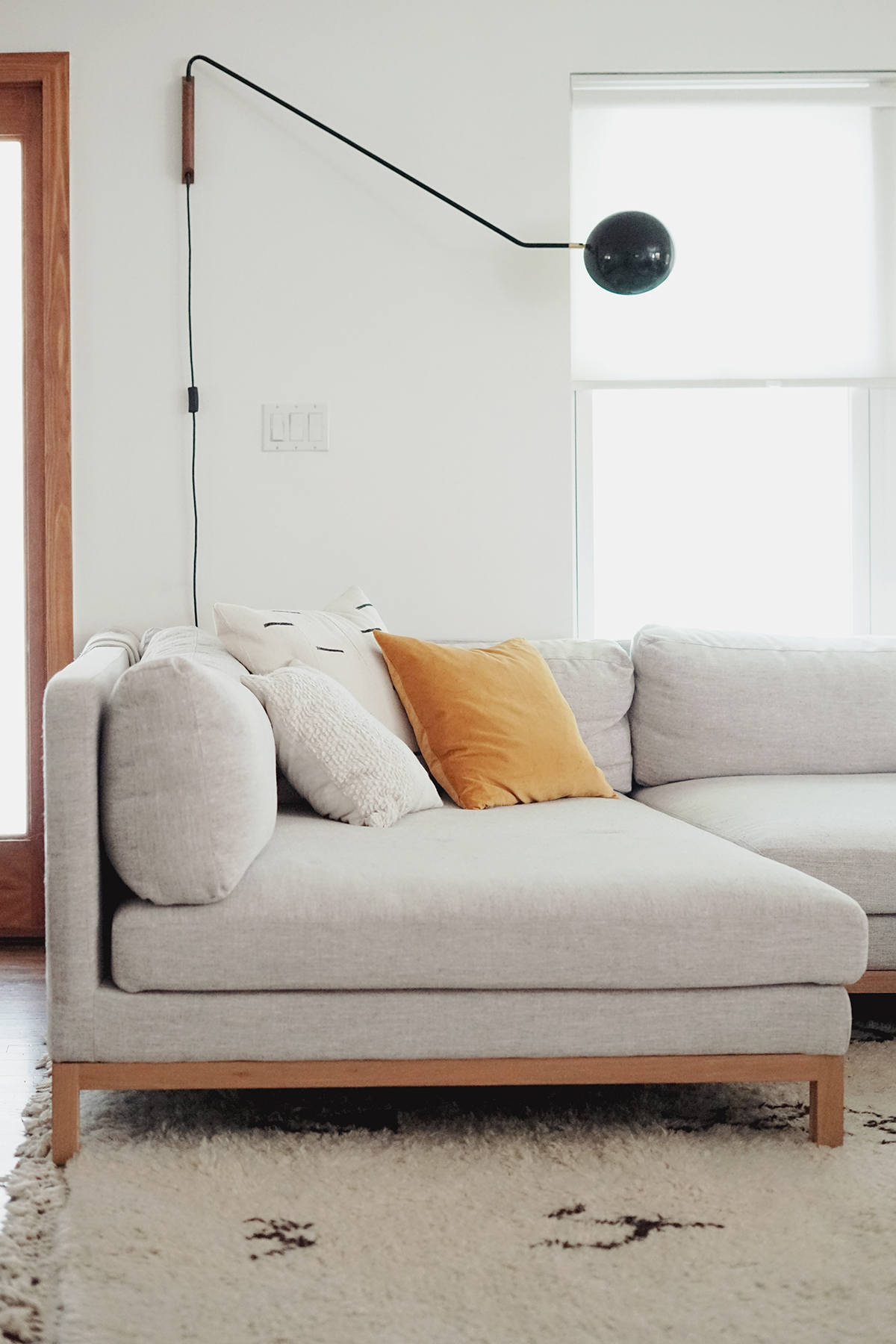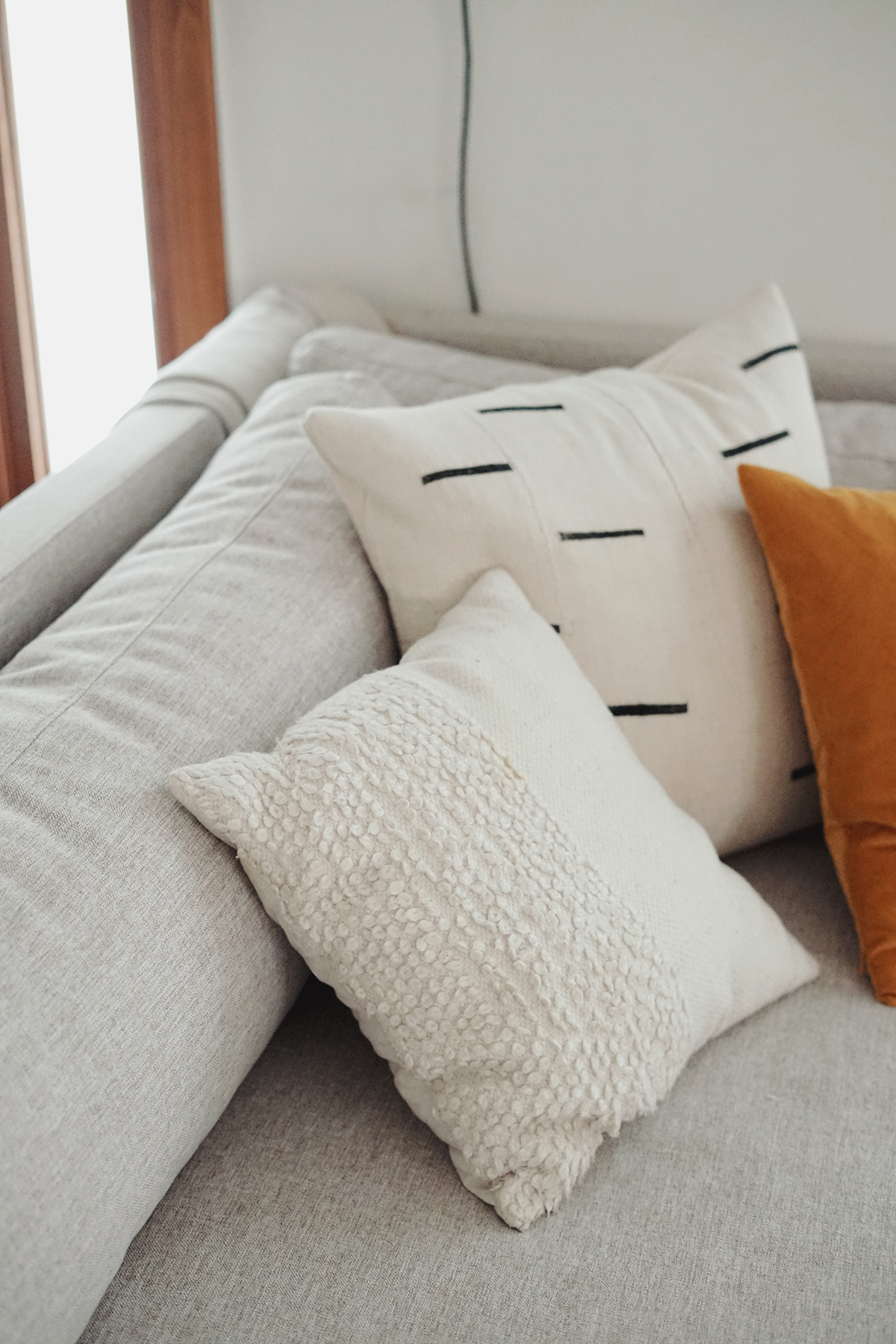 our big mud cloth pillow is from the ivory gull, the mustard pillow is from h&m (here's an alternative) and the textured pillow is from target.
and the sconce over the couch has actually been there the longest, pretty much since we moved in! they make it in silver now and i love that too.
we had the window shade custom made from home depot, super simple roller shade that's sheer to let light in. you can buy these pre-fab but our window was too big.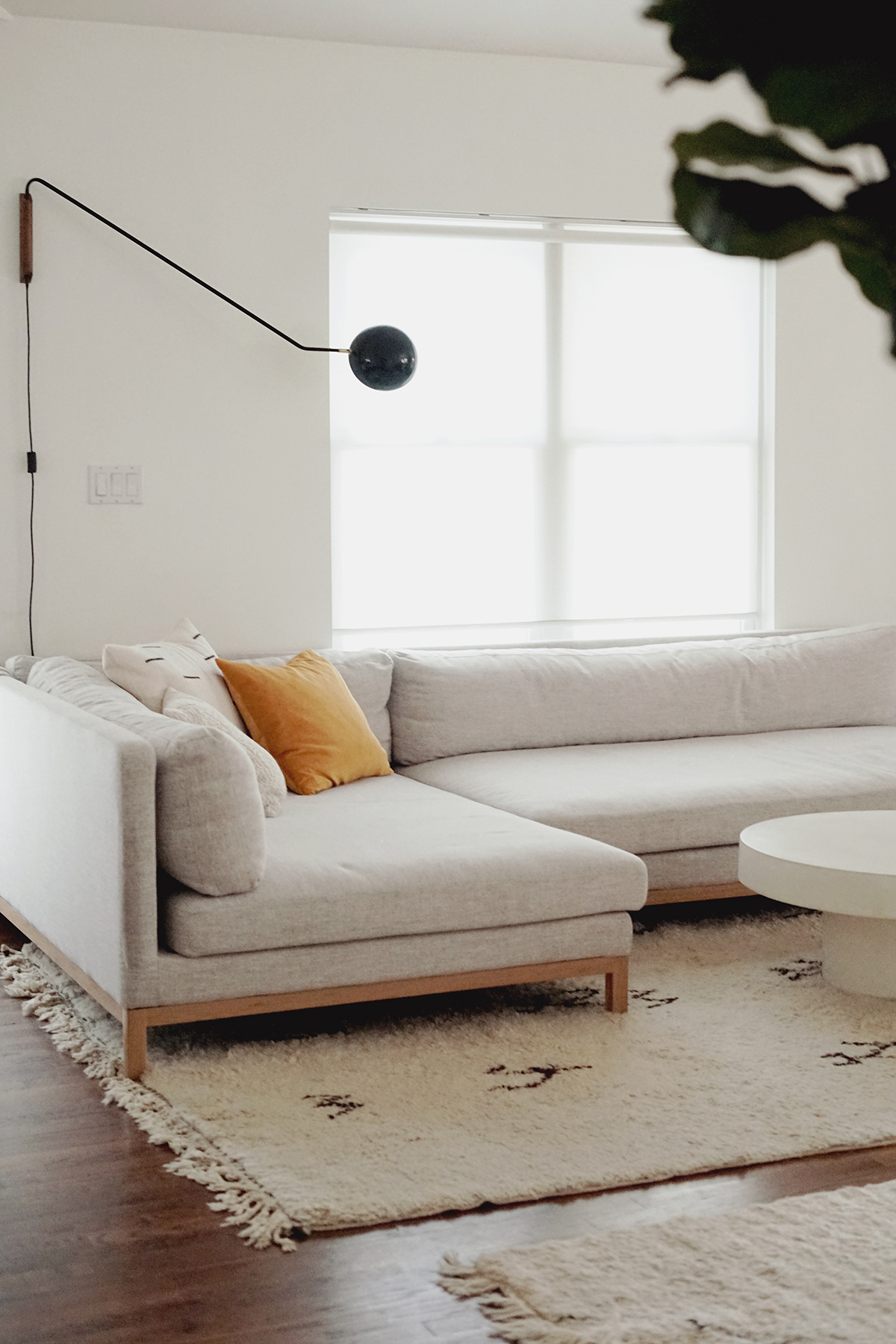 sources
---