a month of using blue apron and some FAQ

this post is in partnership with blue apron
after a year of living at home through a pandemic– the food anxiety, the frantic midnight grocery shopping just trying to secure a delivery window, the constant cooking and never ending meal planning, i kinda have NO CLUE why we didn't try a meal kit box sooner. i've used them sporadically in the past for one box at a time, but this was my first time doing a few boxes in a row.
anyone who knows me or follows me closely knows i am a total creature of habit when it comes to cooking, i pretty much make the same handful of dishes because it's nice for me to not have to come up with new ideas, especially on weekdays. so i am so excited to have used blue apron for the past month because i've made so many new things i would normally never even think to try making, and we've all really enjoyed it too!!
since you're probably well aware of blue apron by now, they deliver chef created recipes with super easy to follow instructions and pre-portioned responsibly sourced ingredients.
it has been FREAKING BREEZY to not have to worry about meal planning or grocery shopping the last few weeks, i can't even express that enough. i've had to shop for essentials and that's it, and it's just felt like such a weight lifted off my back. to not have to even think about what i'm making for dinner has actually felt like self care after the year we've had. i know this all sounds dramatic but i guess i am dramatic lol.

would you honestly recommend blue apron?
yes! i've found every meal to be fairly easy, and gid has made a handful of them as well without complaints. i think meal kit boxes are especially chill for people who spend way too much time stressing about what to cook or grocery shopping, it feels like a mental vacation away from that.
if you weren't interested in doing the boxes weekly, i think one or two weeks a month when you know you'll need a break after a busy work week etc would be ideal.
have you liked all the meals?
yep! i have many so many meals i would never typically try making. literally everything has been good. we've loved some meals more than others, and when we do we keep the recipe card in case we want to make again some day.
like if you know me you know i would never even think to make creamy pesto chicken & orzo or a panzanella, ever! so i am really enjoying making things that aren't in my roster.
do you recommend 2 person meals or 4 person meals for 3 people?
this is tricky. we've done both 2 and 4 person meals, having an almost 4 year old makes it harder because he doesn't eat as much as we do but he still does eat. we started with 4 person meals and i found the amount of food overwhelming to be honest. it felt like way too much food for us. BUT if you like leftovers, i would definitely go with the 4 person.
and if you would rather just make enough for your dinner, 2 is easier. it's not a ton of food for two adults and a child, but it's been enough for us. usually there is plenty of whatever side dish we're making for all of us, and with the protein we just cut off a little for him. so it really just depends on your kid. we tried both and ended up just going with the 2 person.
can you make substitutions?
yes, most of the meals you can swap fish for meat, potatoes for cauliflower etc. they have a lot of diet friendly, vegetarian options. i can't speak to food allergies though so if you have one, i would definitely ask them!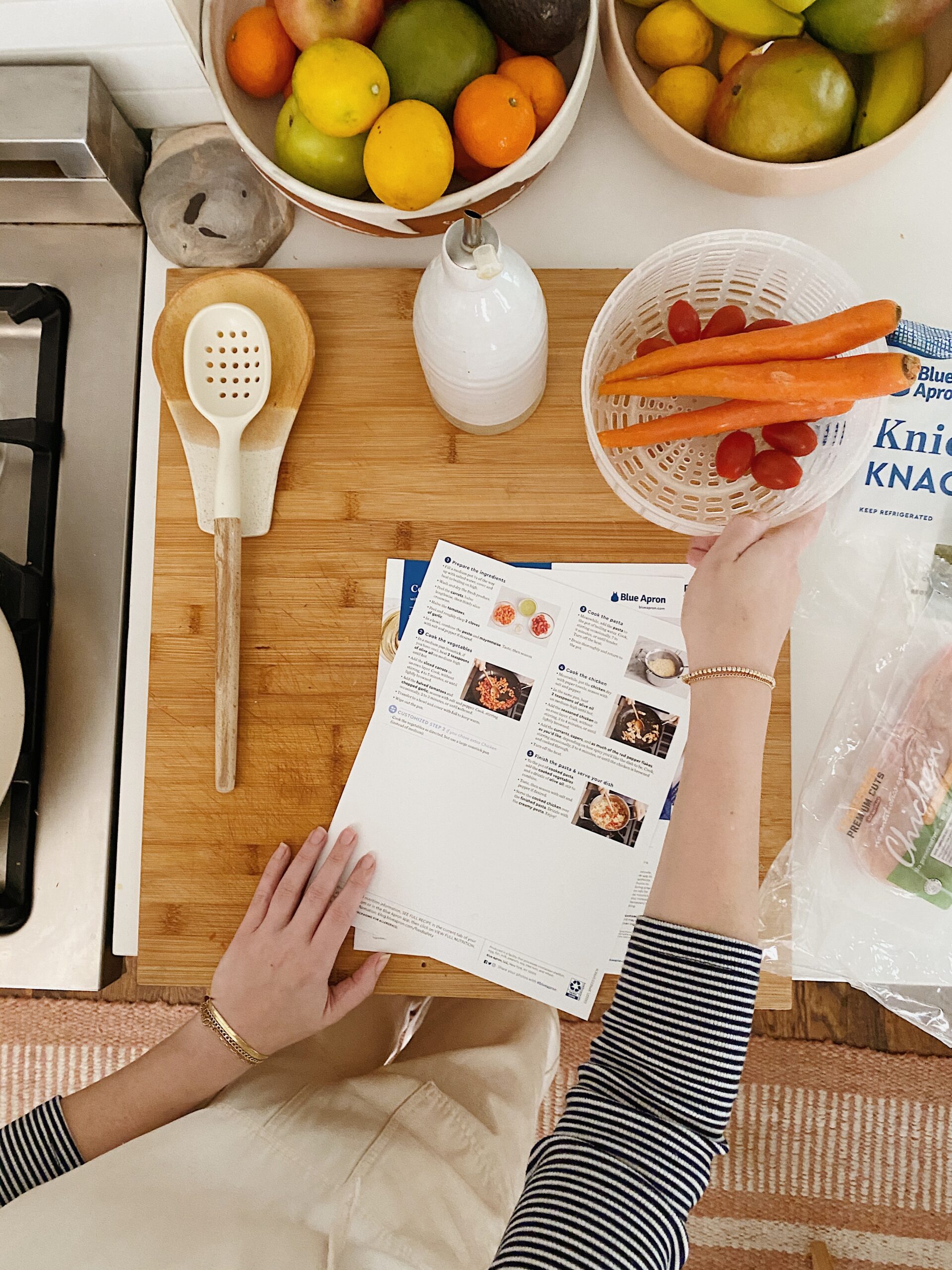 how long does it take to make the meals?
the meals all seem to range from 20-40 minutes. i've ordered from other boxes where they were up to an hour and i'm like uh no way. i'd say on average these mostly take me 25 minutes, and gid about 35 because he's slower at cooking haha.
how's the packaging? is a lot of it recyclable?
the box comes with recyclable ice packs and packaging, each meal comes with a step by step recipe card (with step by step photos which i love), and a knick knacks bag full of everything you'll need for each. it's super nicely organized and easy to store in and remove from the fridge when it's time to cook. the individually packaged items are mostly packaged in plastic, but overall it's clear they've made an effort to cut down on non-recyclable packaging.
how many meals come in a box?
you can choose between 2-4 meals a week, and you can skip weeks easily.
does arlo like the food?
sometimes yes!!! sometimes not so much. it's not the foods fault, but its the fact that it's again things i haven't made before. so when something i've made has been super exotic or new to him, he's been a little weary and mostly has eaten carrots for dinner.
but for the most part, i order our meals with him in mind so i'm pretty conscious of what he'd be willing to try and what he wouldn't. and sometimes if there's something i really want to eat and i know he wouldn't be into it, i order it anyway and i'm like hey he can have carrots for dinner lol.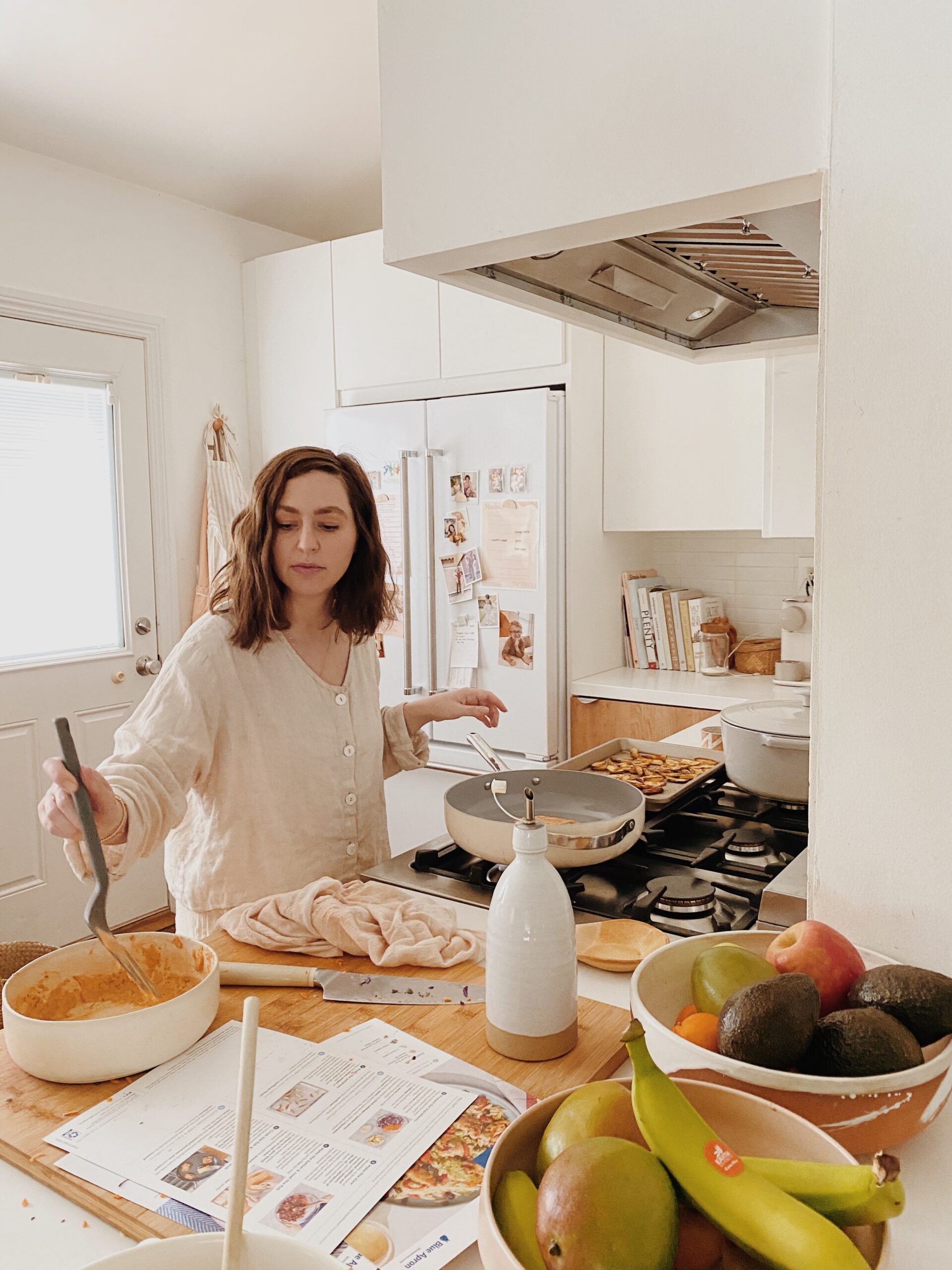 are the recipes easy?
they are super easy. even when they've been more intricate recipes, i find that the recipe cards with the photos make it feel super stress-free. stress-free enough that i can drink wine and not be frantically cooking while i've made any of them. one of the most complicated recipes was this cavatelli pasta & pork ragu– even though it was only a 15-25 min recipe i found this one was time consuming, so i was like ok it better be good. and guess what it was probably one of my favorite meals we've made actually haha.
what have been your favorite recipes?
once again we loved the cavatelli pasta & pork ragu, the crispy skin salmon with salsa verde was so good, the sheet pan panko-baked cod and in some of these photos i'm making the cod fish & chips which we loved too. also the creamy pesto chicken & orzo again, that was probably arlo's favorite.
we personally love that a lot of the recipes we've picked have incorporated capers, because we are a caper family and they are underrated. i've picked a lot of the recipes that have ingredients arlo now likes because it makes it easier to introduce him to new dishes when i say "hey it has capers, it has carrots, it has currants" because he'll be like "hey i like all those things". very smooth haha.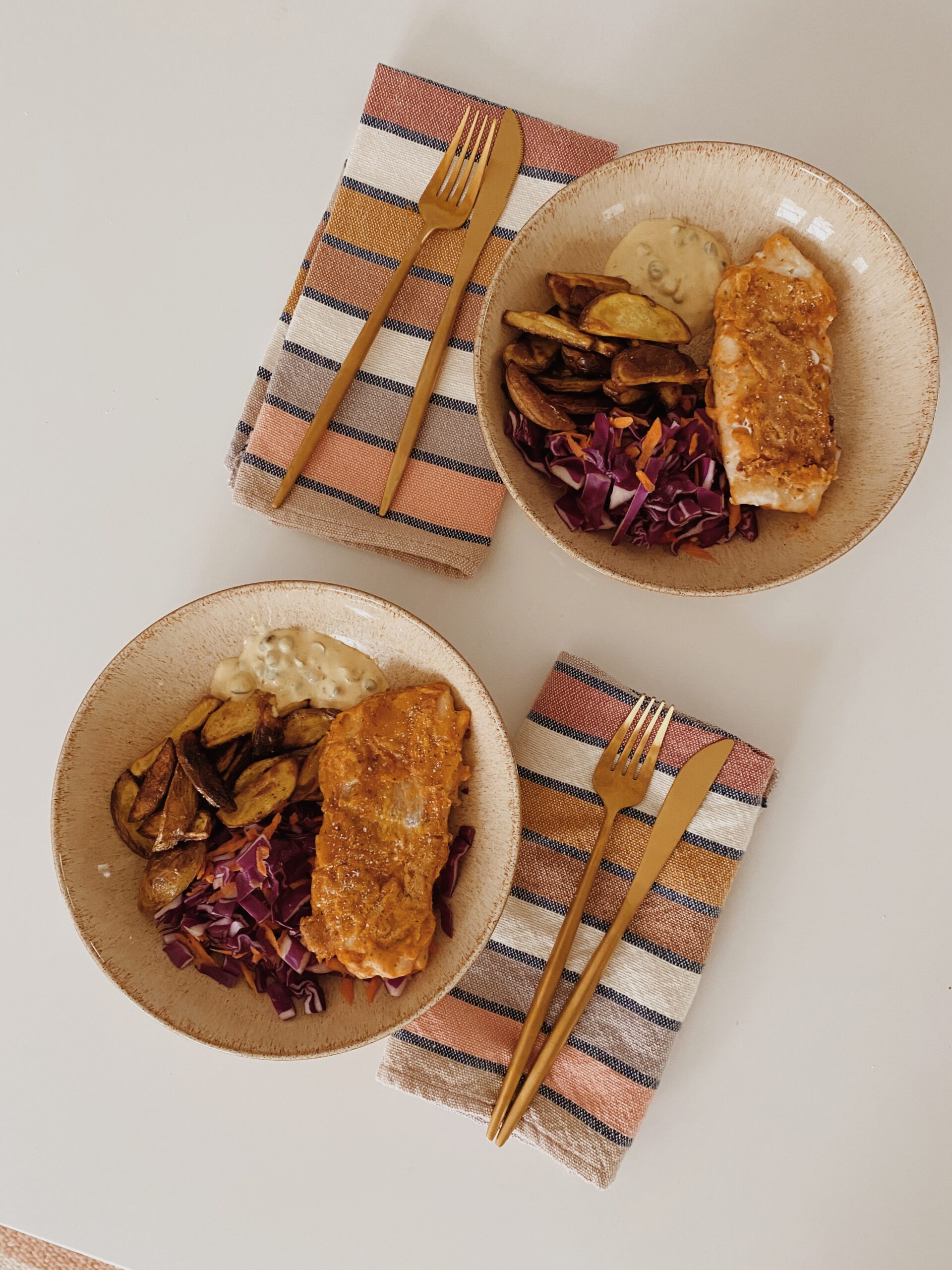 i hope this helped sway you if you needed swaying on whether it was worth trying blue apron or not. i am a fan and would for sure be happy to use them again.