our guest room : the reveal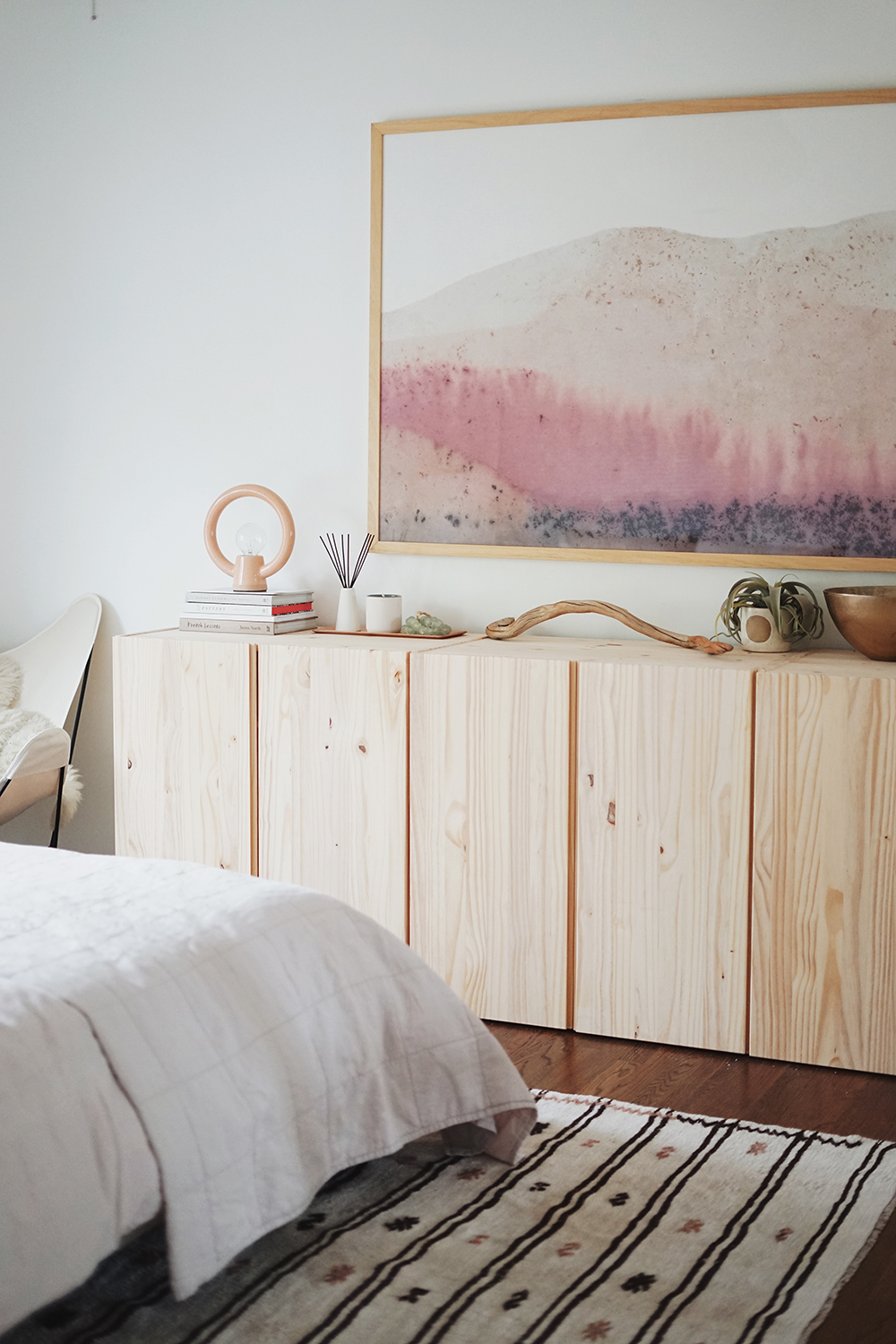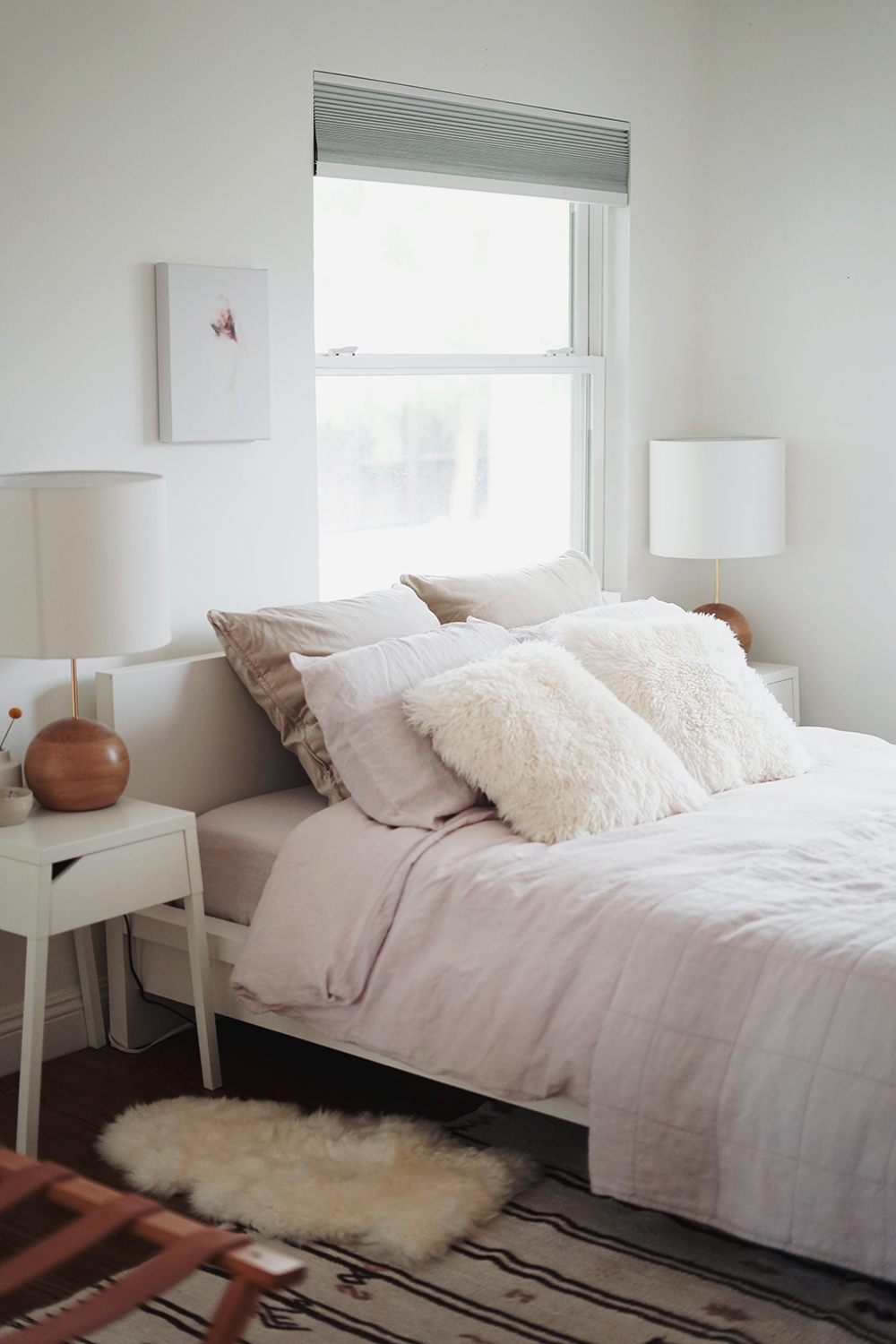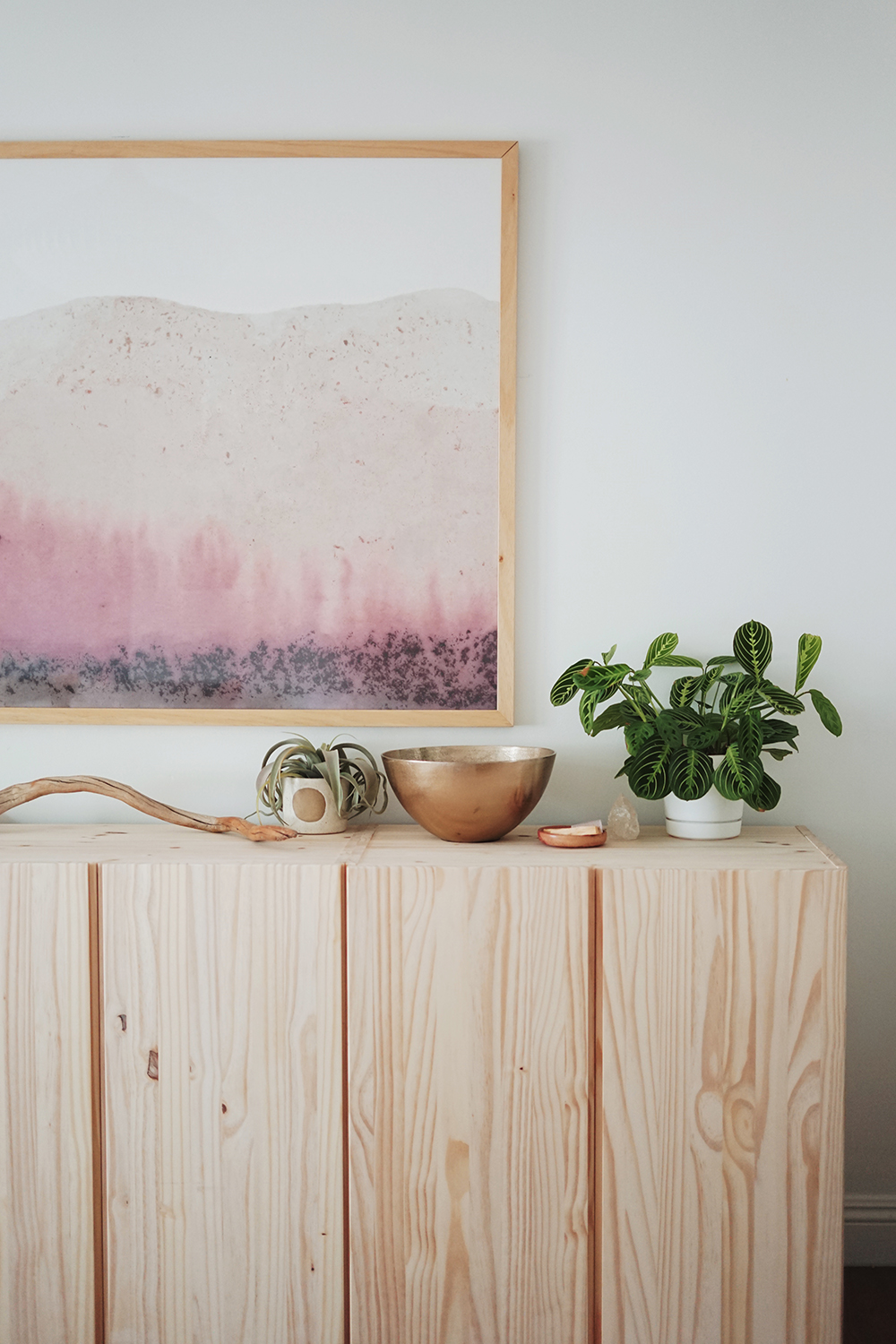 yay! the guest room is done! i am sooo happy to have a room that i actually like when i walk down the hallway. it's crazy how much cozier it feels in here, like sometimes we even hang out (mostly so i can just sit there and stare at everything). 
i stayed true to the original plan for the room, we kept all our bedroom furniture and the only furniture we purchased were the wood cabinets from ikea. we cut large holes in the side for the cats to get in, so the right two cabinets are cat boxes and the left one is for our guests (but mostly just crammed full of sheets). i'll do a separate post for how we did them! so basically all the furniture is from ikea! didn't mean to do that lol.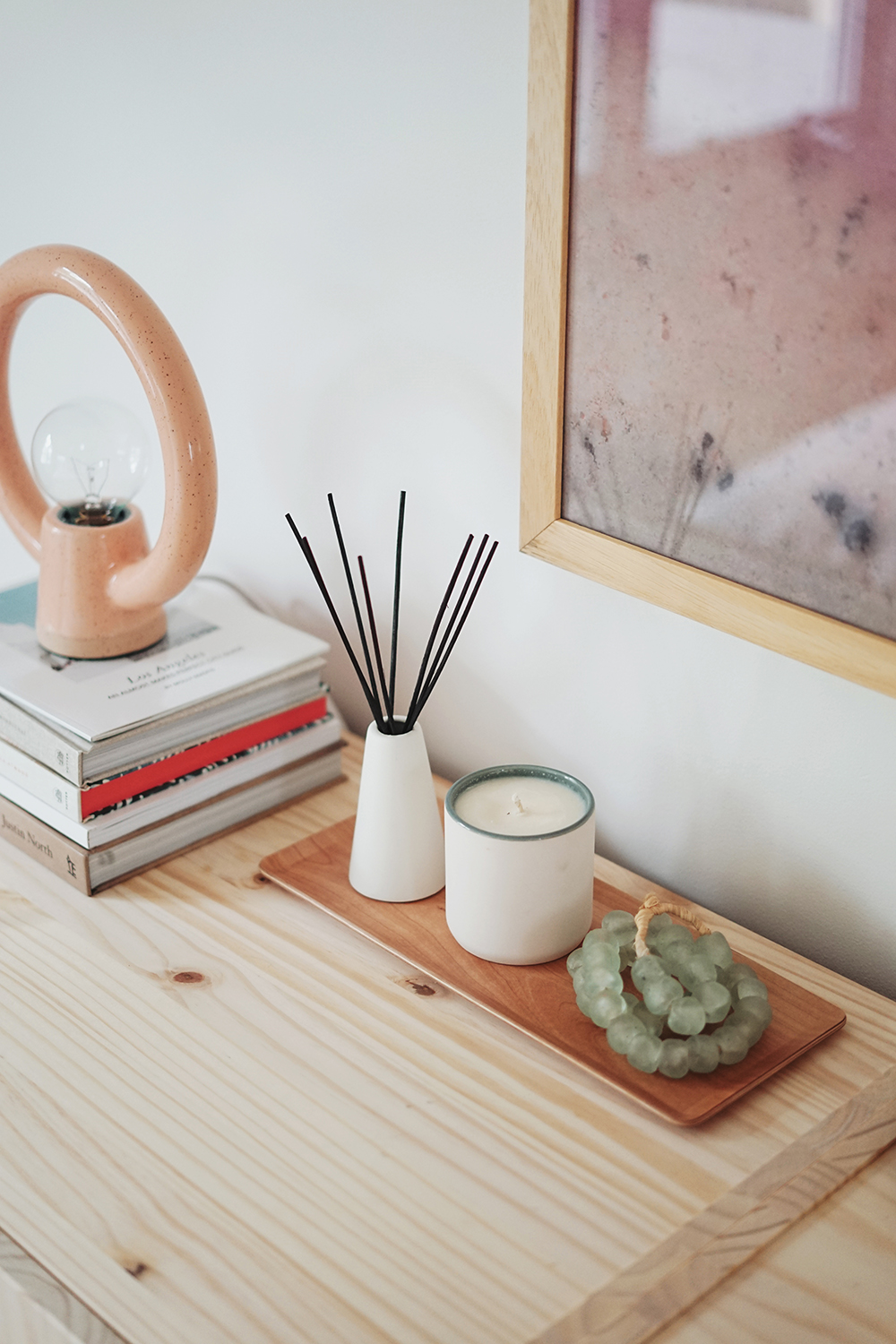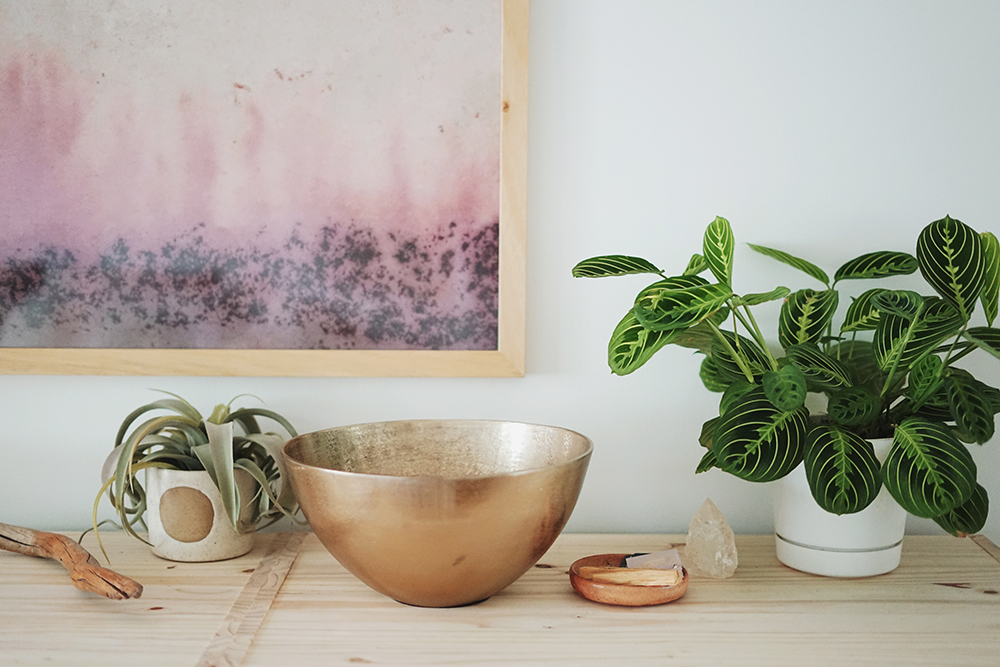 since it is basically the cat room, i made sure to get some items to keep the room smelling pretty too. we decided to take out the TV and it was so nice to have a room without one to decorate around so that the dresser top could actually be pretty — my dad says he's fine with it but mentioned that there was no TV every day he stayed with us. it's sitting under the bed in case he gets really lonely without it.
but without the TV, we were able to style it with lots of pretty things! the room somehow became desert themed without me noticing, so i incorporated some of that into it — i found the large stick while we shot our engagement photos at the windmills in palm springs (i have hoarded way too many sticks and rocks but i kept it simple here). the large gold bowl is from article and i thought it was a perfect thing to corral all of my dads pocket junk while he's staying here. he has a lot of that.
the YUUUGE desert print is from minted and the size is so good for the cabinet. way better than a TV.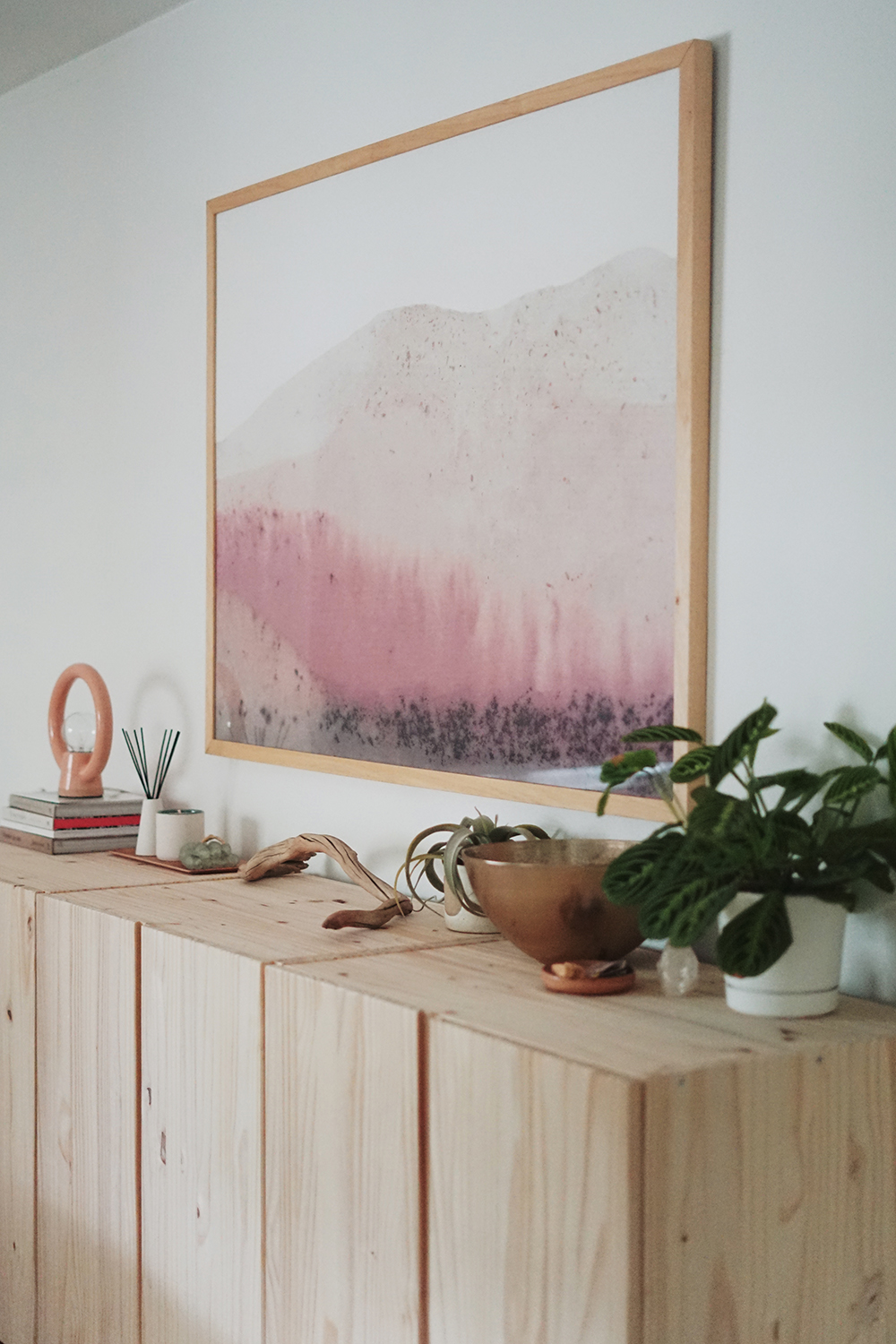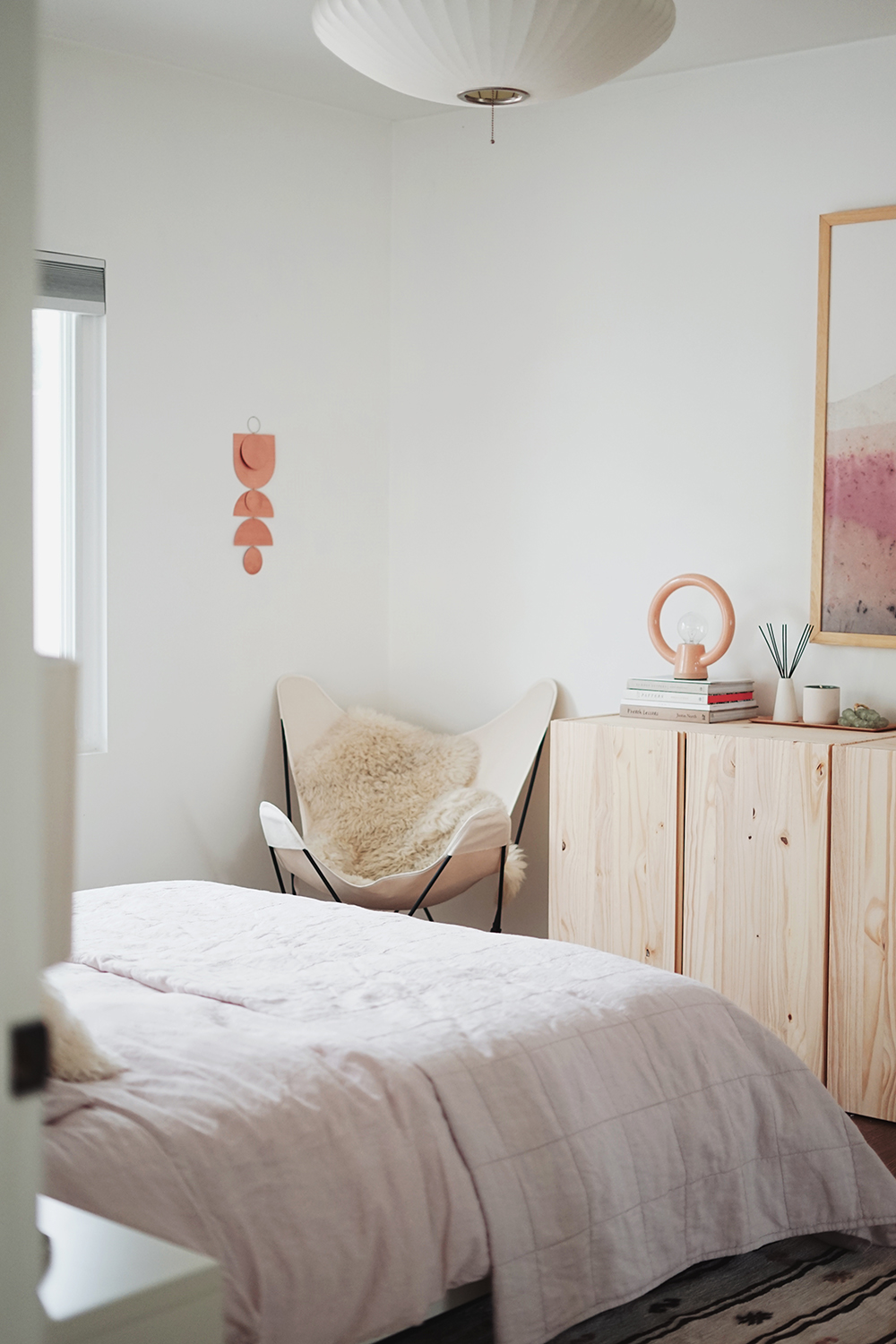 we debated what chair to use in here because i also hoard chairs. but gid felt strongly that the butterfly chair we used to keep outside belonged in here instead (probably so we wouldn't have to clean the cover anymore). it does look very cute, i am glad i listened to him. the wall hanging was made by electric sun creatives, i love everything she does and i think this piece adds so much to that simple corner!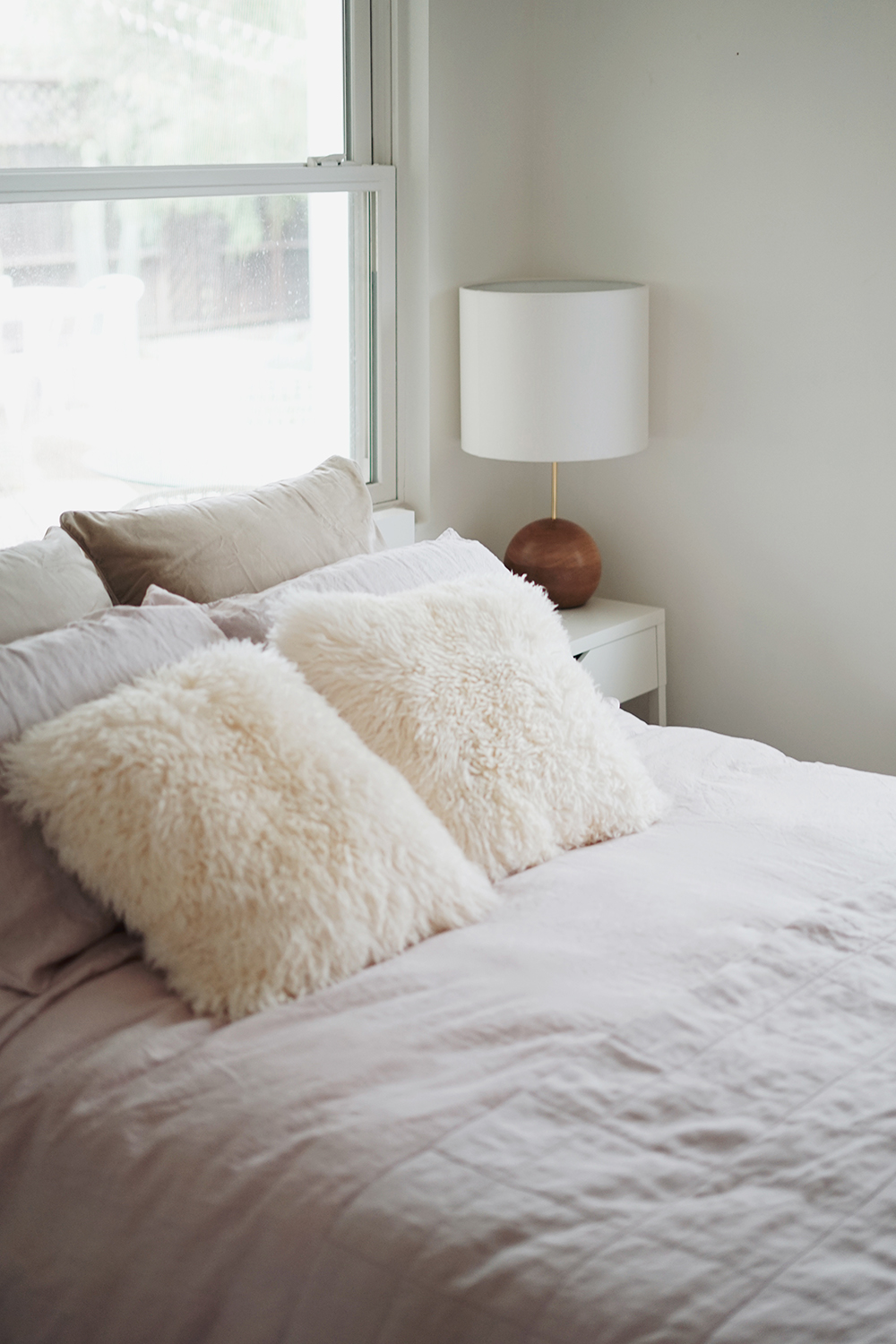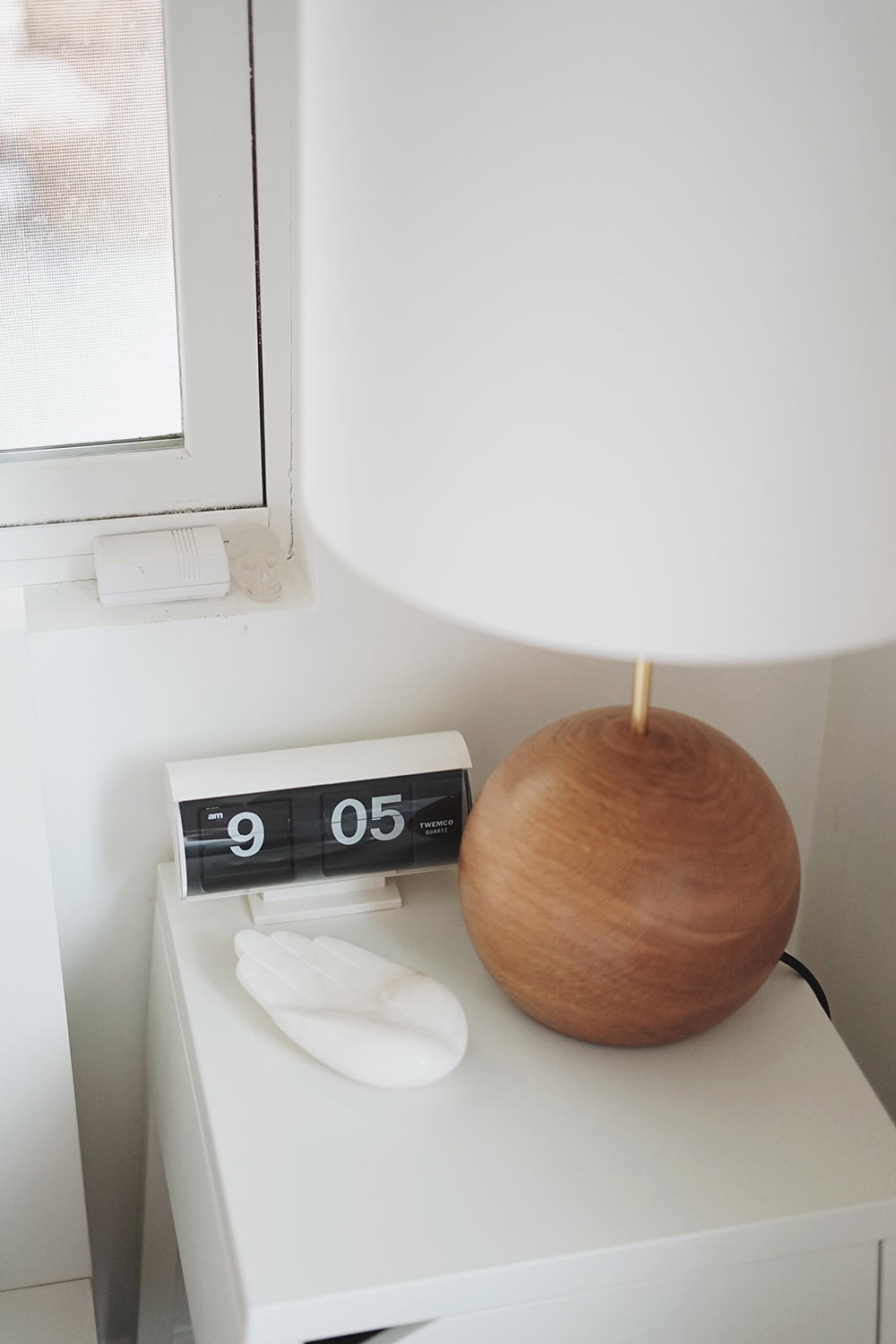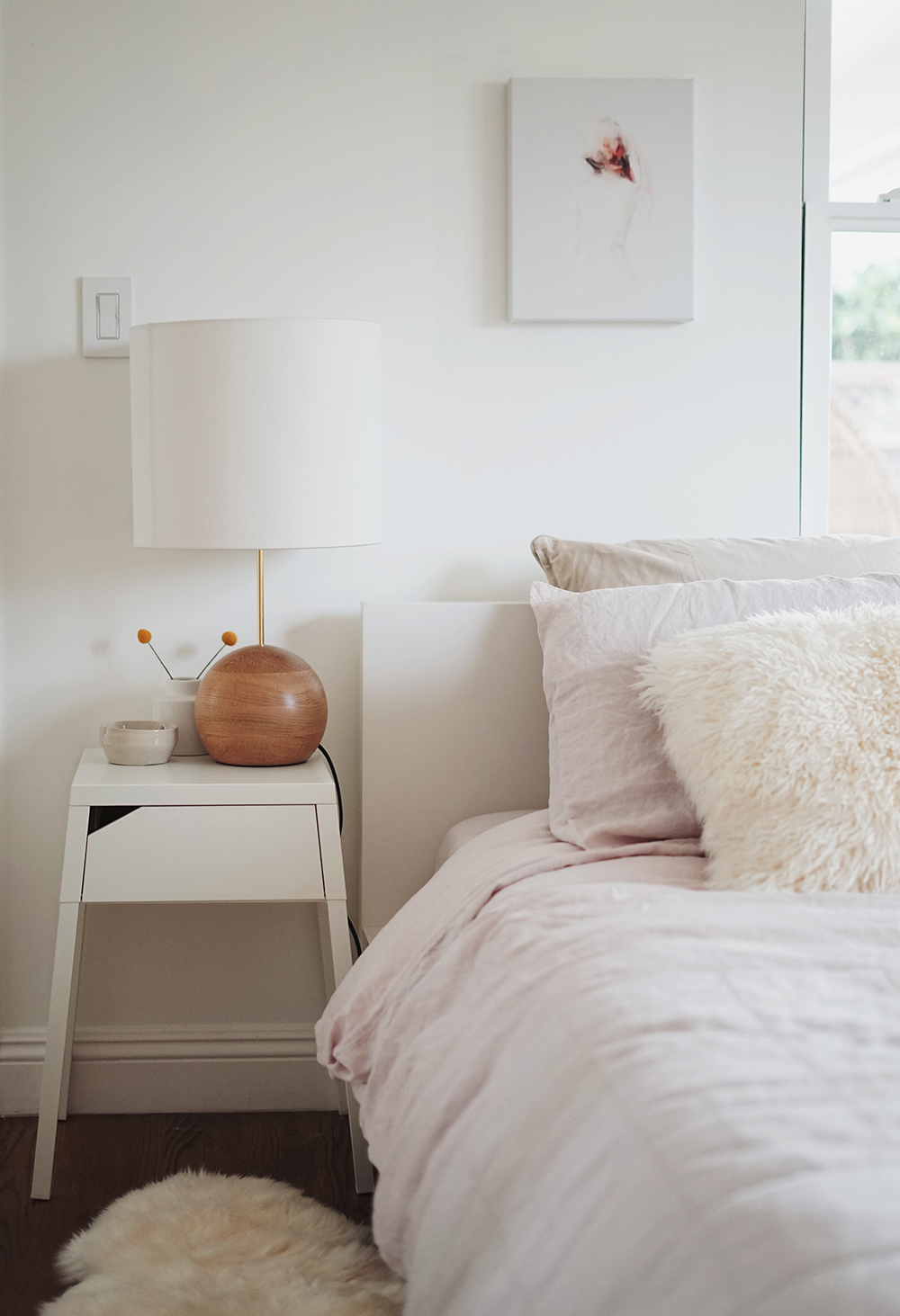 because we had to put the bed on the other side of the room and awkwardly in front of the window, i got large pillows to go in the back to disguise it and i put this little canvas to offset the off-center-ness too. i think it really helped! we got blush linen bedding from parachute that i am so into — and the best part about it is that we won't have to try to guess which bedding is which because our sheets are white! i am sooo smart aren't i?
…aren't i?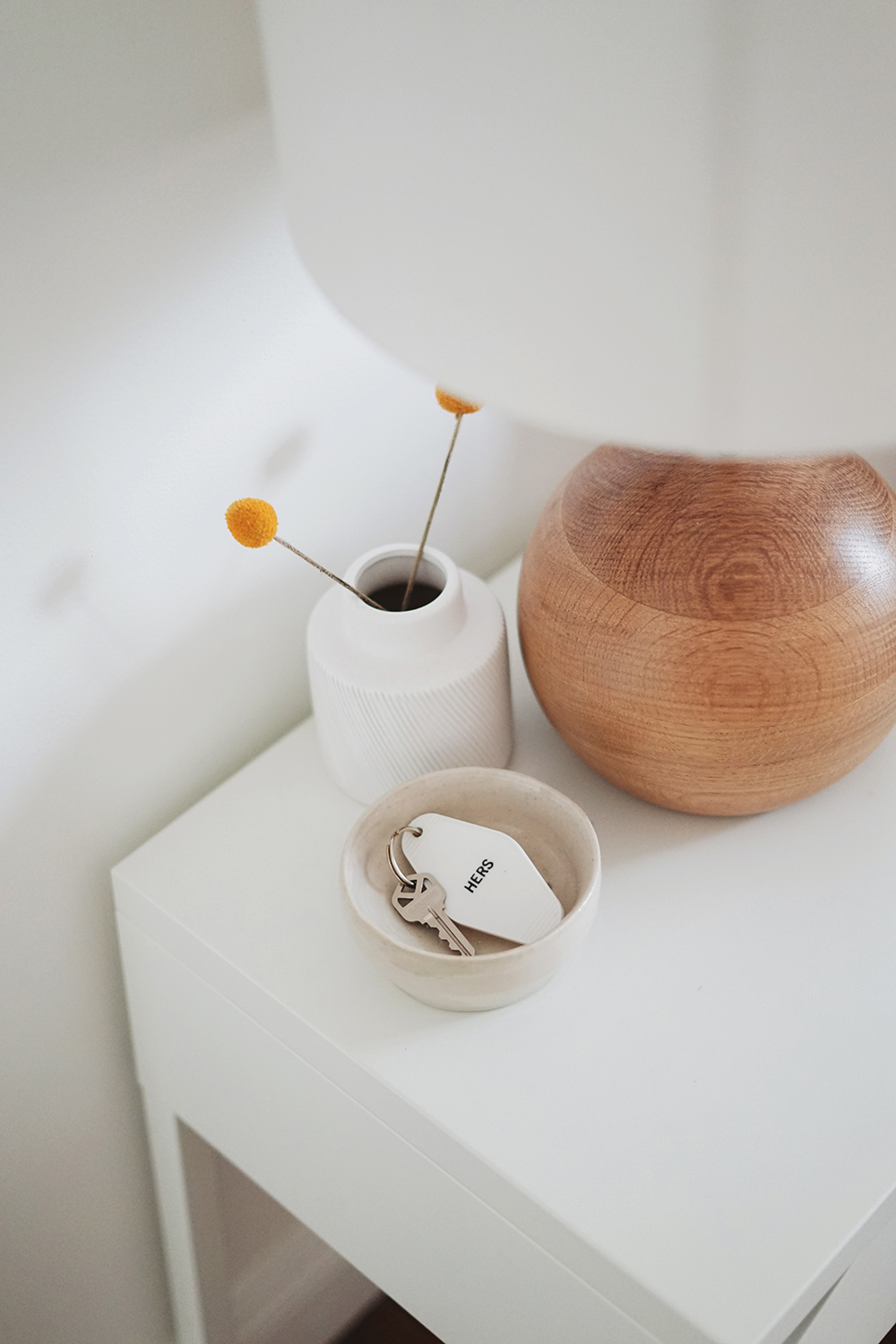 the guest room is at the end of the hall so i keep my studio key here. how cute is this keychain my blog friend jeran gifted me? i made the little ceramic bowl when i was taking pottery class.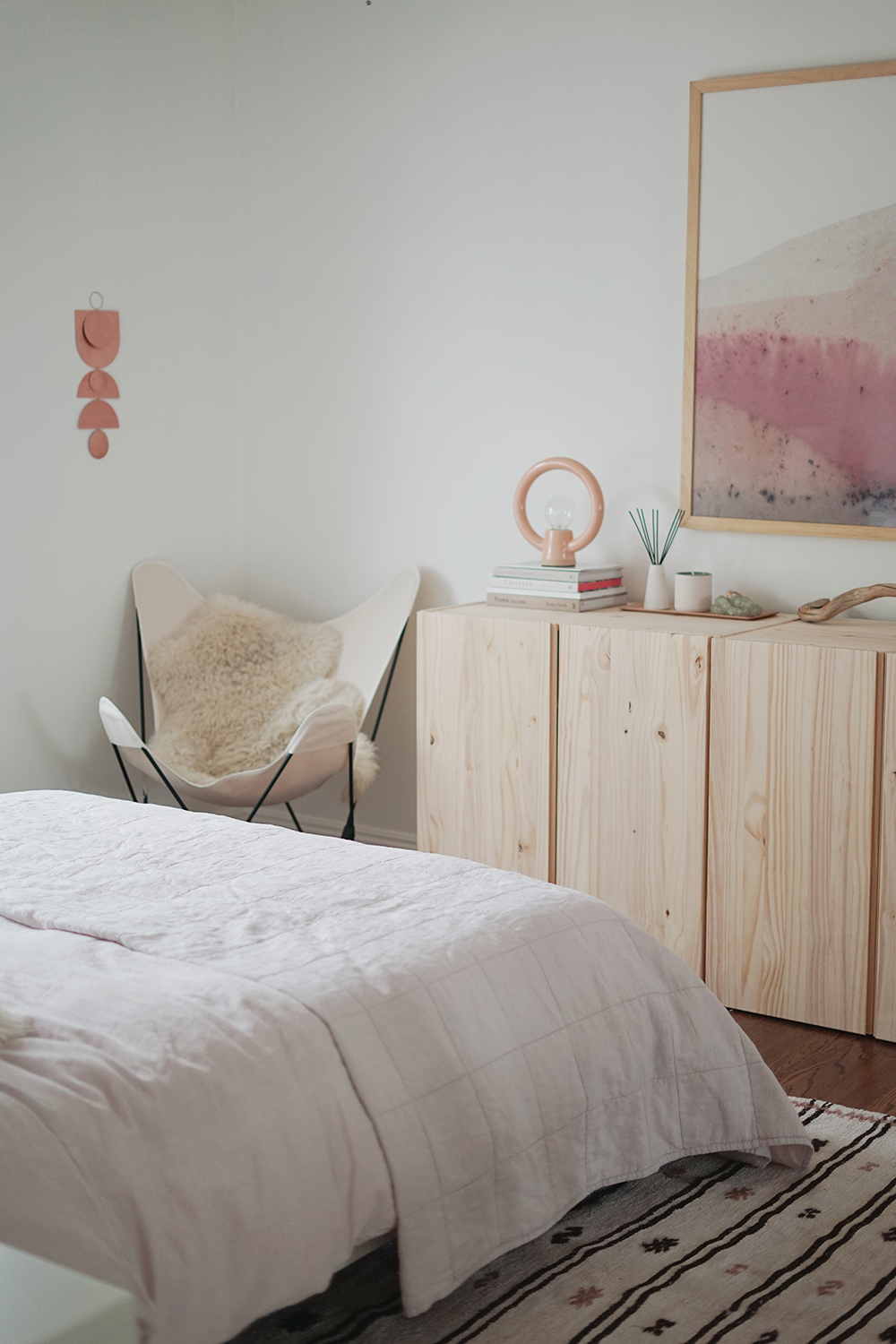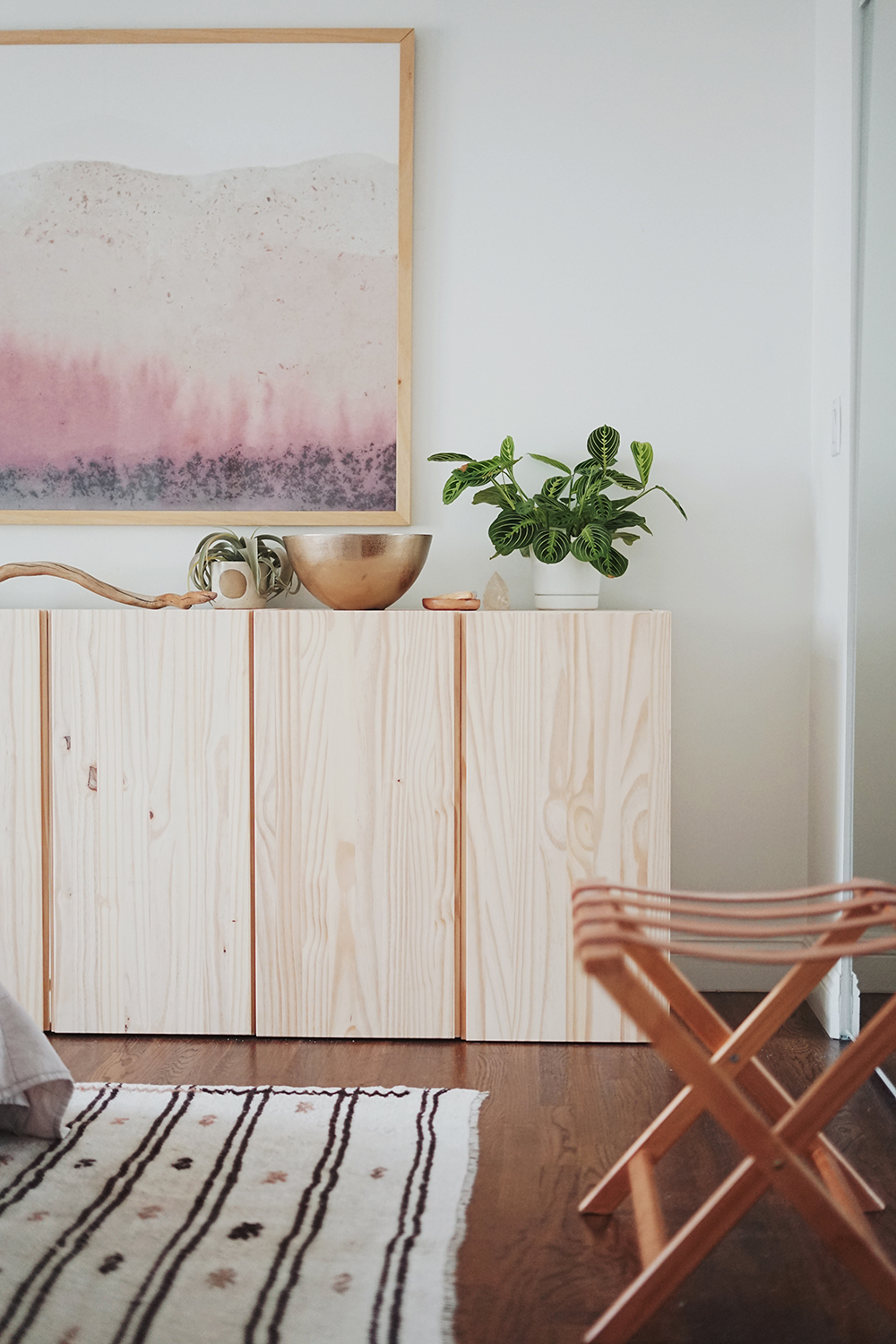 the amazing kilim rug is from revival rugs — i love it so much! it's a company run by a husband and wife that sell amazing one of a kind rugs from turkey at way cheaper prices because they don't have a middle man, they have some amaaazing ones.
the luggage rack was a DIY, still one of my favorites ever.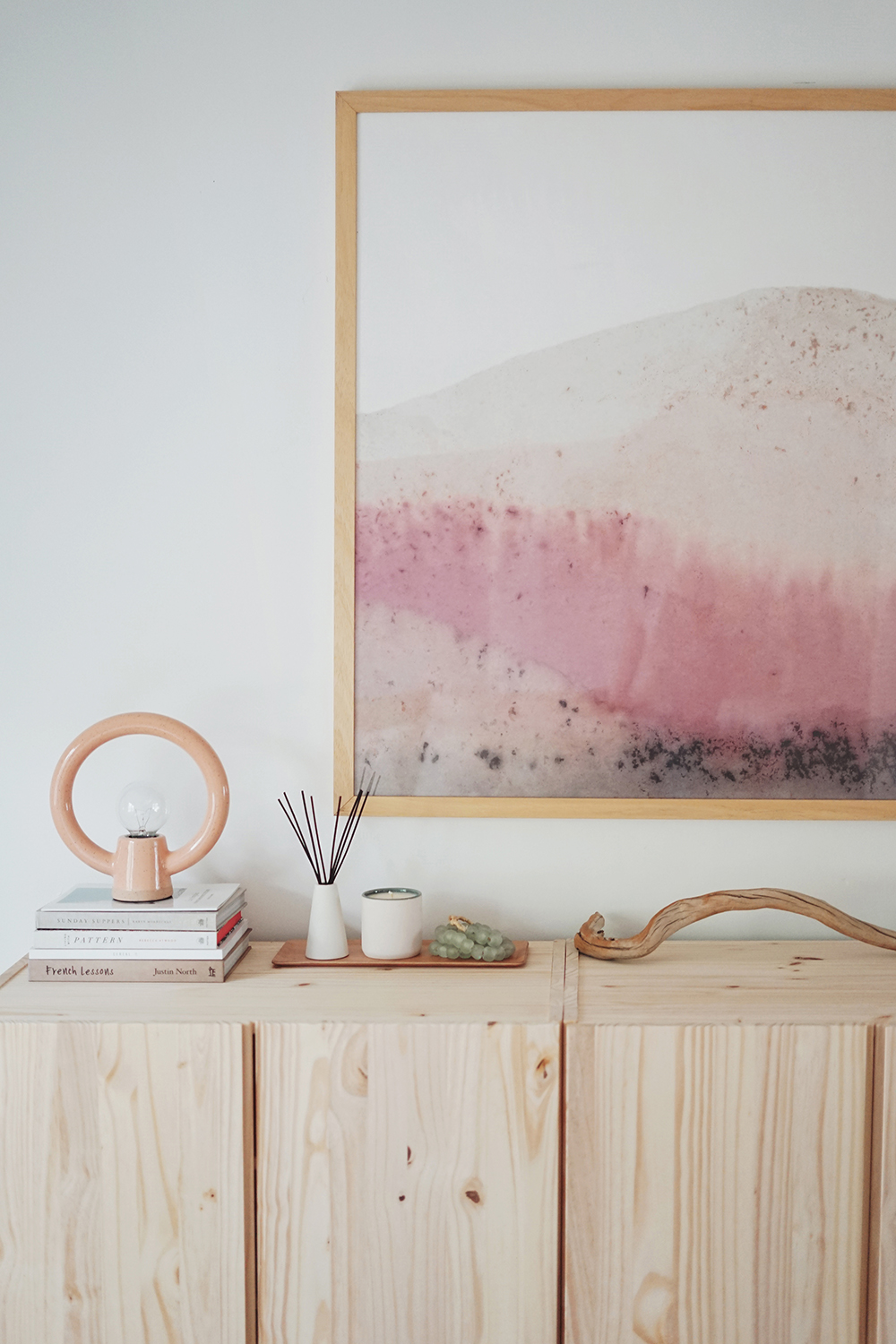 i think that's it! i hope you like it poppy! (and also you guys too)
---
sources