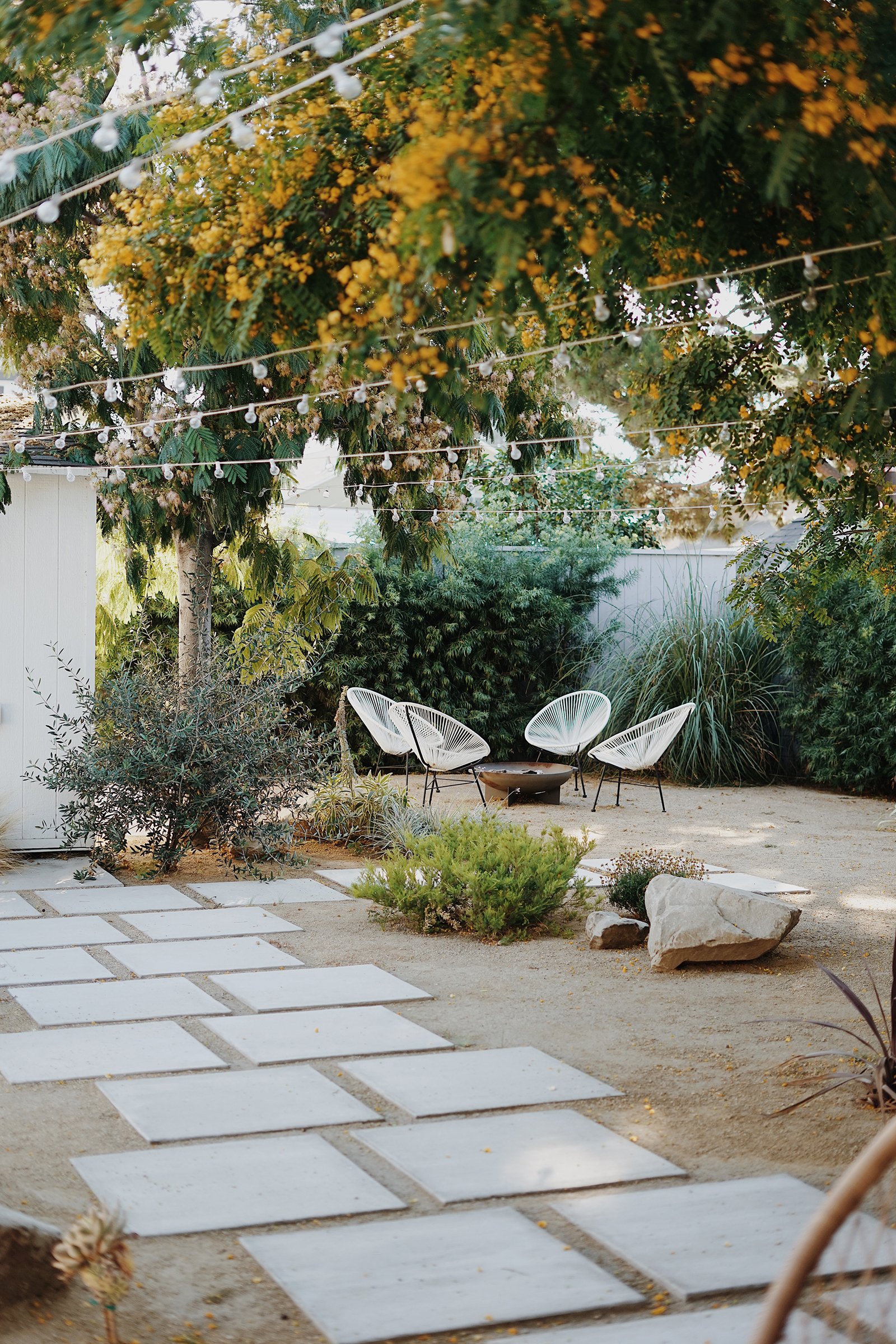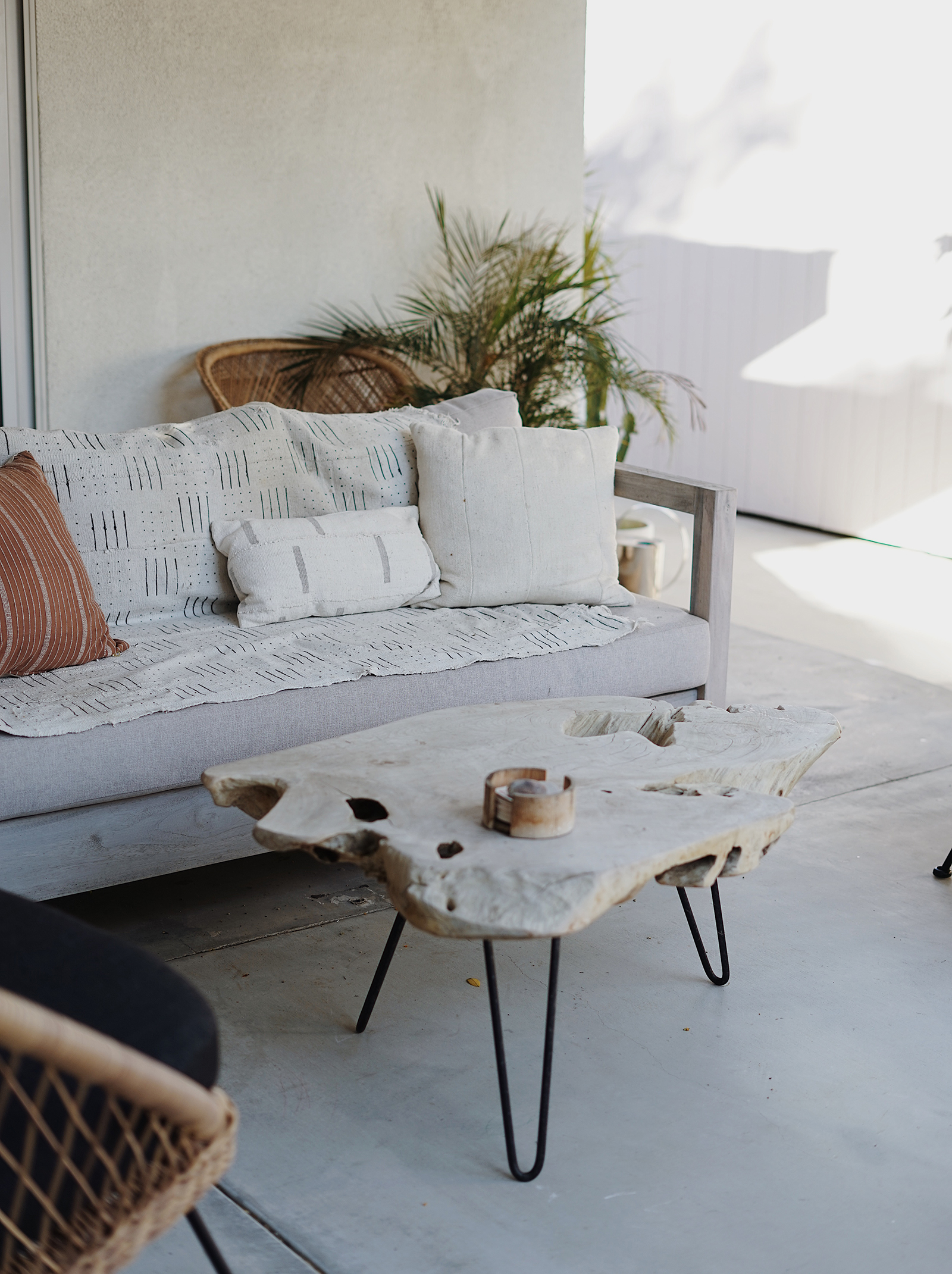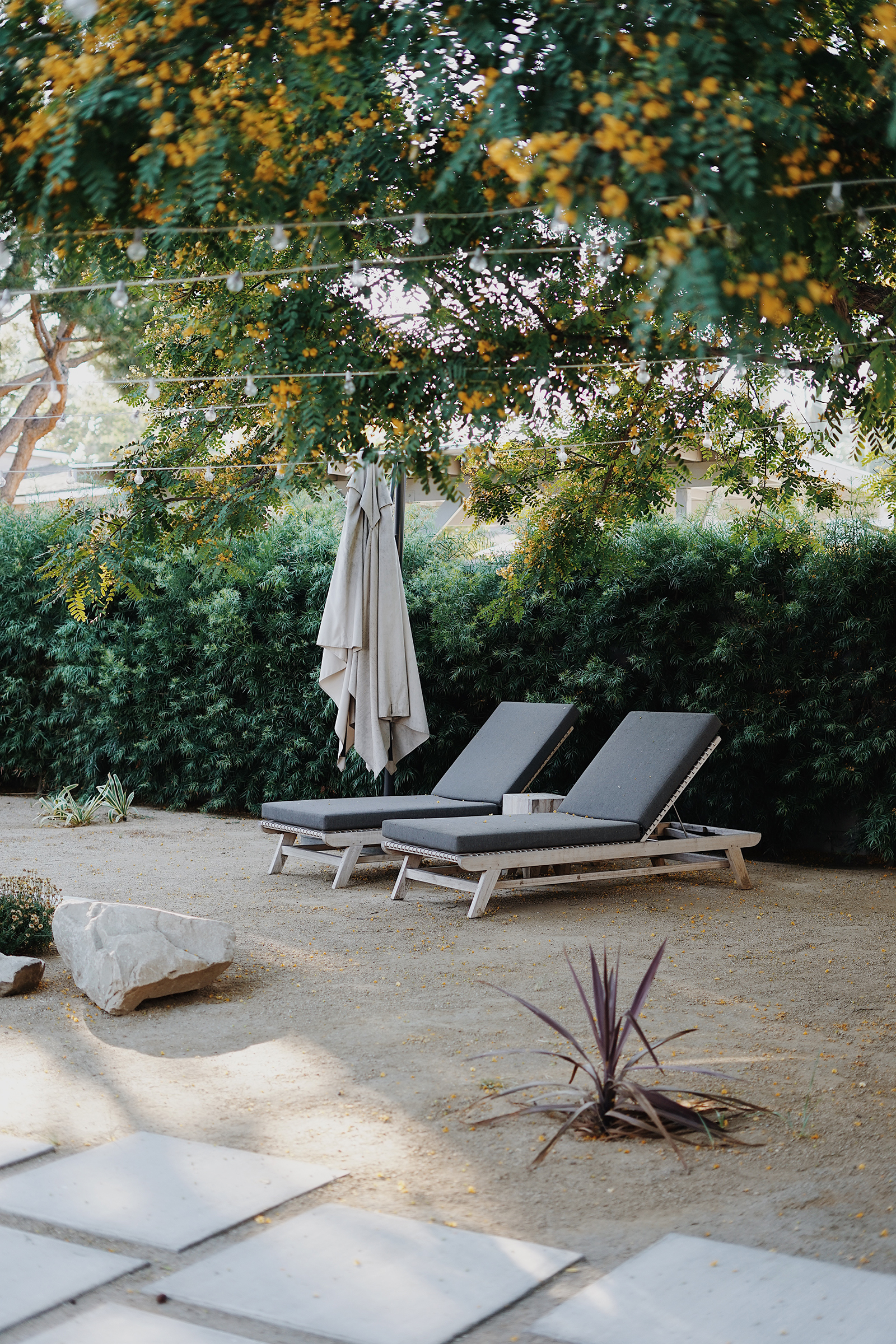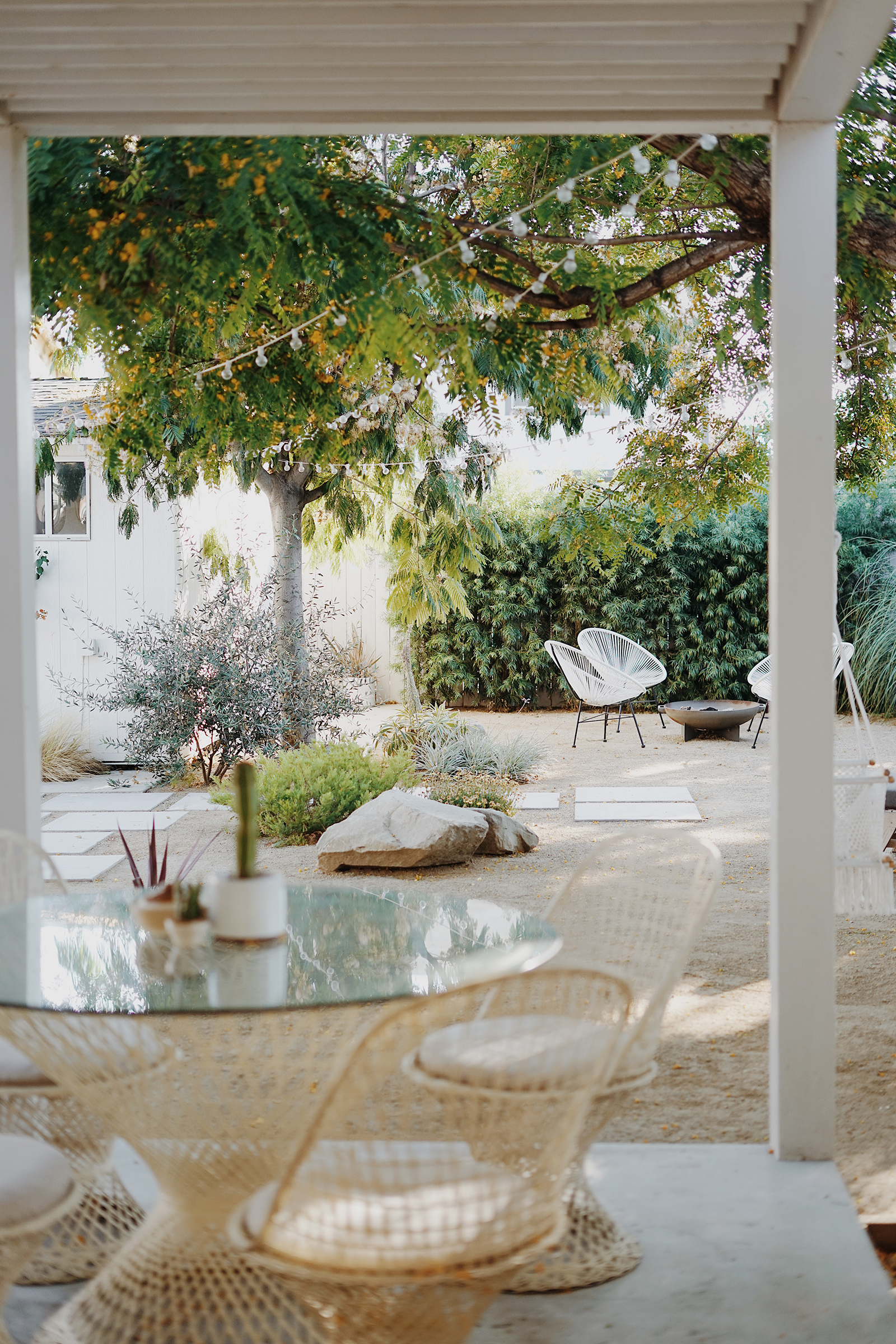 been meaning to share the evolution of our yard over the years, because i never really documented how everything grew in and now we've removed all the sharp cactus! oops. but still fun to share how much it's changed over the years. and now that the fence has been refaced, it feels like a giant breath of fresh air where no aspect is ugly!
we are still happy with the decomposed granite ground covering– mostly, in retrospect it would be nice to have some grass for arlo to run around on, and even though people warn you, before you have a kid you just really don't know how you're gonna feel! i still love the look of it though, it's just not the most comfortable so we don't usually sit on the ground. luckily we have lots of furniture to lounge on! 
i'd like to do a full blog post on the construction of our pergola because i get a lot of emails about it, i will have to have my stepdad help with that since he was the one who really designed it — so please stay tuned. i still love it so much, it's stunning– but it does require upkeep. since it's made of wood, after each winter it takes a beating and the wood expands, so we've had to fix the splitting and cracks annually.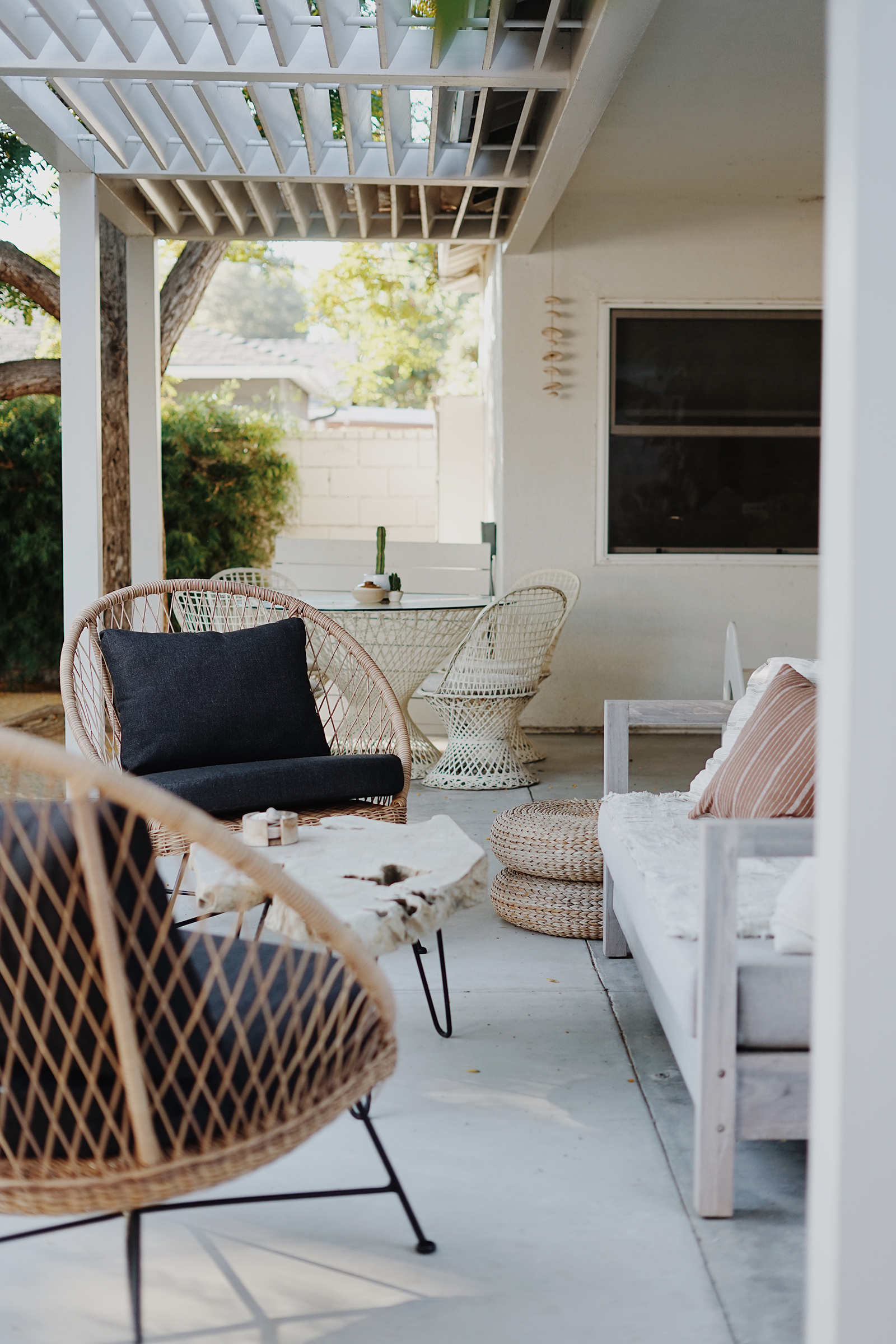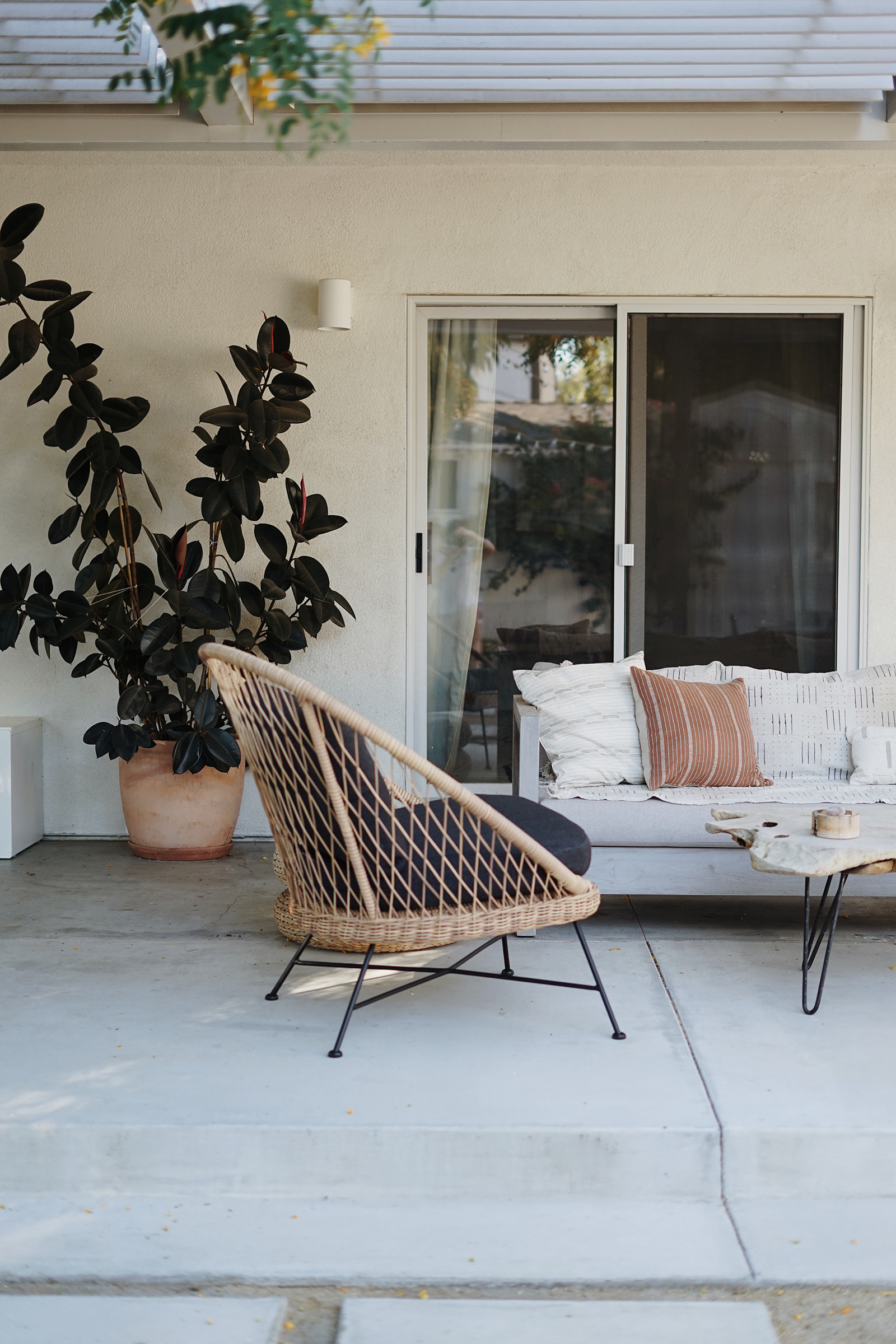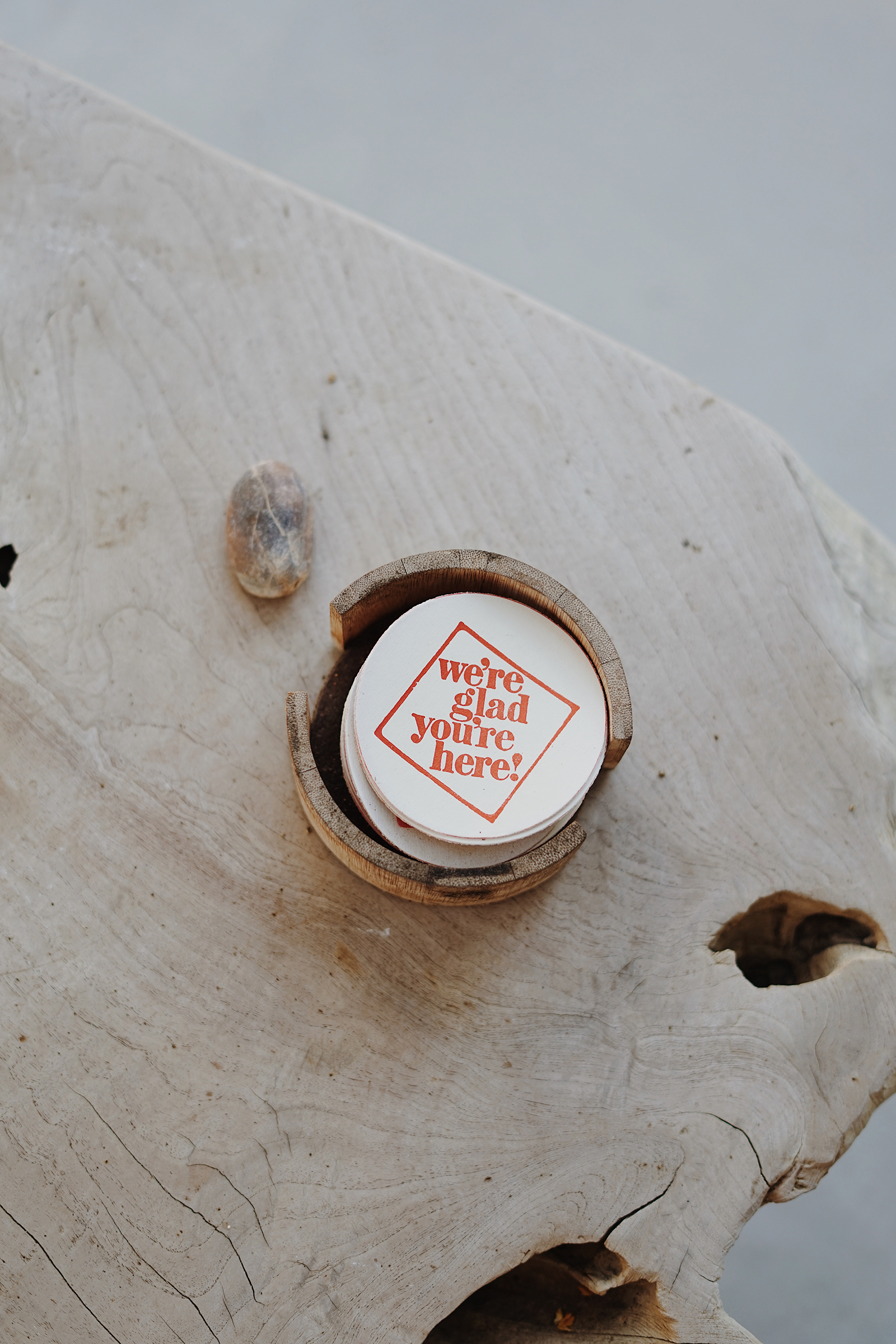 we've replaced a few pieces over the years, like the sofa we swapped for this one with arms, and we added these aeri lounge chairs from article– they are so comfy!! having some actual cozy chairs here really makes it much more pleasant. the driftwood coffee table has really bleached out from the years of sun, i've considered doing a light stain on it but gid likes it as is. we'll see! our kilim pillows all got so much sun over the years that they basically turned beige, it was really sad but i decided to get rid of them. instead we got some pillows from the ivory gull that are again are way comfier (can we all just agree kilim looks good but feels like shit)!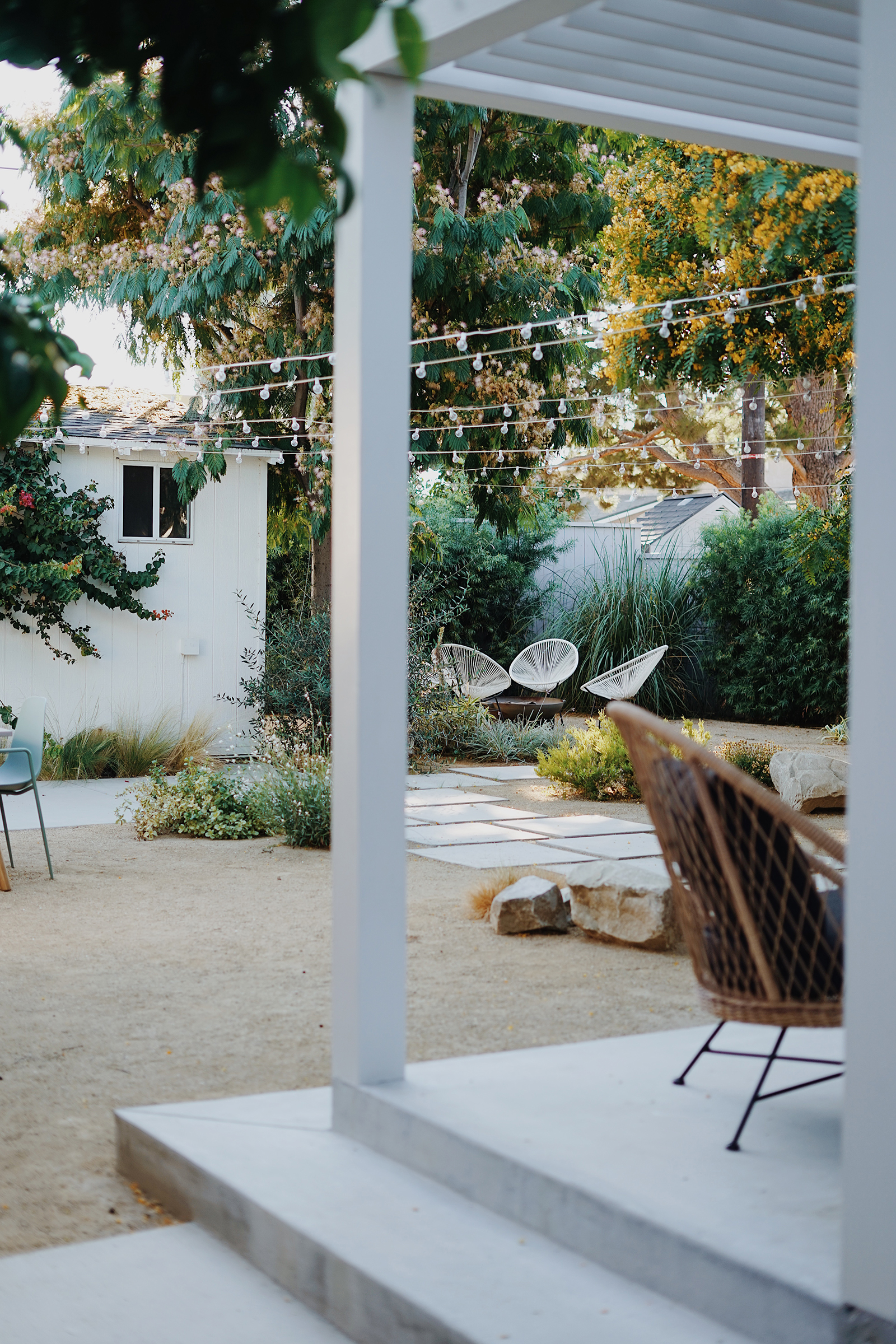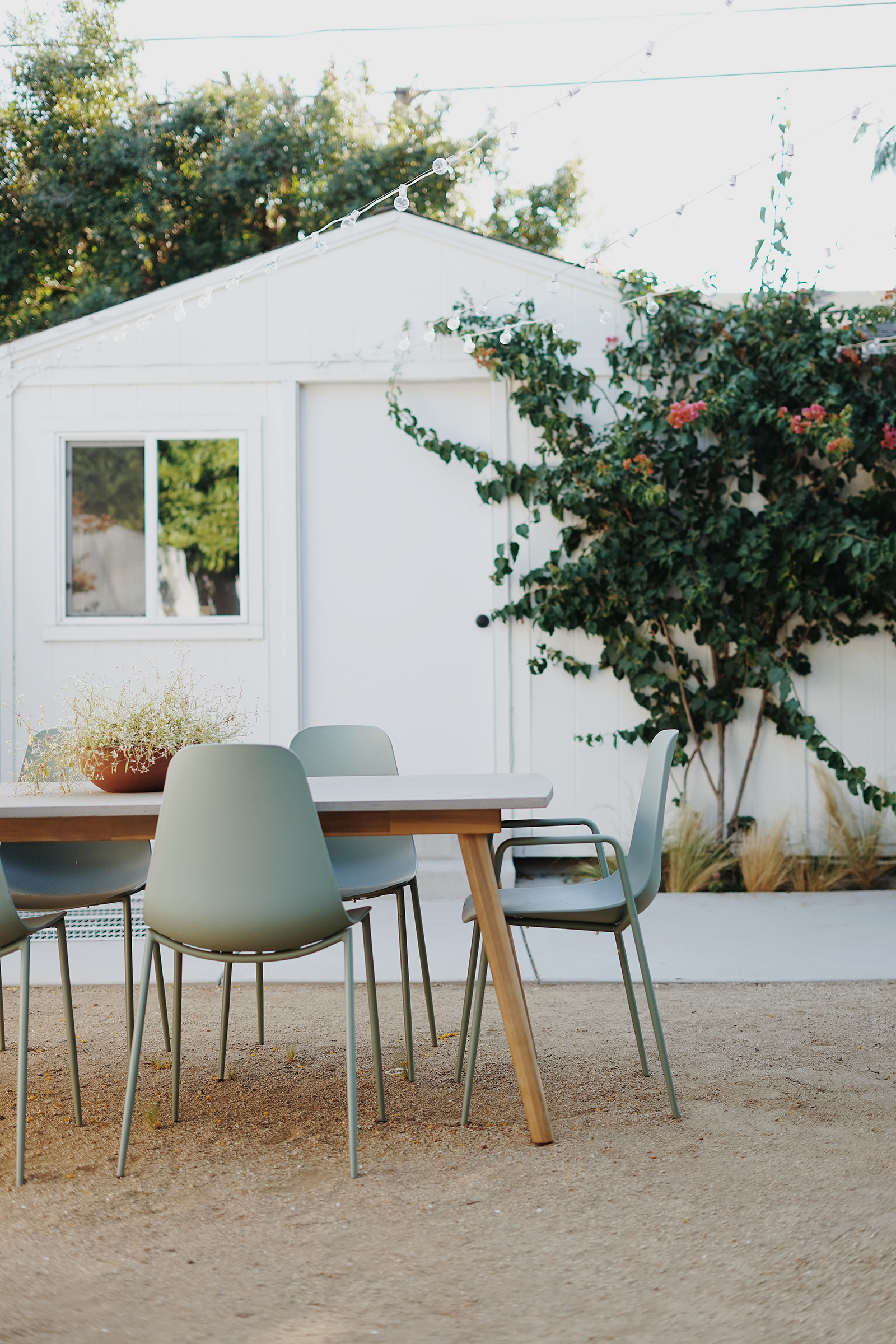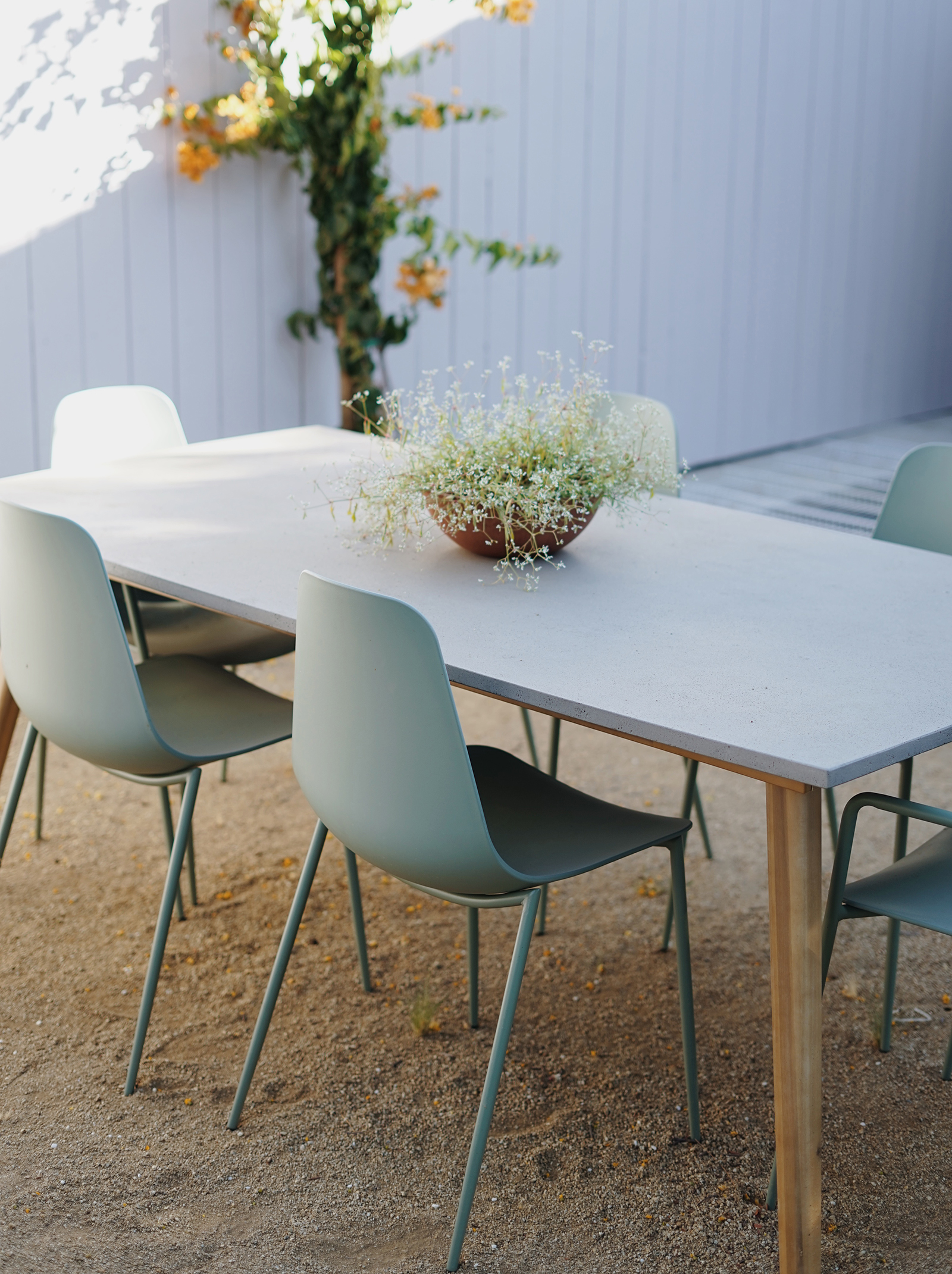 our new table and chairs are also from article– we debated getting rid of the second dining set, but so many people on IG said to keep for when arlo wants to craft and stuff, so now i can't wait till we use this table together! the green svelti chairs are so out of character for me i know, but for some reason i was so drawn to them! i loved the idea of the green matching all the greenery of the yard, and the white chairs we had before were always filthy– love that these will mask the dirt a little more.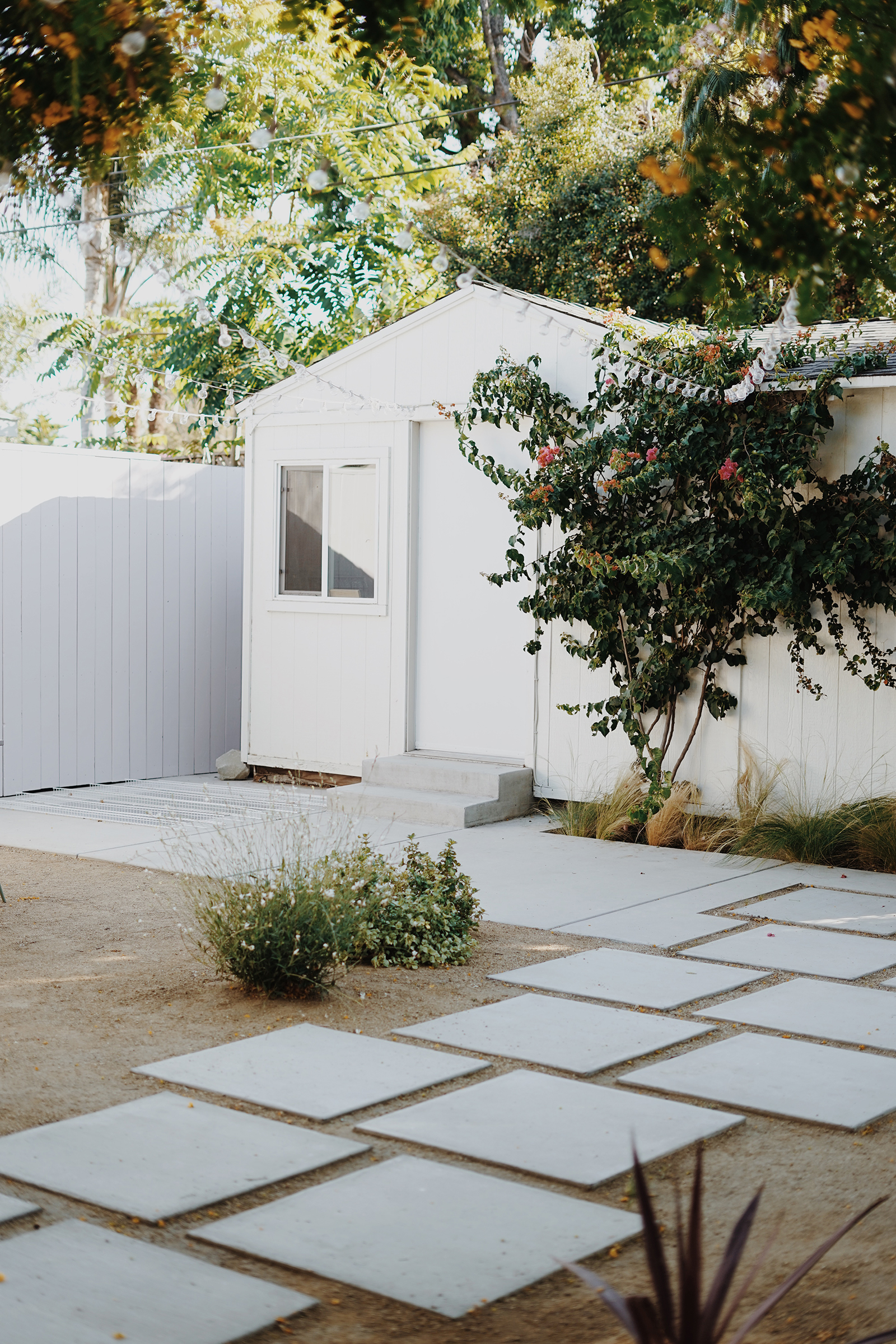 i debated sharing this photo, but felt like it was worth being transparent– this is the spot where our pepper tree once lived :(, but it got oak root fungus and we had to take it out. the empty hole is currently covered while the soil is drying out before we can replant another tree in a few months. this spot definitely looked better with a tree so i can't wait, but at the least the bougainvillea on the studio looks pretty full now that it's getting so much light (if only it would actually bloom now…)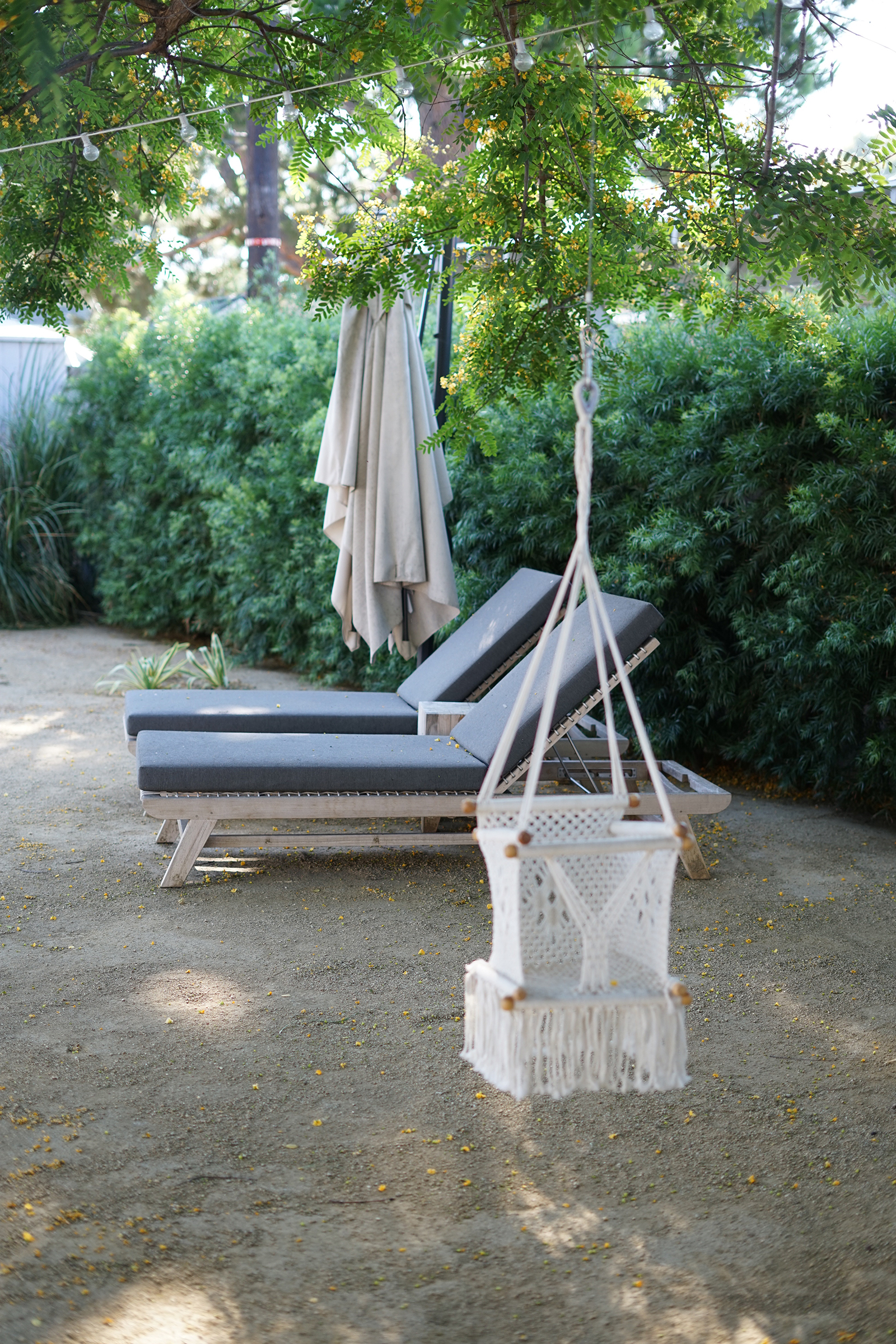 the macrame swing was a gift that arlo loves so much, we still have the hammock but bring it out only for special occasions.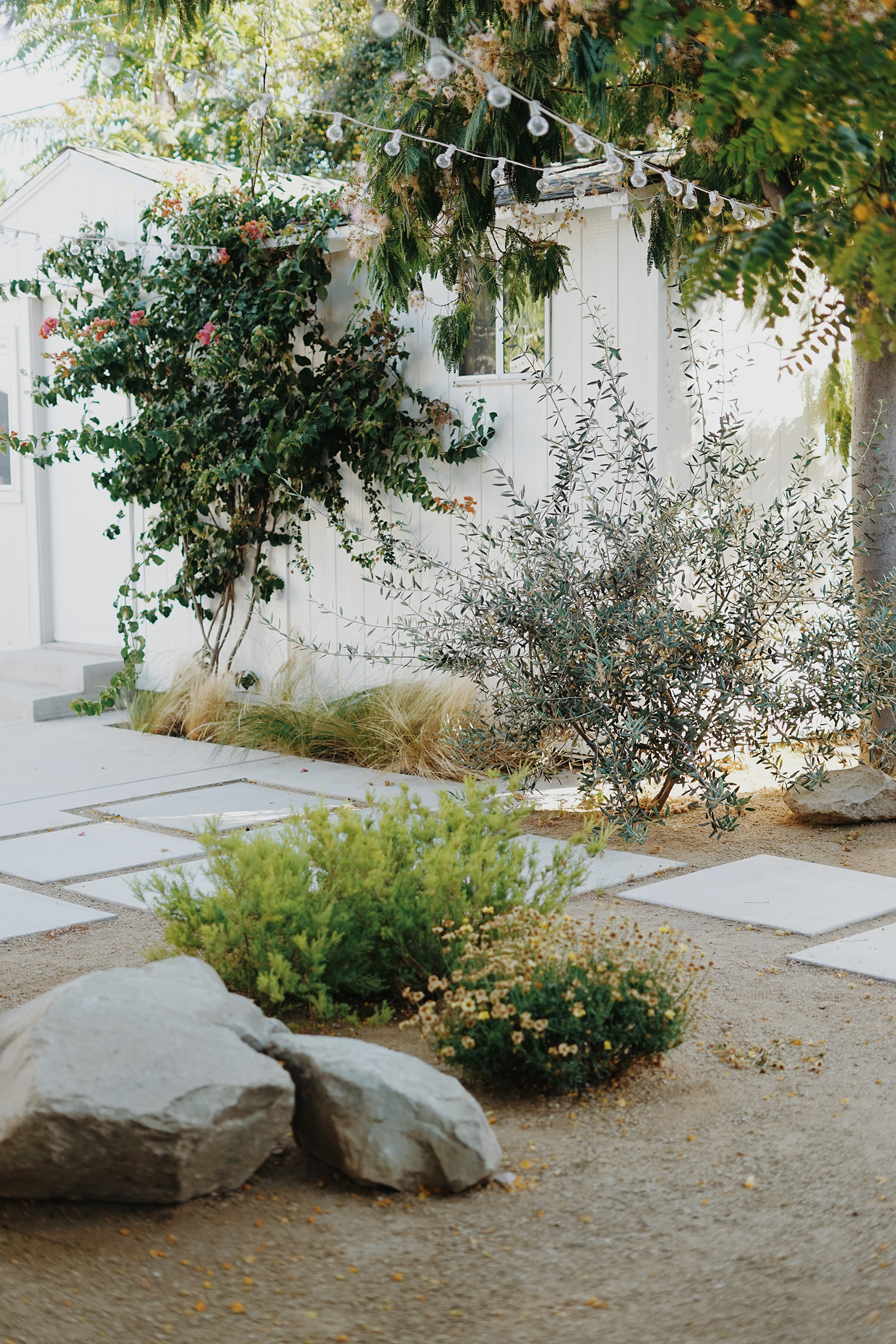 i'm so happy with how things have grown in and mostly all the new plants — across the back fences is podocarpus, which if you look back to our old backyard photos— it has grown a LOT!! in the corner of the fences is pampas grass, which has also gotten huge but doesn't usually sprout up any plumes until september.
the olive bush is thriving too, that was one of the only remaining plants we kept because mostly everything else was cactus. we got lots of bushy soft plants to go in instead, and i thought we would miss the cactus more but i don't! i love what we planted instead, i know you'll want names but unfortunately i don't know most of them. we got a lot of purple flowers (garlic, and something else i forget the name of) but right now they aren't super in bloom so it's less colorful out here than it was. the only two plants i don't like are the little succulent and the purple leafy guy across from that, i think we were still in the old backyard mindset when we chose them and they don't quite fit in now, so i'm hoping to replace those later this year.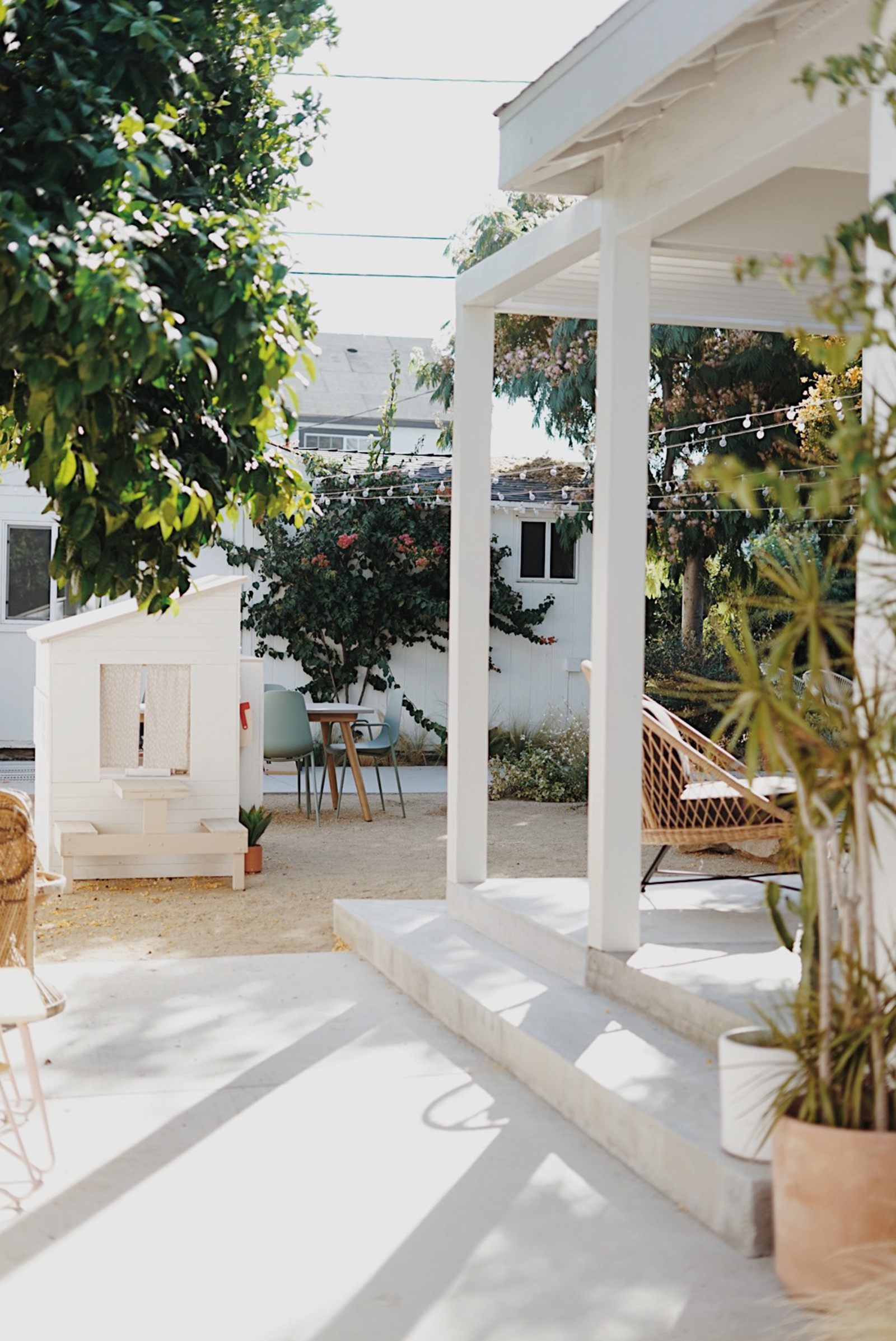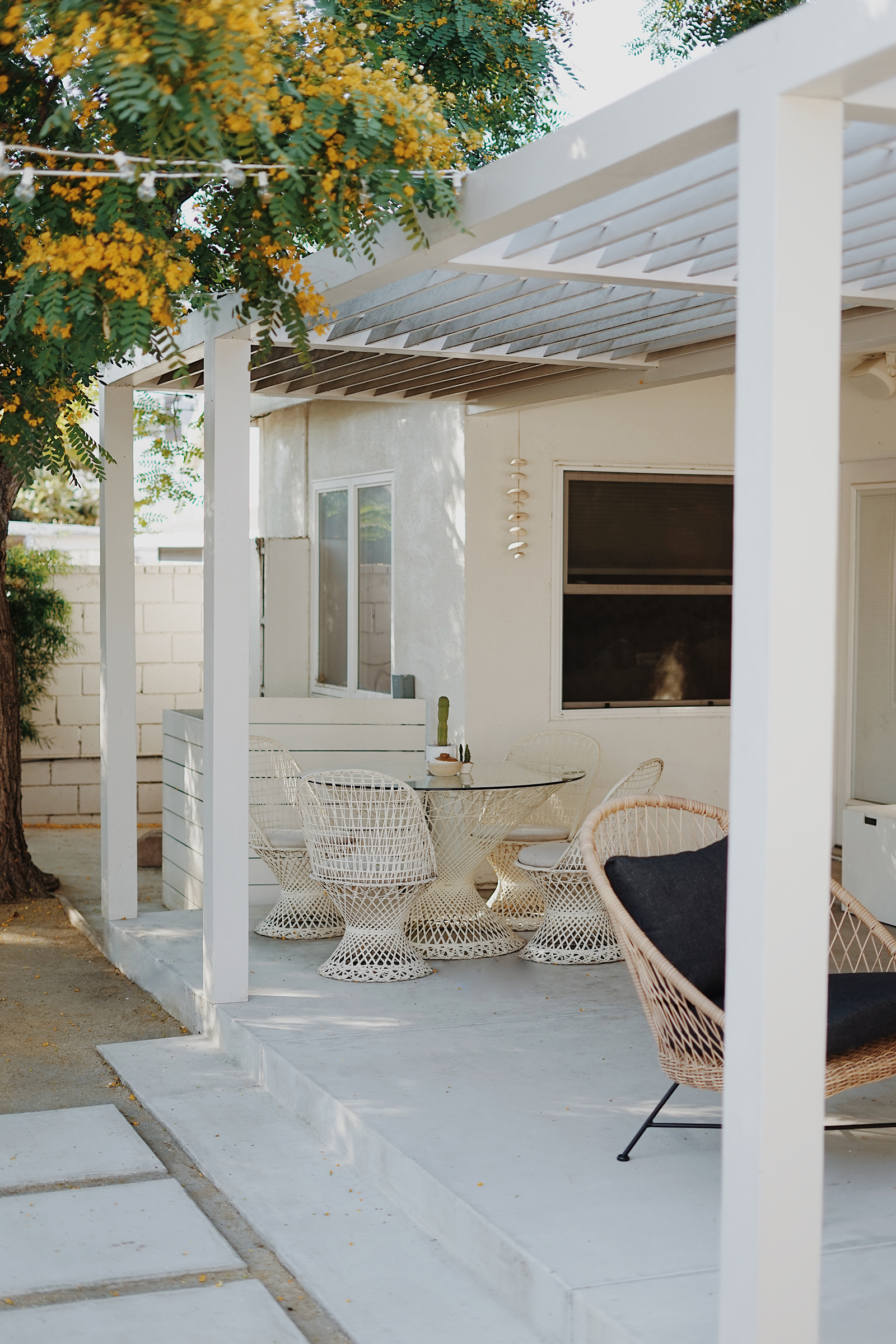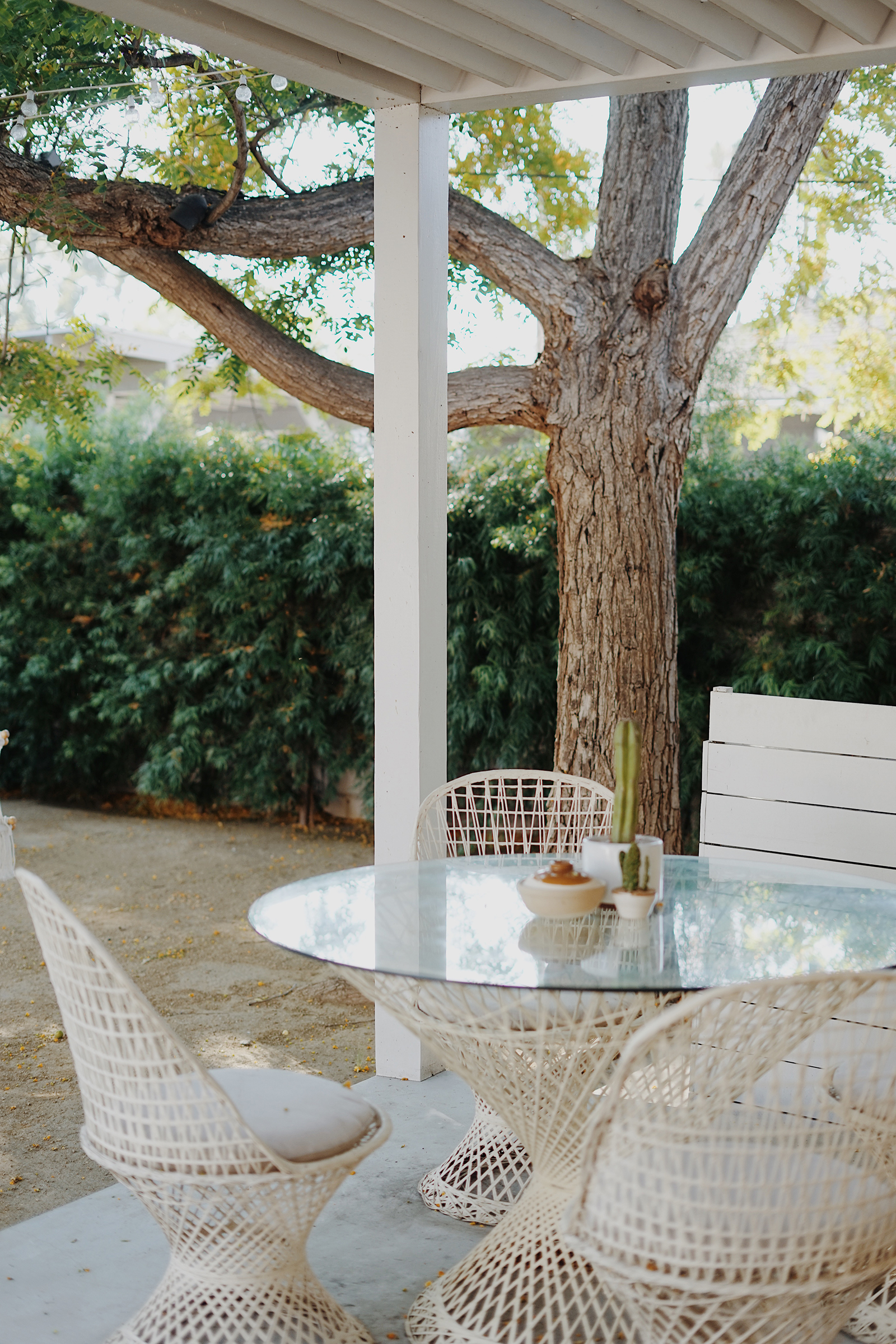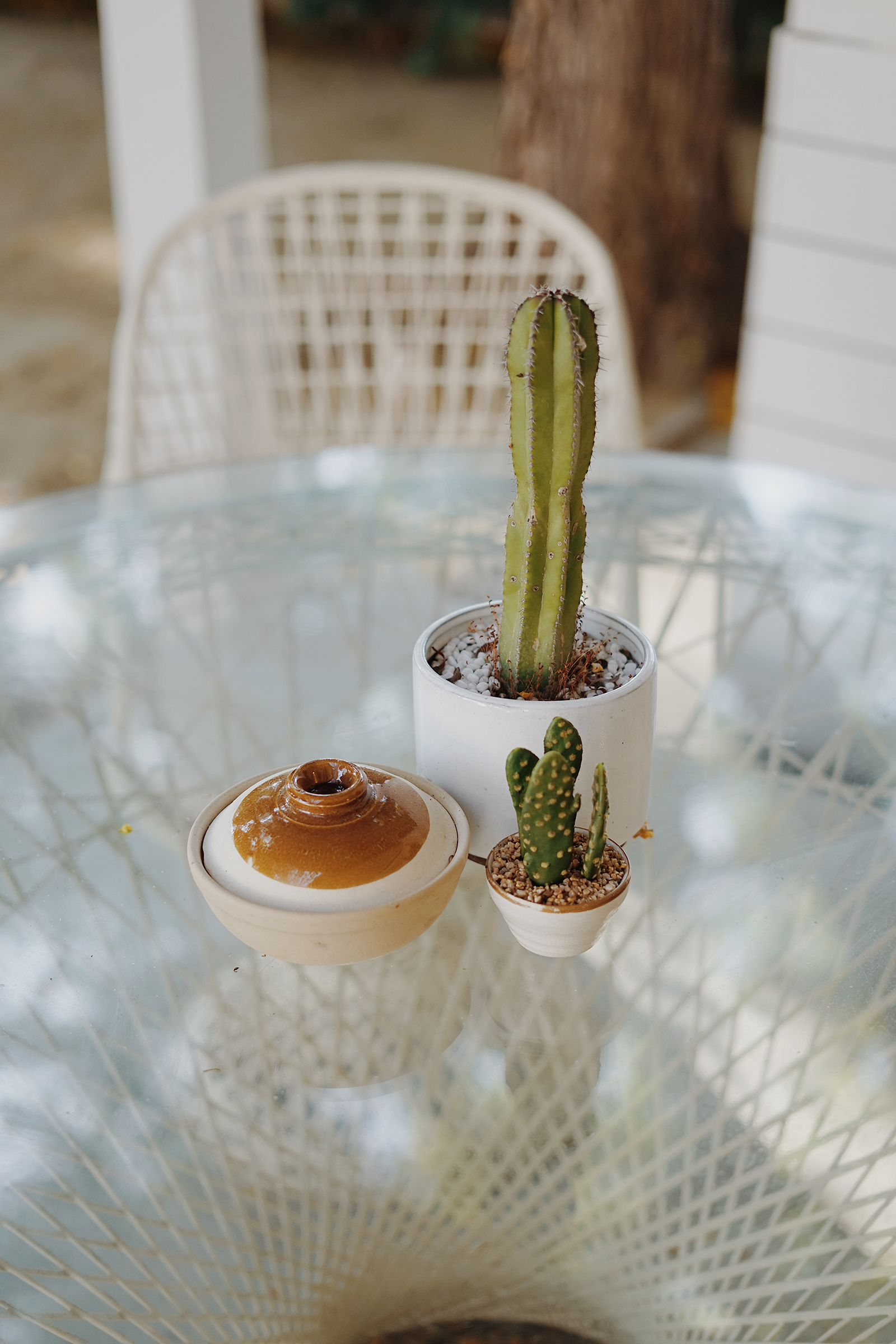 that cactus is the only one left from our wedding, i can't believe it's survived this long and has gotten so big! that's a ceramic citronella candle, we gots bugs up the ying yang.
you may have seen on instagram that we put a covering over this side of the pergola because the tree sap is so intense over the table. we got nursery shade fabric and velcro'd to the top, but after some rain it didn't hold up, so we stapled down instead. it doesn't block from all of it, there is still some sap on the table but it's a lot better than it was.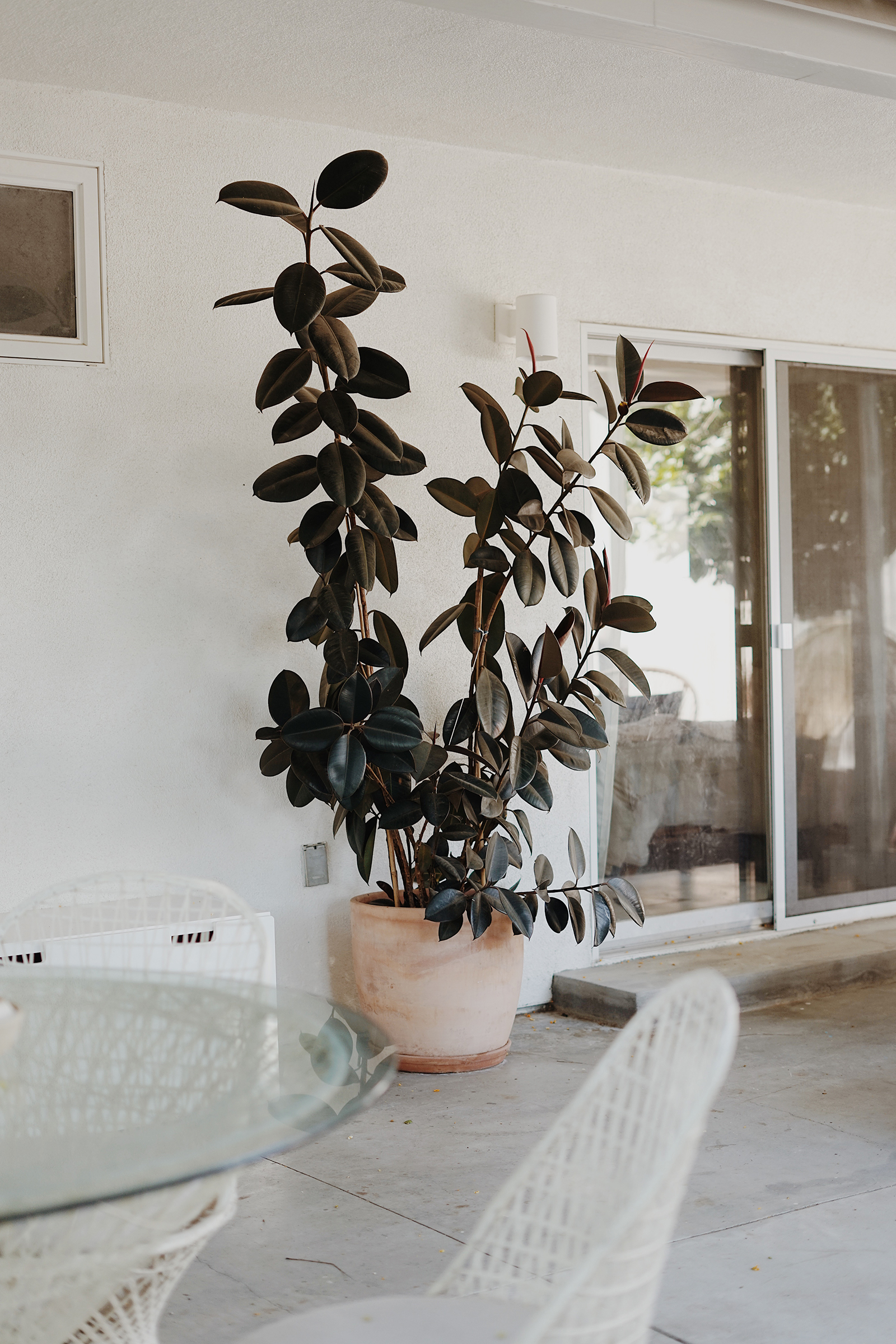 another plant that has not only survived but thrived– this rubber tree! go back to the old backyard photos and you might be a little impressed. i am! we also put some storage to the left of it where we store gardening tools, the hammock, miracle grow, etc. we got these drawer/benches from ikea and they're not my favorite because the large holes let lots of dirt in– it looks like they don't actually sell these ones anymore- but they were cheap and fit this space perfectly.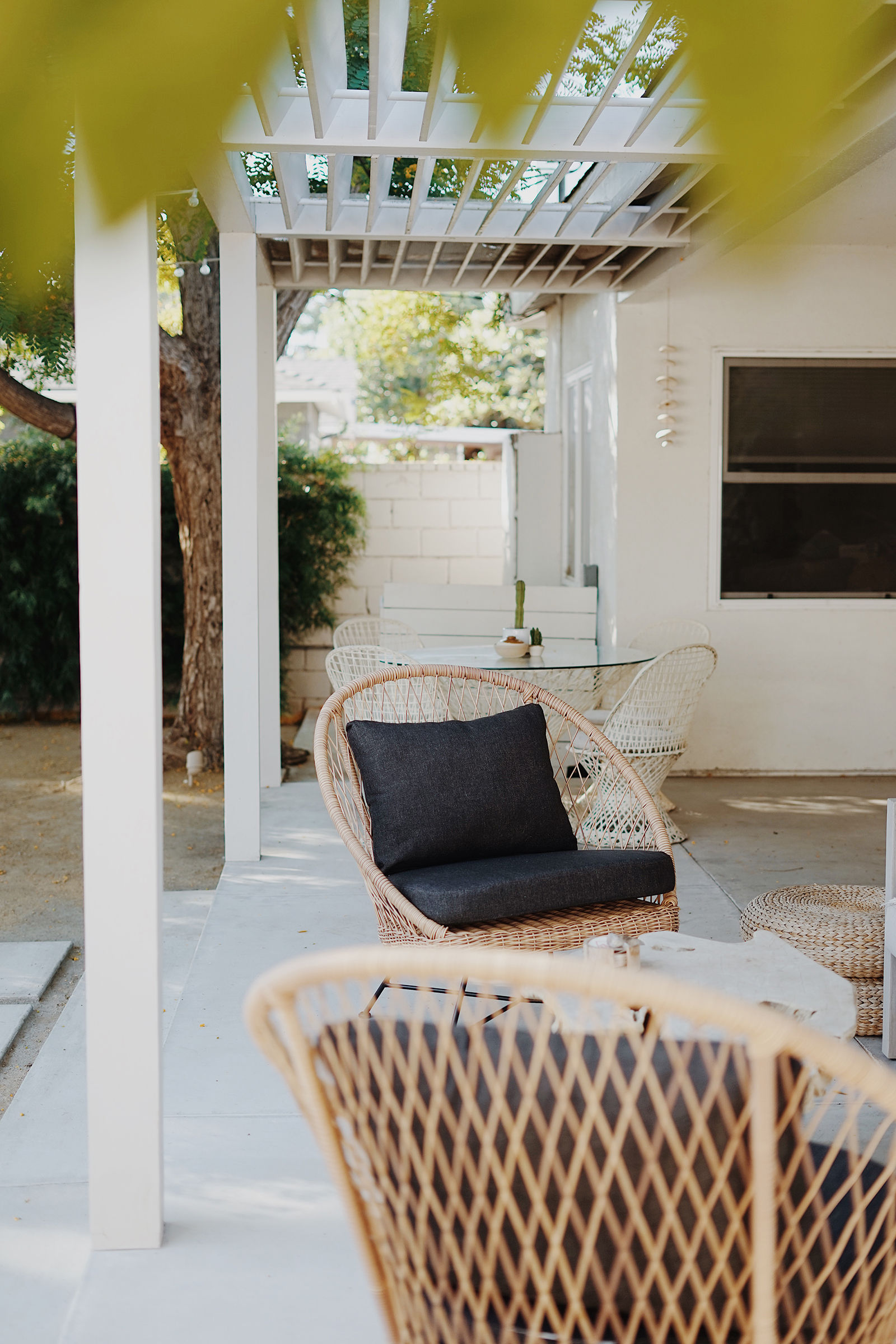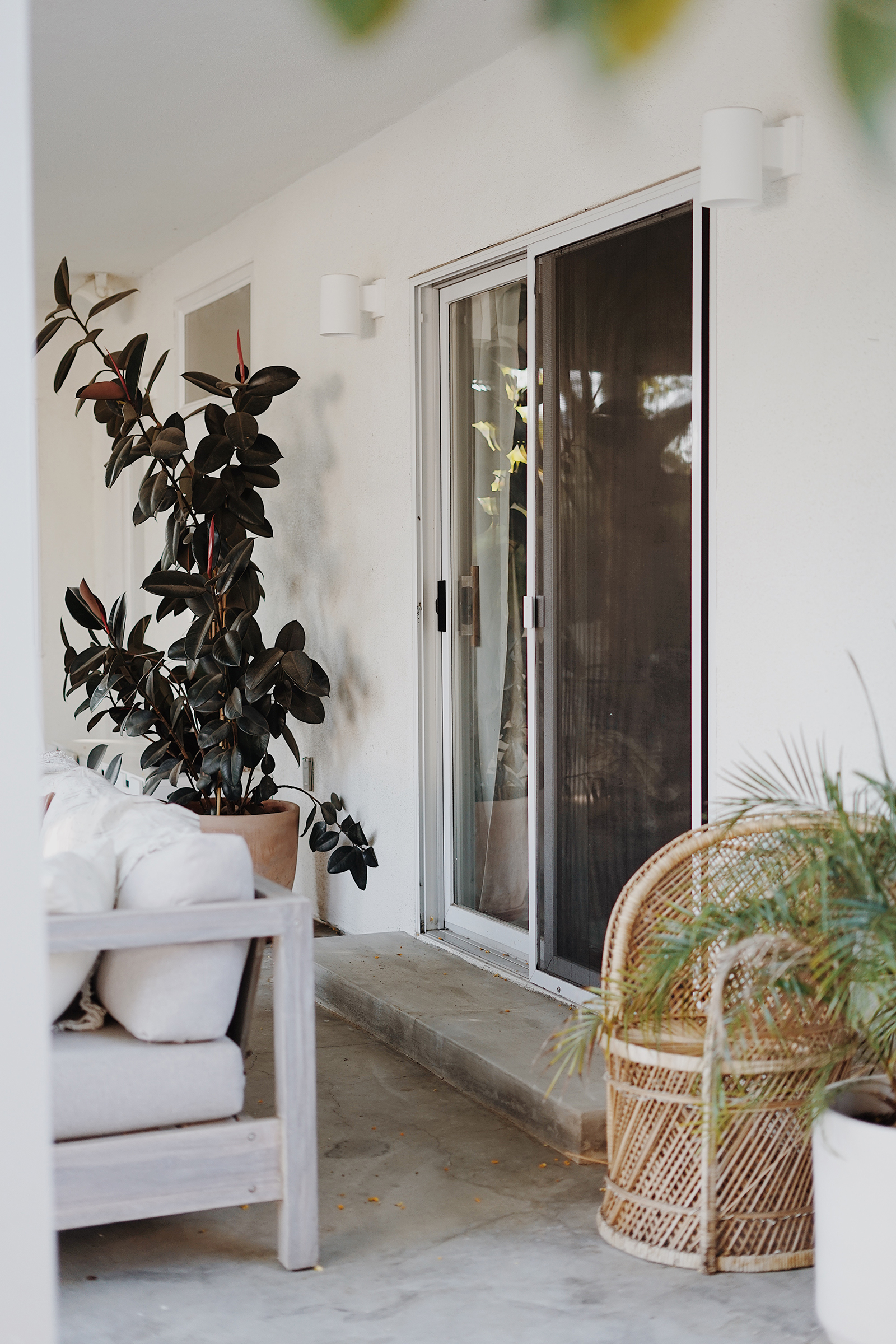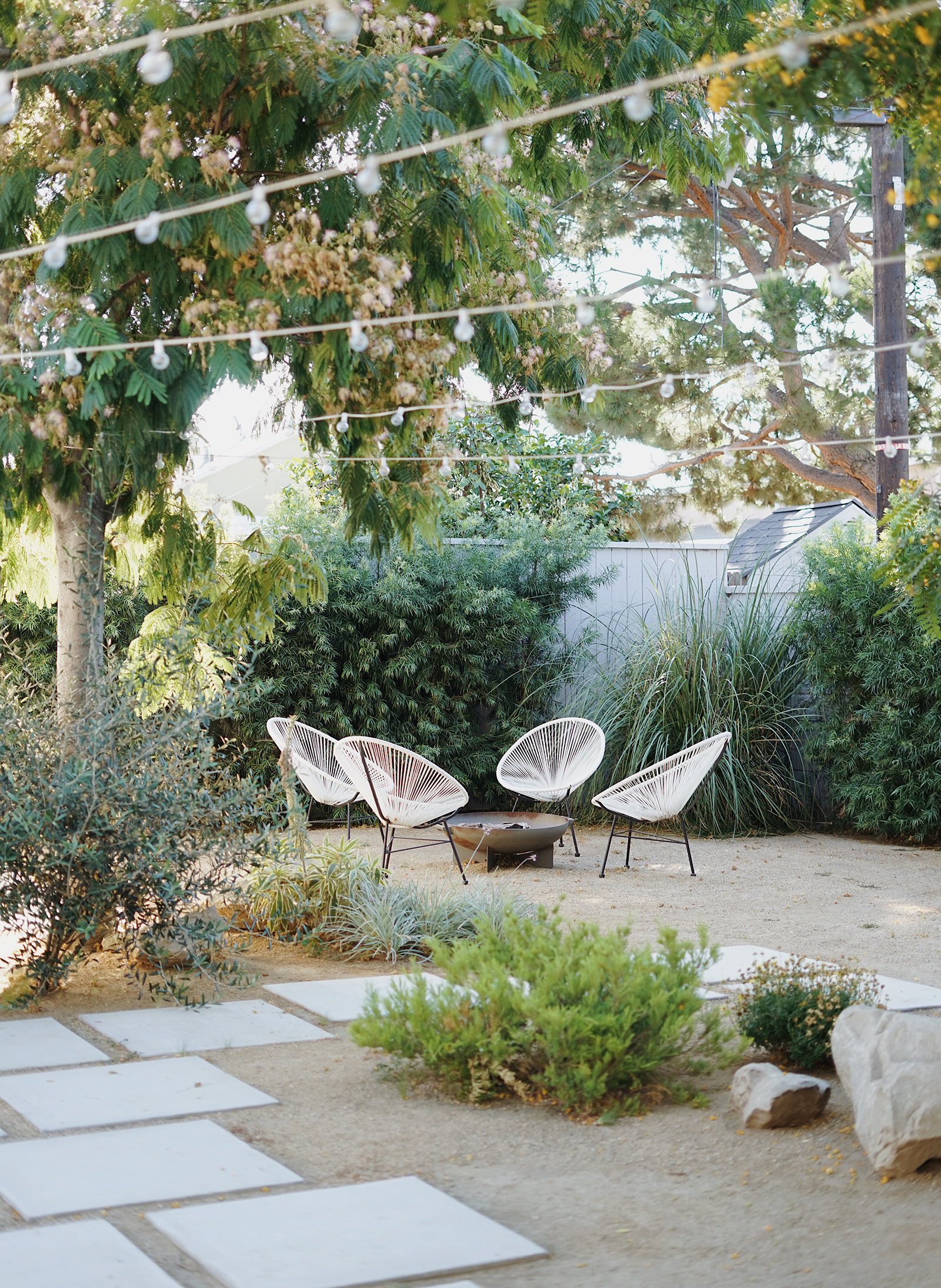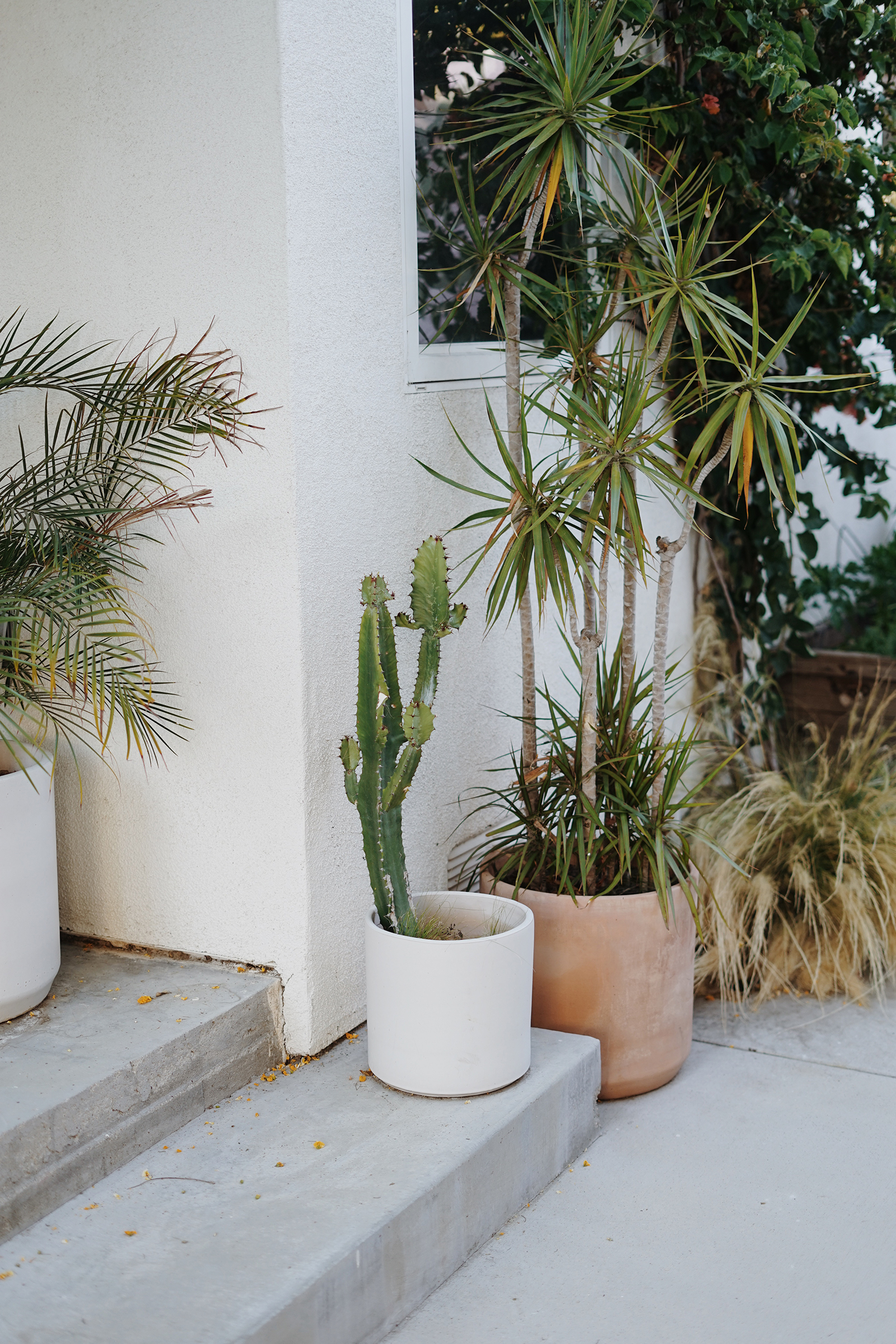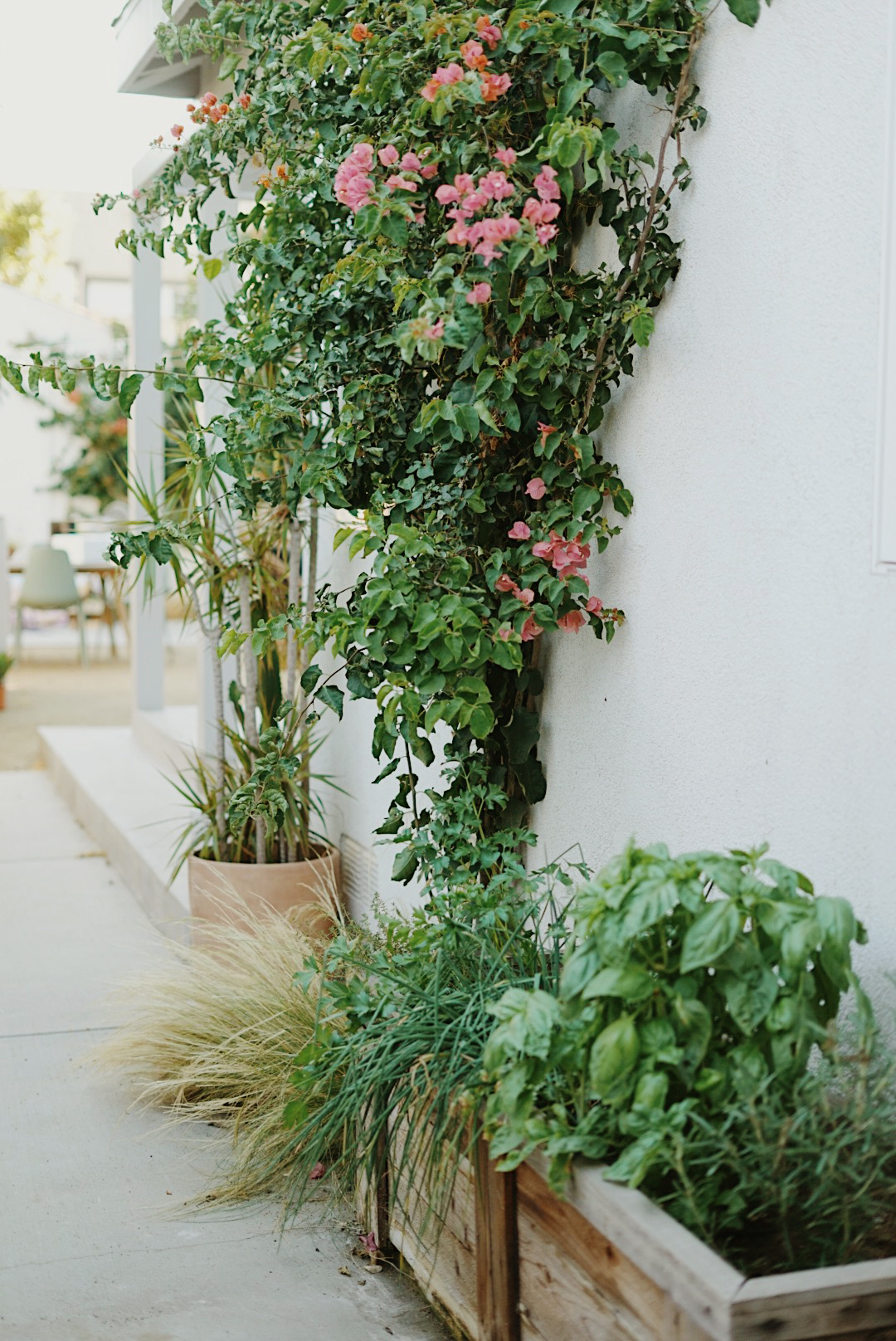 on the side of the house, we have our herb garden which i couldn't live without now! it's right outside the kitchen door and now that they're thriving, i'm obsessed with using like all of them in everything i cook. we have some more boug over here too, again it's bushy but not super bloomy.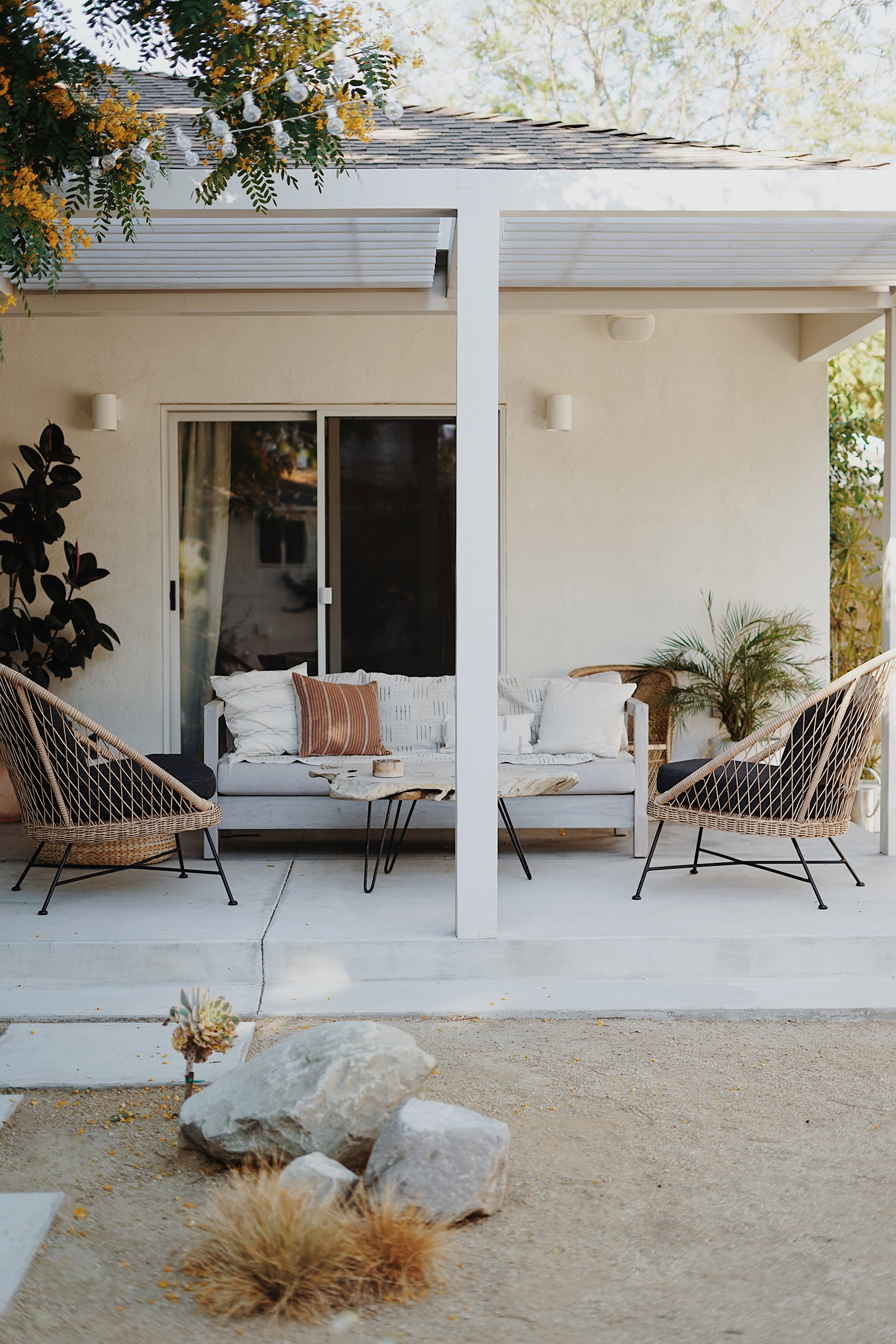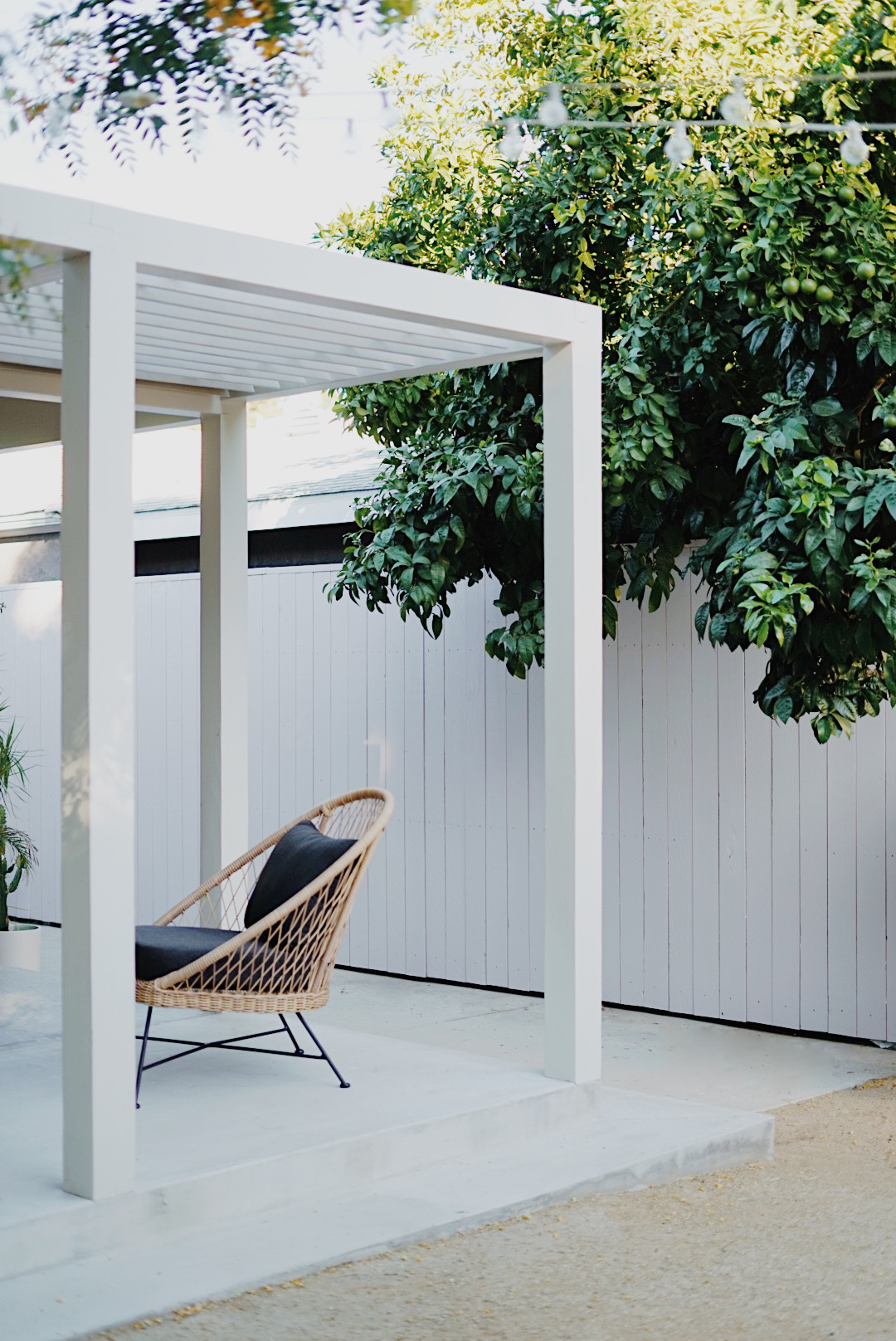 sources