eating this: orecchiette pasta with chicken in a creamy rosemary lemon sauce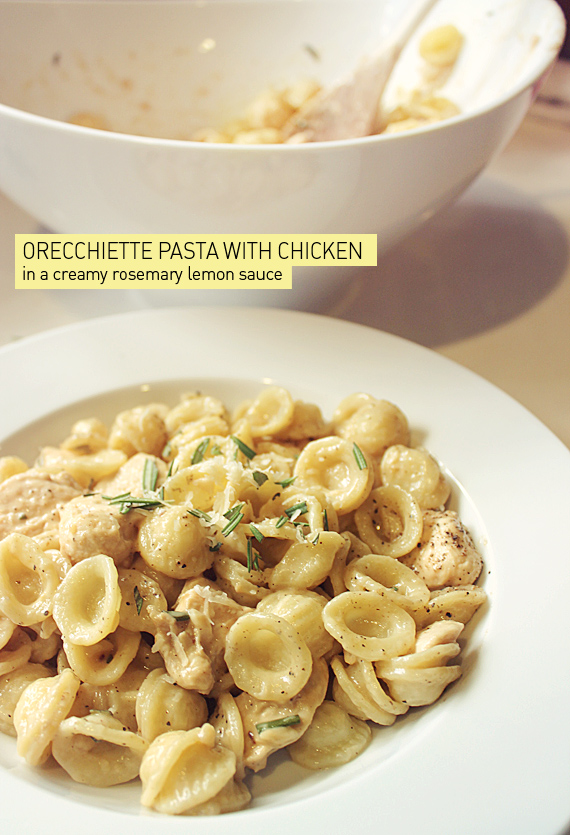 I feel like I choose recipes with the same ingredients every time I cook. I guess I'm okay with that. This pasta recipe was really delicious. But definitely next time, I'd want to make more of the sauce. There was not enough of the sauce! It was super creamy and lemony and delicious. This would make a good hearty winter meal. But I don't mind eating hearty all year round.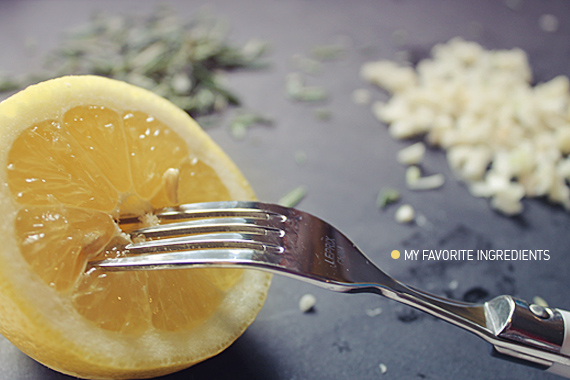 One substitution I made was swapping out the goat cheese in the sauce. I didn't have any and I'm not super into it and it was only a tablespoon to thicken the sauce so I used cream cheese instead. It seemed to have worked fine.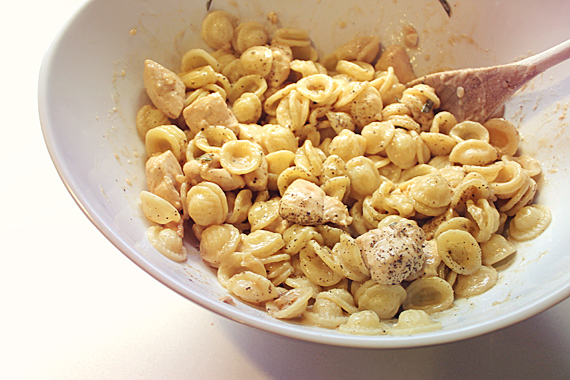 Orecchiette Pasta with Chicken in a Creamy Rosemary Lemon Sauce
(adapted from Adventures in Cooking) 
3 garlic cloves, minced
1 large chicken breast, cut into 1-inch cubes
juice from 1 lemon
1 1/2 cups dry orecchiette pasta
2/3 cup milk
1/3 cup chicken broth
1/4 cup olive oil
1 tablespoon cream cheese / goat cheese
1 tablespoon flour
2 teaspoons fresh rosemary, chopped
1/2 teaspoon grated lemon rind
1 tablespoon grated parmesan (optional for garnishing)
Heat the olive oil and minced garlic in a large skillet over medium heat. Add the pieces of chicken and lemon juice and allow to simmer, stirring occasionally, until the chicken is cooked all the way through, (this should be checked but cutting one of the larger cubes in half to peek inside). Remove the chicken from the pan using a slotted spoon so that the olive oil and garlic remain in the pan.
Lower the heat. Stir in the chicken broth, milk, grated lemon rind, salt, and ONE teaspoon of the rosemary. Once the mixture is hot, but not boiling, sprinkle the tablespoon of flour over the mixture and whisk it in. Continue whisking the sauce until the flour is fully incorporated. Turn the heat to the lowest setting and allow to simmer, stirring occasionally, while you prepare the pasta.
Prepare the pasta according to the package directions. While it's cooking, add the chicken pieces and cream cheese or goat cheese to the lemon sauce and stir until it's completely melted and incorporated. Remove the pan from the heat and set it aside. Once the orecchiette is cooked, strain it and drizzle some olive oil over it, stirring it a bit in the strainer, to help keep the pasta from getting stuck to each other.
Pour the pasta into a large bowl and add the lemon sauce and chicken, garnish with the grated parmesan and the remaining teaspoon of rosemary. Serve immediately.