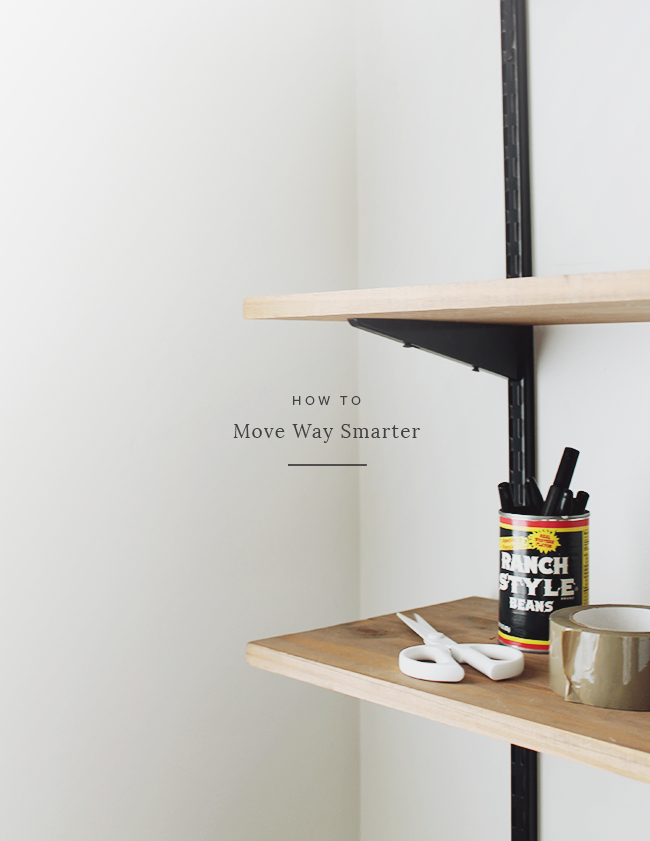 now that we're packing up for our move once again, i'm remembering how horrible some of my moves have been in the past – and really trying to do it better this time. at 30, this will be my TWELFTH move since my freshman year of college. not sure if that's average or not, but it's way too many freaking times.
so i'm trying to do it properly this time, for two reasons : to stay sane and not live completely in shambles prior to moving, and to prevent the exact same thing in the new house for the first few months.
TRY TO FIND FREE BOXES
we've spent hundreds on boxes that just get thrown away in the end, which sucks. gid has much less of a problem than i do with that, but it's pretty easy to find free boxes if you make the effort. if they're accessible, the dumpster areas at grocery stores and pharmacies are usually a good place to check. and duh, you can check the free section of craigslist and pick them up on someones sidewalk. that ends up being better because the boxes are usually less odd-sized than the free ones at a store. we've bought a few boxes but luckily we're using my brothers boxes because he just moved. (if you know someone moving around the same time, ask them to save their boxes for you!)
PURGE, PURGE, PURGE
i do this every time i move, but based on the amount of stuff we have – i've never actually done this enough. literally, i went through our kitchen utensil drawers and noticed we had 5 bottle openers and 5 slotted spoons and 5 plastic spatulas. this is insane. keep a trash bag with you while you pack and throw things out as you go. that dish towel or oven mitt that went from white to brown? toss it. i have big dreams of being a minimalist but sadly i have some serious hoarding tendencies. it's such a nice feeling to toss things and not look back. and for those things that shouldn't be tossed but you don't need…
THROW A YARD SALE PRIOR TO MOVING
to save on boxes and moving things you don't need, plan on a yard sale a week or so before the move. that will give you enough packing time to pile everything you want to part with and give you some extra cash for the move itself. i'm talking books you got as gifts that you don't want, the 18 makeup bags you don't use anymore, clothes.
not to toot my own horn, but i am amazing at yard sales. yes i know that sounds smug, but i am the best. i've never really had a yard sale where i make less than $300 even if i'm selling total crap. keep prices super low and make sure everything just gets purchased. add on items for people, sell clothes for $1 an item and people will end up buying $50 worth of clothes (which is probably more than you'll make selling them to a second hand store). it might be because i worked in retail in college, but selling things is easy. just be super personable and super intense about them buying lots of things and they'll do it if it's only a few bucks.
SELL THINGS ON CRAIGSLIST BEFORE YOUR MOVE
for the items that are more valuable, or larger furniture you know you don't want anymore, sell them before your move. you don't want to bother moving a large table you're going to end up selling later, so just get rid of all that stuff.
HIRE MOVERS
of my 12 moves, i've hired movers only about the last 4 times. and it makes a big difference in your life. moving sucks either way, but i think this is the best money spent versus having to plead with your friends to help you with the pizza bribe. also the last thing i've ever wanted to do after a huge moving day is worry about returning a truck. it all sucks, just hire movers. but to save on money, make sure EVERYTHING is packed. movers will quickly pack smaller items into boxes and that's the quickest way to lose track of things and risk things breaking. have it all packed and ready to go before they arrive. (i've learned this the hard way, last time we moved the whole move took 6.5 hours, that's insane.)
KEEP BOXES ORGANIZED BY ROOM AND LABEL EVERYTHING CLEARLY
you don't want to have to carry a box from room to room while unpacking, designate a room for each box you pack. my only exceptions for this are tech and decor accessory items. keep sharpies or a label maker on hand and mark every box clearly — put the room on every side of the box (i do the top as well as two sides). ask your movers to stack boxes with the labels visible. but to make it extra clear for me, i also mark what's in the box below the room.
(eg. LIVING ROOM : BOOKS, DINING : SERVING TRAYS, BATHROOM : MEDICINE CABINET)
DESIGNATE A ROOM OR CORNER FOR BOXES
we all know what it's like to live in your place before your move, it sucks. make your life a little better leading up to the move day by stacking all your packed boxes in one area, keeping the rest of your place a little less cluttered and a lot easier to get around.
PACK A FIRST NIGHT BAG
essential items like your toothbrush, hand soap, medication, a towel, clothes and pajamas and all your chargers can be packed in a weekender bag for much easier access when you first settle in without having to open any boxes right away.
PACK AN "OPEN FIRST" BOX
put essential items in here like a sponge, paper towels, trash bags, cleaning supplies, toilet paper, shower items, pens, remote controllers, scissors or a box cutter and some plates and flatware. our soda stream will also be going in this box. open this box right away and you won't be looking all of the place for those things you'll be needing. i use a clear bin for this instead of a cardboard so it's easily identified. with the same intention, it's super beneficial to pack one box for your first night bedding, so you can make your bed and feel a little more comfortable right away.
PACK A GROCERY BAG FOR ESSENTIALS
some instant coffee and a few mugs or paper cups, snacks, water bottles and your pet food are all things you're going to want right away without having to scour through boxes. pack them up in a reusable grocery bag and you'll be stoked you did.
PACK KITCHEN + DINING FRAGILE ITEMS WITH DISH TOWELS AND NAPKINS
don't waste packing materials on your serving dishes, you can pack them up with your kitchen + dining linens as wrapping and that way everything can stay together for when you unpack into those rooms.
PACK CLOTHING WITHOUT USING UP YOUR BOXES
i never pack clothes in boxes because it's a total waste. for clothes that are in a dresser that'll end up getting moved, you can either wrap the dresser in saran wrap yourself, or ask the movers to do it for you. this is yet another reason to hire movers, because they won't complain about how heavy the full dresser is versus how your friends totally will. for hanging clothes, ask the movers to bring wardrobe boxes (they'll usually come with them anyway) or use trash bags around the clothes to keep them on the hangers.
GET BOXES FROM THE LIQUOR STORE FOR GLASSWARE
liquor stores are always throwing away bottle boxes, that are way easier and safer to pack your expensive wine and champagne glasses in than wrapping individually.
SCHEDULE THE CABLE GUY FOR THE SAME DAY OR PRIOR TO THE MOVE
this might not be a priority for you, but internet-less is not something i can handle too well. i've always had the cable guy come the same day we're moving in, which can be pretty hectic but in the end i can be relaxed to know i can watch TV when the movers leave. now that we're postponing our move in date but will have the keys a week before that, we're installing the internet the week before the move to avoid the chaos – but either works depending on when you can get into your new place. also – if this matters to you, specify that you want them to bring white cable cord so you don't end up with black.
CHANGE YOUR ADDRESS TWO WEEKS PRIOR
you can choose the date that your new address will take into effect, and you want to do this way before you're in omg i'm moving mode. don't forget to collect all those coupons!