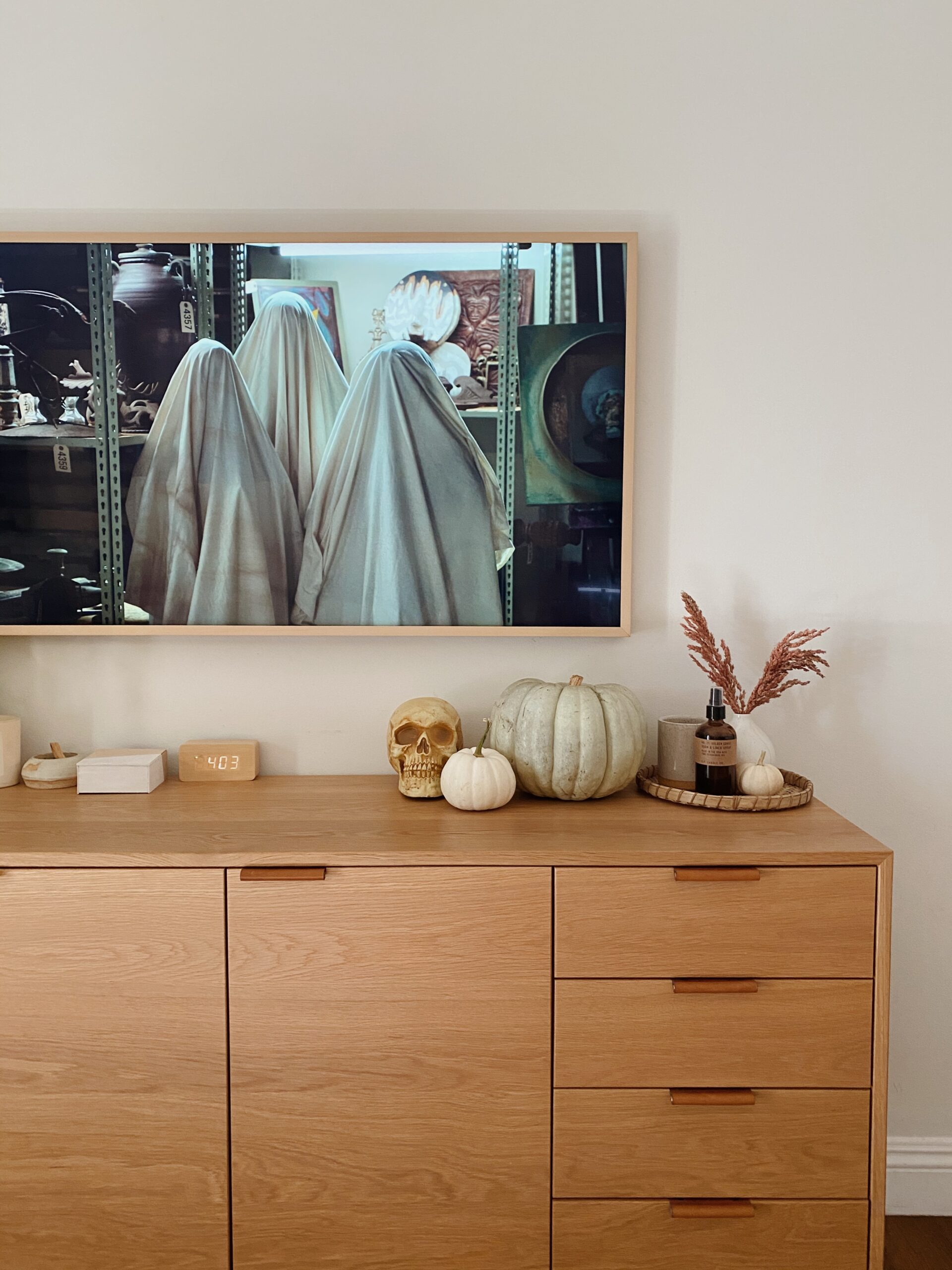 you knowwww i love my horror movies, we pretty much exclusively rotate between watching reality tv and scary movies, yea we have very eclectic taste. so i love october because everyone else is finally interested in one of my biggest passions! i wanted to roundup some of my picks for what you can watch for free (mostly), if you don't have the shudder app that would make sense, most people don't, but if you are an avid horror fan i do actually recommend it.
ps i have seen so many over the years that its hard to keep track of what to recommend and what i've assumed people have already seen, so this list isn't my favorites of all time or anything, its just the ones i found on the streaming services. also i have my own (very long list) of ones to watch so i can continue to add if there are any gems we watch soon.
host (shudder)
this was a ghost movie made during quarantine over zoom and its super short and simple but we really enjoyed it!
you're next (hulu)
one of my favorites, the scares/suspense and it's stylish too.
veronica (netflix)
a supernatural movie that's in spanish, this was scary!
haunt (shudder)
wow i watch a lot of horror movies but this one really traumatized me. i watched it too close to bed and couldn't sleep much that night haha. SO SCARY.
oculus (hulu)
saw this years ago in the theatre but i loved it.
the cabin in the woods (hulu)
one of our all time favorites, it's a horror satire but it's so fun to watch. poppy hated it.
hush (netflix)
a "wait until dark" type movie about a deaf woman being stalked, super good!! ps if you havent watch wait until dark with audrey hepburn i love that movie.
autopsy of jane doe (netflix)
wasn't expecting to enjoy this one as much as we did, but it had really good build up.
freaky (hbo max)
if you watch a lot of horror movies, you too probably crave a unique spin on it– a body swapping movie and a horror movie in one is pretty exciting. i thought this was super fun.
green room (netflix)
the acting and suspense in this one were really good, plus patrick stewart is in it haha.
the guest (netflix)
this one is sort of more of a thriller/action movie IMO, but it's great and dan stevens is so hot.
the invitation (netflix)
sort of mystery/thriller but the tension is really good in this one.
let the right one in (hulu)
most horror fans have seen this i'm sure, but if not– its GREAT.
cam (netflix)
this one really confused both of us, but somehow we enjoyed it profusely. you'll know what i mean when you watch.
there's someone inside your house (netflix)
ok this wasn't the best movie i've ever seen, but very in line with a scream type teen slasher and i thought it was a good watch.
geralds game (netflix)
some of this is pretty corny, but overall this movie stuck with me a bit. i enjoyed it.
cabin fever (netflix)
i'm sure most people have seen but its on netflix, so maybe even worth a rewatch!
kristy (netflix)
if you liked the strangers home invasion type movie, this is a pretty entertaining one on a college campus. i expected it to be worse!
the perfection (netflix)
ok this was a weird one, but pretty effective. the ending is WEEEIRD and pretty ridic, but overall we enjoyed watching this one.
poltergeist (netflix)
again i assume everyone has seen this but in case you haven't, this is one of my all time FAVORITES!
the strangers (netflix)
i didn't want to include too many obvious ones but if you haven't seen this, it's scary af!!!
unfriended (netflix)
i dont know if its because i watched this home alone in the dark but it was effective and i was scared despite it taking place entirely on a computer screen hahah
ginger snaps (amazon)
a werewolf coming of age movie, its campy but i love it.
the guest (netflix)
kinda more like a super violent thriller, but i loved this movie and man dan stevens is hooooot.
hereditary (amazon)
i have mixed feelings about this movie because the ending wasn't my favorite. but overall it's creepy and has a dollhouse so i guess i had to include. i prefer it to "midsommar".
** and a movie i didn't even like but it scared the f out of me… **
green inferno (netflix)
we watched a sneak preview of this movie years ago and it was terrifying, it had all these release problems and i'm not sure if the version on netflix is as gruesome as the one we saw but i had nightmares the night we saw it for sure