holiday gift guide : for the chef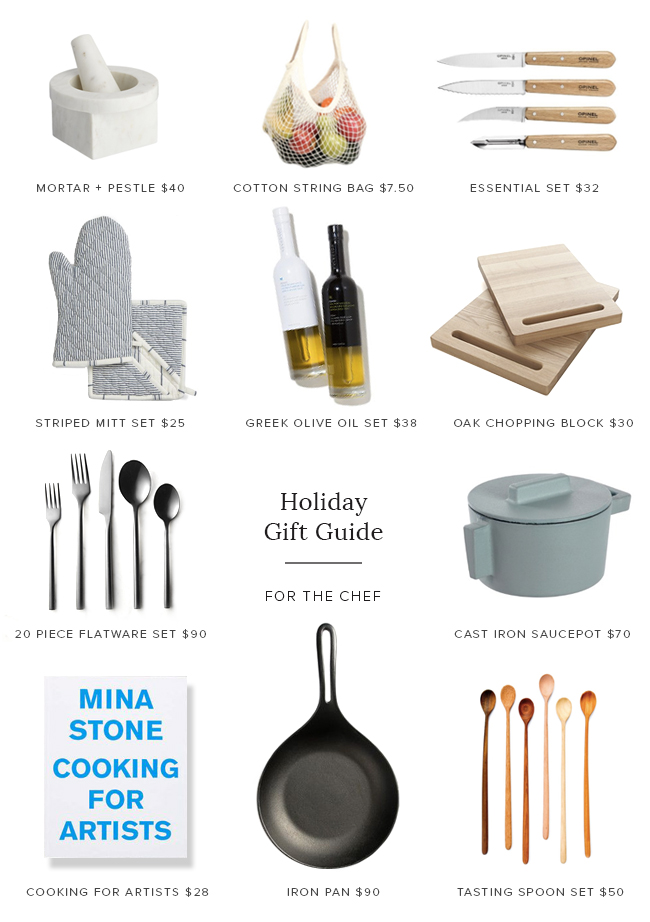 we all know someone who spends all their free time in the kitchen, so i gathered some beautiful items any cook or sous chef would want, me included.
01. i love the modern shape of this marble mortar and pestle.
02. these cotton string bags are perfect for the farmers market and come in three packs. also would be fun to fill with fancy pantry items.
03. a very cute little knife and peeler set, another very easy gift for anyone.
04. i don't normally like a lot of oven mitts, but this set is super cute.
05. for the cook that really does have everything already, a lovely olive oil set.
06. these oak chopping boards are my favorite.
07. black flatware is the new gold flatware. we're getting some for our future kitchen.
08. a cast iron saucepan so pretty, you'd never want to put it away.
09. as always, a nice cookbook is forever a safe bet.
10. everyone loves a cast iron pan, but this one has a cool shape too.
11. the loveliest tasting spoon set ever, perfect for displaying in their kitchen crock.