holiday gift guide / for the boys
i can't believe it's already time to start buying presents. well it's at least time to start thinking about it anyway. the first holiday gift guide this year is for the boyfriends, husbands and brothers in your life. i attempted to avoid the typical cliche boy gifts as much as possible, but if we don't buy them their fancy grooming products annually — who will?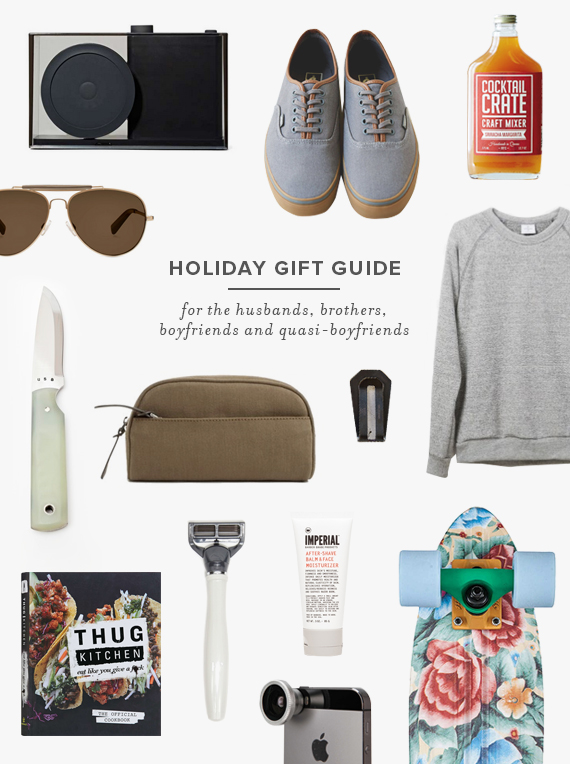 01. this super rad minimal mp3 speaker would definitely make him happy
02. seems like a new clean pair of sneakers is something a boy needs every 3 months
03. when a gift can be fun for both of you, it wins. sriracha margarita mix wins.
04. boys love sunglasses. fact.
05. instead of actually going camping, you can just give him a dope camping knife and call it a day.
06. another gift guide, another handsome dopp kit. have you given him a dopp kit yet?!
07. this black oxide money clip is the most masculine money clip i ever did see.
08. literally the coziest sweatshirt ever. and i try not to use the word literally. i swear he won't take it off.
09. cooking and swearing, two of my boys favorite things together in one cookbook.
10. harry's razors make your shower look good, and gideon says it works well too!
11. the unavoidable grooming product purchase for him. after shave or beard oil always goes well.
12. a fish eye lens for his iphone is an easy and fun little last minute gift, if you didn't spend enough.
13. a pretty skateboard that isn't an eyesore for your house. always a good idea to motivate him to go outside.