holiday giveaway / giftry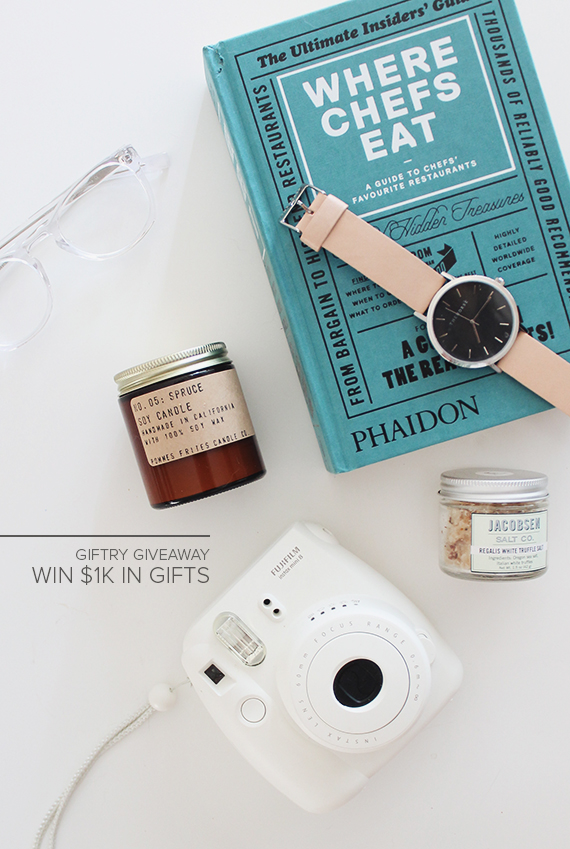 based on yesterdays gift guide, i'm now in full on holiday gift mode. remember a few months ago when i posted about this new site, giftry? it's a place that makes it super easy to collaborate on gift lists, and takes the guess work out of getting someone something that they actually want. every year my parents require christmas lists from every family member. this was after the christmas when my mom received four different copies of moulin rouge on DVD. no joke. she was OBSESSED with that movie and we weren't so good at communicating with each other.
giftry makes that way simpler, because my mom can now sign up and make a list for herself, and us kids can actually discuss what we're getting her based on what she's picked out. and lucky for you, giftry is giving away up to $1000 worth of gifts for the holidays! details and some of my personal gift ideas after the jump!
ENDS
december 10th
PRIZES
giftry will purchase the gifts off of the winners' giftry list up to a value of $1,000 for the grand prize winner (1), $250 for the 2nd place winner (1), and $100 for the 3rd place winner (1).
TO ENTER
sign up or login on giftrys website. you'll then click on "let giftry do your holiday shopping", type in your email and you've entered! you can also then receive more entries through social sharing.
i've compiled a whole bunch of gift ideas within different boards on giftry, in case you need some help!
THIS GIVEAWAY IS SPONSORED BY GIFTRY.
ALL OPINIONS AND PRODUCT CHOICES ARE 100% MY OWN.