roasted artichokes with miso jalapeño aioli by the artful desperado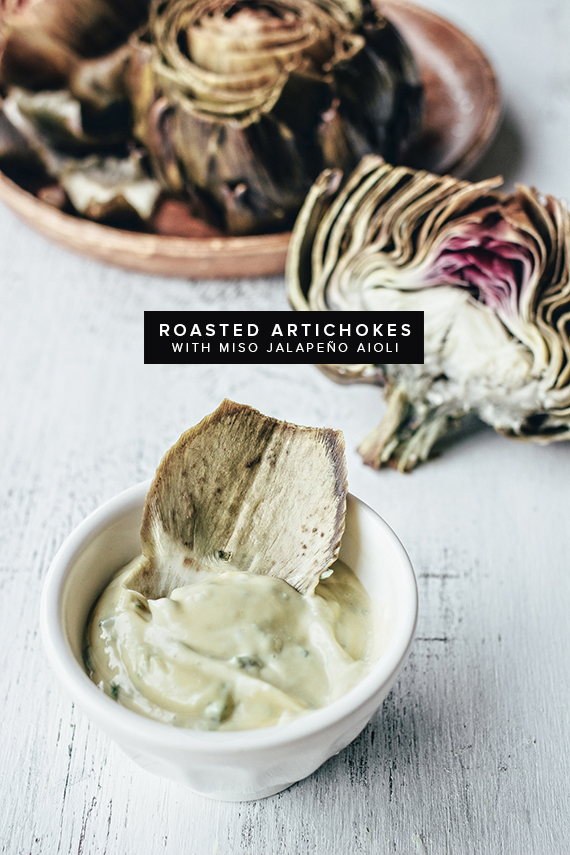 hey everyone! it's gabriel from artful desperado with a foodie guest post.
so as you may know miss molly is getting hitched (yay!). that is one mammoth of a task to handle, i mean the invitations, the guests, the flowers –  i'm already dizzy. since molly and her friends and family must be running on a heavy sleep deficit and little energy to cook, i decided to share a recipe that's A: super easy to make, and B: tastes like heavenly comfort. perfect for those OMG-i-totally-need-a-snack moments.
cue: roasted artichokes with miso jalapeño aioli. it's spicy, it's creamy, it's rich and sexy. if you want you can totally light some candles and feed your date some artichoke while dipping it in the sauce – it's like ghost the movie! minus the messy clay scene. here's the recipe:
roasted artichokes with miso jalapeño aioli
serves 4-6
ingredients
– 4 medium/big fresh artichokes
– 1 lemon
– 1 tablespoon non-salted butter, soft
– 1 cup extra virgin olive oil
– 2 large egg yolks, at room temp
– 1 tablespoon white vine vinegar
– 1 tablespoon miso
– 1 small jalapeño, finely chopped (with seeds in for heat)
– salt and fresh cracked pepper to season
instructions
01.  preheat your oven at 375F
02. grab your artichokes and the top 1/4 (from the tip down). you should see some of the purple leaves exposed. if your choke has a stem, peel it the skin off and cut a bit of the dry end.
03. grab some pieces of tin foil (enough to wrap the choke completely). drizzle artichokes with a little bit of olive oil and place a few blobs of the soft butter in between the leaves. squeeze some lemon juice on them. sprinkle salt and pepper and wrap completely with foil.
04. place all chokes in the oven and bake for about an hour ( a bit more if they are huge). to test for doneness simply remove one of the middle leaves and if the bottom is soft and edible you're good to go. once they're done, remove from the oven and set aside (leave them covered).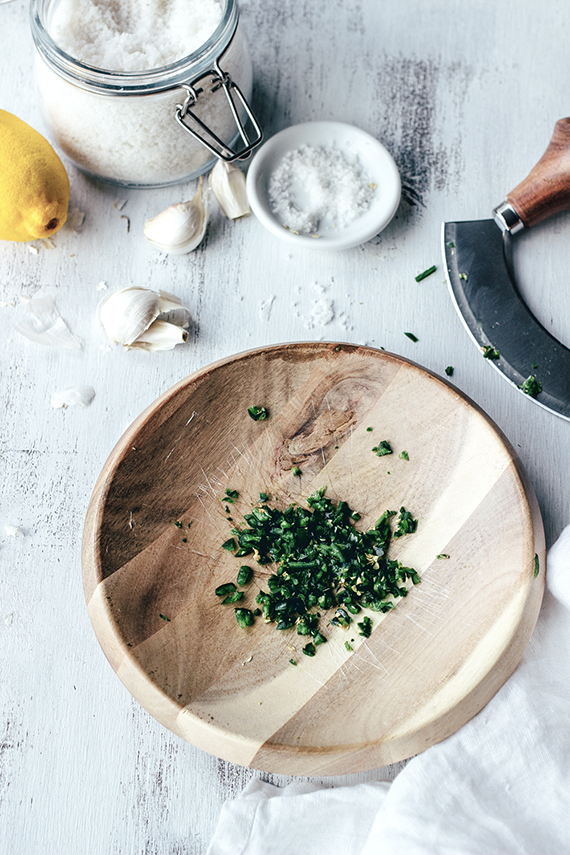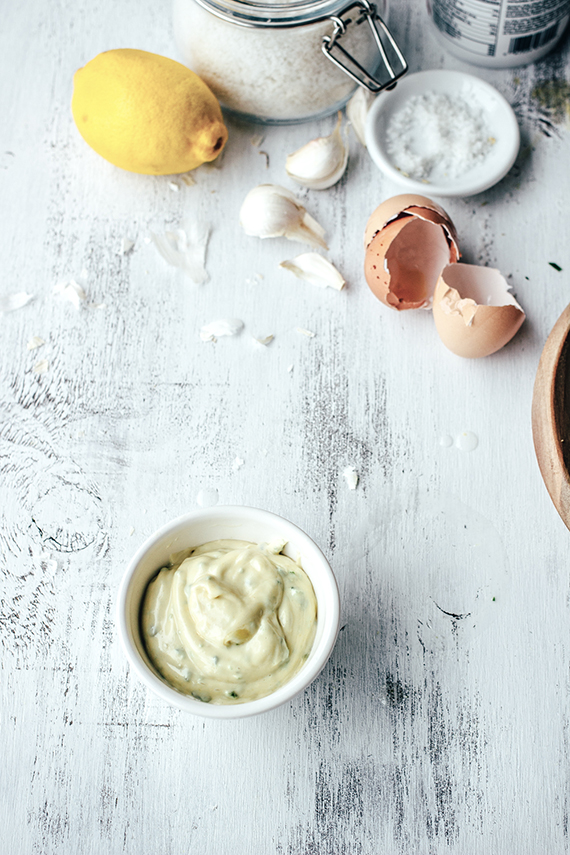 now let's make the aioli.
–  place the jalapeno, miso, and egg yolks in a bowl, then slowly drizzle a bit of the olive oil, continue to whisk hard until you see it emulsify (looks like thin mayo), once this happens start adding the rest of the olive oil slowly. once it's nice and thick, add the vinegar and squeeze the rest of the juice left in the lemon.
– adjust seasoning with salt and pepper and that's it!
NOTE: if you have a food processor, you can skip the bowl and whisk and do it by drizzling the oil through the feeder at the top.
if your aioli splits, simply whisk like there's no tomorrow.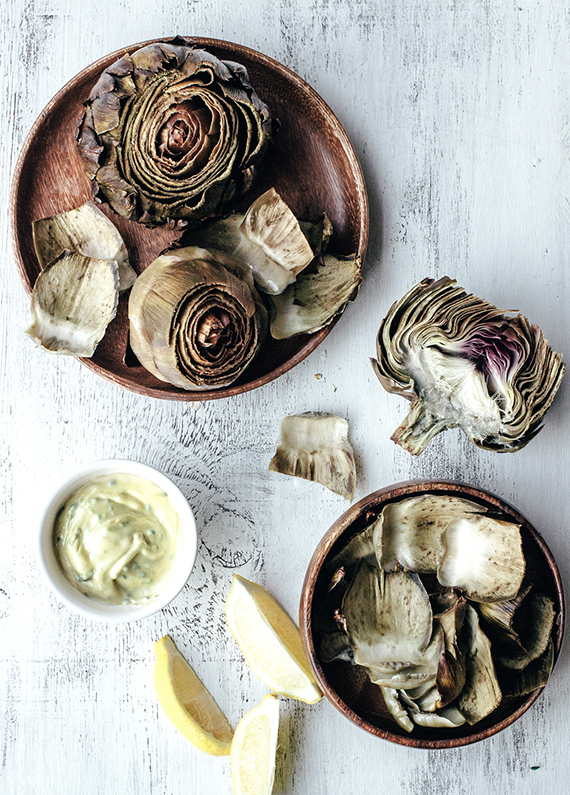 now let's eat! get rid of the hard outer leave of the choke and get to the meaty ones in the centre, then dip and enjoy. when you get to the core, peel off the furry part and eat the heart. BEST PART.
congrats molly! see ya lata fellas!