eating this: birthday cake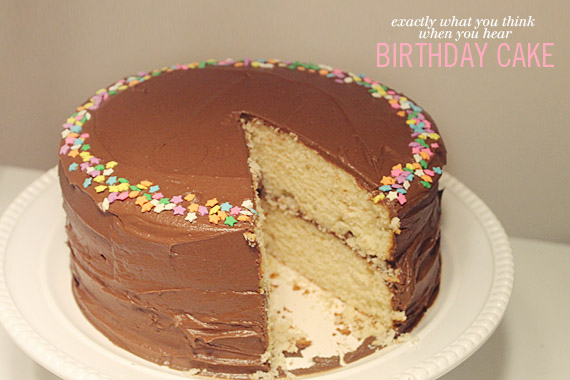 I volunteered to make my brother's girlfriends birthday cake this week. In my family, we have and always will eat white on white cakes for every occasion. But she likes yellow cake. With chocolate frosting. And so that's what I did.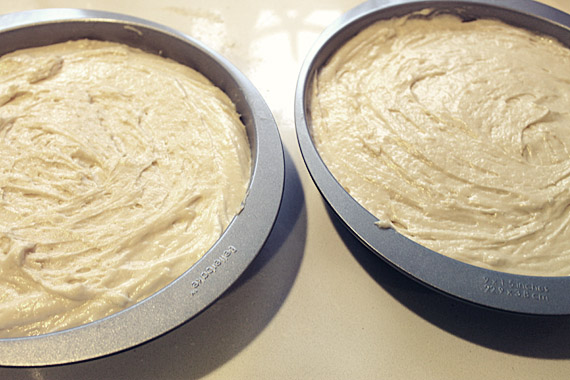 The batter came out super super thick. And then the cake rose pretty high. I was worried. But everything was ok.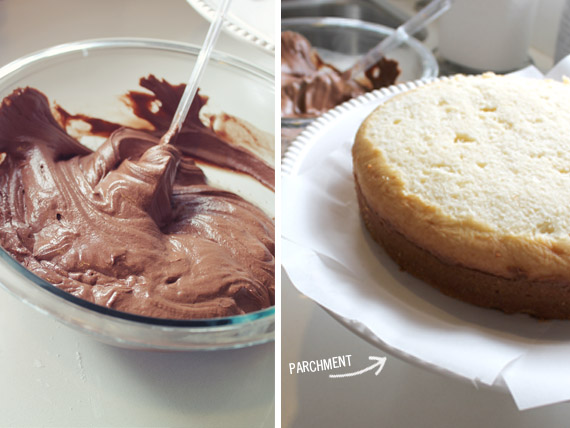 With a bread knife, I carefully went for it and really carved off the top of the bottom cake layer. After a frosting disaster from my moms birthday cake, I set up parchment strips under the cake for the frosting process. It only worked ok.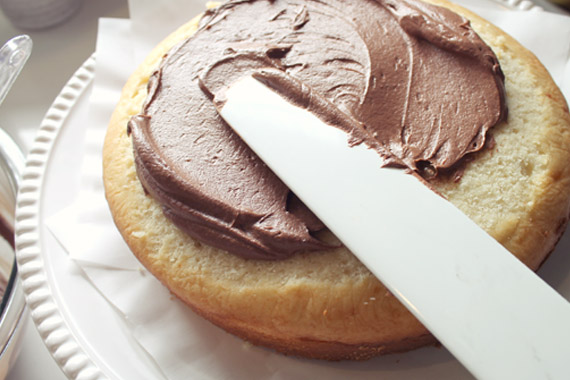 I made the frosting in a food processor and couldn't believe how easy it was. You throw the ingredients in and press the button and you have frosting. UM WHAT.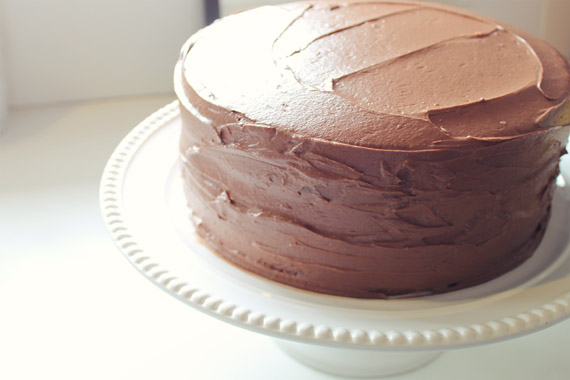 Probably my best frosting job ever. This was after removing the parchment and then cleaning up heavily with paper towels. How come everyone else makes it look so easy?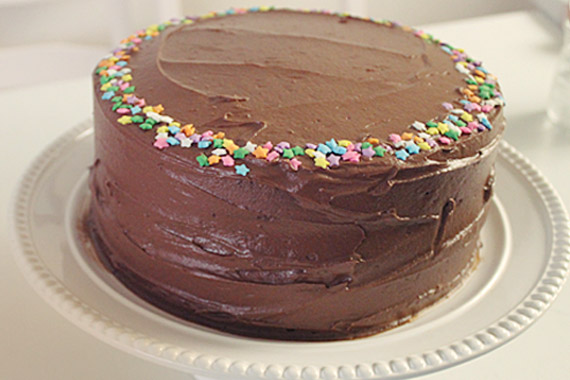 Yellow Layer Cake (adapted from Smitten Kitchen)
Yield: Two 9-inch round, 2-inch tall cake layers
4 cups plus 2 tablespoons flour (not self-rising)
2 teaspoons baking powder
1 1/2 teaspoons baking soda
1 teaspoon table salt
2 sticks unsalted butter, softened
2 cups sugar
2 teaspoons pure vanilla extract
4 large eggs, at room temperature
2 cups buttermilk, well-shaken
Preheat oven to 350°F. Butter two 9-inch round cake pans and line with circles of parchment paper, then butter parchment.
Sift together flour, baking powder, baking soda, and salt in a medium bowl. In a large mixing bowl, beat butter and sugar in a large bowl with an electric mixer at medium speed until pale and fluffy, then beat in vanilla. Add eggs 1 at a time, beating well and scraping down the bowl after each addition. At low speed, beat in buttermilk until just combined (mixture will look curdled). Add flour mixture in three batches, mixing until each addition is just incorporated.
Spread batter evenly in cake pan, then rap pan on counter several times to eliminate air bubbles. (drop it a few times from two inches up. it's really loud.) Bake until golden and a wooden pick inserted in center of cake comes out clean, 35 to 40 minutes. Cool in pan on a rack 10 minutes, then run a knife around edge of pan. Invert onto rack and discard parchment, then cool completely, about 1 hour.
Instant Fudge Frosting (adapted from where else, Smitten Kitchen)
Makes about 5 cups
6 ounces unsweetened chocolate, melted and cooled
4 1/2 cups confectioners' sugar (no need to sift)
3 sticks unsalted butter, at room temperature
6 tablespoons half-and-half or whole milk
1 tablespoon vanilla extract
Place all of the ingredients in a food processor and pulse to incorporate, then process until the frosting is smooth.
YES that's it! Then do whatever you can to make the cake look nice and presentable. This part is what takes me the longest.