DIY speckled nesting bowls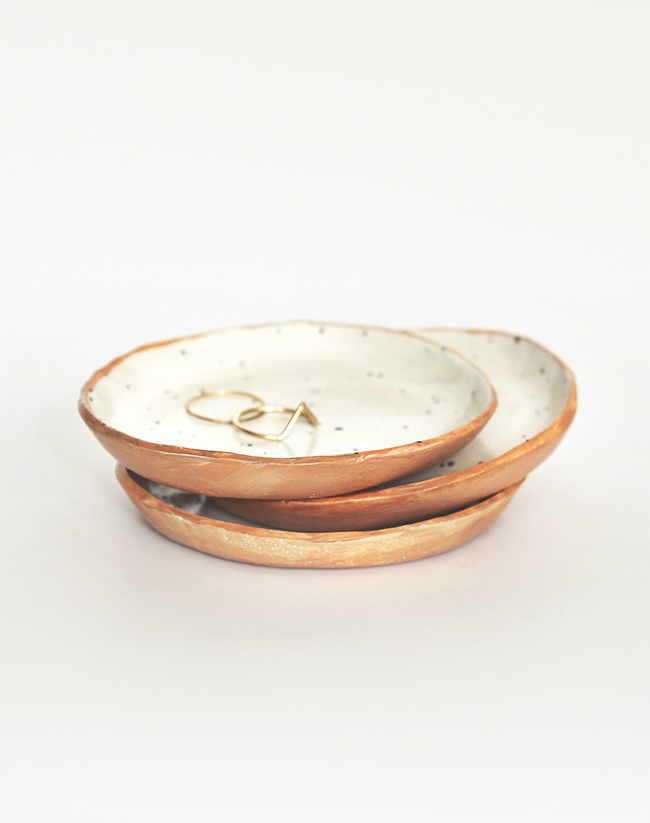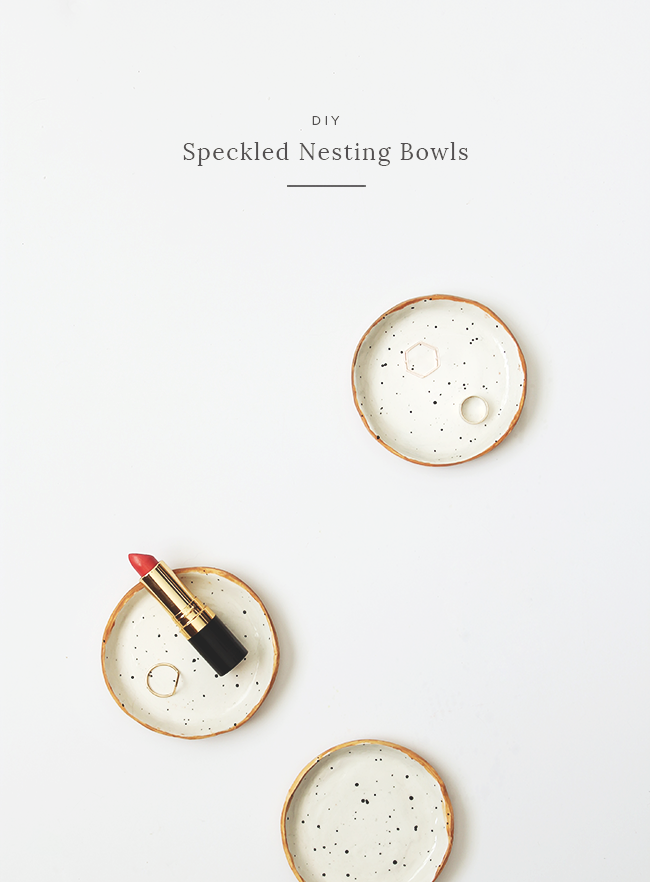 maybe it's just me – but i can't enough little bowls. i use them for corralling jewelry, i use a couple as pinch bowls in the kitchen, i use them for sage smudging, i use them basically.
so i wanted to make a set of "ceramic" bowls for rings and bracelets — and it's super easy.

materials
small paint brush

a large bowl or terra cotta plant saucer

acrylic paint (white, black, terra cotta)

thumb tacks
01. condition your clay and roll it out flat. cut a round shape by either doing it manually, or using something round as a cookie cutter (i used a candle lid, you can use anything!) cut it out using an xacto.
02. to mold the shape, place your circle into a bowl or saucer and gently sculpt the sides into a bowl shape. if you use a bowl, make sure it's one that you never use with food!
03. bake according to the package directions, with the circle still molded in the saucer or bowl. sand for a smooth finish once they're dry and cool.
04. paint away! i painted the bottoms and sides with a terracotta color i mixed up, but you could also use terra cotta clay and just paint the white interior.
05. to create the speckles, i came up with my new favorite method. i've tried a couple of variations and i've tried flicking my brush, but it always makes a mess. my new method is to use a thumb tack! dip your thumb tack into black paint and simply poke. vary the strength of each poke for an organic look. wipe off the excess with a paper towel and keep going!
06. after they've dried overnight, apply glaze for a finished look. i only glazed the interior of the bowls to keep them looking partially glazed.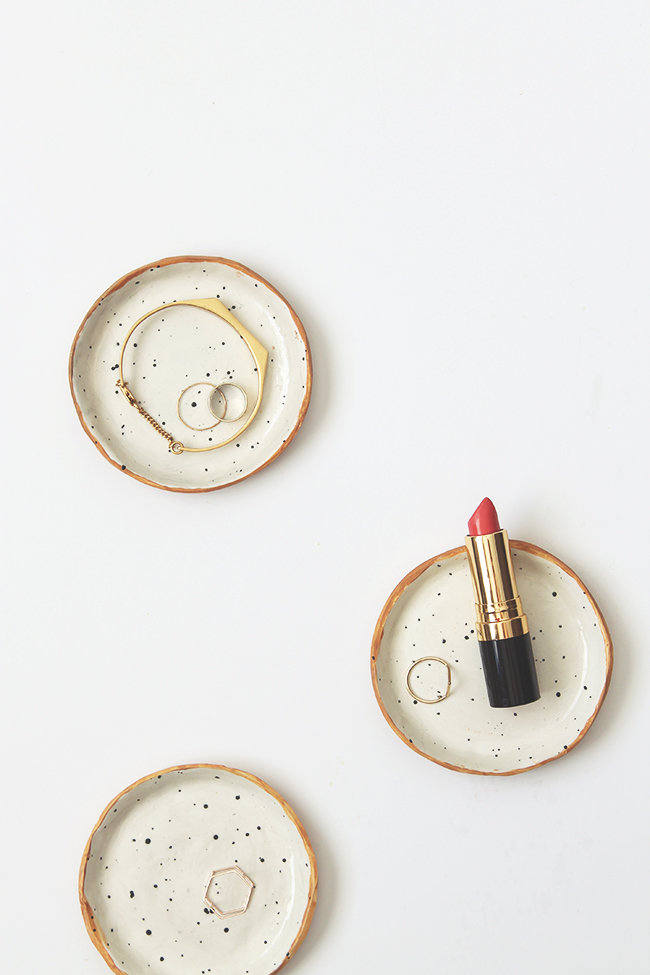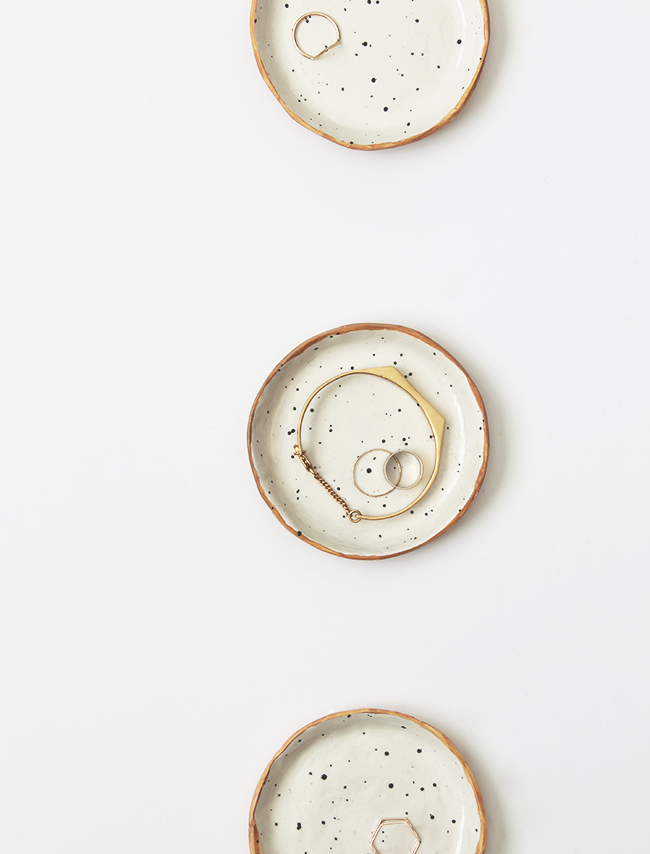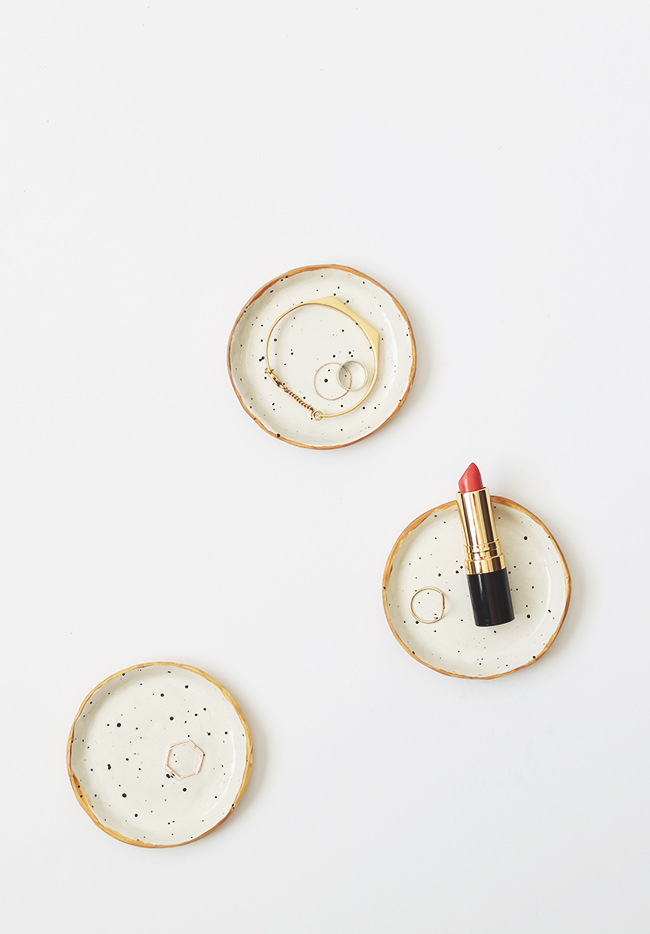 cute right?! they're perfect for collecting things on my dresser — let me know if you make them! oh and just a heads up : these are not food safe!