a simple + neutral baby shower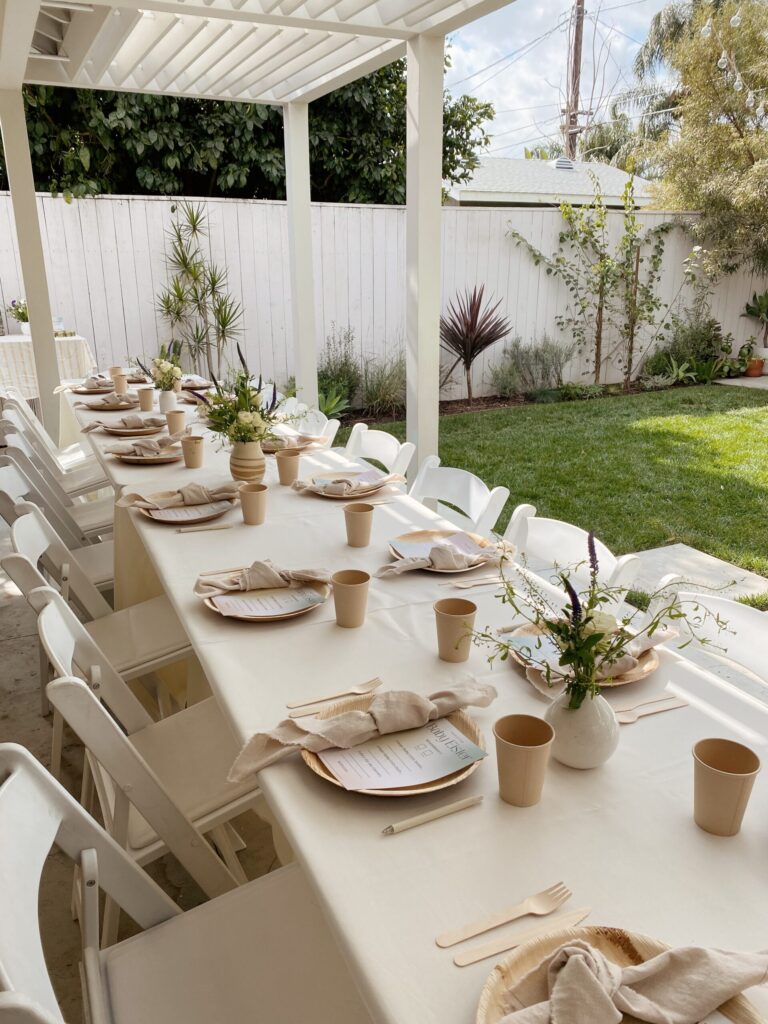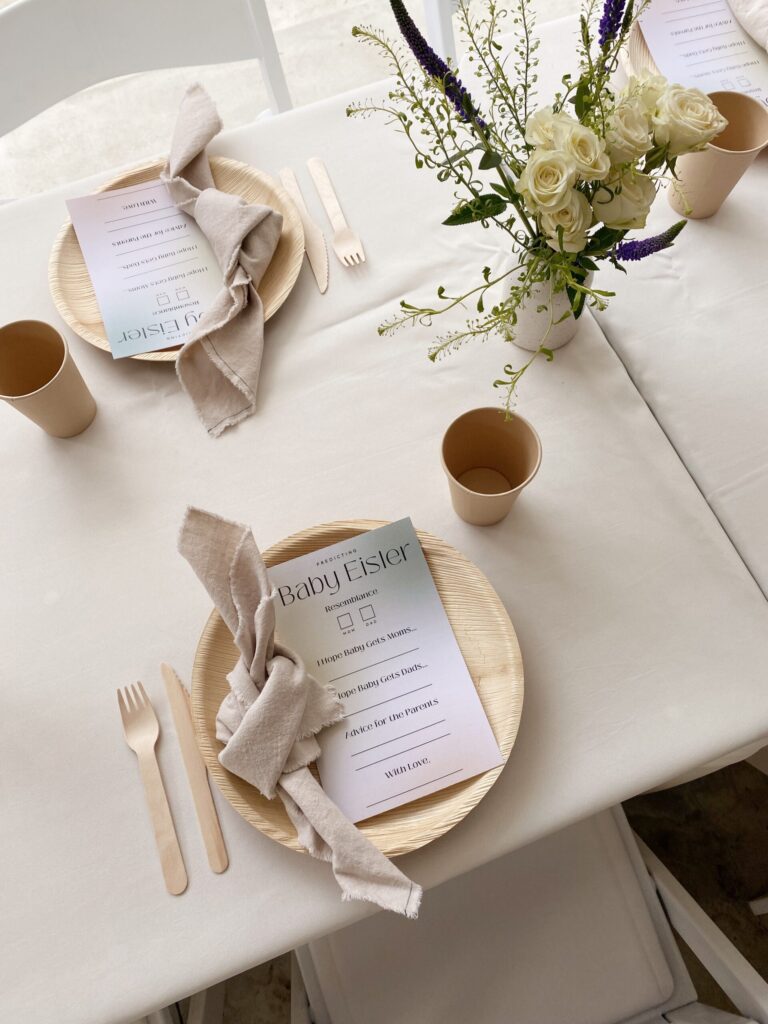 a few weeks ago i threw a baby shower in our backyard and i'm finally getting around to sharing! my good friend shoshana is expecting her baby boy in just a couple of weeks now (!!) and asked to have her shower at my house. with a little baby myself, this sounded super daunting but luckily it worked out and was such a lovely day.
i had a little committee of co-hosts and without them i could have NEVER done it on my own.
… ps, always. enlist. co-hosts!!!!!
i'm going to put together another post of my tips of how to host an effortless and laid back shower, because i've done it a few times now and i was asked for my tips randomly a lot after this one.
we don't do a lot of games and we always skip the opening of the gifts. no one wants to watch it and no one wants everyone to watch them open and have to be "on" while doing so, so to me– unless the bride-to-be or mom-to-be is asking to, we skip it. way more fun to spend that time socializing, eating or doing more enjoyable activities!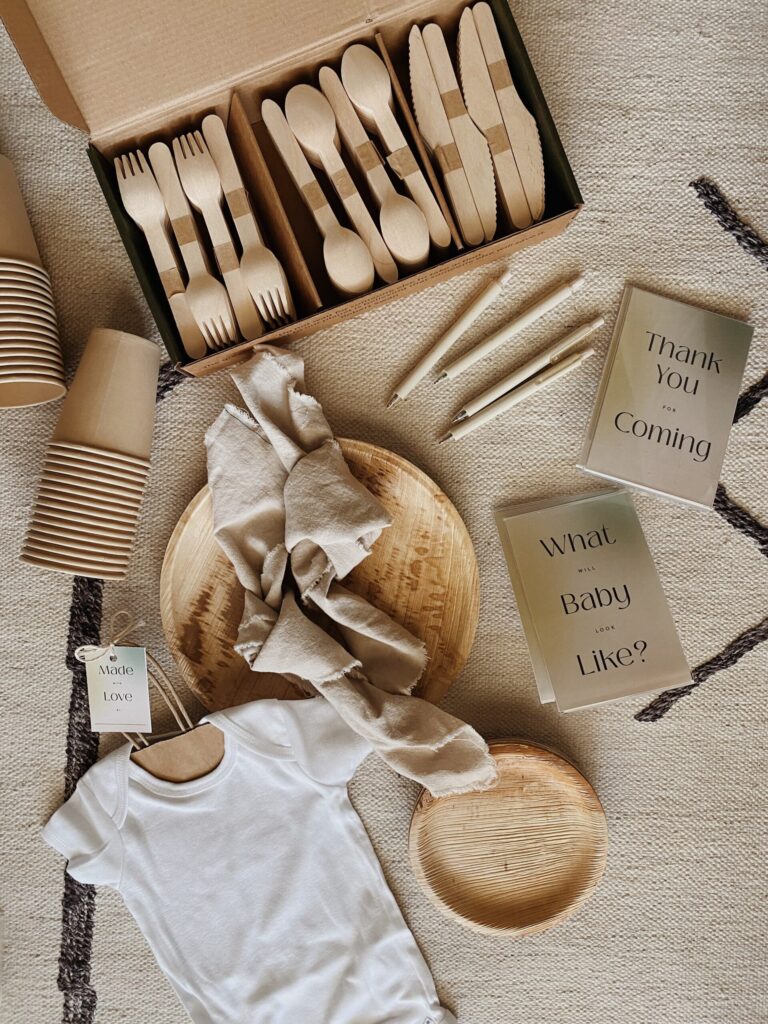 my friend is pretty eco-conscious, so that kept our decorations pretty minimal because i intentionally didn't get stuff we thought she would consider wasteful! for the table settings, i got bamboo plates, bamboo cutlery and we used my leftover linen wedding napkins (still going strong after almost a decade!)
i designed some simple signage to place around the party, i always think something small like that goes such a long way in making a party feel designed.
we love advice cards for birthday parties, bridal showers and baby showers. they're fun, easy, and always really sweet for the recipient. at this point i've just made them the same for multiple showers with a different design.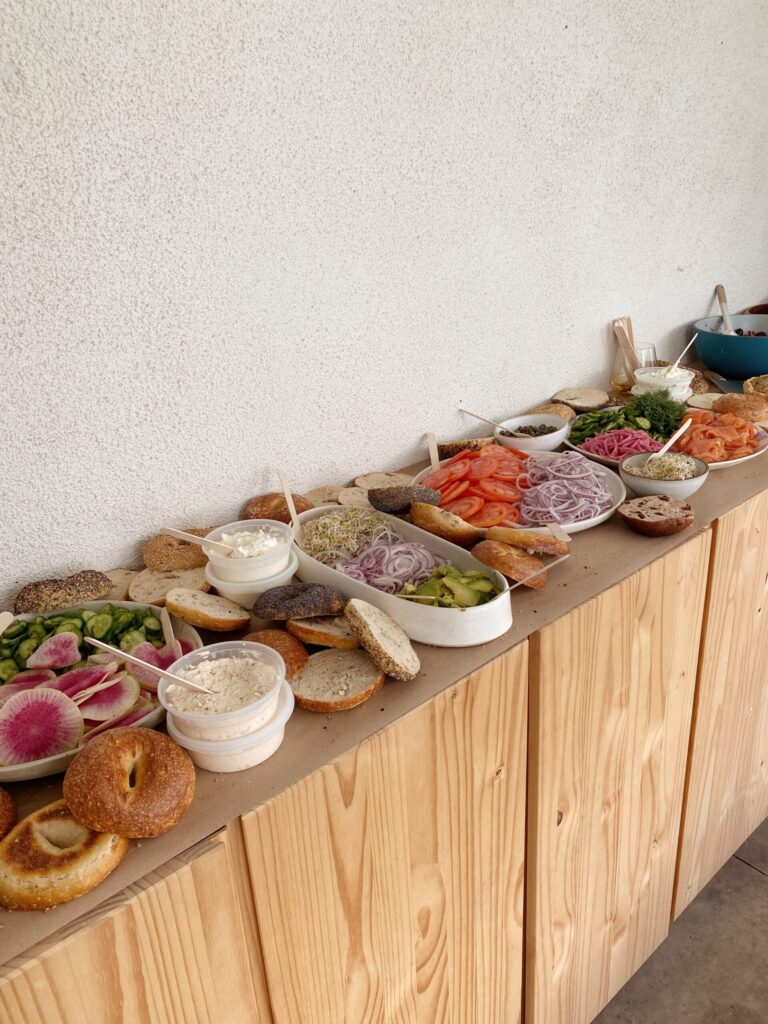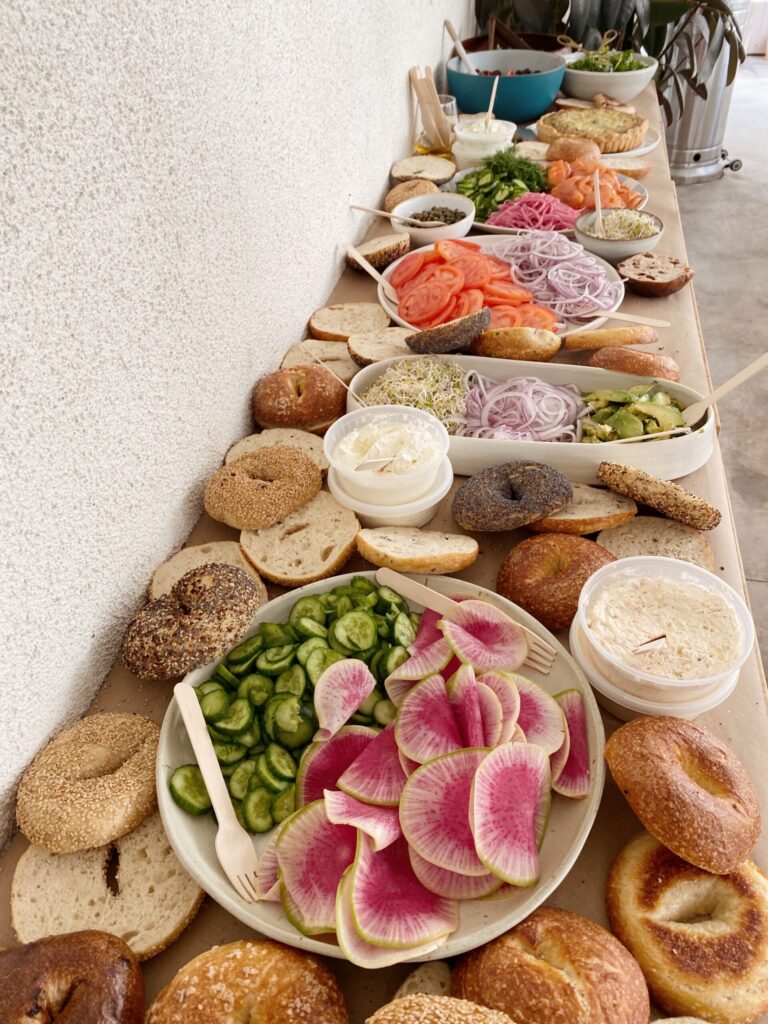 for food, we kept it really inexpensive and simple by ordering a large catering box from my favorite bagel shop (hanks) and asked for things to not be plated. instead, i laid out a big roll of butcher paper along the cabinet outside and organically placed everything to look like one giant bagel board.
my co-hosts made a few dishes like quiche, fruit salad and green salad to go with the bagels. we only spent a couple hundred on food and it was perfect!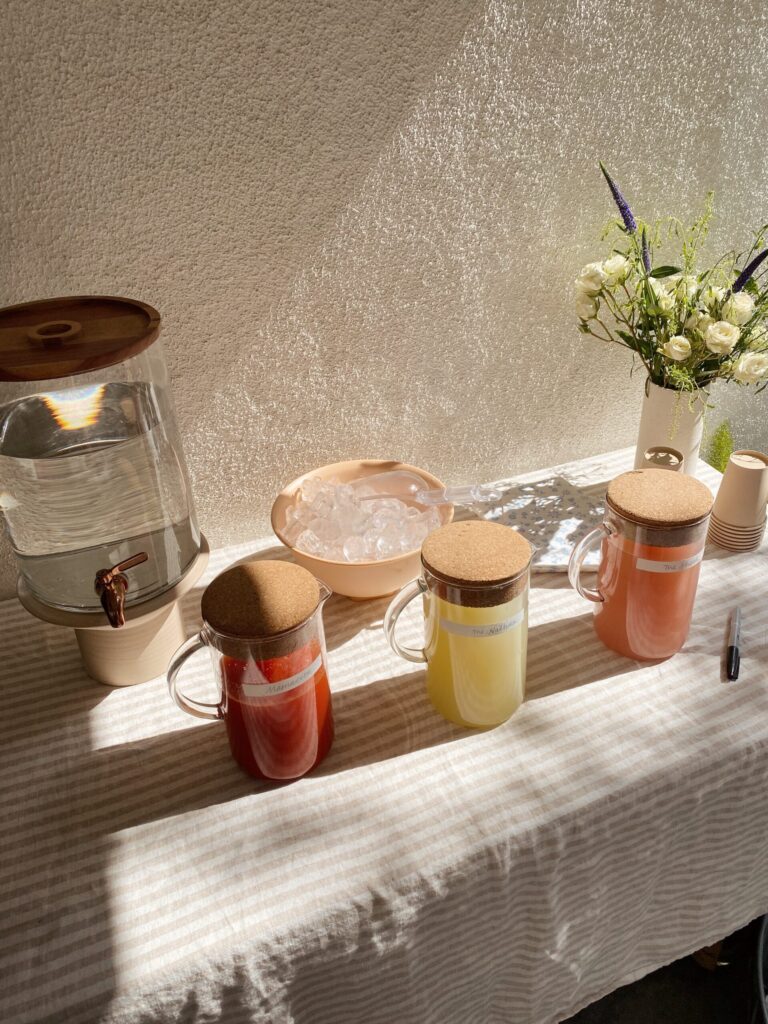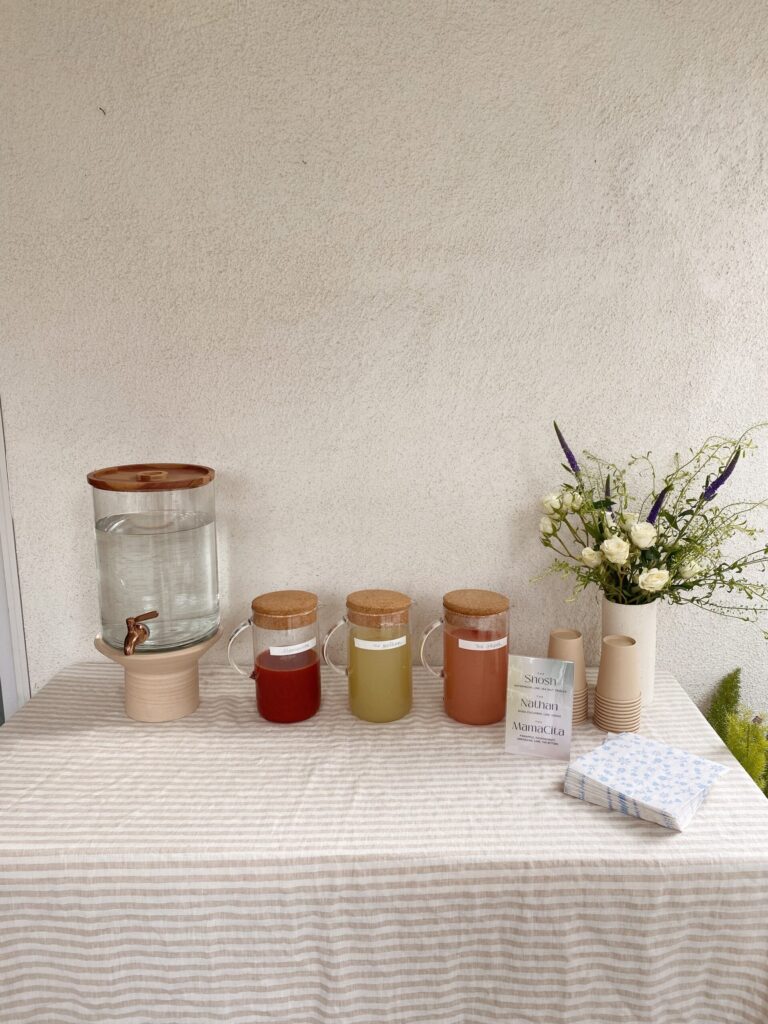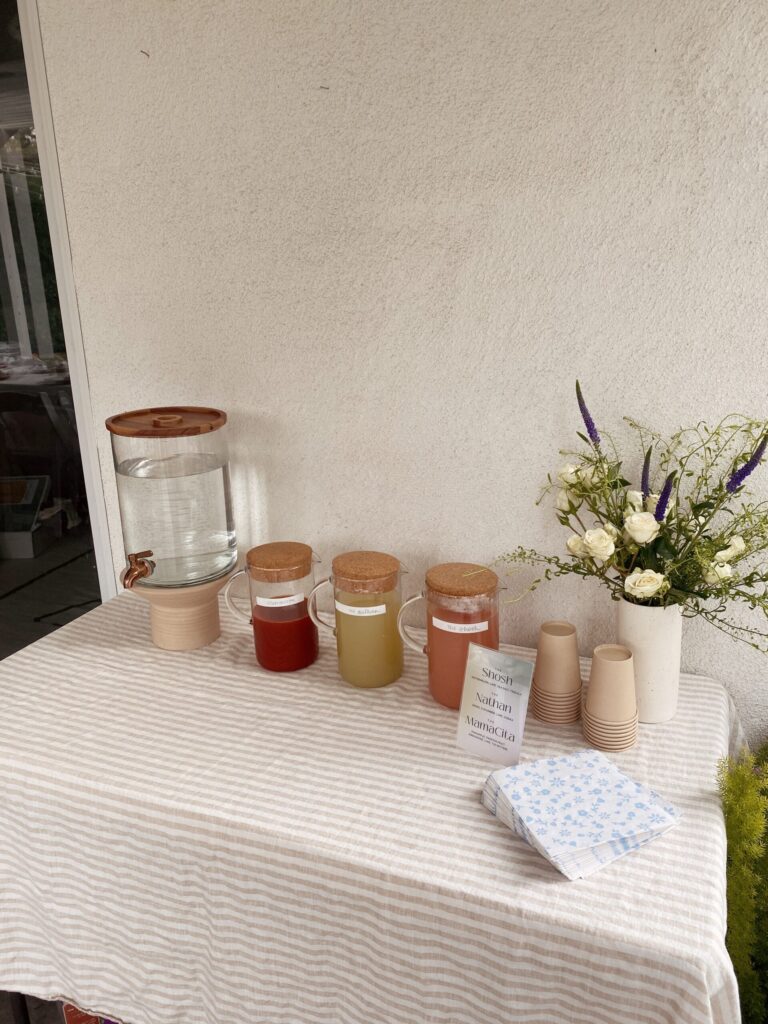 for drinks, we kept it very simple here too! down below we had a cooler with wine and sparkling water, but i bought pre-made cocktail kits to have three signature cocktails. having custom drinks feels so fun and fancy, but i didn't want to make the effort to actually make said drinks, so this was the perfect solution.
we had one cocktail with vodka, one with tequila, and one mocktail for shoshana. i made a little bar sign so that people could keep track and named them after the couple.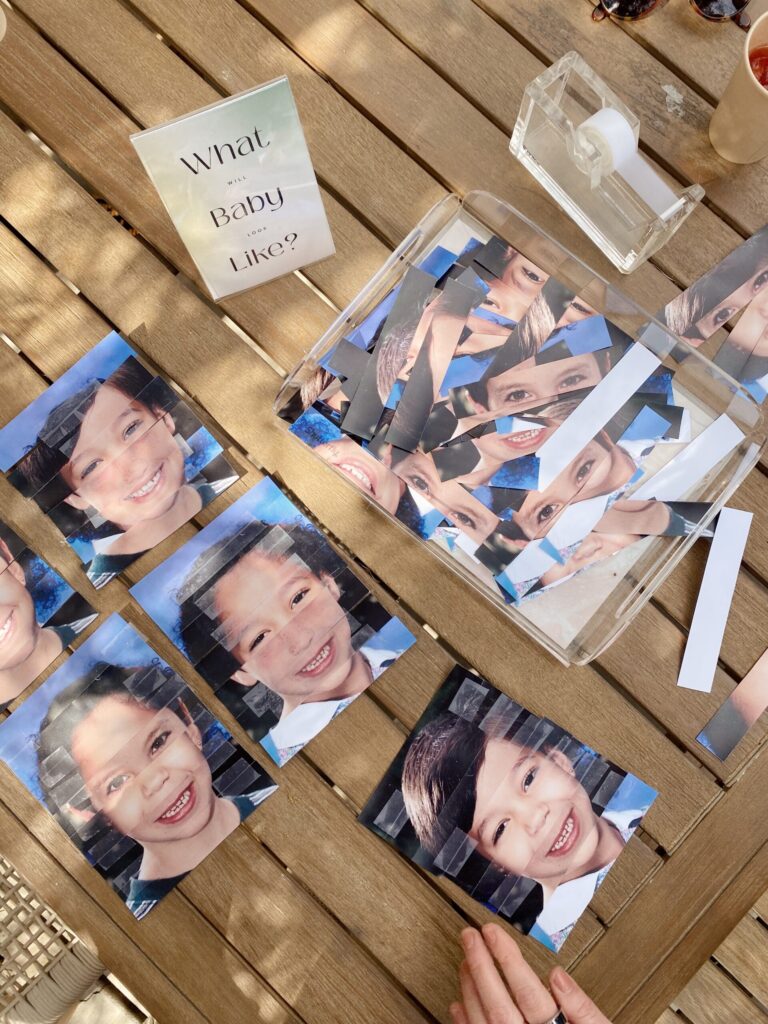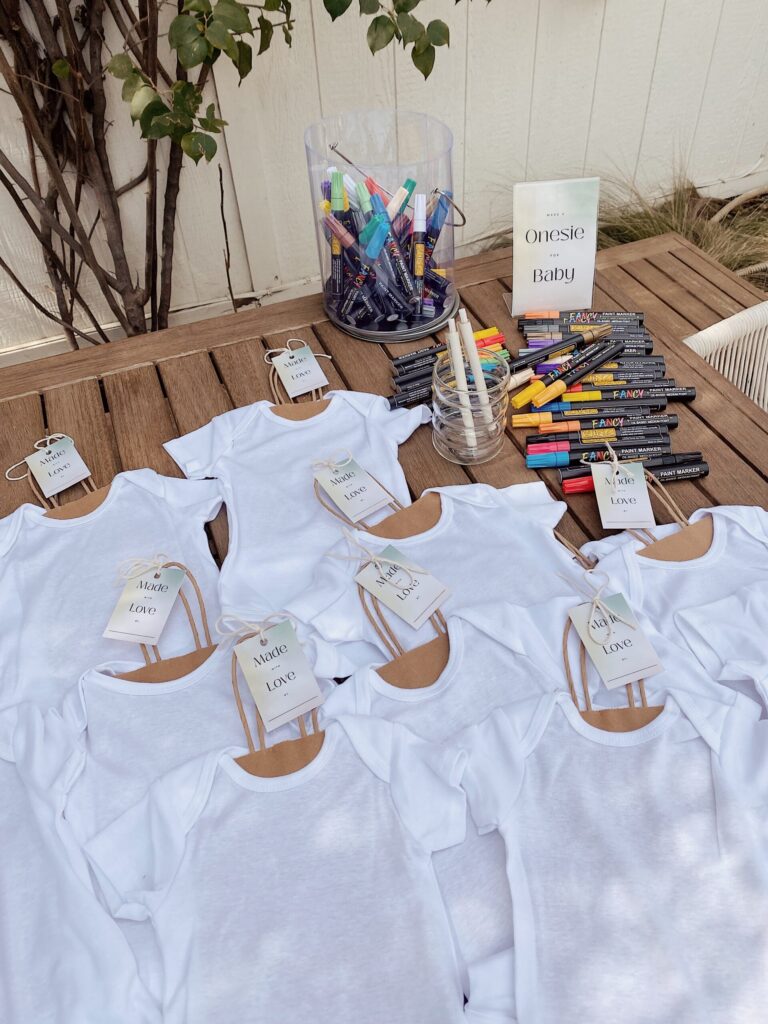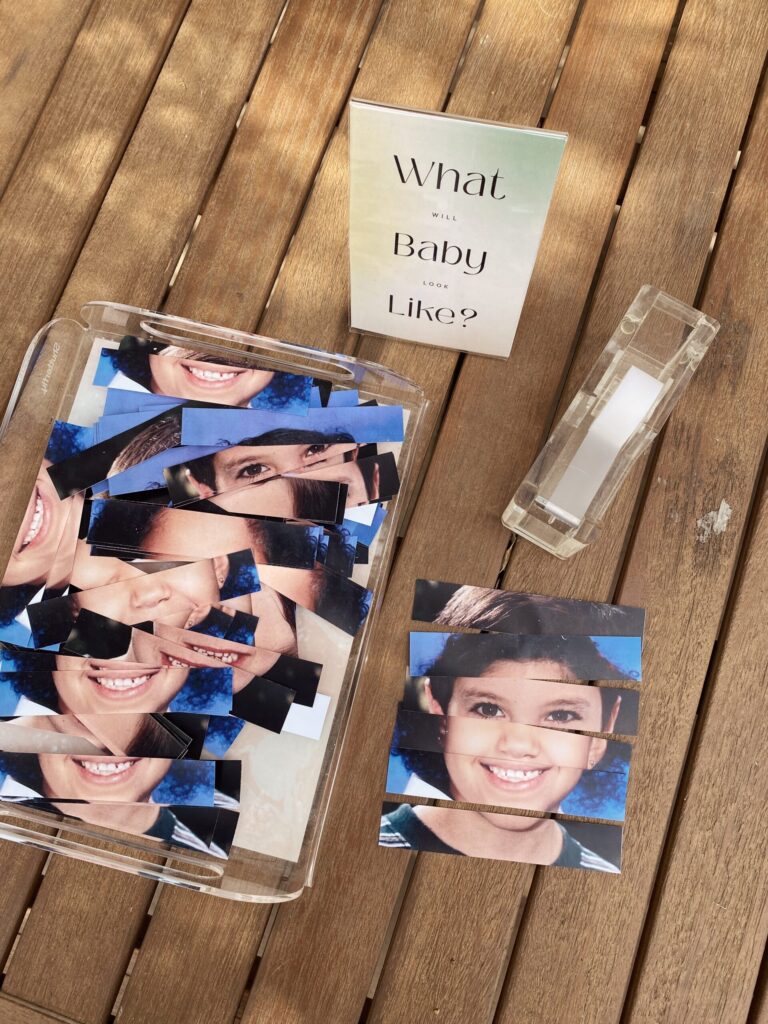 two other activities we've now done a few times over the years, a baby face collage activity and a decorating onesies area.
for the face game, you just need two pictures of the couple straight on. in photoshop, line up their features as much as possible with each other and then print a dozen of both. cut them into slits and leave them out with tape. this is the first time we've done it with kid faces versus adult and it was sooo much better! the combinations were hilarious and everyone had fun doing it.
for the onesies, i just bought a big variety pack of plain onesies that come in different sizes. i bought little gift bags to go inside, and these served as the backing so that the markers wouldn't bleed through, AND i tied little gift tags to each bag so that shoshana could know who made what.
we just put out on a table along with a big variety of fabric markers and people loved making them. there were a lot of artsy guests so this table was packed and i wish i'd actually gotten even more onesies because i didn't end up getting to make one.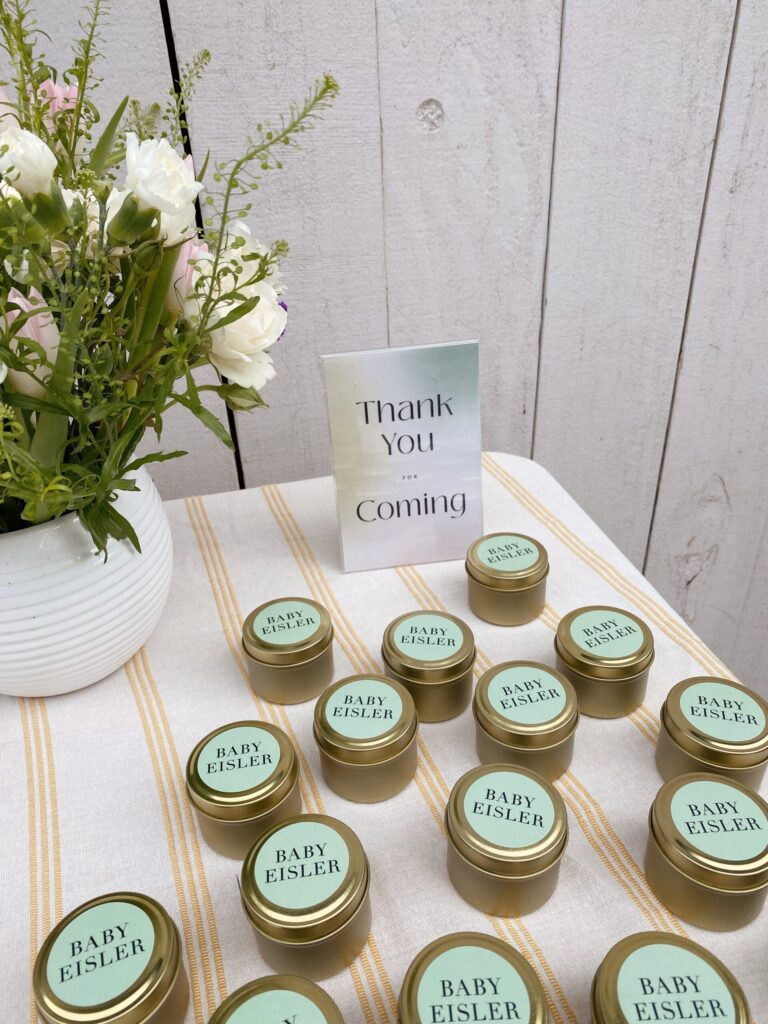 for a simple little party favor, my bff had these sweet little candles made on etsy. there was actually debate in our group about whether people think party favors are worth it or not, i'm curious how other people feel!
there were a lot of things i did to save myself time and energy that i'm glad i did– we used a rental company for the tables, chairs, tablecloths and we rented heaters as well. i didn't handle desserts whatsoever and delegated them out completely and another co-host handled the flowers, she just went to trader joes and made a bunch of little arrangements that we spread all over the party in white vases.
make it easy on yourself and don't take everything on!!!
not to mention, you'll have a larger party budget if everyone is splitting!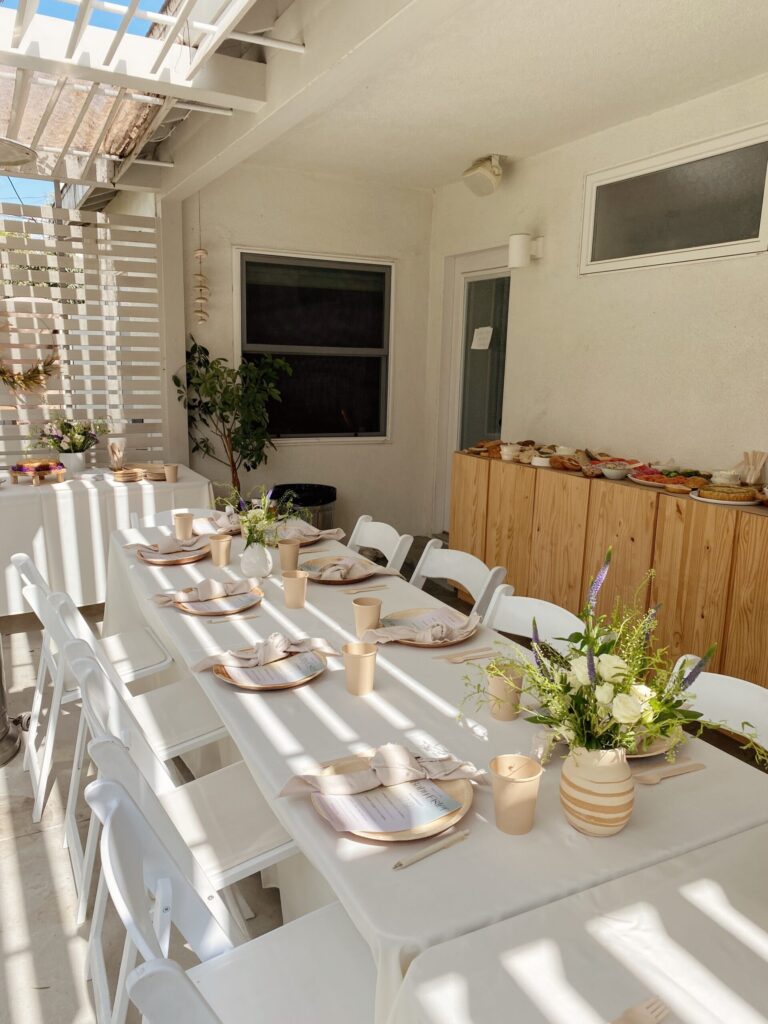 sources