our guest bathroom : the plan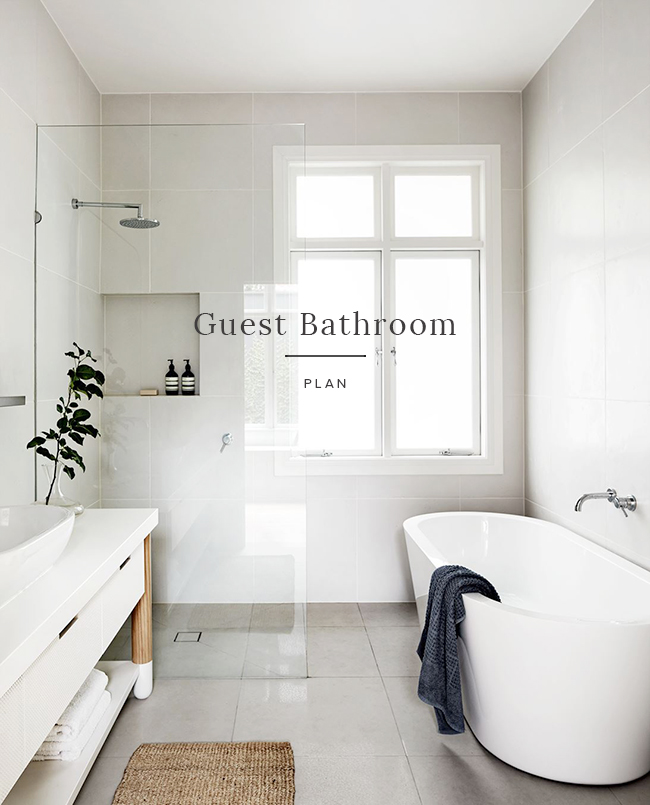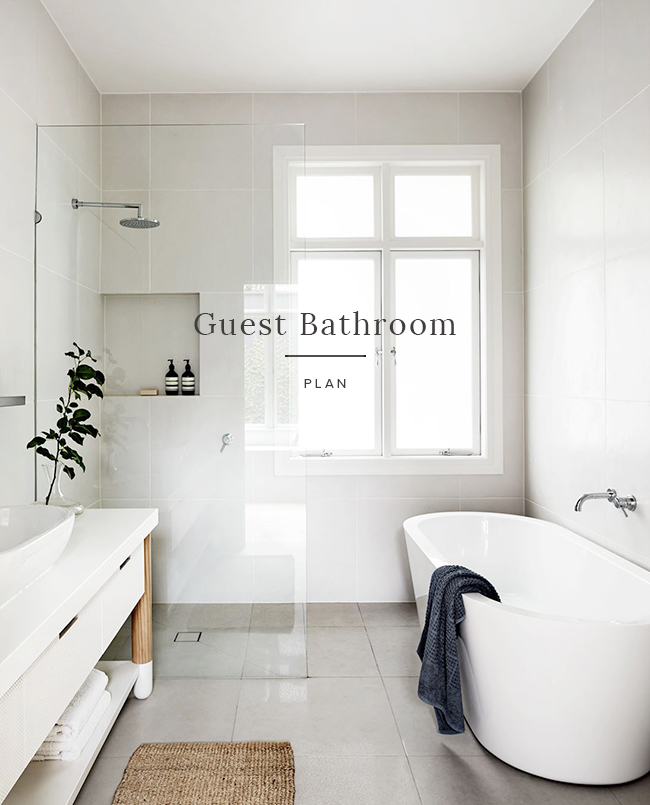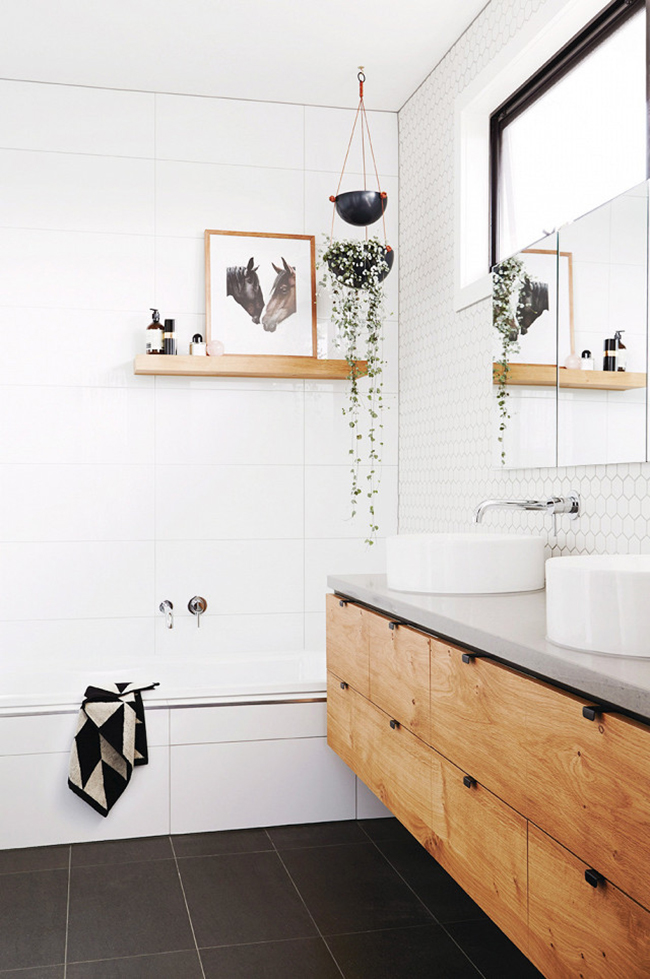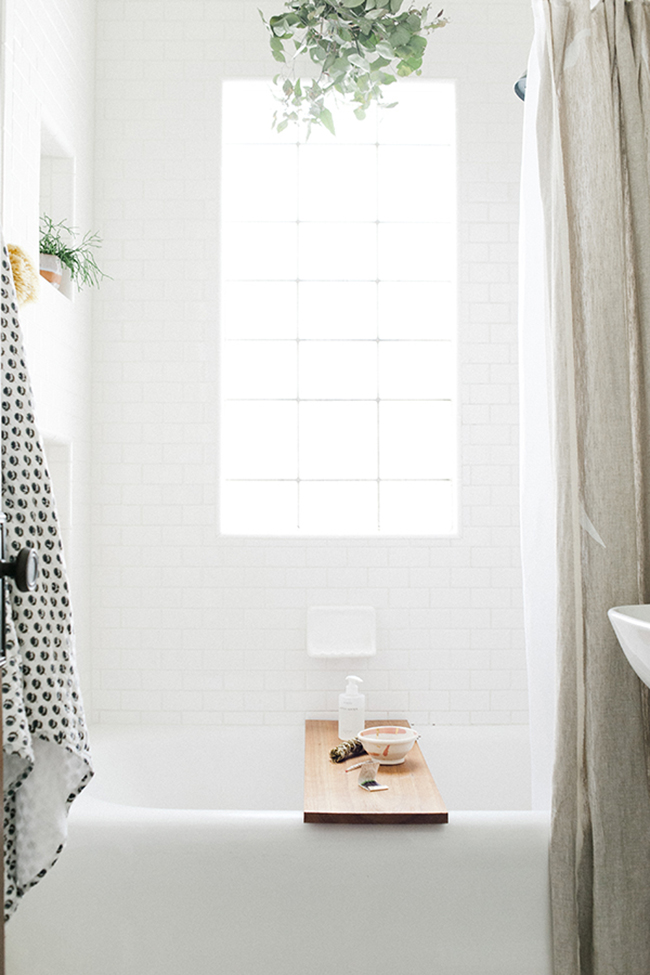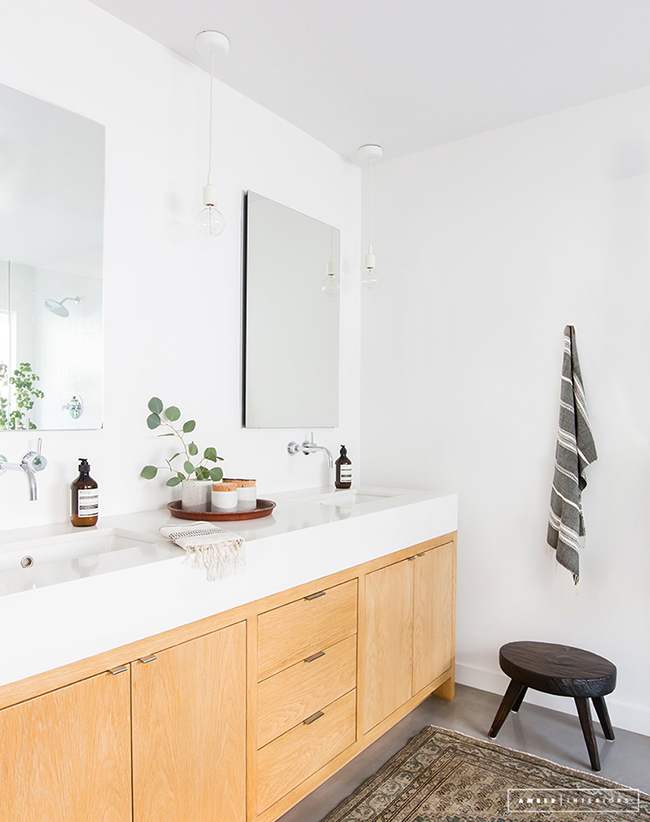 WTF?! yes! i really, reeeaally wanted to have one nice bathroom before arlo gets here, and i figured it should be while i'm also earning an income. we debated which bathroom to renovate because we don't like either of them, but ultimately decided the guest bathroom was the priority because it's the one everyone sees and it's the one we'll be using for bathing him.
and then everyone i told said "you're nuts you don't need to do a bathroom right now" but what do they know! i stupidly lost the before before photos of the bathroom from when we first moved in, it was worse. i swapped out the big gaudy light fixtures for simple keyless ones (which as of right now we're planning on keeping), and i painted the vanity and the bathtub panel white (both were a beautiful faded yellow color we liked to call "chain smokers white")
INSPIRATION PHOTO SOURCES : 1 / 2 / 3 / 4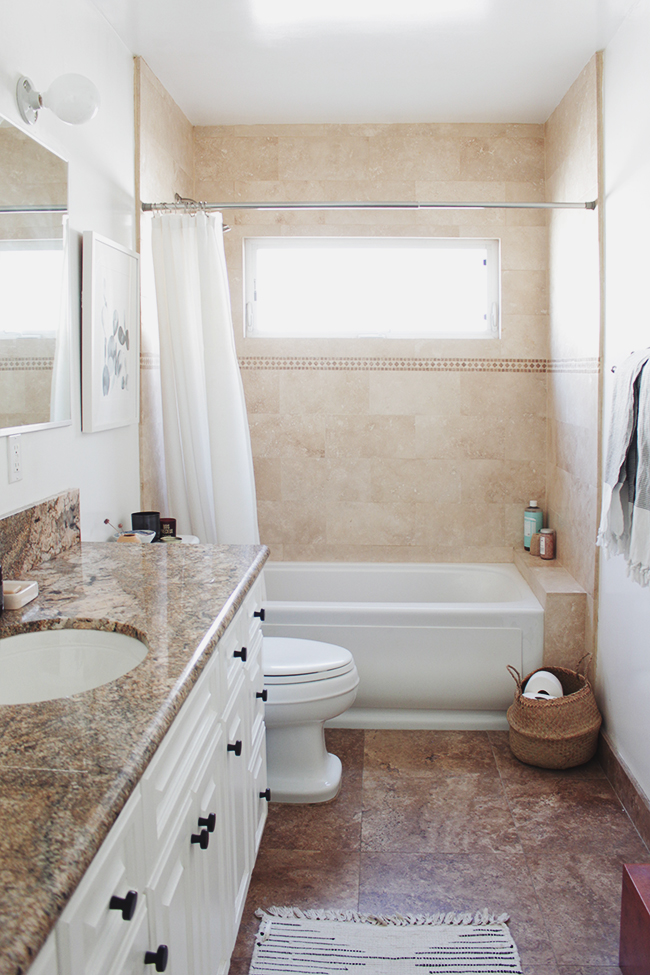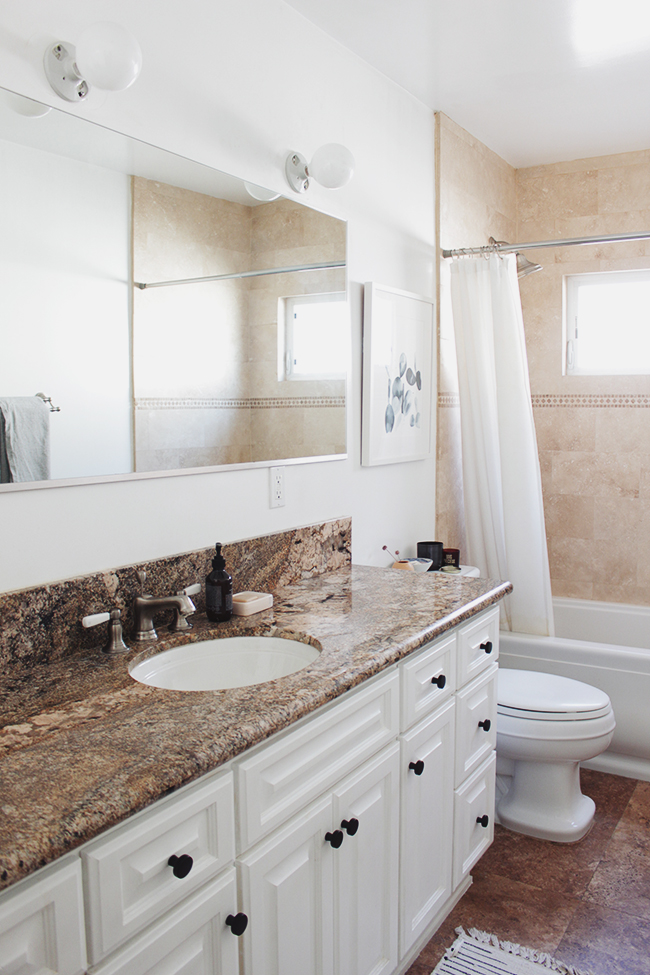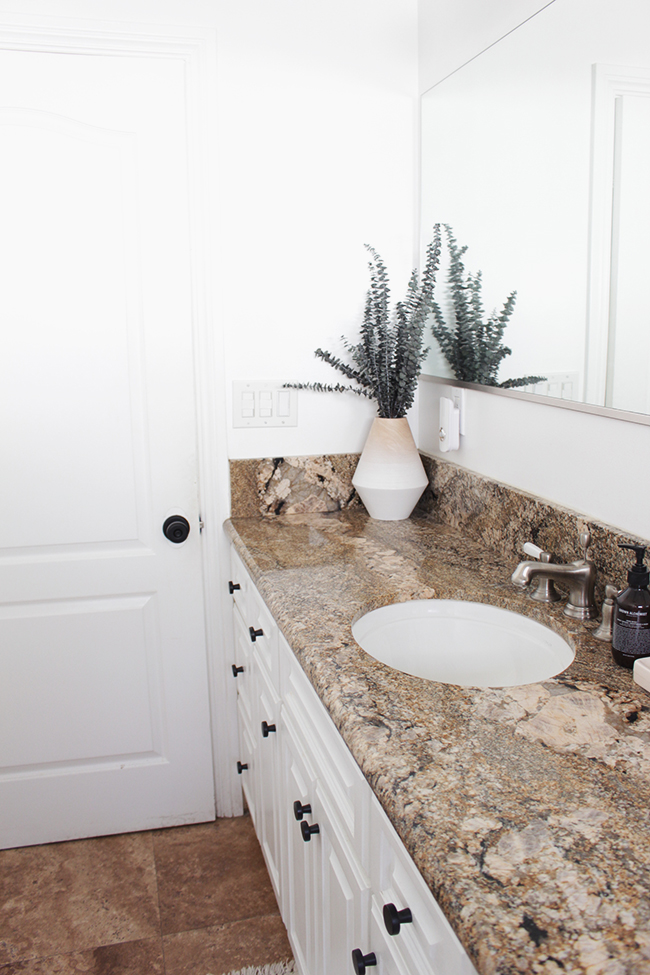 as you can see, it's not that bad as is — but it's clearly not my style. the many shades of dark beige just feel like a bummer and i really just want white and bright and clean in there.
because we really probably shouldn't be spending the money to renovate a bathroom right now and instead should be saving it for like preschool or whatever, i'm trying to do things as affordably and as simply as possible. i think you can tell this from the mood board below!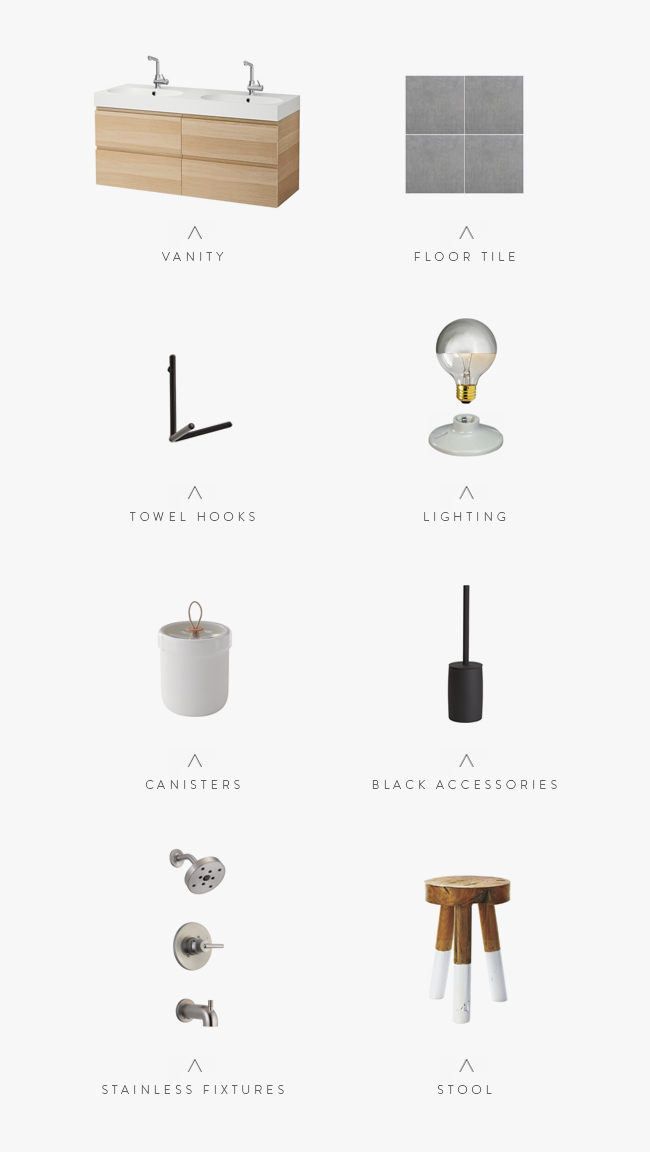 sources
---
design
i want to keep it so simple, so we're changing out the bathtub for a flat paneled one, getting a new dual flush toilet that looks a little more modern, and we're lining the tub with white subway tile. for the floors, i really love the look of these big grey concrete looking tiles. i love the look of blonde wood with white/grey so i think the vanity is perfect (and so affordable!) i'm thinking one long mirror above the vanity, or two square mirrors, but haven't decided/found anything for the right price yet. and like i said, i think we might just keep the lights we put up that had cost like $5. i can go fancy on our master bathroom.
fixtures
we're going with stainless fixtures because even though i love matte black ones right now, i really worry about them being too trendy or our very mineral-y water in the valley ruining them quickly. stainless feels timeless and easy and i really like how it looks with other metals mixed in.
accessories
to inject some black and some other patterns/colors/textures, i'm thinking we can just do that with accessories. a nice mix of white and black things and then i can add some patterns with the rug, shower curtain, some pottery?
---
my baby shower is happening in less than a month in our backyard, so i'm planning to start this renovation immediately after that. wish us luck we can get it done in time and i can survive living through another reno while super pregnant!
oh and whatcha think of the plans?